New Age Islam News Bureau
19 Dec 2018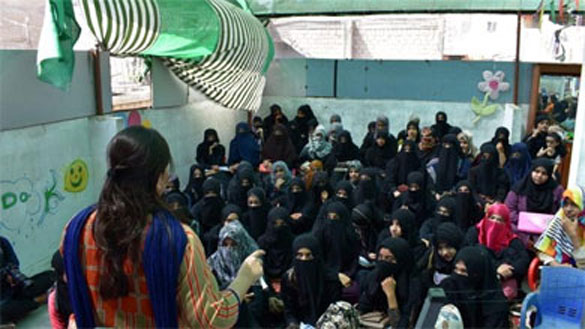 Women, young and old, spend hours learning new skills, playing foosball or carrom [ARADO]
• India's First Sharia Court for Muslim Women Started in Kanpur
• Lyari Girls Cafe Nurturing Dreams of Pakistani Women
• Saudi Arabian Women Make UK List of Top Innovators
• Bharatiya Muslim Mahila Andolan Asks Passage of Act on Triple Talaq
• Syrian Refugee Girl Assaulted In US School Bathroom
• Why UAE women are a role model for the world
• Saudi: 'World's First' Women-Only Trampoline Park Open in Riyadh
• Late Pakistani rights activist Asma Jahangir awarded UN Human Rights Prize for 2018
• Two Christian Women and A Baha'i Woman Go To Jail For Their Beliefs, In Iran
Compiled by New Age Islam News Bureau
URL: https://www.newageislam.com/islam-women-feminism/pakistan-senate-bill-seeks-rigorous/d/117200
--------
Pakistan Senate Bill Seeks Rigorous Imprisonment for Child Marriage
Dec 19, 2018
The Child Marriage Restraint (Amendment) Bill 2018 was presented in the Senate on Tuesday.
The bill was moved by Opposition Leader Senator Sherry Rehman. The bill mentioned that a minor would be a person under the age of 18. A person marrying a minor is liable to pay Rs0.2 million and serve three years' rigorous imprisonment.
The bill further stated that a court, upon receiving a complaint, can issue a stay order to stall the marriage. Those violating the law can serve up to one year in prison and par Rs100, 000 in fine. Sherry Rehman further said that to discourage underage marriages, legislation should be carried out.
Minister for State Ali Mohammad said that the bill recommended rigorous imprisonment, which the committee will ponder over. He further said that the Council of Islamic Ideology (CII) should also provide its opinion in the matter.
Last year, the Senate Standing Committee on Interior approved a bill recommending the minimum age of marriage to be changed to 18 years from 16. Rehman Malik had said even the Organisation of Islamic Cooperation (OIC) has suggested to its member countries to set the minimum age for marriage at 18. However, the amended bill faced resistance from senators before it was passed with a majority of three voting in its favour.
https://www.pakistantoday.com.pk/2018/12/18/senate-bill-seeks-rigorous-imprisonment-for-child-marriage/
--------
India's First Sharia Court for Muslim Women Started in Kanpur
December 18, 2018
KANPUR: India's first has been started in Kanpur from Sunday. Hina Zahir and Maria Fazal serve as Mahila Qazis here for solving issues of women.
All India Muslim Women Board appointed Hina Zaheer as Shia Mahila Shehar Qazi and Maria as Sunni Women Shehar Qazi in 2016,which was then opposed by some groups.
In past two years, cases of domestic violence and dispute came to both of them. A few days ago, Women Board and Sunni Ulma Council gave approval to open Women Darul Kaza (Sharia Court) and officially inaugurated it on Sunday.
According to Hina Zaheer, rights are distributed equally to women in Islam, but Maulvis do not clarify this in exact context.
A PhD degree holder Hina said, "In Islam, boy symbolises a boon and girl as blessing and blessing has to be accounted for. It is said that many allegations could be imposed on a woman but she has to maintain her existence."
She said they would hear those issues of women that they could not say before male Qazis. "We will provide them proper guidance and motivate for skill development," she additional special.
https://cantoncaller.com/countrys-first-sharia-court-for-muslim-women-started-in-kanpur/370816/
--------
Lyari Girls Cafe Nurturing Dreams of Pakistani Women
by Zehra Abid
Dec 19, 2018
Karachi, Pakistan - In the heart of Karachi's southern neighbourhood of Lyari, a cafe has given birth to, and shelters, dreams of many women of the area.
At the Lyari Girls Cafe in Pakistan's southern city, there is a 50-year-old who wants to launch her salon, a 19-year-old who is secretly filling out university application forms and the girls who cycle on the streets.
Set up in 2017, the cafe is located on the roof of a block of residential flats on a street called Phool Patti (petal) Lane.
But there are no flowers here. Informal "dentists" and kiosks line the street which is hardly 10 feet wide. Goats have the run of the place and rats scurrying past is normal.
Men sit by the side watching the world go by, while the women, in their black robes, look down as they walk past.
Gunshots mark the facade of all architecture. The bullet-pocked walls of the buildings are a reminder of Lyari's past. The area suffered at least two decades of conflict and almost became an adjective to describe Karachi's violence.
Parts of the neighbourhood became "no-go" areas because of the gang violence until a paramilitary operation in September 2013 aimed at improving the situation.
Those were bloody years for Lyari, and Phool Patti Lane was among the worst affected.
At the end of the street, there once was the infamous "White House", the torture cell operated by one of the most notorious gangsters in the area, Baba Ladla. All that remains are the broken walls, a rubbish dump, and many stories of how things were then. Zulekha Dawood, 26, vividly remembers what it was like living here five years ago.
"We never thought we'd have to leave but there came a time when there were sounds of bullets all the time," Dawood told Al Jazeera. "There was no food, water or medicine. We couldn't bear it. We had to leave. Everybody had to leave. We took nothing with us."
When the family and their neighbours were able to return two and a half months later, everything in their house was exactly how it was. But there was a stillness in the air.
"You could only hear the sound of the birds, it was all so quiet. There was so much fear, the fear that had been embedded in all of us," Dawood recalled.
While men had access to public places, street corners, community centres, tea stalls, where they could interact in search of normalcy, the women had nowhere to go.
"We felt like we needed to help these women who were living with trauma and had no space to assuage their fears," Dawood explains.
Lyari, much like the rest of Pakistan, has barely any recreational spaces for women who, in comparison to men, are largely invisible in the public sphere.
A World Economic Forum report on gender equality released in 2017 ranked Pakistan the second worst country in the world to be a woman.
After setting up the cafe, Dawood and her friend Raheen Rimsha, 19, working with Lyari-based NGO Arado, which focuses on gender equality, went door-to-door inviting women to visit.
Initially, there was resistance from residents who did not understand the need for or concept of the cafe.
But soon, that changed. Now, with the venue working more as a community space than a cafe, women of all ages spend hours learning new skills, playing foosball or carrom and practising different hairstyling techniques.
On the roof, there is a green canopy, some handmade decorations and some Christmas decorations on the wall.
For 19-year-old Summaiya Muhammad, the cafe is an escape from her family, who believe a woman's place is inside the house.
"My father always says what is the point of me studying as eventually, I will be spending my day standing by a stove [in the kitchen]," said Muhammad, who has been visiting the cafe for seven months now.
"I really want to go to college but my brothers say there is no point as 'you have to get married anyway'. Still, I secretly fill out college forms here. Maybe they will eventually allow me to go."
The cafe offers English language classes. Makeup and hairstyling lessons are delivered in Kachchi, the language spoken by many in the area. There are computer classes in Urdu and guest lectures on topics ranging from mental health to photojournalism and cybercrime laws.
"The cafe is a safe space for women and girls to socialise, connect with other women and get a break from the stresses of everyday life," said Nida Kirmani, a sociologist who has done extensive research on Lyari.
"In an area that has experienced years of conflict and insecurity, these contributions have the added importance of helping individuals and communities heal from experiences of violence."
As closing time nears, girls - who hail from different parts of the city - start gathering and head over to a nearby school's premises for football, boxing and cycling.
To see women cycling in any part of the country is very rare and Rimsha recalls being jeered at by young boys when the group went out for the first time.
"They said their sisters were at home and we should be too," said Rimsha.
"But we kept cycling. If we had stopped, that would've been the end of it. We don't do this [cycling] just for fun. We do it because it should become a normal thing to do. When a woman wants to go somewhere, she should just take her cycle and step out instead of waiting for her father, husband or brother to take her."
The girls can be seen cycling around the city early every Sunday morning: At 6:30am, most of Karachi is sleeping and they can freely ride on the streets.
But as the cafe and its activities gathered momentum, so did the opposition.
Arado President Sultan Mandhro is concerned about the cafe's future due to the neighbourhood presence of the Tehreek-e-Labbaik Pakistan (TLP), a right-wing political party which won parliamentary seats in the 2018 elections.
TLP organised violent protests across Pakistan following the acquittal of a Christian woman, Aasia Bibi, in a high-profile blasphemy case earlier this year.
On the front wall of the white building where the cafe is located, 'TLP' is spray-painted in green.
Unconcerned by the cafe's other activities, TLP parliamentarian Younus Soomro told Al Jazeera he was not a fan of the cycling initiative.
"I personally don't look at activities like cycling as very decent for women. We are a Muslim country, the Islamic Republic of Pakistan, and this would not even be acceptable according to the Shariah," said Soomro.
TLP's presence in Lyari has been a concern for some as this is the first time a religious party has won seats from this constituency. There have been no direct threats to either Mandhro or the girls, but there are some implicit threats.
"We sometimes see comments on social media that are clearly meant to intimidate us and stop us from our sports activities," said Mandhro.
But, despite the complexities and the dangers, the girls are just happy they have a chance to get out of the house and undertake these activities.
Naila Niaz, 19, comes to the cafe for boxing training. The newfound freedom for her is "addictive".
"The first time I came here I was shocked. I had only imagined such a world. Now I've realised that it actually exists."
https://www.aljazeera.com/indepth/features/lyari-girls-cafe-nurturing-dreams-pakistani-women-181206121205522.html
--------
Saudi Arabian Women Make UK List of Top Innovators
MOHAMMED AL-SULAMI
December 19, 2018
JEDDAH: Two Saudi women have landed in a prominent top 100 list at the prestigious British Fashion Council.
Marriam Mossalli, founder and senior consultant of Saudi's luxury communications firm, Niche Arabia, and Taleedah Tamer, the first Saudi international runway model, joined the ranks of the esteemed key players in the fashion industry.
They were two of only three women from the GCC to make it into the most innovative and inspiring youth category.
The announcement was made by the British Fashion Council during the Fashion Awards 2018, which was held at London's Royal Albert Hall last week.
The list includes trailblazers, from image-makers, hair and makeup artists, set designers and creative directors, to models, digital influencers and stylists.
This year marks the first time the Fashion Awards 2018, in partnership with Swarovski, celebrates the young global creative community by introducing this category.
Niche Arabia has played a significant role in shaping the fashion industry in the GCC. Mossalli has recently published "Under The Abaya", the first street style book created in Saudi Arabia, which showcases the dimensions of progressive Saudi women who have always existed behind the scenes.
"I'm honored to be part of the Fashion Awards '100 New Wave Creatives' list," said Mossalli. "Having 2,000 judges nominate me is truly a benchmark in my decade-long career. What's more, our inclusion signifies the world's increasing interest in Saudi Arabia."
Taleedah Tamer is the first runway model from the GCC to strut gear at an international fashion week. Taleedah launched her first show with Italian couture brand, Antonio Grimaldi, at the Paris Haute Couture Fashion Week.
Taleedah has already garnered significant global interest, being featured in The New York Times and The Telegraph, among other publications.
Her summer cover story in Harper's Bazaar Arabia garnered international headlines and made her a viral Internet sensation.
"I was really happy and grateful for the acknowledgment," said Tamer. "It was amazing to see all these creative talents recognized. Vivienne Westwood caught my attention. The experience was really humbling and I am very honored to be a part of such industry."
"We are extremely proud to be celebrating 'New Wave: Creatives' as a new entry in our categories," said Caroline Rush, chief executive of BFC.
"London, more than any other city, represents youth and creativity, which makes it the perfect place to acknowledge their contribution to the global fashion industry."
http://www.arabnews.com/node/1422806/saudi-arabia
--------
Bharatiya Muslim Mahila Andolan Asks Passage of Act on Triple Talaq
Dec 19, 2018
The Bharatiya Muslim Mahila Andolan (BMMA), one of the petitioners in the case in which Supreme Court banned triple talaq issued a statement asking both houses of the Parliament to pass the Bill on Triple Talaq. The ordinance for penalising Triple Talaq is to be taken up during this session of the Parliament. The group also demanded that its draft should be debated over so that Muslims have a law that covers all aspects of family life.
Noorjehan Safia Niaz, co-convenor of BMMA said, "We want the Act to be passed because despite the SC order, instant triple talaq is still happening. This ordinance is only about Triple Talaq. The amendment we wanted in the original Bill have been incorporated. But it needs to be converted into an Act now."
As per the amendments, the crime is recognised only when the woman herself or her blood relative files or file a complaint. The case can be dropped if a compromise is reached but, only if the wife approaches the magistrate. The magistrate can grant bail to the accused after hearing the wife and the woman gets the custody of the child and maintenance for both.
"Our comprehensive draft also talks about other issues that have not been take up," said Noorjehan. These include nikah halala, custody of children, polygamy, age of marriage, meher (money given to wife at the time of marriage), inheritance, maintenance during marriage and consent of both parties and maintenance during the marriage and after it.
"Consent is taken at the moment of marriage and not before that. The process is not followed. It is not that only girls are forced to marry. A number of times even boys are forced because they like someone else. It is for these reasons that we feel Muslims should have a proper codified law like other communities have," said Noorjehan.
https://www.dnaindia.com/mumbai/report-muslim-women-group-asks-passage-of-act-on-triple-talaq-2697735
--------
Syrian Refugee Girl Assaulted In US School Bathroom
December 18, 2018
Criminal charges are pending after a Muslim teen refugee was so severely beaten by another high school student she required treatment at a hospital for a concussion, Anadolu Agency reports.
Video of the assault last week went viral on Facebook and showed the hijab-wearing teen come out of the bathroom stall at Chartiers Valley High School. The school is located just outside of Pittsburgh, Pennsylvania.
The Muslim was confronted by another girl in a purple shirt who had been trying to use stall to use an electronic cigarette.
The altercation turned violent when the attacker pushed the Syrian refugee. After trying to fight back, she is pushed to the ground by the other girl and beaten.
The Council of American-Islamic Relations (CAIR), the nation's largest Muslim civil rights organization, demanded Monday federal authorities investigate the matter as a hate crime. The group is helping the victim's family with legal support.
"After this video she was beaten up some more, and she had go to go to the hospital," Zohra Lasania, program director at CAIR-Pittsburg told Anadolu Agency.
Lasania said teen is now home recovering from her injuries.
Her family fled Syria and spent two years in a refugee camp before being granted entry to the United States.
"They were fleeing anarchy, violence, and the complete breakdown of the social system, governing system so they came to a civilized place and we all assured them this is the most civilized place in the world," Safdar Khwaja, president of CAIR-Pittsburg, told local media. "To see this kind of violence take place, it's very disappointing."
Police are investigating the incident but a law enforcement official said the incident does not appear to be religiously or racially motivated.
CAIR noted otherwise, and reported an unprecedented spike in bigotry targeting Muslim-Americans, immigrants and other minority groups since US President Donald Trump took office.
The group recorded a 17 percent increase in anti-Muslim bias incidents nationwide in 2017 compared to 2016. Additionally, it reported a 15 percent increase in hate crimes targeting American Muslims, including children, youth and families, during the same period.
https://www.middleeastmonitor.com/20181218-syrian-refugee-girl-assaulted-in-us-school-bathroom/
--------
Why UAE women are a role model for the world
December 18, 2018
Kathmandu: In an emphatic testimony to the empowerment of women in the UAE, a top official of the Government wowed an international audience with her insightful address in Kathmandu on Monday afternoon.
Shama Al Daheri, director of the General Authority of Islamic Affairs and Endowments, was speaking at a global conference on the role of women for inclusive development, organised by the Abu Dhabi-based World Muslim Communities Council (WMCC) and the Nepal Muslim Women Welfare Society (NMWWS).
Shama said the UAE's experience in empowering women should serve as a fine example for all those nations who wish to support women and bring about change.
She said, "The wise leadership of the UAE has long since dedicated its efforts to empower UAE women. Founder of the UAE, Shaikh Zayed Bin Sultan Al Nahyan, singled out women to play a key role in all walks of life. He once said, 'Nothing pleases me more than to see UAE women play a prominent role in society and achieve high positions in the future. Nothing should hinder her march to fulfil her dreams'."
Paying rich tributes to the Rulers, she said women today are encouraged to take up the most prominent positions in the government, with the result that two-thirds of not just university graduates but also government employees and council of ministers comprise women.
"A few days ago, President His Highness Shaikh Khalifa Bin Zayed Al Nahyan, issued a decree to increase the percentage of women in the Federal National Council," she added.
Shama quoted His Highness Shaikh Mohammad Bin Rashid Al Maktoum, Vice-President and Prime Minister of the UAE and Ruler of Dubai as saying, "We are not empowering women, but rather empowering the community with women."
She said the UAE's principle of supporting women has its origins in Islam which addresses both genders in equal measure without any discrimination whatsoever.
"In the early days, women bore great responsibility at home and looked after the children when their husbands went out to the sea to make a living. In her capacity as wife, she was also a homemaker and a teacher to her sons and daughters. After the establishment of the UAE in 1971, the position of women was further enhanced. The paradigm shift has made the UAE woman a cornerstone in the country's development. She is now a role model to be followed, not just in the region but also in other parts of the world," said Shama.
https://gulfnews.com/uae/government/why-uae-women-are-a-role-model-for-the-world-1.60989806
--------
Saudi: 'World's First' Women-Only Trampoline Park Open in Riyadh
Dec 18, 2018
RIYADH: After building anticipation for weeks, the world's first women-only trampoline park has finally opened its doors in Saudi Arabia.
Bounce Rawdah in Riyadh for Ladies and Children also allows boys under the age of 10. It stretches across 3,500sqm and believed to be the largest venue of its kind in the capital.
The venue is packed with over 80 interconnected trampolines, a dodgeball arena, cliff jump, super tramp, Ninja Warrior-style and huge inflatable airbags. It has wall-to-wall activities for women of all ages.
A study carried out by NASA found that bouncing on a trampoline is a low-impact workout with several health benefits.
According to Mashael Attieh, managing partner of BOUNCE Saudi Arabia, "We are thrilled to bring the world's first female-only trampoline park to Riyadh. The response we received in Jeddah has been tremendous with thousands of families enjoying this new way to have fun and stay active. Now it's Riyadh's turn to experience the awesomeness of Bounce," she was quoted as saying to Saudi Gazette.
https://www.siasat.com/news/saudi-worlds-first-women-only-trampoline-park-open-riyadh-1447075/
--------
Late Pakistani rights activist Asma Jahangir awarded UN Human Rights Prize for 2018
December 19, 2018
United Nations: Late lawyer and human rights activist Asma Jahangir has been awarded the UN Human Rights Prize for 2018. Her daughter Munizae Jahangir received the prestigious award on behalf of her mother.
The award is given to individuals and organisations in recognition of outstanding achievement in human rights. Asma Jahangir was announced as one of the four winners of the quinquennial prize in October.
Receiving the award for her late mother, Munizae Jahangir dedicated it to Pakistani women and their courage. The ceremony was held at the UN Headquarters in New York on Tuesday.
Other prize winners included women's rights activist in Tanzania, Rebeca Gyumi; activist for the rights of indigenous Brazilian communities Joenia Wapichana and Ireland's human rights organisation Front Line Defenders.
Previous winners include Eleanor Roosevelt, Martin Luther King, Nelson Mandela, Jimmy Carter and Malala Yousafzai, the News International reported.
Asma became the fourth Pakistani woman to be awarded the UN Human Rights Prize. Before her, Begum Ra'Ana Liaquat Ali Khan (1978), Benazir Bhutto (2008) and Malala Yousufzai (2013) had been accorded the honour.
Asma, who died in February, was known for her outspoken nature and unrelenting pursuit for human rights as well as for remaining undaunted in the face of extreme pressure and opposition.
She is also remembered as a champion of the disenfranchised and for her services towards building a democratic and more inclusive Pakistan.
https://gulfnews.com/world/asia/pakistan/pakistan-lays-moral-compass-asma-jahangir-to-rest-1.2173030
--------
Two Christian Women and A Baha'i Woman Go To Jail For Their Beliefs, In Iran
18 December 2018
Two Christian women, Shima and Shokufeh Zanganeh, were arrested in Ahvaz and a Baha'i woman named Yekta Fahandej Saadi in Shiraz was sentenced to 11 years of imprisonment because of her beliefs.
Shima and Shokufeh Zanganeh were both arrested at their homes by the Ministry of Intelligence agents on Sunday, December 2, 2018.
Thirteen plainclothes agents raided and inspected the homes of these two Christian women and seized some of their personal documents. At the same time, security guards went to the house of the father of the two Christian women and inspected there.
After being arrested, Shima and Shokufeh Zanganeh were beaten and tortured and transferred to an unknown location.
After several days, in a short telephone call to her family, Shima Zanganeh informed them that she and her sister were detained at the Amaniyeh Headquarters in Ahvaz.
After 15 days, the case of these two Christian women was sent to Branch 12 of the Ahvaz Revolutionary Court and on Wednesday, December 12, 2018, both of them were transferred to the Sepidar Prison of Ahvaz.
The judge has issued a 500-million-touman bail for the temporary release of each of the two Christian women. Despite the difficult economic conditions for the majority of the populace in Iran, their family provided the bail bond but every time they went to follow up on the case the judge was not available.
In their last call to their family, the two sisters reported that they were beaten by the interrogator.
In another report, Ms. Yekta Fahandejh Saadi from Shiraz was sentenced to 11 years of imprisonment after being tried once again by Branch 2 of the Shiraz Court for having the Baha'i faith.
Religious minorities are systematically persecuted in Iran just because of their faith and are deprived of many of their basic rights, including freedom of practicing their religious rituals, and in the case of Bahai's, they are deprived of the right to education and to employment.
https://women.ncr-iran.org/iran-women-news/5638-two-christian-women-and-a-baha-i-woman-go-to-jail-for-their-beliefs
--------
URL: https://www.newageislam.com/islam-women-feminism/pakistan-senate-bill-seeks-rigorous/d/117200
New Age Islam, Islam Online, Islamic Website, African Muslim News, Arab World News, South Asia News, Indian Muslim News, World Muslim News, Women in Islam, Islamic Feminism, Arab Women, Women In Arab, Islamophobia in America, Muslim Women in West, Islam Women and Feminism