New Age Islam News Bureau
25 Sept 2018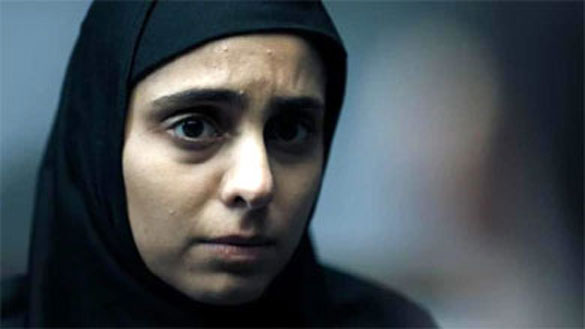 Nadia in The Bodyguard was a female Muslim suicide bomber, a character critics said was an offensive stereotype [Courtesy: BBC]
------
• The Bodyguard's Female Muslim Bomber Character Stirs Debate
• Imarat-e-Shariah Striving To Empower Muslim Girls of Patna
• 18-Year-Old Woman, Boyfriend Beheaded By Her Father, Uncle In Pakistan's Attock; Police Suspect 'Honour Killing'
• Running For Office, USA Muslim Women Hope Voters Will See More Than Faith and Gender
• Saudi Female Football Fan Trains in US to Become Professional Coach
• Ban Polygamy and Nikah Halala, Muslim Divorcee Urges High Court
• Saudi Women Take Off their Veils in Solidarity with Feminist Tarif Alassiri
• Some Saudi Women Want to Ditch Male Guardianship but Others Don't!
Compiled by New Age Islam News Bureau
URL: https://www.newageislam.com/islam-women-feminism/pakistan-sc-get-input-girls/d/116482
--------
Pakistan SC to Get Input in Girl's Case Seeking Emancipation from Father
SEPTEMBER 25, 2018
The Supreme Court of Pakistan, on Monday, directed the senior lawyer Makhdoom Ali Khan to assist the apex court in deciding a case of a teenage girl, Tatheer Fatima, seeking emancipation from her father.
Chief Justice of Pakistan (CJP) Mian Saqib Nisar, while heading the bench, was informed that the girl's father owns a shop and earns a paltry amount of Rs20000 to Rs25000 a month.
The girl had filed a petition, requesting the apex court, to remove her father's name from her birth certificate and all of her educational degrees and other documents.
Tatheer wanted her last name to be removed and changed to 'Tatheer Fatima bint-e-Pakistan' instead.
"The name of the man, who does not deserve to be called a father and whom I have not even met since childhood, should not be associated with my name," the girl had said in her petition.
At the previous hearing, the CJP directed the father to pay the financial expenses he owed to her. "The expenses for all the years that have passed will be recovered from you," he added. During the proceedings, the apex court also told the girl that there was no law permitting a child to axe his/her father's name from the child's name.
The petitioner's mother, who was also present at the hearing, asked the court, "Parents are allowed to disown their children, so why can't the children disown their parents?"
After the court directions, the girl's father told the chief justice that he was a poor man. In response, the CJP asked the Federal Investigation Agency (FIA) to probe his financial records to determine whether this was true.
"If you are poor, you will face the civil case and go to jail," the CJP responded.
The girl said that the children should be given the right to retain the name of the person who actually raised them.
The court adjourned the hearing of the case for ten days.
https://dailytimes.com.pk/302415/sc-to-get-input-in-girls-case-seeking-emancipation-from-father/
--------
The Bodyguard's Female Muslim Bomber Character Stirs Debate
by Aina Khan
London, England - Representing characters from minority backgrounds as complex, humanised beings has long been a contentious issue within the British arts landscape.
The season finale on Sunday of The Bodyguard, a BBC drama, is the latest television show to be criticised for how it represented characters from ethnic minority backgrounds.
According to the public broadcaster, 11 million people tuned in to the last five minutes of the episode - the highest ratings since 2008, when Brits were hooked on Doctor Who.
The Bodyguard followed a white, British, male veteran-turned-bodyguard who foils a suicide bomb plot planned by a visibly Muslim woman - to the ire of many Muslim viewers.
The show has reignited the debate over representation of Muslims, with critics arguing they were reduced to stereotypes.
According to The Riz Test, an initiative set up earlier this year to challenge the portrayal of Muslims on British television, The Bodyguard was a failure.
The Riz Test works in a similar way to the Bechdel test, which evaluates the portrayal of women in film and the Duvernay test, which measures racial diversity.
It poses five questions: Have Muslim characters been depicted as hyper-aggressive, a threat to the Western way of life, anti-modern, oppressed if female or misogynistic if male, or perpetrators of terrorism?
"When shows like The Bodyguard perpetuate these negative stories, especially [against] a backdrop of a rise in Islamophobic hate crimes across Europe and the US, these narratives can have real-life implications," said Shaf Choudry, who founded The Riz Test with Sadia Habib
"Hollywood and the media at large have crucial roles in influencing popular opinions of Muslims."
The initiative is named after Riz Ahmed, the British actor who delivered a speech to the House of Commons last year about on-screen diversity, the portrayal of Muslims, and how sincere representation could foil "radicalisation".
Research by the University of Cambridge in 2016 found that hostile media coverage of Muslims contributed to a heightened climate of Islamophobia and hostility towards Muslims.
Habib, who has taught at inner-city schools in London and Manchester for seven years, said that proper representation in the arts is important for young people.
"[They] are fascinated by issues surrounding identity and belonging, but often they don't get the opportunity to explore what it means to belong because of how they're represented in media, film, and television. They would jump at the chance to explore more about this," she said.
In addition to religious diversity, sectors including broadcasting, performance, film and publishing have also been blasted for failing to represent the working class.
A study by Create London published earlier this year on social mobility in the arts found working-class people were hugely under-represented.
Within publishing, those from working-class backgrounds accounted for only 12.6 percent. In film, TV and radio it was 12.4 percent.
A study by the Centre for Literacy in Primary Education found that children from black and other ethnic minority backgrounds are still under-represented in most mainstream children's books, with only 4 percent of 9,115 surveyed books in the UK featuring black or ethnic minority characters.
Nikesh Shukla, author and editor of The Good Immigrant anthology of essays on race and identity by ethnic minority authors, said there are gatekeepers in the publishing industry.
"What has historically happened is that people who commission books are from the same background, they have certain life experiences. And so, when you look at [black and ethnic minority] representation, they're fetishised", he said.
"You don't get to hear [black and ethnic minority] writers who are sci-fi writers, who are not writers that are just writing about their oppression or their identity. You only hear about one type of thing that resonates with the people who decide what gets published.
"We need to look at who decides what gets published and how we can diversify that because the talent is out there, but the talent isn't actively being looked for by people who know what's out there and so they just self-perpetuate."
Films such as Marvel's Black Panther, featuring mostly black protagonists, became the 10th-highest grossing filmof all time, according to Forbes, and other titles such as Crazy Rich Asians have challenged mainstream narratives.
In 2016, the British Film Institute analysed 1,172 British films and found that most do not feature a single black character and those that did revolved around stereotypical subjects such as crime and slavery.
Theatre, too, continues to be dominated by a privileged, privately educated, white and male majority. Only 18.2 percent of people working in performing and the visual arts are from working-class backgrounds, according to the Create London study.
Common Wealth Theatre, a women-led theatre company, aims for greater diversity.
The cast of its most recent production, Radical Acts, a play celebrating the centenary of women's suffrage, included Muslim and working-class women from across Bradford.
"What felt really important is how we brought these women together to think about radical acts that they do every day," Rhiannon White, co-director of Common Wealth Theatre, told Al Jazeera."We wanted to celebrate these women, to discover some of this history and share it with the world."
Speaking about the importance of including visibly Muslim women like herself on stage, 21-year-old assistant director Jaasra Aslam said: "It means everything … It's only once you see people like you doing something that you feel accepted and you get the confidence to think, 'Yeah, I could do that as well.'"
Aina J Khan focuses on race, faith and identity. She's reading a masters in religion in politics at SOAS.
https://www.aljazeera.com/indepth/features/bbc-series-featuring-female-muslim-bomber-stirs-diversity-debate-180924223225015.html
--------
Imarat-e-Shariah Striving To Empower Muslim Girls of Patna
September 24, 2018
Imarat-e-Sharia which was initially founded to settle the family and property disputes of Muslims has now become an institution which has brought a sea change in the lives of Muslim girls of Patna, Bihar. The institution is located Phulwari Shareef, Patna, where the girls are getting technical and computer education.
Imarat sharia computer centre was founded in 2003 by an alumnus of Aligarh Muslim University in a building donated by Mr Osman Ghani. He donated the property on the condition to open an institute for girls. Initially, 7 girls from the slums of Phulwari joined the institution from the slums of. Now it has a strength of 124 girls, of which 60 pc are Muslims while 40 pc are non-Muslims. So far 367 girls have graduated from this institute during the past 10 years. The main attraction for Muslim and non-Muslim families to send their daughters to this institution is because of its female-only nature. Not only that only girls study in this institute but the entire staff of the institution comprises of females.
Apart from offering BCA course, the institution from now onwards will be offering BBA course as well.
https://www.siasat.com/news/imarat-e-shariah-striving-empower-muslim-girls-patna-1411838/
--------
18-Year-Old Woman, Boyfriend Beheaded By Her Father, Uncle In Pakistan's Attock; Police Suspect 'Honour Killing'
Sep 24, 2018
Islamabad: An 18-year-old girl was beheaded along with her 21-year-old boyfriend in Pakistan by her father and uncle in what the police are calling yet another incident of honour killing, the media reported on Monday.
The incident took place in a small village in Attock district when the man arrived at the girl's house to meet her, police was quoted by Dawn News as saying. Soon after, the girl's father and her uncle walked in and, after tying the victims with ropes, beheaded them with a sharp object.
The police have arrested both suspects and recovered the murder weapon as well, sub-inspector of Saddar police station Asif Khan said.
Scores of people in Pakistan, an overwhelming majority of whom are women, are still being murdered by relatives for bringing "shame" on their family. At least 280 such murders were recorded by the Human Rights Commission of Pakistan from October 2016 to June 2017 - a figure believed to be understated and incomplete.
https://www.firstpost.com/world/18-year-old-woman-boyfriend-beheaded-by-her-father-uncle-in-pakistans-attock-police-suspect-honour-killing-5251921.html
--------
Running For Office, USA Muslim Women Hope Voters Will See More Than Faith and Gender
Sep 25, 2018
When President Trump first announced restrictions on travellers from Muslim countries, Fardousa Jama attended a rally at a Mankato coffee shop. She was there with other community activists who were trying to come up with a way to respond to the so-called Muslim ban.
A state representative whom Jama declined to identify suggested that people wear a head covering, or the hijab, to show support.
"And the comment that was made came from a person who is a leader, who is in that position," she said. "To me, that shows the disconnect with your constituents — if you can tell us that the best way you can show support to your fellow Muslim is to put on a scarf."
Jama went home that night and talked to her father about it.
"And he's like, 'Well, then, if it bothers you that much, then why don't you bring your voice to the table?'" she recalled. Now she's among a dozen or so Minnesota Muslims who are attempting to do just that. A handful of those are women.
Jama, 33, immigrated from Somalia as a child. She grew up in Mankato and moved back after college. She founded a non-profit organization, Somali Community Baarwaqo Organization, that helps Somali immigrants settle in the community — providing information about jobs, health care and education.
Reached by phone, Jama was at Mankato West High School for a performance by the Somali-British musician Aar Maanta.
Maanta has been visiting Minnesota in recent years for a residency program that connects artists with the community. But he was denied a visa to visit last year.
Jama said community activists worked to help him get his visa. She said it's that type of work that motivates her to serve in public office.
Jama is an immigrant, a millennial, a woman, and a person of color. She said she cares not only about minority issues, but other issues like affordable housing and education as well.
Now she's running for a seat on the Mankato City Council. Of the Muslims in contention for elected office this year in Minnesota, most of the women are advancing from primary victories to the general elections.
The positions range from school boards to Congress — with state Rep. Ilhan Omar seeking to replace Keith Ellison in the U.S. House, now that he's running for attorney general.
Omar was an inspiration to many of the women running this year. She's appeared on magazine covers and the Daily Show. She checks the box for multiple "firsts" — the first Somali-American Minnesota legislator, the first woman wearing a headscarf to serve in the House. And she may be about to become the first woman of color to represent Minnesota in Congress.
Although her district is primarily Democratic and a lot of her constituents are Somali immigrants, the women seeking office take inspiration from her, thinking that if she can do it, they can too.
"A lot of times, we women doubt our ability to do things when we're overqualified," said Hodan Hassan, a mental health clinician running for a state House seat in Minneapolis. "Whereas men, even when they're underqualified, they still think they can do it."
Hassan's views are echoed in a Sept. 20 Pew Research Center survey that found women are "increasingly doubtful that voters are ready to elect more female leaders." The survey also says women are more likely than men to experience barriers and uneven expectations.
Hassan said that at first she wasn't sure she wanted to run for state representative.
"I'm a perfectionist at heart," she said. "Can I do this job sufficient enough to my standards that I'll think I'm doing a good job? And will I be able to represent people well and make sure their voices are heard?"
For some local races, the candidates run unopposed. The Minneapolis School Board district races are an example of that.
Sharon El-Amin says it bothers her that 36,000 students aren't well represented and that she hasn't heard from the candidates who are running unopposed. El-Amin, on the other hand, is running for one of two at-large positions against three other challengers.
While some women of color say they've received racist comments about their election bids. El-Amin said it's important for such candidates to emphasize their assets.
"I think sometimes that we forget about the power that we hold and the things that we can bring together when it comes to building, bringing people together, standing up for what's right," she said. "Those are all things that we as women have a natural way of doing."
El-Amin was a restaurant owner in north Minneapolis for 15 years. She's been a resident of the community for 30. Now she works for the Hennepin County Sheriff's Office.
"So while my name is new in the field of becoming an elected official, it's not new to the city," she said. "So as a black Muslim, it just gives me more of a strong approach to go into the election. Again helping me to be more confident, stand behind my belief and what I represent and just fighting for what's right for our children and our families."
These women aren't just representing a local trend, they're part of a national trend of women running for office this year. They just happen to be Muslim.
https://www.mprnews.org/story/2018/09/25/muslim-women-running-office-elections
--------
Saudi Female Football Fan Trains in US to Become Professional Coach
24 September 2018
A 29-year-old Saudi woman who fancied playing football as a child has now joined a football coaching program for Saudi women in the United States.
Lamyaa al-Fares has turned from a fan into a professional coach for women teams, she told Al Arabiya English.
"I'm currently enrolled in the program in the United States, and upon completing it, I will prepare for the starting football season, given that I'm one of the founders of 'Challenge Team' where I will be a player and an assistant coach."
Though she plays an attacking midfielder, al-Fares says her coach praises her role as a team joker, given that she can play in several positions, including a goalkeeper.
Al-Fares has trained children until the age of 6, and girls between the ages of 8-18, who would graduate to participate in women football teams in Riyadh.
Recalling her childhood, al-Fares said she practiced football playing with her brother until the age of 17 in their house yard. After graduating from college in 2007 I played football with my girl friends, where we would divide ourselves into two teams and play for fun.
A friend of mine then suggested we create a football women team and that is when "Challenge" became among the first Saudi female football teams, she said.
"I am a fan of football, and had been always eager to play it and I've never given up on that, I find myself a lot in this sport."
"I dream about becoming a successful coach in my country and contribute to developing the sport, as well as create a certified football academy for women."
https://english.alarabiya.net/en/sports/2018/09/24/Saudi-female-football-fan-becomes-professional-coach-in-the-US.html
--------
Ban Polygamy and Nikah Halala, Muslim Divorcee Urges High Court
Sep 25, 2018
Mumbai: A 35-year-old woman from Dongri who was given talaq by her builder husband has filed a petition in the Bombay high court seeking a ban on polygamy and nikah halala in the Muslim community. The woman claims that her husband was already married and has urged the court to set aside the talaq pronounced by him without her knowledge and certified by a qazi.
Advocate Nitin Satpute, counsel for the petitioner, said the petition is in the pre-admission stage and would be mentioned before the court for hearing. "The legal position (on issues like talaq) has been decided by the Supreme Courts and high courts of this country time to time, but still the Sharia law has been misused to exploit Muslim women," the petition said.
"Polygamy is a practice that has been recognised as an evil plague, similar to Sati, and has also been banned by law in India for all but Muslim citizens...bigamous marriage has been made punishable among Christians by the Christian Marriage Act, among Parsis by the Parsi Marriage and Divorce Act, and among Hindus, Buddhists, Sikhs and Jains by the Hindu Marriage Act.
However, the Dissolution of Muslim Marriages Act does not secure for Indian Muslim women the protection from bigamy, " said the petitioner. "A ban on polygamy has long been the need of the hour in the interest of public order and health." The petition referred to court orders which have held that polygamy is not an integral part of religion.
The couple had met on social media 2017 and got married soon after. The woman, who was divorced twice, claimed that the man said that he had divorced his first wife. But the relationship soured soon and she alleged that she was forced to undergo an abortion. The woman later found out that her husband had a second wife too.
In June 2018, he sent her a talaq certificate along with the mehr amount. The petition claimed that the talaq was given without her knowledge and there was no attempt at reconciliation as required by the law. She claimed she also told to perform nikah halala and get married to her father-in-law. Nikah halala is the practice where a Muslim divorcee woman has to marry another man, consummate the marriage and then get divorced to remarry her former husband.
https://timesofindia.indiatimes.com/city/mumbai/ban-polygamy-and-nikah-halala-muslim-divorcee-urges-high-court/articleshow/65941483.cms
--------
Saudi Women Take Off their Veils in Solidarity with Feminist Tarif Alassiri
NOUR ELTIGANI
SEPTEMBER 24, 2018
In last couple of days, the hashtag #Solidarity_with_Tarif_Alassiri has been gaining momentum on social media in response to the online backlash the Saudi feminist and activist Tarif Alassiri received when she took off her hijab and niqab.
Women all over the kingdom have been posting pictures and videos without their face and hair veils to combat the reinforced social practice. The veil is part of not only the kingdom's but also other Gulf counties' traditional wear. However, there is no law in the constitution that forces women to cover their faces or hair.
This was not the first campaign attempting to combat the face and head veil. In August, another campaign under the hashtag #BurnTheNiqab has circulated around the internet. After several European countries started banning the niqab, social media users encouraged Saudi women to reclaim their freedom by "burning" their veils.
The country's laws, especially women's rights laws, are inspired from the Islamic Shari'aa laws. However, the rise of women's rights movement in the country have sparked debates in the recent years. In an interview aired on CBS News with Norah O'Donnell, Crown Prince Mohamed Bin Salman said "The laws are very clear and stipulated in the laws of sharia: that women wear decent, respectful clothing, like men."
He added, "This, however, does not particularly specify a black abaya or a black head cover. The decision is entirely left for women to decide what type of decent and respectful attire she chooses to wear."
Prior to the current reform movement initiated by Mohamed Bin Salman as part of his vision 2030 reform plan, the kingdom's social norms were dictated by the Wahhabi movement: a revivalist "ultraconservative' movement founded by Mohamed Ibn Abdul Wahhab to preserve the purity of Islam by banning "un-Islamic" practices and behavior.
However, the country's Crown Prince Mohammed Bin Salman aims to take the kingdom to a more progressive and secular future not just in terms of women's dress code, but also in terms of granting women their longed for rights.
This began when he disbanded the 'Hay'a' or Islamic police for arresting women who are not wearing a abaya, the traditional Saudi black dress, the headscarf or face veil.
Mohamed Bin Salman's reform vision granted many firsts for the women in the kingdom. Just this summer, the kingdom seated its women behind the wheels for the first time. After finally allowing women to drive cars, the world's biggest flight training program, Oxford Aviation Academy, opened its doors to welcome numerous female pilots in its branch in Saudi Arabia. In October of 2017, women were finally allowed inside football stadiums for the first time without facing legal charges.
In 2016, the first female news anchor stepped on national television channel 'Saudi TV Channel 1'. On Sunday, which happens to be the country's 88th national day, the news channel made waves again by airing the first nightly new bulletin presented by a woman.
While the country continues to celebrate many of its women's achievements, not everyone is happy about the development. Many Saudi men still follow the Wahhabi trail of thought. They continue to put constrains on women by forcing them to wear the hijab, abandon their education and stay at home; nonetheless, Mohammed Bin Salman hopes to change this phenomena by the end of the reform period.
https://egyptianstreets.com/2018/09/24/saudi-women-take-off-their-veils-in-solidarity-with-feminist-tarif-alassiri/
--------
Some Saudi Women Want to Ditch Male Guardianship but Others Don't!
September 24th, 2018
This discriminatory system requires every woman in Saudi Arabia to receive her male guardian's approval - a father, brother, husband or son - to make a range of critical decisions on her behalf, including travelling outside the country, getting married, studying abroad or even to leave prison!
The debate, prompted by Saudi celebrations of the 88th National Day of the Kingdom, is not new.
It has been going in Saudi Arabia for years and demands to ditch the male guardianship system have been soaring in the last year as King Salman issued orders to allow all women access to any government service without the consent of a male guardian. This was regarded as a big step towards real reform.
On the social media, Saudi women went on to tweet with the hashtag: "سعوديات نطلب اسقاط الولاية 808" that 'Saudi Females Demand an End to Male Guardianship' for their rights to decide their own lives decisions without waiting for a male guardian.
https://www.albawaba.com/loop/some-saudi-women-want-ditch-male-guardianship-others-dont-1190592
--------
URL: https://www.newageislam.com/islam-women-feminism/pakistan-sc-get-input-girls/d/116482
New Age Islam, Islam Online, Islamic Website, African Muslim News, Arab World News, South Asia News, Indian Muslim News, World Muslim News, Women in Islam, Islamic Feminism, Arab Women, Women In Arab, Islamophobia in America, Muslim Women in West, Islam Women and Feminism