New Age Islam News Bureau
1 Dec 2014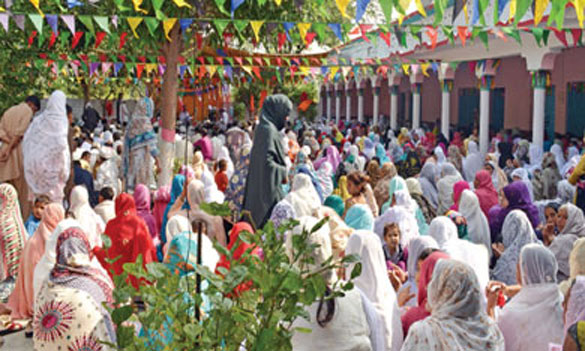 Women devotees at the shrine of Mai Sahiba — Photo by the writer
---------
• Muslim Girls Shouldn't Wear Short Clothes, Says Attacker after Slapping Indian Actress
• Swedish Girls 'Forced' Abroad To Join Isis
• Maid Smugglers Make Hay Saudi Kingdom
• 'Women Don't Need Guardian Permission for Live-Saving Ops': Saudi Ministry
• 'Things Will Change!' – Turkish Girls Hopeful after Pope's Visit
• Pakistan: Two Minor Hindu Girls Married To Elderly Muslim Men at Gunpoint
• Egypt Making Slow Progress on Genital Mutilation
• Security Forces Shoot Palestinian Woman Who Stabbed Israeli
Compiled by New Age Islam News Bureau
URL: https://www.newageislam.com/islam,-women-and-feminism/new-age-islam-news-bureau/pakistan-s-female-saint--sufi-shrine-run-entirely-by-women/d/100277
------------
Pakistan's Female Saint: Sufi Shrine Run Entirely By Women
Shiza Malik
December 1, 2014
Thousands of Sufi shrines, big and small, dot the landscape in rural Pakistan. Each shrine has its own history and associated legends. But the shrine that stands against the dusty green hillocks in Dhoke Sahi Village is unique, both in terms of its past and present.
Here, much as with other shrines, the day of the Urs – the saint's death anniversary – resembles a carnival. Triangular buntings in red, yellow and green hang at the entrance along sparkling streamers and strings of colourful bulbs.
Steam rises from potbellied cauldrons filled with rice placed over burning logs and devotional speeches blare from the loudspeakers.
Like other shrines, thousands of devotees have come to celebrate the saint's union with his beloved God. But what is unusual is that the saint, for whom these devotees have gathered, is a woman.
The shrine, near the town of Dina, is dedicated solely to Mai Nurunnisa Begum, whose name literally means 'a light among women'. The shrine of the woman – called 'Mai Sahiba' by her devotees – is managed by a staff of women, who live on the premises. The complex, which is the centre of cultural and religious life in Dhok Sahi and neighbouring villages, includes two burial chambers: one for Mai Sahiba and another that is the final resting place of two of her disciples.
A courtyard for women and residential rooms adjoin another courtyard and lodging rooms reserved for men. In the larger outer courtyard, two peacocks strut about in a large birdcage. A nearby kennel houses two Russian dogs, who also live on the premises. This reflects Mai Sahiba's love for all creatures of the animal kingdom, as dogs are usually not allowed anywhere near a religious site in Islam.
The shrine fulfils social and religious functions for the women of the area. Each day, dozens of women bring their worries to the shrine. Some find relief weeping at Mai Sahiba's feet; others find hope in the vows they make here and yet more lighten their load by sharing light moments with other visitors.
This mausoleum is called home by women abandoned by their families. These women have dedicated their days to the service of Mai Sahiba. The older caretakers at the shrine guide women in both spiritual and worldly matters. On most days, women share their family troubles and receive prayers nd blessings from Mai Hameeda and Mai Rashida, the caretakers.
This shrine, like others, receives millions of rupees in donations each year, which are spent on its upkeep and to finance the Langar that feeds visitors. "Once, we received a letter and a donation of a few hundred thousand rupees from India. A Hindu man who had been her devotee before partition left the money with his son and asked to have it sent here for a well to be dug. Since we already had a well and an electric motor with it, we used it to install a biogas plant," said Rashida.
While Sufism has traditionally offered more space for women than the madrasa and the mosque combined, today this space is shrinking. Many Sufi shrines in Pakistan do not allow women to enter the burial chamber and women's participation in rituals such as Dhamaal and the practice of making vows to deceased saints is generally seen as a decline in Sufi practice. Taliban have attacked shrines such as that of Rahman Baba near Peshawar, specifically because it was frequented by women.
Similarly, while women are remembered as disciples of notable sufi saints, caretakers of shrines and seen as participants of rituals and pilgrims to shrines, few women have occupied positions of authority as saints themselves. Bibi Pak Daman in Lahore is another well-known shrine to a woman saint.
Kelly Pemberton, professor of religion at George Washington University, has written extensively about women in Sufism. "As relatives of particular saints they (women) may be buried in the same shrine complex, but few will have shrines erected solely in their honour," she says.
"Mai Sahiba was not born into a traditional Pir family. It was a landowning Awaan family of this village whose men served in the British army. However, she had Sufi inclinations from a very young age. As a teenager, she left home for a cave in the hills where she would perform Chhilla (meditation)," said Rahman, an old man at the shrine.
"Later, she made contact with Pirs of the Chistia-Qadria order and travelled to shrines in different parts of Pakistan but in the beginning it was all on her own. She didn't know how to read or write but produced hundreds of pages of poetry, now compiled in a book. That is one of her miracles," he added.
According to him, Mai Sahiba occupied a special position in the village not available to other women. She was engaged to her cousin as a young girl however she made her family promise that after she married, she will not have to stay at her husband's house. Because she was a Majzub woman – one whose life had been dedicated to god –, her request was honoured. Her brother also facilitated her in visiting shrines and other Sufis, all over Pakistan, often accompanying her himself.
"She asked her brother to build her rooms next to the village graveyard. She lived there and would perform long Chillas (meditation). In the beginning, she had a grave dug in one of the rooms and meditated inside it. This kind of meditation is symbolic of rejection of the world. On the direction of her Pir, she stopped this practice. Perhaps that Maqaam (stage) in the Sufi path was complete," he said.
Her devotion to God made her attract devotees and she was joined by a couple of other Majzub women. The shrine stands at the same spot where they had lived," he added.
The Sufi path involves going through specific stages under the guidance of a spiritual master. Mai Sahiba went through these stages over a course of many years under the guidance of Hazrat Babu Ghulam Sarwar in Lahore and eventually returned to the village to give religious education to people in the village. She also used her position as a figure of religious authority to help women with domestic issues.
"It was usual for her to call a woman's husband and lecture him on mistreating his wife. No one dared to disobey Mai Sahiba," said Rahman.
Today, Mai Noorun Nisa's devotees live all over Pakistan and widespread immigration from the Potohar region to England, Norway, Denmark and other parts of the world has taken her story abroad.
Her poetry is compiled in a thick volume. Hundreds of copies of this volume were printed, bound in a hard-cover with gold lettering and delivered to the shrine on a truck by a devotee who refused to identify himself. When asked by the caretakers what they could give him in return, he smiled and said "I have received the return many fold from Mai Sahiba".
The life and the legacy Mai Sahiba has left behind is an example of often ignored social functions that shrines in Pakistan perform. It is also an unusual example of a woman occupying an autonomous position of religious authority in a society where this position is reserved solely for men.
"I am not a follower of Sufism or someone who visits shrines but whenever I was going on the Mangla road I would see the board guiding to Mai Sahiba's shrine and I would think in this patriarchal society, if a woman has been able to occupy such a position she must have been someone truly great," said Subedar Farooq Khan, a resident of Peshawar, visiting the shrine.
http://www.dawn.com/news/1147868/for-some-a-shrine-for-others-a-refuge
-------------
Muslim Girls Shouldn't Wear Short Clothes, Says Attacker after Slapping Indian Actress
December 1, 2014
Mumbai: Model and actor Gauhar Khan was today slapped by an audience member while she was hosting 'India's Raw Star', a reality show, at Film City in suburban Goregaon, police said.
Gauhar Khan was attacked and threatened by an audience member who said that, "being a Muslim woman, she should not have worn such a short dress", Aarey Colony police said.
The accused, identified as Mohammed Akil Mallick (24), slapped and touched her inappropriately during the break of the show, but was immediately overpowered by the security guards deployed there, following which the police were notified.
According to a report on Hindustan Times, there were 250 bouncers present at the venue, which had 2,500 people as audience. Yet, the man managed to break the security cordon and get into an argument with Khan.
HT quotes a source: "While he was being escorted out of the place, he managed to go up on stage and slapped her. The source adds, "It was chaos after the security pulled the man away. Gauhar was shocked and was crying a lot. A stunned Gauhar didn't understand what happened. Though the shooting was stopped, Gauhar took a break of an hour to gather her bearings and then reported back on stage to finish the leftover one hour shoot."
Senior inspector at Aarey police station, Vilas Chavan, told PTI that the accused was subsequently arrested and booked under IPC sections 323 (punishment for voluntarily causing hurt), 354 (assault or criminal force to woman with intent to outrage her modesty) and 506 (punishment for criminal intimidation). Mallick will be produced before the court tomorrow.
http://www.firstpost.com/living/muslim-girls-shouldnt-wear-short-clothes-says-attacker-after-slapping-gauhar-khan-1828827.html
-------------
Swedish Girls 'Forced' Abroad To Join Isis
December 1, 2014
Sweden's Security Service has expressed concerns about a rapid rise in the number of Swedes heading to Iraq and Syria to fight for Isis, as Sweden's official coordinator against violent extremism suggests some girls are being forced to make the journey.
Anders Thornberg, who is head of Sweden's Security Service Säpo, told Swedish television network SVT that the country was one of a number of European nations experiencing the same phenomenon.
"It's an explosive development. When I talk to my colleagues on the other security services in Europe and around the world we see the same trend," he told the Agenda programme on Sunday night.
He suggested that up to 300 Swedes had travelled to countries including Afghanistan, Iraq, Yemen and Syria to fight for Isis, a figure he also quoted in a radio interview last month.
In July, Sweden appointed a national coordinator against violent extremism, former Social Democratic party leader Mona Sahlin.
Her role is to improve cooperation between local authorities, government agencies and other relevant organisations and to help develop initiatives in education.
Speaking to SVT on Sunday, she said that while many young people choose to join Isis (also known as the Islamic State or IS) or other militant groups for political and religious reasons, others - especially girls - are "forced" or "trafficked" to the middle east and southern Asia.
Sweden appoints coordinator against violent extremism
Sahlin has been speaking to the families of Isis fighters and said that many relatives have suggested that their children do not go abroad voluntarily.
"I hope that cases of trafficking come to light that can be investigated," she told SVT.
Commenting on those who choose to join terror groups, she said that many were following a "dream" to "become something" that turned out to be "a very different reality".
Sahlin used her television appearance to criticize Muslim groups in Sweden for failing to do enough to stop young people travelling abroad and called for a national helpline to help the parents of young fighters.
"These distraught parents, where do they turn today? Very few have someone they know who understands this situation".
'We need to talk about Isis'
Last month, Ibrahim Bouraleh, the chairman of the Järva Islamic Association in Stockholm called for closer cooperation between local government agencies, police and muslim groups. He insisted that Islamic organisations in Sweden are working hard to stop muslims from being radicalized.
"We've been looking into different models that appear to be working in both Denmark and the UK, where social services and police work together to support families affected. They work in advance, educating parents so they can spot the signals before it's too late," he told The Local.
On Sunday, Anders Thornberg also spoke to the need to "pull together all the forces in society" to try and prevent more young people from signing up to Isis.
http://www.thelocal.se/20141201/swedish-girls-forced-abroad-to-join-isis
-------------
Maid Smugglers Make Hay Saudi Kingdom
December 1, 2014
Smuggling of domestic workers across the Kingdom has become a lucrative business for unscrupulous parties.
A smuggler of domestic workers in Hail who goes by the name of "Akhu Sa'da" called a citizen whose domestic workers ran away last Friday to say that they were in Riyadh and the sponsor need no longer worry about them. He then hung up and refused to take any calls.
The smuggler had helped these two domestic workers to escape from Hail to Riyadh, a phenomenon which is worrying many residents in Hail.
Khodeer Al-Ramaly was surprised to find two of his household workers missing from his home early Friday morning, noting that they had not given any indication of their intention to run away. He said his family had treated them well and allowed them to connect with their families each week at the family's expense.
He said there was a specific number they always used to call and which was repeatedly dialed in the days before their escape. After they went missing, he called that number, which turned out to be Akhu Sa'da's. The man informed him that his workers had arrived in Riyadh.
Al-Ramaly said he will now have to pay SR32,000 in recruitment fees for another domestic worker.
The director of the office of household workers in Hail, Abdullah AlGhareer, said that his office receives up to 20 calls a day to report missing workers.
http://www.arabnews.com/saudi-arabia/news/668006
-------------
'Women Don't Need Guardian Permission for Live-Saving Ops': Saudi Ministry
December 1, 2014
JEDDAH — Sources at the Ministry of Health and private hospitals told Saudi Gazette that women can undergo operations without the permission of their male guardians if their lives are at risk.
However, if the operations are not urgent and the patients' conditions are not life threatening, then the procedures can wait until permission is obtained.
They noted that the woman herself has to sign for the operation if it is urgent. However, a new awareness campaign claimed women could undergo operations on their own accord and without the need for a male guardian's permission.
The campaign hopes to increase awareness among women and people working in the health sector and is initiated by Dr. Samia Al-Amoudi, an advocate for women's health empowerment and health rights and an associate professor at King Abdulaziz University, Jeddah.
Al-Amoudi noted that there are widespread assumptions and some claims that women's right to health care is not fully supported in Saudi Arabia.
Evidence of this can be seen in a report from The Convention on the Elimination of All Forms of Discrimination against Women published in April 2008.
"The committee expressed concern about the lack of information and data on health problems and expressed concern that women may require permission of their male guardians to access health facilities," she said.
She added there are still misconceptions about women's rights and the ability for female patient's to consent to their own health care issues, for example in cases of admission, discharge from hospital and consent for her children's medical treatment and surgery.
This can lead to delays in the delivery of health care and lead to maternal death cases, as has been reported many times.
In Islamic law, a mature, mentally sound woman has the full right to accept or refuse any medical procedure offered to her, and does not need the approval of her husband, son, father or brother.
A 1988 royal decree also states that a patient who needs medical treatment or an operation can give consent regardless of gender.
The decree was based on a resolution provided by senior clerics in the country. Despite this, "a majority of women still do not know, recognize or understand their own health rights," said Al-Amoudi.
"It is for this reason that empowerment of women through education and awareness, health care providers and future doctors is mandatory."
Awareness is the main objective of Al-Amoudi's campaign on the right of Saudi women to consent to their health care.
http://www.saudigazette.com.sa/index.cfm?method=home.regcon&contentid=20141201226040
-------------
'Things will change!' – Turkish girls hopeful after Pope's visit
December 1, 2014
Istanbul, Turkey(CNA/EWTN News).- Pope Francis' visit to Turkey may change the traction Christians have in a country that is almost entirely Muslim, said two Turkish young women who had the occasion to greet the Pope on his recent trip.
Baram, a nearly 30-year-old woman with a degree in French Literature, told CNA that "there is a group of people here in Turkey that does not understand Christianity, or simply they are not interested in Christianity."
However, she said, "the fact that Pope Francis came, and spoke with the leaders, and provided examples, is such an important thing," and in fact, it may "change the perception of the Church."
"Thing will change! Of course they will. Even if just one small group of people is caught up in these ideas, then this small group will speak with others, and this larger group will influence other people… this is how things change, this is how things happen," Baram said.
Her words were echoed by those of Isabel, age 23.
"I did not expect that the Pope would come this year, because of the tricky political situation… but he came, and it seems there will be a collaboration among Catholics and Orthodox, and all of the other religions, since Turkey is a Muslim country," Isabel reflected, saying that "the arrival of Pope Francis, his being so human, may foster new things."
Pope Francis traveled to Turkey for a three-day trip at the end of November.
His predecessor, Pope Benedict XVI, had also visited the country, making a trip there in 2006.
Isabel said that Benedict's visit – like all papal visits – brought joy and peace, but "things did not change a lot" because true change requires action by the people.
Both Baram and Isabel took part in the Nov. 29 Papal Mass at Istanbul's Holy Spirit Cathedral.
Baram, a member of the Neocatechumenal Way, went with her group to welcome the Pope in front of the Hagia Sophia Museum.
"When we determined that the Pope was coming, we prepared banners and flags to welcome him, and then we went very early to Hagia Sophia, singing for him and waiting for him. And then he arrived, and he was right in front of me…it was a moment I cannot explain," she said.
Baram attended the Nov. 29 Mass from the balcony, while Isabel was seated among the crowd within the Church.
"I was just along the path where the Pope passed, and I had the occasion to kiss his hand when he came and when he went away," Isabel recounted.
Her uncle Ilyia was waiting for the Pope at the entrance of the church, and he was able to have a long moment with the Pope.
Isabel recounted that "the Pope stopped with him and his family, they took pictures and the Pope blessed my little cousin."
She also reflected on the difficulties of living in a country that is majority Muslim.
"Sometimes, I think that if we had lived in France, Italy, Spain, it would have been less difficult being Christian. It is not that I feel alone, but we are such a small minority here," she said.
http://www.catholicnewsagency.com/news/things-will-change-turkish-girls-hopeful-after-popes-visit-89385/
-------------
Pakistan: Two Minor Hindu Girls Married To Elderly Muslim Men at Gunpoint
December 1, 2014
Two Hindu girls aged 13 and 14 were abducted at gunpoint and then married to Muslim men, one of them 62 years old, in south-eastern Sindh province in Pakistan.
The Hindu girls were identified as Baby Mavi, 13 daughter of Venjho Kohli, and Baby Badal, 14, daughter of Shambo Kohli by the All Pakistan Hindu Panchayat Committee. The abduction took place in the dead of night at 3 am at village Rehmatullah Arain in Distract Badin. Mir Muhammad Arain, Khameeso Arain and Meero Dal allegedly entered their hut and abducted the two girls at gunpoint.
The All Pakistan Hindu Panchayat Committee has condemned the abductions and forced marriages.
A case with the police called the first information report (F.I.R.) was registered at police station Gulab Leghari. Police official Abdul Rasheed Bhatti said police raided different places but were unable to free the Hindu girls from the custody of an Islamist leader Pir Ayub Jan Sarhandi.
On Friday the two abducted Hindu girls were presented at the Sindh High Court Hyderabad by abductor Mir Muhammad Arain. According to the petition filed by Arain's lawyer, the two Hindu girls were "legally" married to Mir Muhammad Arain and Khameeso Arain on November 27 -- the day they were abducted --and were converted to Islam at the home of Pir Sarhandi. The date of birth of one of the grooms Mir Muhammaad Arain is 62 years, according to court documents.
Sindhi human rights defender Veerji Kohli was at the home of the grieving parents. "The thing that hurts much is that a girl of only 13 age is abducted and has been forcibly married to a 62 year old person," Kolhi said Sunday. "Think for a while what will be the situation of their poor and disadvantaged parents."
Veerji Kolhi, who is a convener with the Human Rights Commission of Pakistan, himself was kidnapped some years ago for defending the voiceless Hindus.
According to the Human Rights Commission of Pakistan more than two dozen Hindu girls are forcibly converted to Islam each month. Hindus like Kolhis, Bheels, Megwars, who mostly work in the fields in southern Sindh, are specially targeted by the Islamists as they are on the lowest rungs of the social ladder
On Friday, the girls could not be presented before the judge for their statements so their parents went back without meeting them. According to the lawyer for the abductors, the two Hindu girls will be presented in the court for their statement on Monday.
In most cases, the abducted Hindu girls and girls from other minorities such as Christians are blackmailed and threatened that if they do not tell the judge they left their homes, converted to Islam and got married on their free will, their entire families will get killed.
http://www.examiner.com/article/hindu-girls-aged-13-14-abducted-converted-one-forcibly-married-to-man-62
-------------
Egypt making slow progress on genital mutilation
December 1, 2014
MANSHIET EL-IKHWA, Egypt — Raslan Fadl, the first doctor in Egypt to be put on trial for committing female genital mutilation, is still practicing even through a 13-year-old girl died after he performed the procedure. And in this Nile Delta Village, he has plenty of patients.
Young girls and their families on a recent day sat in his waiting room, where the bright yellow walls are decorated with Winnie the Pooh pictures, in the same building where Soheir el-Batea came for her operation last year. Residents call him a well-respected figure in the community, known for his charity work.
It could not be determined whether any were at his office for "circumcision," as it is known here, and Fadl would not speak to The Associated Press. But Fadl's continued popularity demonstrates the challenges to curbing the practice in Egypt, where more than 90 percent of women are estimated to have undergone it — one of the highest rates in the world. Female genital cutting was criminalized in 2008 and the most important Sunni Muslim religious authority has declared it dangerous and without any religious justification. The U.N. says there appears to be a slow reduction in the rate of the practice, but that it is still widespread.
A verdict is expected Thursday in Fadl's trial, and if convicted he could face up to two years in prison. Rights advocates say the outcome of this case could set a key precedent for deterring doctors and families in the future. Sohair's father is also charged in the case.
But even in the home village of the girl, Dierb Biqtaris, there is little outcry against the practice.
Rasha Mohammed, a friend of Sohair, remembers that the girl felt scared before the operation and didn't want to go. But Rasha chalks up her death to an accident, saying 11 other girls underwent FGM with the doctor that day and "nothing happened to them."
Sohair's grandmother declined to comment on the case, saying a year and a half has passed and she doesn't want to bring up the topic again. "It was her destiny," she said.
Emad Hamdi, a local worker, said he is still weighing whether to circumcise his daughters. He said he's heard that without it, a girl would be "sexually voracious," which could be "dangerous for her" — a common justification for the practice. A widely used Egyptian Arabic term for it translates literally as "purification."
Genital mutilation involves removing all or part of the clitoris and labia minora. It is practiced in 29 countries, most of them in East and West Africa, but also in Egypt and parts of Iraq and Yemen. It is practiced among both Muslims and Christians, usually because it is seen as needed for cleanliness or to prevent a girl's sexual desire from running out of control. Social pressure is strong: Many families fear that an uncircumcised daughter will be unable to marry. Rights advocates condemn the practice as an attempt to control women's sexuality that scars girls physically and psychologically.
It was not easy getting the landmark case to trial — one indication why no cases came to court for years despite the ban. Sohair's family initially filed a police report saying she died as a result of FGM, but changed their story after reconciling with the doctor, said lawyer Reda el-Danbouki.
So rights groups had to push for trial. Prosecutors were slow, preferring "for the matter to end," he said.
Philippe Duamelle, the UNICEF representative in Egypt, said the case was an opportunity for the government to show "this crime is now taken with all the seriousness it requires."
The latest survey, conducted in 2008, showed 91 percent for women aged 15-49 have undergone the procedure. But among women ages 15-17, the rate is down to 74 percent, suggesting more families are deciding to forgo it with their daughters. Duamelle said the reduction has been significant but "doesn't go fast enough."
In southern Egypt, organizer Manal Fawzy hopes for a "sharp punishment" for the doctor as a deterrent. If the verdict is not strong, she fears the law will be seen as just propaganda.
But the ban is just one tool, she said. "To change a behavior, it's so difficult."
She runs the Assiut Childhood and Development Organization, a UNICEF partner organization that takes a community approach to getting people to abandon the practice. It operates in Assiut province, where rates are among highest in the country. The group identifies residents who are already critical of genital mutilation and gives them training and information to convince their neighbors.
"When I see a neighbor like me, and she stands against this practice and we are in the same tradition and the same village and the same place, it is very effective for them," Fawzy said. The group also calls on religious leaders and doctors to speak to residents.
The group encourages families to publicly declare their rejection of the tradition, sometimes in front of hundreds of people. There tends to be resistance at the beginning, and people are reluctant to talk about the sensitive subject, she said. But slowly the taboo is being broken, she said. "You find it's something critical for them, for their life."
In Sidfa, a village where the organization operates, The Associated Press spoke to dozens of residents about their decision to abandon the practice.
Hamdiya Nazmi said one of her seven daughters was "circumcised" but she decided not to do so with the other six after being convinced by Fawzy's organization. "I spoke with people who live near me and convinced them it was wrong too." She remembers feeling terrified when she was taken to the midwife as a girl for her own operation.
Ihsan Abdel Waly, a 75-year-old local midwife who used to circumcise girls, said she was convinced to stop doing it seven years ago after speaking to doctors.
"In the old days, it was out of ignorance," she said. "Medicine developed and people now understand."
http://www.fosters.com/apps/pbcs.dll/article?AID=/20141201/GJLIFESTYLES/141119286/0/SEARCH
-------------
Security forces shoot Palestinian woman who stabbed Israeli
December 1, 2014
The Judea and Samaria rescue services released footage of an IDF force opening fire at a Palestinian attacker who stabbed an Israeli civilian on Monday.
The attacker has been taken to the Hadassah University Medical Center in Ein Kerem for medical treatment.
An Israeli civilian was lightly injured after being stabbed with a knife by the 20-year-old Palestinian near the Gush Etzion junction.
The IDF closed off the area and was searching for the vehicle that dropped off the attacker at the junction.
http://www.jpost.com/Israel-News/Video-Security-forces-shoot-Palestinian-woman-who-stabbed-Israeli-383303
-------------
URL: https://www.newageislam.com/islam,-women-and-feminism/new-age-islam-news-bureau/pakistan-s-female-saint--sufi-shrine-run-entirely-by-women/d/100277