New Age Islam News Bureau
3 March 2019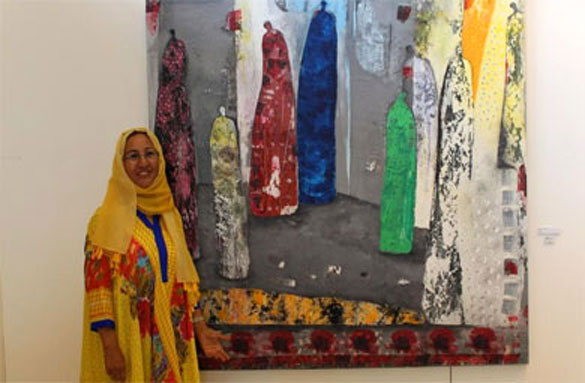 Prolific artist. Najat Makki poses next to one of her paintings.(Courtesy of Najat Makki)
------
• Hundreds Protest Against Child Marriage in Lebanon
• Quebec City Muslim Women Hold Open Forum to Demystify the Hijab
• Islamic State Women Say They Have No Regrets
• The 40-Year Creative Journey Of An Emirati Woman Artist
• Google Rules Saudi Women Control App Violates No Rules – Report
• Masoumeh Askari, Retired Teacher Sentenced To 5 Years In Prison
Compiled by New Age Islam News Bureau
URL: https://www.newageislam.com/islam-women-feminism/pakistan-institute-business-management-makes/d/117906
--------
Pakistan Institute of Business and Management Makes Head cover Compulsory for Girls, Bans Jeans for Both Genders
March 03, 2019
LAHORE: The Institute of Business and Management (IBM) of the University of Engineering and Technology (UET) on Saturday imposed a dress code for its students and Rs5,000 fine over each violation.
The notification, a copy available with Dawn, on the dress code made it for girl students to wear a scarf or dupatta while imposing a ban on sleeveless shirts and capri pants. It has made compulsory for male students to wear shalwar kameez on Fridays.
It further states that the UET administration would not allow any student to appear on the campus in jeans.
The notification said the dress code being approved by the competent authority would be observed from March 11, 2019.
Moreover, the management has directed the male students to wear formal dress. They have been directed to wear formal pants, shirt and coat, according to the notice and they have been asked to wear shalwar kameez on Fridays.
The female students, according to the notification, cannot wear deep necks, sleeveless shirts, tights, skinny jeans and capri pants.
"In case of violation, Rs 5,000 fine will be imposed and (the offender) will not be allowed to attend the classes that day," the notification reads.
UET IBM Director Dr Shoaib told Dawn the institute had launched two-week long campaign to train the students about formal dressing. He said it was issued to train the students who especially belonged to the remote areas and to teach them the sense of dressing, implying that the students who reach the UET on merit did not know the basics of dressing.
He said the activity would continue for the next two weeks, starting from March 11.
The former Punjab Higher Education Minister Syed Raza Ali Gilani during the PML-N tenure had proposed making hijab compulsory in colleges in the province but his proposals were disowned by the Punjab government.
Some universities, including the International Islamic University Islamabad, IoBM, Bahria University, Muhammad Ali Jinnah University (MAJU), Iqra University, NUST and Hyderabad's Isra University had also imposed a similar dress codes for male and women students in the past.
https://www.dawn.com/news/1467312/uet-institute-makes-headcover-compulsory-for-girls
--------
Hundreds Protest Against Child Marriage in Lebanon
2 March 2019
Hundreds protested on Saturday in Lebanon against child marriage, demanding lawmakers forbid unions below the age of 18, in a country where some faiths allow girls to be wed at 14.
Organized by civil society groups, the rally attracted women of all ages -- and some lawmakers -- who marched on parliament in the capital Beirut, an AFP photographer said.
Some carried placards with slogans reading "Not before 18" and "Stop early marriage."
Abir Abdel Razeq, a 22-year-old who carried her young daughter in her arms, said that she married at 14.
"I hope that my daughter does not get married early and that she finishes school -- I hope that she will not marry before she is 22", Razeq said.
The protest came as a bill designating 18 as the minimum age for marriage awaits parliament's consideration.
Lebanon does not have nationwide laws on marriage and divorce since these areas are governed by the country's 18 religious communities.
https://english.alarabiya.net/en/News/middle-east/2019/03/02/Hundreds-protest-against-child-marriage-in-Lebanon.html
--------
Quebec City Muslim Women Hold Open Forum to Demystify the Hijab
Mar 02, 2019
Some Muslim women in Quebec City are hoping to demystify the hijab by talking openly about their reasons for putting on the religious garment.
About a dozen people gathered Saturday in Quebec City to discuss the significance of the headscarf at an event hosted by the Ahmadiyya Muslim Women's Association.
The open forum gave women who wear the hijab the opportunity to discuss what it means to them.
"It's for people to come and meet women from the Muslim community who wear the hijab and ask them directly the questions that are on their minds," said Khulood Odeh, one of the event's organizers.
"We hear a lot of people talk about the hijab, claiming that it's oppressive or other things, and it's important for us to bring the voice of Muslim women forward and let them speak for themselves."
Most of the event's attendees were men, something that Odeh said did not surprise her.
Roger Cros attended the Quebec City event because he was interested in hearing the perspective of Muslim women firsthand.
He said for the most part, the narrative around the banning of public religious symbols in the province has been presented from a Christian point of view.
Not a 'symbol of oppression'
Early last month, Quebec's minister for the status of women Isabelle Charest faced criticism for saying the hijab is a symbol of oppression.
"When they are dictated by a religion on what they have to wear, for me, it's a lack of liberty, and it doesn't meet my values," Charest said.
The Coalition Avenir Québec minister said the headscarf "is not something that women should be wearing," and later defended her position, but said she "respects the decision" of the women who choose to wear the hijab themselves.
The CAQ government is working on legislation banning public workers in positions of authority from wearing visible religious symbols, including the hijab.
https://www.cbc.ca/news/canada/montreal/hijab-event-quebec-city-1.5040680
--------
Islamic State Women Say They Have No Regrets
2 Mar 2019
A group of female Islamic State members who have sought help after the fall of their caliphate say they regret nothing and that the terror group will survive.
The Islamic State women fled the territories formerly held by the terror group and sought help from Kurdish forces, but admitted they only approached them due to hunger and do not regret being members of ISIS while speaking to Swedish broadcaster Sveriges Radio.
Umm Karam, one of the female ISIS members, spoke to a correspondent of the broadcaster, saying: "Hunger, it was the hunger that forced us out, otherwise we would have stopped."
None of the women seeking help, many of whom were with their children, expressed any sort of regret about joining the Islamic State, and many became indignantly aggressive toward international journalists who attempted to speak with them.
" You will never understand this unless you become a Muslim. Islamic State cannot die. This is our land if God wants us to come back," another woman said, adding: "I thank God for everything, my children were hungry for months, but I thank God. I do not regret that I chose to live in the Islamic State."
The attitudes echo that of UK-born Islamic State member Shamima Begum, who told British media that she had no regrets about becoming an ISIS bride when she ran away to Syria, and said she had been unfazed by seeing decapitated heads in bins while in ISIS territory.
Now 19, Begum had demanded to be allowed to return to the United Kingdom, but was rejected by Home Secretary Sajid Javid who revoked her British citizenship.
France is also expecting a large number of female Islamic State members to return following the collapse of the terror group in Syria. The French government reported that at least 300 men, 300 women and 500 children could soon be repatriated from the area.
https://www.breitbart.com/europe/2019/03/02/islamic-state-women-say-they-have-no-regrets/
--------
The 40-Year Creative Journey Of An Emirati Woman Artist
03/03/2019
DUBAI - In any review of Emirati contemporary art, the name of pioneering artist Najat Makki comes to the fore. She continues to amaze art devotees after more than 40 years of artistic endeavours.
Born in 1956, Makki was the first Emirati woman to earn a government scholarship to study art abroad. She obtained bachelor's and master's degrees from the College of Fine Arts in Cairo, where she also received a doctorate in 2001.
Makki said most of her work was inspired by her home environment, which is reflected in sculpture, relief, painting, collage, multimedia and installation covering realism to abstract expressionism.
In recent years, Makki has explored new materials, such as Bohemian crystal for the Sharjah International Islamic Art Festival, creating mesmerising multimedia "Visual-Audio Flaps."
"I like art and give it my all, working every day. If you don't, your blood and mind will stop and you stop growing as an artist," Makki said.
She said her techniques depended on and take inspiration from the material — metal, clay, glass, crystal, paint or canvas — with which she happened to be working but stressed that "the mind and hand reign supreme."
Women, children, the older generation, nature, Sufi music, issues of poverty and peace are subject matters of most of Makki's works. She shed the early academic influences to create her own genre, characterised by the variety of colours inspired by nature, the play of light and shadow, embellished with delicate lines and executed with a light touch.
Her search for new ways of expression and new forms are what sets her apart, with her work extensively shown at local, Arab and international exhibitions.
Makki attributed her inspiration for art to childhood surroundings in her father's house in Bur Dubai, near the sea and the market. Her father had a herbal medicine shop and, at home, her mother and two older sisters were constantly sewing and embroidering bed and pillow covers.
Encouragement from teachers at the Khawla bint Alazwar primary school, which she attended, was also a major factor. The domestic and exterior environment created an atmosphere that sparked Makki's imagination and set her on a lifelong pursuit of art.
"Whenever I saw something, my mind begins to think how to depict it on paper," she said. "My imagination would run riot looking into the constantly changing colours of the sea across where we lived."
Makki said she remembered her first painting, which she exhibited at school when she was 12. The painting was of an itinerant Pathan merchant who used to go to every doorstep in the neighbourhood carrying a load of wares — textiles, bangles, rings and toys.
Makki's first public exhibition was in 1979 at Al Wasl Club, Dubai. Since then, her work has been exhibited across the Middle East and Europe. It can be seen in Dubai at the Hunar Gallery and Beyat Gallery and in Abu Dhabi at the Etihad Modern Art Gallery.
She said a 4-month stay in Paris eight years ago was a revelation and very important for her as an artist. Visiting the many art galleries and museums provided an intimate exposure to works from Islamic, European, Indian and Mexican civilisations and cultures.
Makki said she believed in giving back to society and is at the forefront of Emirati art, culture and society. It has been nine years since she retired from the Ministry of Education but she says she keeps busy exploring new ideas in her home studio in Al Barsha, Dubai.
She notes that many of the younger generation of artists crave instant success. Her advice is: "You should give yourself enough time to develop your art. The idea behind the work has to be solid." The pioneers of the first generation of Emirati artists "put in decades of hard work before tasting success," she added.
Present-day artists have many new resources to fall back on. Mass media provide ideas and techniques, she said, while, during her time, "there was only one's own mind and hand to create art."
She has no airs about what she has achieved. "Even though I am an established artist, not all my ideas are perfect," she said.
Among her contemporaries, Abdul Qader Al Rais is the one she most admires for the careful way he chooses colour and for his clear thinking. Makki said he was the front runner among Emirati artists and fully deserving of his international stature.
https://thearabweekly.com/40-year-creative-journey-emirati-woman-artist
--------
Google Rules Saudi Women Control App Violates No Rules – Report
3 Mar, 2019
Google has apparently told a US congresswoman that a Saudi government app that allows men to keep tabs on women and bar them from leaving the country is in compliance with its guidelines, Business Insider reported.
The Alphabet-owned IT giant has reportedly found nothing wrong with the controversial app, devised by the Saudi government to help citizens with routine administrative duties such as tracking female members of their families, the Insider reported on Saturday. The statement was made by Google in response to a request by Rep. Jackie Speier (D-California) and another 13 of her fellow lawmakers, including freshman Muslim representatives Ilhan Omar and Rashida Tlaib.
The app that has sparked an outcry in the US House is Absher, which provides Saudi citizens and residents with an opportunity to "safely browse your profile or your family members, or labors working for you, and perform a range of eServices online."
In the ultra-conservative kingdom with its strict male guardianship system, these services include helping a male guardian see if a woman attempts to use her passport, and stop her from leaving.
As she filed a request with Apple CEO Tim Cook and Google CEO Sundar Pichai to pull the app, Speier warned that if the companies keep it on their platforms, they would become "accomplices in the oppression of Saudi Arabian women and migrant workers."
She told Insider that both Apple and Google missed the deadline to remove the app by February 28.
"As of today, the Absher app remains available in both the Apple App Store and the Google Play Store even though they can easily remove it," Speier said, slamming the response by the tech giants as "deeply unsatisfactory."
The US lawmakers' outrage was echoed by their colleagues in Europe. Last month, European MPs called on the oil-rich kingdom to abolish its archaic male guardianship system, specifically taking aim at a "government web service" in an apparent reference to Absher.
Saudi women still face many restrictions as they go about everyday life despite several concessions made as part of reforms championed by Crown Prince Mohammed bin Salman. Since last year, women in Saudi Arabia are eligible for driving licenses after a ban was lifted on female motorists. While the move was celebrated around the world, women still need to ask a guardian's permission to get the license. Likewise, women cannot marry, get a divorce or open a bank account without a guardian's permission, and their testimony is worth only half that of a man in court.
https://www.rt.com/news/452889-saudi-app-google-women/
--------
Masoumeh Askari, Retired Teacher Sentenced To 5 Years In Prison
Mar 1, 2019
Masoumeh Askari, a retired teacher who was imprisoned in the women's ward of Evin Prison, was sentenced to 5 years in prison.
Masoumeh Askari was arrested in Tehran on August 2, 2019, during the nationwide protests last August. She was transferred to Qarchak prison in Varamin and was released after several days. The retired teacher then was arrested again by security forces in December 2018 and transferred to the women's ward of Evin Prison after spending one month in solitary confinement at the Ministry of Intelligence detention in section 209 of Evin Prison.
Ms. Masoumeh Askari was sentenced to 5 years in prison by Judge Moghiseh on February 18, 2019, on charges of 'assembly and collusion' and is currently serving her sentence at the women's ward of Evin Prison.
The retired teacher, Masoumeh Askari, has a 14-year-old boy and is his sole guardian.
Previously, Iranian teachers took to the streets in at least 32 cities across the country on Thursday, May 10, 2018, to stage protests. Security forces in Tehran violently clashed with the protesting teachers, resulting in the injury and arrest of several teachers.
Ms. Aliyeh Eghdam-Doost, a member of the (Teachers') Retirement Union, Ms. Aliyeh Eghdam-Doost was among six teachers arrested in the teachers' protest gathering in Tehran on May 10th. She was sentenced to 9 months of imprisonment and 74 lashes.
Strike and sit-ins of educators and teachers were also held on November 13 and 14, 2018, and female teachers participated actively in this protest movement.
According to the Coordinating Council of Iranian Educators' Guild Organization, 12 teachers were arrested, 30 teacher activists were summoned and interrogated, and over 50 threatening messages were sent to protesting teachers.
Ms. Fatemeh Bahmani, a female teacher activist from Arak, was arrested on November 13, 2018, by the Ministry of Intelligence. Ms. Vaezi, a female teacher, is also among the detainees in Shiraz.
Teachers have been repeatedly holding protests against the suppression and imprisonment of teachers, the deteriorating of their livelihood, the inflation, and the decline in purchasing abilities, demanding the elimination of discrimination against retired and working educators.
https://women.ncr-iran.org/2019/03/01/masoumeh-askari-retired-teacher-5-prison/
--------
URL: https://www.newageislam.com/islam-women-feminism/pakistan-institute-business-management-makes/d/117906
New Age Islam, Islam Online, Islamic Website, African Muslim News, Arab World News, South Asia News, Indian Muslim News, World Muslim News, Women in Islam, Islamic Feminism, Arab Women, Women In Arab, Islamophobia in America, Muslim Women in West, Islam Women and Feminism