New Age Islam News Bureau
17 Oct 2019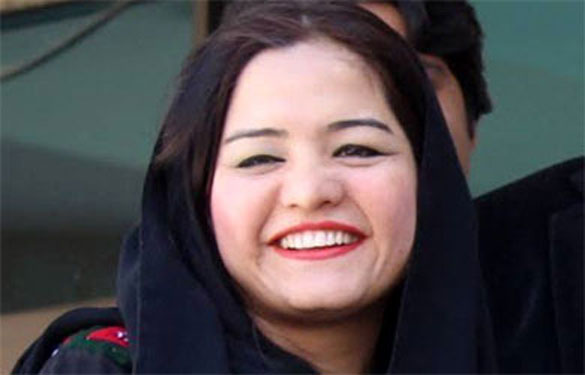 Jalila Haider specialises in defending women's rights and provides free legal services to women in poverty. PHOTO: FILE
-----
• 'It's Not Secularism, It's Racism': Muslim Mum At Centre Of French Hijab Row To Sue Politicians
• French Women Claim To Have Rejoined IS After Fleeing Northern Syria
• Saudi Ministry of Justice: Women Empowerment Reforms in Legal Sector 'Key to Economic Growth'
• Women's Participation In Labour Market Could Increase Household Income By 25%: Egypt's Planning Minister
• Seminar in Lebanon Focuses on Saudi Women's Advances
• Tazkarti Runs PSA Women's World Championship Ticketing System
Compiled by New Age Islam News Bureau
URL: https://www.newageislam.com/islam-women-feminism/pakistan-human-rights-lawyer-jalila/d/120018
--------
Pakistan Human Rights Lawyer, Jalila Haider, Featured In BBC's Distinguished List Of 100 Most Inspiring And Influential Women From Around The World For 2019
October 17, 2019
Jalila Haider, a Hazara human rights lawyer, made it to BBC's 100 women of 2019 list on Wednesday.
Haider, who is the founder of "We the Humans", a not-for-profit organisation, is working for the protection of women's rights in Pakistan and provides free legal services to women belonging to low-income strata across the country.
In addition, she is also working with local communities to provide advancement opportunities to economically vulnerable women and children.
According to the BBC, in 2018, Haider went on a hunger strike as she demanded the "protection of fundamental rights" of the Hazara community.
Taking to Twitter, Haider said it was an "honor for her to represent Pakistan".
"Wow, this is an honor for me that I am among the @BBC100women list 2019 from Pakistan. I want to congratulate Parveen Ahanger @_APDP also to be among the list. More power to the brave women of Kashmir," she wrote.
Jalila Haider
@Advjalila
Wow, This is an honor for me that I am among the @BBC100women list 2019 from Paksitan. I want to congratulate Parveen Ahanger @_APDP also to be the among the list. More power to the brave women of Kashmir.@nighatdad @mariaItarana @BBCWorld @BBCUrdu @IsmatShahjahan https://twitter.com/TahirImran/status/1184370735793483776 …
Tahir Imran Mian ✈
✔
@TahirImran
2 great women I strongly admire are on this year's @BBC100women list.
Parveena Ahanger of @_APDP & Jalila Haider @Advjalila.
In the 21st century we had to send a footman to Praveena Ahangar's home in Srinagar to get details. And share the information.https://www.bbc.co.uk/news/amp/world-50042279 …
View image on TwitterView image on Twitter
869
13:10 - 16 Oct 2019
Twitter Ads information and privacy
339 people are talking about this
An occupied Kashmir based activist, Parveena Ahanger, the founder of Association of Parents of Disappeared Persons, also made it to the list.
https://www.pakistantoday.com.pk/2019/10/16/pakistan-human-rights-lawyer-featured-in-bbcs-100-women-list-2019/
--------
'It's Not Secularism, It's Racism': Muslim Mum At Centre Of French Hijab Row To Sue Politicians
17 October 2019
The French woman at the centre of a new row over the wearing of an Islamic hijab in public places is taking legal action against the far-right politicians who criticised her, the Collective against Islamophobia in France (CCIF) said on Wednesday.
The controversy erupted last week when she wore a headscarf during a school trip with her son and other children to the regional parliament in Bourgogne-Franche-Comte in eastern France.
Julien Odoul, a member of Marine Le Pen's National Rally (RN) party, caused widespread outrage when he posted a video on Twitter of him confronting the woman.
Citing "secular principles" in the wake of the killings in Paris this month of four police staff by a radicalised convert to Islam, he insisted that she remove her headscarf.
Members of the RN then walked out of the chamber before issuing a press statement denouncing "an Islamist provocation".
The CCIF said the woman would file a complaint with prosecutors in the city of Dijon on Thursday over "violence of a racial nature committed... by persons with public authority."
And a second complaint would be filed in Paris on Friday for "incitement of racial hatred," CCIF said in a statement.
The woman's lawyer, Sana Ben Hadj, said her client had felt "humiliated" by the incident because images of her had been shared widely.
"It's not just a question of secularism, but of racism, trying to exclude Muslims from the Republic," the lawyer said.
"Without her, this school trip could not have taken place. There were no other parents who could make themselves available."
The row is the latest in France over head and body-covering garments which many perceive as inappropriate in a secular country while others argue the garments allow Muslim women to be active participants in French society.
On Wednesday, President Emmanuel Macron said Muslims should not be "stigmatised" and warned about making a "fatal shortcut" between Islam and the fight against terrorism.
The French state and church were officially separated by law in 1905 to give form to the concept of secularism rooted in the 1789 French Revolution.
In 2004, the government prohibited the wearing of conspicuous religions symbols in public schools and banned the hijab - a garment that covers a woman's hair but leaves her face exposed - from classrooms and government offices.
The country with Europe's largest Muslim population is also deeply divided over the body-concealing "burkini" swimsuit, with opposition to the garment forcing the closure of some swimming pools earlier this year in the midst of a heatwave.
Also this year, French sports retailer Decathlon was forced by public pressure to back down from a plan to sell a runner's hijab in France.
An opinion poll released on Monday found that two in three French people are in favour of prohibiting parents accompanying kids on school trips from wearing visible religious symbols.
https://www.thelocal.fr/20191017/its-not-secularism-its-racism-muslim-mum-at-centre-of-french-hijab-row-to-sue-politicians
--------
French Women Claim To Have Rejoined IS After Fleeing Northern Syria
15-10-2019
At least three French women who were being held in a Syrian Kurdish-run camp for families of jihadists, claim they have rejoined the Islamic State armed group according to messages they sent their lawyers on Tuesday.
Several French women who had travelled to Syria to join Islamic State when the jihadist group was growing in numbers, were captured once main elements of the armed group were defeated.
The women and children had been separated from the fighters and placed in a camp for displaced persons in northeast Syria.
But since Turkey's week-long incursion into northern Syria to target Kurdish forces, many of the Kurdish-run prisons housing families of jihadists have been abandoned, giving those inside a chance to escape as they did over the weekend.
The Kurdish administration in northern Syria says Turkish bombardments near the camp in the northern town of Ain Issa gave 785 relatives of IS members a chance to be rescued by Islamic State fighters.
In one message sent to a relative, as confirmed by AFP, one of the women said they had been "retrieved" by IS.
One of her relatives told the families' lawyer, Marie Dose, in a message that the men who took charge of the women said "We are your brothers from the Islamic State, we will take you to safety in the desert."
Repatriation refused
On Sunday, the same women had sent audio messages to their French families, as heard by AFP, stating they were being forced to leave the camp by their Kurdish jailers, that their tents had been set on fire and they found themselves wandering the desert with their young children before being offered by help by an "armed Syrian".
Dose says she informed the foreign ministery of the devlopments.
She has been calling for months for France to allow the women to return home.
However President Emmanuel Macron's government has categorically refused to take back French jihadists or their wives, adding they must face local justice in Iraq or Syria.
On Monday this week, Dose accused Macron of "handing them [the women] on a platter to IS".
Numbers
About 12,000 IS fighters are being held in Kurdish-run prisons across northern Syria, according to Kurdish sources.
They are made up of Syrians, Iraqis and foreigners from some 54 countries.
An additional 12,000 foreigners – 4,000 women and 8,000 children – are being held in camps for displaced persons.
Despite the numbers, and the fact that some IS fighters and now relatives have already escaped the camps, Turkish President Recep Tayyip Erdogan has vowed to prevent IS fighters from leaving northeast Syria.
http://en.rfi.fr/france/20191015-french-women-say-they-have-fled-displacement-camps-northern-syria-rejoin
--------
Saudi Ministry of Justice: Women Empowerment Reforms in Legal Sector 'Key to Economic Growth'
17 October, 2019
Legal reforms designed to empower women in Saudi Arabia could hold the key to the nation's economic growth and the fulfillment of Vision 2030, the Saudi ministry of justice said on Thursday, renewing calls for young people of both genders to follow the law as a career.
"Despite significant progress in the granting of licenses for law practices, we still want to see more of trained legal professionals," said the ministry.
The Ministry of Justice has been at the forefront of a national effort to introduce regulatory and legal elements that empower Saudi women and pointed to several initiatives that have taken root across the country, including many at the ministry itself, which has sought to increase the number of female law professionals.
Practice licenses granted to female lawyers in Saudi Arabia have more than tripled in the past two years. In May this year, the ministry announced that the total number of lawyers registered in Saudi Arabia had reached 6,270, including 487 female lawyers. As of that time, the ministry had already issued 774 licenses for legal practices in the current year, 619 for male lawyers and 155 for female lawyers.
"When you look at those figures, you will see a growing percentage; 20% of the licenses granted in 2019 were for women. We think that is great news because it shows that our message is getting through and our efforts are paying off," said the ministry.
The ministry also noted that legal professionals were integral to business operations, supporting the creation of start-ups, the arbitration of disputes, M&A processes and many other day-to-day functions that allow markets to expand and evolve.
In other efforts to ensure more female citizens enter the legal profession, in July the ministry announced women would be able to apply for government notary posts. The availability of Grade-7 notary-public vacancies for women is considered a breakthrough move by the ministry and it will support efforts to boost female employment within the legal sector.
"When we account for all the courts throughout the Kingdom – specialized, labor, family and so on – across every jurisdiction, we want to see more lawyers serve the growing number of companies and other organizations that may need their help," the ministry explained.
"And to increase the number of lawyers, we must turn to young people of both genders to consider law as a career path."
"Our ability to fulfill our promise in empowering women and creating more work opportunities in the legal sector will help us achieve a number of the ministry's NTP 2020 objectives." added the ministry.
"The women of Saudi Arabia have always been an integral and valued part of our communities, but now we call on them to increase their presence in the workplace, to start businesses, to become diplomats, scholars and lawyers and legal practitioners. Their contribution may very well hold the key to the economic growth we seek."
https://aawsat.com/english/home/article/1949661/saudi-ministry-justice-women-empowerment-reforms-legal-sector-%E2%80%98key-economic
--------
Women's Participation In Labour Market Could Increase Household Income By 25%: Egypt's Planning Minister
Mohamed Soliman
16 Oct 2019
Minister of planning Hala El-Saied has said that if woman managed to achieve participation rates in the labour force analogous to those of men, the income for Egyptian families would increase by at least 25 percent.
The minister added that female unemployment rates in Egypt have reached their lowest level ever at 19 percent in 2018. The government seeks to increase female participation in the labour marker to more than 35 percent.
Minister El-Saied made the comments during the launching ceremony of the European Union Initiative for Equality and the Empowerment of Women on Tuesday at the Swedish Embassy in Cairo in cooperation with the EU mission in Cairo.
El-Saied stressed that the Egyptian government has a strong belief that increasing women's participation in the labour force will accelerate economic development, noting that there is no discrimination in Egypt between men and women in obtaining loans, allocation of land for projects, and ownership of small and medium enterprises.
The minister expressed her gratitude for the Egyptian government's efforts to empower women, saying "the percentage of women holding the position of minister in the government has increased to 25 percent, which represents the largest percentage in the history of Egypt, while Egyptian women hold 45 percent of jobs within the state administration and this rate exceeds the global average of 32 percent."
http://english.ahram.org.eg/News/352996.aspx
--------
Seminar in Lebanon Focuses on Saudi Women's Advances
October 16, 2019
BEIRUT — The Saudi Embassy in Lebanon organized a symposium titled "Women in Saudi Arabia Vision 2030" at the ESCWA headquarters in Beirut this week.
The symposium was marked by a strong political, social and media presence, presented by the Lebanese Minister of State for Economic Empowerment of Women and Youth, Violette Safadi, along with the Saudi Ambassador to Lebanon, Walid Bin Abdullah Bukhari and the Director General of Organizations and International Cooperation at the Human Rights Commission in Saudi Arabia, Amal Yahya Al-Muallim, Undersecretary General of the United Nations and Executive Secretary of the Economic and Social Commission for Western Asia ESCWA, Rola Dashti, Saudi Press Agency (SPA) said.
Addressing the audience, Ambassador Bukhari affirmed that "the
Kingdom of Saudi Arabia's pursuit to achieve ambition does not stop. The Kingdom's vision and programs reflect the aspirations of its ambitious leadership to promote human beings and work to ensure the future of generations, culture of society and the variables of the times."
He pointed out that "since its inception, the Kingdom has given care to all that would advance national development on the principle of equality and equality of opportunity, ranging from granting women the right to education and up to the top positions in the state, until Saudi women have become the focus of attention of the world, and they have the sense of responsibility. The Kingdom is moving forward toward supporting women to ensure their full participation in development and leadership".
Bukhari promised that "taking advantage of the potential of women to participate effectively in leading the policy of change in the Kingdom is one of the most important events of the Kingdom Vision 2030."
Minister Safadi said that "Saudi women were a key item in the goals of that vision by achieving their presence in the nation and empowering them at the level of economic participation."
Al-Muallimi played a role in presenting the Kingdom's vision plans and goals related to women, stressing that what is happening in the Kingdom will be reflected on all Arab countries and its effects will extend positively. She presented some examples of Saudi women who have come a long way in moving toward leadership, excellence and creativity, through achieve some achievements in various fields in the Kingdom and the world, which was admired and appreciated by the audience.
http://saudigazette.com.sa/article/579975
--------
Tazkarti Runs PSA Women's World Championship Ticketing System
Oct. 16, 2019
CAIRO - 16 October 2019: After the impressive success of Tazkarti experience, it was decided to distribute tickets for the PSA Women's World Championship and Egyptian Squash Open which is sponsored by CIB, which will be hosted by the Pyramids of Giza from October 24 to November 1, in a ticket system.
Mr. Montaser Al-Nabarawy, Chairman of the Board of Directors of Tazkarti Company signed contracts with Amr Mansi, supervisor of organizing the championship, as he's known for his great competence in the field of organizing international championships, because of his vision and great marketing vision, which was reflected in his organization of the El Gouna Championship, El Gouna Festival and other regional and global events, which has witnessed everyone's dazzling success.
The Egyptian International Men's Championship will be held on the sidelines of the World Championship.
The tournaments include the best international squash players, both men and women, such as Ali Farag, the world number one for men and Runeem Al-Waily, the first seed for the women of Wadi Degla, in addition to Nour El-Sherbini, world champion and second seed and Mohammed Al-Shorbaji, the second seed for squash men.
https://www.egypttoday.com/Article/8/75873/Tazkarti-runs-PSA-Women%E2%80%99s-World-Championship-ticketing-system
--------
URL: https://www.newageislam.com/islam-women-feminism/pakistan-human-rights-lawyer-jalila/d/120018
New Age Islam, Islam Online, Islamic Website, African Muslim News, Arab World News, South Asia News, Indian Muslim News, World Muslim News, Women in Islam, Islamic Feminism, Arab Women, Women In Arab, Islamophobia in America, Muslim Women in West, Islam Women and Feminism