New Age Islam News Bureau
20 Sept 2017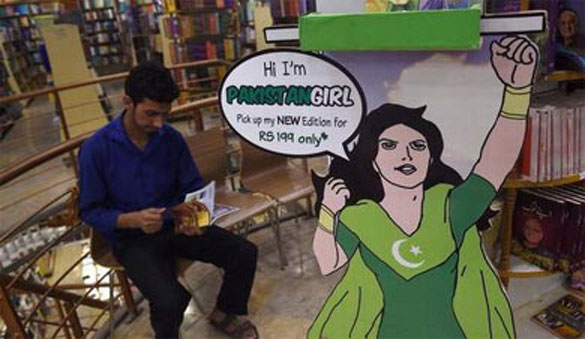 In this picture taken on September 15, 2017, a patron reads a copy of the "Pakistan Girl" --comic series at a book store in Islamabad. | Photo Credit: AFP
------
• Chinese Girl Falls for Pakistani Class Fellow, Ties Knot after Converting To Islam
• Dubai Run to Promote Women Empowerment and Elimination Of Violence
• Hardliners Don't Want Muslim Women to Meet PM Modi in Varanasi, Claims Social Activist
• Bahrain: Battered Syrian Wife Moved To Shelter amid New Details of Attack
• Author Offers New Perspective on Role of Muslim Women in African Society
Compiled by New Age Islam News Bureau
URL: https://www.newageislam.com/islam-women-feminism/pakistan-girl-takes-aim-corrupt/d/112596
--------
'Pakistan Girl' takes aim at corrupt cops and domestic abuse
20 September 2017
ISLAMABAD —Pakistan's newest female superhero has vowed to battle venal officials and protect battered women, as her creator tries to inspire the next generation to fight injustice in a deeply patriarchal society.
The new "Pakistan Girl" comic series is based on Sarah, a normal teenager with a pet cat who discovers she has superhuman powers after waking from a coma caused by a blast in her village.
Donning a green cape, Pakistan's national color, the protagonist whips a man beating a woman in a market and saves a young girl taken hostage by a bribe-seeking police officer in the series' first comic book released this summer.
The creator of the English-language comic says he hopes the superhero will give young girls across Pakistan a role model and embolden them to fight corruption and violence in a country where crime is rife in major cities and corruption is the norm.
"There's a huge shortage of female role models and superheroes in the mainstream media here," author Hassan Siddiqui said.
"We wanted to create a strong female character for the girls in Pakistan and even the young boys in Pakistan that they can look up to."
Women in Pakistan have fought for their rights for decades, in a country where so-called "honor killings" and other violence against women remains commonplace.
Netizens on social media have welcomed the comic, writing largely positive reviews online and calling for more superhero stories in the future.
"Its a very brilliant step by you guys... I'm a big fan of Marvel and DC comics and looking forward for this too," wrote fan Syed Hassan Nasir on Facebook.
The author said he now plans to work on an Urdu version of the comic with the aim of reaching millions of readers across the country. He is also mulling a possible animation adaption.
But reaching the masses won't be easy.
Pakistan's education system has been woefully underfunded for decades, exacerbating illiteracy with more than half of the country's eight-year-olds unable to read.
According to a 2016 government study, a staggering 24 million Pakistani children are out of school, with a larger share of girls staying home than boys — 12.8 million compared to 11.2 million.
But new fan and school principal Saadia Adnan hopes the comic will provide a new way to help educate children, while also steering them clear of gender stereotypes.
"I think we should be teaching them through this kind of literature because that's actually the tender age when they are building their own images of their future life," said Adnan after browsing through a bookstore copy.
Siddiqui's latest creation follows the success of his earlier comic series "Pakistan Man" — a mustachioed hero who battles one nemesis named "The Corrupter" and another villain responsible for banning Youtube.
"Siddiqui's first comic, 'Pakistan Man', sold like hot cakes and I hope this book, which is already doing good with sales, will follow suit," said Ahmad Saeed, owner of Islamabad's biggest bookstore Saeed Book Bank.
Pakistan Girl also follows in the footsteps of the country's hit 2013 comic "The Burka Avenger," which chronicled the adventures of a mild-mannered teacher who fights gangsters trying to close down the girls' school where she works. — AFP
http://saudigazette.com.sa/article/517562/World/Asia/Pakistan
--------
Chinese girl falls for Pakistani class fellow, ties knot after converting to Islam
Sep 20 2017
SUKKUR – A Chinese student of Changsha University who became friends with her Pakistani class-fellow some four years ago finally tied the knot after embracing Islam.
Dr. Youshen fell for Dr Abdul Ghaffar Sher belonging to Sindh province but after having sustained the relationship for a long time, both decided to get hitched. The ceremony was organised in the presence of close relatives in Thari Mirwah village of Sukkur.
The Chinese bride renamed herself as Misbah after her conversion and credited her husband's good character for her decision.
Misbah also lavished praise on her in-laws for their love, and claimed that the Pak-China ties would further cement with the marriage.
The newly-wed couple is currently doing house job in China after the completion of which they will be returning to Pakistan for permanent residency.
https://en.dailypakistan.com.pk/pakistan/chinese-girl-falls-for-pakistani-class-fellow-ties-knot-after-converting-to-islam/
--------
Dubai run to promote women empowerment and elimination of violence
September 19, 2017
Dubai: Almost 10,000 women are expected to participate in Dubai Women's Run 2017, which will promote women's empowerment and elimination of violence against women, organisers said on Tuesday.
For the first time since its inception in 2010, the annual Dubai Women's Run (DWR) championing an active and healthy lifestyle among women has introduced the Dubai Foundation for Women and Children (DFWAC) as the "Official Soul" of the run this year.
The association of the UAE Athletics Federation (UAEAF) and Plan b, the race organisers, with the DFWAC for the run highlights the event's commitment to solidify the message of women empowerment in the UAE by adding traction to its annual 'Elimination of Violence against Women/the Orange Campaign', a press conference was told.
The DFWAC will organise an awareness activation session during the run on November 17 as a prelude to the 2018 edition of the Orange Campaign, said Mariam Bin Theniyah, communications director at DFWAC.
"Dubai Women's Run is taking an important stand this year to uphold the nation's agenda to put women empowerment at the forefront in addition to encouraging women to prioritise health and fitness," said Ahmad Al Kamali, council member of the International Association of Athletics Federation and president of the UAE Athletics Federation.
Saeed Hareb, secretary-general of the Dubai Sports Council (DSC), said the event embodies the council's goal to create a distinctive sports community, popularise the culture of exercise, physical activities and sports among women and establish a solid foundation among professionals and amateurs.
Harmeek Singh, founder and chairman of the Plan b Group, said: "This year, the event is determined to encourage health and fitness among girls and women of all ages in the UAE and beyond as well as send a strong message of solidarity for women's empowerment with a special focus on sports."
New venue, ambassadors
Marasi Business Bay will be the new venue for DWR that comprises of 10-kilometre and 5-kilometre running events, said Liesa A. Euton, race director.
Under the patronage of Shaikh Ahmad Bin Mohammad Bin Rashid Al Maktoum, chairman of the National Olympic Committee, the event will take place from 7am on November 17.
Kenyan long-distance track and road runner Tegla Loroupe will be one of the elite athletes participating in this year's run.
The youngest Emirati rhythmic gymnast — six-year-old Lamia Tarek Malallah Al Farsi — amputee athlete, gym instructor and motivational speaker Dareen Barbar and dentist-turned-painter and philanthropist Sana Khan will be the female ambassadors of DWR-2017. Joining the women of substance is Bollywood actor-cum-producer, fitness advocate, and activist Sonu Sood who will play the only male ambassador for the DWR-2017. Besides movies and fitness, the actor is a strong supporter of causes that enable women to rise above oppression and violence.
All the brand ambassadors were present at the press conference.
What: Dubai Women's Run 2017
Where: Marasi Business Bay
When: From 7am on November 17
Entry fee: Dh150
Online registration deadline: November 12
Race packet pickup: November 15 and 16
Registration points:
DWR website — www.dubaiwomensrun.com
Liali Jewellery — women get a CharmsDay bracelet when signing up at any one of the Liali stores named on the DWR website
Lorna Jane — sign up at Town Centre Mall, Jumeirah or Dubai Ladies Club on Jumeirah Beach Road
http://gulfnews.com/news/uae/society/dubai-run-to-promote-women-empowerment-and-elimination-of-violence-1.2092767
--------
Hardliners Don't Want Muslim Women to Meet PM Modi in Varanasi, Claims Social Activist
Sep 19, 2017
A social activist, Nazneen Ansari, alleged that some 'hardliners' were trying to inhibit Muslim women from attending a proposed dialogue with Prime Minister Narendra Modi in Varanasi on September 22.
The PM is scheduled to hold a dialogue with 700 Muslim women during his visit to Varanasi.
These hardliners also threatened to socially boycott the Muslim women if they attended the event, Ansari claimed.
Ansari is planning to attend the dialogue with 100 Muslim women. "At least five Muslim women received the threats ever since our plan to meet the PM became public. The hardliners visited the homes of these Muslim women and asked them not to attend the dialogue. They threatened to boycott the women socially, if they didn't follow their words," she said at a meeting at the office of the Muslim Mahila Foundation.
One Shabana said some hardliners visited her house and threatened her with social boycott. Rubina said she received a similar threat.
Asked why she didn't lodge a complaint with the police, Ansari said she hoped the hardliners would mend their ways. If they don't, she along with the women would lodge a complaint with police.
She said Muslim women were aware of their rights and they would call on PM Modi.
The district minority welfare department has held a meeting with aided and non-aided madarsa officials to hold preparations for the event.
http://www.hindustantimes.com/lucknow/hardliners-don-t-want-muslim-women-to-meet-pm-in-kashi-claims-social-activist/story-9laBR2ljHBspymBcvtZuiP.html
--------
Bahrain: Battered Syrian wife moved to shelter amid new details of attack
19 September 2017
Zahraa Sobhy, whose battered face made headlines across Bahrain and the Gulf after being attacked by her ex-huband, has been moved to a safe shelter in the kingdom amid further new shocking details surrounding the domestic violence case.
The woman suffered several wounds and bruises for five days before being shifted by ambulance to Salmaniya Medical Complex (SMC) on Saturday, as confirmed by sources close to the victim, reported Bahrain's DT News.
Sobhy's lawyer has commented on reports that she was married to a man identified as Adnan al-Alawi, 52, but had divorced him last June after ten years of marriage.
The lawyer said that Sobhy was still living at her ex-husband's house according to a court order as a judge had granted her full custody of their five children.
"He was upset that she was living in the house and wanted to kill her to take control of it and marry a Bahraini-nation woman, whom he said was an employee and would be able to grant him a monthly income," the lawyer said.
The victim's lawyer said that her al-Alawi followed Sobhy to the ground floor of the house and punched her several times, grabbed her head and hit it against the wall violently. He then grabbed a piece of ceramic and broke it over her head, forcing her to fall down and bleed. The lawyer said that Sobhy's daughter rushed to her mother's rescue after seeing that attack. her. She then quoted her father saying "I got rid of her".
Bahrain Northern Governorate Chief Prosecutor Mohammed Salah confirmed in a press statement to DT News issued on Monday that the Public Prosecution has initiated investigations into the case.
"A special team from the prosecution visited the victim at SMC, heard her testimony and examined her injuries with the assistance of a coroner. The attacker was interrogated in the presence of his lawyer and the prosecution ordered his detention while further investigations are continued. The defendant was accused of assault," Salah added.
https://english.alarabiya.net/en/variety/2017/09/19/Bahrain-Battered-Syrian-wife-moved-to-shelter-amid-new-details-of-attack.html
--------
Author Offers New Perspective on Role of Muslim Women in African Society
By Rubin Thomas
20 September 2017
"What does it mean to be Muslim? What does it mean to be a woman?" author Ousseina Alidou asked on Tuesday in a seminar hosted by the Comparative Muslim Societies Program.
Born in Niger, Prof. Alidou, African, Middle Eastern and South Asian languages and literatures, Rutgers University, has written several books on women in the Sahelian region of Africa and their political and intellectual contributions to their culture.
Alidou framed her lecture Monday on these topics as a response to three main questions: what does it mean to be Muslim? What are Muslim women doing? What is in their mind?
"There is such a diversity of identities for Muslim [women], and there are vibrant Islamic contributions due to Africa having such a huge Muslim constituency," she said.
The journey toward embracing this identity has not been, and still is not, an easy one, Alidou said. Public acceptance of women's intellectual contributions has been difficult to ascertain, she said.
In the colonial period, women were largely silenced, Alidou said. Works by women were kept "within the house," "under the bed" or "hidden inside a book."
Women's contributions in poetry, prose and political thought have been found in private homes in West Africa in the Sahel, Alidou said, and when she traveled there to look through archives, she said she found them in surprising places.
"When I would talk to people, they would say, 'Open the curtain, and in the bedroom, the bed is the library,'" she said. "Under the bed is where they have the texts that they were writing. In between their clothes, you are finding texts."
Alidou said women began to gain exposure beginning in the post-colonial era. More women began publicizing their views, especially regarding equality and justice, and as a result, more women began to pursue education.
When Muslim countries began to democratize, Alidou said, women developed a collective identity and an intellectual movement bloomed among them.
"With the 1990s' democratization processes and the rise of political Islam and the politicization of what it means to be a Muslim woman, Muslim women who are for gender justice and inequalities started to know that they needed to know the texts," she said.
Even since then, however, Muslim women have faced challenges as a result of what Alidou said is "neo-liberalism" and the "privatization that limit public access to education."
New problems have also begun to confront women in the modern era.
One issue raised was that of the hijab and the burqa, garments often perceived as "repressive" in the West.
Alidou challenged the stereotypes associated with such garments and the women who wear them, highlighting the importance of respecting the women's freedom to choose what to wear.
"We like fashion," she said. "We wear what we feel like. I can wear the headscarf one day and then [American clothing] the next. It is a political right to choose how we dress."
Bichara Sani Haladou '21, an international student from Niger, said she thought Alidou's point was especially important for people to hear in a world that often stereotypes Muslim women.
"Countries like Niger are 95 to 98 percent Muslim, but no one is obligated to dress a certain way or act a certain way," she said. "Women are free to do what they want, and this is really what unites them. Things like ethnicity, religion and language do not separate our women."
This tendency to stereotype can be more of a local than worldwide issue, Alidou said, urging the audience "not to look at stereotypes" but to "research Muslim women and their contributions to society, whether in the arts, sciences, politics, or in broader social reform movements."
"People need to be aware, and the West needs to promote a picture of African Muslim women that truly reflects the reality of who they are," she said.
http://cornellsun.com/2017/09/20/author-offers-new-perspective-on-role-of-muslim-women-in-african-society/
--------
URL: https://www.newageislam.com/islam-women-feminism/pakistan-girl-takes-aim-corrupt/d/112596
New Age Islam, Islam Online, Islamic Website, African Muslim News, Arab World News, South Asia News, Indian Muslim News, World Muslim News, Women in Islam, Islamic Feminism, Arab Women, Women In Arab, Islamophobia in America, Muslim Women in West, Islam Women and Feminism