New Age Islam News Bureau
2 May 2020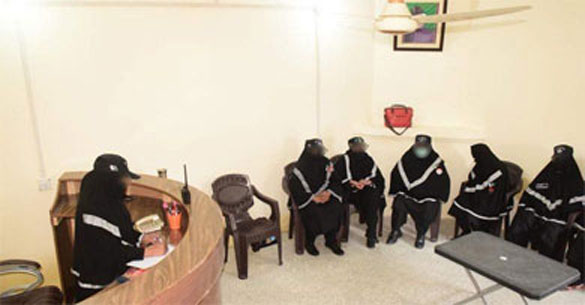 The first ever women police reporting centre in the tribal districts has been opened in Kurram district which has brought a new hope to women fighting for their rights.
-----
• Pakistan- First Ever Women Police Reporting Centre Set Up In Kurram
• Indonesian Women Were Already at Risk Then COVID-19 Came
• Coronavirus: Iran's Female Singers Familiar with Restrictive Measures
• Yemeni Women Face 'Unprecedented' Pattern Of Abuse In Houthi Areas, Activists And Experts Say
• Coronavirus Brings More Suffering to Gaza's Women
• Domestic Violence in Lebanon Spikes Under Lockdown
• Over A Quarter of Pakistan's Women Workforce Fired or Suspended Amid Lockdown: Report
• As Women Make up Only 6% of Parliament, Gender Equality Is Still a Long Way off in Iran
Compiled By New Age Islam News Bureau
URL; https://www.newageislam.com/islam-women-feminism/pakistan-first-women-police-reporting/d/121738
-------
Pakistan- First ever women police reporting centre set up in Kurram
5/1/2020
PESHAWAR: The first ever women police reporting centre in the tribal districts has been opened in Kurram district which has brought a new hope to women fighting for their rights.
The women police reporting centre was inaugurated by District Police Officer (DPO) Muhammad Quraish. Tribal elders and notables were present on the occasion of the inauguration ceremony.
DPO Muhammad Quraish said on the occasion that women police reporting centre has been opened in Parachinar to ensure that women get their rights and their complaints are addressed. He said timely and inexpensive justice will be provided to women by the reporting centre. He said similar centres will also be opened in Sadda and Central Kurram. He said 14 women have been deployed in the centre in Parachinar, while 50 lady constables will be appointed in the whole district.
Tara Orakzai, a local woman, told TNN that this centre will empower local women and they will lodge complaints and resolve their problems through the centre without any hesitation. She said women have the capability to raise voice for their rights if they are provided proper platform for complaints redressing. She said local women will now get jobs in police and they will also get their other rights gradually.
Naila Altaf, a local social activist, said while talking to TNN that even after merger of erstwhile Fata with Khyber Pakhtunkhwa, women in tribal districts were not benefiting from the system due to cultural constraints. She said the establishment of women reporting centre is a huge step as women will no longer need to go to men for recording their complaints. She hoped that violation of rights of women will reduce with establishment of the women reporting centre.
Mah Rukh Jabeen, a female journalist from Kurram, said such centres must be established in all parts of tribal districts to give women a platform to address their grievances.
DPO Muhammad Quraish said three women will be present at the women reporting centre in every shift. He said the facilities of washrooms, clean drinking water and play area for children have been provided at the centre. He said the centre has been set up so that women in merged districts could reap the benefits of merger.
The DPO said the staff of the centre has been given special training to keep the contact numbers of women complainants secret, take care of elderly women and ensure that privacy of women is maintained and they are treated in a dignified manner.
https://menafn.com/1100103674/Pakistan-First-ever-women-police-reporting-centre-set-up-in-Kurram
--------
Indonesian Women Were Already at Risk Then COVID-19 Came
By Made Ayu Mariska
May 01, 2020
As governments around the world have implemented various stay-at-home orders, reports of domestic violence have jumped significantly. Indonesia is no exception. The Legal Aid Foundation of the Indonesian Women's Association for Justice (LBH APIK) experienced a significant increase in reports of violence against women within the last month. While domestic violence is now more prevalent due to stress from job loss, economic instability, and excessive time at home, Indonesian women were already in a vulnerable position, partly due to discriminatory local bylaws. A proposed "family resilience" bill will only help to worsen the situation.
According to the Indonesian National Commission on Violence Against Women (Komnas Perempuan), from 2009 to 2018 there were 421 discriminatory regional bylaws introduced targeting women. These bylaws consist of dress codes, curfews, and other restrictions that focus on women. Although it is not permissible to write regional laws that contradict national law, the lack of monitoring has allowed regional governments to apply such discriminatory laws without opposition.
Regions such as Banjar, Bulukumba, Dompu, and North Hulu Sungai instruct women to wear a hijab in public spaces. Those who disobey can be punished with administrative or social sanctions, while others are shamed in public with reprimands. District heads argue that Muslim women wearing hijabs protects them from rape and sexual abuse. However, in reality, the law only provides justification for the public to blame victims of for their own sexual harassment.
Another example of discriminatory regional laws is the criminalization of prostitution in Indramayu, Tasikmalaya, Tangerang, and Bantul. The formulation of the regulation rests on subjective presumptions about behavior. The legal ambiguity increases the chance of wrongful arrest. Although the regulations generally do not specify gender, women typically are the ones most vulnerable, particularly economically underprivileged women who live and work late in areas that are known for prostitution.
To compound the precarious position women find themselves in regard to the law, a "family resilience" bill was proposed in February, attracting much controversy in the process. The proposal not only challenges values of gender equality and violates Indonesians' private space, but the draft bill will also hamper economic growth.
If passed, the proposed family resilience bill will have a national impact and includes, in Article 25, the stipulation that husband and wife "are responsible for performing their individual roles in accordance with religious norms, social ethics, and the prevailing laws." The law states it is solely the husband's role to be the breadwinner of the family and limits a wife's role to the domestic space, which contradicts Article 27 paragraph (1) of the Indonesian Constitution recognizing the principle of equality for all citizens, without exception. The draft bill will take the already discriminatory regional bylaws to the extreme.
Instead of going backward, Indonesia needs to progress toward greater gender equality. To achieve this, Indonesian women desperately need the government's support to protect their rights. The government should first provide a safe and easy platform to report domestic violence, particularly urgent due to the restrictions implemented to contain COVID-19, while safe havens should be made more available to provide protection for victims. The government must also prioritize the passage of the bill on sexual harassment (RUU PKS) to provide a legal basis for protecting women's rights and counter the discriminatory local laws toward women.
Protecting women's rights is not only beneficial for women, but also for the wider community. Regional governments can increase a region's per capita income if, instead of an obsession with regulating women's lives, more emphasis can be placed on punishing sexual harassment, promoting women entrepreneurship, and policies that increase female labor participation. This is especially relevant considering the economic downturn expected in the wake of the COVID-19 pandemic. However, significant challenges lie in countering the prevailing attitudes, rooted in religious dogma, that contribute to the systemic barriers to creating a fairer legislative process. Unfortunately, given the existing obstacles, it is unlikely that Indonesian women will be given the protection they need by the law to support them during this precarious period.
Made Ayu Mariska is a Research Associate at the Indonesia Programme, S. Rajaratnam School of International Studies (RSIS), Nanyang Technological University (NTU), Singapore. Her research interests include Indonesian politics and Southeast Asian socio-economic developments.
https://thediplomat.com/2020/05/indonesian-women-were-already-at-risk-then-covid-19-came/
--------
Coronavirus: Iran's Female Singers Familiar With Restrictive Measures
28.04.2020
"We haven't left the house for two months," says Massy Ahadi. "I miss the exchange and singing with the other women," the 40-year-old singer told DW from Tehran. To contain the virus, the Iranian government has called on all citizens to stay at home.
"The government avoids the word quarantine, and it requires us to voluntarily keep out distance from others," she says, adding that she believes the government hasn't officially imposed restrictions so it won't have to deal with people under quarantine. "There is no government aid in Iran."
Massy Ahadi makes a living by giving singing lessons to women. Women who can afford lessons belong to the middle and upper classes of Iranian society. For them, staying at a home is no problem financially. Some of them are quite willing to take lessons online and pay for them. But Massy Ahadi is worried: "Under the influence of the virus, the already poor economic situation in Iran could worsen even further." That might decrease the number of her students even more.
Massy Ahadi is famous for her interpretation of traditional Iranian music. She can only perform legally to an all-female audience. Since the 1979 Islamic Revolution, women have been forbidden to sing in public. As a result, many popular female singers left the country after the revolution. Many emigrated to the US, as did many other artists — in particular to California, which has the largest community of Iranians outside Iran. The west coast state is home to a flourishing Iranian music industry that provides young audiences in Iran with modern pop music.
"The love for traditional music has not died out among the young people in Iran," says Massy Ahadi. "I teach many talented young women who enjoy singing in the classical traditional style." They know they must never perform in public, she adds.
Over the past 40 years, the ban on performing in public has forced singers and musicians who stayed in Iran to move their art inside the homes. They sing for friends deemed trustworthy at private concerts.
Even celebrity female singers offer singing lessons for women, including the legendary Parvaneh Khatereh, the first female singer to appear on Iranian television in the 1950s. Khatereh discovered the talented young Massy Ahadi and gave her singing lessons until her death in 2008. Massy Ahadi also began teaching other women. She founded the Mahna women's orchestra that gave numerous concerts for women until 2015.
"We were successful, but it was also exhausting and depressing," she remembers. "We needed special permission for everything, our songs had to be approved and lyrics weren't allowed to contain forbidden words like "kiss" or "hug."
Even when all conditions were met, solo performances were still forbidden, even for an all-female audience. Ahadi left the group and began recording her songs as a soloist in private studios.
"I don't want to fit in anymore. Of course I know that I am acting illegally and that I can get into trouble. But I want to get out of our eternal 'quarantine'," she says. "Actually, we women have been quarantined for 40 years."
With singing lessons pared down due to the coronavirus restrictions, Massy Ahadi has started to work with other musicians on new online concerts from home. "This is a shared experience and I very much hope that something beautiful will come of it — for instance a cooperation with musicians outside Iran."
https://www.dw.com/en/coronavirus-irans-female-singers-familiar-with-restrictive-measures/a-53272796
--------
Yemeni women face 'unprecedented' pattern of abuse in Houthi areas, activists and experts say
Mina Aldroubi
May 2, 2020
Women in Yemen are facing an "unprecedented" pattern of abuse in Houthi held areas, activists and human rights groups say.
The severity of the five-year conflict has increased gender based violence as women and girls become the most vulnerable to exploitation.
"This is the worst, darkest age for Yemeni women to be living in," Rasha Jarhum, Yemeni human-rights defender and founder of the Peace Track Initiative, told The National.
Prior to the start of the war, women did not have "laws or institutions to protect them" but instead had moral and tribal codes that guarded them from abuse, Ms Jarhum said.
Mass arrests of women started after the Houthi appointment of Sultan Zabin as head of the Sanaa criminal investigation division in 2018, said the panel's reports.
The Houthis cells trained women fighters, named "Zainabiyat", to abuse women who oppose them. "This is the first time in the history of Yemen we see something like this," Ms Jarhum said.
Prioir to the war women were considered a "redline" and were respected by the community, Muna Luqman, founder of the Food for Humanity Foundation and a prominent human rights activist, said.
"This is not the case now, there are Houthi women thugs named the 'Zainabiyat' who are in charge of collecting information and assaults and many obscene acts," Ms Luqman told The National.
Women's ordeals are doubled then men's because of the stigma by Yemen's conservative society, which is often used against them, Afrah Nasser, Yemen researcher of Human Rights Watch said.
"It's utterly appalling that women are exposed to these brutal acts of arbitrary detention, enforced disappearance, sexual violence and the social stigmatisation," Ms Nasser told The National.
An investigation by the Associated Press released last week found that hundreds of women were abducted by the rebels and held in secret prisons.
"There are girls still in prison," she said. "When I try to sleep, I hear their voices. I hear them pleading, 'Samera, get us out.'"
Between 200 to 350 women are currently detained in the capital but the Yemeni Organisation for Combating Human Trafficking says the figures are likely to be higher.
Bardis Assayaghi, a poet who wrote about Houthi repression, said she was abused so violently that she had to get eye surgery after her release.
"Allies to the Houthis need to do all they can to pressure the Houthi authorities to end those human rights violations," Ms Nasser said.
Yemen has been embroiled in a civil war after the Iranian-backed rebels seized Sanaa in late 2014, and forced the internationally recognised government out.
https://www.thenational.ae/world/mena/yemeni-women-face-unprecedented-pattern-of-abuse-in-houthi-areas-activists-and-experts-say-1.1013711
--------
Coronavirus brings more suffering to Gaza's women
Hana Salah
Apr 24, 2020
GAZA CITY, Gaza Strip — A state of emergency for 30 days was initially declared in the Palestinian territories March 5 as per a presidential decree, and was later extended until May 5 as part of measures to stem the outbreak of the novel coronavirus.
Consequently, on March 23, the Sharia courts across the Palestinian territories suspended their work in accordance with the decision of the Palestinian Authority's (PA) Supreme Sharia Judge Mahmoud al-Habbash, which put off several sensitive cases, namely involving custody and women issues.
On the same day, the Palestinian Bar Association in the Gaza Strip announced that it was suspending work in all regular courts across Gaza.
"In light of the lockdown and suspension of legal procedures, women in the Gaza Strip have become even more vulnerable and unable to file lawsuits before the courts," Iman Fatima, a lawyer from the AISHA Association for Women and Child Protection in Gaza, told Al-Monitor.
She said many fathers took advantage of the situation by denying mothers the right to custody of their children following a divorce. Some men have kidnapped children from their mothers or not returned them after a visit, she added.
"I haven't seen my only four-year-old daughter for 40 days. Her father kept her with them after her last visit to him although we had agreed on visitation rights prior to that. She is supposed to spend three days with him and four with me. I could not go to court again given the situation," Samira told Al-Monitor.
"Even the police refused to step in to resolve the situation and required a court decision to take action and return my daughter in my custody. I am not sure if my daughter is safe with her father and if all precautions are taken to prevent her from getting infected by the coronavirus," Samira said via phone.
Fatima, who is the legal representative of Samira, said her hands are tied and there is nothing she can do at the moment. "There are several other cases on hold, involving alimony and deferred "mahr" (dowry). Many men are now evading their sentences since detention orders are also suspended," the lawyer explained.
The spokesman for the Palestinian police in the Gaza Strip, Col. Ayman al-Batniji, told Al-Monitor, "Given the state of emergency and the suspension of Sharia courts, the Gaza police cannot implement court orders related to alimony or custody. Our job has been limited to resolve cases through the public relations or family and household departments to settle differences between mothers and husbands, families and neighbors in an amicable manner."
"The forced execution of a court decision is done via the court's execution department, which sends detention orders through the judicial police. But everything has been put on hold now except for very urgent issues. The police have also refrained from delivering the Sharia court's notices subpoenas, and from transferring prisoners, as part of the efforts to fight the spread of the virus," he added.
Batniji noted that the state of emergency required some members of the judicial police to monitor the quarantine centers and enforce precautionary measures within the governorates in Gaza.
"Out of 10,000 officers in the Gaza Strip, 600 to 700 police officers have been deployed at various checkpoints in Gaza to follow up on people's movements during the crisis. Another 1,000 officers have been discharged from their normal duties and deployed to guard and monitor quarantine centers. Some 500 policemen are present in the markets and public places to monitor the lockdown measures. The remaining police force continue their normal duties," he added.
The AISHA Association for Women and Child Protection has been monitoring an increase in cases of violence against women and children since the beginning of the confinement.
Mohammad Abu Jalal al-Jajah, the association's evaluation and monitor official, told Al-Monitor, "Our foundation conducted an online survey in April on the health impact of the virus on gender-based violence. It revealed that the violence against women increased by 30% and against children by 36% during the lockdown in the Gaza Strip."
Jajah said that the survey showed that 58% of gender-based violence is the result of the deteriorating economic situation and the stay-at-home policy that have kept many men from their jobs.
Also, there has been a 50% increase in physical violence against women during this period, according to the same study, which is not available online.
Mouna Moussa, a social worker at AISHA association, explained that the fact that many men have lost their jobs during the lockdown was the main factor behind increasing domestic violence. "The economic strains and difficulty to make ends meet during confinement have placed great pressure on breadwinners and men within a household, which has been translated into verbal, physical and sexual abuse in many cases."
https://www.al-monitor.com/pulse/originals/2020/04/gaza-women-custody-domestic-violence-coronavirus.html
--------
Domestic violence in Lebanon spikes under lockdown
Hanan Hamdan
Apr 23, 2020
BEIRUT — Aya, a pseudonym for a married Lebanese woman in her mid-20s with a little daughter, told Al-Monitor, "Ever since quarantine began, my body has been bruised. Is this the body of a woman leading a normal life? My husband beats me for the silliest reasons, sometimes for not cleaning the house well or for being on the phone too long."
She explained, "He beat me even before the coronavirus broke out, but not as much as now. As he is not working at the moment and his patience is running out, as he claims, I have become his punching bag!"
Aya went on, "I thought a lot about separation, but I have no place to go. I even contemplated committing suicide, but who would take care of my daughter? I left my husband's place once and went to my parents' house a year ago. My mother told me that him beating me was better than being a drunkard or cheating on me! Sadly, this is how our society thinks."
Aya is one of many women and girls who face domestic abuse in Lebanon from their husbands, fathers or family members. Domestic violence has surged since the Lebanese government imposed a mandatory quarantine to limit the coronavirus outbreak in the country.
Domestic violence affects not only women but also children, and it ranges from verbal and psychological to physical and even sexual abuse. Recent reports indicate that the surge in domestic violence under lockdown is not limited to Lebanon, but part of a wide global trend.
On April 4, a woman was stabbed in Bar Elias in the Bekaa, and her family accused the husband of abusing her. The woman remains in the hospital. Another man beat his five-year-old daughter to death in Tripoli in north Lebanon.
A source from the Internal Security Forces told Al-Monitor that calls to the domestic violence hotline increased by 110% in March 2020, with 97 complaints compared to 44 in March 2019. The source said, "Complaints were on the rise as of the beginning of 2020, the same time as the quarantine, and perhaps due to the difficult living conditions."
Lebanon broke out in mass protests in October last year over deteriorating economic and financial conditions in the country. But the protests have largely stopped because of the lockdown imposed by the government to stem the spread of the virus.
The same source noted, "Complaints vary in their level of danger. Some women call asking for shelter and they are advised to go to local organizations specialized in fighting violence against women. Others ask for guidance on filing a complaint. In some cases, they ask for security assistance to leave the house, in which case a military car is sent to aid them. Some women tell us there is imminent danger to their lives, and we raid the house in that case. We deal with each situation on a case-by-case basis."
Many complaints have been lodged with organizations that deal with violence against women, but many women dare not speak out for fear of their aggressors.
The National Commission for Lebanese Women was established in 1998 with the goal of achieving gender equality. With the cooperation of the Internal Security Forces, the commission launched a national campaign in early April to encourage women to report domestic violence, whether they experience or witness it.
The non-governmental Abaad organization, established in 2011 to fight for gender equality, called on people to stand on their balconies April 16 and hang sheets with the number of the domestic violence hotline to show solidarity and reassure battered women that help is available. The campaign was dubbed #LockDownNotLockUp.
Abaad director Ghida Anani told Al-Monitor, "With quarantine and lockdown, domestic violence has increased. We received 25% more complaints during March compared to previous months. Domestic violence complaints have doubled, reaching 500 as of early 2020, compared to 270 complaints during the same time period of 2019."
Anani noted that during the lockdown, women tend to seek three things from the organization: advice and psychological support, financial support and shelter at an average of four to six requests per week. Abaad provides baskets of supplies for women who take advantage of the organization's services.
She noted, "The government must add the domestic violence issue to its emergency plan on the [coronavirus] situation. This should be on its list of priorities. Abused women, for instance, should be exempt from the cost of health and psychological treatment, and they should have a national rescue plan. The accommodation capacity of shelters should also be boosted, as there are only six shelters now, and three of them are Abaad's."
One woman who called Abaad said her husband abused her verbally and physically. She said, "I don't sleep at all. I am stressed and terrified. He has become angrier during the lockdown. I tried to leave, but I have no place to go to. Each day, he shouts and screams, barely provides food, and he might hurt [my son and me]."
Kafa, a non-governmental organization established in 2005 to fight gender discrimination, expressed concern in a March report that domestic violence could increase in the coming weeks if the lockdown is extended and the economic situation continues to deteriorate.
Lawyer Lina Zgheib told Al-Monitor, "The 2014 domestic violence law that the Lebanese Parliament passed in 2014 promotes the rights of women and their safety and equality between men and women. However, it has a loophole in that it gives a limited definition of domestic violence and does not fully protect women. For instance, it does not criminalize or mention marital rape."
Clinical psychologist Nabil Khoury told Al-Monitor, "A harmonious couple can face the difficulties and obstacles of life, including the coronavirus and economic crises. If the couple isn't culturally and intellectually harmonious and the two people have to remain under one roof due to the lockdown, many problems arise."
https://www.al-monitor.com/pulse/originals/2020/04/lebanon-domestic-violence-abuse-lockdown-coronavirus.html
--------
Over a quarter of Pakistan's women workforce fired or suspended amid lockdown: report
May 01 2020
ISLAMABAD: More than a quarter of Pakistan's women workforce have been fired or suspended as the lockdown to curb the novel coronavirus came into effect, while a majority of those laid off reported they had not been paid their dues, a survey report released Friday indicated.
According to a survey of 904 respondents conducted by the Free and Fair Election Network (FAFEN) between April 15-30, 26% of the women workforce has either been terminated or suspended and of those, 14% lost their jobs permanently whereas 12% were temporarily laid off.
Of the women who were terminated, the largest proportion was of factory workers. Separately, 51% of the total respondents who were laid off said they were awaiting their dues to be cleared by their employers.
The survey results were released on Labour Day, with the FAFEN terming them "serious violations of the guidelines issued by the federal and provincial governments" to protect workers' rights amid the coronavirus lockdown.
It included respondents from Faisalabad, Haripur, Lahore, Sialkot, Peshawar, Rahimyar Khan, Quetta, and Karachi, with their professions ranging from factory workers, salespersons, and employees of private schools, hospitals, and other commercial establishments. At least 7% were daily wagers, 85% paid on a monthly basis, and 8% on a weekly or bimonthly basis.
FAFEN has raised alarm over the dismal report, urging "the federal and provincial governments to take immediate actions to ensure that employers do not terminate or suspend the employment of workers, particularly women during the ongoing lockdown in the wake of COVID-19".
Interestingly, women bear a relatively bigger brunt of the lockdown as not only have some of them lost their jobs but their unpaid labour at home has increased multifold.
The body also lamented mass layoffs despite "multiple tax rebates, easy credits, and utilities' relief schemes" from the government. It stressed that the incumbent government's social security programme remained "out of reach for most of the workers".
Of those who were let go by their employers, 78% were unaware if they had been registered with any social security organization. On the other hand, 13% noted that they were registered with Employees' Old-Age Benefits Institution (EOBI) and only 1% with Benazir Income Support Programme (BISP).
Shedding light on the workplace arrangements and precautions, the women complained of occupational safety hazards and lack of adherence to COVID-19 prevention measures. Of the total respondents, almost half — 49% — said there were no measures to protect employees from the pandemic at their offices.
Citing the Pakistan Institute of Development Economics' (PIDE) forecast, the FAFEN further warned that daily wagers and contractual workers were at the brink as the virus crisis may force "71 million people below the poverty line and may cost 18 million workers their jobs".
https://www.geo.tv/latest/285897-over-a-quarter-of-pakistans-women-workforce-fired-or-suspended-amid-lockdown-report
--------
As Women Make up Only 6% of Parliament, Gender Equality Is Still a Long Way off in Iran
May 1, 2020
By Shima Esmailian
On 21 February 2020, the people of Iran went to the polls to vote for 290 seats in the Islamic Consultative Assembly. The most recent parliamentary elections, held every four years in Iran, resulted in the formation of a parliamentary body with only 17 female parliamentarians, that is nearly 6% of the total number of representatives – the former parliament had the same figure. The 2019 UN Women annual report ranks Iran 180th out of 193 countries in terms of gender equality in parliament; globally, there are only 27 states in which wo¬¬¬men account for less than 10 percent of parliamentarians.
According to the 2011 UN General Assembly resolution, women's political participation is one of the main factors that measure the situation of women's rights and gender equality in society. Showing progress towards gender equality in political areas, the UN Women report on global rankings for women in parliament recognizes women in politics, particularly those acting as representatives in parliament, as important demonstrators of the status of women in any given country.
The presence of women in Iran's parliament has fluctuated over the past 41 years since the Iranian revolution and the foundation of the Islamic Republic of Iran in 1979, and the total number of seats taken by women is 95 across ten previous parliaments. The former parliament, having a record 17 female MPs with the reformist majority, was the highest achievement for women throughout all these years. Although far from the ideal gender balance, it was achieved thanks to the dedicated campaigning of feminists, moderates, and reformists. The recent polls, though, took place under the election boycott organized by the majority of reformists and oppositions and with the participation of about 24 million people out of 58 million eligible voters. Despite being the least voter turnout that the government has ever experienced, it nonetheless resulted in the same number of female representatives in parliament; however, the real question is whether these women represent views of the major groups of people and especially different groups of women in Iran.
The actual problem is not only the low number of female MPs in the Islamic Parliament of Iran. Per the Constitution of the Islamic Republic of Iran, in order to run for parliamentary elections, all candidates have to be qualified beforehand by an appointed entity of the Guardian Council of the Constitution. In the recent election, alongside thousands of registrants' disqualifications, a significant number of former representatives were barred from seeking re-election, which means that many indivudals of both gender had been deprived of their parliamentary memberships in a nondemocratic way. It must be noted that the proportion of women barred from re-election outweighs that of men.
While there are no legal barriers in place for women to run for parliamentary elections, from more than 16,000 people who registered to stand as candidates, only 12% were not men. Moreover, 50% of female MPs in previous parliaments were elected from the constituency of the capital of Iran, Tehran, and many provinces have never introduced any woman as a lawmaker to the society. Also, religious minorities have not had any female representation in parliament so far. In addition to various socio-cultural barriers that a society with a religious and patriarchal background experiences, legal discriminations exist that contribute to this problem, including gender inequality in terms of the right to work embodied in the Articles 1117 and 1034-120 of the civil code of the Islamic Republic of Iran reflecting the family law that sees a woman chiefly as a mother and wife.
To sum up, both the overall low proportion of women in Iran's parliament and the unequal distribution of female representatives from different religious, cultural, ethnic, and political backgrounds produces a disregard of rights and demands of the Iranian women.
https://moderndiplomacy.eu/2020/05/01/as-women-make-up-only-6-of-parliament-gender-equality-is-still-a-long-way-off-in-iran/
--------
URL: https://www.newageislam.com/islam-women-feminism/pakistan-first-women-police-reporting/d/121738
New Age Islam, Islam Online, Islamic Website, African Muslim News, Arab World News, South Asia News, Indian Muslim News, World Muslim News, Women in Islam, Islamic Feminism, Arab Women, Women In Arab, Islamophobia in America, Muslim Women in West, Islam Women and Feminism