New Age Islam News Bureau
26 Dec 2015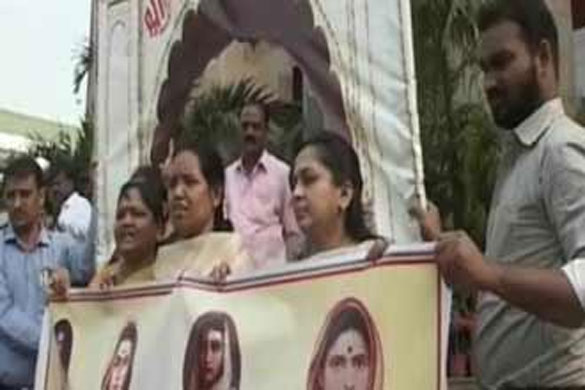 Photo: Cutting across political lines, women politicians have expressed support of the women who are challenging such restrictions.
------
• In A Forbidden Maharashtra Temple, 4 Women Defy Discrimination
• Egypt Launches Anti-Female Genital Mutilation Plan
• 'How Many More Nirbhayas Before We Change the System': Women's Panel Chief
• India to Come Up With Guidelines to Check Harassment On Matrimonial Sites
• Saudi Women Take the Business Path
Compiled by New Age Islam News Bureau
URL: https://newageislam.com/islam-women-feminism/pakistan-detains-6-women-involved/d/105742
---------
Pakistan detains 6 women involved in arranging wives, funds for Daesh
December 24, 2015
Senior Superintendent of Police Umar Khatab on Thursday said the suspicious activities of the network came to light when they detained the wives of two wealthy men who facilitated the killing of 45 people in a passenger bus in May.
Counter-terrorism police in Pakistan's Sindh province have detained six women within a week who are believed to be part of an influential network of women arranging wives and funds for the Daesh militants.
Senior Superintendent of Police Umar Khatab on Thursday said the suspicious activities of the network came to light when they detained the wives of two wealthy men who facilitated the killing of 45 people in a passenger bus in May.
The same group carried out the target killing of human rights activist Sabeen Mehmud here this year.
"The information we have recovered from laptops, hard disks, documents and USB sticks seized from these women alarmed us," Khatab said.
"We have uncovered a well organised web of some well educated/wealthy professors and students in a few educational institutions and their wives who are all working for the Daesh," Khatab told PTI.
The police got to know about this network when they interrogated the wives of professor Khalid Yousuf and Adil Masood Butt. Both were arrested this month.
The four suspects - Adil Masood Butt, Khalid Yusuf Bari, Saleem Ahmed and Mohammad Suleman Saeed - were arrested for providing financial support to the attackers.
Khatab said they had already suspected a network was working for Daesh in Karachi when they arrested the main suspects who carried out the killing.
"What our investigations have shown is that this network of around 20 women from wealthy backgrounds brainwash young girls in these institutions, provide funds for Daesh and also arrange wives for Daesh," he said.
"These women distribute USB sticks containing videos of Daesh militants in order to brainwash the young girls," he said.
He said the wives of Qari Yousuf, Adil Butt, Saad Aziz, Khalid Yousuf and Omar Kathiuar - all main suspects in the killings - have been interrogated and it was obvious these women were playing an important role in funding and marriages of militants.
"They had a lot of influence in some universities," he added.
Khatab said that according to the information they have obtained so far there are 14 other women including a gynaecologist who not only provided medical treatment to the wives of terrorists but also served as a facilitator for them.
http://www.khaleejtimes.com/international/pakistan/pakistan-detains-6-women-involved-in-arranging-wives-funds-for-daesh
---------
In A Forbidden Maharashtra Temple, 4 Women Defy Discrimination
All India | Written by Saurabh Gupta | Updated: December 21, 2015
MUMBAI: Four women on Sunday attempted to enter the sanctum sanctorum of the famous Shani Shingnapur temple in Ahmednagar District of Maharashtra, defying rules that they said perpetuated gender inequality.
Triggering high drama and later protests in their support, four women attempted to climb their way over barricades towards the shrine where women are not allowed. They were stopped and taken away.
The bid came after last month a woman had done the same causing temple authorities to undertake "purification rituals" igniting the debate on gender discrimination especially at in places of worship.
Cutting across political lines, women politicians have expressed support of the women who are challenging such restrictions.
Congress legislator Praniti Shinde told NDTV, "Doors of this particular temple should be opened up to women. I feel that this needs to be changed, and that's why I applaud this woman's guts for having done this."
BJP Spokesperson Shaina NC, "On one hand, you worship women as Durga, Saraswati and all the various goddesses, on the other, if she does prays at one place you say you need to cleanse the entire system."
"We as women of BJP have requested our government to take this very seriously as it is about the dignity and respect of women all across the country," Shaina NC added.
One of the women who made the attempt on Sunday at the temple said, "This time only four women have come. If they do not allow women to enter, then 400 women volunteers of Bhoomata Brigade will come and make their way in."
The discrimination is not limited to the Shani Shignapur temple alone. The Haji Ali Dargah in Mumbai has banned the entry of women into the sanctum sanctorum of the shrine. This has been challenged by the Muslim Mahila Andolan in court and the shrine's trustees have told the court it was a "sin" for women to be in close proximity of a Muslim saint.
http://www.ndtv.com/india-news/support-pours-for-women-who-stormed-maharashtra-temple-1257461
------
Egypt launches anti-female genital mutilation plan
December 25, 2015
Cairo: Egypt has launched a five-year plan to reduce girls' circumcision, better known as female genital mutilation (FGM). The five-year nationwide plan seeks to curb the centuries-old practice through creating a "propitious socio-political and cultural atmosphere" against it, the Health Ministry said on Friday.
The practice, thought to have been observed in Egypt for thousands of years, involves the removal of the entire clitoris.
Although criminalised in Egypt since 2008, FGM is believed to be still rife mainly in rural and underprivileged areas.
"The implementation of the new plan is aimed at bringing about a cultural change supporting rights of children and women, developing information systems and follow-up on programmes for family empowerment and FGM combat," the ministry added in a statement. In recent months, anti-FGM advertisements have been aired on local TV stations in Egypt warning against the physical and psychological harm resulting from the practice.
Authorities say that the stepped up efforts against the tradition have paid off. According to figures released by the Health Ministry, the practice among Egyptian women aged up to 49 dropped to 92 per cent in 2014 against 96 per cent nine years earlier.
The figures show a further decline among girls. Around 61 per cent of the nation's girls aged between 15 to 17 underwent FGM in 2014 compared to 74 per cent in 2008.
"This decline reflects the impact of social development among the new generation as a direct result of increased rates of education and national campaigns carried out by the government, the media, civil society and law enforcement agencies against female circumcision," the ministry explained.
It cited statistics that 82 per cent of FGM operations in Egypt had been performed by medical practitioners.
Under Egyptian law, FMG is a criminal offence punishable by jail terms ranging from three months to two years.
Earlier this year, an Egyptian court sentenced a doctor to two years in prison after a 13-year-old girl died of complications resulting from FGM surgery he had performed on her.
In the new anti-FGM plan, health authorities said they would seek cooperation with Muslim and Christian clergymen.
In 2007, Egypt's leading Islamic official, the grand mufti, issued a fatwa stating that FGM is forbidden in Islam.
http://gulfnews.com/news/mena/egypt/egypt-launches-anti-female-genital-mutilation-plan-1.1643543
---------
'How Many More Nirbhayas Before We Change the System': Women's Panel Chief
All India | Press Trust of India | Updated: December 20, 2015
EW DELHI: Delhi Commission for Women Chief Swati Maliwal hoped that the juvenile convict in the December 16 gang-rape case will not be released today as scheduled as her plea against his release will be heard by the Supreme Court tomorrow.
In a dramatic post-midnight move, the Delhi Commission for Women had approached the Supreme Court to stay release of the juvenile convict, who is now 20-years-old and was known to be the most brutal of the attackers.
vacation bench comprising Justices AK Goel and UU Lalit in their order pronounced at 2 am, posted the matter for hearing on Monday.
The Special Leave Petition filed by DCW against the order of the Delhi High Court, which refused to restrain the release of the convict, was referred by the Chief Justice of India TS Thakur before the vacation bench.
After the order by the court, DCW chairperson and the lawyers of the women's panel hoped that since the matter has become sub-judice, the government and the Delhi police will not release the juvenile offender today as scheduled.
Yesterday, the juvenile was moved out of Delhi even as distraught parents of Jyoti Singh, the 22-year-old medical student who was gang-raped on December 16, strongly kept opposing his release. The parents were briefly detained by the police after they held a protest against the convict's release.
When contacted, Jyoti's father said that they had gathered for a peaceful demonstration near the correction home in Majnu Ka Tila against the release of the juvenile convict but the police detained them.
The convict is likely to to be released from an undisclosed location today, in adherence to the existing legal provision, the sources said. The Delhi government has said it had submitted a rehabilitation plan for the juvenile convict.
http://www.ndtv.com/india-news/delhi-gang-rape-swati-maliwal-hopes-juvenile-offender-is-not-released-today-1256980
----
India to Come Up With Guidelines to Check Harassment On Matrimonial Sites
All India | Press Trust of India | December 20, 2015
NEW DELHI: Guidelines to check harassment of women on matrimonial websites will soon be formulated by the Women and Child Development Ministry which will include measures like setting up a dedicated helpline by the site owners for redress of complaints and filing periodical returns.
The ministry has set up an inter-ministerial panel to frame the guidelines. It has officials from department of Information Technology, Home Affairs and Women and Child Development Ministry, and three representatives from matrimonial websites as members who will come up with list of directions to mitigate and eliminate fraud in the digital space concerning marriage portals.
The ministry also held a meeting on November 17 with online service providers of the matrimonial sites to find out possible ways for better regulations.
A senior WCD Ministry official said there has been an increase in the number of complaints about fraud on matrimonial websites.
"The complaints are received by our grievance cell and it was observed that such cases have increased in the past few years," he said, recalling one such case where a woman, who had recently cleared the Civil Services Exam, complained about a user for trying to "tarnish" her image by posting that she is HIV positive.
The official said the website managers have also expressed concern over the "serious frauds" happening on these portals targeting women.
"The websites have been very responsive. They have also been getting complaints and are concerned about it. Because if there are too many complaints on a particular site, it will also affect their business," he said.
The guidelines will be notified under IT Act, the existing rules of which govern only cyber cafes.
"The idea was to develop a mechanism of accountability on these sites. When a person registers on these sites, they do not provide any ID proof. So, he or she is free to commit frauds. We have suggested that they (websites) should take some kind of ID proof, like Aadhaar card, voter card or driving license so that the user can be held accountable if he does something wrong," the official said.
"Secondly they have been asked to set up a helpline for redressal of complaints. They have also been suggested to file periodical returns in which they give details about grievance redressal," the official said.
http://www.ndtv.com/india-news/women-and-child-development-ministry-to-come-up-with-guidelines-to-check-harassment-on-matrimonial-s-1257029
----
Saudi women take the business path
December 25, 2015
A design of a woman wearing a black head-to-toe abaya as she rides her bicycle down the street features on the embroidered border of Ayah Al Bitar's new range of floor cushions. She likens it to a comic strip that tells "the story of the life of a Saudi woman".
Her stand displaying her home furnishings, shaped in the style of a bicycle seat, at Saudi Design Week in Riyadh in May, attracted crowds of potential buyers and supporters of her message. Transport is a central theme in her collection and a loaded topic in Saudi Arabia, where the mobility of women is often restricted. The kingdom only gave women the right to ride a bicycle in public three years ago.
But she is pushing boundaries in more ways than one. Bitar, 23, is among the growing number of Saudi women setting up small- and medium-sized enterprises. "I'm provoking thought through my work but also as the face of my brand," she says.
From cupcake making to furniture shops, clothes boutiques and consultancies, Saudi businesswomen are becoming a growing public presence in Saudi society even as social norms often still dictate they should stay behind closed doors.
These women are often in the top echelons of society, highly educated and frequently wealthy. But their participation in Saudi society is often misunderstood in the West.
"This place is not just about the abaya and women not being able to drive," says a female art gallery curator in Riyadh, dressed in an ebony cloak, tightly wrapped headscarf and silken gloves. "You have to look past the veils. We are doing a lot of interesting work."
Opportunities in higher education at home and abroad, financial stability, familial encouragement, the easing of labour restrictions and social media are among factors that are bringing more women into the workforce and the business world.
Legacy
Samar Nasraldin set up contemporary womenswear brand Atulier after returning home to the Red Sea Saudi port city of Jeddah from her studies in Paris. "Many people here think, 'You're wealthy — you don't need to work,'" she says. "But I wanted to create something of my own, to leave a legacy."
Women require a male legal representative when opening an office or registering for a business licence. Such permission is also necessary to gain a University Place, marry or travel outside of the country. Even with such obstacles in place, many more women are seeking workforce participation and are keen to start out alone.
"The outside world doesn't see it, but there has been major transformation in Saudi Arabia," says Reem Asaad, a financial adviser who successfully led the campaign to substitute women for male shop assistants in lingerie and cosmetics stores. From opportunities in retail to advertising and IT, more sectors have opened up for women. Economic necessity for many low- and middle-income Saudi families has also been a catalyst.
"The impact has been big, even in the last two years alone. The mall I'm standing in now has a 60 per cent female workforce," she says of the upscale Stars Avenue shopping complex in Jeddah. "Traditional value structures are being challenged," she adds.
Spurring the rise of female entrepreneurs have been improved women's education and programmes over the past decade under the late King Abdullah, who paid for thousands of young women to study abroad. Social media platforms such as Instagram and Facebook have driven the creation and promotion of enterprises women can operate from home. "The economic and social needs of millennial women are different to those of generations past," Reem says.
But much more work needs to be done in a country where women only recently won the right to vote and are not allowed to drive. While Saudi Arabia scored a near perfect equality score of 0.988 (out of 1) for educational attainment by both sexes, it fell to 0.27 for labour force participation, according to the World Economic Forum's Gender Gap Index for 2015.
Maha Al Sudairi, who three years ago created Think Tank, a brand and product development business, says female-run businesses can create more jobs for women. She says her company employs a dozen Saudi women who did not have the opportunity she had to live and work abroad. "I also envision creating a creche for women who want to work and have children," she adds.
Gender segregation has created difficulties for female-run businesses, many of which would prefer to use female providers of legal, accounting and management advice, for example.
Seeing the opportunity, a group of investors, including women from prominent Saudi families, has set up Rasyah, a wealth management, business advisory and development group to target affluent Saudi women — a market it estimates at 100 billion Saudi riyals ($27 billion).
Later in life
It is not just the younger generation that is branching out. Nicola Beer, a lifestyle coach in Dubai says several of her Saudi clients are setting up their own businesses later in life. "Often it is a result of divorce or [other] change in financial circumstances, or after their kids have grown up," she says. "Many women have devoted their lives to their husbands and children. When they're no longer there, they think, 'Now it's about me, what do I want to do?'"
After more than 30 years as a professor of biology in Riyadh, May Al Jaser set up a gelato shop in her 60s. "I thought I would retire and try something new. But this is anything but part-time — it's a full time commitment," she says.
She refused to operate the business with a male legal representative, she adds. "I did everything myself; I didn't want to be behind the scenes. Going to the municipality for permits, the chamber of commerce, getting my equipment through customs at the airport — I went into all of these male-dominated areas. Even a decade ago I couldn't have done this."
http://gulfnews.com/business/economy/saudi-women-take-the-business-path-1.1643445
URL: https://newageislam.com/islam-women-feminism/pakistan-detains-6-women-involved/d/105742
New Age Islam, Islam Online, Islamic Website, African Muslim News, Arab World News, South Asia News, Indian Muslim News, World Muslim News, Womens in Islam, Islamic Feminism, Arab Women, Womens In Arab, Islamphobia in America, Muslim Women in West, Islam Women and Feminism