New Age Islam News Bureau
13 Sept 2013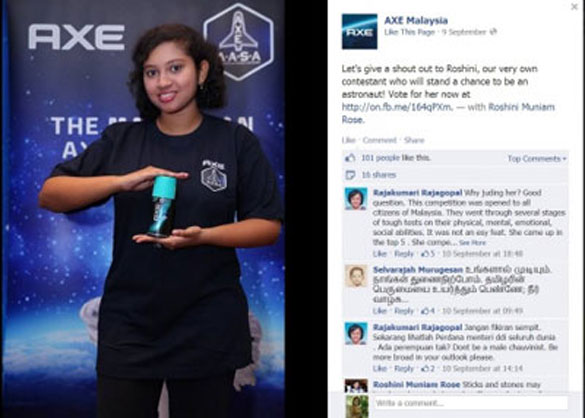 Photo: Astronaut Hunt Turns into Sexist Nightmare for Female Finalist
-------------
• J&K Girls Not Scared Of 'Unsafe' Delhi, Says Home Secretary
• Miss World Organisers Say Bali Final 'Impossible'
• Sirleaf an example for African women: Pranab Mukherjee
• Astronaut Hunt Turns into Sexist Nightmare for Female Finalist
• New Rights for Non-Saudi Moms May Benefit Saudi Mothers, Too
• U.S. Ambassador's Wife Touches the Lives of Saudi Women
• Pakistan Axes 'Immoral' Cell Phone Love Chat
• Tajiks Accuse Woman of Aiding IMT, Detain Alleged Human Trafficker
• Three Maldivian Girl Guides Awarded Organisation's Highest National Award
• Children of A Lesser God - Let's Call the Barbarity for What It Is
• Iran Allows First Female Triathlete to Compete For Country
• Women's Rights as Part of Global Vision, UfM Says
Compiled by New Age Islam News Bureau
URL: https://www.newageislam.com/islam,-women-and-feminism/new-age-islam-news-bureau/'pakistan-anti-terrorism-courts-to-try-acid-attack-cases'/d/13485
-------------
'Pakistan Anti-Terrorism Courts To Try Acid Attack Cases'
2013-09-12
BAHAWALPUR: Punjab Minister for Women Development Hameedah Wahiduddin has said the cases of acid attacks on women will be tried in anti-terrorism courts across the province.
Speaking at a function held at working women's hostel here on Wednesday, she claimed that the decision reflected the government's efforts towards empowering women and bringing them to the mainstream.
She said women's service quota had been increased to 15 per cent with three-year age relaxation for their recruitment in government departments. She said 16 working women's hostels had been built in several districts.
At a divisional na'at competition and art and craft exhibition at the Government Higher Secondary School for the Blind, Minister for Special Education Asif Saeed Manais said the government was taking measures to provide facilities of speech therapy and physiotherapy to the special children.
The government, he said, was already providing free education, uniform, shoes, books, transport and monthly stipend of Rs800 to each special child. He held out an assurance to school principal Rehman Afzal to overcome the staff shortage in the school.
POACHERS: A magistrate of Yazman, on the complaint of field officials of the wildlife department, on Wednesday issued warrants for the arrest of 10 people for illegal hunting of deer at Ahmadwala pond in Cholistan and opening fire on wildlife staff members.
Wildlife Deputy Director (Bahawalpur division) Chaudhry Afzal Hussain said Kamran Dahar, Qazi Mumtaz, Kabir and others opened fire on officials who found them involved in illegal hunting.
HOCKEY: Bahawalpur Corps team on Wednesday won army hockey championship by defeating Gujranwala Corps.
Bahawalpur Corps Commander Lt-Gen Zubair Mahmood Hayat gave away prizes.
http://www.dawn.com/news/1042275/atcs-to-try-acid-attack-cases
-------------
J&K Girls Not Scared Of 'Unsafe' Delhi, Says Home Secretary
Sep 12 2013
New Delhi: Families in Delhi may consider the city unsafe for women but Kashmiri girls are not the ones to get scared, said Union Home Secretary Anil Goswami on Wednesday as he tried to allay fears in the minds of youths from Kashmir who are being offered training by corporates under Udaan, the government's flagship job programme for J&K youths.
"Families living in Delhi do not consider Delhi safe. However, Kashmiri girls are very brave and they do not get scared," said Goswami as several private and public sector companies complained that families of girls from J&K were unwilling to send their children for the programme as they fear that girls will not be safe in the Capital.
The ambitious Udaan scheme, being implemented by the National Skill Development Council, aims to employ 40,000 youths from the state over five years. The scheme aims to target youths who have completed graduation or are in the final year.
The stakeholders, which included NTPC, ONGC, HCL, Wipro, Yes Bank and Canara Bank, also complained to the Home Secretary about a high dropout among the participants. According to rough estimates, the dropout rate is as high as 45 per cent, said officials.
Goswami, who also hails from J&K, attributed the high dropout to low packages being offered by the private companies. "Jammu and Kashmir is not a poor state. Low packages dishearten us. They (the youth) are not looking for jobs at the lowest level," he said, adding that an average youth will not come out from the valley to earn Rs 10,000-15,000 since people there are more affluent. He asked the corporates to offer better salary packages to lure the youth.
During his two-hour review meeting at India Habitat Centre, Goswami also expressed helplessness when the companies complained about the mobilisation cost of youths when they are brought from the valley to places like Delhi or Mumbai. According to a senior participant, the mobilisation cost per head comes to Rs 17,000 and there has been a demand from the corporates that this cost should be shared by the government.
However, Goswami said, "I am sorry that the government cannot offer any help on mobilisation cost. The corporates will have to bear the cost for the time being."
According to the Ministry of Home Affairs, the budget for the scheme is Rs 1,000 crore. The ministry's share is Rs 750 crore while the balance amount will be borne by the corporates. So far, 37 leading corporates from retail, banking, finance, telecommunication, oil and gas have partnered with NSDC under Udaan.
Replying to a question raised by corporates regarding security in the Valley, Goswami said the corporates should not cancel their travel plan even if there is any untoward incident in the state. "If there is some incident in Srinagar, you can always make an effort to visit to Jammu region or Ladakh so that the youths from these regions also get enrolled in the programme."
http://www.indianexpress.com/news/j-k-girls-not-scared-of--unsafe--delhi-says-home-secy/1168024/
-------------
Miss World Organisers Say Bali Final 'Impossible'
13 September 2013
Miss World organisers said it would be "impossible" to stage the final in Bali, vowing to petition Indonesian authorities to move the event back to Java after it was switched in the face of radical Muslim protests.
As hundreds more demonstrators took to the streets demanding the contest be scrapped, organisers said they hoped to persuade officials this week to reverse their decision to shift the whole show to the Hindu-majority resort island.
"I think people can appreciate how complex it would be to move everything to Bali," Nana Putra, executive director of organiser and broadcaster MNC Group, said.
"Just getting the venue and all the accommodation is impossible with APEC here," she said, referring to the Asia-Pacific Economic Cooperation summit at the start of October. The final takes place on September 28.
World leaders and thousands of officials and journalists will attend APEC, with many arriving days before it starts to take part in pre-summit meetings and activities.
Putra said organisers hoped to meet authorities some time this week, but did not say when.
However, she insisted organisers had no plans to cancel later rounds or the final and said they had a back-up venue in Indonesia if it was needed, although declined to give further details.
Government officials said on Saturday the entire three-week contest would be held on Bali, where it opened Sunday after days of protests by radicals, who denounced the pageant as "pornographic" and "smut".
Some of the later rounds were originally due to take place in and around the capital Jakarta, including the final which was to be staged in a massive convention centre near the city in West Java province.
Putra also revealed that organisers had not been notified before the government decided to move the event.
"We were not part of the discussion -- we only heard about the decision after it was made, unfortunately," she said.
Hardliners kept the pressure up Tuesday, with some 700 members of hardline group Hizbut Tahrir Indonesia protesting outside the West Java governor's office in Bandung city.
"We don't want Miss World here in West Java. But moving the contest is not enough -- it has no place in Indonesia," Asep Sudrajat, a Muslim cleric from the group, told AFP at the protest.
The decision to move the final round is the latest victory for Islamic fringe groups who are wielding increasing power and have succeeded in getting events they deem un-Islamic changed or cancelled in recent years.
http://beautypageants.indiatimes.com/world-pageants/archives/Miss-World-organisers-say-Bali-final-impossible/articleshow/22481831.cms
-------------
Sirleaf an example for African women: Pranab Mukherjee
STAFF REPORTER
September 13, 2013
Nobel Peace Prize winner Ellen Johnson Sirleaf is the first democratically elected woman head of state of any African country.
Indian stands by Liberia in its efforts to pursue stability, economic growth and democratic governance, President Pranab Mukherjee said on Thursday.
He was presenting the Indira Gandhi Prize for Peace, Disarmament and Development for 2012 to his Liberian counterpart Ellen Johnson Sirleaf at Rashtrapati Bhavan.
Ms. Sirleaf, the first democratically elected woman head of any African country, has been chosen for the award "for serving as an example and an inspiration for many a woman in Africa and beyond, and for ensuring the return of peace, democracy and development to Liberia."
Mr. Mukherjee said Ms. Sirleaf revived national hope by strengthening institutions of good governance and leading the revitalisation of the national economy in a country that saw bloodshed and civil war spanning decades. Acknowledging her governance and leadership, Mr. Mukherjee said: "Emerging from a dark night that saw so much violence and bloodshed in a country, Africa's oldest republic, Liberia is now moving towards its tenth year of sustained peace. India has been privileged to have played a key role in peace- keeping efforts in Liberia."
Prime Minister Manmohan Singh said Ms. Sirleaf, a Nobel Laureate, guided Liberia towards peace, stability, democracy and development after two decades of suppression, violence and conflict.
Congress president Sonia Gandhi, who is also chairperson of the Indira Gandhi Memorial Trust, drew comparisons between the late Prime Minister and Ms. Sirleaf and called her a "trailblazer." Ms. Sirleaf's commitment to women's rights was in keeping with Indira Gandhi's own values, she said. Her story was one of indomitable courage, strong determination and the yearning to achieve greater heights.
http://www.thehindu.com/news/national/sirleaf-an-example-for-african-women-pranab-mukherjee/article5120640.ece
----------
Astronaut Hunt Turns into Sexist Nightmare for Female Finalist
BY EILEEN NG
13 September 2013
A competition on Facebook by a male grooming brand to send a Malaysian to a space camp in Florida, USA to train to be an astronaut turned ugly when the only female finalist was "trolled", drawing sexist comments from netizens.
Post-graduate student Roshni Muniam, who is one of the top five finalists of Axe deodorant's Apollo Space Race competition, was discriminated against online due to her gender.
A comment posted by Syed Wazien on Roshini's profile, featured in Axe's Facebook page, expressed surprise over a woman's desire to go to space.
"What – a woman?! No way, hose!!!" he said.
Geeky Fredward wrote that Roshini should not compete and must make way for her male counterparts to win the competition.
"Banyak lagi competition untuk female only kat luar tu lady.. (there are many other competitions for females out there, lady) don't ruin what's intended or most considered to be men only chance?"
Another commentator, Dimitriy Mirovsky, was more insulting, saying that women should be prohibited from the competition as they menstruate.
"pompuan REJEK...... lelaki sahaje..... kang tampon ang pecah kat langit tu abis rosak space craft tu..... kah kah kah......" (Women should be rejected… it is only for males… if your tampon burst while you are in space, the entire spacecraft will be spoilt… kah kah
kah...)
This is reminiscent of an incident in the Malaysian parliament in 2007 when controversial Barisan Nasional MP Datuk Bung Mokhtar Radin, in a heated exchange in the Dewan Rakyat with opposition MPs over a leaky roof in Parliament House, said: "Mana ada bocor? Batu Gajah pun bocor tiap-tiap bulan juga. (Where is the leak? The Batu Gajah MP also leaks every month.)".
Batu Gajah MP Fong Po Kuan and other women MPs were outraged by his comments and he was eventually forced to apologise.
Plucky Roshini, 27, has hit back at the trolls.
"Sticks and stones may break my bones, but words will never hurt me. I am all out to win this competition because I want to inspire ordinary people to have extraordinary dreams & goals," she posted on the page.
The contestants underwent a series of challenges which tested their mental strength and endurance. The pictures of the top five were posted online. Visitors to the page then could vote for their choice.
Some netizens have also come out in her defence, with Rajakumari Rajagopal pointing out that the competition was open to all Malaysians and that she qualified on merit.
"She was the only Malaysian woman who had made her way to the semi-finals and now to the finals. She needs your help and everyone's help to make her dream come true. Why can't she have a dream? Why can't she be given an equal right to participate? Why can't she be the final person to represent Malaysia. Malaysia Boleh! 1 Malaysia! Hidup Malaysia!"
Rafizal Rahman said Roshini should not be praised and not criticised, pointing out there was already a lot of female astronauts in the world.
The competition closes next Tuesday and the winner will be announced on September 24.
The winner will represent Malaysia in Florida and compete against other nations' candidates for an opportunity to go to space.
Only 22 people will be selected for the Florida experience. – September 12, 2013.
http://www.themalaysianinsider.com/malaysia/article/astronaut-hunt-turns-into-sexist-nightmare-for-female-finalist
-------------
New rights for non-Saudi moms may benefit Saudi mothers, too
SABRIA S. JAWHAR
12 September 2013
The Saudi government's decision granting foreign mothers of Saudi children more rights still falls short of providing full citizenship, but it's a cause for celebration and brings foreign women within a hairsbreadth of the rights that Saudis enjoy today.
According to the decision, foreign mothers of Saudi children are given permanent residency and will receive all health and educational services accorded to Saudis. The mother will be allowed to work for any employer in the private sector and be included in Saudization. She will be treated as a Saudi to enroll in general and university education programs. The intent of the ruling is to encourage non-Saudi mothers to remain in the Kingdom with their children and to keep the family together.
The ruling also removes the stipulation that Saudi children of foreign mothers must be the mother's sponsors as part of the Iqama requirement. It also deletes the requirement that sponsors must assume non-Saudi widows' living expenses if she is unable to provide for herself.
Unspoken, but certainly a key consideration for foreign women, is that the law provides leverage in custody issues, particularly in divorce cases where Saudi men may attempt to deny foreign mothers the right to have access to their children. It also drops the sponsorship issue. Women are no longer forced to leave Saudi Arabia, a country they have called home for decades.
Yet the new laws don't go far enough because they don't resolve the citizenship issue. Citizenship for non-Saudis remains elusive. According to amendments approved in January 2012 and enforced by the Interior Ministry's Civil Affairs department, foreign women must have at least 17 points to be granted citizenship.
Under the current system, foreign women who have at least one Saudi relative earn two points. If the foreign woman was born in Saudi Arabia, she gets two points. She earns another two points if she lived in the Kingdom before her marriage.
The system is not equitable because it gives preference to foreign Arab wives and mothers over Western women because of the likelihood of an Arab women living in Saudi Arabia before marriage or over a longer period of time than a Westerner. I'm not sure what is so hard about granting citizenship for foreigners. Surely, men and women living in the country for 30-plus years are entitled to some consideration.
Expats have always felt that Saudi citizenship is an unattainable goal. Last year's amendments to the citizenship rules and this week's decision to grant wider freedoms to non-Saudi mothers do not really address these obstacles. But Saudi Arabia is not one to take bold steps and considers citizenship an area that one must tread lightly.
I prefer to view the new rights given to non-Saudi mothers of Saudi children as another step to permanent and equitable solution for foreign women married to Saudis to achieve citizenship.
By the same token, I see these steps as moving toward the goal of giving Saudi wives of foreign husbands citizenship to their children, and that due consideration be given to the situation of their husbands. Saudi wives still face deep discrimination for their choices of a husband, and their children are the ones who suffer because, unlike children of Saudi men, they are denied citizenship by birth.
In some small measure by granting more rights to non-Saudi mothers, Saudi mothers can also achieve similar goals.
I dream of the day when the children of a Saudi mother are given citizenship by birth, then when they reach the age of 18, they can decide for themselves whether they want to keep the Saudi citizenship or take that of their father. My guess, children of Saudi mothers will choose Saudi Arabia as their home because we, mothers, are the ones who teach love and shape personalities.
http://www.arabnews.com/news/464324
-------------
U.S. Ambassador's Wife Touches the Lives of Saudi Women
13 September 2013
James B. Smith came to Saudi Arabia in 2009 and served for four years as the United States Ambassador, with dignity and a sincere thirst for understanding the Saudi culture and people.
As they always say, behind every great man is a great woman. This proverb is particularly true when referring to Ambassador Smith's wife, Dr. Janet Breslin-Smith.
With a distinguished career of her own prior to becoming the ambassador's wife, she taught national security strategy as a professor at the National War College and worked in legislative affairs in the United States Senate.
Breslin-Smith spent significant time learning about Saudi society. She interacted with Saudi women and men on a personal level by organizing many events, among which involved young Saudi female lawyers and, thereby, allowing them to network in a way that was never possible before.
"I grew up with both of my grandfathers serving as the Kingdom's Ambassadors in France and other countries for many years. I also grew up around my grandmothers who supported their husbands in diplomatic missions and undertook responsibilities as part of their role as 'first ladies.'"
Her initiatives are even more important in a culture where U.S. male diplomats cannot freely engage with the Saudi female population.
Her efforts galvanized U.S. female diplomats to engage and champion pressing issues faced by Saudi women.
Since she came to the Kingdom in 2009, Breslin-Smith took it upon herself to organize lunches, dinners, and private gatherings to bring together young Saudi female lawyers and law students to share ideas and create an informal network.
She also organized meetings that allowed Saudi women to meet and learn from foreign academics and practicing lawyers.
http://english.alarabiya.net/en/variety/2013/09/12/U-S-ambassador-s-wife-touches-the-lives-of-Saudi-women.html
-------------
Pakistan Axes 'Immoral' Cell Phone Love Chat
13 September 2013
Pakistan has cracked down on "immoral" love chat services offered by mobile phone companies, stifling hopes of illicit romance in the conservative Muslim country where dating is frowned upon.
The Pakistan Telecommunication Authority (PTA) said the ban was enforced last month due to protests from parents and lawmakers, but critics warn it is the latest attempt at creeping censorship.
The PTA first pulled the plug on dirt-cheap chat rates and late-night discounts in November, but operators simply started offering the services under different names.
So the regulator tightened the ban late last month, ordering telecommunication companies to scrap immediately "all kinds of chat services, irrespective of the time of day".
In a country, where parents keep young people on a tight leash and dating is considered inappropriate, late-night chatting over the phone or Internet can be a way to find love below the radar.
In Pakistan girls can be beaten or even killed by male relatives if there is any hint they are having a relationship and parents like to strictly control the marriages of their offspring.
A 20-year-old university student who did not want to give his name told AFP that the ban had hit him hard as he is now unable to chat with random girls and find new dates.
"The cruel world has once again conspired against lovers and made it difficult for them to communicate," he told AFP.
"It was so inexpensive and an easy way to find a date," he added.
The 25-year-old manager of a boutique in Islamabad told AFP that he had found the "love of his life" through the service.
"I am going to marry her," he said.
"We chatted, we exchanged numbers, we started talking and I was surprised to find out that she lived nearby," he said.
There is no public data about how many people used the romantic chat, but of the 68.6 percent of the population with access to a mobile phone, it is likely to have been a small number.
Normal call charges are about two rupees ($0.02) a minute and 1.50 rupees for a text message, but chat services were offered at an hourly rate for a fraction of those rates.
A customer would dial a particular number after which a computer generated voice or text message guided subscribers through various options.
For example, if you want to chat to a girl press 1, a boy press 2, then you select your preferred age group before being connected to another caller by SMS conforming to your criteria.
Two of Pakistan's five mobile phone companies said they had shut down romantic chat rooms, but would continue to offer calling services that stick to general interests such as hobbies.
Another company said they had shut down all chat rooms and two others were not reachable for comment.
Saeeda Khan, a 45-year-old mother of three, welcomed the ban.
"I am worried as they're busy all night on the phone with their friends and cousins," she told AFP.
Khan said she worried about "what kind of people" are in the chat rooms and that children "are exposed to strangers". "I would never approve of chatting with unknown people," she said.
Mobile phone companies have filed petitions in the Supreme Court against the ban, but no date has been set for a hearing.
Pakistan's oldest English-language newspaper Dawn has accused the PTA of acting as an "unwanted morality brigade".
"The intermingling of young men and women is not a matter that should concern the state which has nothing to gain except opprobrium by acting as self-appointed guardian of society's morals," Dawn wrote in an editorial earlier this month.
"It (the PTA) should mind its own business."
The PTA defends the move as a response to public anger, but the ban has raised fears about growing censorship in Pakistan.
The government frequently shuts down mobile networks to prevent militant attacks and access to YouTube has been blocked for a year over a low-budget American film deemed offensive to Islam.
In November 2011, the PTA also tried to ban nearly 1,700 "obscene" words from text messages, which included innocuous terms such as "lotion", "athlete's foot" and "idiot".
In 2010, Pakistan shut down Facebook for nearly two weeks over blasphemy and continues to restrict hundreds of online links.
Independent technology think-tank Bytes for All, Pakistan told AFP that the fresh ban was a violation of human rights.
"Any regulation on the basis of 'morals' falls under moral policing, which is unjustified, undemocratic, dictatorial and a violation of fundamental rights," Furhan Hussain, Coordinator Advocacy and Outreach at Bytes for All, Pakistan, told AFP.
One engineering graduate, when asked if he had ever used the chat service, said he regretted only hearing about it after the ban.
"Damn! I could have been dating girls, now I regret it."
http://english.alarabiya.net/en/variety/2013/09/13/Pakistan-axes-immoral-cell-phone-love-chat-.html
-------------
Tajiks accuse woman of aiding IMT, detain alleged human trafficker
Staff Report
13 September 2013
DUSHANBE – Tajik security forces August 18 at Dushanbe International Airport detained a Dushanbe woman for allegedly helping the Islamic Movement of Turkestan (IMT), media reported September 12, citing Ismoili Somoni District court documents that Radio Free Europe/Radio Liberty (RFE/RL) obtained.
The State National Security Committee (GKNB) accused Nigina Tashkhojayeva of helping two wanted IMT members flee Tajikistan and of trying to send a Tajik man to Afghanistan to join the "jihad." Authorities apprehended the would-be jihadist at the airport.
Tashkhojayeva's husband is serving a prison sentence in Afghanistan for belonging to a terrorist group, RFE/RL reported. Tashkhojayeva faces a 12-year prison sentence if convicted.
In related news, Tajik police detained a woman from B. Gafurov District at Dushanbe International Airport September 11, before she boarded a flight to Dubai, RFE/RL's Tajik service reported September 12, citing the Interior Ministry (MVD) press office.
Sarvara Jurayeva, who had two Khujand girls with her whom she had promised "high-paying jobs in Dubai," is suspected of human trafficking, the MVD said.
http://centralasiaonline.com/en_GB/articles/caii/newsbriefs/2013/09/12/newsbrief-14
-------------
Three Maldivian Girl Guides awarded organisation's highest national award
By Minivan News |13 September 2013
Three Maldivian Girl Guides have this week been presented with the organisation's highest national award – the President's Badge.
School students Mariyam Rimsha Suhail, Firasha Mohamed and Reem Zahir were presented with their awards by President Dr Mohamed Waheed at a special ceremony in Male' yesterday (September 11).
http://minivannews.com/category/news-in-brief
-------------
Children of A Lesser God - Let's Call the Barbarity for What It Is
THE DAILY TELEGRAPH
13 September 2013
JUST eight years old, Rawan should have been playing with dolls and learning her times tables.
Instead, the young girl from the Middle Eastern nation of Yemen lies dead, having suffered horrific internal injuries inflicted during the night of her wedding to a man five times her age.
The Gulf News reported Rawan had suffered a tear to her genitals and severe bleeding after her poverty-stricken tribal family sold her into marriage with a 40-year-old.
Five years prior, an 11-year-old girl Reem was dressed in a niqab by her father and married off to a 32-year-old man in a slap-dash religious ceremony.
A few days after the wedding, she was raped by her new husband, leading her to attempt suicide by cutting her wrists with a razor blade.
A court refused to grant her a divorce.
Tragically, Rawan and Reem are among 37,000 underage girls forced into arranged marriages around the world every day, sometimes because of poverty but also out of custom.
According to the United Nations Children's Fund, 14 per cent of girls in Yemen - the poorest country in the Middle East - were married before their 15th birthday and more than half before their 18th.
The younger the bride and older the groom, the larger the sum paid to her relatives.
Gynaecologist Dr Arwa Rabi'i told international organisation Human Rights Watch, which is campaigning to change Yemen's constitution to mandate a minimum age of 18 for girls to marry, that she saw up to 20 girls a day suffering miscarriages and life-threatening injuries as a result of being forced to have sex with their new husbands before their bodies were physically ready.
But those who believe the notion of forced marriage is some faraway concept isolated to the Middle East, South Asia and sub-Saharan Africa are grossly mistaken, with a number of alarming cases unfolding in our own backyard.
In the past few years, several teenage girls have been placed on airport watchlists with authorities harbouring strong suspicions their parents were attempting to smuggle them out of the country to marry older men.
In June, a 14-year-old Iraqi girl returned to the country pregnant after such an arrangement, only to later miscarry.
Two years ago, a 16-year-old Sydney girl took secret legal action against her parents to prevent them from bundling her into a plane to Lebanon to marry a man she'd met just once.
Federal magistrate Joe Harman says applications to put young girls' names on airport watch lists were becoming ``increasingly common'' in the courts.
Equally disturbing, more than 200 underage girls have been flown into Australia under government visa programs after being granted prospective spousal visas in the five years to 2011.
Such shocking instances have prompted Women's Minister Pru Goward into ordering a much-needed investigation into the issue.
There is no time to waste - we must take an immediate and strong stance against this barbaric practice, both locally and overseas.
Infuriatingly, some deluded individuals employ defences of cultural relativism as an excuse for complacency when it comes to this worrying trend.
Critics of these horrendous human rights abuses have themselves been attacked as racists and xenophobes.
When Melbourne radio personality and Herald Sun columnist Rita Panahi tweeted Rawan's story after it broke earlier this week, along with the comment ``sick, backward culture'', one deranged follower seized the opportunity to lump the blame on Australia's border protection policies.
It's the same twisted logic that prompts others to remain mute on reports of human rights abuses against Islamic women simply because it's a foreign culture.
The director of the Immigrant Women's Health Service based in western Sydney, Dr Eman Sharobeem, says she's handled 15 reports of forced marriages involving teens in the past two years.
``Every party is happy until the domestic violence starts, when the pressure starts on her body to bear children at a young age and many cases end up in divorce,'' Dr Sharobeem says.
The United Nations has launched a campaign to end child marriage by 2030, saying unless the practice is stopped, numbers will continue to rise.
The law in Yemen states husbands are not allowed to have sex with their young wives until at least a year after their first period, but this legislation is clearly not being abided and would, in any case, still result in what we humanely consider to be statutory rape in this country.
Perhaps the victims themselves say it best.
In a July video that went viral, a pretty 11-year-old Yemeni girl Nada Al-Ahdals eloquently states the case against child marriage after escaping being sold to a man by her parents.
``They threatened to kill me if I went to my uncle,'' Nada says of her own mother and father. ``What kind of people threaten their children like that?
``Go ahead and marry me off. I'll kill myself, just like that.''
Little girls should be dealing with Barbies, not barbarity.
Twitter: @carolinemarcus
http://www.dailytelegraph.com.au/news/opinion/children-of-a-lesser-god-let8217s-call-the-barbarity-for-what-it-is/story-fni0cwl5-1226717985002
-------------
Iran allows first female triathlete to compete for country
Saeed Kamali Dehghan
13 September 2013
A 24-year-old woman from Iran will this weekend make history in London by becoming the first female triathlete to take part in a world championship under the green, white and red tricolour of the Islamic republic's flag.
Shirin Gerami will join 8,500 athletes from 83 countries taking part in the PruHealth world triathlon grand final in Hyde Park, competing in full Islamic dress through a 1,500 metre swim, a 40km bike race and 10km run.
Gerami, who lives in Britain, wrote to the authorities at Iran's ministry for sports and youth affairs four months ago, attempting to persuade them that Iranian women could compete in the triathlon. She travelled to Iran a few weeks ago to push her case. "When I turned up in person on their doorsteps, they realised that I am very serious, and I am willing to do anything," she told the Guardian in an interview from Tehran, one day before flying back to London. "I was overwhelmed by how far people went in order to support me."
Officials at Iran's national triathlon federation told Gerami this week that she can participate in the London event. She will be competing in a full hijab that will cover her body from head to toe, a dress she has worked on to make sure it meets Iran's requirements. Organisers of the London grand final have also agreed to provide a tent for her to be able to change clothes as soon as she gets out of the water.
Gerami said her few months' struggle had been "one of the most surreal, enriching, enlightening experiences" of her life. "I can safely say I am a different person because of it. Everything in life has its ups and downs, and I'm not claiming that it has been all easy," she said. "The most important lesson was that I should always be sincere, always believe in my dream, and never, never give up."
She added that she wanted to share the triathlon with her fellow Iranian women. "Triathlon … is still not very established in Iran, to date women do not participate in triathlons," she said.
"I wanted to share triathlon, therefore, all the empowerment it has given me, with others and encourage others to experience and benefit from something that is dear to me."
By representing Iran, Gerami said, she wanted to tell "the other story of Iran", that positive stories about her home country do exist.
"I wanted to show that what people dismiss as impossible, is actually possible and this universal rule applies to all countries, to all people," she said. "What kept me going was that Iran's triathlon federation never said no.
"They would point out the issues, but they never shut the door on my face. They would always respond positively when I went back with a solution. For that, I am very grateful."
She added: "At times it felt that the riddles would get more and more complex, but I like to believe that all riddles can be solved, and I therefore kept going."
Previously, Iran has prevented female swimmers from participating in overseas competitions. The Women's Islamic Games in Tehran is one of the few international events where domestic swimmers are permitted to take part.
Women in Iran can use public swimming pools at gender-segregated times, or women-only sections, but sports officials have previously been reluctant to allow them into open waters.
It is not clear if the change of heart over Gerami has anything to do with the new administration of the moderate president, Hassan Rouhani, who took office last month.
Gerami's fight for recognition by the authorities follows the case of Elham Asghari who in June swam 20km in full Islamic dress in the tidal waters of the chilly Caspian sea in northern Iran. However, the authorities denied her record-breaking nine-hour feat, saying her "un-Islamic attire" was unacceptable.
Asghari, 32, has said despite designing a special swimsuit to put on while swimming, which added some 6kg to her weight in water, Iran's sports authorities refused to recognise her achievement. But in order to make her frustration heard by the officials, Asghari publicised her plight by releasing a video online which was viewed by thousands of viewers. "Swimming is not exclusively for men – we ladies do well too," she said in the video. Iranian authorities appeared particularly worried about how female athletes' bodies appeared as they came out of the water in wetsuits.
Unlike Asghari, Gerami has not complained about the difficulties of wearing her gear. "What prompted me to make a dress is because if I wanted to represent Iran, if I wanted to be racing under their name, then I have to respect its values and beliefs," she said.
"What is going to be different is that I will be climbing out in to a tent where I can change into my cycling and running clothes - I guess I won't have other people's stuff to trip over in transition, so I'm gonna treat that as a bonus."
The International Triathlon Union said it considers gender equality as very important and has supported Shirin Gerami in her triathlon journey.
Marisol Casado, the International Triathlon Union's president, said: "ITU is extremely happy and proud to support Shirin in her triathlon journey. She has displayed incredible courage and tenacity this week, which speaks volumes of her."
She added: "ITU and our partners at UpSolut worked with Shirin to create specific clothing that she is both safe and comfortable in, as well as a portable changing room in the transition area where she can change into different attire for the differing triathlon disciplines."
Casado said Iran's sports ministry has shown support for Gerami and with that she was able to be registered for the grand final but the president said she was unable to confirm whether Iran's national triathlon federation has given its final approval.
http://www.theguardian.com/world/2013/sep/12/iran-first-female-triathlete-compete
-------------
Women's Rights as Part of Global Vision, UfM Says
13 September 2013
(ANSAmed) - PARIS, SEPTEMBER 12 - Women's rights can no longer be relegated to the social and personal spheres but must take centre stage as part of a global vision, ministers at a Union for the Mediterranean (UfM) summit said in their final communiqué on Thursday.
''The rights of women must be promoted with a modern and global vision, one covering civic, sexual and reproductive rights as well as the right to workplace equality and the fight against violence against women,'' the communiqué said.
Gender equality is crucial for the advancement of society not only on the southern shore of the Mediterranean, where the advance of Islamic extremism threatens to turn back the clock, but also on the northern shore, where women are still heavily handicapped professionally, economically and socially.
Accordingly, the UfM has asked its 43 member nations to collaborate on 12 projects (with more to be added in the coming months) focusing on increasing women's access to decision-making positions, defending sexual and reproductive rights, fighting gender violence, and changing sexist attitudes through education.
''The diplomacy of women's rights cannot consist solely of adopting common texts and commitments, but must also directly support associations and projects in their daily struggle for the dignity of women and against prejudice and discrimination from the ground up,'' said French Women's Rights Minister Najat Vallaud-Belkacem, who chaired the conference.
The 12 projects were elaborated after lengthy consultation with feminist associations, women's rights groups, and NGOs providing medical and psychological care to victims, and will be financed in part by the EU General Secretariat's budget and in part by public and private donors, including several UfM member countries and the European Development Bank. Among these is a project to create a network of promising young women in the Euro-Mediterranean region, one to train health professionals in the care of pregnant women and children, and one to stimulate female entrepreneurship through ad hoc seminars in universities and research centers throughout the Mediterranean Basin. One innovative project focuses on a problem most women face on a daily basis, which is harassment on the street. Following a proposal by the Democratic League for the Rights of Women, UfM member nations have agreed to undertake a study of the current situation, whose results will be used to launch sensibilization campaigns and come up with policies designed to eradicate this practice. All the projects, plus more to be added later, will be presented in more detail at a donors' conference in Barcelona in March 2014.(ANSAmed).
http://www.ansamed.info/ansamed/en/news/sections/politics/2013/09/12/Med-women-rights-part-global-vision-UfM-says_9289678.html
-------------
URL: https://www.newageislam.com/islam,-women-and-feminism/new-age-islam-news-bureau/'pakistan-anti-terrorism-courts-to-try-acid-attack-cases'/d/13485