New Age Islam News Bureau
30 Jul 2017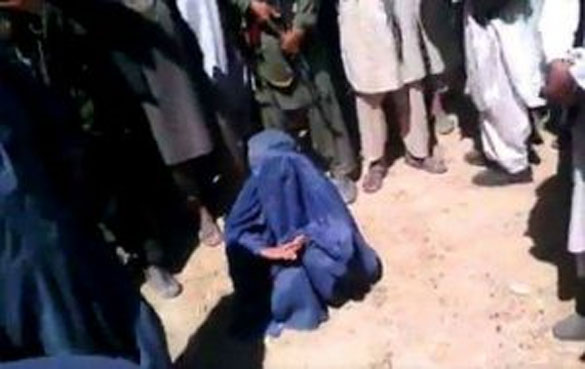 Photo: Afghan woman rescued before falling victim to suspected honor killing
-------
• Afghan Woman Rescued Before Falling Victim to Suspected Honour Killing
• Mums 'Can Help Build' Racial and Religious Harmony
• When West African Female Judges Gathered In Abuja
• IS Replaces Chief Of All-Women Brigade For Not Applying Group's Instructions
• Pakistan Woman Wants Sushma Swaraj to Be Their PM
• Freed from ISIS, women bear heavy toll from sexual slavery
Compiled by New Age Islam News Bureau
URL: https://www.newageislam.com/islam-women-feminism/pakistan-another-girl-subjected-vani/d/112020
----------
Pakistan: Another girl subjected to vani to 'settle rape'
July 30, 2017
SAHIWAL: Police have registered two cases against 10 people for their involvement in a vani "marriage" of an underage girl allegedly held at 114/7-R village, Chichwatini, on the orders of a panchayat to settle rape of a woman.
According to Deputy Superintendent of Police (DSP) Amjad Javed kambho, four of the suspects, including the groom and nikah khwan, have been arrested by Chichawatni Saddar police.
It is third such incident in a span of a week in Punjab where a female has been used as a bargain chip to settle a dispute arising out of male mischief.
Earlier, on July 26 a 10-year-old girl was married off to a 17-year-old boy to avenge the court marriage of a couple in Darkhan locality of Karor tehsil, Layyah district.
Karor police had registered a case and arrested nikah khwan Hafiz Atique Usmani, witness Bilal Ahmed and a punchayat member Jehangir.
Similarly, on the same day, Multan police had claimed to have arrested 20 people after a 16-year-old girl was allegedly raped on the orders of a panchayat (village council) as punishment for an alleged rape committed by her brother. In the latest incident, police said that two weeks back Munir (37), a resident of the village appeared in a panchayat where he accused Rafique of raping his wife.
The accuser demanded that he should be allowed to marry Rafique's 14-year-old daughter 'K' as "compensation" for his wife's rape.
The panchayat gave the verdict in Munir's favour and the minor girl was married to him.
However, this annoyed the girl's brother Khizer Abbas who informed Chichwatni Sadar police about the panchayat's decision and its outcome through an application.
The police raided the village and arrested four people -- Munir, his sister, nikah khwan and one of the panchayat elder who was also a witness to the nikah.
Police filed two FIRs (320/17 and 321/17) against 10 people under sections 376, 310A, 365B and 366A of the Pakistan Penal Code (PPC) on the complaint of Munir's mother-in-law Pathani Bibi and the victim's brother Khizer Abbas, respectively.
Police said it was the suspect's third marriage as he had earlier divorced one of his wives, while the other was living with him.
dawn.com/news/1348496/another-girl-subjected-to-vani-to-settle-rape
--------
Afghan woman rescued before falling victim to suspected honor killing
By KHAAMA PRESS - Sun Jul 30 2017
Amid a rapid rise in violence against women across the country, the police forces in eastern Nangarhar province of Afghanistan rescued a woman as two men were attempting to murder for for unknown reasons.
The two men were apparently attempting to murder in the name of honor but the local officials are saying that the main motive has not been ascertained so far.
The provincial government media office in a statement confirmed the incident and said one of the suspects has been arrested and is in custody of the police forces.
The statement further added that the two have been identified as Hokom Khan and Waziri who were attempting to kill the young woman in Behsud district.
According to the provincial government, Wazir has confessed to his crime for the attempted murder and efforts are underway to arrest Hokom Khan in connection to the incident.
This comes as incidents involving violence against women are on the rise in the remote parts of the country amid rampant violence against the women.
The Afghanistan Independent Human Rights Commission officials said last year that they have recorded around 3,000 cases of violence against women and young girls.
The officials further added that the cases belonged to the year 1395 and mainly involved rape cases, forced marriage, and other forms of domestic violence.
khaama.com/afghan-woman-rescued-before-falling-victim-of-suspected-honor-killing-03240
--------
Mums 'can help build' racial and religious harmony
JUL 30, 2017
Mothers can do their part to build racial and religious harmony in Singapore, Speaker of Parliament Halimah Yacob said yesterday.
They are huge influences on their children and "powerful storytellers", and can teach their young about respecting people of other faiths, she said at an interfaith post-Hari Raya celebration organised by the Singapore Muslim Women's Association (PPIS).
She cited a 2016 Channel News Asia-Institute of Policy Studies survey on race issues, which found over 90 per cent of respondents think parents should educate their children on a wide range of racial matters. This can include informing them about others' practices, what might cause offence to a particular community, and why racism is bad.
Such efforts are important as many among the young do not understand the fragility of racial harmony, said Madam Halimah.
She recounted one of the most frightening days of her life during the 1964 race riots, when people had to be home by the 5pm curfew.
She was then nine. Her mother had taken her and her brother to her food stall and the family missed the last bus home. Her mother shut the stall and they hid inside, terrified, all night: "She couldn't sleep... she thought she saw figures and screamed, and we all ran out."
Near dawn, a passing police patrol car picked them up and took them home. The incident was seared in her memory. But young people's attitudes to the race riots are, "Well that's just history, don't talk to us about it", said Madam Halimah.
Singapore now has laws and institutions that safeguard racial harmony, but by the time laws need to be invoked to maintain harmony, it will be too late, she added. Hence, it is better to rely on "natural barriers and inhibitions" that stem from people mutually respecting each other.
Added PPIS president Rahayu Mohamad: "As mothers, wives, daughters, and community workers, women play a key role in shaping the minds of our young and those around us towards social cohesion."
She encouraged Muslims to make the effort to reach out and allay any concerns non-Muslims might have about them. She said Muslims also want non-Muslims to feel comfortable enough to approach them if they wanted to ask any questions.
At the event, held at the Harmony Centre at An-Nahdhah Mosque in Bishan, some 20 women leaders from several faith groups and social service organisations learnt about Islam, Malay culture, and how Hari Raya Aidilfitri is celebrated here.
Madam Halimah, who is Singapore's first woman Speaker, also delved into women's issues like too few women in leadership positions, which she said "cut across all races".
"Sometimes the men sit at the table, and don't realise there's no women there. You need to raise it to the fore... because they're not even conscious of it," she said.
"Society has changed, women's expectations and aspirations have changed, and there's nothing un- Islamic about it," she added.
straitstimes.com/singapore/mums-can-help-build-racial-and-religious-harmony
--------
When West African female judges gathered in Abuja
Jul 30 2017
The first ever West African Sub-Regional Conference organized by the National Association of Women Judges in Nigeria (NAWJN) and the International Association of Women Judges (IAWJ) was a gathering which highlighted issues on the way forward for African women and the society in general.
The conference which took place recently in Abuja at the National Judicial Institute harped on various challenges encountered by female judges such as inheritance, child marriage, gender equality and human trafficking, among others.
With the theme: "Forging Ahead Against the Odds: The West African Woman", the conference was attended by a number of dignitaries most of them judges of the Supreme and High Courts in Nigeria and other West African countries including Sierra Leone, Ghana, Niger, Cameroon, Benin and Togo.
Explaining the motive behind the conference, President of the National Association of Women Judges in Nigeria (NAWJN), Hon. Justice Uwani Abba Aji said: "The conference is expected to bring together female judges drawn from member countries of the Economic Community of West Africa States (ECOWAS) and other judges with an interest in the region to share experiences and discuss current and emerging developments affecting women judges and their interests in the region".
Justice Uwani thanked everyone for finding time to attend the conference, stating that it was indeed going to be a memorable event as topics affecting women's leadership in politics and policy-making, human trafficking, child marriages and the roles of female judges in West Africa would be discussed.
In her keynote address titled 'The Role of the Female Judge in West African Judiciary', Justice Amina A. Augie of the Supreme Court made it clear that to be a female judge one must earn her respect, saying: "Gender discrimination requires that you work at it to earn your respect".
Speaking on the role of female judges, she averred that it was the duty of the female judge to help balance the existing tilt in the law that remains male-centered and invisible to many challenges that women, children, minorities, people with disabilities and other groups face.
"While we come to bench first as judges, then as women, we cannot deny the fact that the legal and judicial profession was built on a foundation of masculine standards", she said.
Justice Augie also opined that women judges must challenge institutional norms, culture and practices that continue to limit self-actualization of women judges and also make deliberate and conscious attempts to address some challenges confronting judicial institutions. She advised that female judges must always present themselves as qualified and competent candidates; not as alternative or affirmative choices.
The first session of the conference began with a paper presentation by retired Grand Kadi Salihu O. Muhammad of the Kwara State Sharia Court of Appeal. The members of the panel were: Jutice Ngozika Okaisabor, -Justice Abubakar A. B Gumel, Genevieve Boko Nadjo and Mrs. Joy Sheila Bob-Manuel, the Director General of the Legal Aid Council and chaired by Hon. Justice Abdu Aboki.
In his paper titled 'The Practice of Law of Succession in Nigeria: The Islamic Perspective', Grand Khadi Muhammad gave a comprehensive breakdown of inheritance in different Nigerian cultures and across the globe in comparison to the succession process in Islam. He disclosed that under Islamic law, one of the most difficult- if not the most difficult is the subject of inheritance.
"It is energy sapping, very technical with all its arithmetic intrigues. According to the presenter, there is an existing foundation and divine direction of equal rights among Muslim males and females; a woman is entitled to share inheritance in deferent capacities. She can share as a daughter, wife, mother, sister and so on", he explained.
According to him as much as a female is entitled to partake in sharing of inheritance; the male's portion must be twice her portion. The explanation for this inequality, he said, is that: "Islam has placed the responsibility of earning livelihood for the family on the shoulders of male members, while the females have been exempted from this burden."
In his paper, Hon. Salihu highlighted the reforms introduced by Islam which are sustainable now and until eternity.
Prof. Mosunmola Imasogie, continued the discussion on inheritance and succession, stating that succession is the transmission of rights and obligations of a deceased person to his heirs and successors. Her paper titled, "Inheritance and succession law in Nigeria and some selected countries in west Africa", focused on intestate succession among the Igbos, Yorubas and Benin as species of customary law in Nigeria.
Speaking on the Yoruba customary law of succession, he said: "Among the Yoruba of south western Nigeria, the children of the deceased are entitled to his real property to the exclusion of all other blood relations and under the customary Yoruba law of intestate succession, the surviving wife is not entitled to the property of her husband because they are chattels to be inherited."
"For the Bini customary law, the case is a little different on the death of the father; the eldest son takes all his disposable property to the exclusion of all other brothers and sisters. Although there are slight variations in the prevailing customary law of succession among the Igbos, the main principle is basically the same."
He said the Yoruba are open to inheritance of property by every offspring of the deceased, adding that the cardinal principle for the Igbos and Benin is primogeniture i.e. succession by the first born of the male line.
Another session of presentation and discussion was chaired by Hon. Justice Vivian Solomon and had discussants such as Mrs. Oti Ovrawah and the Ag. Executive Secretary, Human Rights Commission, Vitaliis C. Ekwem Esq. Deputy Director Performance and evaluation/legal Department, National Judicial Council, Hadiza Sa'eed ended the session with a paper titled 'Child Marriage and the Need for Regional Domestication of the Convention of the Rights of the Child: The Nigerian Experience.'
The presenter spoke broadly on the socio-economic reasons behind and the tragic consequences of child marriage with specific focus on the impact this practice has on the survival, development, protection and participation rights of the girl-child.
"According to the UNICEF State of the World's Children 2016 Report, Nigeria ranks 13 out of 20 countries with the highest rate of child marriage - 43% of girls are married by the age of 18 and 17% are married by the age of 15", she said.
According to her the first underlying reason for child marriage is poverty while in some parts of Nigeria; child marriage is seen and used as a method for the preservation of the virtue of girls. "Although there may be reasons put forward in defense of child marriage, this is still a disastrous practice that must be stopped. Currently, laws exists that prohibit child marriages, but the practice is still prevalent", she said.
The second and third days of the conference witnessed discussions on: Female Trafficking, A Modern Day Slavery, Gender Equality, Development and Peace and also, Sexual and Domestic Violence: Post Judgment Issues and Challenges in the enforcement of Court orders took place. It was chaired by Justice Kudirat Kekere, Justice Mary Peter-Odili and Justice Sontoye Denton West, JCA Emeritus.
dailytrust.com.ng/news/general/when-west-african-female-judges-gathered-in-abuja/207676.html
--------
IS replaces chief of all-women brigade for not applying group's instructions
Jul 29, 2017
Tal Afar (IraqiNews.com) Islamic State has dismissed the female member, who heads the all-women al-Khansaa brigade in Tal Afar and replaced her with another German leader in Tal Afar, a source was quoted saying.
"IS dismissed the Syrian national called Um Yasser al-Muhajir over reluctance with the other female members and not applying the group's instructions on lashing and bitting females on Tal Afar markets," the source told AlSumaria News.
Moreover, "the group appointed an extremist German woman to head the brigade," the source said adding that the new head "used to carry out leading positions in Nineveh before leaving, along with others, western Mosul."
On Thursday, the group's media arm in the town reportedly announced the election of 'princess of IS women' known as Um Hajar, a Russian national who is famous for using sniping gun. According to sources, the princess have powers to run the group's women cells.
IS recruited hundreds of women, some whom became suicide bombers who attacked security troops, especially during the battle in Mosul's Old City.
Iraqi Defense Ministry said last week that a date has been set for the town invasion, however, it will not be declared to maintain the secrecy of the intended operations.
Col. Ryan Dillon, spokesperson of the U.S.-led coalition against IS, was previously quoted as saying that Tal Afar will be the next target of operations after victory was declared in Mosul.
Tal Afar is one of the important strongholds still held by IS in Nineveh since August 2014.
iraqinews.com/iraq-war/replaces-chief-women-brigade-not-applying-groups-instructions/
--------
Pakistan woman wants Sushma Swaraj to be their PM
TNN | Jul 30, 2017
NEW DELHI: "Wish you were our Prime Minister, this country would've changed!" tweeted grateful Pakistani woman Hijaab Asif to Sushma Swaraj on Friday, ironically on a day when Pakistani PM Nawz Sharif stepped down after being disqualified by the Supreme Court over Panamagate scandal.
The woman had asked for a medical visa for a Pakistani national. Swaraj's approval led to gratitude pouring in from across the border. "@SushmaSwaraj what do I call you? Superwoman? God? No words to describe your generosity!" She tweeted.
Medical visa requests to India need to be endorsed by foreign affairs advisor to the Pakistani PM, Sartaj Aziz, as laid down by the MEA. This happened after Aziz protested at India squeezing medical visas for Pakistani nationals after the country refused consular access to Kulbhushan Jadhav.
A few weeks ago, Sushma helped Osama Ali, a man from Pak-occupied Kashmir (PoK) who needed a visa to come to India for medical treatment. Sartaj Aziz refused to endorse his request. But, making an important foreign policy point, Sushma tweeted that India would grant him a visa nevertheless since PoK is actually Indian territory. Here India was taking a leaf from China. Beijing has a long practice of not giving visas to Indians from Arunachal Pradesh, saying they are Chinese citizens.
timesofindia.indiatimes.com/world/pakistan/pakistan-woman-wants-sushma-swaraj-to-be-their-pm/articleshow/59827853.cms
--------
Freed from ISIS, women bear heavy toll from sexual slavery
By New York Times News Service - JULY 30, 2017
In Photo: Souhayla eats dinner in her uncle's tent, a white bandage covering an IV site and a scar from her effort to slit her wrist during her captivity, in Shariya, Iraq. Three years after about 180 women, girls and children from the Yazidi ethnic minority were captured by the Islamic State, they return home with broken spirits and psychological trauma.
SHARIYA CAMP, Iraq—The 16 year old lies on her side on a mattress on the floor, unable to hold up her head.
Her uncle props her up to drink water, but she can barely swallow. Her voice is so weak, he places his ear directly over her mouth to hear her.
The girl, Souhayla, walked out of the most destroyed section of Mosul this month, freed after three years of captivity and serial rape when her Islamic State captor was killed in an air strike. Her uncle described her condition as "shock." He had invited reporters to Souhayla's bedside so they could document what the terror group's system of sexual abuse had done to his niece.
"This is what they have done to our people," said Khalid Taalo, her uncle.
Since the operation to take back Mosul began last year, approximately 180 women, girls and children from the Yazidi ethnic minority who were captured in 2014 by the Islamic State, or ISIS, have been liberated, according to Iraq's Bureau for the Rescue of Abductees.
Women rescued in the first two years after ISIS overran their ancestral homeland came home with infections, broken limbs and suicidal thoughts. But now, after three years of captivity, women like Souhayla and two others seen last week by reporters, are far more damaged, displaying extraordinary signs of psychological injury.
"Very tired," "unconscious" and "in severe shock and psychological upset" were the descriptions used by Dr. Nagham Nawzat Hasan, a Yazidi gynecologist who has treated over 1,000 of the rape victims.
"We thought the first cases were difficult," Hasan said. "But those after the liberation of Mosul, they are very difficult."
The shock expresses itself in women and girls who sleep for days on end, seemingly unable to wake up, said Hussein Qaidi, the director of the abductee rescue bureau. "Ninety percent of the women coming out are like this," he said, for at least part of the time after their return.
Both Souhayla and her family asked that she be identified, as well as photographed, in an effort to shed light on their community's suffering. Her uncle posted her image on Facebook immediately after her release with a description of what ISIS had done to her.
For over a year, Taalo said, he had known his niece's location, as well as the name of the Islamic State fighter holding her. He enlisted the help of a smuggler, who, at great risk, photographed Souhayla through the window of the house where she was being held and sent the images to her family. But it was too perilous to try a rescue.
Souhayla escaped on July 9, two days after an air strike collapsed a wall in the building where she was being held, burying another Yazidi girl who had been held alongside her and killing the captor who had abused them, her uncle said.
At that point, she was strong enough to clamber through the rubble and make her way to the first Iraqi checkpoint.
When her family drove to pick her up, she ran to embrace them.
"I ran to her and she ran to me and we started crying and then we started laughing, as well," said Taalo, the brother of Souhayla's father, who remains missing after the Islamic State took over their hometown. "We stayed like that holding each other, and we kept crying and laughing, until we fell to the ground."
But within hours, she stopped speaking, he said.
By the time they reached the camp where her mother and extended family had found refuge after the Islamic State overran their village, Souhayla slipped into what appeared to be unconsciousness. The doctors who examined her have prescribed antibiotics for a urinary tract infection. She also shows signs of malnutrition.
Neither explain her extreme symptoms, said her family and one of the doctors who examined her.
"I'm happy to be home," she whispered with difficulty into her uncle's ear, in response to a reporter's question, "but I'm sick."
The Islamic State had been ruling Mosul for two months in 2014 when the group's leaders set their sights on Sinjar, a 60-mile-long, yellow massif to the north. Its foothills and mountain villages have long been the bedrock of life for the Yazidi, a tiny minority who account for less than 2 percent of Iraq's population of 38 million.
The centuries-old religion of the Yazidi revolves around worship of a single God, who, in turn, created seven sacred angels. These beliefs led the Islamic State to label the Yazidi as polytheists, a perilous category in the terrorist group's nomenclature. Relying on a little known and mostly defunct corpus of Islamic law, the Islamic State argued that the minority's religious standing rendered them eligible for enslavement.
On August 3, 2014, convoys of fighters sped up the escarpment, fanning out across the adjoining valleys. Among the first towns they passed on their way up the mountain was Til Qasab, with its low-slung concrete buildings surrounded by plains of blond grass.
That's where Souhayla, then 13, lived.
A total of 6,470 Yazidis on the mountain were abducted, according to Iraqi officials, including Souhayla. Three years later, 3,410 remain in captivity or unaccounted for, Qaidi of the abductee rescue bureau said.
For the first two years of her captivity, Souhayla made her way through the Islamic State's system of sexual slavery, raped by a total of seven men, she and her uncle said.
When the push for Mosul began, she was moved progressively deeper into the area hardest hit by the conflict, as security forces squeezed the terrorist group into a sliver of land near the Tigris River. The area was pummeled by artillery, air strikes and car bombs, and strafed by helicopter-gunship fire.
As the Islamic State began losing its grip on the city, Souhayla's captor cut her hair short, like a boy's. She understood he was planning to try to slip past Iraqi security forces, disguised as a refugee, and take her with him, her uncle said.
Taalo now spends his days nursing his niece back to health. To sit up, she grasped one of the metal ribs holding up her family's tent and pulled herself into a sitting position, as her uncle pushed from behind. But soon her strength was sapped, and she flopped back down.
He used a washcloth to dab her forehead, as she lay in his lap. Her mouth fell open and her eyes rolled back.
After her escape, almost two weeks passed before she was able to stand for more than a few minutes, her legs unsteady.
businessmirror.com.ph/freed-from-isis-women-bear-heavy-toll-from-sexual-slavery/
URL: https://www.newageislam.com/islam-women-feminism/pakistan-another-girl-subjected-vani/d/112020