New Age Islam News Bureau
4 Nov 2012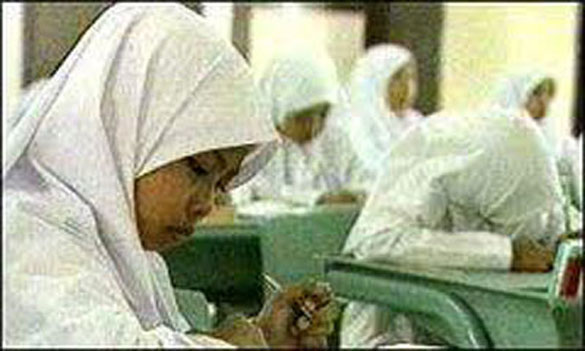 • 11 Year-Old Child Gives Birth in Maldives, Police Commence Investigation
• Singapore Faces Questions over Muslim Marriage Counselling
• Nigeria: Checking Prevalence of Rape Cases in Osun
• Kainat Returns to School amidst Warm Welcome
• A Young Saudi Woman Forced To Marry Cousin after Poking His Eye
• In A Man's World: The Women Politicians of Afghanistan
• A Family Destroyed As the Shadow of Syria's War Looms Over Turkey
• Sister-In-Law of Woman Beaten, Disrobed Clears Allegations
• 5 Kilometres Run For Women Held In Dubai
• Zeb and Haniya Rock across the US
• Indonesia Lifts Ban on Olympic Women Badminton Pair
• Bahrain Women\'s Day 2012 to Honour Sportswomen
Compiled by New Age Islam News Bureau
Photo: Singapore Faces Questions over Muslim Marriage Counselling
URL: https://newageislam.com/islam-women-feminism/pakistan-17-year-old,-hafiz/d/9196
-----------
Pakistan: 17-Year-Old, Hafiz-I-Quran Girl Decapitated, Dismembered
November 3, 2012
GUJRANWALA: Three youths decapitated a 17-year-old girl on Thursday following an argument between her and some women of the assailants' family in Chadyala village. One of the three assailants was arrested, while the rest are at large, the Tatlayaali police said.
They said Farkhanda, a second year student and a hafiz-i-Quran had an argument with three women neighbours when she went to their house to collect her Dupatta that had fallen into their house.
They said the women accused her of throwing the Dupatta into their house on purpose.
They accused her of entering their house with an intention to steal from there. Some neighbours heard them arguing and intervened, police said.
The matter was resolved and Farkhanda returned home, they said.
However, later that night, police said, three youths, Ibrahim, Iqbal and Bilal, relatives of the women Farkhanda earlier had an argument with, went to her house while her family was away and beat her up. Police said they decapitated her with a butcher's cleaver and later also cut her limbs. While they were leaving the house, a neighbour, who wished not to be named, saw them holding the weapons used in the crime and informed the police.
The neighbour said he went inside the house and saw the girl's beheaded body and disintegrate limbs lying in a pool of blood. He said he ran after Ibrahim and caught him with help of some other neighbours and locked him up in a room.
He was later handed him over to the police. The rest of the two boys fled. Police also arrested his father, Wakeel, from his house.
Police said the body and the parts were sent for a post-mortem examination. He said police had started looking for the rest of the two suspects.
They said their houses were raided, but they had not been there.
Talking to The Express Tribune Civil society activist Prof Rana Ramazan lamented the incident.
He said the fact that women's arguments on petty issues generated such aggressive reactions spoke volumes about the society's deteriorating situation.
http://tribune.com.pk/story/459905/ferocious-neighbours-17-year-old-girl-decapitated-dismembered/
-----------
11 Year-Old Child Gives Birth in Maldives, Police Commence Investigation
By Neil Merrett | November 3rd, 2012
An 11 year-old girl who on Thursday prematurely gave birth to a child is said to be in a stable condition, as police today confirmed investigations were now under way into the case.
The girl, who cannot be identified due to her age, gave birth to the child two months prematurely. The child died early morning on Friday (November 2), after being taken to Feydhoo regional hospital in Seenu Atoll for further treatment, local media has reported.
The Maldives Police Service confirmed investigations into the matter were taking place, but said further details could not be disclosed due to the age of the child and the risk she could be identified and face possible recrimination.
A police spokesperson was unable to confirm the nature of the investigation at present.
However, local newspaper Haveeru, citing what it called reliable sources, reported that the girl had allegedly been a frequent victim of sexual assault before becoming pregnant.
"She came here with her mother complaining of constipation and stomach pain. Doctors had examined her and given an injection. But when she started to complain of severe pain, upon further examination doctors found that she was pregnant. The girl admitted that she got pregnant after someone had sexually molested her," Haveeru quoted a local health centre official as saying.
The Health Ministry has meanwhile forwarded further requests for information on the case to the Ministry of Gender, Family and Human Rights, which is mandated to deal with the matter.
Gender Minister Dhiyana Saeed was not responding to calls from Minivan News at the time of press.
Abuse statistics
Almost one in seven children of secondary school age in the Maldives have been sexually abused at some time in their lives, according to an unpublished 2009 study on violence against minors.
Rates of sexual abuse for girls are almost twice as high than for boys at 20 percent – one in five girls have been sexually abused – while the figure for boys was 11 percent. Girls are particularly at risk in the capital Male', the report found.
In recent years, local authorities and NGOs have released a number of findings trying to detail the extent of child abuse and wider sexual assaults within society.
The state-run Indira Gandhi Memorial Hospital's (IGMH's) Family Protection Unit reported in 2010 that the centre was notified of 42 cases of rape during 2005 - 2010. Most of these cases were found to involve minors.
According to the Human Rights Commission of the Maldives, 13 rape cases were reported last year alone, the majority of which most were gang rapes or assaults involving minors.
http://minivannews.com/society/police-commence-investigation-after-11-year-old-child-gives-birth-46646
-----------
Singapore Faces Questions over Muslim Marriage Counselling
Singapore's Muslim Marriage Courses under Fire
Tiddy Smith
4 November 2012
Singapore Faces Questions over Muslim Marriage Counselling
SINGAPORE: Singapore's leading association for Muslim converts, Darul Arqam, has begun an internal investigation into lecturer misconduct after several attendees of the organization's pre-marriage courses voiced concerns over violent and sexist content in the lectures and course materials. Specifically, attendees allege that male students are encouraged to beat wives who refuse to submit to sex, while female students are taught that if they refuse sex with their husbands' angels of Allah would curse them.
Singaporean gender equality advocacy group, AWARE, has begun an investigation into the claims. The Ministry of Culture, Youth and Sport (MCYS) has also been alerted.
The pre-marriage guidance courses, which are also supplied by other Singaporean Muslim organizations such as the Islamic Religious Council of Singapore (MUIS) and the Registry of Muslim Marriages (ROMM), are a compulsory requirement for all Singaporean Muslims to undertake before they marry. The courses cost between $100-$200 each, and, according to the Registry of Muslim Marriages (ROMM) website, the courses are conducive to developing 'harmonious family ties' and 'communication skills'.
However, recent course attendees, who wish to remain anonymous, allege that the courses contain violent and sexist content. One attendee informed our reporter that a male lecturer demonstrated to the class how hard to beat wives who repeatedly refused to supply sex to husbands.
"He pulled out a chair, like this, and then started hitting the chair like it was the wife" an attendee told us. The lecturer is further alleged to have described the kind of rod that was appropriate for wife beating, and where such a rod could be purchased in Singapore.
Photocopies of course materials, which support the students' allegations, have been passed to AWARE. The materials quote an English translation of the Qur'an, stating "as to those women on whose part you see ill-conduct, first admonish them, next refuse to share their bed, and last beat them". The course materials recommend that wives be beaten if they commit Al Nushooz. Al Nushooz is defined in the course materials as "the disobeying of the wife toward her husband and elevating herself above what Allah has obliged upon her and her raising herself above fulfilling her obligatory role".
The course materials specify four ways a wife may commit Al Nushooz:
"1. She does not beautify herself for her husband when he desires.
2. She disobeys her husband with respect of coming to his bed [for sex].
3. She leaves the house without his permission.
4. She does not perform her obligatory religious duties."
The materials advise husbands, "it is your right that they [wives] do not make friends with anyone of whom you disapprove", and wives are reminded that in the event of a marital disagreement "her husband has to make the final decision and [she has] to respect it."
The allegations are against at least two different lecturers at Darul Arqam, indicating that it is not an isolated case of teacher misconduct.
Our reporter wrote to the organization's head religious counsellor, Sister Rusmini Komzani, under the guise of a husband whose wife was refusing to have sex because she was "not in the mood". We received the following response from Komzani:
"Your wife cannot remain silent for a long time if she is unwilling to serve. If she is angry at your advances, I believe she could be having psychological issues."
Komzani then arranged a marriage guidance counselling session with our undercover reporter, at which he was informed that his wife's sexual refusal was "not Halal" and "totally contradictory with the revelation of the Qur'an". Komzani passed our reporter photocopies of the same Qur'anic verse as contained in the course materials.
AWARE, Singapore's largest gender equality advocacy group, has been informed of the allegations, and has opened an investigation into the pre marriage guidance courses. AWARE is forwarding an evidence based report to MCYS, says AWARE executive director Corinna Lim.
According to Lim, AWARE has discussed the allegations with the Minister of State for MCYS, Madam Halimah Yacob. Madam Yacob has previously worked in a prominent role furthering women's rights as the director of the Women's Development Secretariat at the National Trade Union Congress.
Darul Arqam informed our reporter that an investigation into teacher misconduct has begun. However, the organization's education division has refused to give any comment on their position regarding women's rights, despite repeated requests.
http://www.bikyamasr.com/80143/singapores-muslim-marriage-courses-under-fire/
-----------
Nigeria: Checking Prevalence of Rape Cases in Osun
BY DAVID ADEOYE
4 NOVEMBER 2012
By most accounts, rape cases have been on the increase in Osun State in recent times.
Alarming as such accounts may sound, current statistics, however, confirm such viewpoints.
For instance, statistics from the three magistrate courts in Osogbo, the state capital, indicate that not less than 25 cases of rape were brought before the courts between January and September this year.
In these cases, most of the accused persons are currently on bail, while those found guilty in the decided few cases have been imprisoned.
Concerned observers, however, moan that rape cases have become so rampant in Osun State, noting that the trend has even become quite worrisome because the perpetrators include some respected members of the society.
They lament that the crime involves the elderly, the youth and even the disabled.
Some of the observers point at a traditional ruler of a town in the state who was charged to court for alleged raping a youth corps member serving in his domain.
The victim alleged that the monarch lured her into his apartment in Osogbo and forcefully had sex with her.
The case, which has yet to be decided, is before the state High Court in Osogbo.
In another rape case, two police corporals were arraigned in July for raping a teenager in Ilesa, a town in the state.
It was alleged that the girl was going on an errand to a place when the two police officers accosted her and sexually assaulted her.
Besides, a primary school teacher in Osogbo was arrested and charged to court in February for having canal knowledge of his two pupils, aged five and seven.
It was alleged that the teacher lured the two minors to the school toilet where he was caught in the act.
A Chief Magistrate's Court in Osogbo on July 20 sentenced a 56-year-old father of five to 14 years' imprisonment for raping a teenager.
In its presentation before the court, the police said that the convict on June 11 in Osogbo conspired with another teenage girl who lured the victim to his house where he raped her for about two hours.
Under interrogation, the man confessed that he had slept with many minors in the past through the help of his accomplice, the teenage girl who, he said, had been assisting him to get young girls to satisfy his libido.
http://allafrica.com/stories/201211040179.html
-----------
Kainat returns to school amidst warm welcome
By Fazal Khaliq
November 4, 2012
SWAT: Despite suffering the trauma of being shot at, Kainat Riaz, one of the two other girls injured in the attack on child activist Malala Yousafzai, was excited about returning to school on Saturday.
However, having come into the spotlight following the harrowing incident, the 16-year-old is unable to get any van driver to take her to school now.
Nonetheless, having travelled to school in a taxi, Kainat received a warm welcome from teachers and fellow students when doctors allowed her return after 25 days of treatment and bed rest.
Full report at:
http://tribune.com.pk/story/460559/malala-attack-kainat-returns-to-school-amidst-warm-welcome/
-----------
A Young Saudi Woman Forced To Marry Cousin after Poking His Eye
By Habib Toumi
November 4, 2012
Manama: A young Saudi woman was forced to marry her cousin after she caused him to lose one of his eyes when they were children.
Saudi news site Sabq said that the young man never had any cosmetic surgery after his cousin accidentally poked his eye with a broom. When he grew up and wanted to get married, he could not find a woman who would take him as a husband.
Full report at:
http://gulfnews.com/news/gulf/saudi-arabia/woman-forced-to-marry-cousin-after-poking-his-eye-1.1097939
-----------
In A Man's World: The Women Politicians of Afghanistan
By Ayesha Hasan
November 4, 2012
It was a sight rarely seen in traditional Afghan society. Last month, Fawzia Koofi, a presidential candidate for the 2014 elections and one of the 69 female Afghan parliamentarians, arrived to meet a delegation of Pakistani journalists. In the times of the Taliban, this face-to-face encounter between a woman and a group mostly comprising men, would have been inconceivable.
Full report at:
http://tribune.com.pk/story/458307/in-a-mans-world-the-women-politicians-of-afghanistan/
-----------
A Family Destroyed As the Shadow of Syria's War Looms Over Turkey
4 November 2012
Syria's civil war brought calamity on the Timuqin family in the deceptive calm of a sunny afternoon. One moment, a mother and her six daughters were preparing supper beneath an olive tree outside their modest home; the next instant, a mortar bomb exploded in their midst, eviscerating them with shards of jagged shrapnel.
Zuleyha Timuqin was killed instantly, along with three of her girls and a female relative. Had this random act of bloodletting taken place inside Syria, where 180 people are believed to have died on Thursday alone, it would probably have passed unremarked.
Full report at:
http://www.telegraph.co.uk/news/worldnews/middleeast/syria/9590775/A-family-
-----------
Sister-In-Law of Woman Beaten, Disrobed Clears Allegations
November 4, 2012
MANSEHRA: The case of a woman who was beaten and disrobed in public a few days back took a new turn on Saturday. The victim's sister-in-law, whom the attacker's family claimed had been abducted, appeared in court and absolved the victim's family of all allegations.
Nazia Bibi appeared before the court of the local magistrate and stated that she had solemnized court marriage with Abdul Malik, the brother of Shirin Bibi* who was beaten and disrobed in public. She said that Malik, his sister and relatives had nor forced her to marry him, rather it was the joint decision of the couple.
Full report at:
http://tribune.com.pk/story/460452/sister-in-law-of-woman-beaten-disrobed-clears-allegations/
-----------
5 Kilometres Run For Women Held In Dubai
By K.R.Nayar, Senior
October 23, 2010
Dubai: The usually calm and picturesque Al Mamzar beach came alive yesterday morning with nearly 1,000 women runners racing towards the finish line in the first ever 5k (kilometres) women's run, organised by the UAE Athletics Federation, under the patronage of Princess Haya Bint Al Hussain, wife of His Highness Shaikh Mohammad Bin Rashid Al Maktoum, Vice-President and Prime Minister of the UAE and Ruler of Dubai.
The UAE Athletics Federation-trained athletes Betty Desalegen Belayneh breezed through the beach to win the run in 16 mins 46sec, closely followed by her colleague Alia Saeed Mohammad in 16:55.
Full report at:
http://gulfnews.com/sport/athletics/5-kilometre-run-for-women-held-in-dubai-1.700405
-----------
Zeb and Haniya Rock across The US
November 2, 2012
LAHORE: After their memorable "Coke Studio" performances, Zeb and Haniya garnered a huge audience in Pakistan as well as abroad.
The duo recently returned from their month-long US tour, which was part of the US State Department's initiative Centre Stage organised by the New England Foundation for the Arts (NEFA). It included 13 large concerts, a number of radio performances and other outreach activities. The pop-folk duo sheds some light on their tour experience and upcoming projects.
"Something I really, really like that has come out of this tour is the things people have been saying during our performances: 'What is this sound? I have never heard anything like this before but I love it'," says Haniya Aslam, vocalist and guitarist, referring to the audience's response to the sound and music they created.
Full report at:
http://tribune.com.pk/story/459832/zeb-and-haniya-rock-across-the-us/
-----------
Indonesia Lifts Ban on Olympic Women Badminton Pair
Nov 3, 2012
JAKARTA: The Indonesian Badminton Association lifted a ban on Saturday on its leading women's doubles pair over the play-to-lose scandal at the London Olympics.
Greysia Polii and Meiliana Jauhari were kicked out of the games along with the Chinese world champions and two South Korean teams for trying to deliberately lose group matches to gain an easier path through the later stages.
The association, known as PBSI, banned the pair and their coach Paulus Firman in September for four months from all national and international tournaments.
Full report at:
http://timesofindia.indiatimes.com/sports/more-sports/badminton/Indonesia-lifts-ban-on-Olympic-badminton-pair/articleshow/17078596.cms
-----------
Bahrain Women\'s Day 2012 to Honour Sportswomen
03/11/2012
Manama-Nov3 (BNA) Preparations are in full swing to celebrate the Bahrain Women's Day on December 1.
The annual event was first celebrated at the initiative of Her Royal Highness Princess Sabeeka bint Ibrahim Al-Khalifa, wife of His Majesty King Hamad and President of the Supreme Council for Women.
The fifth edition of the Bahrain Women's Day 2012 will be put under the slogan: "Woman and Sport: Will ... Achievement …Aspirations".
This year's slogan is in recognition of Bahraini women's history of landmark sport achievements in national, regional and international arenas.
http://www.bna.bh/portal/en/news/531579
-----------
URL: https://newageislam.com/islam-women-feminism/pakistan-17-year-old,-hafiz/d/9196