New Age Islam News Bureau
14 Feb 2013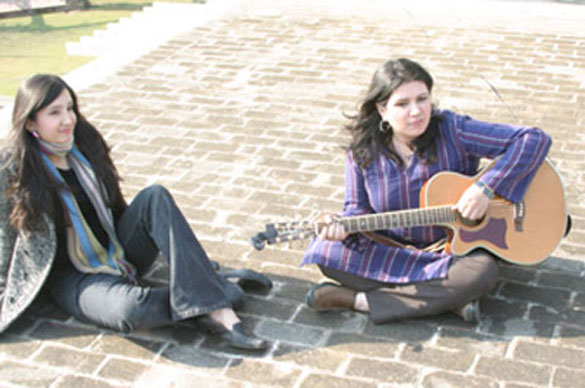 • Indonesian Council of Ulema Warned Muslims Not To Celebrate Valentine's Day
• Online Matchmaking a Hit with Saudi Couples
• Filipino Women Take Lead in Resolving Muslim Insurgency
• Saudi Rights Watchdog to Increase Female Membership
• Haia to Enforce Ban on Men in Lingerie Shops Next Week
• 3,500 Pakistani Women Screened Under 'National Breast Screening Programme'
• Bad Start to the Year for Women in Indonesia
• Baloch Missing Persons: A Sister's Vigil
• Nigerian Mother Confesses To Murdering Infant, 40 Years On
• Conference on Women's Rights in Islam Wraps up in Tehran
• Watchdog Acts to Reverse Deportation Order for Nigerian, a Mother of Saudi Children
• Blind Saudi Girl Nominated For Mix FM Competition
• Saudi Movie 'Hurma' To Be Screened At Berlin Film Festival
Compiled by New Age Islam News Bureau
Photo: Pakistani girls Zebunissa Bangash and Haniya Aslam, 33-year-old cousins from Peshawar, have a music band
URL: https://www.newageislam.com/islam,-women-and-feminism/new-age-islam-news-bureau/pak-girls--band-shining-light-for-all-kashmiri-girl-rock-band/d/10415
------------
Pak Girls' Band Shining Light for All-Kashmiri Girl Rock Band
Aarish Chhabra, Hindustan Times
February 13, 2013
If ever there was an example of how stereotypes are mere figments of an imagination stuck in time, this music band from Pakistan stands out.
Zebunissa Bangash and Haniya Aslam ('Zeb & Haniya'), 33-year-old cousins who hail from Peshawar and are based in Islamabad, have tasted fame across borders, thanks largely to the internet and also due to their choice of music, fusing Central and South Asian melodies with Western acoustic guitar and drums, preserving and furthering a rich shared culture.
It is in this culture that Haniya suggests refuge for Pragaash, the first all-Kashmiri girl rock band of three from Srinagar (Kashmir) that has decided to stop performing after rape threats online and a fatwa over their allegedly un-Islamic vocation. The Kashmiri band was banished from the Valley last week.
"There shouldn't be too much importance attached to fundamentalists who just want limelight. We have a long list of inspirational female singers such as Abida Parveen and Madam Noorjehan even in Pakistan. It's part of our tradition," Haniya says matter-of-factly over the phone from Islamabad.
"We have faced lots of abuse online, but the negative comments are invariably posted by anonymous users. So, I simply ignore (them). There is no need to feel scared," says Zeb, who is readying an album in Mumbai with music director Shantanu Moitra and lyricist-singer Swanand Kirkire.
Though the families of Zeb and Haniya are ethnic Pashtuns native to Kohat in Khyber Pakhtunkhwa, the heart of the Taliban-infested region of Pakistan bordering Afghanistan, the US-educated girls have refused to bow to abuse and pressures, and in fact recall times when they have performed to a cheering crowd of boys and girls in Peshawar.
Haniya seeks to dispel notions. "I have followed the Kashmir band story, and I can identify with the girls. Online threats are there, but we have never faced fatwas, physical threats or had to cancel shows. I'd admit that we were actually pleasantly surprised that the negative comments were outnumbered by the encouraging ones," says Haniya. Much of the apprehension of a fundamentalist backlash, she believes, stems from wrong notions about the region. And so-called leaders cash in on that.
Both Zeb and Haniya find it hard to explain why they haven't faced as strong a torrent of abuse as did Pragaash, but Haniya says, "It's perhaps because we don't dress up like your typical rockstars, though none of that is a conscious decision; I don't really know, man... I've never sat down and thought, 'Hmm… I AM A MUSLIM GIRL'."
For Pragaash (meaning, darkness to light) - teenagers Noma Nazir Bhatt (vocals-guitar), Farah Deeba (drums) and Aneeka Khalid, (guitar) - they have practical suggestions. "Just keep making music, even if it's in your bedroom. And wait for the limelight-seekers to ebb away," says Haniya. "Share your talent, like we did, on the internet or other like-minded forums. Who can stop that?" Zeb adds.
http://www.hindustantimes.com/Punjab/Chandigarh/Pak-girls-band-shining-light-for-Pragaash/SP-Article1-1010948.aspx
-------------
Indonesian Council of Ulema Warned Muslims Not To Celebrate Valentine's Day
2013-2-13
JAKARTA, Feb. 13 (Xinhua) -- Indonesian Council of Ulema (MUI) warned Muslims not to celebrate Valentine's Day here Wednesday, saying it's not in accordance with Islamic values.
MUI's Chairman Umaar Shinhab told Indonesia's news portal Tempo.co that it's forbidden for Muslims to observe the "day of love" which falls on February 14 as the celebration involves religious ritual and is prone to lead to "free sex". "Love can be expressed or shown any time without bounded by a certain day," Shinhab said, adding that the young should follow the right religious teachings so as not to be affected by deviant culture.
The deputy mayor of Depok has appealed Tuesday residents, especially younger people not to celebrate Valentine's Day on Thursday.
In recent years, it has become customary for MUI, the highest Islamic authority in the world's most populous Muslim-majority country, to issue edicts resisting Valentine's Day celebration.
Edicts issued by the MUI are generally considered as a form of public guidance and carry no legal authority.
http://www.shanghaidaily.com/article/article_xinhua.asp?id=125312
------------
Online matchmaking a hit with Saudi couples
February 14, 2013
RIYADH — Traditional matchmakers in the Kingdom face tough competition from blossoming marriage services on online social networks.
More than 200 Twitter sites and dozens of other forums on the Internet offer services for Saudi men and women seeking spouses, angering matchmakers like Um Sami who sees it as "organized prostitution."
"Social networks undermine our work and everything they offer is virtual: they use nicknames and they are not reliable," said Um Sami, an elderly woman and well-established matchmaker from Jeddah.
For her, many of these websites are "fraudulent."
"Marriage via online platforms is one hundred percent doomed to failure," she said, stressing that only her traditional matchmaking method can lead to a successful marriage.
For matchmakers like Um Sami the business has flourished by word of mouth.
Families ready to marry off their offsprings contact her with details about their children and provide pictures which she carries around with her on rounds to match candidates.
But her job is not a simple one because, as she says, there are many different types of weddings that can be contracted in Saudi Arabia, from the traditional unions to unconventional ones by global standards such as the "misyar" marriage.
A misyar — or "visitor's" marriage — is one in which couples live separately but can meet up when they want.
It is allowed in the Kingdom but couples who choose to go that way will keep it a family secret shared only with the matchmaker.
In a traditional union sealed with the help of Um Sami, the bride and groom each pay the matchmaker around SR2,000.
But the fee for a misyar wedding is much higher and usually starts around SR5,000 — with the man alone having to foot the bill while his spouse continues to live in her own home.
Misyar is often the marriage of choice for polygamous men as well as divorcees and widows in Saudi Arabia, where extra-marital relations are strictly banned and punishable under Islamic law.
Human rights activists and intellectuals have slammed misyar marriages as a form of "legalized adultery."
Offers to help seal both traditional marriages and misyars are rife on the Internet.
The website khtabh.net allows men and women to post their requests. One message reads: "Misyar marriage wanted immediately in Riyadh... and the matchmaker or mediator will be offered a big reward."
Candidates are also asked to give personal details, including their marital status, monthly salary, education and a brief description of who they are and what they look like.
A man wanting to marry has posted a request on one such site for a "tender, quiet, good humored and plump" wife.
A woman from Riyadh with special needs said she was 23, "pretty, blind, fair-skinned. Willing to marry a normal, non-smoking man even if he is polygamous as long as his first wife is informed."
Both online matchmaking sites in Saudi Arabia and matchmakers frown upon more unorthodox forms of marriage such as "misfar" and "misyaf" marriages for men who travel frequently or spend each summer abroad.
"There are so many offers which one finds tempting to try, but my friends have warned me against certain websites that can be traps," said 20-year-old Amjad Ismael. Many online matchmaking services ask for a deposit upfront, he said.
Abu Mohammed, a 40-year-old who is already married and is looking for a second wife, said he has had a "bad experience" with online matchmakers.
"They are not serious. They try to take advantage of people contacting them, especially if they are married," he said. "I have now decided to go back to the traditional matchmaker to ensure confidentiality."
But younger people still prefer social networks as a tool to tie the knot "because they are an easy way to get to know each other," said sociologist Abu Bakr Baqdar.
"In the past, people got to know one another through families and neighbors," he said.
Young people are now looking for "less traditional means to meet away from their families' interference."
http://www.saudigazette.com.sa/index.cfm?method=home.regcon&contentid=20130214153121
------------
Dozens march in Kabul to end violence against women
Feb 14, 2013
Kabul: Dozens of Afghan activists have marked Valentine's Day by marching in Kabul to denounce violence against women.
Concern has risen after rights organisations last year found that Afghan women are frequently victims of violence — despite a law against it and increased prosecution of abusers.
Rights activist Humaira Rasouli says the marchers want violence against women "to be eliminated or at least reduced in Afghanistan," but unfortunately it "is increasing day to day."
Riot police stood guard as male and female activists walked from the landmark Darul Aman Palace outside of Kabul to an area near parliament. Unlike past protests that were marred by stone-throwing and insults, Thursday's march remained peaceful.
The event is part of a global domestic violence awareness campaign called One Billion Rising.
http://www.firstpost.com/world/dozens-march-in-kabul-to-end-violence-against-women-625492.html
-------------
Filipino Women Take Lead in Resolving Muslim Insurgency
Simon Tisdall
13 February 2013
The idea that a woman can mediate successfully between armed groups of hostile men, and that one of these groups comprises hard-line, Sharia-touting Islamists, might seem far-fetched to traditional western societies but not so in the Philippines, where not one but two women have taken the lead in resolving the long-running Muslim insurgency in Mindanao.
Teresita Quintos Deles, below, a former teacher, women's rights advocate and anti-poverty tsar known popularly as 'Ging', was re-appointed presidential adviser on the peace process by President Benigno Aquino in July, 2010. Since then, her steady and patient hand has guided the combatants of the Moro Islamic Liberation Front (MILF) and their government interlocutors towards a historic peace deal that both sides now regard as all but inevitable.
Full report at:
http://www.guardian.co.uk/world/2013/feb/13/filipino-women-mindanao-conflict
------------
Saudi rights watchdog to increase female membership
Boost in membership related to women issues to be raised at Shura Council
By Habib Toumi
February 14, 2013
Manama: A Saudi human rights watchdog is planning to boost the number of women members in line with the breakthrough appointment of 30 women to the country's Shura Council.
"We have plans to increase the number of women adherents and to set up new branches to handle grievances related to the status of women that are still pending at the main office," Meflah Al Qahtani, the head of the National Society for Human Rights (NSHR), said.
A major plan includes tackling issues related to the education of women in rural and desert areas and near the borders where their schooling chances are severely limited.
Full report at:
http://gulfnews.com/news/gulf/saudi-arabia/saudi-rights-watchdog-to-increase-female-membership-1.1146167
--------------
Haia to enforce ban on men in lingerie shops next week
14 February 2013
The Commission for the Promotion of Virtue and Prevention of Vice (Haia) will start next week to implement an agreement, signed with the Ministry of Labor, to enforce a ban on men working at women's lingerie and accessory shops in the Kingdom.
Haia Chairman Abdul Latif Al-Asheikh was quoted in a local newspaper as saying that Haia members will carry out inspections across the country. "We shall assume this task of inspecting lingerie shops starting next week," he said.
Full report at:
http://www.arabnews.com/haia-enforce-ban-men-lingerie-shops-next-week
------------
3,500 Pakistani Women Screened Under 'National Breast Screening Programme'
February 14, 2013
ISLAMABAD: The Pink Ribbon Campaign in collaboration with cancer hospitals of the Pakistan Atomic Energy Commission (PAEC) has screened more than 3,500 women for free, under the 'National Breast Screening Programme'
Pink Ribbon Campaign CEO Omar Aftab said that many hospitals of the PAEC, including AEMC Cancer Hospital Karachi, KIRAN Cancer Hospital Karachi, BINO Cancer Hospital Bahawalpur, CENAR Cancer Hospital Quetta, CENUM Cancer Hospital Lahore, INMOL Cancer Hospital Lahore, IRNUM Cancer Hospital Peshawar, INOR Cancer Hospital Abbottabad, LINAR Cancer Hospital Larkana, MINAR Cancer Hospital Multan, NORI Cancer Hospital Islamabad, NIMRA Cancer Hospital Jamshoro, PINUM Cancer Hospital Faisalabad and GINUM Cancer Hospital Gujranwala have been directly working with the programme.
Full report at:
http://www.dailytimes.com.pk/default.asp?page=2013\02\14\story_14-2-2013_pg11_6
------------
Bad Start to the Year for Women in Indonesia
Deanna Ramsay, Jakarta
February 14 2013
First there was RI. An 11-year-old from a family of Jakarta scavengers discovered with injuries to her genitals and a sexually transmitted disease. RI's 55-year-old father, Sunoto, who has the same disease, reportedly confessed to raping her. The girl passed away on Jan. 6 from an inflammation of the brain.
Then there was NWJ, impregnated by a 39-year-old construction worker when she was 13. NWJ and the married father of two wed on Jan. 26 in a Balinese Hindu ceremony witnessed by both parties' families and officiated by the customary village chief. The 7-months-pregnant teenager went into labour on Feb. 4 and the infant did not survive.
Full report at:
http://www.thejakartapost.com/news/2013/02/14/bad-start-year-women-indonesia.html
------------
Baloch missing persons: A sister's vigil
By Mohammad Hanif
February 14, 2013
KARACHI: Farzana Majeed has done her masters in biochemistry from Balochistan University, and now is enrolled in the MPhil programme. If she wasn't a Baloch she'd be either wearing a white coat and working in a lab or, like many young people her age, struggling to get a job. Or at least turning up for her M Phil classes.
Instead, she has spent the last four years of her life sitting in protest camps, turning up for court hearings, speaking at political rallies.
Full report at:
http://tribune.com.pk/story/507171/baloch-missing-persons-a-sisters-vigil/
------------
Nigerian Mother Confesses To Murdering Infant, 40 Years On
February 13, 2013
JEDDAH – A woman in her 60s has turned herself in to a police station in Jeddah's Al-Nuzlatain neighbourhood police and confessed to murdering her infant 40 years ago.
She told police she was a 13-year-old Nigerian citizen when she married a Saudi citizen. When she gave birth to her boy, she said she felt annoyed by this intruder in her life.
Someone suggested that she kill her infant by choking him to death, she told police. She was a child herself, and did not realize that it was a crime.
Full report at:
http://www.saudigazette.com.sa/index.cfm?method=home.regcon&contentid=20130214153147
------------
Conference on women's rights in Islam wraps up in Tehran
Feb 13, 2013
Muslim scholars from Europe, Africa, and Asia along with representatives of the Organization of Islamic Cooperation attended the first conference on women's rights in Islam held in Tehran.
The final statement of second meeting of women ministers of the OIC stipulates that human rights and women's rights in particular has to be further discussed and this meeting is in line with the agreements made two years ago.
Full report at:
http://www.presstv.com/detail/2013/02/13/288775/conference-women-rights-islam-tehran/
------------
Watchdog Acts to Reverse Deportation Order for Nigerian, Mother of Saudi Children
Human rights group insists mother should remain with children
By Habib Toumi, Bureau chief
February 13, 2013
Manama: A Saudi rights watchdog is racing against time to halt administrative procedures to deport a Nigerian woman from Saudi Arabia, saying that her expulsion was "unacceptable".
"We are coordinating efforts to find a solution for Zainab, the Nigerian woman married to a Saudi national and mother of Saudi children," Meflah Al Qah'tani, the head of the National Society for Human Rights (NSHR), said. "Her detention in a deportation facility is unacceptable and she should be released as she is the mother of Saudi children who critically need her to be with them," he said in remarks published by local news site Sabq on Wednesday.
Full report at:
http://gulfnews.com/news/gulf/saudi-arabia/watchdog-acts-to-reverse-deportation-order-for-nigerian-in-saudi-arabia-1.1146077
-------------
Blind Saudi girl nominated for Mix FM competition
February 13, 2013
JEDDAH – A blind Saudi girl was nominated to win the Mix FM "Microphone Star" competition after receiving a high amount of votes from listeners, Al-Hayat reported.
Ibtisam Al-Malki, a resident of Makkah, has not been discouraged by her disability and looked forward to winning the competition, which offers a job and cash prize to the winner.
The competition is enjoying high ratings near its finale and the support of big stars such as Mohammed Abdu.
http://www.saudigazette.com.sa/index.cfm?method=home.regcon&contentid=20130213153001
------------
Saudi Movie 'Hurma' To Be Screened At Berlin Film Festival
February 13, 2013
JEDDAH — For the first time ever, a short Saudi movie "Hurma" will be screened at the Berlin International Film Festival that kicked off last Thursday.
According to Al-Youm newspaper, "Hurma" has been made by filmmaker Ahad Kamel who is also the protagonist in the film.
Kamel plays the role of a poor pregnant woman trying to save her unborn baby with limited resources.
Full report at:
http://www.saudigazette.com.sa/index.cfm?method=home.regcon&contentid=20130213153003
------------
URL: https://www.newageislam.com/islam,-women-and-feminism/new-age-islam-news-bureau/pak-girls--band-shining-light-for-all-kashmiri-girl-rock-band/d/10415