New Age Islam News Bureau
24 Jun 2015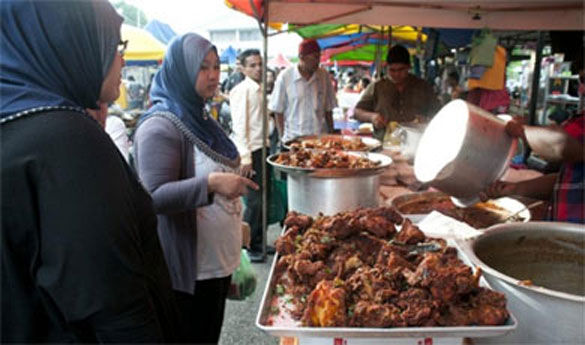 Jaip's head of investigation says Muslim women should avoid wearing dresses that are 'too short or tight' during Ramadan, claiming that checks at a few Ramadan bazaars have shown many Muslim women dressed 'inappropriately'.― File pic
----------
• Malala Campaigns for Girls' Education in US Congress
• Girl 'Aged 12' In Nigeria Market Bombing
• Woman Who Won SC Head-Scarf Case Meets President Obama at White House Dinner
• Saudi Arabia Women's Rights: Hotel Chefs Can Be Women, Ministry of Labour Announces
• Women's Rights in Afghanistan: The Turbulent Fight for Equality
• Gunmen Kidnap Dutch Female Aid Worker in Afghan Capital
• A Feminine Youth Group Organises Workshop for Muslim Women
• "Saudi Girls Revolution" A Smartphone Game Making Headlines
• 'Saudi Women's Participation in City Council Polls to Benefit Society'
• Bangladesh Govt against Under-18 Marriages
Compiled by New Age Islam News Bureau
URL: https://newageislam.com/islam-women-feminism/pahang-muslim-women-'too-short',/d/103629
---------
Pahang Muslim Women in 'Too Short', 'Too Tight' Dresses during Ramadan Can Go To Jail
June 24, 2015
KUALA LUMPUR, June 24 ― Muslim women must dress "decently" during Ramadan or risk being jailed a year or fined up to RM2, 000, Pahang's Islamic Religious Department (Jaip) has said.
Local daily New Straits Times reported today Jaip head of investigation Mohd Anis Azmi saying that Muslim women should avoid wearing dresses that are "too short or tight" during the fasting month, claiming that checks at a few Ramadan bazaars have shown many Muslim women dressed "inappropriately".
"They should refrain from wearing revealing dresses in respect of the holy month," Anis was quoted saying.
"This is a warning for the public before we start our operations against the offenders soon. Jaip cannot set a benchmark on what is decent attire, as what is decent to me may not be considered so to others.
We also cannot be telling them what they should wear, but a rule of thumb is to dress decently even if you are only out to buy food in a Ramadan bazaar," he added.
Anis, however, said that those found to dress what the religious authority deemed as improper would be counselled, while repeat offenders could face imprisonment or a fine.
The Road Transport Department, the Selangor state secretariat, and even the Sungai Buloh public hospital recently sparked public outrage after the public institutions forced several women to wear a sarong, or even a towel, over their outfits that were considered indecent, with observers noting that such dress code rows showed a trend of increasing religious conservatism in Malaysia.
http://www.themalaymailonline.com/malaysia/article/in-pahang-muslim-women-in-too-short-too-tight-dresses-can-go-to-jail
---------
Malala campaigns for girls' education in US Congress
ANWAR IQBAL
June 24th, 2015
WASHINGTON: Malala Yousafzai spent Tuesday on Capitol Hill, talking to US lawmakers about her global campaign to promote girls' education.
The talks focused on spreading universal secondary education for girls, congressional aides said after some of the meetings.
Malala, 17, became the youngest-ever Nobel Prize winner last year but she is still a school student in Britain. Her campaign managers said she was spending part of her summer break in Washington to raise funds for the non-profit Malala Fund.
She met Congresswomen Kay Granger and Nita Lowey, who are known on the Hill as education champions. Ms Granger is a Republican and Ms Lowey a Democrat.
Keen to reach across Washington's political divide, Malala met a Republican, Mark Kirk, and a Democrat, Richard Durbin, in the Senate as well.
During the next few days, she will also meet a group of bipartisan senior women staffers from the House and Senate. Her father Ziauddin Yousafzai and the president of the Malala Fund, Meighan Stone, are accompanying her.
The Malala Fund told reporters that the young Nobel laureate was calling for strengthened US leadership for girls' education globally, including increased US contributions for the Global Partnership for Education.
The GPE is an international organisation focused on getting all children into school for quality education in the world's poorest countries.
Recently, the GPE announced $235 million of grants to support education in Bangladesh, Mozambique, Nepal and Rwanda.
Malala is also urging US lawmakers to support additional funding for girls' secondary education through First Lady Michelle Obama's new initiative, "Let Girls Learn".
More than 60 million girls globally are denied their right to a quality education due to poverty, violence or tradition.
The Malala Fund is campaigning for all countries to guarantee and fund 12 years of free primary and secondary education for all children by 2030 as part of the Sustainable Development Goals.
"Girls can be anything they dream. They are brave and strong but many do not get the opportunity to even go to school," Malala said.
"It is time that a bold and clear commitment is made by the US to increase funding and support governments around the world to provide 12 years of free primary and secondary education for everyone by 2030."
She urged governments to "invest in books, not bullets", adding that US lawmakers also had a choice to make: either invest in military and war or in education and hope.
"Without education, it is impossible to achieve the peace we all seek. Education for all is the only answer," Malala said.
She will also meet students, NGOs, leaders, philanthropists and other advocates during her stay in Washington.
http://www.dawn.com/news/1190109/malala-campaigns-for-girls-education-in-us-congress
---------
Girl 'aged 12' in Nigeria market bombing
24 Jun 2015
A young female bomber, thought to be about 12 years old, killed at least 10 people in an attack in a market in northeast Nigeria, witnesses say, in the second such attack in 24 hours.
The blast at the weekly market in Wagir in the Gujba district, south of the Yobe State capital Damaturu, occurred at around 11am local time (10:00 GMT) on Tuesday.
"It was a suicide attack by a girl of around 12 years old," Hussaini Aisami, whose relative was among at least 30 people injured by the blast, told AFP news agency.
"She went into the market and headed straight to the grain section. She detonated her explosives in the middle of traders and customers," Aisami said.
The injured from Wagir were taken to the Sani Abachi Specialist Hospital in Damaturu for treatment but others with less serious injuries were released.
A nurse at the hospital, who asked not to be named, confirmed Aisami's account after speaking to other relatives.
Maiduguri bombings
The blast came a day after a girl thought to be aged about 17 killed at least 20 people at a bus station near a fish market in the Borno state capital, Maiduguri, when the explosives she was carrying went off.
A girl about the same age was also killed nearby when she blew up, but there were no other casualties.
Both attacks bore the hallmarks of the group Boko Haram, which is stepping up suicide attacks in towns and cities after losing most of an area the size of Belgium in the northeast since the start of the year.
Security analysts studying the phenomenon have suggested that younger girls may have their explosives detonated remotely by a third party.
Boko Haram has killed thousands of people during its six-year insurgency in northeast Nigeria.
http://www.aljazeera.com/news/2015/06/girl-aged-12-nigeria-market-suicide-bombing-150624044055589.html
---------
Woman Who Won SC Head-Scarf Case Meets President Obama at White House Dinner
Jun 24, 2015
President Barack Obama had kind words Monday night for Tulsan Samantha Elauf, who sat at his table at a Muslim Ramadan Iftar dinner in the East Room of the White House.
Elauf recently won a U.S. Supreme Court case that developed when the Woodland Hills Abercrombie & Fitch store denied her a job because she wears a head scarf mandated by her Muslim faith.
http://www.tulsaworld.com/homepagelatest/tulsa-muslim-woman-meets-obama-at-white-house-iftar-dinner/article_7833967e-4102-5ef7-8f9e-f5346034706f.html
---------
Saudi Arabia Women's Rights: Hotel Chefs Can Be Women, Ministry of Labour Announces
By Eben Blake
June 23 2015
Women in Saudi Arabia have been granted the right to work as chefs in hotel kitchens, the Saudi Arabian Ministry of Labor announced Monday, departing from a countrywide policy. The announcement came amid a growing culture of cooking among Saudi women, many of whom have gained a following by posting images of their food on online social networks, reports Arab News.
The popularity of cooking has led several Saudi women to begin their own food production and delivery businesses. Despite the new hiring practice in hotel kitchens, women in the Middle Eastern country -- which remains one of the most oppressive nations for women's rights and freedoms -- are still banned from working as chefs in private homes, as Saudi Arabia continued to limit their overall job prospects in both related and different professions.
One hotel owner in Saudi Arabia told Arab News that because "75 percent of visitors at these hotels are foreigners," hotels "prefer to hire foreign chefs for their experience in preparing international cuisine," although the owner also said hotels that "prefer local food can benefit from the services of Saudi women."
In May, a Saudi Arabian food company held a culinary competition for women that was hosted by celebrity chef Summaya Al-Idrissi and designed to play into the growing interest of public cooking.
Mohammed Rafeeq, marketing manager for SADAFCO, the company that sponsored the event, told the Saudi Gazette that "the culinary challenge is yet another of our endeavors to enrich the cooking experience of Saudi women as they learn from acclaimed cooking experts.
Women in Saudi Arabia have been subject to some of the most rigid restrictions in the world. They are not allowed to drive a car or travel freely without an accompanying male family member, and they must ask a male guardian for permission to work, open a bank account or receive certain kinds of medical care.
http://www.ibtimes.com/saudi-arabia-womens-rights-hotel-chefs-can-be-women-ministry-labor-announces-1979953
---------
Women's rights in Afghanistan: the turbulent fight for equality
24 JUN 2015
Men in Afghanistan are being urged to speak out against gender inequality in a country often ranked one of the most dangerous places in the world for women.
The HeForShe movement, set up by UN Women Goodwill Ambassador Emma Watson, was launched in Afghanistan last week and hopes to encourage men to play a more prominent role in the fight for women's rights.
Although the Taliban's violent rule officially ended in more than a decade ago, the group's violent, fundamentalist interpretation of Islamic law continues to influence the lives of women across the country, reports Take Part magazine.
History of women's rights
Afghanistan had a relatively progressive attitude towards women and equality before the Soviet invasion and the subsequent emergence of the Taliban. Afghan women were first given the vote in 1919 – only a year after women in Britain – and the country's first constitution in 1923 guaranteed equal rights for both men and women. The strict dress code enforced in much of modern-day Afghanistan was non-existent for much of the 20th century, and even female members of the royal family appeared in public without veils.
"As a girl, I remember my mother wearing miniskirts and taking us to the cinema [and] my aunt went to university," says Amnesty International researcher Horia Mosadiq, who was a young girl living in Kabul when Russia invaded Afghanistan in 1979.
Under the Taliban
When the Taliban came to power in 1996, they enforced their own strict interpretation of Sharia Law, which disproportionately affected women and girls. All of the freedoms they had enjoyed were stripped away and they were excluded from large parts of everyday life. "Women were essentially invisible in public life, imprisoned in their home," says Amnesty.
They were banned from going to school, having a job, leaving the home without a male relative and getting involved in politics. Women and girls were ordered to cover up with full body veils that covered even their eyes, and were forbidden from wearing makeup and beauty products. The punishments for disobedience were severe and often fatal; floggings, stoning and rape were commonplace.
Post-Taliban
After the US-led invasion in 2001, a number of steps towards gender equality were slowly made in Afghanistan. Women's rights were enshrined in a new constitution in 2003 and in 2009 Afghanistan adopted the Elimination of Violence Against Women (EVAW) law. However, enforcement was weak and a string of physical assaults against high-profile women in 2013 highlighted the dangers activists and women continue to face, says Human Rights Watch. Although girls were allowed to return to school and women were able to participate in politics, many of these freedoms were only afforded to those living in urban areas. In 2011, Afghanistan was named the most dangerous country in the world to be a woman.
New government
When Ashraf Ghani became president last year, his wife Rula quickly carved out her role as a champion for women's rights – but remains reluctant to call herself a feminist. "I have a very mild approach to things," she said. "It doesn't mean that my commitments are not strong."
But there are growing fears about her husband's apparent willingness to engage in peace talks with the Taliban. "We need to find solutions that include them," she told the Washington Post recently. But, she said: "The women of today will not kneel in front of the Taliban," she said. "We can make [women] even stronger and then the question will be moot — totally moot."
Despite Ghani's efforts and the work of a growing movement of activists, violence against women in the country is still rife. Earlier this year, a young Afghan woman called Farkhunda was brutally murdered and her body set on fire and thrown into a river by an angry mob of men who wrongly accused her of burning pages of the Koran. "There is a lot to be done before the equality of political rhetoric becomes an everyday reality for women in Afghanistan," says Amnesty.
For further concise, balanced comment and analysis on the week's news, try The Week magazine. Subscribe today and get 6 issues completely free.
http://www.theweek.co.uk/64107/womens-rights-in-afghanistan-the-turbulent-fight-for-equality
---------
Gunmen kidnap Dutch female aid worker in Afghan capital
Jun 23, 2015
Unknown gunmen have abducted a female aid worker from the Netherlands in Afghanistan's capital, Kabul, as the security situation remains unstable in the war-torn country.
Kabul police spokesman Ebadullah Karimi confirmed to reporters on Tuesday that the Dutch woman had been kidnapped by armed men on Monday.
The police spokesman said no suspect has been arrested in connection with the case.
A government official, who asked reporters not to be named, said, "She was working with the Swedish Committee for Afghanistan, and was abducted in police district 4 of the city."
The Afghan government has not provided more details on the case. No group has claimed responsibility for the incident so far.
Afghanistan has witnessed a surge in the number of terrorist attacks in recent weeks, as the Taliban militant group has vowed to target Afghan government and foreign troops as part of its so-called spring offensive, which usually begins in late April.
The militant group recently dismissed a proposal by senior clerics in the country's Ulema (Islamic clerics) Council to stop its attacks during the Muslim fasting month of Ramadan.
On Monday, militants stormed and attacked the parliament building in the capital killing two civilians.
The war-torn country is still struggling with a lack of security more than 13 years after it was subjected to a massive military invasion by US-led forces in 2001 as part of Washington's so-called war on terror.
Although the US-led invasion ousted the Taliban from power at the time, it failed to halt terror the activities and displacement of violence-stricken civilians across the Asian country.
http://www.presstv.in/Detail/2015/06/23/417129/Afghanistan-Kabul-Aid-Worker-Netherlands-Taliban-Abducted
---------
A Feminine Youth Group Organises Workshop for Muslim Women
24 June 2015
The Rayhan Yaqub Foundation (RYF), a feminine youth group based in Accra, has organised a week-long workshop for young Muslim women on how to live impactful lives in their communities and country as well as how to strategise in life so as to develop into responsible and purpose-driven women.
The workshop dubbed 'Light Upon Light Ladies Workshop' was held at the Zenith University College in Accra and was attended by Muslimahs (Muslim ladies) from all over the country.
Speakers discussed topics such as how to develop entrepreneurial skills as well as how to compose oneself as a Muslimah in the turbulent Ghanaian job market.
Speaking on the etiquettes to maintain on the job market, Hajia Hurairah Abdul Razak, a counsellor, spoke on the expectations of the Ghanaian employer on writing Curriculum Vitae (CVs) as well as how to maintain a professional personality on the job.
She advised the young ladies to maintain a dignified image and not to tolerate any unprofessional gesture from anybody.
Another speaker, a member of the Counsel of State, Dr Rabiatu Armah, noted that in Ghana,it was the women who mainly projected the image of Islam due to their distinct method of dressing and they must, therefore, always maintain a graceful and dignified personality everywhere they went.
The programme also took participants through important life skills including how to maintain a healthy personality through exercising and aerobics, how to discover and use one's talents and how to make basic pastries and fruit drinks.
Other speakers at the event included Hajia Zubaida Issah (a counsellor), Sheikh Abdul Rahman Botchway (a member of Al-Firdaus Foundation) and Sheikh Nasirudeen (a pharmacist and CEO of Paragon Foundation).
The event ended with some performances from the participants including drama and poetry.
There were also a number of presentations by some of the participants who talked about their experiences at the workshop and how they thought they had benefited and/or will benefit from the training they had received.
http://www.ghanaweb.com/GhanaHomePage/religion/Rayhan-Yaqub-Foundation-organises-workshop-for-Muslim-women-364265
---------
"Saudi Girls Revolution" A Smartphone Game Making Headlines
A Saudi prince has women racing
June 24, 2015
Barren mountains, parched landscapes, dark clouds, impassable rocks, zombies, soldiers, and giants. Behind this gloomy backdrop emerges a group of women on loud motorcycles – at full speed and with their Abayas waving in the wind. Welcome to a post-apocalyptic version of the Kingdom of Saudi Arabia, surrounded by a world sinking into war over the last natural resources.
"Saudi Girls Revolution" (SGR), a game soon available for smart phones, takes us into a Saudi Arabian "Mad Max"-scenario and it is already making headlines months before the official release. Eight women fight against brutal tyrants. Among them are the women's rights activist Um Bandar, Leila from the country's overthrown elite, and Hussa who is gay. The women roar on their motorcycles as they drive through destroyed and corrupted lands.
But it's not just the plot that gives the virtual revolution of these Saudi girls so much attention: Behind the idea is His Highness Prince Fahad Al-Saud, grandson of the brother of the king of Saudi Arabia, the country which faces some harsh international criticism because of the ban on driving for women, for not being accepting of homosexuals and for its hard punishments.
Studies at Stanford, work in London
So now a Saudi prince creates characters such as a women's rights activist fighting next to a gay woman against tyrannical rulers in a dystopian Saudi Arabia. "Why not? We wanted the world of SGR to be a diverse one", says Prince Fahad Al-Saud. A world as diverse as the one the prince lives in.
He studied at Stanford University, worked at Facebook on the launch of the Arabic version, has lived in Los Angeles and London and has founded several companies – including NA3M Games, the company behind "Saudi Girls Revolution" which is now getting its finishing touches. On his Facebook page, the 31-year-old comes across as a modern, cool hipster guy. It is hard to imagine him in the highly regulated and restricted world of his homeland.
Al-Saud has very clear ambitions that go beyond the kingdom. The head of more than 25 game developers from 16 countries thinks beyond borders. "I want to inspire the youth in the Arab world to be more creative. We want the Arab world to become an internationally recognized player in the entertainment industry". Of course he created a matching hashtag: #NA3MWeCan. The company's name NA3M stands not only for New Arab Media, but is also the Arabic word for Yes. To what exactly does the prince say Yes? "We have the impression people say no too often. The Yes is to serve as a reminder that we can achieve anything we set our hearts and minds to," says Al-Saud.
Saudi Arabian women have wanted to drive and been fighting for their right to do so for decades. But in spite of their struggle and numerous campaigns this is still denied. While no law explicitly prohibits women driving in the country, the required license is reserved for men. Driving licenses issued abroad are not accepted. And now the grandson of the king's brother is working on a game in which Saudi women ride tuned motorcycles boards through a post-apocalyptic Kingdom: Is this a political provocation? "Saudi Girls Revolution addresses the issue of female inequality in entertainment while inspiring women to believe that they can be the protagonists of their own stories. This is very much about social progression rather than politics", answers the Prince.
That underlines a note, which is already present on the NA3M Games-website: Saudi Girls Revolution is aimed to highlight "social, not political issues". But where is the boundary between political and social issues? The answer sounds diplomatic: "We only mean to entertain and inspire people by creating high quality content. By being bold in our content, we are not letting conventions get in the way of creativity".
The world in which his motorcycle riding heroines engage in a brave fight, is a world in which women are able to do and achieve the same things as men, he explains. The idea of Saudi Girls Revolution came to him for a very simple reason: "Arab stereotypes, in particular the women portrayed in the entertainment industry, do not represent the Saudi women we grew up with". Al-Saud is a young, modern entrepreneur, but traditional Arabic heritage is very important to him and plays a key role in most of NA3M's products.
As a consequence, Islamic history and girl power go hand in hand in the virtual world of the Saudi Arabian rebels. The group of the eight women is called the "Mu'tazilah". That is also the name of a group of Muslim Scholars of the early days of Islam who fought for the use of reason and human willpower. Translated, this means "those who break away". To Al-Saud, it is the perfect name for his heroines: "In our fictional world, the girls are called Mu'tazilah because they have separated themselves from mainstream society by rebelling. In this sense, it is a very appropriate name for our group of heroines."
Rebelling in Saudi Arabia's reality can cost a high price, such as the case of blogger Raif Badawi shows. Badawi had to face a punishment of 1000 lashes. Last December, two female Saudi activists were detained for rebelling against their right to drive.
Against all conventions
Al-Saud and his team believe in the strength of women, not only in the fictional future scenario, but also in reality: "NA3M wants to demonstrate that women cannot only challenge gaming and social conventions from within the content itself, but also by being behind the making of the actual game itself". Mobile Games are not only one of the fastest growing sectors of the video game industry, but Arab countries also provide one of the biggest markets, which is growing annually by 29%. Saudi Arabia has a higher Smartphone penetration than the United States.
On these Smartphone screens, the Saudi Girls Revolution will soon take place and destroy all conventions. The exact release date of the game is not yet set. "We hope everyone enjoys it when it comes out, and this includes the Saudi audience". His company embraces what the future may bring. "Always remember: #NA3MWeCan!"
This piece was published in German newspaper Die Welt on June 3, 2015.
Also see this recent interview with Prince Fahad Al-Saud:
http://www.yourmiddleeast.com/culture/a-saudi-prince-has-women-racing_33106
---------
'Saudi Women's Participation in City Council Polls to Benefit Society'
June 23, 2015
RIYADH — The city council elections for 2015 will have women candidates and start on Aug. 22.
Riyadh Municipality's Women Services General Manager Haifa Al-Nassar said the elections would start in August and end on Dec. 13.
She said: "In August, the nomination process will begin and candidates will get to campaign for their votes on Nov. 29.
"They will have 12 days for campaigning until Dec. 10.
"To cancel a nomination, candidates will have the chance to do that from Sept. 30 until Nov. 29."
She added women's participation in the current city council elections would be of benefit in the development of society.
She said: "It is our duty as Saudi women to participate in the election. We are blessed with the natural skill of strategic thinking.
"We have applied our skill in managing our households and now we are applying it to manage our communities."
She added there are 85 out of 250 centres under the municipality's management that are dedicated to women's issues.
"I encourage all citizens to be active in the coming elections.
"The municipality has a special hotline for all inquiries related to elections.
"You may call it at 940.
"Citizens are allowed to vote from the age of 18 and the municipality is currently working on introducing election programs to children in schools in order to educate them about the matter."
She also said the municipality is considering communicating with the Ministry of Islamic Affairs, Endowments, Call and Guidance to announce the elections in mosques.
"A candidate wishing to run in the elections must be over 24 years old with a high school diploma.
"The council does not require the candidate to have any higher academic degrees or specific training certificates."
She also said the municipality made sure the elections are run according to Shariah and Islamic regulations. She said: "All men and women candidates are not allowed to print their photos on their flyers and posters. "The voting booths are easily reached and situated in accessible locations.
"The municipality is refraining from opening the door to vote online to avoid any calculation mistakes or system glitches that could affect the vote count."
She added all candidates are treated equally at the city council regardless of gender.
"A third of the council is elected and a third is chosen by the Ministry of Municipal and Rural Affairs.
"In both cases, men and women are assessed equally with no discrimination.
"As long as the candidate meets the mentioned requirements and does not have any criminal records, the candidate is treated equally."
She added there are those who cannot nominate themselves for city council elections.
"They are employees at the Ministry of Municipal and Rural Affairs, employees at any related directorate, judges, public notaries, governors, members of the Bureau of Investigation and Public Prosecution, Shoura Council members, election committee members, and others."
http://www.saudigazette.com.sa/index.cfm?method=home.regcon&contentid=20150624248211
---------
Bangladesh Govt against Under-18 Marriages
June 24, 2015
The government does not want persons under the age of 18 to get married, said State Minister for Women and Children Affairs Meher Afroz Chumki yesterday.
The state minister, however, requested consideration if a child becomes pregnant before marriage.
She was speaking at the launching ceremony of Image (Initiatives for Married Adolescent Girls' Empowerment), a Dutch-government funded project that will be carried out in three unions of Gaibandha, Nilfamari and Kurigram. The program was held at Gulshan's Spectra Convention Centre.
Later, Chumki told BBC Bangla that the minimum marriageable age for girls will remain at 18, but a new clause will be added to tackle the social problems of unwanted pregnancy.
http://www.thedailystar.net/city/govt-against-under-18-marriages-101965
---------
URL: https://newageislam.com/islam-women-feminism/pahang-muslim-women-'too-short',/d/103629