New Age Islam News Bureau
24 March 2014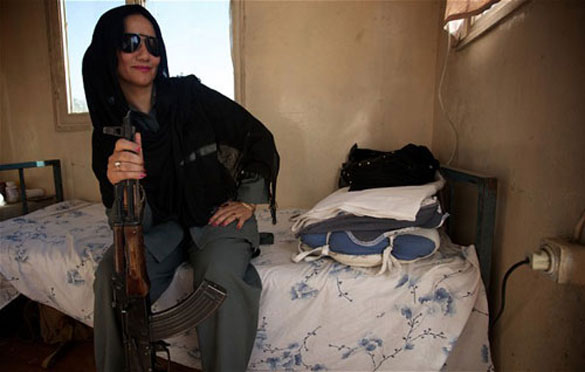 Photo: Police Officer Pari Gul in the women-only room at the checkpoint on Jalalabad Road, Kabul Photo: Lalage Snow
---------------
• The Afghan Policewomen Taking On the Taliban
• Saudi Woman Selected For UN Meet
• Saudi Girls Receive Premarital Training
• Female Teachers Face Sexism In British Schools
• Saudi Arabia Vows To Create More Jobs for Women
• Gender Inequality in Morocco Continues, Despite Amendments to Family Law
• Human Rights Defenders Call for Protection of Women against Violence
• Team Wears Hijab Headscarves In Support Of Muslim Teammate Banned From Match
• Catholics Nuns in Niger: Serving the Poor in an Islamic Country
• Topless Femen Protesters Get Dragged Kicking and Screaming Out Of Islamic Week Meeting
Compiled by New Age Islam News Bureau
URL: https://www.newageislam.com/islam,-women-and-feminism/new-age-islam-news-bureau/paedophilia--at-least-60-percent-of-afghan-women-married-as-children/d/66247
-------------
Paedophilia: At Least 60 Percent of Afghan Women Married As Children
March 24 2014
LOS ANGELES, CA (Catholic Online) - A new report on human rights in Afghanistan released by the U.S. State Department reveals that girls as young as six can be "married" away or betrothed and are the victims of frequent sexual abuse from older men, sometimes within their own families.
Although the Taliban have a reputation for religious conservatism, that conservatism does nothing to protect women and girls from the sexual depredations of men. Women and girls are commonly victimized and those that speak out are likely to be blamed themselves, regardless of age differences.
Afghan law requires that girls be 16 before they can marry and boys 18. Such laws are rarely respected and about 60 percent of all girls are forced to marry before 16. Since most of the marriages in Afghanistan are unregistered and few people even have birth certificates, it is virtually impossible for the government to enforce the law.
Other Afghan laws designed to protect women from abuse also have little enforcement.
In 2013, incidents of rape also increased in Afghanistan. Most of the victims were children.
The Taliban argue that restricting child marriages is "un-Islamic." In their culture, it is perfectly acceptable to marry children or to promise them in marriage. Traditionally a girl may be betrothed, but the marriages are supposed to be delayed until puberty. However, this is not always respected. Also, early onset of puberty can occur in some girls, sometimes as young as eight.
Not only are these girls younger and physically unable to engage in healthy sexual relationships within the context of marriage, they are also psychologically unprepared for marriage, sex, and motherhood.
Girls who are promised in marriage can also be abused by their own family, especially if the intended groom is also a child -the young boy cannot defend his child wife from the depredations of older men.
Child marriage is an ancient practice for the region and it is part of the dominant culture. Typically, money is exchanged for the bride-to-be. However, it is now understood that such practices are very harmful. Girls and women in these situations are usually treated poorly, with several being badly abused or even killed each year.
Given the Afghan government's lukewarm support of the official law and their inability to effectively rule outlying districts, it is unlikely these barbaric practices will change anytime soon.
http://www.rawa.org/temp/runews/2014/03/19/afghanistan-may-lead-the-world-in-state-sanctioned-pedophilia.html
-------------
The Afghan policewomen taking on the Taliban
March 24 2014
Among the other police officers, she stands out. No short back and sides; no hobnail boots; no belted combats. Instead – nail polish, three–inch heels, aviator sunglasses. And hijab. Police Officer Pari Gul is stationed at a checkpoint on a key route into Kabul, Afghanistan. Her job is to stop and search women in cars that look suspicious. Aged 28, she has a husband and three young children. More than a few members of her family think that she is out of her mind: every time she stands at the checkpoint, she is facing death on so many fronts.
The face of the Afghan National Police (ANP) is changing. More and more women are being recruited to take on the fight against insurgents when Nato forces withdraw in December this year. Their brief is to do the jobs that men can't – in the segregated, strictly religious world of Afghanistan, women can be searched only by women. The Taliban has exploited this in a string of attacks in which men have dressed as women to conceal weapons or to gain entry. One of the worst was on June 22 2012, when 18 people were killed at a hotel at Qargha Lake, a popular tourist resort near Kabul. The Taliban militants emerged from a minivan with machine guns and suicide vests hidden under blue burkas. Not that women are blameless. On September 18 2012 a British woman and eight other civilians were killed by a female suicide bomber near Kabul International Airport.
Five days a week Pari Gul stands at the police checkpoint, amid the din and the fumes, scrutinising the battered Toyota taxis, armour–plated Humvees and Ladas from bygone Soviet days as they barrel past. So far she has found nothing more than pistols and drugs.
'This road is not safe,' she says, speaking through Saman Basir, my translator, a 28–year–old business studies graduate from Kabul University. 'And this checkpoint is one of the most dangerous in Kabul,' she adds. Running from the capital to the city of Jalalabad, 100 miles to the east, the Kabul end of the Jalalabad Road, as it is known, is notorious for terrorist attacks because it is in a neighbourhood of Nato bases and foreign construction companies. (The International Security Assistance Force base at Camp Phoenix is about three miles away; the American military base at Bagram is about 20 miles away.)
At the end of December Pari Gul was a mile from a Taliban car bomb that exploded near Camp Phoenix, killing three Nato soldiers. When we meet, in September, she tells me of other deaths here in the past year: in July a Taliban suicide bomber set off a truck bomb outside a foreign firm that supplied Nato, killing seven people; in December a suicide car bomber hit an American security company, killing two. Not long ago, she says, the Taliban fired at her from the hotel opposite. Being a policewoman edges Pari Gul ever closer to death. The day before we meet, Lt Bibi Negarah (known as Lt Negar), the most senior woman police ofcer in the conservative province of Helmand, died after being shot in the neck by a gunman on a motorbike while walking near the police headquarters in the capital, Lashkar Gah. Her predecessor, Islam Bibi, had been killed on her way to work two months earlier in what the Taliban would characterise as a campaign against working women, especially those in prominent positions. Lt Col Malalai Kakar, Kandahar's deputy commander of police, Afghanistan's highest ranking female police officer and a mother of six, was assassinated by the Taliban as she drove to work on September 28 2008.
And after my visit other policewomen would be killed. Masooma (like many Afghans she used only one name), an officer in Zaranj, Nimruz Province, is now dead. She was shot and killed by gunmen on a motorbike on December 5. Rabia, an officer in southern Helmand, is now dead. She was abducted and killed by Pakistani militants on February 8, while on holiday visiting family in Quetta.
'There are dangers and threats in this job,' Col Jamila Bayaaz, the recently appointed head of Police District 1 in Kabul, a busy shopping area, has admitted. Bayaaz, 50, a mother of five, agrees that the situation for policewomen in Afghanistan – is scary. But she also believes that they are essential. 'This is a chance not just for me, but for the women of Afghanistan,' she has said.
Aren't you afraid that you might be next? I ask Pari Gul. 'I know that my life is not safe and that I am in danger, but I will never step backwards,' she tells me. 'I have to protect my homeland, protect my brothers and sisters.'
Women first began serving in the Afghan police force in 1967, during the reign of Mohammed Zahir Shah, Afghanistan's last king. When the Taliban took power in 1996, women were prohibited from working, with the exception of doctors and nurses (later the Taliban would discover that they didn't have enough qualified workers and had to use former employees, even women). The Taliban was overthrown by American and allied troops in 2001 and driven out of Kabul as part of the War on Terror launched after the World Trade Center attacks. But peace was brief. Insurgents now include the Taliban and Hezbi Islami, an Islamic rebel group.
Violent attacks are now so regular in Afghanistan that people have come to think of them as normal. In a single day in September, for example, 35 people were killed (soldiers, police and civilians), 41 were wounded and six were kidnapped, according to the National Police Coordination Centre, the unit in the Afghan Ministry of Interior that monitors and collates public incidents and police operations across Afghanistan. These figures are 'high but not unique', according to a spokesman from one Kabul–based security firm.
In response the Afghan government has been building up its domestic force. With international assistance the Afghan army and police have expanded to 352,000 in the past few years. The British Government has committed £70 million a year from 2015 to 2017 to strengthen Afghan National Security Forces, and is to support the new Afghan National Army Officer Academy in Kabul.
Women are now encouraged to join the police, with advertisements on radio and television. Numbers have risen. But there are still only 1,700 policewomen, one per cent of the ANP, and far below the target of 5,000 set by President Hamid Karzai for the end of 2014. Three regions have none at all: they are forbidden in the very conservative areas of Nuristan and Panjsher, and in Badghis they are deployed elsewhere for the elections.
There are other police forces around the world that struggle to recruit women. (America has only a little more than 11 per cent.) But a report by Oxfam (Women and the Afghan Police – Why an Enforcement Agency that Respects and Protects Females is Crucial for Progress) published in September last year argues that the lack of policewomen in Afghanistan – matters very much.
'It is not culturally appropriate for women to engage with men, so without female police at a station, women find it incredibly difficult to come forward to report a crime,' Elizabeth Cameron, a policy and advocacy adviser for Oxfam Afghanistan, says. It is a country where domestic violence, sexual assaults and 'honour killings' are endemic. What is less well known is that nearly 15 per cent of honour killings and sexual assaults recorded in Afghanistan between 2011 and 2013 were committed by policemen, according to the Afghan Independent Human Rights Commission. Policewomen are needed to search homes (in orthodox Afghanistan under no circumstances may a man speak to a strange woman); conduct body searches in prisons and airports; sort out family disputes; protect women from domestic violence; and visit girls' schools, beauty salons and other places where women work.
The other area in which policewomen are important is the forthcoming presidential elections, next month. Voting is permitted only once voters (men and women) have been searched. According to Afghanistan's Independent Election Commission it is unlikely that there will be enough policewomen to go around all the polling stations. It has calculated that 12,000 policewomen will be needed – more than six times the actual number of women in the force.
The cultural beliefs that make policewomen so needed simultaneously make recruitment extremely difficult. If women join up, they are criticised and abused. 'Prostitute' and 'whore' are words you hear a lot, the conservative mindset being that women who work alongside men are somehow promiscuous. I met one young police officer from an educated family whose parents are convinced that she has been a teacher in a girls' school for the past three years. She hides her uniform in her bag.
'Policewomen suffer sexual harassment and assault from colleagues and superiors, with requests for sexual favours in return for promotion reported in some provinces,' Cameron explains. Human Rights Watch recently flagged up male police officers 'making peepholes' and cornering women in lavatories. But this problem would be easily solved, she says, by safe, locking lavatories 'for policewomen in the entire country'.
Oxfam's report is both a rallying call for better conditions, opportunities and support – 'without them Afghan women really will have nowhere to turn,' Cameron says – and a tribute to the 1,700 policewomen already serving – 'inspirational women who really do put their lives on the line.'
Col Najibullah Samsoor, the commander of Police District 9, Kabul, is sitting at a desk in his office, armed with a Beretta, and looking, unusually for an Afghan, younger than his age. A genial 52–year–old, he comes from an educated middle–class family, joined the police 33 years ago, and was trained in both Kabul and Moscow. His office contains a large, framed photograph of President Karzai, a bank of CCTV cameras and a glass cabinet with such trophies as a forged $100 bill, a fake Interpol ID, knuckledusters with deadly looking spikes, a shooting knife (it looks like a flick knife but fires like a pistol), a wrap of heroin, and a thick leather belt with a heavy buckle. 'A weapon,' he explains. 'People wear it with army uniform and pretend to be soldiers.'
Police District 9 serves an area of about 11 square miles south east of the city, which includes government ministries, schools, 170 factories (biscuit, mineral water, plastic, juice) and 700,000 people. Col Samsoor has six children (all with names that begin with the letter S 'after Samsoor') and likes to think of himself as a modern man. As the head of PD9 he employs eight policewomen (and 308 men) and has created women–only facilities: there is an office with a bed, heater, computer and tap (for washing); a sign on the door reads, 'A special room for the policewomen of district 9. Do not enter without permission'. There is also a lockable lavatory.
PD9 is practically a showcase for gender equality, compared with other police districts. 'It is one of the most successful PDs because the PD commander is very open–minded,' says Valeria Elefterie, a gender and human rights mentor and adviser at the European Union Police Mission in Afghanistan (Eupol). Col Samsoor links his more liberal outlook with education. 'Maybe they are not professional people,' he says of other, less forward–thinking commanders. He is studying for a PhD at Moscow State University on human rights in Afghanistan.
Set up in 2007, Eupol Afghanistan is a European Union mission that addresses such problems in the police as lack of equipment, poor organisation and corruption. Elefterie, a major with the Romanian police, was seconded here a year ago. She has been working with four PDs (there are 16 in all) on ways of building a better working environment for policewomen. She is most proud of the fact that the chief of Kabul City Police, Gen Ayub Salangi, signed a decree put forward by Eupol in July ordering all police officers under his command to do more to promote genuine equality. It cannot be enforced, of course, but its public nature is meant to signal change. 'We asked Gen Salangi to sign it in front of the international community, PD commanders, deputy commanders and human rights officers so that everyone in Kabul would be aware that the Gender Standards Decree exists,' she says.
Full report at:
http://www.telegraph.co.uk/women/10702626/The-Afghan-policewomen-taking-on-the-Taliban.html
-------------
Saudi woman selected for UN meet
March 24 2014
Swansea University law undergraduate Jood Al-Harthi has been selected to attend a Geneva International Model United Nations (GIMUN) conference later this month. Jood will be attending as the representative of the Organization of Islamic Cooperation, the university announced on its website.
Jood, 20, is a single honors law student in her second year at Swansea University. She was born and brought up in Riyadh.
Jood will be going to GIMUN all by herself. To secure her seat at the conference she had to include in her application a statement explaining why she wanted to participate and how she would contribute to GIMUN.
GIMUN is an annual weeklong event. It is being held this year from March 22 to March 28. During the week, university students will be debating and justifying their country's or organization's actions, and passing resolutions.
This year the event theme is "Access to Energy." The theme for the GIMUN 2014 annual conference aims to touch upon a number of the major challenges that the international community will be facing over the course of this century.
"Sustainable development is on everyone's lips, yet we are failing to effectively depart from fossil fuels as an essential part of our economies," says the conference website.
Speaking about her role, Jood said: "I am honored and excited to have been chosen as the OIC representative as there are only two people in one bloc representative position. What is expected of me is to act as a coach to the states, and make sure they do not go far off his/her state's policy; contributing to the realism of the conference."
http://www.arabnews.com/news/545081
-------------
Saudi Girls Receive Premarital Training
March 24 2014
More than 30 girls participated in "Al-Bedaia Al-Rashida" (The Wise Beginning) program, which provides training and premarital counselling about starting a family and avoiding divorce. The program is organized by the Women's Social Committee in Al-Hamra district of Dammam.
The committee director, Haifa Al-Karona, said that the program which is in its sixth year, aims to educate girls about the fundamentals of building a happy family and providing them with the necessary life skills to enter into a "healthy married life." Participants learn about married life, the art of social relations, planning for a successful marriage, as well as methods of choosing a life partner.
Al-Karona noted that these sessions are especially important due to the high incidence of divorce, especially in the first year of marriage. She said that the program included an introduction to the foundations of marriage, choosing a life partner, the provisions of the engagement period, psychological preparation for the wedding night, and issues related to pregnancy and birth control, as well as addressing the differences between couples and the rights and obligations of each party.
The three-day program also provided participants consultations with specialists from Dammam University, who advised them in a number of issues such as etiquette of dealing with husbands.
The supervisor of the program, Latifa Al-Jaafari, said: "We seek through these courses to prepare girls who are on their way to marriage to alleviate marital problems and reduce divorce rates."
As some participants are on the verge of divorce, they considered these courses as their last chance to find a solution before it happens, she said.
The program is designed to ensure a permanent impact by continuous follow-ups with married women who engaged in the program, as is the case with the Family Development Center in Al-Ahsa. Al-Jaafari said that reports have indicated that within two years, divorce rates decreased from 24 percent to 14 percent of the total cases of divorce. "This is what we are working on currently," she added. The program provided a definition of the concept of stewardship and efficiency in marriage, Al-Jaafari said, noting that there is a lack of knowledge about the concept of stewardship.
http://www.arabnews.com/news/544591
-------------
Female Teachers Face Sexism In British Schools
March 24 2014
Everyday sexism redolent of Britain in the seventies is holding back the appointment of talented female head teachers in England's schools, the shadow education secretary Tristram Hunt will warn.
Hunt will confront the issue in a speech on Saturday to the Association of School and College Leaders, citing evidence that women can be rejected as heads simply because, as in one case, a school needed a man "due to the excess of oestrogen flying around".
The proportion of female head teachers in English secondary schools has declined since 2010; only a third are women.
Hunt will cite evidence from a survey by a leading teaching charity showing many school governors simply do not know they are not permitted to ask questions about women's personal circumstances and family commitments, especially if they are not asking the same questions of male candidates.
Hunt will tell the college: "There's no place in our school system for this sort of casual, everyday sexism that conforms to the views of 1980s conservatism. At every step, we must confront sexism that prevents access to opportunity based on merit.
"School governors must uphold their moral and legal duties. And where this is not happening, we must shine the spotlight."
Figures for 2010 show 60 per cent of heads were male and 40 per cent female, with this imbalance widening two years later to 64 per cent to 36 per cent. In the figures there is little distinction between academies and maintained schools. The 2012 figures, published late last year, show 2,100 male school heads and only 1,200 female.
Hunt is also planning to draw on testimony compiled by the Future Leaders Trust, a charity dedicated to improving the quality and commitment of head teachers.
One head explained: "My first headship interview was a disappointment. When I arrived, the four men I was competing against were talking about football. I felt a little uncomfortable even more so when the chair of governors chipped in with his analysis of the previous night's game. There were no other women in sight. No female candidates, governors or panel members.
"I reached the last two and in the final interview, governors seemed rather interested in my age, 33, and gender, which didn't feel right. They were surprised I had children and asked how I coped with a full-time job. A supportive husband and excellent childcare, if you must know."
After she was called back in for the final assessment she was told: "We believe that the local mining community would be more aligned to a male figurehead than that of a female one."
Kate Chhatwal, Director of Headship at Future Leaders, said: "We know that a good head can make a huge difference to the success of a school. If governors discount 50 per cent of the talent pool because they are women, they can miss the opportunity to appoint the best person and as a result hold their schools and pupils back."
http://gulfnews.com/news/world/female-teachers-face-sexism-in-british-schools-1.1307281
-------------
Saudi Arabia vows to create more jobs for women
March 24 2014
Riyadh: Saudi Arabia will, in the coming days, announce more female-only jobs for more than one million unemployed women in the country, media reported Sunday.
The initiative is part of a plan to eliminate unemployment by 2025. The unemployment rate of the country now stands at around 11.7 per cent, Al Eqtisadiya newspaper reported.
Certain actions will be taken with the ongoing growth of female jobseekers of the age group between 18 and 30, as the percentage increased from 28.4 per cent in 2009 to 33.2 per cent last year.
Undersecretary of the Labour Ministry Fahad Al Takhaifi said the oil-rich country has more than one million unemployed females.
To deal with the issue, jobs at women-related product shops have been allocated only for females last year, which alone provided jobs for more than 50,000 Saudi women, he added.
http://gulfnews.com/news/gulf/saudi-arabia/saudi-arabia-vows-to-create-more-jobs-for-women-1.1308045
-------------
Gender Inequality in Morocco Continues, Despite Amendments to Family Law
March 24 2014
When Zineb lost her father at the age of 15, her grief was compounded when she learned that she had to share his inheritance with an older half-brother unknown to her or her mother and sister.
"It felt unfair to split it with him," said Zineb, 29, a teacher in Rabat who asked that her full name not be used because as a political activist she is concerned about her safety. "Somebody was parachuted into your life and we didn't know him and after all, my mom worked for half of all of that money."
A decade ago, Morocco adopted a family code hailed by women's rights groups as a big step forward. Three years ago, the country passed a new constitution guaranteeing gender equality. Even so, Moroccan women say that equality is still a long way off, and much of the old order remains untouched, including the inheritance law section of the family code. That law, laid down in the Quran, states that male relatives receive double the inheritance of women.
But the pressure for change is building. "Islam allows for reinterpretation, and it is time for radical decisions to protect women," said Saida Kouzzi, a founding partner at Mobilizing for Rights Associates, a nongovernmental organization based in Morocco. "This law of inheritance was based on the fact that men were the head of the households, which is not the case anymore as many women are the ones who provide for the family or at least contribute in a significant manner."
In 2004, Morocco rewrote its code of family law, establishing the right to divorce by mutual consent, placing limits on polygamy and raising the minimum marriage age for women to 18 from 15. But no changes were made with respect to inheritance.
At the time, the Moroccan ruler, King Mohammed VI, had to arbitrate between the demands of feminist organizations, who were calling for an expansion of women's rights, and the Islamic political parties, who were strongly resistant to change. But terrorist bombings in 2003 that killed 45 people in Casablanca weakened the Islamist parties and paved the way for the adoption of the new family code. The king seized that opportunity to make it clear that he was the country's top religious authority.
"I can't in my capacity as commander of the faithful, permit what God has forbidden, nor forbid what the Almighty has allowed," the king said in an October 2003 address to Parliament about the changes to the family code. He also hinted that he would push to loosen religious rules without completely rejecting them.
Analysts said it was a clever strategy.
"It was definitely a strong marketing move," said Abdellah Tourabi, a political science researcher and the editor of the Moroccan monthly magazine Zamane. "It was the fourth year of his reign, and the move gave him the image of a modernist and a reformer. He became a sort of bulwark against conservatism and Islamism and a strategic ally for the secular elites."
Still, human rights organizations say that, in practice, the changes have not been fully carried out, mainly because some judges have been finding ways around the law or are still unfamiliar with the amendments.
Although the law now states that 18 is the minimum marriage age, judges have granted permission for the marriage of minors in about 90 percent of the cases that have appeared before them, according to 2010 data reported by the Justice Ministry.
http://www.nytimes.com/2014/03/17/world/africa/gender-inequality-in-morocco-continues-despite-amendments-to-family-law.html
-------------
Human rights defenders call for protection of women against violence
March 23, 2014
Faisalabad: March 23, 2014. (PCP) The government must bring the culprits and authorities to justice in Muzafargarh rape case, leaving no option for gang-rape victim except to set herself ablaze in front of a police station. The government must take action against police for torturing nurses protesting peacefully in front of Punjab assembly in Lahore. The council of Islamic Ideology (CII) must be abolished for being a controversial body operating against women's rights. These demands were made by the participants of a Demonstration entitled 'Protect Women against Violence' under white ribbon Campaign, held in front of Press Club in Faisalabad on March 16, 2014.
The demonstration was staged by the Peace and Human Development (PHD Foundation), Association of Women for Awareness and Motivation (AWAM), National Minorities Alliance of Pakistan (NMAP), Adara Samaji Behbood (ASB), Human Rights Focus (HRF), Human Rights Defenders Network (REAT) and Aitbar Foundation. The demonstration was joined by people hailing from different communities and various socio-economic backgrounds. They were wearing white ribbons as a symbol of opposition to violence against women, and tying black armbands to mark dark period for women in Pakistan. They enchanted slogans against recent wave of incidents of gender based violence in Pakistan.
Speaking on this occasion, the director of the AWAM, Nazia Sardar said, "The criminal justice system must be strengthened through reforming rules, procedures and police investigation, and sensitizing legal enforcing agencies on dealing with cases of violence against females." A women's rights activist, Shazia George said, "A helpline service providing referral facilities of legal aid and medical aid must be established at district police officer level, for women in distress, which must be interconnected to all the existing structures at the tehsil and union council levels for easy access of survivors of violence to effective prevention and response."
The director of the PHD Foundation, Suneel Malik said, "The 18-year-old girl was sexually assaulted by armed men in a deserted area, when she was on the way back to college on January 5 2014. She lodged an FIR against culprits, but the lack of hope for justice by authorities forced her to douse herself with petrol and set herself alight outside a police station." "The government must realize its obligation to prosecute the rapist and immediately launch practical measures to ensure that no other rape victim has to set herself ablaze to get noticed," he demanded. A human rights activist, Naseem Anthony said, "The sacrifice of gang-rape victim has exposed the ordeals that rape victims in the country face, when they try to bring their tormentors to justice. This tragic incident would only discourage victims of sexual violence from trying to get justice."
A political activist, Robin Daniel said, "Mostly women victims of rape are punished and the perpetrators of rape escape from punishment in Pakistan due to their connection with influential persons." "When the state fails to prosecute the perpetrators of rape, it not only encourages further abuse, but government's inaction gives the impression that male violence against females is acceptable," he added. A peace activist, Aslam Saif said, "Neither reporting incidents of rape is a common practice, nor rape cases are prosecuted in Pakistan due to stigma attributed to victims. It is pity that the authorities took action after the courageous rape victim died due to self-immolation as a protest against injustice by the police and court."
A political activist, Habkook Gill said, "Transfer, suspension and arrest of the concerned police officials over negligence in the gang rape case probe, is not enough, therefore the government must set a precedent to ensure the transparent and impartial police investigation and judicial system across the country, by awarding deterrent punishment to corrupt authorities favoring criminals." A human rights activist, Naveed Walter said, "There is no room for a parallel advisory body called 'Council of Islamic Ideology (CII)' in the presence of the elected parliament, which always targets women's freedoms and rights, and call the pro-women legislation as un-Islamic. Therefore, it must be abolished."
A social activist, Tahir Iqbal condemned the termination as well as non-regularization of nurses serving for years on an ad hoc basis, by the health department of Punjab government, and the police severe baton charge on nurses protesting peacefully. He urged the government to reinstate the sacked nurses on regular basis with dignity and promotion, and immediately arrest all those responsible for injuring the nurses and trying to curb their democratic rights of expression and assembly. A social activist, Irshad Parkash said, "The government must take substantive measure to devise an efficient monitoring system for strict implementation of laws, and must train forces responsible for the implementation of laws protecting vulnerable groups."
A political activist, Sabir Sardar Khokhar said, "It is pity that despite ban on traditional councils, an illegal Jirga chaired by a parliamentarian Ghous Bakhsh Mehr, has justified the killing in the name of honour of two girls of the Mahar tribe by their parents, for love marriage with men of the Jagirani tribe, held at Wazirabad town of Shikarpur district." "The government must take strict measures to eliminate unconstitutional, unjust, traditional "adjudication" councils like 'jirgas' and 'punchayats', which are anti-females, and repeal the 'Qisas' and 'Diyyat' law, resulting in impunity in honour killings, through waiver and compromise," he demanded.
http://www.pakistanchristianpost.com/headlinenewsd.php?hnewsid=4771
-------------
Team Wears Hijab Headscarves in Support of Muslim Teammate Banned from Match
March 24 2014
After watching their teammate get turned away due in part to her religious beliefs, the rest of the Overland High School girl's soccer team in Aurora, Colo., displayed the true meaning of unity.
According to Yahoo Sports' Eurosport, referees barred Samah Aidah from competing in a match while wearing an Islamic headscarf, or Hijab. In an effort to stand behind Aidah, all of her teammates decided to don Hijabs for their next game.
As seen in this photo courtesy of Overland High School player Divine Davis on Twitter, the entire team took part in the act of solidarity, including the coaches:
Although many of the players who wore the Hijabs weren't even Muslim, it was about much more than that. Rather than allowing their teammate to feel oppressed, the Overland players decided to take matters into their own hands.
Per Carol Kuruvilla of the New York Daily News, referees deemed that Aidah wearing the hijab in a game would have been "dangerous." However, even FIFA has decided to allow players to wear headscarves during matches, according to Al Jazeera.
Aidah and her teammates were allowed to play while wearing the hijabs in the following match.
Davis is among those who don't see any issue with female athletes being allowed to wear headscarves during competition, according to Kuruvilla.
"I think it is okay for girls to play sports in their hijabs and they should not be questioned or restricted from playing," Davis said. "No matter what sports."
Ultimately, the positives and negatives of wearing a hijab on the soccer pitch can be debated endlessly, but the actions of the Overland High School team should be applauded regardless.
Whether Overland High wins or loses every match moving forward, it is hard to imagine there being a team with more integrity and indivisibility.
What those girls did may seem somewhat minor on the surface, but it could very well lead to big changes across their sport.
http://bleacherreport.com/articles/1998766-team-wears-hijab-headscarves-in-support-of-muslim-teammate-banned-from-match
-------------
Catholics nuns in Niger: serving the poor in an Islamic country
March 24 2014
Mother Marie-Catherine Persévérance Kingbo listens very attentively. Then she replies to a schoolgirl's question as to why she, as a Catholic nun, lives in an Islamic country and says: "I heard God's call to leave everything and serve the poor."
Mother Marie-Catherine Persévérance has been working in Niger for seven and a half years. This landlocked country with an area of 1.2 million square kilometres is located in the West African Sahelian zone. It is one of the poorest countries in the world. Many people here are suffering from malnutrition. In Maradi in the south of the country Marie-Catherine founded the "Fraternité des Servantes du Christ", an order that does social and charitable work. Through education and training the community opens up new life prospects for children, young people and their parents, Mother Marie-Catherine confirmed when she visited the international Catholic pastoral charity Aid to the Church in Need.
Mother Marie-Catherine Persévérance © Aid to the Church in Need)
Until the founding of "Fraternité des Servantes du Christ", Marie-Catherine, who was born in 1953 in Guinguinéo in Senegal, had belonged to one of the first African women's congregations, the "Filles du Saint Coeur de Marie". It was there that she heard the call to dedicate her life to the poor. The Bishop of Maradi, Ambroise Ouédraogo, asked her to help the still young diocese. The community has been working there since October 2006. Together with another nun, Mother Marie-Catherine initially looked after six or seven villages. The community has since grown to include 20 women from six African countries and they regularly visit up to 120 villages. "On Tuesdays and Thursdays 500 to 600 mothers come with their children; many are malnourished. Every year we feed about 23,000 people," Mother Marie-Catherine adds.
The sisters come from the neighbouring countries of Benin and Chad, and also from Senegal; only two are from Niger itself. The country is dominated by Islam, the way of life is extremely traditional and the number of Christians is negligible. It's almost impossible to change one's faith because this would mean breaking with one's family and traditions. Even so, the initiative of the sisters in Maradi has made a considerable impact in only a few years. The locals, the village elders, the imams and the rural population show trust in the sisters. They are often greeted with phrases like: "We see God in what you are doing" or "You show us love." In the rural areas the sisters' commitment is appreciated, according to Mother Marie-Catherine, and any hostility is only encountered in the towns.
(Distribution of food in Maradi by a sister of the Congregation "Servants of Christ" © Aid to the Church in Need)
The biggest problem in Maradi, alongside the malnutrition, is the widespread custom of marrying off girls as young as ten years of age. The sisters, whose education programme is supported by "Aid to the Church in Need", speak to the parents about the consequences of this. Apart from difficult pregnancies at an early age, early sexual intercourse may cause incontinence in young girls, and this can lead to their family rejecting them. Then the adolescent girls face a bleak future. To avoid any conflicts arising because of their educational work, the sisters always inform the village elders early on. Mother Marie-Catherine explains: "We can sense changes are taking place. Now parents even approach us with the request: 'You must change things, this isn't good for the girls.'"
The "Fraternité des Servantes du Christ" also manages more and more often to persuade parents to send their daughters to school. Because classes are mostly taught in simple straw huts, village elders have also already asked the sisters for schools.
Editor's Notes
Directly under the Holy See, Aid to the Church in Need supports the faithful wherever they are persecuted, oppressed or in pastoral need. ACN is a Catholic charity – helping to bring Christ to the world through prayer, information and action.
The charity undertakes thousands of projects every year including providing transport for clergy and lay Church workers, construction of church buildings, funding for priests and nuns and help to train seminarians. Since the initiative's launch in 1979, Aid to the Church in Need's Child's Bible – God Speaks to his Children has been translated into 162 languages and 48 million copies have been distributed all over the world.
While ACN gives full permission for the media to freely make use of the charity's press releases, please acknowledge ACN as the source of stories when using the material.
For more information or to make a donation to help the work of Aid to the Church in Need, please contact the Australian office of ACN on (02) 9679-1929. e-mail: info@aidtochurch.org or write to Aid to the Church in Need PO Box 7246 Baulkham Hills BC NSW 2148.
On Line donations can be made at www.aidtochurch.org
http://members4.boardhost.com/acnaus/msg/1395632803.html
-------------
Topless Femen Protesters Get Dragged Kicking And Screaming Out Of Islamic Week Meeting
March 24 2014
A German religious forum took an unexpected turn yesterday when three topless protesters had to be dragged out of the building.
The Berlin Islam Week event, held in one of the city's town halls, was stopped in its tracks by members of extreme protest group Femen, who charged into the hall with slogans attacking 'religious oppression' and Sharia law daubed on their bodies.
Photographs from the moment the women were dragged out by policemen show a bemused-looking woman filming the event on her phone as unimpressed guests look on.
Other images show the three on stage during a discussion, where speakers were confronted with the messages written on their bodies and also on banners which they waved above their heads while shouting.
Femen, which began in Eastern Europe, is notorious for using nudity to promote their message of female emancipation and protest against governments and organisations with which they disagree.
Berlin Islam Week is open to atheists and those of other religions as well as Muslims, according to promotional material, which describes the event as 'an important part of inter-religious dialogue process '.
The description says this year's event aimed to 'provide a platform for exchange and to strengthen dialogue' and mentioned talks with 'religious, inter-religious , social and historical themes.'
A spokesman for the event said that guests reacted 'appropriately' to the 'act of provocation' and continued the event afterwards.
Following the event, Femen posted a statement online which attacked the Muslim system of law and claimed that the event was part of a culture which 'is responsible for many crimes'.
It said: 'Femen is outraged that the city of Berlin offered a public platform and support to the community that openly spreads inhuman ideology and calls for violence and incitement...'
'Femen calls western government [sic], do not ignore the fact that the violent form of Islam found its niche in the western democratic society. It operates in the parallel world in the midst of our society and is responsible for many crimes.'
'We want to encourage all women to free themselves from patriarchal structures! You are worth as much as your fathers and brothers, you have a right to physical integrity, you have a right to make your own decisions, you have a right to self-determination, to love and freedom!'
Following the event, a spokesman for Berlin Islam Week told MailOnline: 'Although [the protest] was intended as an act of deliberate provocation, we did not defer to it.
'The audience, mainly from the Muslim community, reacted to the disturbance appropriately, so that we all were very quickly able to eventually continue the program of the Islam Week.'
Femen has described it aims as 'fighting patriarchy in its three manifestations - sexual exploitation of women, dictatorship and religion.'
The group has shot to fame in recent years after sending its topless activists to disrupt high-profile events and political leaders.
Last year Russian president Vladimir Putin and German Chancellor Angela Merkel were confronted with a topless protester at a trade fair in Hanover.
In September Femen members caused further controversy by storming the catwalk at Paris Fashion Week during a show by designer Nina Ricci.
More recently, the group, which was founded by a Ukrainian, has mounted protests outside the Crimean parliament in Simferopol after the referendum which saw the region transferred from Ukraine to Russia.
http://www.dailymail.co.uk/news/article-2586403/Troupe-topless-Femen-protesters-dragged-kicking-screaming-Berlins-Islamic-Week-meeting-covering-anti-Islam-messages.html
-------------
URL: https://www.newageislam.com/islam,-women-and-feminism/new-age-islam-news-bureau/paedophilia--at-least-60-percent-of-afghan-women-married-as-children/d/66247