New Age Islam News Bureau
14 Oct 2017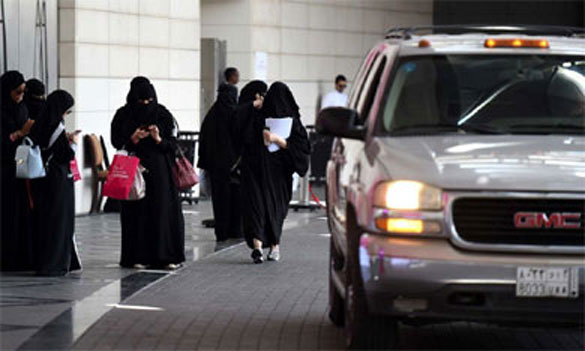 (Fayez Nureldine/AFP/Getty Images) More than 80 percent of Saudi women are likely to try to get their driving licence
-----
• Over Eighty Percent of Saudi Women Said To Apply For Driving Licences
• Legal Experts Welcome Move to Criminalize Sexual Harassment in Saudi Arabia
• 'Breath': Iran's First Oscar Nominee by Female Director
• Rs 51,000 'Shaadi Shagun' For Graduate Muslim Girls
• Iran's Health Minister Appoints Women To Key Posts
• Feminists Are Failing To Confront Islamic Society's Treatment of Women
• Mumbai Authorities Say Indian Government, Not Saudi's Has Haj Rule for Women
• Saudi Women to Steer Away Jobs from Expatriate Drivers
• Iran: Girl students sent out of Tehran U dormitory
Compiled by New Age Islam News Bureau
URL: https://www.newageislam.com/islam-women-feminism/over-eighty-percent-saudi-women/d/112886
--------
Over Eighty Percent of Saudi Women Said To Apply For Driving Licences
14 Oct 2017
More than 80 percent of Saudi women are likely to try to get their driving licence following last month's decree to overturn the ban from June 2018, according to a new survey.
Research agency Kantar TNS, in partnership with online panel providers Kantar MobiworkX and Borderless Access, said its poll also showed that key reasons for applying were to drive to work, ferrying children around and to shop more.
An overwhelming majority of would-be drivers (92 percent) are expected to reduce their reliance on taxis and services such as Uber as a result.
The study highlighted that the sentiment about the lifting of the ban is overall positive, with most males supporting the change.
The biggest emotions expressed by women were related to the feeling that society was progressing the right way (61 percent), a sense of empowerment (55 percent) and enhanced career opportunities (46 percent).
The poll comes as Saudi police have penalised a woman filmed driving a car ahead of the lifting of the ban,.
Authorities summoned the woman and booked her for flouting traffic regulations after she appeared in a video driving out of a luxury hotel in the capital Riyadh.
The Gulf kingdom was the only country in the world to bar women from taking the wheel, a ban seen globally as a symbol of repression.
Neal Henriques, regional automotive director for Kantar, said: "This historic decision by the Saudi government changes the automotive landscape in the kingdom and will present long term economic benefits beyond the automotive industry.
"Marketers who want to be ahead of the game need to gain a deep understanding of the needs and drivers that will affect female purchase decisions and tailor their offerings accordingly to capitalize on the new opportunity.
"Our initial research also indicates that the path to purchase will be far from uniform, thereby giving informed marketers an edge over the competition."
Kantar said the top 5 brands that women aspire to buy are Toyota, Hyundai, Ford and Nissan with BMW being the aspirational brand in the premium segment.
It added that dealers over time may need to revamp their sales and after sales process to cater to the needs to female buyers and relook at their communication strategies keeping this audience in mind.
Commenting on the changes, Nissan Middle East CMO Fadi Ghosn said: "We expect to see growth in the medium passenger cars and medium SUV segment as female drivers seek a combination of space, practicality and convenience. There might also be vehicle shifts within the household with existing vehicles being given to family members and new ones purchased."
http://www.arabianbusiness.com/industries/transport/381010-over-80-of-saudi-women-said-to-apply-for-driving-licences
--------
Legal Experts Welcome Move to Criminalize Sexual Harassment in Saudi Arabia
October 14, 2017
A NUMBER of legal experts have stressed the importance of the proposed anti-harassment law. They say the recent directives of Custodian of the Two Holy Mosque King Salman to criminalize harassment will ensure justice for all members of society.
The law will clearly define harassment and what actions constitute an act of harassment. An unambiguous definition of harassment will help investigators take the right decision on complaints and impose suitable punishments on the perpetrators.
Speaking to Al-Riyadh newspaper, lawyer Rana Al-Daknan said every time the public demands the authorities enact an anti-harassment law, some groups oppose such demands.
"These people claim that such a law would imply that harassment practices are widespread in Saudi society and many women suffer due to this," she said.
"I do not agree with people who oppose anti-harassment legislation on such flimsy grounds for the simple reason that the enactment of any criminal law does not mean crimes is common in society. For example, the Shariah stipulates certain punishment for theft, but it does that mean theft is common in Muslim societies," Al-Daknan said.
"People need to understand that the enforcement of law against certain crimes does not mean society is in danger because of an alarming rate of such crimes. Tying harassment with mixing of sexes is a controversial argument that does not hold much water. It is completely wrong and irrelevant."
Today, Saudi society is in dire need for an anti-harassment law, especially after the authorities have lifted the ban on women driving in the country. "The law does not question the ethics of men," Al-Daknan said, emphasizing the fact that Saudi men in general are honest, sincere and noble.
She called for installing surveillance cameras in the streets to use the footage as evidence in case of any untoward incident.
Lawyer Bayan Zahran said the Shoura Council has discussed the importance of having a harassment law to protect members of society but no action was taken so far. "Currently, sentences for harassment are discretionary and left entirely to the wisdom of the judge. In some cases, the judge sentences a harasser to flogging or a year in prison. The sentence depends on the nature of the harm inflicted on the victim," Zahran explained.
Enactment of an anti-harassment law with harsh punishments will deter sexual predators, she said, adding that the law should protect the victim and guarantee confidentiality and privacy for women who report harassment.
Fahad Al-Osaimi, a legal affairs director at Al-Bawardi Group, said harassment practices have increased lately, especially in streets, in schools and in the workplace due to the absence of a deterrent and a clear definition of what constitutes harassment. "Unfortunately, some men think that they have the right to harass any young woman who goes out in public wearing full make-up, not knowing that physical or verbal abuse can have a negative psychological impact on the woman," said Al-Osaimi.
"Some might say that the Kingdom implements the Shariah, which imposes harsh punishment on anyone who dare to disturb women, and therefore does not need an anti-harassment law in particular. In fact, we are in dire need of such a law to protect all members of society," he said.
Al-Osaimi defined harassment as an act or words that the victim finds offensive and intrusive. "It could be from sexual assault to a racist remark to insult and humiliate the victim. The category of the act is determined based on the real motive of the harasser and the harm it inflicts on the victim," he said.
Some of the reasons why the concerned authorities should enforce such law include the rise in harassment practices against young women and men alike in public places, including schools and universities.
"A boy who gets harassed at school will end up having to change the school and move to another one. A female employee who gets harassed by her superior or colleague will suffer as a result but may not be in a position to quit the job because she needs it for a livelihood. This employee may feel threatened and insecure all the time because there is no law in place to protect her," Al-Osaimi said.
"Almost all harassment acts end up not being reported to the authorities because the victim believes there is no point in reporting as there is no law in place to protect her. That is why we need an anti-harassment law that makes the potential harasser think twice before getting into the act. The law will also help investigators decide whether a harassment charge is genuine or merely a malicious attempt to frame an innocent person," he added.
Majed Garoub, a legal adviser, agreed. He said sometimes victims do not report harassment cases because there is no clear-cut punishment in the law for the criminals.
"Some women do not report harassment for fear of being named and shamed in public or because of social stigmas. This is why we need a well-defined law so that we can raise public awareness about all types of harassment and how to report them to the authorities. The law will enhance security and protect all members of society, be they citizens, visitors or expatriates, against harassment," Garoub explained.
Dr. Abdulaziz Al-Shabrami, another legal counsellor, is also of the view that anti-harassment legislation will protect all members of society, especially women who might be victimized in the workplace, school or the shopping mall, for example. "Any verbal or physical abuse should be punished in a way commensurate with the damage it inflicts on the victim," he said.
Dr. Yousef Al-Jabr, a member of the Saudi Bar Association, said victims of harassment usually feel humiliated, depressed and frustrated. An anti-harassment law will guarantee justice for the victims and deter anyone who intends to harass innocent people, he said, adding that the law should set out minimum and maximum limits of punishment, depending on the gravity of the case.
"A similar anti-harassment law was suggested by some members of the public some 15 years ago in order to protect women and children, who constitute the majority of harassment victims," Al-Jabr pointed out.
Badr Al-Rouqi, an international arbitrator, said the proposed anti-harassment law should set out deterrent punishments, such as naming and shaming of the perpetrator in public. He stressed that the law should cover all forms of harassment, including telephone calls. He said the punishment should double in case the victim is a minor.
http://saudigazette.com.sa/article/519315/SAUDI-ARABIA/Legal-experts-welcome-move-to-criminalize-sexual-harassment
--------
'Breath': Iran's first Oscar nominee by female director
Zahra Alipour
October 13, 2017
Iran's official nomination to the 90th Academy Awards in the best foreign language category is the country's first ever nomination of a female director's work. "Nafas," or "Breath," written and directed by Narges Abyar, examines a tumultuous time in Iran through the eyes of a little girl.
On Sept. 19, a jury composed of nine film professionals nominated the movie to represent Iran at the Oscars. Produced in 2015 and released in 2016, "Breath" combines animation and live action to depict the everyday life of a poor family living in Valadabad, a suburb of Karaj, during the 1979 Islamic Revolution and the 1980-88 Iran-Iraq War.
"Breath" is the story of a curious and imaginative Iranian girl named Bahar who lives in her own world of dreams and fantasies during a time that is filled with political and social turmoil. An avid reader and dreamer, Bahar dreams of becoming a "doctor of breath" so she can treat her father's asthma. Then the war starts.
"I'm not too scared of Iraqi planes, because even if they bomb us and I die, I can be a shortness of breath doctor for the dead and treat their illnesses," says Bahar as she along with her father, sister, two brothers and grandmother take shelter in a basement. In earlier scenes, Bahar innocently talks about some of the most important political-historical events that have happened in Iran in the past 40 years, including the overthrow of Iran's former ruler Mohammad Reza Pahlavi, the return of Ayatollah Ruhollah Khomeini from exile, the 1979 Islamic Revolution and the start of the Iran-Iraq War.
According to Iranian film critic Reza Seddigh, "Breath" is a unique film in the style known as "sacred defense" cinema, which includes films about the Iran-Iraq War.
In an interview with Al-Monitor, Seddigh said, "The key point here is that through the film's young narrator, the audience journeys into the innocence of childhood. Another point is the new format in which the film narrates the war. In 'Breath' we see the parallelism of the destruction of war and the shattered imaginary world of a little girl who is the film's 'superhero.'"
"Breath," based on the novel by the same name by Abyar, was named best film with a "national view" at the 34th Fajr International Film Festival in 2016. Abyar's other works in the sacred defense genre include "Trench 143," a 2013 screen adaptation of her novel by the same name.
The first film Abyar directed, "Objects in Mirror Are Closer Than They Appear," deals with social issues, particularly related to women. Commenting on why she produced works related to the Iran-Iraq War, Abyar told Al-Monitor, "For me, the war was a central issue, because part of my childhood and youth were spent during the war. Also, the drama we experienced in the eight-year Iran-Iraq War has the potential for many powerful storylines."
Last year, the Iranian committee tasked with selecting a film for the 2017 Oscars chose "The Salesman" by Asghar Farhadi, causing much controversy. The choice was strongly opposed by Iran's hard-liners, who criticized the film for being co-financed by the foreign Doha Film Institute.
The selection of "Nafas" was criticized by some culture journalists on the grounds that it was a government-sponsored film. "Breath" was produced by Abyar's husband and producer/director Mohammad Hossein Ghasemi and Abouzar PourMohammadi in association with Noor Taban Company and the Farabi Cinema Foundation, which operates under the Ministry of Culture. Ghasemi told Fars News on Aug. 19, 2015, "In terms of implementation, the private sector could not have made such a big budget film alone … and at the height of despair … Farabi stepped into the project."
According to its charter, the Farabi Cinema Foundation is a nongovernmental organization under the supervision of Iran's Ministry of Culture and Islamic Guidance, acting as a tool for implementing its cultural-artistic policies. The entity was established in 1983. According to a 2015 report, it has assisted in the production of more than 40 films either through financing or direct participation. The report explains, "Films with social subjects received the highest support that year, while those about the Islamic Revolution or the sacred defense were in second place in terms of the resources allocated to them."
On Sept. 21, Amir Esfandiari, Farabi's director of international affairs and the spokesman for the Oscars selection committee, told Shargh newspaper that the committee included directors, producers, actors, well-known film critics and other influential figures in Iranian cinema. Esfandiari added, "Certainly this spectrum of artists does not think of anything other than quality [when choosing] a film, and anything suggested otherwise is in my opinion an insult to the selection committee."
"Through the Olive Trees," a 1994 film by late Iranian director Abbas Kiarostami, was Iran's first entry for the Academy Awards following the 1979 revolution. Since then, Iran has nominated 21 films for best foreign language film, and only three have made it to the shortlists: Majid Majidi's "Children of Heaven," which was nominated in 1999; "A Separation," a Farhadi film that won an Oscar in 2012; and "The Salesman," another Farhadi film that won in 2017.
But does Iranian cinema have any hope for the 2018 Oscars? According to film critic Seddigh, "Because of its different point of view toward war and children, 'Breath' was the best choice possible. This is a successful film both in terms of cinematic professionalism and storyline, especially given the situation in the Middle East regarding war and terrorism. Of course, one must also take Oscar policies into consideration at this juncture. Take last year, for example, when [US President] Donald Trump's [travel ban] led to Farhadi's victory at the Oscars."
Based on statistics posted on Iran's official Sacred Defense website, 2,906 children were killed during the Iran-Iraq War. Referring to this figure, Abyar said, "These kids, like Bahar in our story, were full of hopes, dreams and fantasies. Nothing would have stopped their wishes, imaginations and fantasies. Not poverty, not illness, nothing. The only thing that stands in the way of their dreams and causes destruction is war. 'Breath' is a film which criticizes war and praises peace."
http://www.al-monitor.com/pulse/originals/2017/10/iran-sends-breath-to-oscars.html
--------
Rs 51,000 'Shaadi Shagun' For Graduate Muslim Girls
October 13, 2017
New Delhi, October 13: Meritorious Muslim girls who complete their graduation before marriage would get Rs 51,000 from the ruling Bharatiya Janata Party (BJP) at Centre under the Shaadi Shagun scheme. The Ministry of Minority Affairs approved the proposal put forward by Maulana Azad Education Foundation.
The scheme aims to encourage higher education, reported News 18. Those who have availed the Begum Hazrat Mahal scholarship (BHMS) which is funded by Maulana Azad Education Foundation are entitled to avail the benefits of this scheme that would be introduced as a top-up. In the BHMS, meritorious girls belong to minority communities like: Muslims, Christians, Sikhs, Buddhists, Jains and Parsis.
Parents of girls earning Rs 2 lakh per year cannot avail benefits of Shaadi Shagun scheme.
Shakir Hussain Ansari, Treasurer of the Maulana Azad Education Foundation, said that families of Muslim girls and minority community are always puzzled about their daughter's marriage and education and most of them save money to spend on daughter's wedding, not for education purpose.
The foundation plans to explain the details about the scheme to all on its online portal.
Scholarships for the weaker section in minority communities was introduced in 2003 by the Atal Bihari Vajpayee government. Before this, the meritorious girls belonging to the minority community were given a stipend of Rs 12,000 on monthly basis until class 12.
http://www.india.com/news/india/under-shaadi-shagun-scheme-modi-govt-to-give-rs-51000-to-graduate-muslim-girls-2532108/
--------
Iran's health minister appoints women to key posts
October 13, 2017
According to Health Ministry's official website, Qazizadeh Hashemi has appointed Maryam Hazrati as the deputy health minister for nursing, Sareh Mohammadi as the advisor to women affairs, and Shahla Khosravi as the advisor to midwifery affairs.
Hazrati, PhD in gerontological nursing, is currently the chancellor of the School of Nursing and Midwifery at Shiraz University of Medical Sciences. Mohammadi, a cardiologist, is the director for treatment monitoring department of the Health Ministry. Khosravi is also holding a master's degree in midwifery and a PhD in reproductive health.
Earlier, after his re-election to office, Qazizadeh Hashemi assigned another women, Tahereh Changiz, as the caretaker for Isfahan University of Medical Sciences.
http://www.tehrantimes.com/news/417536/Iran-s-health-minister-appoints-women-to-key-posts
--------
Feminists Are Failing To Confront Islamic Society's Treatment Of Women
Robert Fulford
October 13, 2017
Of all the citizen-driven movements of our time, feminism has proven the most successful. Through argument and passion, feminists have made serious changes. In equal-pay legislation, marital rights, education, politics and the professions, women are better off. They have even erased, in many places, entrenched anti-woman prejudices that seemed unshakeable only a few decades ago.
But on one subject feminists have failed completely. They have remained silent on the brutal reality of women in Islamic countries.
Feminists of all genders do a disservice to their sisters in Islam when they ignore ordained rules and practices they would never tolerate in their own lives. This crucial (and rather embarrassing) flaw in Western feminism was emphasized recently by two women with deep knowledge of the problem: Ayaan Hirsi Ali, a Somali-born, ex-Muslim author renowned for her criticism of Islam; and Asra Q. Nomania, a co-founder of the Muslim Reform Movement.
In a joint statement directed at women who marched across the U.S. against President Donald Trump's policies, they said: "We're still waiting for a march against honour killings, child marriages, polygamy, sex slavery or female genital mutilation."
They implied that they expected to wait a long time. Hirsi Ali believes that feminist thinking avoids a reasonable approach to Islam: "If one finds white male sexism intolerable, then one should find all male sexism just as intolerable. Excusing men of colour, Muslims, immigrants or men living in non-Western societies for bad behaviour toward women is an expression of the bigotry of low expectations. The result of this mindset is that Christianity is criticized for every misstep against women but Islam is protected from the glare of scrutiny."
As Hirsi Ali sees it, there are several reasons why universal standards are not applied to Muslim men. Feminists may view them as victims of colonialism and military invasions. They may be forgiven because they are new immigrants facing cultural alienation. Or perhaps they can't be deprived of "their last source of pride: their domination over their women."
Sadly, Hirsi Ali is not always taken seriously by those who need her most. Feminists, if they notice her, tend to take a guarded position. They seem to fear that she's too direct when writing on a subject they approach with caution. While she seems a heroic figure to many of us, I believe many feminists would be happier if she stopped writing.
One highly experienced advocate from the last feminist surge has argued from a position much like Hirsi Ali's. Phyllis Chesler said recently in a speech that feminists have failed to confront the rampant misogyny at the heart of Islam. She thinks feminists condemn Western imperialism but refuse to acknowledge the long history of Islamic imperialism, colonialism, slavery, anti-black racism and religious and gender apartheid.
In the 1960s and 1970s, as Chesler campaigned with the National Organization for Women (NOW) and other organizations, she understood that they were talking about women everywhere. She also worked with Muslim dissidents and artists from Israel, Egypt, Kuwait, Iran and Lebanon. Now, she complains that, "What I describe as a 'faux feminism' has arisen in the last 30 years, a postmodern and postcolonial feminism that passionately condemns Christianity and Judaism but dares not critique religiously supremacist Islam for this same reason." She thinks that women's studies associations and national feminist organizations are not merely politically correct. They have become "Islamically correct."
She recalls organizing rape-crisis counselling and new laws about rape. Today, feminists in the West are not rescuing rape victims in Islamic communities, she says, because they "are too nervous about being called Islamophobes, racists or colonialists." She recommends that feminists help girls and women in the West "who are being beaten, stalked, and death-threatened by their own families because they refuse to veil or to marry their first cousin." She wants feminists everywhere to create shelters where honour-based violence is forbidden.
Perhaps the central problem is that feminism has been shaped by its potential audience. In the West, it speaks to women and men who have learned that critical thinking is a natural part of civilization. Those reared in Islam, on the other hand, rarely have acquired that conviction. "They fear critical thinking," Hirsi Ali has said. Feminists will never stop criticizing ignorant and powerful men in the West for their treatment of women, but they can't imagine how to address the very different men produced by Islam.
http://nationalpost.com/opinion/robert-fulford-feminists-are-failing-to-confront-islamic-societys-treatment-of-women
--------
Mumbai Authorities Say Indian Government, Not Saudi's Has Haj Rule For Women
Oct 14, 2017
While women older than 45 will no longer be required to go on the Haj pilgrimage accompanied by a mehram — a male guardian with whom marriage is prohibited in Islam — some Muslims demanded that these women also be exempt from travelling in groups.
However, the Haj Committee of India (HCOI) said this criteria is meant to ensure the security of women.
"The Saudi government has not specified that women older than 45 should travel in groups. But, it is part of our country's provisions to ensure the safety of women," said Maqsood Ahmed Khan, chief executive officer, HCOI.
Mehboob Ali Kaiser, managing director and chairman, HCOI, told HT that young women were not allowed to travel without a mehram as "women are more mature only after 45".
On Thursday, members of Indian Muslims for Secular Democracy (IMSD) and Bharatiya Muslim Mahila Andolan (BMMA) proposed that women across all age groups be allowed to travel alone.
This comes in the wake of the proposed Haj policy, which recommended abolishment of the Haj subsidy, reducing the number of places where Indian pilgrims can leave from, from 21 to nine and changes in Haj quota between HCOI and private tour operators.
Some HCOI members will meet government officials on Saturday to discuss changes to the policy. The committee will propose that the reduction of places from where pilgrims leave be deferred, the status quo between HCOI and PTOs be maintained, and reserved category for pilgrims above 70 be continued.
http://www.hindustantimes.com/mumbai-news/mumbai-activists-say-indian-government-not-saudi-s-has-haj-rule-for-women/story-tXsApwYHCkiN9YmBgHxukK.html
--------
Saudi women to steer away jobs from expatriate drivers
October 13, 2017
Jeddah: After the historic decision to reverse a ban on women driving in Saudi Arabia, thousands of family drivers, mainly from South Asia, fear that their services will no longer be needed.
For decades, Saudi women have depended tremendously on their drivers.
According to the General Authority for Statistics, there are almost 1.4 million family drivers in Saudi Arabia, constituting a whopping 60 per cent of foreign domestic workers.
With women finally able to drive, demand for family drivers could soon dwindle.
A report in Al Madinah newspaper stated that approximately 60 per cent of drivers risk losing their jobs.
Speaking to Gulf News, many family drivers say they are worried their services will no longer be required.
Saudi national Dhai Moawadh, who works as an executive secretary at Dr Samir Abbas Hospital, said, "Once I'm allowed to drive, why will I need a driver to take me to work or run errands?"
On an average, drivers in Saudi Arabia make between 1,500—2,200 riyals (Dh1,469-Dh2,155) a month. Many are the sole breadwinners for their families back home.
According to local analysts, drivers send about 60 per cent of their income to their home country, which collectively amounts to an estimated 1.23 billion Saudi riyals monthly.
Anwar, from India, used to work here as a driver for an upper middle class family for four years before becoming homesick and requesting his employers to send him back
"Back in New Delhi, I was not able to make ends meet as a family driver and the work was also too much," he said, adding that he returned to Jeddah after two years.
Now, Anwar worries his employer will send him back.
Some Saudis who spoke to Gulf News said they are relieved that soon they will no longer have to rely on drivers.
Many Saudis complain that because women were dependant on drivers for almost everything, many chauffeurs would take advantage of them. Some drivers would allegedly not answer their phones, refuse to work on weekends, and accrue traffic tickets.
Some even went so far as to extort their employers and demand salary bumps each year, according to some Saudis. Saudi national Umm Ameen said, "Thank God for women being able to drive now as I won't have to deal with my driver and his tantrums anymore. Every day he has some excuse or a story ready that revolves around money."
An Indonesian driver, Seri, who works for a middle class family, said he typically asks his employer for a raise at the time of renewal of his contract every November, but this time he would not.
Pakistani driver, Ahmad Zia, works for an elderly Saudi woman. In addition to running her errands he makes extra trips to drop her daughter to and from university.
While he welcomes the decreased workload, he will also miss out on the extra pay he used to rake in.
To hire an expatriate driver from abroad and bring him to Saudi Arabia is not only taxing for families but also involves a lengthy and tiresome recruitment process.
It costs a family approximately 10,000 to 12,000 Saudi riyals upfront, which includes government, recruitment office, and visa fees, medical fitness tests, and air-ticket.
High cost of hiring a driver
Annually, it costs a family approximately 40,000 to 45,000 Saudi riyals.
The cost includes salary, housing, phone bills, residence permit and driving licence renewals, and medical insurance every year; and a return ticket once every two years.
Women's driving would help reduce Saudi families' financial burden exponentially, alongside encouraging them to enter the workforce.
Sadiya A Nadeem is a freelance journalist based in Jeddah
http://gulfnews.com/news/gulf/saudi-arabia/saudi-women-to-steer-away-jobs-from-expatriate-drivers-1.2105210
--------
Iran: Girl students sent out of Tehran U dormitory
13 October 2017
All the girl students staying in Tehran University's Fayz Dormitory were sent out of the building at night.
The students who were from the central Iranian city of Kashan were forced to leave the building at 22.30 p.m. on Wednesday, October 11, 2017.
"The reason behind this incident was an argument between the university and the dormitory's officials," a student said.
http://www.women.ncr-iran.org/iran-women-news/4390-iran-girl-students-sent-out-of-tehran-u-dormitory
--------
URL: https://www.newageislam.com/islam-women-feminism/over-eighty-percent-saudi-women/d/112886
New Age Islam, Islam Online, Islamic Website, African Muslim News, Arab World News, South Asia News, Indian Muslim News, World Muslim News, Women in Islam, Islamic Feminism, Arab Women, Women In Arab, Islamophobia in America, Muslim Women in West, Islam Women and Feminism