New Age Islam News Bureau
20 Jun 2016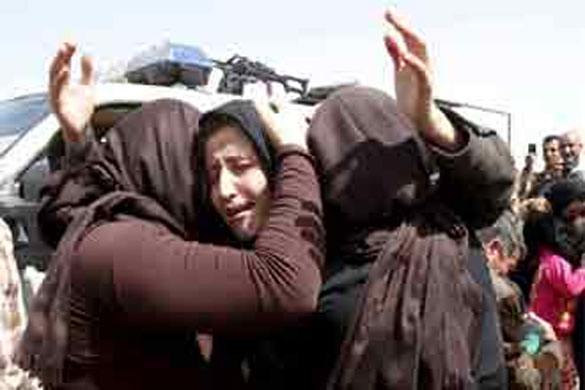 Photo: TEHRAN (FNA)- A local Ezadi official in Iraqi Province of Dohuk revealed that over 350 Ezadi abductees were freed from the ISIL by the Iraqi forces in Fallujah.
----------
• Malaysia: A Second Wife for RM3, 500?
• This Guy, Azad Chaiwala, Has Set Up a Dating Site to Help Men Find Second Wives
• Muslim Woman Deluged By 'Hate Tweets' After Helping Homeland Security Panel
• Sayeeda Warsi quits leave campaign over 'hateful, xenophobic' tactics
• Women in Islam: Role of Women in Family and Society
• This Muslim Organisation's Campaign for a Ban on Triple Talaq Is Commendable but Blinkered
Compiled by New Age Islam News Bureau
URL: https://newageislam.com/islam,-women-and-feminism/new-age-islam-news-bureau/over-350-ezadi-women-freed-from-isil-in-fallujah/d/107705
---
Over 350 Ezadi Women Freed from ISIL in Fallujah
Mon Jun 20, 2016
TEHRAN (FNA)- A local Ezadi official in Iraqi Province of Dohuk revealed that over 350 Ezadi abductees were freed from the ISIL by the Iraqi forces in Fallujah.
Hadi Dubani, the director of Ezadi Affairs in Dohuk province, told Bas News that they were informed by the Iraqi forces that 354 Ezadi women and girls, previously abducted by the ISIL militants in Sinjar, have been freed in Fallujah by the Iraqi forces, BAS News reported.
Dubani said "The freed Ezadi women are now in Amirya area in Fallujah under the protection of the Iraqi forces. They are expected to arrive in Kurdistan Region in the near future.
Earlier this month, 4 Ezadi girls were freed by the Iraqi forces soon after the Fallujah offensive was launched, they were later reunited with their families in Erbil.
The Directorate of Ezadi Abductees Affairs in Dohuk province, which works to locate and free Ezadi captives, previously, told BasNews that hundreds of Ezadi girls, who were abducted by the ISIL militants during the Sinjar massacre, were held in Fallujah with an uncertain future.
ISIL militants enslaved over 5000 Ezadi girls, women and children after they attacked the Ezadi major town of Sinjar in August, 2014, near 2000 Ezadi abductees have so far been freed from the grip of the ISIL militants with thousands more still being held by the extremist group.
The rescue of the Ezadi women comes after the Iraqi government forces entered Fallujah last Friday and liberated most of the city from ISIL.
en.farsnews.com/newstext.aspx?nn=13950331000779
--
Malaysia: A Second Wife for RM3, 500?
20th Jun 2016
KUALA TERENGGANU: Fancy taking on a second wife for the relatively low price of RM3, 500? This was the package offered to Muslim men in the state by a syndicate, who presented them a hassle-free opportunity at polygamy, complete with a marriage certificate and registration card. The only catch? The marriage certificates and cards turned out to be fake. The syndicate's three members, comprising civil servants including a Terengganu religious affairs department, were busted in Kuala Terengganu by the Malaysian Anti Corruption Commission (MACC). An MACC spokesman said the three, aged between 30 and 43, were detained following an 11-hour sting operation on Sunday. "The first to be nabbed was the 43-year-old religious officer soon after he had received the final payment of RM1,000 and was about to hand over the false documents to a couple. "In follow-up operations, we detained a 30-year-old civil servant at 5.30pm, before picking up the third culprit, aged 34, at 11.30pm. "Both men were in possession of RM3,500 each," said the spokesman. The investigating team learnt that the syndicate charged RM3,500 for each transaction and the couples had their marriages registered in a neighbouring country, without the consent from the first wife or a syariah court. MACC intelligence director Datuk Hishamuddin Hashim confirmed the suspects have been remanded for seven days from today (Monday) to facilitate investigations under Section 17(a) of the Malaysian Anti Corruption Act 2009.
nst.com.my/news/2016/06/153244/second-wife-rm3500
--
This Guy, Azad Chaiwala, Has Set Up a Dating Site to Help Men Find Second Wives
20 JUN 2016
A DATING website has been set up to help men find second wives, and already has 35,000 members.
The man behind SecondWife.com, web boss Azad Chaiwala, insists the service promotes fidelity, morality and old-fashioned family values, reports The Sun.
The 33-year-old entrepreneur believes in his product so much that he plans to select his next two wives from the company.
The site has proved so successful among Muslim men that another site, this time for Westerners, has opened for business — and is especially popular with women.
Bolstered by the site's success, Mr Chaiwala has also started a dating service for all faiths, Polygamy.com, a website which carries the banner "Welcome to the world of polygamy" — which has attracted more than 7000 members since it launched earlier this year.
Users are greeted by a picture of a beaming, multicultural family and the proclamation: "We want bigger, stronger families."
Visitors to SecondWife.com first click on a verse from the Koran: "Then marry women of your choice, two or three, or four, but if you fear that you will not be able to deal justly, then only one."
Polygamy.com is more tailored to a Western audience, proclaiming: "We specifically cater to individuals who are seeking a polygamous relationship. Browse hundreds of articles related to polygamy."
Mr Chaiwala says he has asked a number of celebrities to promote his business, but they have declined.
He admits there is a danger that those looking simply for no-strings sex may infiltrate the sites, particularly Polygamy.com, but everything is done to ensure users are genuine.
"Everything has a purpose. I can go in the kitchen and get a knife, something used to cut vegetables, and hurt someone.
"There are always people who will abuse things. Users police each other and every picture is vetted for decency.
"We do not allow cleavage."
Speaking to the Sunday Mercury, Mr Chaiwala claimed polygamy across all religions is more popular than it has ever been.
The British businessman intends to use SecondWife.com to find two more partners — but admits his wife has concerns.
"There is not a woman on earth who would be totally comfortable with it," he said.
"This is my wedding, I do not need to have a piece of paper. Is it illegal to have a mistress?"
The website boss says he is providing a service which prevents loneliness among married women, reduces infidelity and stops the spread of sexually transmitted disease.
And he is certain that polygamy will eventually be made legal in Britain and other Western countries.
"People go to a nightclub and have a one-night stand and that's the end of it. Men go with prostitutes; people look for swingers' clubs," he said.
"A man wants to get married to multiple partners in an honourable manner, he wants to share his love and resources — why do you have an issue with that?
"It is not for everyone — some men are not physically, or financially, capable of taking care of other women."
Speaking to the newspaper he stressed polygamy is not just confined to the Muslim faith.
"Two hundred years ago, there were British viceroys who had seven or eight wives.
"Islam puts a limit on the number of wives, while with other religions there is no limit. If it is good for me and acceptable in the eyes of God, it must be fine."
The site hasn't impressed everyone however.
Khalid Mahmood, a British MP who is Muslim himself, branded the venture "stupid" and warned that women entering a polygamous relationship are waving away financial rights usually attached to a marriage.
He told the newspaper: "It puts a person in huge peril because they are not allowed to claim, as a partner, on his estate.
"It is not acceptable and puts individuals very much at risk, it puts them at a huge disadvantage.
"They think they are doing the right thing, but it does put them at risk in terms of the financial situation."
The MP said it was a concern that they have emerged at a time when an increasing number of Muslim relationships were breaking down.
Mariam Khan, councillor for Washwood Heat in Birmingham, UK, said polygamy was originally allowed to provide help, shelter and support for women who had lost their husbands, perhaps through war. She said in the current climate it has been abused and has become disrespectful to women.
She told the Sunday Mercury: "It is the women who suffer. The modern-day version of looking for a second wife is disrespectful to women, and it is not using the Islamic teaching in a fair way. It ends up in a deteriorating relationship between the husband and first wife."
In the UK and Australia it is illegal to have multiple wives.
Mr Chaiwala claims that he is not promoting a criminal act and says his religion allows a man to have up to four wives, as long as they are in agreement.
news.com.au/lifestyle/relationships/marriage/this-guy-has-set-up-a-dating-site-to-help-men-find-second-wives/news-story/e302ce0559472ce8c3c267abcabe64c9
--
Muslim woman deluged by 'hate tweets' after helping Homeland Security panel
June 19, 2016
"I hope you die slowly in a pool of pigs blood."
"Can I use that towel on your head to wipe my a**"
These are just a couple of the cruel tweets that Laila Alawa, a 24-year-old entrepreneur, has had directed at her in the past week.
Alawa, who is Muslim, heads up a website called The Tempest that gives voice to millennial women of all ethnic backgrounds.
On Tuesday, she woke up to hundreds of "hate tweets." The vitriol hasn't stopped since.
Alawa was the subject of an article on conservative website The Daily Caller, titled "Syrian immigrant who said 9/11 'changed the world for good' is a homeland security advisor."
It used some of Alawa's tweets to support the claim, including one in which she wrote "9/11 changed the world for good."
Alawa explained that she meant "for good" as in "forever" -- not "for the good." The same tweet also read, "I just hope we keep having open conversations about our differences."
Alawa, who is Syrian, was born in Denmark and lived in Japan for several years before immigrating to the United States as a child.
The story came after the Department of Homeland Security released a report titled Countering Violent Extremism. Alawa was part of a subcommittee that helped brainstorm solutions for the report. She told CNNMoney that the subcommittee met about three times over a six month period and that she spent about 40 hours on it in total. Her name wasn't on the report itself, but her involvement can be found on other documentation online.
Alawa told CNNMoney it was "terrifying" to be painted as a "radical Islamic terrorist." The sentiment was echoed in thousands of hateful tweets from online trolls responding to the Daily Caller's article, as well as articles in Breitbart and other blogs.
The tweets threaten her life and mock her looks and religion.
The Daily Caller's story came out shortly after the massacre at a gay nightclub in Orlando. 49 people were murdered in the country's worst terror attack since 9/11.
"I understand that this is a really difficult political climate. People are afraid ... but it is entirely defamatory," said Alawa, who added that the Department of Homeland Security has done little to come to her defense.
"Laila Alawa was selected as a subcommittee member because of her perspective as a Syrian American woman of the millennial generation," J. Todd Breasseale, assistant secretary for public affairs at DHS, wrote in an email to CNNMoney. "[She] is not a member of the ... Homeland Security Advisory Council, as has been erroneously reported by some."
The Daily Caller stands by its story.
"To be clear: Ms. Alawa never served on HSAC itself--only the Subcommittee on Combating Violent Extremism. My piece reflected that distinction," wrote reporter Peter Hasson in an email to CNNMoney. When asked about the backlash, Hasson wrote: "I wholeheartedly condemn any harassment or threats."
But the article had no mention of Alawa's work as an entrepreneur or The Tempest's attempts to normalize what it means to be a woman perceived as an "other."
"I've grown up as a visible Muslim, with people spitting on me, yelling at me, harassing me," she said.
This attention is something she said she didn't expect to result from her involvement with the subcommittee, which she participated in because "if you're not at the table, you're on the table."
"This has been really difficult," Alawa said of the online harassment. She said she's reported thousands of the tweets to Twitter and has been in touch with its safety team -- but less than a dozen have been taken down.
She said she's also notified the police, who came to her home in Washington, D.C. But the response to online harassment has been less than comforting.
"[The police] didn't understand what 'doxxing' meant," she said, referring to a type of harassment where trolls use public platforms to dig up personal information and threaten someone's safety.
Alawa said the police failed to understand the gravity of the online threats, which is a frequent critique of law enforcement.
"The law is about harassment in the physical world," Ari Ezra Waldman, an associate professor of law at New York Law School, told CNNMoney earlier this year. Law enforcement can see online threats as "just words."
Alawa said that her name has been tarnished.
If you Google her name, these stories are the first that come up, which she fears could impact her company and its ability to raise funding from investors. Yet she refuses to make her Facebook and Twitter accounts private.
"That just shows them that they've won and that they've silenced me," she said. "That would be the ultimate loss for me."
money.cnn.com/2016/06/19/technology/laila-alawa-trolling/
--
Sayeeda Warsi quits leave campaign over 'hateful, xenophobic' tactics
Monday 20 June 2016
Sayeeda Warsi, the former chair of the Conservative party, has said she will no longer support the campaign to leave the European Union just days before the referendum, accusing it of "hate and xenophobia".
Warsi said the positive case for leaving the EU had been neglected by the official campaign, though leading leave campaigners have denied she was ever an active participant in the campaign.
"Why is it people like me, instinctively Eurosceptic who feel the EU needs reform ... feel they now have to leave leave?" she told BBC Radio 4's Today programme on Monday. "Because day after day what are we hearing? The refugees are coming, the rapists are coming, the Turks are coming."
Warsi's intervention came amid a slew of news around the referendum campaign, with car manufacturers, Richard Branson and premier league football clubs urging a vote for remain.
Warsi cited the poster showing migrants and refugees queueing on the border of Slovenia with the caption "Breaking point" as her key reason for leaving the campaign, as well as the repeated comments made by Michael Gove over Turkey's accession to the EU.
Warsi said the image in the poster was "perpetuating a set of lies about who those people are, where they were going, suggesting they were coming to the United Kingdom".
"This kind of nudge-nudge, wink-wink xenophobic racist campaign may be politically savvy or useful in the short term but it causes long-term damage to communities," she told the BBC.
Warsi said Conservative mayoral candidate Zac Goldsmith's campaign in London against Sadiq Khan had been another example of "divisive toxic politics [which] must no longer be allowed to be successful and although I would have wanted to see a mayor who was a Conservative candidate, it was a relief that campaign did not succeed".
Accusations of divisive tactics by Vote Leave intensified after the shock murder last week of MP Jo Cox who had campaigned for refugees' rights. Her alleged killer, Thomas Mair, replied: "Death to traitors, freedom for Britain," when asked to give his name at a court appearance on Saturday.
Farage, the Ukip leader, was forced to fend off criticism of the poster over the weekend as polls indicated the two sides were neck-and-neck ahead of the 23 June vote. George Osborne, the chancellor, called it "disgusting and vile" and said it had "echoes of literature used in the 1930s".
Speaking on the Today programme, Farage said the poster had been withdrawn, saying it was "unfortunate timing that within a couple of hours this terrible tragic murder took place and when we saw that, we immediately withdrew the poster because we understood it was a day for everyone to go quiet and be silent".
He defended the use of the image of queuing refugees on the Slovenia border, saying it was similar to one of a queue used by Ukip in the mayoral elections, though that poster did not use an image of real people or of refugees. Asked whether it was misleading to use a photograph of refugees in the Schengen zone, of which Britain is not a member Farage said: "We are members of a political union which is failing and we get the knock-on effects."
European neighbours want Britain to remain – but only just Warsi, a member of the House of Lords, was a junior Foreign Office minister under David Cameron until she resigned in protest at the government's policy on the Israel-Gaza conflict in 2014.
Speaking earlier of the leave campaign, she told the Times: "I look at that group of people and I think they're not the kind of people I'd get on a night bus with. Why would I want them to run my country?
"I don't want the leave camp to be running this country and I don't want the messages coming out of that camp to form the basis of the kind of Britain that I want to live in and to bring my kids up in."
She also accused Gove of telling "complete lies about Turkey's accession to the EU".
Following her announcement, Vote Leave questioned whether Warsi had ever supported its campaign. "When I invited Sayeeda Warsi to join the leave campaign, she declined," Daniel Hannan, a member of the Vote Leave campaign committee, wrote on Twitter.
Warsi said Hannan was being "disingenuous" but admitted she had not participated in Vote Leave events for a number of weeks, putting her lack of enthusiasm for campaigning down to a feeling of unease.
"I was making the case to leave before Vote Leave had ever formally been established," she told Today. "I had a very clear conversations where I said I had concerns about people who were now becoming involved in the Vote Leave campaign, taking the message of what Vote Leave stood for down a path that I was not comfortable with... unfortunately those moderate voices have been stifled."
Separately on Monday, the 20 clubs in football's top tier have said they would prefer Britain to stay in the EU, according to Peter Scudamore, the executive chairman of the Premier League. "The reason we have concluded that remain is best is because of our outlook. We are a global export, we look outwards," he said.
"Are we better acting like we want to play our part in the world and be worldly citizens or do we send a signal to world that says actually we're kind of pulling the drawbridge up here...?
"There is an openness about the Premier League, which I think it would be completely incongruous if we were to take the opposite position."
Car manufacturers have also warned that a vote to leave would risk jobs in the industry. Mike Hawes, the chief executive of the Society of Motor Manufacturers, told the BBC leaving the EU would jeopardise the industry's continued success.
Directors at Toyota UK, Vauxhall, Jaguar Land Rover and BMW, as well as from component makers GKN and Magal Engineering, also backed the remain campaign.
He said: "Remaining will allow the UK to retain the influence on which the unique and successful UK automotive sector depends," Hawes said.
Roy Harvey, the chairman of Vauxhall, said leaving the EU would be undesirable because the industry benefited from the free movement of goods and people.
Vote Leave says British cars are increasingly being exported outside the EU and Brexit could provide a boost to the industry.
A report by the Economist Intelligence Unit earlier in June said UK car sales would decline "over the next few years" if there was a vote to leave the EU.
theguardian.com/politics/2016/jun/20/sayeeda-warsi-quits-leave-campaign-over-hateful-xenophobic-tactics?utm_source=esp&utm_medium=Email&utm_campaign=GU+Today+main+NEW+H+categories&utm_term=178156&subid=18185057&CMP=EMCNEWEML6619I2_footer
--
Women in Islam: Role of Women in Family and Society
June 20, 2016
This question in one form or another grabs the headlines every few weeks. From a moral point of view Islam does not leave any ambiguity for its followers. Islam holds the highest respect for a woman as a mother, with paradise lying beneath her feet. No matter how well you serve your parents, Muslims believe, you can always do better. As a daughter too, a woman guarantees a heaven in reward to her father. These moral principles do not make the news, however. What grabs media's attention instead are the legal questions.
Can a woman be stoned to death under the Islamic law or be flogged publicly? If so, why? Can a man beat his wife? If yes, how hard and under what circumstances such behaviour is permitted? What is the minimum legal age for a girl to get married? Can her consent at the age of 10 or 11, even when she has reached puberty, be considered a real consent? Does she understand at that young age what it means to be married, get pregnant and take care of a husband and a neonate?
On top there are matters related to inheritance and jurisprudence, although they are not called into question as often, but down the road they will also arise. Why would the daughter get half as much the estate of her father as the son? Why should her testimony, regardless of the situation, be not considered equal to that of a man?
How about polygamy? I know the permission to have more than one wife comes with a perquisite to treat all of them justly. But why is a man allowed to have more than one spouse while a woman does not? With the genetic testing nowadays in case of confusion, we can find out about the paternal gene of the child. So should we now permit women too to have more than one husband? Or should we redefine marriage between two consenting adults instead of three, four or five?
These are not easy questions. Anyone among Muslims challenging the divine injunctions take the risk of being labelled as a non-Muslim, and may even run the risk of losing his or her life. But I do not think avoiding these questions through fear or coercion will take Muslims anywhere. It can surely delay, but these concerns will remerge eventually.
Realising that both Muslim states and Muslim scholars have attempted to address them. How? Mostly by believing that the reason for our current state of affairs is because we have drifted away from the original message of the Holy Quran. And if we read the Holy Quran thoroughly, understand its spirit and implement its laws we would not only find answers to all our concerns but also reclaim our past, a past in which new ideas and scientific research was streaming out of many Muslim heartlands.
Currently, two countries are trying to do just that: Iran and Saudi Arabia. Is anyone of them close to reclaim the "old glory" or even be found on that track? With some differences in details, they have more in common in regard to treatment of women than not. On scientific method too, they follow each other's lead in going downhill.
Individual scholars too have tried to bring new understanding of the Islamic principles. I do not doubt their sincerity, however, their "creativity" in explaining the meanings of the Scripture is remarkable, to say the least. For instance, regarding the verse about "beating" of women, some say it means to hit lightly without leaving a mark, and others claim it is to shake her as if you are angry while asking a question about her extramarital affair. Still others pronounce that it means to forsake her and nothing more. The relevant verse, on the other hand, uses the word Wazribu derived from the root Zarb (hit) as in Zarb-e-Azab. Now tell me, are we forsaking Taliban or beating them lightly or touching them gently?
To give you another example, for some the word Hoor-ul-Ain, which generally is understood as the beautiful virgin means grapes. So according to them, Muslims, irrespective of gender, would get 72 grapes in paradise instead of virgins with big eyes. I understand that every word in Arabic like many other languages carry more than one meaning, some of them just the opposite of each other. But the question is how often we will impart a different meaning to the same word. And for how long we will debate on one being more logical than the other. And who will decide about the validity of either of the claims?
Before the modern era began, let us say half a millennium ago, all the world religions treated their women almost the same way. There were differences, of course, but Islam did not stand out alone as the only one being harsh. With reformation, the West adopted a more pragmatic approach of resolving their issues, while Muslims relied upon their past as the solution of their contemporary problems. That is why, you will not find a westerner — even when he claims to be a devout Christian and believes in every word of the Bible as the word of God — who tries to implement the rules suggested by the New Testament.
I think Muslims will have to do the same. The modern age demands a new understanding of the role of women in family and society, a society in which they take part in science and education, literature and arts, research and critical thinking, and even in war and policy making as much as men do. The idea of a domestic servant locked up in the house cooking, cleaning, dusting and washing clothes will not last long.
dailykashmirimages.com/Details/112992/women-in-islam-role-of-women-in-family-and-society
--
This Muslim organisation's campaign for a ban on triple talaq is commendable but blinkered
June 19, 2016
As part of its campaign against triple talaq, the Bharatiya Muslim Mahila Andolan has been circulating short personal stories of women on social media in a series titled "3 Seconds Divorce". One story is posted for every day of the month of Ramzan to remind religious members of the Muslim community of the need to ban instant triple talaq to secure the dignity of the affected women.
Among the eight women whose stories have been posted so far, the first is from Mumbai, the next four are from Tamil Nadu, one is from Rajasthan and the last from Maharashtra.
Most of the women were married young. Their literacy levels are not known but the fact that they have little earning skills is apparent. These hard-hitting narratives of these women rooted in their socio-economic context of poverty and destitution are authenticated with photographs and names. They end with a one-point agenda in support of the Bharatiya Muslim Mahila Andolan campaign – ban triple talaq.
Address wider concerns too
I find the rigour and singular focus with which the andolan has pursued its cause and gained public support both from the media and progressive Muslims commendable.
But my point of discomfort is that while the narratives provide a socio-economic context of the women's lives, and suggest that these are the root cause of their misery, there is a disconnect.
There seems to be no effort to address these wider concerns. The women do not seek any other mechanism for redressing the acute domestic violence, economic deprivation, desertion, extra-marital affairs of their husbands. All they desire is a ban on triple talaq, as if it is a magic wand that will end the multiple issues that are causing misery in their lives.
These women are entitled to legal remedies and protections within their marriage and upon divorce. However in these stories, and throughout its campaign, the Bharatiya Muslim Mahila Andolan has consistently ignored this. The framing of these stories makes me wonder if this is a deliberate manipulation of these women's personal miseries to suit the agenda of the andolan.
I find the first story of Mumbai-based Rubina Sheikh, 32, most tragic. As her husband had deserted her, she wanted maintenance. She approached the Andolan's Aurat ki Shariah Adalat, or women's court, in 2015. She did not approach the family court in Mumbai or the magistrate's court to secure her right to maintenance.
In her own words:
"[The] adalat called him for reconciliation. While negotiations were still going on, he orally pronounced talaq three times and walked off. The adalat did not accept the divorce and pressurised him to pay maintenance. My husband said he had divorced me because he did not want to stay with me and wanted to marry another woman. He remarried after giving divorce to me."
No legal standing
Here the use of the word adalat itself is a manipulation. Anyone reading it may think it is a formal court or at least a recognised sharia court or a qazi court – which also does not have the power of a civil court but there is an acceptance of these courts within the Muslim community – but this is neither.
It is an NGO devoid of any power or authority to enforce its orders, yet the name Aurat ki Shariah Adalat conveys the impression that it is a formal sharia court, vested with authority. The adalat is similar to thousands of counselling centres run by NGOs, which offer "counselling and reconciliation" either in their own offices or in police stations. But rather unfortunately, Islamic scholars such as Zeenat Shoukat Ali seem to endorse this illegal practice.
If the woman wanted maintenance all she needed to do was to file an application in the magistrate's court under Section 125 of the Code of Criminal Procedure, 1973, or the Protection of Women from Domestic Violence Act, 2005, and secure orders which are enforceable.
The story also shatters two more myths which the andolan propagates – of Muslim polygamy and that a Muslim woman has no rights after talaq.
Sheikh states that her husband gives her Rs 5,000 a month as maintenance but he is in a position to give more as he is working in Qatar and her children are studying in an English medium school. The so-called adalat is still negotiating with him to increase her maintenance. This refutes the Bharatiya Muslim Mahila Andolan claim that after pronouncing talaq the woman is not entitled to any maintenance from her husband. So I fail to understand whether Sheikh's need is to a higher amount of maintenance, or a ban on triple talaq. Secondly, remarriage after divorce is not polygamy.
In these stories, one can identify the socio-economic barriers that are faced by women in broken marriages across communities.
Why only triple talaq?
The question then is: what has the Bharatiya Muslim Mahila Andolan done to spread awareness among Muslim women for self reliance through skill training, job opportunities or avenues of private entrepreneurship so that they have something to fall back on if the dreaded sword of triple talaq falls on them?
One can argue that this is not the Andolan's core activity and they are a rights-based or a campaign-based group. So then why did none of the women, with the Andolan's help, challenge the un-Islamic triple talaq in a court of law, and secure their rights of maintenance and residence under the Domestic Violence Act?
It is indeed sad that to score a point on triple talaq, the andolan deliberately does not refer cases to Majlis – where we deal with thousands of women, both Hindu and Muslim, facing similar problems – or to any other women's rights lawyer in the vicinity, but decides put out the negative story to score a point.
Our office is situated just about three bus stops away from the Bharatiya Muslim Mahila Andolan office and we have addressed many meetings organised by the andolan and also provided legal support to the women who approach that organisation. But now, the andolan does not refer Muslim women in need of legal interventions to Majlis, and instead decides the cases in the Aurat ki Shariah Adalat, set up by them, even if it ends in the denial of crucial rights to the concerned woman.
Would this not amount to the deliberate manipulation of a woman's misery to create a negative story?
scroll.in/article/810268/nba-finals-how-lebron-james-cavaliers-pipped-stephen-currys-warriors-to-the-championship
URL: https://newageislam.com/islam,-women-and-feminism/new-age-islam-news-bureau/over-350-ezadi-women-freed-from-isil-in-fallujah/d/107705
New Age Islam, Islam Online, Islamic Website, African Muslim News, Arab World News, South Asia News, Indian Muslim News, World Muslim News, Womens in Islam, Islamic Feminism, Arab Women, Womens In Arab, Islamphobia in America, Muslim Women in West, Islam Women and Feminism