New Age Islam News Bureau
12 January 2022
• Kabul Women Shift Protest Mode, Write Demands On City Walls At Night
• Syrian Women And Girls In Aleppo Find New Outlet In Sports
• The Forgotten Legacy Of Fatima Sheikh, India's First Muslim Teacher
• Women's Team Enforces Corona Rules In Kuwait
• Harassment Of Muslim Women In India Through Social Media Apps Must Be Condemned, Prosecuted As Soon As They Occur: UN
• Sudanese Women Stage Rally To Protest Killings
• Nusrath, A Pharmacist, Won ¼ Kg Of Gold As Part Of A Dubai Shopping Festival Raffle
Compiled by New Age Islam News Bureau
URL: https://www.newageislam.com/islam-women-feminism/saudi-arabia-women-dancer-jazan-winter-festival/d/126141
--------
Outrage In Saudi Arabia Over Women Dancers' Revealing Attire In Jazan Winter Festival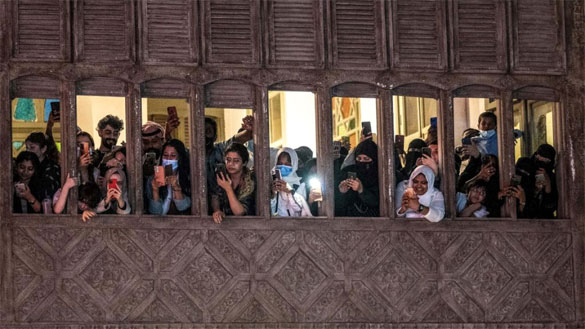 Reaction to the entertainment was polarised [Getty]
----
08 January, 2022
Images and videos that circulated on social media showing a winter festival in the port Saudi city of Jazan came under attack this week over the presence of dancers who appeared in revealing clothing.
Twitter users from the southern Saudi city took to their phones on January 7, publishing video clips of dancers dressed in carnival attire as they paraded through the centre of Jazan in front of crowds of residents from the city.
Reaction to the entertainment was polarised, with some bystanders booing the dancers. Jazan, well known in Saudi Arabia for its conservatism, has not witnessed such performances in recent memory.
Videos on social media showed dancers and percussionists parading to drum ensembles and shaking feathered costumes, with comments wondering "Is this the culture of our region? Are these our customs and traditions?"
هذا هي فعالية #شتاء_جازان ؟؟
الأمور هذي بعيدة كل البعد عن حضارتنا و تاريخنا و مجتمعنا ..
اتمنى أن يكون هناك حساب للمسؤول عن هذه المهزلة .. @Jazanfestivals pic.twitter.com/66qdSn3EKo — محمد (@hem_077) January 6, 2022
Other videos showed young Saudi men performing Dabke, traditional Middle Eastern dance, and children giving the dancers high as they passed through the streets.
The festival itself, 'Jazan Winter 22', was sponsored by regional governor Mohammed bin Nasser bin Abdulaziz, in cooperation with a number of Saudi officials.
"The festival represents a story of joy for the region… that meets the needs and aspirations of all segments of society", the opening statement for the festival read, according to Sawah Press.
The Jazan festival is among a host of cultural and entertainment events taking place throughout Saudi Arabia to attract thousands of local and foreign tourists.
Source: The New Arab
https://english.alaraby.co.uk/news/outrage-over-women-dancers-attire-saudi-winter-festival
--------
Kabul Women Shift Protest Mode, Write Demands On City Walls At Night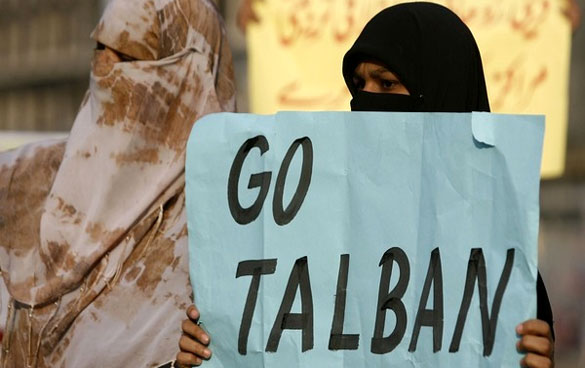 Representative image
----
January 11, 2022
Afghan women and activists, who have been protesting after Taliban returned to power in Afghanistan, have shifted their protest mode by writing their demands on walls at night to avoid violence by the Islamic Emirate forces.
The women protesters said they switched to writing on walls to avoid violence from daytime protests in the streets and write slogans calling for girls' right to education, women's right to work, women's choice of clothes and the inclusion of women in social and political life, reported Tolo News.
According to them, they want to continue demanding for their rights by writing on walls, which also enables them to avoid facing any violence, reported Tolo News.
"Our protests were met with threats and violence, so we switched to murals to achieve our fundamental rights and will continue these protests," Tamana Rezaie, a protester said.
"Murals are our new method of protesting for calling for our rights. Because our protests were often met by violence from the Taliban," said Leda, another protester.
"Women's rights in choosing their clothing style, work, and education are restricted. We will not stay silent and will raise our voice," said Aziz Gul, a protester.
Meanwhile, women protesters and activists called on the Islamic Emirate to grant women their rights and warned they will expand their protests in the provinces if their demands are not met, reported Tolo News.
"Today's women are not the women of 20 years ago. Our new protest methods will expand in all the provinces, and we will use any possible means to raise our voice," said Navida Khurasani, a women's rights activist.
"We want our rights. We will not let them be rolled back and will continue our protests until we are given our rights," Darya Neshat, a women rights activist said.
In addition to writing on walls, protests in homes and wearing men's clothing are other new methods being used by Afghan women, reported Tolo News.
Taliban's return to power in Afghanistan is a nightmare for Afghan women. They have imposed many repressive rules on women including banning education, work, and long travel.
After Afghanistan fell to the Taliban, the incidents of threatening women are becoming a 'new normal'.
The Taliban's Ministry for the Promotion of Virtue and Prevention of Vice earlier issued posters around the capital Kabul ordering Afghan women to cover up.
In a video posted by Euronews, the poster shows an image of the face-covering burqa that was placed on cafes and shops this week by the Ministry of Virtue and Vice.
"According to Sharia law, Muslim women must wear the hijab," the poster reads, referring to the practice of covering up.
In recent days, the Islamic Emirate Ministry of Virtue and Vice issued a new directive on women's travel, saying the women who are travelling long distances by road should be accompanied by a male relative, and they should wear a hijab, to cover their head and face. The directive also banned playing music in the vehicles, reported Tolo News.
Source: Business Standard
https://www.business-standard.com/article/international/kabul-women-shift-protest-mode-write-demands-on-city-walls-at-night-122011100352_1.html
--------
Syrian women and girls in Aleppo find new outlet in sports
Khaled al-Khateb
December 25, 2021
ALEPPO, Syria — Girls and women in the city of Afrin, which is controlled by the Turkish-backed Free Syrian Army (FSA) factions in northern Aleppo, are showing great interest in sports, such as basketball, badminton, taekwondo, and football.
The Afrin local council, whose sports office is promoting sports for men and women alike, offers five basketball teams for girls under 18, and the teams train in the gymnasium of the local council's sports office. A basketball tournament for girls was previously held in February, and another is scheduled for the beginning of 2022.
Mazen Mahrous, the coach of Al-Sham Basketball Club for women, who resides in Afrin, told Al-Monitor, "The team is made up of 20 female basketball players, and we plan on expanding in the future."
He added, "Many young women are interested in playing basketball, especially girls between the ages of 14 and 18," although they cannot accept all applicants.
Mahrous noted, "Female sports such as taekwondo, karate, football, and badminton, have become very popular in Afrin, but basketball is the most popular." But he added, "Women's sports activities in Afrin need more support, such as hiring highly experienced and qualified trainers, and creating more sports facilities."
One drawback, Mahrous said, is the conservative Islamic countryside, "women's sports need time to be more accepted by society." But, he noted, "The Turkish coordinator in the Afrin area, Mohammed Arshik, is making great efforts to develop sports in the area in general, and there are several teams that have traveled and played in Turkey. I think that women's basketball is a top priority for Arshik and it is expected to receive great attention in 2022."
The sports situation in Afrin is on the right track, Mahmous said, but "sports in general in northern Syria lack coordination in terms of player transfers and such. This is due to the lack of specialized federations to coordinate between all sports clubs."
Evin Sheikho, 17, a player in the Falcons basketball club in Afrin, told Al-Monitor, "We train two days a week, and our training includes fitness exercises as well. I have been a basketball fan since I was young, and I aspire to be a professional player in the future, but for now, I am happy that I have the opportunity to enjoy myself and stay fit."
Many girls and women in Afrin encourage sports in general, and basketball teams in particular. "Women's sports, in general, are subject to criticism given the society we live in and the customs that prohibit women from engaging in many activities," Abeer al-Halabi, a schoolteacher in Afrin, told Al-Monitor. "I believe such restrictions have begun to fade away in opposition areas, with the support of local institutions, such as the local council in Afrin."
Halabi pointed out, "Women in the northern and eastern countryside of Aleppo were able to overcome society's inherited customs and traditions, and they began to participate with men in all aspects of life, not just in sports."
Nawras Dibeen, an official in the sports office at Afrin's local council, told Al-Monitor that the office gives great importance to female athletes of all ages, noting that they participate in different tournaments, under the supervision of coaches and specialists.
Women's sports, and basketball, in particular, need to hold tournaments to strengthen the teams, he said, especially since teams are in dire need of friendly matches to improve their skills.
Women's basketball teams receive no financial support. "Support is limited to securing the appropriate court to play all the games," Dibeen said, "and so far no team has gone to Turkey to attend training camps there."
Source: Al Monitor
https://www.al-monitor.com/originals/2021/12/syrian-women-and-girls-aleppo-find-new-outlet-sports
--------
The forgotten legacy of Fatima Sheikh, India's first Muslim teacher
SAAD HASAN
Regarded as one of the earliest social reformers, very little is known about the woman who challenged patriarchy and conservative norms.
On January 9, Google honoured Fatima Sheikh, a reformer and educationist, with a doodle on its homepage on her 191st birth anniversary.
Sheikh is widely regarded as India's first Muslim woman teacher. She taught at an all-girls school in the 1840s, despite severe opposition from feudals and conservatives who followed a rigid caste system.
That was a time when only privileged men had access to schools.
But her work has largely been forgotten - she's relegated to a few tweets and articles. There's even debate around her exact date of birth.
People have taken a renewed interest in her story amid concerns that the Hindu nationalist government of Prime Minister Narendra Modi is systematically undermining minorities, especially Muslims.
"We don't look at partition or events leading up to it with any degree of neutrality. I think there is desire to demonise (Muhammad Ali) Jinnah and what happened in the 25 years before 1947," Aakar Patel, head of Amnesty International India, tells TRT World.
"Because of that, there is a reluctance to try and understand what Muslim life was before parition."
India and Pakistan declared independence from British rule in August, 1947. Jinnah envisaged Pakistan as a country mostly for Muslims.
While millions of Muslims migrated to Pakistan, many stayed back in hopes of making a future in secular India. Today, more than 14 percent of India's 1.2 billion population is Muslim.
Experts say Hindu nationalist leaders are trying to erase the contribution of minorities, especially Muslims like Fatima Sheikh, from India's history.
"Muslims have been marginalised in ways which only partly include wiping them out of history books. If you look at the political representation of Muslims in India, it is at its lowest point," says Patel.
None of India's 28 states is governed by a Muslim chief minister. There's not a single Muslim minister in 15 states. And there's no Muslim among the 303 MPs of the ruling Bharatiya Janata Party (BJP) in the lower house known as Lok Sabha.
When like-minded people join hands
Fatima Sheikh's legacy is closely intertwined with that of Savitribai and Jotirao Phule, a wife-husband duo, who started India's first school for girls in 1848 in the second most populous state of Maharashtra.
The Phules were Shudras, a lower scheduled caste, and faced severe resistance for their work, which included advocacy for female education and challenging the hold of the upper caste Brahmin Hindus.
In the mid-19th century and even until much later it was common for Brahmins to bar people from other communities to gain an education. Society was rigidly divided along the lines of caste, communities and gender.
Even Jotirao Phule's own family turned against him when he insisted that his wife, Savitribai, learn to read and write.
When the Phules were forced out of their home, it was Fatima and her brother, Usman Sheikh, who gave them refuge in their home in the city of Pune.
It was in the Sheikh's home that the first all-girls school, Indigenous Library, was opened.
"Here, Savitribai Phule and Fatima Sheikh taught communities of marginalized Dalit and Muslim women and children who were denied education based on class, religion, or gender," Google said.
For Fatima Sheikh and Savitribai, who had attended a missionary school to become trained teachers, it wasn't easy to convince parents to enroll their daughters.
Sheikh spent hours going door to door to convince her neighbours. Those must have been trying times.
"Even though upper-caste men and women threw mud and cow-dung at her and passed all sorts of abuse as she walked on the streets, Fatima Sheikh pursued her cause," writes Ankita Apurva in Live Wire.
Islam encourages educating both men and women but some Muslim families forbid girls from going to school. A class divide meant that people like Sheikh who belonged to a farming family, faced hurdles of their own.
Among the many admirers of Sheikh is Dr Mahino Fatima, an Indian neurobiologist.
Mahino says she belongs to a cloth weaving family, which was historically denied access to education.
"How can I become a scientist if I have not attended a primary school? She brought up the idea that we can also study the curriculum which men read. The idea that girls and boys can have similar education was a huge step forward," she tells TRT World.
Sheikh taught at various schools that the Phules ran over the years.
Eventually her efforts paid off and girls from different castes and backgrounds who wouldn't otherwise socialise, sat under one roof to take their lessons.
The Indigenous Library was also different in the sense that it didn't focus on religious texts that most schools taught in those days.
Phules and Sheikhs stressed on girls getting an education in mathematics, science and social studies.
Within four years after Savitribai started the school, the girls enrollment was ten times higher than the number of boys studying at any government school in the area.
The impact of Fatima's collaboration with the Phules went beyond education. It was one of the earsliest examples of when a Muslim joined hands with someone from a lower Hindu caste for a common cause.
Her achievements were partly recognised a few years back when the Maharashtra State Bureau included her brief bio in Urdu textbooks.
But unfortunately, many aspects of her life remain shrouded in mystery. For instance, no one knows for sure what happened to Sheikh after 1956.
As journalist Dilip Mandal wrote: "Fatima Sheikh continues to fight for her rightful place in history."
Source: Trt World
https://www.trtworld.com/magazine/the-forgotten-legacy-of-fatima-sheikh-india-s-first-muslim-teacher-53535
--------
Women's Team Enforces Corona Rules In Kuwait
KUWAIT CITY, Jan 8, (Agencies): The Kuwaiti Public Authority for Manpower (PAM) announced on Thursday that a field team of women will follow up the implementation of the Cabinet's decision to temporarily stop holding all kinds of social events in closed places in light of the precautionary measures to confront the spread of the new corona virus infection. In a statement issued by PAM on the sidelines of its meeting with the Kuwait Hotels Association, the commissioned director general of the authority, Eman Al- Ansari, stated that the field team was assigned to follow up on hotels and relevant authorities to ensure that health requirements related to the fight against COVID-19 are implemented.
The supervisory team in Hawalli Governorate conducted field tours to ascertain shops and commercial complexes adhere to health SOPs
Al-Ansari indicated that the team will conduct permanent inspection tours of event halls and closed places, and hold violators accountable in the event of non-compliance with the application of health requirements and take the necessary measures. It is noteworthy that the Council of Ministers decided on the third of January to temporarily stop holding all kinds of social events that are held in closed places from January 9 until February 28, provided that the decision is reviewed in light of the epidemiological situation at the time.
The Council of Ministers also decided to obligate all those coming to the country to conduct a PCR examination 72 hours before arrival stating that they are free of infection with the corona virus. While the Council of Ministers postponed taking a decision regarding the recommendations of the Corona Emergency Committee, a number of private schools informed parents that they will conduct online classes for one week after the New Year holiday, starting Sunday, reports Al-Rai daily quoting sources from the educational sector.
According to sources, the schools that will adopt the distance education system have obtained approval from the Ministry of Education, especially since some expatriate teachers in these schools who travelled during the holiday must abide by the prescribed home quarantine period of at least 72 hours upon their return to the country. Meanwhile, Head of the Paediatric Emergency Unit at Adan Hospital Dr Marzouq Al-Azmi has stressed the need for schools to remain open and continuous class attendance for students; asserting the necessary precautionary measures have been taken such as limiting the number of students in each class, online education should no longer be implemented, reports Al-Anba daily.
Source: Arab Times Online
https://www.arabtimesonline.com/news/womens-team-enforces-rules-hotels-halls-targeted/
--------
Harassment Of Muslim Women In India Through Social Media Apps Must Be Condemned, Prosecuted As Soon As They Occur: UN
12th January 2022
United Nations: Harassment of Muslim women in India through social media apps such as "Sulli Deals" must be condemned and prosecuted as soon as they occur, a UN Special Rapporteur has said.
UN Special Rapporteur on Minority Issues Dr Fernand de Varennes took to Twitter to raise concern on the issue of minorities in India, saying Muslim women in India are harassed and sold in social media apps .
"#Minority Muslim women in #India are harassed & 'sold' in #socialmedia apps, #SulliDeals, a form of #HateSpeech, must be condemned and prosecuted as soon as they occur. All #HumanRights of minorities need to be fully & equally protected, Varennes said in a tweet on Tuesday.
The Delhi Police last week arrested Aumkareshwar Thakur, 26, who is believed to be the creator of "Sulli Deals" app from Madhya Pradesh's Indore, the first arrest made in the case.
Hundreds of Muslim women were listed for auction on the mobile application with photographs sourced without permission and doctored.
The accused, a Bachelor of Computer Application degree holder, admitted that he was a member of a group on Twitter and the idea to defame and troll Muslim women was shared there.
"He admitted that he had developed the code/app on GitHub. After the uproar regarding the Sulli Deals app, he had deleted all his social media footprints," a senior police officer said.
In a separate "Bulli Bai" case, the Delhi Police on January 1 registered an FIR in connection with an online complaint submitted by a city-based woman journalist against unknown persons for allegedly uploading her doctored picture on a portal.
The case pertains to the creation of the 'Bulli Bai' app, which targeted Muslim women by putting up their images online for "auction".
According to Delhi Police, Niraj Bishnoi, 21, who was arrested from Assam, was the alleged mastermind and creator of the "Bulli Bai" application.
He had disclosed during interrogation that he was in touch with the person behind the Twitter handle @sullideals, the alleged creator of the "Sulli Deals" app that was hosted on GitHub in July last year.
Source: Siasat Daily
https://www.siasat.com/harassment-of-muslim-women-in-india-must-be-condemned-un-2257071/
--------
Sudanese women stage rally to protest killings
Buhram Abdel-Men'em
11.01.2022
KHARTOUM, Sudan
Dozens of Sudanese women staged a rally on Tuesday to show solidarity with families of protesters killed by security forces.
Demonstrators waved photos of slain protesters during the rally in Omdurman, the twin city of Khartoum, amid calls for bringing perpetrators to justice.
There was no comment from the Sudanese authorities on the protest.
According to local medics, at least 63 protesters have been killed since the Oct. 25 military takeover in Sudan when the military dismissed Prime Minister Abdalla Hamdok's transitional government and declared a state of emergency.
Prior to the military takeover, Sudan was governed by a sovereign council of military and civilian officials tasked with overseeing the transition period until elections in 2023.
Hamdok resigned on Jan. 2, six weeks after he returned to his post in a deal with army chief Abdel Fattah al-Burhan, an agreement rejected by most political groups in Sudan.
On Saturday, the UN mission in Sudan launched a UN-facilitated intra-Sudanese political process in an effort to salvage the country's transition to democracy.
Source: Anadolu Agency
https://www.aa.com.tr/en/africa/sudanese-women-stage-rally-to-protest-killings/2471148
--------
Nusrath, A Pharmacist, Won ¼ Kg Of Gold As Part Of A Dubai Shopping Festival Raffle
10 Jan 2022
A woman in Dubai struck gold as she helped her boss buy the precious metal for a relative. Nusrath, a pharmacist, won ¼ kg of gold as part of a Dubai Shopping Festival (DSF) raffle.
"I went with my manager to purchase some gold for her relative, and they gave us a coupon. My manager told me to fill in my baby daughter's name, which I did, not expecting anything. Alhamdulillah, we won 250 grammes of gold," she said. "At first, I thought it was a prank! We have started to build our new home with this."
Nusrath is among some residents who have won gold in the raffles run by the Dubai Gold and Jewellery Group.
Zenat Khadr from Italy is another resident who has won 250 grammes of gold. Calling it a "belated birthday gift", Khadr said: "I went with my mom to the Gold Souk to get a late birthday gift and once we finalised the payment, the cashier passed me the token to fill it up. I agreed, however I mentioned that I'm not that lucky. I still can't believe that I have finally won."
Muhammad from Pakistan said he won the gold after buying a gift for his mother: "I don't know how I won, to be honest, and was very surprised as it was the last thing I was expecting … Now I can worry about other things in life, excluding gold, for some time."
The Dubai Gold and Jewellery Group mega raffles are on till January 29 and offer a chance to win a total of 25kg gold. Residents and visitors who buy jewellery at any of the 180 participating outlets across Dubai will enter the raffle.
Gold is only a part of the raffles on offer during the ongoing 27th edition of the DSF. The total value of prizes is Dh30 million, including cash prizes and gold.
Source: Khaleej Times
https://www.khaleejtimes.com/uae/dubai-woman-wins-gold-after-going-shopping-with-boss
--------
URL: https://www.newageislam.com/islam-women-feminism/saudi-arabia-women-dancer-jazan-winter-festival/d/126141
New Age Islam, Islam Online, Islamic Website, African Muslim News, Arab World News, South Asia News, Indian Muslim News, World Muslim News, Women in Islam, Islamic Feminism, Arab Women, Women In Arab, Islamophobia in America, Muslim Women in West, Islam Women and Feminism