New Age Islam News Bureau
14 May 2014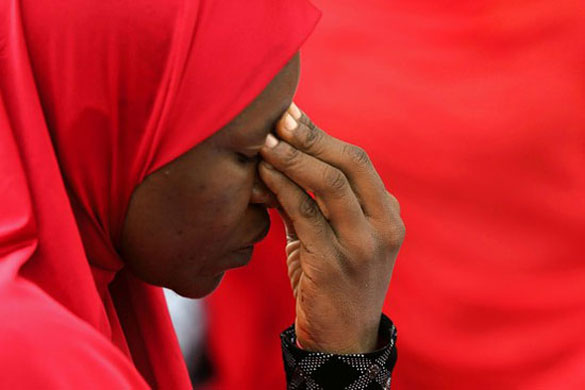 A woman at a rally protesting the kidnapping of Nigerian school girls by Boko Haram Reuters
---------
• Islamist Rebels Have Banned Men to Purchase Women's Underwear and "Tight, Transparent or Ornate" Undergarments
• Sexual Violence Soars in South Sudan
• Bring Back All Girls Trapped By Shariah Law
• Boko Haram's New Video 'Shows' Kidnapped Chibok Girls Wearing 'Hijab'
• Saudi Man Divorces Wife for Driving
• British Portraitist Donates Malala Portrait for Auction
• Six Afghans Held Over Marriage of Teenaged Girl
• Delay in Deciding Divorce Cases Leave Children Uneducated In Saudi Arabia
• Gambia: Women's Affairs Minister, Female Scholars Discuss Women and Islam
Compiled by New Age Islam News Bureau
URL: https://newageislam.com/islam-women-feminism/online-abortion-becomes-flourishing-business/d/77018
------------
Online Abortion Becomes a Flourishing Business in Saudi Kingdom
May, 2014
RIYADH — It will not cost a pregnant woman more than SR3, 000 and a message on the Twitter to get rid of her pregnancy in 24 hours, according to a report in Makkah daily.
The report said the female medical doctors will give a pregnant woman a maximum of six pills to get rid of the foetus in its infancy.
According to a female online medical doctor, the price of a pill is SR500 and a pregnant woman does not need more than six tablets for her abortion. She said she was relying on a fatwa (religious edict) permitting abortion if the foetus is still lifeless or that the pregnancy is less than four months.
The female doctor, who spoke on condition of anonymity, said she will not ask her client about her marriage contract or the reason for the abortion. "I am only concerned with the date of her pregnancy to decide how many pills she needs," she said.
She said when she decides the number of pills, she asks the pregnant woman to deposit the charges for the pills in her bank account.
"The moment I receive a message from the bank that the price of the pills has been deposited in my account, I will immediately deliver the tablets to my client and follow up her case until she gets rid of her pregnancy," she said.
The female doctor refused to disclose the name of the pill but said it is manufactured especially for abortion and is imported from Britain. She claims that the pill has no side effects.
She, however, warned that bleeding may continue for a few days after the abortion. But it will not have any serious implications on the patient. A number of gynaecologists said the pills will lead to abortion as they will cause strong stomach contractions.
Dr. Saleh Al-Shihri, a consultant gynaecologist at King Fahd Military Hospital in Jeddah, said there is a well known medicine which is used for the treatment of the ulcer and can at the same time cause abortion because it will open the cervix. He did not name the medicine but said many gynaecologists use it in the delivery operations.
He, however, warned that if it was used without close medical supervision, the medicine might destroy the womb.
"It may also lead to death due to continuous bleeding," he said. A woman, who refused to reveal her identity, said she obtained the medicine from a grocery to get rid of her pregnancy from her legitimate husband. "I got rid of my pregnancy but I am now paying a high price to regain my fertility in order to be able to become pregnant again," she said.
The Communications and Information Technology Commission (CITC) denied responsibility for selling of the abortive medicine on the Internet. It said it has no say on the web content.
"This is the responsibility of the Saudi Food and Drugs Authority (SFDA)," an CITC employee said. He did not want his name to be published.
http://www.saudigazette.com.sa/index.cfm?method=home.regcon&contentid=20140514205024
------------
Islamist Rebels Have Banned Men to Purchase Women's Underwear and "Tight, Transparent or Ornate" Undergarments
May, 2014
The Islamic State of Iraq and the Levant has issued a ban on shops displaying mannequins in a Syrian city that has been a focal point for anti-Christian decrees, Agence France-Presse reported.
The mannequin ban is just the latest decision by the Jihadi rebel faction in Raqqa where Christians for months have been targeted as the group attempts to implement Shariah law.
The demand to remove mannequins from shop windows was issued on Monday, according to the Syrian Observatory for Human Rights.
AFP reported that ISIL further decreed that men would no longer be allowed to purchase women's underwear and that undergarment on sale for women may not be "tight, transparent or ornate."
Under the decree, men and women who are not first-degree relatives will not be allowed to shop together, the Observatory said.
With Raqqa now ruled under the Jihadi group's iron fist, Christians have reportedly been forced to pay a protection tax in gold and have been ordered to limit public displays of their faith.
In February, Reuters reported that Christians in Raqqa would not be allowed to renovate churches, display religious symbols outside churches, pray in public, ring church bells, sell wine to Muslims, drink wine in public or own weapons.
The Christians in the town were reportedly given three choices: convert to Islam, remain Christian but submit to Islamic rule, or "face the sword."
The Islamist group has also been carrying out outdoor executions in the city, most recently the crucifixion-style killing of two men in April.
Photos purporting to show two of the men bleeding and hanging on cross-shaped structures were posted on various social media accounts.
AFP noted that ISIL is thought to be holding about 1,000 hostages in the town, including those accused of "crimes" including heresy or smoking.
http://www.theblaze.com/stories/2014/05/13/the-latest-item-islamist-rebels-in-a-syrian-city-have-banned/
------------
Sexual Violence Soars in South Sudan
May, 2014
Juba — Sexual and gender-based violence might not be a new phenomenon in South Sudan, but the current crisis and the near absence of protection for civilians has exacerbated it, analysts say.
"We do know that it [sexual and gender-based violence] is a major issue. Even though many victims of sexual violence do not report their ordeal because of the stigma that it carries, wherever we went we met women and girls who told us that they had been raped by either government or opposition forces," Donatella Rovera, senior crisis response adviser at Amnesty International, told IRIN.
On 8 May, Amnesty International released a report in which it documented atrocities committed against civilians, including rape and sexual violence, by the two warring parties in South Sudan's five-month old conflict.
"The current militarized environment, where armed men are ubiquitous and civilian law enforcement is virtually absent, places women and girls at a heightened risk of sexual violence. Persistent reports of sexual violence perpetrated by both government and opposition forces strongly indicate that conflict-related sexual violence is widespread," Amnesty International said in its report.
"We received testimonies from women and girls victims of sexual violence from all the main conflict-affected areas: Juba and areas in Unity, Jonglei and Upper Nile states," Amnesty International's Rovera, told IRIN.
In its report, also released on 8 May, the UN Mission in South Sudan (UNMISS) noted that the "conflict has exacerbated the vulnerability of women and children in South Sudan to sexual violence."
In the report, UNMISS said: "All parties to the conflict have committed acts of rape and other forms of sexual violence against women of different ethnic groups. Credible information suggests that sexual violence took place in connection with the occurrence of human rights and humanitarian law violations before, during, and after heavy fighting, shelling, looting, and house searches."
It added: "Women of nationalities of neighboring countries were also targeted. The forms of sexual violence used during the conflict include rape, sometimes with an object (guns or bullets), gang-rape, abduction and sexual slavery, and forced abortion. In some instances, women's bodies were mutilated and, in at least one instance, women were forced to go outside of their homes naked."
In Central Equatoria State, for instance, UNMISS reported that sexual violence increased during "the days following 15 December. At least 27 incidents were documented, of which 22 incidents were attributed to Government security forces and mainly to the SPLA [Sudan People's Liberation Army]. These include 14 incidents of rape and gang-rape, one attempted rape and four cases of sexual slavery...
"For example, in the days following 15 December, Nuer women were stopped in a street of Juba by SPLA soldiers and taken to unknown places. They were then assigned to soldiers who repeatedly raped them. In some instances, survivors were subsequently taken as 'wives' by the soldiers. On 16 December, three girls under 18 years old were gang-raped by SPLA soldiers when they broke into their house and found them alone."
Testimony
Monica*, a 27-year-old mother of six, lies on a bed inside a makeshift tent in a protection of civilians camp in Tomping as she recounts how she was repeatedly raped in Gudele, a densely populated area in the capital, by suspected government troops. Just a few hours after the violence began; troops loyal to the government overran parts of Juba, shooting indiscriminately at civilians, leaving many dead and thousands more injured. Monica's 35-year-old husband was among those killed in the attacks.
"They came and kicked our door and got in and they hit us with gun butts and told us to lie down. They were asking my husband about guns but he didn't have any. They wanted to know our ethnicity too. They raped me - each of them. I don't know how many they were. They then killed my husband," Monica told IRIN.
She was five months pregnant when the rape happened. Three months later, she lost her pregnancy. Monica is still too afraid to return home despite Juba experiencing some relative peace.
"I don't want to go back now. It is scary for me what I went through. Now you can see I'm sick. I don't how to start when I go back and I'm not sure this [the rape ordeal] will not happen again," she said.
Alcohol and drug abuse
Even those sheltered in UN bases are not safe. A camp manager in Tomping anonymously told IRIN of cases where women are reportedly harassed.
"Women and girls are harassed at night. Many are even too fearful to bathe at night or go out to the toilet. Those women who are living alone are constantly harassed by young men here. It is big problem," he said.
He added that alcohol and drug abuse had made cases of sexual harassment in the camps even worse.
"The men and boys here have nothing to do and they get alcohol. When they take alcohol or abuse other drugs, they become unruly. Husbands are abusing their wives, and girls are constantly chased in the dark. You can hear noises and screams at night."
According to the UN Population Fund (UNFPA), an estimated 10,000 displaced women and girls who are currently living in areas which are inaccessible to aid organizations are at risk of sexual violence.
"There is need to put more attention on the protection of displaced populations. Unless this can be done, the number of women and girls facing sexual violence could increase considerably due to high insecurity and the loss of community protection mechanisms as a result of the conflict. We have reports of women and girls being raped when they go out to look for food or firewood," Julitta Onabanjo, UNFPA regional director, told IRIN.
Aid workers told IRIN that fear to report rape within the community, and insecurity, had made it even harder to reach or treat survivors.
"It is even harder to reach those women and girls who have been raped and are living outside the camps. But here in the camp, at least we have a few trusted community volunteers who have been able to refer cases to us and we counsel and where possible, we treat survivors," an aid worker who preferred anonymty , told IRIN from a temporary camp in Awerial County in Lakes State.
UNFPA said: "Awareness of the benefits of early reporting of rape cases is still low among community members, and often cases are reported well after the 72 hours required for administering lifesaving treatments such as antiretrovirals and emergency contraception."
Amnesty's Rovera said: "There are NGOs which are providing medical and psycho-social assistance to those survivors of sexual violence who are accessible, notably in the camps for displaced people in UN bases. However, only a very small percentage of those displaced by the conflict - less than 10 percent - are in the camps in UN bases. The majority are sheltering in remote rural areas, with little or no access to humanitarian assistance of any kind."
Over one million people have so far been displaced since the conflict began. On 5 May President Salva Kiir and rebel leader Riek Machar penned a deal to cease hostilities for at least one month to allow for the evacuation of civilians caught up in the conflict.
http://allafrica.com/stories/201405131427.html?viewall=1
------------
Bring Back All Girls Trapped by Shariah Law
May, 2014
The latest trending image on Twitter is a photograph of U.S. First Lady Michelle Obama standing in a White House room and holding a card with the handwritten hashtag "#BringBackOurGirls." The card refers to the more than 200 girls kidnapped in northern Nigeria by the Islamic terror group Boko Haram.
I'm glad the first lady has joined the campaign. But I also want to hold up my own sign in response to hers. My sign says: "Why Did Your Husband Visit Saudi Arabia and Say Nary a Word about Women's Rights There?"
The same misogynistic ideology that guides the Boko Haram kidnappers to sell women like chattel also underpins the Saudi kingdom. And yet President Barack Obama visited with King Abdullah in March to repair Washington's tense relations with Riyadh.
Is the American president aware that four daughters of the Saudi king say they are in their 13th year of house arrest, kidnapped and held hostage by their father and other male relatives? Two of the princesses broke their silence days before Mr. Obama's visit in an interview with Britain's Channel 4. "Why are we, grown women, held against our will?" one of the princesses asked. "Any leader meeting with the king or any Saudi official is responsible for what is happening in Saudi Arabia."
Saudi Arabian law treats women as "perpetual minors." Saudi women aren't allowed to drive and don't have the freedom to work, travel, study, seek medical treatment or marry without the permission of a male family member.
Saudi Arabia is governed by Shariah law, a complex Islamic system that is applied by judges interpreting medieval texts inspired by the Quran. Shariah law, coupled with the king's edicts, result in a system of gender apartheid for women in Saudi Arabia that severely restricts their rights—not to mention the rights of gays, Christians, atheists and other minorities.
Underlying the Shariah system is the same hatred of women and girls that motivated the terrorists' kidnapping in Nigeria. Boko Haram's goal is to create a Nigeria that would deny girls education and transform women into second-class citizens. In other words, Boko Haram wants to turn Nigeria into . . . Saudi Arabia.
The placard Mrs. Obama held up is relevant not only for the Nigerian girls, but for all women and girls living under Shariah law. In his hour-long, rambling video, the leader of the Boko Haram kidnappers repeatedly called for the end of Western education and female education. He is threatening to sell the kidnapped girls, forcing them into "marriages" of sexual slavery and servitude. While heart-wrenching, this declaration isn't surprising. Child and forced marriages are hallmarks of Shariah; in Saudi Arabia there is no minimum age for marriage.
Interestingly, Shariah law is now making waves in Hollywood, too, where its tenets aren't well-received. Ellen DeGeneres, Jay Leno and others are in the headlines for protesting the sultan of Brunei and his decision to implement Shariah in his country with new laws that call for the stoning of adulterers and the dismemberment of thieves.
Ms. DeGeneres and other Hollywood stars are boycotting the Beverly Hills Hotel due to the sultan's ownership stake in the property. It is heartening to see Hollywood waking up to systematic and institutionalized human-rights abuses in the Muslim world. These efforts have the potential to change public opinion, how people invest their money and even government policies. Perhaps they may even change Mr. Obama's policies toward countries with scant protections for women.
It's time to expand the #BringBackOurGirls campaign. The 200-plus girls kidnapped last month represent a fraction of the millions of women and girls who have been sold or forced into marriage, or stoned for adultery, or denied an education in the name of Shariah. All of them deserve to be brought back.
http://online.wsj.com/news/articles/SB10001424052702304081804579559692472161038
------------
Boko Haram's new video 'shows' kidnapped Chibok girls wearing 'hijab'
May, 2014
A Boko Haram video has emerged allegedly showing some of the missing Nigerian schoolgirls wearing the hijab (veil) who the terror group's leader says have converted to Islam.
The video obtained by French news agency Agence France-Presse (AFP) appears to be shot in a non-descript rural location showing around 130 teenage girls clustered together.
The girls are seen wearing black and gray hijabs and reciting the Quran, making Islamic declarations of faith. "Praise be to Allah, the lord of the world," the girls chant in the video.
Group leader Abubakar Shekau, appearing in another part of the video, says he is ready to swap the girls for Boko Haram prisoners, in what appears to be signs that he is willing to negotiate.
In the 17-minute footage, however, Shekau makes it clear that the girls would be held captive until all imprisoned Boko Haram militants have been freed.
Nigeria police say in all 276 girls were kidnapped on April 14 from the northeastern town of Chibok, in Borno. Some 223 girls are still missing.
Three of the girls are also shown speaking in the video. One of the alleged missing schoolgirls then appears to talk directly to the camera, sometimes looking sideways in fear.
Two of the girls say they were Christian and have now converted to Islam, while the other says she is a Muslim. While none of them appear to be visibly distressed, it seems as if they are clearly under some pressure.
"These girls, these girls you occupy yourselves with ... we have indeed liberated them. These girls have become Muslims," Shekau says in the video, holding a paper pad in his hand.
Sky News special correspondent Alex Crawford spoke to a father of one of the kidnapped girls. The man said he did not want the government to set free Boko Haram prisoners in exchange for his daughter since, "It's not right. They'll do it again."
Meanwhile, Kashim Shettima, governor of Nigeria's Borno state, says he has information on the whereabouts of the kidnapped schoolgirls. Shettima said he had sent reports of the sightings of the girls to the army for verification.
Opinion
Shekau (aka Darul Tawheed) had earlier admitted to abducting hundreds of schoolgirls on April 14 and had also threatened to "sell them in the market like slaves."
The reason why the group targeted only schoolgirls is the terror group's abhorrence to what it sees as education percolating from the West. The term "Boko Haram" itself means "Western education forbidden."
The Islamist group believes girls must not be educated; instead they ought to be married off. In other words, it wants girls to be confined to the homes, bear children and take care of the family.
What it largely fears is the resurgence of women's empowerment through education, which is why it is doing its utmost to destroy any move in that direction through terror and violence.
Another reason for the terror group zeroing in on the schoolgirls of a particular school could be proselytization of their religion and targeting a particular faith.
The Government Secondary School in Chibok is a predominantly Christian school, and Chibok has a sizable Christian community.
According to the Christian Association of Nigeria (CAN) 90 percent of the girls who were kidnapped from their school were Christians, which, if true, adds an ominous dimension to the entire shocking episode.
It's possible Christian girls are now being targeted by the Islamists and forced to convert into Islam and later sold in the market and turned into sex slaves.
These are pertinent issues as it shows the real intent of the terror group. In general, however, whether children belong to Christian, Muslim, Jew or any other faith should not really matter.
Irrespective of their caste, creed or religion, Nigeria and the world ought to fight for the school kids who are now missing since weeks and have them returned to their families at the earliest.
Sources: BBC/CNN
http://www.allvoices.com/contributed-news/17064181-boko-haram-video-shows-kidnapped-nigerian-girls-wearing-hijab
------------
Saudi man divorces wife for driving
May, 2014
A Saudi man reportedly divorced his wife for allegedly driving his car in violation of the Kingdom's regulations, Al-Arabiya.net reported on Tuesday.
The divorce was extensively discussed on various social media platforms, with many expressing support with the husband and others disagreeing with his decision.
The story also raised the issue of women's right to drive in the Kingdom. "There is no ban against women driving in Islam; then why are they not allowed to drive in the Kingdom," asked one blogger. "It's quite strange that women are not allowed to drive but can travel with foreign drivers," another said.
Meanwhile another blogger, who introduced himself as Tarek, explained the husband's decision, asserting, "His wife not only drove the car but also took video of her driving and published it through YouTube without her husband's knowledge or permission," he pointed out.
Another Saudi man, who opposed women driving, said the man has every right to divorce his wife if she does not follow his views. "I don't like women driving except during an emergency, when their fathers or brothers are sick," said another Saudi. He feared women driving would create more morality issues.
http://www.arabnews.com/news/570576
------------
British Portraitist Donates Malala Portrait for Auction
May, 2014
NEW YORK: A portrait of Malala Yousufzai, a young Pakistani girl who was shot by the Taliban for campaigning for girls' education, is being sold by its British artist to help further her cause.
Jonathan Yeo, a leading British portraitist, painted Malala Yousafzai in 2013 shortly after she started attending a school in Birmingham, England, where she now lives.
The painting hung in the National Portrait Gallery in London last year for an exhibition of Yeo's portraits of well-known figures including Sienna Miller, Kevin Spacey and Rupert Murdoch.
Christie's auction house is offering the Malala portrait, which shows the teenager doing her homework, on Wednesday. It has a presale estimate of $60,000 to $80,000.
Yeo said he will donate all the proceeds to The Malala Fund. ''I hope it goes to a good home. Anyone who will hopefully spend a good bit of money on it is someone who sees the importance of her own work,'' the artist said.
Malala was 15 when she was shot in 2012 as she traveled to her Pakistani school. President Barack Obama has called her the ''bravest girl in the world.''
In an interview last week, Yeo said he wanted the portrait to capture ''this extraordinary dichotomy'' of someone with ''enormous power and wisdom'' but also someone who is still very young.
''Her birth instinct isn't self-pity but rather what else she could do to help other girls in her position,'' Yeo added.
He said he spent ''a lot of time chatting'' with her and ''hearing her world views and what her life is like'' before sitting down to paint her.
Yeo depicted her doing homework to reflect the irony that ''the simple everyday thing she's doing was what created the cataclysmic change in her life that nearly killed her,'' he said.
When the portrait was finished Yeo said Malala told him ''it's how she sees herself.''
Yeo is famous for his life-like portraits of well-known figures. His works are also in the Royal Collection.
http://www.dawn.com/news/1106259/jonathan-yeo-donates-malala-portrait-for-auction
------------
Six Afghans held over marriage of teenaged girl
May, 2014
CHARSADDA: The police arrested six persons for the marriage of a teenage girl to settle a feud between two Afghan families, official sources said on Monday.
The sources said that two Afghan families have had enmity for the last 17 years. Afzal Khan, Amin Khan and Khanzada Khan were accused of killing one Mazara. A Jirga decided that three girls from the family of the accused would be given in 'Swara' to the victim's family.
At the time of the Jirga's decision, there were only two girls in the family of the accused. Therefore, the Jirga decided that after the birth of the third girl in the family, one would be given to the victim family.
The official said four years after the Jirga decision, Memona was born to the accused family who was married into the victim's family when she was 13. Memona was being taken to Afghanistan in a car when she started shouting near a police checkpost in Bochay in Tangi Tehsil. The police stopped the car and the girl informed them that she was married against her will. The police arrested the brothers of the girl and Jirga members and registered a case against them.
http://www.thenews.com.pk/Todays-News-2-249769-Six-Afghans-held-over-marriage-of-teenaged-girl
------------
Delay in Deciding Divorce Cases Leave Children Uneducated In Saudi Arabia
May, 2014
JEDDAH — The inordinate delay in delaying deciding divorce cases has deprived a number of children from getting education or seeing their mothers, a Human Rights Commission member has said. His point was further elucidated by a judge who said the Ministry of Education has been approached to consider preventing children from education a "crime."
Ali Al-Ruwaishid, a member of the HRC, raised the point at an open discussion at a seminar Tuesday under the title (And to Parents, Good Treatment). Al-Ruwaishid said the HRC receives a number of cases of children who are being prevented by their fathers from education. These men also prevent mothers from seeing their children. Such cases, he said, evolve because of the delay in looking at divorce and financial aid cases at the courts.
But the President of Jeddah General Court Abdul Rahman Al-Husaini defended by stating that the courts now are fast in looking at these cases as there are specific judges assigned for them. "We are also using messages and emails to speed up the contact. Further to that we can bring them (fathers) by force to the court." He noted that they have sent a proposal to the Ministry of Educatio asking it to consider preventing children from education a "crime."
Al-Husaini, however, refused to consider adel (fathers preventing their daughters from getting married) an impiety case. "Daughters hesitate to approach courts in these cases although it is their right to get married to capable men," he said.
The head of Jeddah female prison Thuraya Hawasawi commented that youth who are sent to prison as a punishment for their impiety cases tend to get affected by the criminals inside jails. Al-Husaini replied by saying that judges tend to issue alternative punishments that range from asking the person to memorize Qur'an or write reports on respect for parents. "There are, however, some severe cases where imprisonment is necessary," he noted.
Hawasawi said the other challenge faced by prison authorities is that girls who are placed in jail are not received by their parents even if they were found innocent.
Al-Husaini said the parents who are committing such deeds are "irresponsible." The parents, he said, should forgive their daughters and take their responsibility.
Jawahir Al-Nahari, head of the female section of the HRC, told Saudi gazette that they have an impiety file which has been divided into two sections. The first section is of children who treat their parents badly while the second is of parents who abuse their children or prevent them from a basic right.
During the last five years, HRC in Jeddah received 204 cases under impiety issues. A majority of the cases, stated Al-Nahari, include preventing children from seeing their mothers and not providing them education. Other issues include absence of financial aid, impiety issues against parents, physical and psychological abuse, and absence of identification cases.
Hani Al-Zahrani a member of the Investigation and Prosecution Board, stated that they impiety mainly involves drug addicts or people suffering from psychological disorders. He said there are no set punishments in impiety cases and it is left for the judge. Punishments normally range from scolding, lashing or imprisonment.
http://www.saudigazette.com.sa/index.cfm?method=home.regcon&contentid=20140514205092
------------
Gambia: Women's Affairs Minister, Female Scholars Discuss Women and Islam
May, 2014
The vice president and Women's Affairs minister, Her Excellency Aja Dr. Isatou Njie-Saidy, joined by female Islamic scholars from The Gambia and Senegal recently took a critical look at 'Women and Islam' as well as other vital topics during a religious conference organised by the Islamic Cultural Center for Women and Children (ICCWC).
In her remarks, the vice president said the topic "Women and Islam" is apt as they continue to push the gender and the empowerment of women and girls agenda. She said the topic was dear to her heart both as a woman and a Muslim and commended Aja Maimuna Savage, founder of ICCWC, for the initiative.
"Even though I cannot boast of having been grounded in Islamic knowledge, I am of the view that if Islam is interpreted well, interpretation that represents its pure prophetic nature, freed from all forms of gender biasness, Islam stands to be the best alternative for socio-economic and political development for both men and women. This is simply because Allah cannot logically create and persecute, or marginalise what He has created as it happens in our societies because of some cultural or customary reasons," she stated.
The totality of the Holy Qur'an and the Sunnah of the Prophet (pbuh), if understood, she argued, is indicative of a philosophy and acts of liberation for all especially women from the bondage of pre-Islamic rigidities. She pointed out: "First, in history, starting from the 6th century, with the birth of the Prophet (PBUH), when women were not considered human beings, when they were considered mere objects for men's utilisation in all civilizations around the world including that of Arabs, the Prophet worked very hard to change the world mindset and particularly the Arab culture where a girl child used to be buried alive: Surah Kuwwirat: 81, Verse 8. One of the strategies used by the Prophet to effect change was to adopt what I may call a positive discrimination policy by showing the best example of keeping company with Sayyidah Fatimah, as a girl child, who was very close to his heart compared with his male children, and also always kissing children including girls for mercy and respect.
Second, substantively, the Qur'an is full of verses and surahs that address women particularly. Furthermore, in the case of family life and economic welfare, the Qur'an adopted an affirmative action strategy in verses such as Surah, al-Baqarah, 2: verses 35 - 36 and 4:11 respectively. This strategy was enforced by the Prophet (PBUH) to the letter to demonstrate to the world of yesterday and today that civility lies with respect to human dignity regardless of gender and age. And third, procedurally, in Islam, due process of law is deserved equally by men and women. In fact due to physical and psychological differences between men and women naturally, Islam is leaning towards softening its rules of procedures in respect of women such as obligations to risk their lives outside of the house or in case of punishments. For example, women are allowed to pray at home and yet get the reward of Mosque on Friday, so on and so forth."
The veep asserted that women according to Islam are counterparts of men, indicating that in Islamic jurisprudence; general speaking, there is no rule for sexism or separate regulations for them. "There are, however, few limited secondary regulations where a distinction is drawn between the two sexes. But these are intended purely to enable both of them to give a genuine expression of their faith in accordance with their respective human nature," she noted.
The government under the dynamic leadership of President Jammeh, who continues to be the leading advocate for religious tolerance, multiculturalism, freedom of worship provided it does not affect peace and security in any form, according to her, will continue to create the enabling environment for religion to be practiced as desired.
Speaking earlier, Scholar Aja Maimuna Savage thanked the head of state and his government for the support, while praying for the prevailing peace and stability in the country to be strengthened. Other speakers at the conference included a representative of the Supreme Islamic Council, Sheikh Ibrahim Jarju, Sohna Rabiatou Ceesay and Sohna Arame Secka from Senegal. The conference was chaired by Alhaji Ousman Kah.
http://allafrica.com/stories/201405131350.html
------------
URL: https://newageislam.com/islam-women-feminism/online-abortion-becomes-flourishing-business/d/77018