New Age Islam News Bureau
1 Aug 2016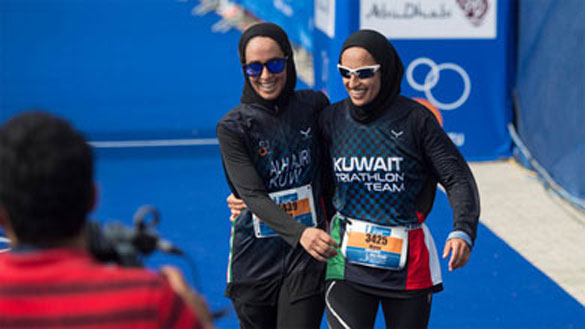 Nada Aljeraiwi, left, and Noura Al Hajeri share a laugh after completing in the ITU World Triathlon Abu Dhabi, United Arab Emirates earlier this year. Photo / Nikki Kahn
---------
• Olympics: Muslim Female Athletes Find Sport Vital, Compete While Covered
• Unmarried Couples Are Flogged For Violating Sharia Law In Indonesia
• ISIS Reveal 'Why We Hate You' As They Plot To Wipe Out 'Western Women'
• Social Media Darling Revealed To Be Daughter of Terrorist
• A Hijab Should Not Be Required Attire for Muslim Women
• 12th World Islamic Economic Forum Set To Accelerate Women's Leadership in SMEs
• These Muslim Women of 'Wasseypur' Win Hearts of Armymen, Others
• Indian Muslim Women to Take Self-Defence Lessons
Compiled by New Age Islam News Bureau
URL: https://newageislam.com/islam-women-feminism/olympics-muslim-female-athletes-find/d/108145
------
Olympics: Muslim female athletes find sport vital, compete while covered
Monday, 01 August 2016
On a perfectly breathable Friday near sunset in the spring, you might have spotted what residents say you never would have spotted 10 years ago: women, here and there, on the pathways that twist near a sports park, walking briskly or jogging, in their abayas.
Look more carefully, and you would have noticed another novel sight of the 2010s: six cyclists on their bikes, zipping back and forth, coed - four men in helmets, two women in helmets and Hijabs.
These two sisters have happened upon a passion for triathlon in their 20s, and the sport has driven them around the world and even to the wilds of eBay. That's where Najla Al Jeraiwi, determined that being covered would not impede being competitive, bought 15 body suits some time ago, fearing their obsolescence because swimming's governing body had banned them from world competition. She gave three to her sister, Nada. She gave four to friends. "I have the rest, but with time it's getting worn down," she said. "So now we're struggling."
Count the Al Jeraiwi sisters, all inconspicuous 5 feet 1 (Najla) and 5 feet 3 (Nada) of them, among a fresh wavelet of human athletes: women who find sport such an essential part of themselves that they compete in traditional hijab headscarves, loose-fitting abaya robes or other covering.
Especially for triathlon, that combination of swimming, cycling and running, this means exhaustive searches for ever more agreeable fabrics. It means there's a novel fashion item of the 21st century, the sport hijab, and a trickle of companies making it.
Hijabs and abayas, both a tradition and a personal choice in most Middle Eastern cultures, have begun to dovetail more with sports. They have appeared with flair, such as when Shinoona Al Habsi, then a 19-year-old runner for Oman, entered the Olympic Stadium at the London Games four years ago to run the 100 meters in a memorable hijab of a fine red, "red because of Oman," she said, referring to a dominant color in the country's flag.
They have caused policy advancements, such as when FIFA, the world governing body of soccer, opted to alow hijabs in early 2014. "Look, it's a popular sport," Prince Ali bin Al Hussein of Jordan, a FIFA member archly supportive of women's sports, said in an interview. "We had, for example in West Asia, we had a tournament. I'm president of the West Asian Football Federation. And when we first introduced women's football, the Iranians resisted by saying they would not allow their girls to play if men are present in stadiums. But if you put it to them properly, which we did, they have to accept the status quo. And things are easy to move ahead.
"We had the same issue with headscarves. The way we did it in FIFA was to say that, 'Look, you have to have mutual respect.' In fact, our women were the first girls who went and played in Iran without headscarves after the decisions were made. So there's a lot of things that can be done as long as we take the politics out of it."
Yasmeen Khair called it "one of the best decisions that was made." Khair, a defender on Jordan's women's national soccer team and a designated ambassador for Jordan's upcoming Under-17 Women's World Cup, said, "In Arab countries, hijab, it's a main thing, you know. In our team, we had a lot of girls wearing hijab. . . . Three, four of them, they were with the national team, and they were some of the main players, you know? So if this decision wasn't made, then you're going to lose a lot of the girls playing football. Even the young ones."
In turn, athletes have set off seeking better fabrics. Najla Al Jeraiwi still uses a custom-made hijab of "normal fabric, not ideal for racing" but not terrible, just not quite cool and dry enough. It's still an improvement over 2012, when her Spanish coach, Vicent Beltran, first found her swimming in routine sports clothes and long-sleeved shirts, then found long-sleeve swimwear that proved unfit for cycling and running, until a Spanish company made a trisuit for Najla. She improved her 100 meters by 14 seconds. "We all almost cried of happiness that day at the swimming pool," Beltran wrote in an email.
"The situation of the women in this area is very different from one to another," said Marisol Casado, president of the International Triathlon Union, "because in some of these areas they are really very open, like Lebanon, and then they have no problem at all, and in others like Iran, for example, they have more problems, but with hijab, they allow to compete. The movement is coming from people, from women from Iran. . . . I hope that they will decide not to wear it. This is my hope. But it's up to them."
Sport-hijab makers have materialized, shipping the hijabs to about 15 countries in the case of one Dutch company, Capsters. Its roots lie in the case of a Dutch high school student forbidden from gym class in 1999 because of her hijab. Cindy van den Bremen, then a design student in Eindhoven, Netherlands, began thinking, never imagining that 17 years later a livelihood would stem from her designs, with fabrics once futuristic.
"Capsters believes the choice to cover yourself should be yours and yours only, otherwise you deny the right of the women themselves," van den Bremen wrote in an email. "Both the Muslim community as well as people outside the community are forcing their ideas upon the women to cover or not. So on both sides there is social pressure as well as connotations that are based on assumptions and stereotypes and deny the rights of the women themselves."
Perhaps even more often, people root for the singular. Roquiya Cochran told of a three-day process in 2012 when she and her daughter, Zahra Lari, a figure skater from the United Arab Emirates, first appeared at an event in Italy.
At first, fellow skaters and their coaches stared quietly and quizzically, having never seen a skater dressed in a hijab. (Lari even received a points deduction because judges deemed this novelty a prop, a matter long since cleared up.) The second day, people began to smile. By the third, they took selfies.
"When I go to competitions, people usually have a lot of questions about it because they've just never seen anyone like that," Lari said. "But it's just that they're curious about it. They'll be staring and they'll come and they'll ask me. They want pictures with me or something like that. I think it's a good way to spread the word, like, 'We're normal. There's nothing different between me and you.' "
With the abaya, some athletes report even an unforeseen boon. Sarah Attar, a Californian who ran for Saudi Arabia in the 2012 Olympics, has visited Saudi Arabia with her Saudi father and American mother umpteen times in her 23 years to see her father's populous side of the family tree. Nowadays, she runs in an abaya when in Saudi Arabia and in American running gear while training in Mammoth Lakes, Calif.
"A lot of the girls I've talked to, it's not that the abaya itself is the obstacle, but just making one that's easier to run in, so you just have to kind of think they're obstacles only if you let them be," she said. "It goes down to your ankles, and it's an extra layer on top of running clothes underneath, and it is much warmer."
She laughs slightly. "So it's just like, it's just part of it. . . . You know, it's interesting because when I'm there and running it, I'm like, 'This is just extra training.' Or it's like a different form of endurance. Or 'If you can get through it when it's harder, then when you race . . .' "
Nesreen, a Saudi mother of four in her early 40s and based in Jeddah and who asked that only her first name appear, said running had revamped her life after she joined a coed group called Jeddah Running Collective. "When the weather is good, it doesn't bother me much," she said of the abaya, "and we rarely get good weather here, maybe two months a year. But when the weather is hot, like now, I feel like I'm a walking sauna, literally. I do feel like I'm heavier and uncomfortable as well. But all this won't make me stop running. On the days I'm feeling really into the run, I don't remember I'm wearing abaya."
The issue of attire has been, of course, markedly different in swimming, in which athletes compete far less covered than in, for example, taekwondo.
Faye Sultan, 21, who swam for Kuwait in the 2012 Olympics and for Williams College in Massachusetts for four years, recounts stories that tell of change.
When she was 11, Sultan went to an international meet in Kuwait, then went right home when authorities shut it down after learning that boys and girls would compete concurrently. From when she was 9 to when she was 17 at the London Olympics, her father, Tarek Sultan, a former basketball player for the Kuwait national team and also for Williams, wasn't allowed to watch her swim competitively. She grew to 6 feet tall, and as the only girl rising at 4:30 a.m., coming to school with wet hair from training, eating in morning class for replenishment, she usually swam very much alone. As the only girl around competing in her teens, she never got to swim a Kuwaiti relay - when she reached Williams, she didn't know how to do one, which drew some ribbing from teammates - and she spent much of her teens in undersized, non-Olympic pools where her limbs would hit concrete.
Finally, when she was 17, her father asked Kuwait's swimming federation whether his daughter could train in the Olympic-sized pool with the men's team. The federation complied. For her first appearance, Tarek accompanied her, his lone daughter among three athletic offspring whose sports participation the parents viewed equally.
"You could tell she looked nervous," said Mohammed Madouh, a team member who had swum for Kuwait in the 2008 Olympics and for Arizona State. After all, it was a pool to which, simultaneous to the team's training, parents brought small children to swim.
Said Madouh: "So you can see the parents from the distance looking at Faye like, 'Oh my god, how can a girl train with boys?' So we got that feeling. We saw that. I can understand it can be uncomfortable, but then the same parents that show up every single day, they saw that it's normal. . . . It's all about breaking the rule and then getting used to it, and then you'll find it normal, and that's it."
On the first day, Madouh, then 25, walked over to the teen. He handed her a Kuwait swim cap. "Welcome to the team," he said.
In May in Dubai, he said, "It's an honor to have a female swimmer in Kuwait," and, "I think I'm very lucky to witness that."
Yet change has rumbled for a while. Madouh said that at the 2010 Asian Games in Guangzhou, China, as Sultan swam in a standard swimsuit for international competition, Madouh wearied of hearing Kuwaiti officials from various sports bemoan Sultan competing "in a bikini," a word he found objectionable out of his respect for her dedication. At the 2014 Asian Games in Incheon, South Korea, Madouh heard no such whining. While Sultan studied and swam at Williams, her mother, Muna Al-Mousa, told her of seeing a Kuwait swim club advertising that parents should bring girls to learn to "swim like Faye."
Said Tarek Sultan, "I think recently, certainly seeing Faye attend the Olympics, I think there's been a real shift in people's attitudes, and the number of women participating is off the charts."
The Elite Swim Team in Kuwait, he notes, has 850 members, about 400 female. "Isn't that something?" he wrote in a subsequent email.
- - -
Even now, though, the Al Jeraiwi sisters are on their third pool for training because others discontinued women's hours. They know that one former Kuwaiti triathlete had to train in a lagoon near a construction site, with jellyfish and jet skiers, and that she no longer competes after marrying.
While driving from the cycling training session on the Friday evening, Nada Al Jeraiwi spoke of generations. The gap between her generation and her mother's, she said, actually is smaller than the gap between her mother's generation and her grandmother's. Two generations back, she explained, women stayed entirely at home. Last generation, they began going off to university and going out with friends. With this generation, Al Jeraiwi said, they have mobile phones whereby parents can check on their safety.
She and her sister realize they're at a forefront. They tell about how a Kuwait Olympic Committee executive, at a meeting in 2014, had no idea Kuwait even had female cyclists until Najla's friend and fan Saleh Al Duwaisan stood and corrected him. "I said, 'Yes!' " Al Duwaisan said. "I said, 'This girl got lots of medals and nobody had an accident while she was cycling.' " Najla recalls that the executive "became supportive" and said, "Oh, that's good."
They have heard the occasional gossip about themselves. "For me, I heard some people were chatting about it behind my back," Nada said. "But I wouldn't care, because I'm telling you, the girl, she said that if her husband allows her to do that, she would do it, and she would do more." Such negativity, she said, comes from "only maybe 5 percent."
Nada's husband, Osama Al Othman, figures his support of his wife's athletic pursuits place him roughly in a 35 percent minority. "I think the old people reject it generally and the young people accept it," he said. "But the strange thing is, the young people here in Kuwait, if they're married, they reject it for their wives."
He laughed slightly and said, "This is the strange thing I cannot understand." He added, "Even to my friends, I am talking to them, [telling them] that my wife is participating, and I am posting her participation on the Instagram, Twitter, because I am very proud of my wife and I'm proud of what she's doing and I don't hide it anywhere."
"In any situation in any incidence," Najla Al Jeraiwi said, "there are some people who criticize you, about the way you dress, about what you're doing, but in every side of the world. Doesn't matter if you're here or anywhere else. So just continue what you're doing, and you'll get shocked from the support you'll get from the people."
They're hoping to get more children involved, with earlier starts in life. Najla does just that on a Saturday morning, bouncing around with her uncommon energy to oversee a kids' mini-triathlon in her job organizing events at a seaside health club. Nowadays she gets questions from parents about nutrition, crucial for a region with a high rate of diabetes, as Tarek Sultan points out.
At 5 a.m. on Sunday, then, it's quiet in the club parking lot. The first light of day has come. In close view are a mosque and a P.F. Chang's. Into the parking lot comes an SUV, and out pops a 5-1 force of nature whose determination makes her "the perfect athlete every coach would like to train," Beltran said.
Najla goes inside, readies, swims in the Kuwait cap she used at the Asian Games. Amid one drill, she churns, reaches the wall, pops up. Her coach, a Filipino woman named Chal Burns, reads out her time.
Najla smiles.
http://m.nzherald.co.nz/sport/news/article.cfm?c_id=4&objectid=11684971
--
Unmarried couples are flogged for violating Sharia law in Indonesia
1st August 2016
This is the moment three young couples were savagely whipped in public - after they violated Sharia law by going on dates.
Harrowing pictures show one woman crying out as she is repeatedly lashed with a cane at Al Furqon Mosque in the city of Banda Aceh, Indonesia.
Separate images show a man standing as he received the same brutal punishment.
In total, three Acehnese couples were sentenced to receive public lashes for violating Sharia law in a brutal new crackdown in the region.
Under the law men and women, who are not spouses, are not allowed to get too close due to the 'khalwat' offence - and punishment is by public caning.
Aceh is the only province in the world's most populous Muslim-majority country that is allowed to implement Islamic Sharia law.
In September, pictures emerged of a woman being caned after she was accused of having sex while unmarried.
Gay sex, gambling and drinking alcohol are all punishable by caning in Aceh which began implementing Sharia law after being granted special autonomy in 2001, an effort by the central government in Jakarta to quell a long-running separatist insurgency.
A flurry of new Islamic laws have been introduced in Aceh in recent years, drawing howls of protest from rights groups.
Earlier this year, Banda Aceh banned women from entertainment venues after 11pm unless they are accompanied by a husband or male family member.
Aceh district has also banned unmarried men and women from riding together on motorbikes.
http://www.dailymail.co.uk/news/article-3717829/Whipped-public-just-daring-date-Unmarried-couples-flogged-violating-Sharia-law-Indonesia.html
--
ISIS reveal 'why we hate you' as they plot to wipe out 'Western women'
1st August 2016
FEMINIST: Islamic State wants to wipe out the 'Western woman' who 'acts like a man'
In the 15th edition of the monthly terror rag, Dabiq, it condemns feminism as an "evil" along with bestiality, porn and marijuana.
It continues to encourage romping with your wives and slaves, however, in a sickening attempt to "drive out" homosexuality.
In a chapter titled, "The Fitrah of mankind and the near-extinction of the western woman" it writes: "…those who guard their privates except from their wives of those [female slaves] their right hands possess, for indeed they will not be blamed."
WIPED OUT: Women should "guard their private parts" according to Dabiq
"We hate you, first and foremost, because you are disbelievers"
ISIS' Dabiq magazine
The terror cult are acutely aware of westerners confusion over why they are so angry at the west.
So the latest issue tries to make the reason for their hatred crystal clear.
In an article titled, "Why we hate you and why we fight you", it gives a bitesize rundown.
SHYNESS: Western women are just too bolshy, ISIS claim
Reasons why ISIS hate us:
1. Because we are non-believers who won't convert or pay tax
"We hate you, first and foremost, because you are disbelievers," it explains.
"We have been commanded to fight the disbelievers until they submit to the authority of Islam, either by becoming Muslims or by paying jizyah [annual tax]."
"The fact is, even if you were to stop bombing us, imprisoning us, torturing us, vilifying us, and usurping our lands, we would continue to hate you because our primary reason for hating you will not cease to exist until you embrace Islam."
2. You're all too liberal
Our love of booze, casual sex and equal rights for gay men and women don't do us any favours.
"We hate you because your secual, liberal societies remit the very things that Allah has prohibited, while banning many of the things he has permitted," it adds.
PRIDE: Many attacks have focused on LGBT communities
3. Some of you are non-believers who don't even believe in anything else
"We hate you and wage war against you because you disbelieve in the existence of your lord and creator," they explain.
It's atheists' insistece that "inexplicable precise physical laws that govern the entire universe" came about through "randomness" that really gets ISIS' goat, they add.
NORMANDY: Two teens slit Father Jacques Hamel's throat
4. Crimes against Islam
Several insults against the Muslim faith have pushed ISIS to the edge, it said.
"As long as your subjects continue to mock our faith, insult the prophets of Allah…burn the Koran and openly vilify the laws of the Shariah, we will continue to retaliate, not with slogans and placards but with bullets and knives."
5. Drones
The continued use of fighter jets and drones by US and UK armies killing and maiming civilians across Syria and Iraq have helped fuelled the fire, according to the mag.
It writes: "We fight you to stop you from killing our men, women and children, to liberate those of them whom you imprison and torture."
6. You have taken our land
"As long as there is an inch of territory left for us to reclaim, jihad will continue to be a personal obligation on every single Muslim," it warns.
Despite that, it appears ISIS are going for an image makeover.
It's been mocked for using a jihadi posterboy holding a tiny ginger kitten in his hands.
http://www.dailystar.co.uk/news/latest-news/534304/islamic-state-dabiq-western-woman-feminism-hatred-tell-why-we-hate-you
--
Social Media Darling Revealed To Be Daughter of Terrorist
01/08/16
The heartwarming story of a simple act of kindness that went viral just became much more complex.
Social media outlets were abuzz this weekend when a Facebook post by a young Muslim mother in the United States on Saturday spread, recalling a chance encounter with an elderly Jewish man in a local Barnes & Noble bookstore.
Noticing the mother's clearly Islamic attire, the man, named Lenny, approached the woman, offering his "heartfelt apology for the general anti-Muslim sentiment in our society today," the woman wrote on Facebook.
Lenny, who turned 90 on Friday, "had tears in his eyes" as he told the woman "that he feels awful about the bigotry my kids might one day experience, and that as a Jewish man whose parents didn't speak any English growing up, he personally understands what it feels like to be rejected and discriminated against".
"I asked if I could give him a hug… and he wanted to reassure me that most Americans are decent people who don't hate people like me or believe what they hear on the news."
But the story doesn't end with the post.
As chance would have it, the author of the post happens to be Leena Al-Arian – daughter of the convicted Islamic Jihad terrorist Sami Al-Arian.
The Kuwaiti-born Sami Al-Arian, 58, who worked as a computer engineering professor at the University of South Florida prior to his arrest, was indicted in 2003 on 17 counts of aiding and abetting the terrorist organization Islamic Jihad.
Sami Al-Arian was later convicted following a plea-bargain arrangement and handed a prison sentence and deportation order. Following the end of his term in 2015, Al-Arian was deported to Turkey.
Prior to his arrest, Al-Arian had praised the Muslim Brotherhood, and had been recorded on multiple occasions calling for violent Jihad and proclaiming "death to Israel".
Despite the terror conviction, Al-Arian's family refused to disavow their father and his actions, claiming he was "persecuted" because of his background.
Speaking at a demonstration in 2003, Leena Al-Arian said on her father's behalf: "I'm crucified because of who I am."
"I am a stateless Palestinian, an Arab, a Muslim, an outspoken advocate for Palestinian rights. I am not the enemy, but the forces of exclusion and intolerance are."
While studying at the University of South Florida, Leena served as Vice President of the radical Muslim Students Association. She also maintained a blog during this period, ranting against the State of Israel, Zionism, and Holocaust education.
"I am just so tired of reading blatantly biased writings on the Holocaust... [T]he thought of sitting through that nauseating three-hour class makes me want to put a bullet through my head. I am sick of the likes of propagandists such as Elie Wiesel, Rubenstein, and others who continue to exploit the tragedy of the Holocaust to justify the continued, unjustifiable suffering of the Palestinians," Leena wrote in 2004.
http://www.israelnationalnews.com/News/News.aspx/215813
--
A hijab should not be required attire for Muslim women
Aug. 1, 2016
Increasingly, Muslim women are opting to cover their hair in public. And increasingly the questions are being asked if wearing a hijab in public is part of the Islamic dress for Muslim women. The simple answer: It is not. There is no such thing as Islamic dress for women.
There is no mention of any specific dress for women in the Qur'an. There are, however, three passages that lay down guidelines for Muslim women. They are advised to cover themselves appropriately when they are outside the home and not to display their beauty, their embellishment, and their adornments. Interpretations vary and scholars draw opposing conclusions from the same passages in the Qur'an.
Like the colors of a rainbow, Muslims come in all colors and hues, and they in turn bring their own cultural traditions that are well within the limits prescribed by the Qur'an.
The underlying principle is to dress modestly and not be a walking sex symbol. Under this rubric, Muslim women can wear any style of dress — whether from the West, Africa, the Indian subcontinent, or the Far East.
About 25 years ago, a few Saudi young men stopped by the Islamic Center in Perrysburg for the sunset prayer service. At the time, the governing board and the board of elders of the center, comprised of both men and women, were in session for their monthly meeting. The visitors, probably newcomers to America, promptly reported to Saudi press that in one of the mosques in America they allow participation of half-naked women. Their only reference point was where they had come from.
Even to a casual observer, it becomes apparent that women in different parts of the Muslim world dress differently. Even within one country there are regional variations. To the orthodox Arab Muslims, the shalwar kameez and long scarf, called dupatta, worn by Muslim women in India and Pakistan appears outrageous. Similarly, most Indian and Pakistani women would consider the obsessive covering of every single strand of hair as overkill.
So where did this covering of the hair come from? From Saudi Arabia and other Arab countries. It is ironic that while they constitute merely 15 percent of the 1.6 billion Muslims worldwide, most Arab Muslims consider themselves as the final arbitrators of what is Islamic and what is not.
For more than 50 years, the Saudi Wahhabi interpretation of Islam has swept the non-Arab Muslim lands. Under the influence of this rigid and unyielding version of Islam, it is a must for a woman to cover her hair in public and preferably to cover herself from head to toe as in Saudi Arabia and the Gulf countries.
This restrictive philosophy rode on the wings of petro-dollars and reached the far corners of the Muslim world, where compliant imams started shoving a totally alien and foreign cultural tradition down the throats of Muslim women.
For the past 38 years, I have annually visited to teach at my alma matter Khyber Medical College and a few other institutions in Peshawar. Each time I see more young women wearing hijab and quite a few wearing a niqab or the veil that covers their faces. The girls who do not, I was told, are under pressure from the student religious organizations on the campus to tow the line. In contrast when I was a student in the late 1950s and later as a faculty member in the 1970s, there was not a single hijabi girl on the large university campus.
Why don't the imams and the scholars lead the way? I believe they are weighed down by history and tradition. Many of them rely on old commentaries, some going back hundreds of years, to find answers. A majority of them have ceased to break new ground in religious thinking and have instead morphed into mere conformists who are comfortable in following in the footsteps of the scholars and jurists of yore. In the process they have let their inkwells run dry.
If that were the modus operandi of the Islamic scholars in the first three centuries of Islam, the four major schools of thought in Sunni Islam and two in Shia Islam would not have developed. In that case, we would have a monochromic and monolithic religion.
Wearing a hijab should be a personal choice for Muslim women and not a religious obligation. Once it is made a religious obligation, as some Muslims have done, it automatically consigns non-hijab wearing Muslim women to a lesser status. It is hard to accept that tens of millions of Muslim women in non-Arab societies had it wrong for centuries.
http://www.toledoblade.com/S-Amjad-Hussain/2016/08/01/A-hijab-should-not-be-required-attire-for-Muslim-women.html
--
12th World Islamic Economic Forum set to accelerate women's leadership in SMEs
1-8-2016
There has never been a better time for women in Islamic Economies to be entrepreneurs. There are more business opportunities and more openings in the employment market for women today. They are being recognised for their value in contributing to the economy and to enrich the workforce.
The 12th World Islamic Economic Forum, to be held in Jakarta from 2 to 4 August, 2016, provides an opportunity for women entrepreneurs to connect, contribute, and share best practices and personal success on an internationally respected platform. There will be sessions and panel discussions dedicated to "Empowering Women in eCommerce", "Restructuring SMEs and Improving Credit Access and "SMEs in a World of Digitised Trade", where women entrepreneurs own 60% of SMEs globally.
The Forum will also feature prominent female speakers who have made a success of the businesses they run, such as Shinta Witoyo Dhanuwardayo, CEO and Founder of Bubu.com in Indonesia, Faduma Aden, CEO & Founder of Jemmila in Sweden and Fatma A. Elmaawy, Managing Partner of Auto Village in Kenya, to name a few.
The International Labour Organization data indicates that, on average, the female labour force participation in Islamic Economies has grown from 1990 to 2014. In ASEAN Islamic Economies such as Malaysia and Indonesia, the figure sits at 45 and 51 percent respectively. The Asian Development Bank says that SMEs make up over 99 percent of businesses; and out of that, 60 percent of these businesses are run by women.
According to Nita Yudi, Chairwoman of Indonesian Businesswomen Association (IWAPI), "Despite these figures, opportunities are still missed by women, due to poor support infrastructure. This is in spite of studies consistently showing companies that practice inclusion at the executive level generally outperform organisations with male-only boardrooms."
A global study by Credit Suisse revealed businesses with just one woman on the board outperformed all-male counterparts by 2 percent annually between 2012 and 2014. Despite this, women still only hold 1 in 10 of executive positions globally.
"The only way for an economy to reach its full potential is through inclusive growth, to provide equal opportunities for women in business and in our workforce, and we must work harder to ensure those structures are in place, enabling women and women with family responsibilities to be in employment," Yudi concluded.
The Asian Development Bank predicts that eliminating gender gaps in employment could add 70 percent to per-capita GDP throughout the region over the next 60 years.
http://www.enterpriseinnovation.net/article/12th-world-islamic-economic-forum-set-accelerate-womens-leadership-smes-598949517
--
These Muslim Women Of 'Wasseypur' Win Hearts Of Armymen, Others
01 Aug 2016
New Delhi: Indian Army jawans in Jammu and Kashmir are passing through a tough phase as the Valley is facing turbulence after the killing of terrorist Burhani Wani. Many jawans have laid down their lives in order to protect the civilians of Kashmir Valley.
In a bid to show their gratitude to armymen for their selfless service, a few Muslim women from Jharkhand's Wasseypur have sent 'Rakhi' to Kashmir as the festival of Raksha Bandhan is around the corner.
This inspiring act of Muslim women has encouraged other communities as well. Women from other communities have also decided to send 'Rakhi' by post. Most of the women who took the noble initiative are from Silver Dove School in Dhanbad.
After seeing the affection of these women for soldiers, the staff of the post office took the decision to send all 'Rakhis' by flight instead of the general post.
Interestingly, Wasseypur is the city which was portrayed as a 'crime city' in the Bollywood movie 'Gangs Of Wasseypur' in 2012. The movie was directed by Anurag Kashyap.
http://post.jagran.com/these-muslim-women-of-wasseypur-win-hearts-of-armymen-others-1470044398
--
Indian Muslim women to take self-defence lessons
Sun, 31 Jul 2016
Summary: Vadodara: Muslim women from the city will for the first time be taught techniques of self-defence on Sunday. These women will be trained in defending themselves physically from notorious elements and eve-teasers.The Alavi Bohra community has taken this initiative to ensure safety for Muslim girls and women. We are trying to reach out to as many Muslim women as possible," Zulkarnain told TOI.The M D Self Defence Academy will teach basic moves to the women at Taiyyebi Hall on Ajwa Road on Sunday. "Vadodara is a very safe city for women so many don't think it is necessary for them to learn self-defence techniques. So we will organize another workshop focusing on cyber security for women," Zulkarnain added.
Vadodara: Muslim women from the city will for the first time be taught techniques of self-defence on Sunday. These women will be trained in defending themselves physically from notorious elements and eve-teasers.The Alavi Bohra community has taken this initiative to ensure safety for Muslim girls and women. They will also be taught how to protect themselves in virtual world while surfing on social networking websites."We decided to organize this training programme for women to spread awareness about lurking danger and also on how to defend oneself.
It will be a three-hour workshop where the women will be taught several moves to tackle miscreants. This is one of the first steps towards women empowerment among the Alavi Bohra community," said Dr Bhaisaheb Zulkarnain, president of Tadbeer Foundation that is organizing the workshop."Vadodara is a very safe city for women so many don't think it is necessary for them to learn self-defence techniques. But in the era of globalization, one has to move around a lot and people from outside too settle in our city.
http://www.nyoooz.com/vadodara/559010/muslim-women-to-take-selfdefence-lessons
--
URL: https://newageislam.com/islam-women-feminism/olympics-muslim-female-athletes-find/d/108145