New Age Islam News Bureau
1 Oct 2019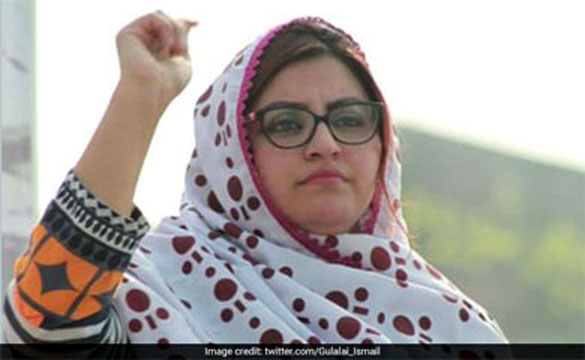 Gulalai Ismail is a Pakistani women's rights activist who is seeking political asylum in US.
------
• Muslim Woman Told To 'Go Home' By Oxford Academic
• Activist Gulalai Ismail Leads Anti-Pakistan Protests Outside UN
• Nigeria: Police Rescue 19 Pregnant Women, Aged Between 15 And 28, Held In 'Baby Factory'
• Saudi Women's Bowling Team Aim to Strike It Lucky in Major GCC Tourney
• Saudi Arabia Promise Bach More Opportunities For Female Athletes During Visit To Jeddah
• Give Bilkis Bano Job, Compensation in Two Weeks: SC to Gujarat
• Indore Woman Alleges Triple Talaq by NRI Husband on Phone
• Cardi B Goes 'Niqabi' Mode In France, But Muslim Women Aren't Allowed To?
• Safe Space: The New Cinema Welcoming Women In Male-Dominated Kabul
• Iran Begins To Acknowledge Its Forgotten Women Of War
Compiled by New Age Islam News Bureau
URL: https://www.newageislam.com/islam-women-feminism/olympic-fencer-ibtihaj-muhammad-turns/d/119882
--------
Olympic Fencer Ibtihaj Muhammad Turns Bullying Experiences into New Children's Book
September 30, 2019
The new children's book "The Proudest Blue: A Story of Hijab and Family" looks at a common childhood experience — the first day of school.
For sisters Faizah and Asiya, the first day is extra special because older sister Asiya will be wearing a beautiful blue hijab to school for the first time. The head covering, worn in public by some Muslim women, is a way to honor Islam.
But as Faizah and Asiya navigate a new school year, the two siblings encounter questions as well as teasing and bullying for wearing a hijab.
It's an experience that co-author and Olympic medalist Ibtihaj Muhammad knows all too well. She made headlines in 2016 when she became the first Muslim American woman to represent the United States in the Olympics wearing a hijab, and the first to win a medal at the games.
Since then, she's been viewed as a role model for young Muslim women, something she says is still surreal.
As a kid growing in the suburbs of New York City, Muhammad says her parents and siblings were one of the only Muslim families in town, yet sporting a hijab was "commonplace" within her family.
In elementary school, she had to explain what a hijab was to classmates, something she describes as "quite a heavy load to carry" at such a young age.
"At that age, you want to fit in," she says.
Muhammad says writing "The Proudest Blue" was cathartic. The children's book provided her with an outlet to show other little girls wearing hijabs to school that it's okay — "I hope that they see themselves in this work," she says — while teaching other children to "celebrate one another despite our differences."
Interview Highlights
On how she addressed bullying in her book
"It was intentional for the bully not to really have a face. So you don't see his image, he kind of looks like this dark shadowy figure. But at the same time, it's so, I think, meaningful her response to that situation and her friends to rally around her and to ignore his comment and to not lash out in that moment. And I think when you look at the younger sister Faizah's perspective, for her to see that it didn't change how tall or proud her sister was in that moment [or] how she stood and she continued to play with her friends and not allow it to affect or change how she felt about herself, I think it's a meaningful moment for children out there whoever had that universal experience of bullying."
On the book's colorful illustrations
"I think that Hatem Aly, he's a Canadian illustrator, he did such a remarkable job with this body of work. I think that he brought the words to life. These comparisons of the hijab to the sky and to the ocean, just the beautiful blues that he's able to capture the words. I think he's very talented and I'm so happy to partner with him on this project."
On her real-life sisters being the characters Faizah and Asiya
"I think that Asiya's response is so indicative of who she is. She's a woman of very few words and she's like, 'Oh, that's cool.' But that's it. Faizah and I have fenced together for years and years and years. So for her, I think, it was an awesome experience as well to be a part of the book. I think the most interesting thing that my family saw is that the character Faizah, the images that Hatem illustrated, look a lot like my four-year-old niece — down to the little fluffy pigtails that she has."
On wearing her hijab while fencing
"I think that people have a hard time seeing things that haven't been done yet. And within my sport — a historically white sport — to have an African American woman climb up the ranks who also wears hijab, for whatever reason, was just never received well. And my personality, I would say, is to challenge this idea of 'no.' Why is it that people are intimidated by my hijab or intimidated by my ethnicity, and why can't we exist and have the same opportunity. So it was never a question of, 'Why am I here?' for myself anyway. I knew that I had a job to do and that was to make this space more inclusive not for me but for anyone coming after me. I wanted to get through the door and hold it open for hopefully more young girls and young boys to be in this space where traditionally we haven't been welcome."
On how some of her teammates and coaches didn't want her on the team
"I mean that's true. But one of the cool things about being a U.S. athlete is that it's point-based. So, in the end, it didn't really matter what people thought. If I allowed the mistreatment that I received — by not just teammates but coaches as well — if I allowed that to affect me mentally, we wouldn't be sitting here today. I wouldn't have been able to be successful. So a lot of it is being very myopic in your focus and your goals. And once you're able to climb to the top, then you're able to use the opportunity to unpack those moments."
On being an inspiration for young Muslim women
"It's definitely a 'pinch me' moment. It was a dream and even when it happened for me, it was just very surreal, so I feel very blessed and thankful for the opportunity. But I always say I wish it had happened prior so it would have been far easier for me to see myself in this space but I have always known that my journey has been bigger than fencing. It's about having equal opportunity [and] equal access. A lot of the reason why the sport of fencing is not as diverse as other sports is because there's very limited access for underserved communities and underrepresented communities. And I would love to see our kids try out different things and not that I believe everybody needs or should be an Olympian or have that goal but just to get out there and be active."
https://www.wbur.org/hereandnow/2019/09/30/ibtihaj-muhammad-childrens-book-hijab
--------
Muslim Woman Told To 'Go Home' By Oxford Academic
30 Sep 2019
A Muslim woman says she was told to 'go home' by an Oxford University academic who also 'demanded a ban on the Burka'. Aisha Ali Khan says she was subjected to 'racist comments', while attending a dinner organised by a friend. The alleged incident took place on the evening of 18 September in Yorkshire, where she was sat on a table with people from the 'higher education sector'. During a conversation on politics, Ms Ali Khan says that Dr Peet Morris had told her to 'go home' if she wanted keep hold of 'barbaric practices that subjugated women'. Ms Ali Khan said that Dr Morris' wife, Dr Harriet Dunbar-Morris, was also in attendance at the dinner and tried to calm him down, however, Dr Dunbar-Morris later disputed what was said. She added: 'As a woman of colour, I felt singled out and victimised.
'The more I and other guests on the table pushed back against his racist tropes, the angrier and loud he became.' The English and History teacher said that although she does not wear a hijab or burka, she felt it was the right of a woman to wear what she wished. Ms Ali Khan added that she had initially taken to Twitter to bring attention to what happened, but so far was yet to receive a response from the University of Oxford. A spokesperson for the University of Oxford said that although Mr Morris was not a lecturer with the university, he does come in to teach I.T to postgraduate students, 'twice a term'. They added that the conversation in question, took place at a private event and was not connected to the University of Oxford. Dr Harriet Dunbar-Morris said the allegations by Ms Ali-Khan were 'very upsetting' and do not reflect her 'recollection of the private event'.
https://metro.co.uk/2019/09/30/muslim-woman-told-go-home-oxford-academic-10835657/
--------
Activist Gulalai Ismail Leads Anti-Pakistan Protests Outside UN
September 28, 2019
NEW YORK: Gulalai Ismail, a Pakistani women's rights activist on the run, who managed to escape her country to seek political asylum in the United States, is now the new face of hope for the many oppressed minorities. On Friday morning, Ms Ismail appeared on the busy streets of New York voicing the atrocities against minorities in Pakistan.
Just a month old in the city, Ms Ismail highlighted the plight and miseries that minorities are facing for decades in Pakistan.
Ms Ismail joined the Muhajirs, Pashtuns, Balochis, Sindhis and many other minorities protesting outside the United Nations headquarters while Pakistani Prime Minister Imran Khan addressed the UN General Assembly. Many protesters were seen holding placards and chanting slogans including "No more blank Cheques for Pakistan" and "Pakistan army stop meddling in politics."
"Innocent Pashtuns were killed in Pakistan in the name of eradicating terrorism. Thousands of people are jailed in internment centres and torture cells of the Pakistani Army," she said during a protest against Imran Khan in New York.
"Our demand is to end the human rights violations by the Pakistani military immediately. They should release the people who are still locked up in torture cells. But we are accused of terrorism if we raise our voices against them. There's a dictatorship in Khyber Pakhtunkhwa province by the Pakistani military establishment," said Gulalai Ismail, who was forced to flee Pakistan after being accused of treason.
Ms Ismail said that she is worried about her family and the "underground network" that helped her escape from Pakistan.
"Pakistani establishment used all its machinery against me so that they can suppress my voice so that they can torture me. They have pressurised my family so that they can stand against me. However, despite all this, my whole family stood by me. And to torture me they have levied fake charges on my father and my mother," she added.
A few days ago, the activist, in an interview with Afghan journalist Bashir Ahmad Gwakh of Mashaal Radio, said she was hiding in Pakistan for nearly six months and travelled to Sri Lanka with the help of her friends before leaving for the US.
Ms Ismail took the baton to highlight incidents of sexual abuse by Pakistani security forces.
Following her crusade against the atrocities committed on country's women, she was slapped with treason charges. The 32-year old rights activist managed to slip through the country last month and is now staying with her sister in Brooklyn in New York. She has also applied for political asylum in the US.
"Pakistan thinks that the US Department of State will force me to leave the US along with my family. But, I will continue my struggle in the US," Ms Ismail told Mashaal Radio.
Ms Ismail became a fugitive in May in her country, soon after she posted accusations on social media against Pakistani soldiers.
In her posts on Facebook and Twitter, she had accused soldiers of raping and sexually abusing Pakistani women.
The activist also took part in the ethnic Pashtun movement.
"There are misconceptions about Pashtuns in America that needs to be fixed. From there, I will be fighting and the world will know that Pashtuns are the victims of war," said Ms Ismail.
Ms Ismail was barred by the Pakistani government from leaving the country.
In November last year, Pakistan-based media outlet Dawn reported that the Islamabad High Court was informed that Inter-Services Intelligence (ISI) had recommended putting Ms Ismail's name on the Exit Control List (ECL) for her alleged anti-state activities abroad.
However, the court had ordered the removal of her name from the list following a petition by Ms Ismail challenging the government's decision. But, the court allowed the interior ministry to take appropriate action, including confiscation of her passport, in the light of recommendations made by ISI.
https://www.ndtv.com/world-news/activist-gulalai-ismail-leads-anti-pakistan-protests-outside-un-in-new-york-2108755
--------
Nigeria: Police Rescue 19 Pregnant Women, Aged Between 15 And 28, Held In 'Baby Factory'
30.09.2019
Lagos Nigeria
At least 19 pregnant women and four children were rescued from a "baby factory" in Nigeria's southwestern Lagos city, police said Monday.
The women, aged between 15 and 28, were rescued from a building believed to be a safe house used for human trafficking and other crimes, state police spokesman Elkana Bala told Anadolu Agency.
"Two female suspects who claimed to be nurses have been arrested in connection with the development but we are still looking for more, including the principal suspect, who is the main figure behind the ring and is on the run," said Bala.
He quoted one of the victims as recounting that they had been abducted from other parts of the country and kept under constant watch in the house where they were raped, impregnated, and delivered babies that were then sold.
"They sold male children from such pregnancies for roughly $1,400 while females went for around $830," he said.
Incidents of baby factories are a nationwide phenomenon, with security agencies continuing to battle cases of underground dungeons, torture houses and abductions.
https://www.aa.com.tr/en/africa/nigeria-police-rescue-19-women-held-in-baby-factory/1598070
--------
Saudi Women's Bowling Team Aim to Strike It Lucky in Major GCC Tourney
October 01, 2019
JEDDAH: Four of Saudi Arabia's top female bowlers are aiming to strike it lucky after being selected to compete for the first time in a major GCC tournament.
The Saudi Bowling Federation (SBF) will send Mashael Al-Abdulwahid, Ghada Nimir, Amani Al-Ghamdi, and Hadeel Tarmeen to the sixth GCC women's sporting meeting to be held in Kuwait Oct. 20 to 30.
The players were part of a six-woman squad that represented the Kingdom at the recent World Bowling Women's Championships in Las Vegas. They will compete in the singles, doubles, trio, and team events at the Kuwaiti games.
The team members had been due to participate in an Asian bowling competition which takes place at the same time but withdrew to join their GCC peers in pursuit of medal glory.
Six countries are expected to compete, with Bahrain the hot favorite to win gold. However, the UAE, Kuwait, and Oman will arrive on the back of strong recent performances making for a tough contest.
SBF President Bader Al-Alsheikh said: "We are thankful we're in a nation that continues to provide its men and women with support and opportunities in various fields, including sport.
"Although this is our women's first participation in the GCC tournament, we have faith and confidence they will present us honorably and will gain more experience, which is what we are aiming for."
Dr. Razan Baker, SBF board member in charge of female participation, said: "Our women bowlers have learned a lot from their previous participations abroad and locally through competing at SBF women's tournaments throughout 2018 and 2019.
"I believe this event will offer them a richer experience because they are going with a bigger delegation, which will be a new experience for them. Hopefully, this will motivate them to better performances and more medal wins before the end of the year."
Tarmeen said: "Competing at the World Bowling recently had a great impact on us; my team and I returned with overwhelming positivity to play better. Now we are training harder to enhance our performance and meet the expectations of the SBF and our fans and make our country proud.
"I'm very happy we will be joining with seven other Saudi women teams. This will definitely boost our strength and motivation."
The Saudi women's team will attend a training camp this month in Riyadh run by British coach Mario Joseph, who also supervises the men. As part of their preparations for the GCC tournament the lady bowlers will compete in the Khobar singles championships on Oct. 4.
Adwa Al-Arifi, Saudi Football Federation board member, said eight Saudi teams containing 62 female athletes would be taking part in the tournament in indoor football (13 women), basketball (12), fencing (12), taekwondo (6), athletics (5), table tennis (5), athletics for special needs (5), and bowling (4).
President of the Saudi Fencing Federation, Ahmad Alsabban, told Arab News: "For our fencers this participation is the first after several others at an Arab and Asian level, where they achieved victories despite having little experience and time playing in competitions. This participation is another step toward delivering more victories for Saudi Arabia, and we look forward to it thanks to the support of the General Sports Authority."
Meanwhile, Hadi Al-Qahtani, president of the Saudi Arabian Athletics Federation (SAAF), said: "The SAAF is one of the earliest federations in supporting female participation in sport since London Olympics 2012, and this continued in the Rio Olympics, the Youth Olympics in Argentina, and many other Arab and Asian championships.
"We believe through these competitions our athletes will develop their skills and talent and become champions in the near future and therefore we wish our athletes all the best in their journey and in honoring the country," he said.
The upcoming GCC games will include 11 sports; volleyball, basketball, handball, taekwondo, fencing, archery, bowling, table tennis, athletics, indoor football, and athletics for special needs.
Shaikha Hayat Al-Khalifa, a member of the organizing committee and board member of the Bahrain Olympic Committee, noted the success of previous tournaments and was pleased to see Saudi sportswomen involved in this latest event.
https://www.arabnews.com/node/1562216/sport
--------
Saudi Arabia Promise Bach More Opportunities For Female Athletes During Visit To Jeddah
By Duncan Mackay
30 September 2019
International Olympic Committee (IOC) President Thomas Bach has met Saudi Arabian Olympic Committee (SAOC) officials during a visit which he claimed demonstrated the power of sport.
Bach made the trip from Doha, where he had been attending the International Association of Athletics Federations World Championships, to Jeddah, despite the two countries have cut off diplomatic ties following a major dispute.
Upon his arrival, Bach was welcomed by Prince Abdulaziz bin Turki al Saud, elected as SAOC President only in February.
He was given a tour of several new sports facilities and heard directly from the SAOC Executive Board about a modernisation plan for sport in the country, part of the national Vision2030 reform plan.
This plan includes more and better access for female athletes.
Bach was also told about Saudi Arabia's preparations for next year's Olympic Games in Tokyo.
Later, he met athletes at the King Abdullah Sports City where youngsters of both gender demonstrated their skills in fencing, table tennis, athletics, football and taekwondo.
Following pressure from then IOC President Jacques Rogge, Saudi Arabia sent its first female athletes to the Olympic Games at London 2012 when Sarah Attar competed in the 800 metres and Wojdan Shaherkani in the under-78 kilograms category in the judo.
Four women represented Saudi Arabia at Rio 2016.
Bach also me members of the newly elected SAOC Athletes' Commission - with gender parity - who presented their strategy for athlete engagement in the Kingdom and empowering the athlete voice.
"I'm really excited by the development of sport in Saudi Arabia at both the grass roots and elite level," said Bach.
"The enthusiasm of the young athletes really touched me, and also to see, in particular, the many young girls participating is really a very encouraging sign."
https://www.insidethegames.biz/articles/1085394/saudi-arabia-promise-more-female-chances
--------
Give Bilkis Bano Job, Compensation in Two Weeks: SC to Gujarat
October 1, 2019
The Supreme Court on Monday gave the Gujarat government two more weeks to comply with its direction to provide compensation of Rs 50 lakh, a job and accommodation to Bilkis Bano. who was gangraped during the 2002 post-Gondhra communal riots.
A bench headed by Chief Justice of India Ranjan Gogoi asked Solicitor General Tushar Mehta, who appeared for the state, why it had not complied with its April 23 order regarding compensation.
Mehta replied that the state was planning to file a review in view of the fact that the amount has not been mentioned in the victim compensation scheme.
The bench however, ordered that the state must comply with its direction within two weeks.
To which, Mehta said the order may be cited in other cases and requested the court to specify that it order was in keeping with the peculiar facts of the case.
The bench agreed to this and said so in the order.
On April 23, the top court had ordered the compensation for Bano saying, "It is very apparent that what should not have happened, has happened and the state has to give compensation."
It had given the state government two weeks to issue the compensation.
In March, Bano had declined to accept a compensation of Rs 5 lakh awarded by the state and had sought an enhancement.
A pregnant Bilkis Bano was gangraped on March 3, 2002 in Randhikpur village, while fleeing the riots that broke out in the aftermath of the Godhra train burning and fourteen members of her family were killed.
The trial court, while sentencing 11 persons to life imprisonment in the case on January 21, 2008, had acquitted five policemen and two government doctors. The convicts went in appeal to the High Court against the trial court order.
The HC order referred to the "laxity" and "failures" of the police in the registration and investigation of the case. It upheld the convictions and also set aside the acquittal of the five policemen, holding them guilty under sections 218 (public servant framing incorrect record with intent to save person from punishment) and section 201 (tampering with evidence) of the Indian Penal Code (IPC).
https://indianexpress.com/article/india/give-bilkis-bano-job-compensation-in-two-weeks-sc-to-gujarat-6043009/
--------
Indore Woman Alleges Triple Talaq by NRI Husband on Phone
by Qayam
October 01, 2019
Indore: A woman in Madhya Pradesh's Indore has filed an FIR against her California-based NRI husband alleging that he gave her triple talaq on the phone after she failed to meet his dowry demands.
Saleena Khan got married to Zeeshan Fazal in August last year and soon after he started demanding an Audi car and Rs 50 lakh as dowry.
Khan last visited her husband around two month ago, but the two had frequent fights and even underwent counselling. She returned to Indore recently, and two days back Fazal called her and gave her triple talaq on the phone.
No related stories.
"A case has been registered under the Muslim Women (Protection of Rights on Marriage) Act, 2019 against the woman's husband and her in-laws. Section 498A has also been invoked over harassment for dowry. Action will be taken against the accused," said Santosh Dudi, Station House Officer of Lasudia police station.
The Muslim Women (Protection of Rights on Marriage) Act 2019 makes instant Triple Talaq a criminal offence.
https://www.siasat.com/indore-woman-alleges-triple-talaq-nri-husband-phone-1645242/
--------
Cardi B Goes 'Niqabi' Mode In France, But Muslim Women Aren't Allowed To?
By Leyal Khalife
2019-09-30
A "veil law" in 2004. A "niqab ban" in 2010. An illegal "burkini ban" in several French towns. But if a well-known artist like Cardi B appears in head-to-toe covering as a fashion (political?) statement, authorities tend to forget (or turn a blind eye) that such bans are in place.
Over the weekend, the American rapper debuted one of her looks for Paris Fashion Week as she posed in front of the Eiffel Tower in Paris in a floral face-covering and bodysuit by designer Richard Quinn. Cardi B posted a video of her look on Twitter and Instagram.
"I'm here to serve it to you cold. Make sure a car don't hit me 'cause a b*tch can't see," the rapper says in the video.
Maybe the video would've gone unnoticed if France didn't have a niqab ban in place. In reality, the ban exists and it seems as though it's only used to discriminate against Muslim women who wear it for religious reasons and not artists attending Paris Fashion Week.
The floral fabric has prompted a discussion regarding France's controversial face-covering ban. The 2010 law forbids "any article of clothing intended to conceal the face" in public spaces. It was deemed a violation of human rights by a UN committee in 2018.
France has often been seen as intolerant of conservative Muslim traditions. The country banned students from wearing any religious symbols in public schools back in 2004. The banning of niqabs came into effect in 2011; women can be fined up to 150 euros ($172) for donning the face-covering in public. Several French municipalities have also attempted to ban the burkini at public beaches in their jurisdiction back in 2016. However, these burkini bans were overturned in court as a violation of an individual's fundamental freedoms. Though illegal, Muslim women have been discriminated against in this regard on multiple occasions.
So it's only natural to see people drawing parallels between Cardi B's "fashion choices" and Muslim women's "religious choices" to highlight France's Islamophobic policies and laws. For Islamophobes, the former is viewed as freedom, while the latter is dubbed oppression. This is exactly what Cardi B's recent outfit shed light on — whether intentionally or unintentionally. She didn't get fined for doing so, but I guarantee you a Muslim woman would've been penalized for it. It's actually happened before, so it's not just an assumption, it's reality.
https://stepfeed.com/cardi-b-goes-niqabi-mode-in-france-but-muslim-women-aren-t-allowed-to-0472
--------
Safe Space: The New Cinema Welcoming Women In Male-Dominated Kabul
30 Sep 2019
The majority of Kabul's cinemas cater largely to audiences of young men, and tend to show Bollywood films produced in Pakistan and India. For some young Afghan men, the cinema is a rare occasion for public expressions of joy: audience members cheer on the films' heroes and sometimes dance along.
For most women, however, fears of harassment in a male-dominated space have made cinemas feel unwelcoming.
"I can't imagine an Afghan woman being comfortable sitting in a dark room with hundreds of men," said Jonathan Saruk, a photographer who has documented the cinemas of Kabul.
This year, however, in an attempt to revive film culture in Kabul, the documentary maker Diana Saqeb Jamal launched a new venture: I-Khanom, a cinema that aims to provide a safe environment for women and families to watch films. The name means Lady Moon, and comes from a city supposedly founded by Alexander the Great.
The opening night featured a screening of The Orphanage, a 2019 drama directed by the Afghan film-maker Shahrbanoo Sadat, to an audience primarily made up of women. Most had never seen a film in a cinema before.
"Going to the cinema has become taboo, especially for women," says I-Khanom manager Shahim Nadery. Most parents, she says, would not allow their daughters to attend.
I-Khanom, the newest addition to Book City Cultural Centre, which also includes a cafe and art gallery, is different. "It all started from the environment we build in Book City," Nadery says. While many women in Kabul don't feel secure outside their homes at night, Book City has earned a reputation as a safe space for cultural activities.
In 2014, a suicide bomber attacked a film screening at the French Culture Centre in Kabul, killing several people and injuring at least 15. The centre had been one of the few places that was welcoming to both film-makers and female audience members. The bombing was another blow to cinema culture in Afghanistan, a vibrant tradition that has largely been lost over years of conflict.
I-Khanom is an effort to move forward from that blow. It holds special women-only showings every Tuesday afternoon, while Fridays are dedicated to families with children. Students from the faculty of arts at Kabul University, home to one of the country's few cinematography schools, make up a big part of most audiences.
"It will take time for people to have trust, but until then, we are doing our best," Nadery says. "Even if we just have one viewer, we will prepare the hall so they feel safe to come."
The I-Khanom team also hope the cinema can help support the Afghan film industry. Cinema thrived here in the 1960s and 1970s, but when the Soviets invaded in 1979 they imposed strict censorship rules, and when the Taliban came to power the production and viewing of films was banned entirely. Afghan Film Institute staff risked their lives to save the organisation's film archives.
"We can't say the culture of cinema is new," Nadery points out. "It's forgotten."
He recalls an older audience member at I-Khanom sharing his memories of a time when movie screenings in Kabul were standing-room only. "When we heard that, it gave us this feeling of how lost we are."
Today, Afghan film-makers rely on budgets from foreign organisations, and the movies they produce are often only shown outside the country. "We want to give our film-makers an opportunity where they will have an audience, to see that Afghan films have a market in Afghan society," Nadery says.
That idea was partly tested in August when I-Khanom was one of four screens around Kabul to host the Afghanistan film festival, a 10-day event that celebrated Afghanistan's 100th year of independence with screenings of 100 Afghan and Iranian movies. "People in Afghanistan love cinema," says Aqal Pais, who helped organise the festival. "When people in Kabul came to buy tickets, they had a feeling of being alive."
Times may be changing somewhat – in May, Sahraa Karimi became the first female general director of Afghan Film – but Afghanistan is still in the middle of a bitter, spiralling civil war, with civilians are being killed at a "shocking" rate, according to a UN report. As recently as 22 September, at least 40 civilians at a wedding party were reportedly killed during a raid by Afghan special forces on a Taliban hideout.
Nadery hopes I-Khanom can offer fresh hope in that grim context: "We want to provide an alternative, a source of entertainment so that even for five minutes, people don't feel they are in a war-torn country."
https://www.theguardian.com/cities/2019/sep/30/safe-space-the-new-cinema-welcoming-women-in-male-dominated-kabul
--------
Iran Begins To Acknowledge Its Forgotten Women Of War
September 28, 2019
Shahnaz Haji Shah was 26 years old in September 1980 when she was killed by an Iraqi mortar in the southwestern Iranian port city of Khoramshahr near the border with Iraq.
Days earlier, Iraq had invaded Iran, launching air strikes and a ground invasion.
Khoramshahr was under constant shelling for weeks before it was seized by the Iraqi forces. Haji Shah remained in Khoramshahr and vowed to defend the city.
Just before she was killed, Haji Shah reportedly saved the life of a wounded Iranian soldier.
According to accounts by her relatives, she was struck in the heart by a mortar fragment as she was rushing towards a house that had been shelled to try to help anyone inside.
In the heat of the ongoing battle, only five people attended Haji Shah's burial in a local cemetery -- including her mother and her brothers. They scratched her name onto a makeshift tombstone that allowed the family to find her remains after Iranian forces recaptured the city in 1982.
Haji Shah is now hailed in Iran as Khoramshahr's first woman martyr.
In fact, Haji Shah is among nearly 6,500 Iranian women who were killed during the devastating 1980-1988 war with Iraq that left about 1 million people dead on both sides.
But while Haji Shah's short life and bravery has been documented and covered by Iranian media, critics say little attention has been paid to the plight of thousands of other women who were war victims. Only a few of the so-called women martyrs have been officially honored.
Traditional Roles
Some 500 Iranian women reportedly fought as combatants during the war. Official figures cited by Iranian media say nearly 25,000 female doctors, nurses, and aid workers also served on the front lines.
Many Iranian women who lived in the battle zones also are reported to have been subjected to violence by the invading Iraqi forces, including rape.
In addition, hundreds of thousands of women lost their husbands and children in the war.
https://www.rferl.org/a/iran-begins-to-acknowledge-its-forgotten-women-of-war-/30188632.html
--------
URL: https://www.newageislam.com/islam-women-feminism/olympic-fencer-ibtihaj-muhammad-turns/d/119882
New Age Islam, Islam Online, Islamic Website, African Muslim News, Arab World News, South Asia News, Indian Muslim News, World Muslim News, Women in Islam, Islamic Feminism, Arab Women, Women In Arab, Islamophobia in America, Muslim Women in West, Islam Women and Feminism