New Age Islam News Bureau
16 May 2018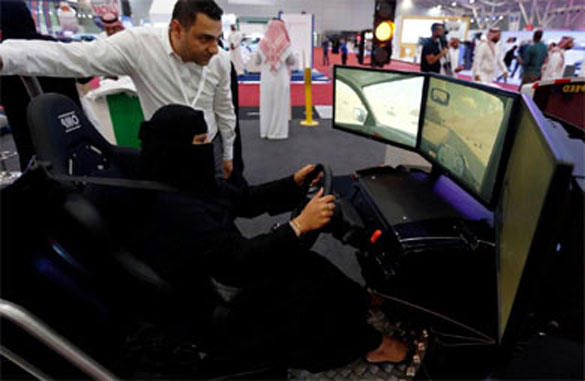 A Saudi woman tries a car simulator during women car show in Riyadh, Saudi Arabia May 13, 2018. REUTERS/Faisal Al Nasser
-----
• Saudi Car Show Puts Women in the Driving Seat
• E-School System to Be Introduced In Five Govt Girls' Schools in Pakistan
• Muslim Women Too Are Covered Under Domestic Violence Act: Bombay HC
• Meet 'Captainah' Enaam, Careem's First Female Driver in Saudi Arabia
• Abouther.Com Spotlights Saudi Arabian Women
• Mohammad Issues New Decree on Dubai Women Establishment
Compiled by New Age Islam News Bureau
URL: https://www.newageislam.com/islam-women-feminism/oklahoma-muslim-woman-says-rights/d/115265
---------
Oklahoma Muslim Woman Says Rights Violated Over Headscarf
May 15, 2018
TULSA, Okla. — A Muslim woman who alleges she was denied entry into the Tulsa County Courthouse because of her religious headscarf has filed a federal lawsuit against the county sheriff.
The lawsuit was filed Tuesday on behalf of Suha Elqutt by the Oklahoma chapter of the Council on American-Islamic Relations and the American Civil Liberties Union of Oklahoma. A similar suit was filed in California.
The lawsuit alleges Elqutt was refused entry to the courthouse on April 10 when metal detectors were set off by a hairpin under her hijab. It says officers insisted Elqutt remove her headscarf in front of male sheriff's deputies in violation of her religious beliefs. She entered the courthouse after two female deputies inspected her hair in a parking garage.
https://www.washingtonpost.com/national/religion/oklahoma-muslim-woman-says-rights-violated-over-headscarf/2018/05/15/5c8dd534-5883-11e8-9889-07bcc1327f4b_story.html?utm_term=.626158719701
---------
Saudi Car Show Puts Women in the Driving Seat
May 15, 2018
A car show in the Saudi capital is drawing in many women, who from next month will be allowed to drive in the kingdom as part of Crown Prince Mohammed bin Salman's modernisation plans.
The event also attracted banks ready to offer financing for women buyers.
"Anything related to cars these days is attracting Saudi Arabian women. I want to know more about cars and prices," said Shaimaa al-Fadl as she climbed into a car at the exhibition and adjusted the rear-view mirror.
The royal decree will end a conservative tradition seen by activists as an emblem of the Muslim kingdom's repression of women.
The decision could change the lifestyles of millions of women. About 10 million women over the age of 20 live in Saudi Arabia, a number that includes foreigners, though it may take years for women drivers to be a major presence on roads.
"I need a car every day for work," government employee Maha Adel Rahman said. "Add to that the trips I need to make for my family. Moreover, transportation costs here are high. The decision to drive will save me a lot of money."
While the decree could save families money and encourage women to seek jobs, it could also be bad for one class of employee - the chauffeurs who traditionally ferry women around town.
https://nation.com.pk/15-May-2018/saudi-car-show-puts-women-in-the-driving-seat
---------
E-School System to Be Introduced In Five Govt Girls' Schools in Pakistan
May 16, 2018
Islamabad-Chairman Taleem Foundation (TF) Pakistan Dr Zafar Iqbal Qadir on Tuesday said that the organization had planned to introduce an e-school system in five selected government-run girls' schools of the federal capital to improve their performance by equipping them with innovative ideas and social technologies.
"Initially, the system will be installed in five low-performing schools, aiming to acquaint the students with modern methods and technologies being used in imparting modern and quality education," he said while talking to APP. The foundation, based in Islamabad, is working for last 29 years in the education sector with innovative ideas for less developed areas as a non-governmental organization.
Elaborating the system, he said, under the e-schooling interactive classrooms with uninterrupted power supply, internet connectivity and video conferencing facility through e-Learning platform would be provided. "The system connects professional teachers at the back-end studio with interactive classrooms for real-time online teaching," he said.
He informed that the foundation had requested the Federal Directorate of Education to help identify the five schools for launching the project, adding that the system would be introduced soon after getting the school names."It will bridge the technology gap between students and fast-growing trends of innovative gadgets."
Answering a question, the chairman said that the project would be launched in collaboration with 'The Education Consultancy' (TEC) of Singapore , federal government and United Nation Educational, Scientific and Cultural Organization (UNESCO).Under the project, he said facilities like Computer Based Testing Services (CBTS) to measure student learning outcomes (SLOs) and Learning Management Systems (LMS) , an online portal containing animated and visual tutorials power point presentations, worksheets and reinforcement sheets, quizzes for formative assessment would be provided.
"It also involves internet connectivity with backup solar power system to ensure live sessions through web-based applications including LMS, CBTS, and biometric attendance," he added. Currently, he informed that there were eight TF grammar schools, 56 partner schools, 19 TF schools of languages and three vocational and technical institutions working in different parts of the country.
Zubair Shahid, an instructor at University of Trento, Italy who studies at a TF facility, said "I had the opportunity of commencing my educational track from the Asad Memorial Zhob Grammar School. My sense of privilege to be associated with a project of Taaleem Foundation Balochistan, is rooted more in the miles, the TF has covered over the years." He said quality education was the only way to achieve national development and the TF initiative was in line with the same objective to impart modern education to youth, especially who could not afford expensive gadgets.
https://nation.com.pk/16-May-2018/e-school-system-to-be-introduced-in-five-govt-girls-schools
---------
Muslim Women Too Are Covered Under Domestic Violence Act: Bombay HC
May 16, 2018
MUMBAI: The Bombay high court has, in an important order, said that Muslim women cannot be barred from seeking protection under the Domestic Violence Act. Justice Bharati Dangre dismissed a Mumbai-based Muslim man's plea and upheld a family court's order directing him to pay Rs 1.05 lakh as monthly maintenance and rent for a house for his wife and two children.
The man had claimed that they belong to the "Islamic Alvi Bohra Community" and were governed by the Muslim Personal Law, so the special anti-domestic violence law was not applicable to them.
The HC said that the Domestic Violence Act does not exclude Muslim women. "(The DV Act) is an enactment to provide for effective protection for rights of women guaranteed under the Constitution who are the victims of violence. It does not indicate any intention either express or implied to exclude Muslim women," said Justice Dangre. The judge said the law was in addition to other laws available to women and "the scheme of the enactment do not restrict the applicability of the provisions of the Act to a particular category of women, or to a woman belonging to a particular religion".
The man's claim that he had pronounced Talaq and remarried would not absolve him of his responsibility, the court held. "The fact of Talaq has not been proved by the husband and merely because Talaknama is tendered in the court, the marriage cannot be said to have been dissolved. Even assuming for the sake of it the marriage stands dissolved by Khula taking it to be divorce by consent at the instance of the wife, the husband cannot be completely absolved of his liability to maintain his wife and children, in the specific background, that he has remarried," said the judge. The HC agreed with the family court that "the husband owed a moral responsibility to maintain them specifically in case of a subsisting marriage".
The couple had married in 1997 and have two children. In 2015, the woman approached the family court to dissolve the marriage on the grounds of cruelty. The court in 2017 ordered the man to pay Rs 65,000 as monthly maintenance to his wife and children and Rs 40,000 as rent for a house.
https://timesofindia.indiatimes.com/city/mumbai/muslim-women-too-covered-under-domestic-violence-act/articleshow/64182547.cms
---------
Meet 'Captainah' Enaam, Careem's First Female Driver in Saudi Arabia
May 16, 2018
Careem, the Middle East's ride-hailing firm, has named its first female driver in Saudi Arabia, as the Kingdom prepares to allow women behind the wheel from next month.
Enaam Gazi Al-Aswad was selected to become the first "captainah" — the female version of the Careem "captain," as the firm calls its drivers — from among around 3,000 women looking for employment with the company. "When the authorities announced in September that women would be allowed to drive, I wanted to be the first and contacted Careem straight away," Al-Aswad told Arab News at a media event in Dubai.
"It is wonderful to think that after all this time we will have the freedom to drive. It will help all of us build the future together in accordance with the Vision 2030 strategy."
The 43-year-old divorcee learned how to drive in her native Syria, and has a driving license from that country. She expects to be able to obtain a Saudi license when she has completed 10 hours of driving tuition under the new laws.
"I already have my own car, a Kia I bought in 2013, and I hope to be able to do the 10 hours of lessons in a few days," she said.
She has already received all the necessary training from Careem to enable her to become a "captainah," having been hand-picked by the Dubai-based company soon after last year's royal decree on women driving.
"It is good for women's career enhancement, and for their social lives. But also I think it is our national duty. It is a job to do for the Kingdom," she said.
Al-Aswad trained as an airline flight attendant in Saudi Arabia before studying management science at King Abdul Aziz University in Jeddah, where she lives. She expects that being a Careem driver will be the stepping stone to a better life for her and her two sons.
"For a woman on her own, it is a good way to earn a living and pay the bills. My sons are excited and very supportive of me. Careem drivers earn good money, I know. I am telling lots of my female friends to think about it too. I would like to be a guide as well as a driver," she said.
Mudassir Sheikha, the co-founder and CEO of Careem, said that he expected new business to eventually make up for any short-term fall-off in revenues when women — who previously formed a majority of the firm's passengers in the Kingdom — are able to take to the roads themselves. About 95 percent of drivers in the Kingdom are Saudi nationals, he added.
http://www.arabnews.com/node/1303491/saudi-arabia
---------
Abouther.Com Spotlights Saudi Arabian Women
May 15, 2018
RIYADH: As Saudi Arabia continues to work toward realizing its Vision 2030 objectives, a key part of which is to provide women with more support, mobility, and economic opportunities, the online portal AboutHer.com has been covering stories highlighting the various roles and realities of women in the Kingdom that often go unmentioned, with the ultimate aim of broadening the narrative of Saudi women in the media.
This year has been a period of development and monumental changes as Saudi women continue to break boundaries, set new standards, and pave the way for others to pursue their dreams. From more women filling top leadership positions, to others taking on the forces of nature to put Saudi Arabia on the map, this has been a groundbreaking phase for the Kingdom spearheaded by its women.
To date, a number of Saudi women have been appointed by royal decree to top leading roles this year, making them perhaps some of the most powerful women in the Kingdom.
Samar bint Mazin Saleh made history this week by becoming the commercial attaché at the Saudi Commercial Attache's Office in Tokyo; another landmark appointment was made as Nouf Abdullah Al-Rakan became the executive director of the Saudi Arabian Federation for Cyber Security, Programming and Drones (SAFCSP); Dr. Tamador Al-Rammah was named Deputy Minister of Labor and Social Development earlier this year; and Professor Kawther bint Mousa Al-Arbash was appointed a member of the board of trustees of the King Abdulaziz Center for National Dialogue.
Mariam Hamidaddin became the first Saudi Arabian woman to ski the last degree to the geographic North Pole.
Mariam Hamed Fardous went on to set the record as the first woman from Saudi Arabia — and the third woman worldwide — to dive in the North Pole.
From sports, to style, to government, AboutHer.com addresses the contributions and important role of Saudi women in the Kingdom's advancement and journey toward modernization.
http://www.arabnews.com/node/1303196/saudi-arabia
---------
Mohammad Issues New Decree on Dubai Women Establishment
May 15, 2018
Dubai
A new decree has been issued to establish the Board of Directors of Dubai Women Establishment (DWE).
His Highness Shaikh Mohammad Bin Rashid Al Maktoum, Vice-President and Prime Minister of the UAE and Ruler of Dubai issued Decree No. 7 of 2018.
Shaikha Manal Bint Mohammad Bin Rashid Al Maktoum, President of the UAE Gender Balance Council, and wife of Shaikh Mansour Bin Zayed Al Nahyan, UAE Deputy Prime Minister and Minister of Presidential Affairs, expressed her gratitude to Shaikh Mohammad for the continuous encouragement he has extended to Emirati women to participate in all sectors. She also referred to Shaikh Mohammad's support for creating work environments that promote women's equal participation in the development process.
"Since the establishment of the UAE, our leadership has played a crucial role in fostering the success of Emirati women, locally, regionally and globally, across sectors. Today, due to the leadership's vision, the UAE has become a role model for the empowerment of women, and leads many global competitiveness indicators in gender balance," said Shaikha Manal.
She referred to the Social Progress Index, in which the UAE is ranked first in the world both for treating women with respect and gender equality in education.
"These achievements were accomplished due to the solid foundations laid by the late Shaikh Zayed Bin Sultan Al Nahyan, Founder of the UAE, who promoted the vital role of Emirati women in our society and encouraged their participation in all fields," added Shaikha Manal.
She further highlighted that the leadership's support has also helped enhance the legislative framework necessary for furthering gender balance. Recently, the UAE Cabinet approved the first legislation of its kind in the region for equal wages and salaries, reflecting the equal rights that men and women enjoy under the UAE's constitution.
Board of Directors
In accordance with Decree No. 7 of 2018 issued by Shaikh Mohammad, Dubai Women Establishment's new Board of Directors, chaired by Mona Al Merri, will include Hala Yousuf Badri, Vice-President, and members, Huda Eisa Bu Humaid, Khowla Rashid Al Muhairi, Huda Al Sayed Mohammad Al Hashemi, Muna Darwish Bu Samra, Fahima Abdul Razzaq Al Bastaki, Jehad Abdul Razzaq Kazim and Aljoud Ahmad Lootah. The decree is effective from the date of its issuance and will be published in the Official Gazette.
Shaikha Manal praised the diverse expertise of the board members across fields including economics, business, energy, law, media, strategic communication and art, which will enrich the work of the establishment and help achieve the goals of DWE's strategic plan for 2017-2021. The strategic plan was developed in line with the objectives of the Dubai Plan 2021 and UAE Vision 2021, which include enhancing female participation, particularly in the economic sector.
The DWE was formed as a Dubai Government entity in 2006 under Law No. (24) issued by Shaikh Mohammad, with the aim of creating an entity specialised in championing women to drive the socio-economic future of Dubai by influencing policies, sharing knowledge and leading initiatives. Through its ongoing work, DWE aims to increase the number of Emirati women joining the workforce, enhance their representation in decision-making positions and pioneer distinction among working women.
https://gulfnews.com/news/uae/society/mohammad-issues-new-decree-on-dubai-women-establishment-1.2221705
---------
URL: https://www.newageislam.com/islam-women-feminism/oklahoma-muslim-woman-says-rights/d/115265
New Age Islam, Islam Online, Islamic Website, African Muslim News, Arab World News, South Asia News, Indian Muslim News, World Muslim News, Women in Islam, Islamic Feminism, Arab Women, Women In Arab, Islamophobia in America, Muslim Women in West, Islam Women and Feminism