New Age Islam News Bureau
13 Nov 2014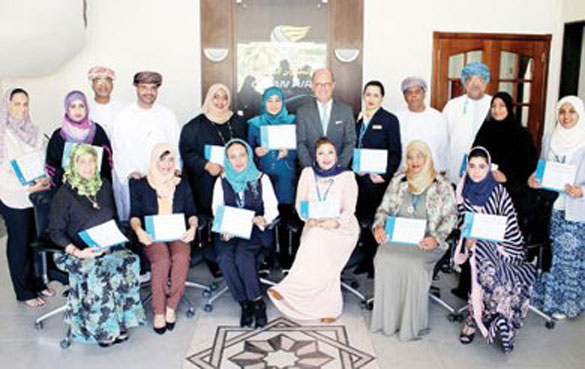 Range of employment opportunities for women at Oman Air is wide and varied
--------
• Female Suicide Bomber Attacks Nigerian Teaching College
• Islamic State's price list: For sale, Christian woman, $63
• Woman Running for President Shows Tunisia's Arab Spring Progress
• Child Marriage Bid Foiled In Bangladesh
• Permanent Residency for Expat Mothers of Saudis
• Saudi Shoura Woman Says More Work Needed For Women Empowerment
• Oman Air Supports Women in Workplace
• Recommendations on tackling sex abuse at religious, community groups must be implemented
Compiled by New Age Islam News Bureau
URL: https://newageislam.com/islam-women-feminism/number-women-shisha-smokers-saudi/d/99993
-----------
Number of Women Shisha Smokers in Saudi Kingdom Rises
13 Nov, 2014
There is an alarming rise in the number of women Shisha smokers in the Kingdom, recent study indicates.
A report drafted by the anti-smoking program and conducted by the Ministry of Health states that the number of women Shisha smokers are estimated at 3.7 percent with 16 percent of female students having tried smoking, 11 percent using tobacco, 9.9 percent using tobacco products and 7.2 percent smokers.
The report revealed that there is an increase in the number of teenage smokers among Saudi females.
Azeezh Nofal, a journalist, said the trend of Shisha smoking has increased among Saudi girls in the past five years, adding that Saudi women usually don't smoke among family members.
Most women Shisha smokers admitted that they smoked as a form of relaxation after work.
Aesha Al-Omari said she smokes Shisha with a number of friends and finds it hard to give up the habit. Her husband has also given in to her wishes to continue smoking, she said.
Amer Ali, owner of a Shisha store, said many women come to his store to buy different kinds of flavoured Shisha such as watermelons, gum and strawberries. The price of Narjeela, a particularly popular aroma, ranges between SR200-SR1000, he said.
Experts blame social media sites for increased number of women.
Dr. Ali Zaeiri, a consultant and psychologist at Jeddah's Al-Nakheel center, said women generally smoke as a sign of prestige and social status. He pointed out that Saudi Arabia ranks fifth globally with 5.7 percent women smokers, the highest amongst the GCC countries.
Sabbah Zahhar, a social expert in Asir's Saudi German hospital, said women's conduct regarding Shisha smoking springs from their desire to rebel against convention and cultural norms.
She said that some girls smoke Shisha as a way to prove gender equality in a society where males dominate all aspects of life.
Zahhar also confirmed that unemployment and the emotional vacuum resulting from broken marriages and dysfunctional families pushed women to smoke
http://www.arabnews.com/food-health/news/658791
-----------
Female Suicide Bomber Attacks Nigerian Teaching College
13 Nov, 2014
A female suicide bomber injured four people at a teachers' college in northwest Nigeria on Wednesday, while the US hit back at allegations it has not done enough to tackle Boko Haram militants.
Police spokesman Ibrahim Gambari said the woman had blown herself up at the Federal College of Education in Kontagora, Niger state before reaching her target, the school library where students were revising for exams.
The blast nonetheless injured four people – three students and a bystander.
Earlier a student at the college spoke of 10 people dead.
The attack came two days after nearly 60 people were killed in a suspected Boko Haram suicide bombing at a school in the town of Potiskum in northeast Yobe state.
The Boko Haram Islamist group is opposed to so-called "Western education" and wants to create a hard-line Islamic state in northern Nigeria.
Nigerians have come to expect near daily Boko Haram attacks in the far northeast, but the latest attack will raise fresh concern if linked to the Islamist uprising.
Meanwhile the United States hit back at allegations by the Nigerian ambassador of failing to help fight the Boko Haram militants, saying there had been "a great deal" of US aid to the country.
In the past six months since the Islamic militants snatched some 200 schoolgirls in northern Nigeria, Washington has shared intelligence with the Nigerian army, begun training a new battalion and held high-level talks on the threat of Boko Haram, a US official said.
In a speech made public Tuesday, Ambassador Adebowale Adefuye appeared to have taken US officials by surprise when he launched into a tirade against Washington.
But State Department spokeswoman Jen Psaki shot back that the US had "provided and approved sales of military equipment to its armed forces".
She acknowledged, however, that the US had refused to transfer some Cobra helicopters amid concerns over the Nigerian army's ability to use them.
'At least 10 students were killed'
Niger state has not been touched by the insurgency in more than two years and Kontagora is roughly 2,000km from Boko Haram's north-eastern stronghold.
At the scene of the blast, student Mary Okafor said least 10 students were killed and several others injured.
"We saw bodies on the ground between the library and the female hostel," she said.
She added that she believed there had been two bombers.
"Among the bodies were two dismembered women who we believe were the bombers," she said.
"We have all been asked to vacate the school. The authorities in the town have asked all schools to close."
On Monday's school bombing in Yobe state, an official from the all-boys school in Potisku said the casualty toll had risen to 58 dead and 117 injured.
Police had previously put fatalities from the bombing at 47.
Schools, colleges attacked
Educational establishments in northern Nigeria have been hit several times by bombings in recent months.
On September 18, at least 13 were killed in Kano during a shootout between police and suspected suicide bombers, again at a teacher training college.
A female suicide bomber killed six people on July 30 when she detonated her explosives at a notice board on the campus of the Kano Polytechnic College while students were crowded around it.
That attack was the fourth by a female bomber in the city in a week and prompted the authorities to cancel public celebrations marking the end of the Muslim holy month of Ramadan.
All the bombings have been linked to Boko Haram.
The Islamist group has also bombed churches, including on Christmas Day in 2011 when 44 people were killed at the St Theresa Catholic Church in Niger's town of Madalla.
Violence in the area has been relatively contained since, with a handful a gun attacks targeting the security forces through 2012.
Nigeria's prolonged offensive in the northeast has become the centrepiece of its campaign against Boko Haram.
But recent violence outside the restive region, including a jailbreak in central Kogi state and Wednesday's blast in Niger highlight the wide reach of the Islamist rebels.
http://www.themalaysianinsider.com/world/article/female-suicide-bomber-attacks-nigerian-teaching-college
-----------
Islamic State's price list: For sale, Christian woman, $63
13 Nov, 2014
A recently discovered and interpreted document reveals that the Islamic State has an actual price list it uses to sell the women and children its terrorists take — and that prices vary, depending on age, gender and ethnic background.
First off, the document makes clear that "the market for selling these spoils has declined precipitously," Newsmax reported, citing a story in Aleteia's Arabic edition that was translated into English.
So to continue to benefit the Islamic State, "financial institutions must consider setting up controls and prices with regards to the prices at which these spoils are to be sold," the article stated.
Those who don't abide by the price list should be put to death, the document suggested, Newsmax reported.
And the Islamic State's prices for abducted women and children?
Women between 40 and 50 years old are set for sale at about $42, Newsmax said. Yazidi and Christian women between 30 and 40 years old are set at $63. Women between 20 and 30 years old — at $85. And women and children between the ages of 10 and 20 are set at $127 each. Children, meanwhile, between the ages of 1 and 9 are priced to sell for $169, the document reads, Newsmax reported.
And the pricing structure from the Islamic State makes clear: Nobody is allowed to buy more than three women or children from the list, except those hailing from Turkey, Syria or the Gulf states, Newsmax said.
http://www.washingtontimes.com/news/2014/nov/12/islamic-state-price-list-for-sale-christian-woman/
--------------
Woman Running for President Shows Tunisia's Arab Spring Progress
13 Nov, 2014
In a life spanning colonial rule, war, autocracy and revolution, Tunis resident Halima never saw a reason to vote.
A chance meeting in a souk earlier this month gave her one. She was introduced to Kalthoum Kannou, who has three children, a long marriage to a doctor, a 25-year career as a judge and an ambition to be the first female president of Tunisia.
I'll go to the polling station early in the morning," said Halima, 91, who gave only her first name, wrapped in a cloak and headscarf to ward off the chill in the open-air market. "This woman who was able to succeed at home and at work will also be able to help govern Tunisia."
Running as an independent, Kannou is the only woman among 27 contestants in the Nov. 23 election and the first ever to seek an office higher than parliamentarian in the birthplace of the Arab Spring. Political analysts see her candidacy as another milestone for the country, which has avoided the bloody turbulence that has engulfed Egypt, Libya and other Arab states.
"A female candidate who's not just on the ballot but someone who is perceived to be a really credible candidate is hugely important," said Chris Alexander, a professor of political science at Davidson College in North Carolina and author of "Tunisia: Stability and Reform in the Modern Maghreb." Kannou's run "shows how much Tunisia has developed."
'True Democracy'
Campaigning in the presidential race began four days after peaceful parliamentary elections in October and almost four years after the January 2011 ouster of Zine El Abidine Ben Ali, who ruled the North African country for two decades.
While Tunisia has been comparatively tranquil since Ben Ali's departure, the process of drafting a new a constitution and creating a new form of government has been punctuated by violence. The assassinations of liberal opposition leaders Chokri Beleid and Mohamed Brahmi last year triggered the fall of two Islamist-led governments installed after the uprisings, and about a dozen members of the security forces have been killed in battles with extremists and bombings in recent months.
Still, four years after what's known as the Jasmine Revolution, "we have had these transparent elections, we're not in war, we're not in chaos, we're not a cosmetic democracy," said Amel Karboul, Tunisia's tourism minister and one of three women in the current cabinet of Prime Minister Mehdi Jomaa. "We are building the first true democracy in the Arab world."
The presidential contest may be an inflection point for stability in the nation of 11 million, said Alexander, and Kannou could attract more women and young people to the polls.
Post-Midnight Campaign
Abdel Latif Hannachi, a modern history professor at Manouba University in Tunis, said Kannou's charisma and opposition to dictatorship sets her apart from a lot of the other candidates. Yet, in patriarchal Tunisia, it might be difficult for her to win enough votes to beat off all rivals, he said. Opinion polls in the run-up to an election are banned.
Turnout was about 60 percent in the parliamentary vote. It handed a victory to the secularist Nidaa Tounes party, which won 85 of 217 seats; 69 went to the moderate Islamist Ennahda party. Parliament will select the prime minister, who under the nine-month-old constitution shares power with the president.
Kannou was out on the streets of Tunis minutes after midnight on Nov 2; campaigning wasn't legal until that day. As she walked through the capital city, members of her team in yellow T-shirts handed out fliers to pedestrians and drivers. Her English campaign slogan is "Yes We Kannou," a play on U.S. President Barack Obama's 2008 catchphrase.
'Reactionary Ideology'
Her headquarters are in Lafayette, a district where the Jewish community once lived. There's no elevator in the building, and when she arrived one day last month the stairwell was dark. She climbed up to the office, where she greeted dozens of men and women. "All these people are volunteers," Kannou said. "Their enthusiasm gives me strength."
In an interview a few hours before campaigning began, Kannou said the country's security and economy are her focus. But while she's not running on a women's rights platform, she has made them a priority.
"We're committed to modernity and will continue to defend the civil state, equality between women and men, and we'll be against whatever is related to reactionary ideology that pulls women back," Kannou said. "My candidacy itself will open the door to Tunisian women and liberate them from the phobia of seeking political positions."
Sexual Violence
Tunisia -- whose capital city was founded more than 3,000 years ago by Dido, Queen of Carthage -- adopted some of the most progressive legislation in the Arab world after its independence from France in 1956. Polygamy was abolished and women were allowed to file for divorce, vote and run for office. While Ben Ali's constitutional coup in 1987 didn't turn back the clock, his Interior Ministry was accused by rights groups of using the threat of sexual violence to intimidate opposition activists.
Born three years after independence on the island of Kerkena, off Tunisia's Mediterranean coast, Kannou earned her law degree from the Université de Tunis. She said her family supported her decision to run, though it surprised her husband - - who was abroad at the time and read about it on Facebook.
A judge since 1989, Kannou was blacklisted by the Ben Ali regime because of her outspokenness against corruption and authoritarian rule and her advocacy for an independent judiciary. Over the years, she said, she was barred by the government from traveling, denied promotions and transferred to the remote province of Kairouan, after having lived in Tunis for most of her career.
Graft Warrant
In 2008, she famously issued an arrest warrant for Moez Trabelsi, a nephew of then-First Lady Leila Ben Ali, who had been charged with money laundering and corruption; he was later arrested in Rome. (Ben Ali's extended family was referred to as a "quasi-mafia" with expensive tastes in secret cables from the then-U.S. ambassador in Tunis published by WikiLeaks. In one dispatch, the envoy describes a dinner he attended where ice-cream and yogurt flown in from St. Tropez were served.)
Since Ben Ali fled to live in exile in Saudi Arabia, Kannou said, she's received threatening messages, which can be par for the course for judges, politicians, journalists, filmmakers and talk-show hosts who anger Islamic fundamentalists. The last one arrived at her office in May 2013. It was signed by a ultraconservative Salafist group from the coastal city of Sfax, and she said it warned her to "lift your hands from the judiciary or your head will be separated from your body."
'Hard Choices'
She said she brushed it off. "I wasn't afraid of Ben Ali," she said, "so why should I be afraid of these people?"
Among Kannou's opponents are men who were high-ranking officials in Ben Ali's government, including Beij Caid El Sebsi, a former premier and head of Nidaa Tounes, and Kamel Morjane, who served as defense and foreign minister. The incumbent president, former human-rights activist Moncef Marzouki, is running as an independent.
The new government faces a tough road. Receipts from tourism dried up after the Arab Spring upheavals, and joblessness is about 15 percent; youth unemployment, which helped spur the Jasmine Revolution, is about 30 percent. Security forces have battled militants in border regions, and at times in the capital. There have been attacks on targets including the U.S. embassy, which was torched in 2012 by protesters, many of them Salafists angered over a film seen as denigrating the Prophet Mohammad. A gallery showing a painting of a nude woman and a caricature of Mecca was ransacked.
Tackling security and economic issues "will require hard choices and politically unpopular choices," said Davidson College's Alexander. "There were moments when lots of people were very concerned that Tunisia might slip over the edge. They have now got what looks like the really solid beginnings of a democratic order. The question is, can they keep it? Democracy can slip away."
http://www.bloomberg.com/news/2014-11-12/woman-running-for-president-shows-tunisia-s-arab-spring-progress.html
-----------
Child Marriage Bid Foiled In Bangladesh
13 Nov, 2014
A madrasa girl was saved from underage marriage following timely intervention of Nykkhangchharri upazila administration at remote Chakdala Hamidiapara village adjacent to Myanmar border of Bandarban district yesterday.
Police and locals said marriage of Rokeya Khatun, 16, daughter of Md Ismail of the village, Class Seven student at Mahiya Sunniya Dakhil Madrasa, was set to be solemnised with Abdul Motaleb, 18, son of Abdus Shukkur of the area in the afternoon.
The parents took all preparations for the marriage, reports our correspondent.
On information, a police team, led by Upazila Nirbahi Officer (UNO) ASM Shahedul Islam rushed to the bride's house and stopped the marriage.
The UNO picked up bride's father Md Ismail and arrested bridegroom's father Abdus Shukkur and Kazi Ali Akbar on charge of arranging the child marriage.
Later, they were released on receiving their undertakings that they would never try to do it again.
Away in Patuakhali, over 200 villagers and government officials formed a human chain at Khalisakhali Bazar in Sadar upazila yesterday, demanding 'child marriage free ward' of wards no 5 and 6 in Lawkhathi union, reports our correspondent.
Khalisakhali Polli Samaj, a social unity under supervision of Barc, organised the programme.
Among others, Sahida Begum, district officer for women affairs, local UP members Nuruzzaman and Farida Begum, spoke.
Shafalee Rani, president of Khalisakhali Polli Samaj, said we were working to create awareness about adverse consequences of child marriage in the area since 1998.
Recently, we foiled a bid of child marriage at the village, she said.
http://www.thedailystar.net/country/child-marriage-bid-foiled-in-bandarban-50007
-----------
Permanent Residency For Expat Mothers Of Saudis
13 Nov, 2014
Foreign mothers of Saudi children can now apply for permanent residency without having sponsors and regardless of whether they are married, divorced or widowed.
The Passports Department has begun receiving applications to grant them residency, said Col. Ahmed Al-Luhaidan, media spokesman of the department. He said that the women also do not need to have employers.
However, they must prove they were legally married to citizens and gave birth to their children. The Passport Department will submit these applications to the General Directorate in Riyadh to issue free iqamas, or residency permits, for a period of five years.
Al-Luhaidan said the various branches of the Passport Department would soon be capable of handling requests.
The Cabinet had previously approved permanent residency for foreign mothers of Saudi children, with all fees covered by the state.
They are allowed to work in the private sector and counted toward Saudization quotas, and treated as Saudis in terms of access to public universities and treatment at public hospitals.
http://www.arabnews.com/featured/news/659381
-----------
Saudi Shoura Woman Says More Work Needed For Women Empowerment
13 Nov, 2014
DAMMAM — One of the first women members of the Saudi Shoura Council has said women's rights are improving but more needs to be done to bring the Kingdom on par with other countries.
Thuraya Al-Arrayed has been an influential woman and a voice of Saudi women before she was selected as a council member. She represented the Kingdom in various official and international forums and passed the Kingdom's report on apartheid to Geneva's Special Committee Against Apartheid.
She also designed a program for cooperation between Riyadh and London, attended the Davos Conference in New York after the fall of the Twin Towers, gave lectures on the Kingdom in Harvard University and Colombia University and also gave presentations on the achievements of Saudi women in Lahai (Nepal), Amsterdam, Rome, Johannesburg, Washington, New York, Detroit and Berlin.
After joining the Shoura Council, Al-Arrayed has had more exposure and a larger role in conferences worldwide.
She is supported by individuals who believe in the necessity of women's role in cultural integration, leadership and development.
"Without King Abdullah's belief in women empowerment, the country would have never witnessed any woman in strategic decision-making positions," Al-Arrayed told Makkah daily in an interview.
"Women's status is improving in the country. Many would feel that we are lagging behind in our advancements and regulations regarding women's role in society.
"However, one must acknowledge that the economic boom of 1970s had a negative effect on the values and traditions of Saudis.
"Saudi society did not need women as money makers to aid the family anymore. Women were slowly withdrawn from contributing to society. "Thank God women's education did not stop during that time and teachers were still produced to support the coming generations."
She said there are still some Saudis that reject the expansion of women's role in society. They think that women should not occupy a position in the council and remain at home or only become teachers and doctors."
Al-Arrayed said women in the council are not restricted to discussing women issues only.
Any civil issue is considered a "woman's issue" because women constitute 50 percent of the population.
Women in the council are treated as any other member with no discrimination based on gender.
They participate in several committees and are expected to provide statistics and studies regarding citizen affairs and projects and plans of the country.
Each female council member contributes according to her specialty and field of interest, whether she is an academic, doctor or researcher.
All fields require the involvement of women and their opinion is necessary for setting comprehensive developmental goals for the benefit of citizens of the country, she said.
Al-Arrayed clarified that it is very important for women to participate in international conventions because their presence is essential in reflecting the reality of the Kingdom.
"The matter should not be treated superficially and people should not focus on the mere fact that Saudi women are appearing on the international spectrum.
"Women have the right to voice their opinions and reflect their internal and external issues.
"Saudi women as international representatives is a positive image to convey to Eastern and Western cultures.
"We are fit to set an example for women all over the world. "We were accused by the Human Rights Committee at the British Parliament of committing merciless acts such as executing minor expatriates for murdering sponsors and their families.
"I replied by saying that expatriate issues are the responsibility of their home countries.
"Their home countries allow passports and official paperwork to be forged and we are surprised to receive minor workers with no qualifications for the position they were sponsored for."
Finally, Al-Arrayed said she wished the Shoura Council would get a bigger exposure.
"It is currently distant from the general public and many do not know the role of the council in the first place.
"Getting the media involved in the council is paramount but what is more important is that the image of the council should be conveyed under an unbiased light and away from negative and cynical allegations from society."
http://www.saudigazette.com.sa/index.cfm?method=home.regcon&contentid=20141113224254
-----------
Oman Air supports women in workplace
13 Nov, 2014
OMAN Air celebrated the Omani Women's Day by organizing an informal meeting between the CEO and some of the women staff distinguished by their performance.
Oman Air's commitment is in line with the directives of Sultan Qaboos regarding the empowerment of women, and mirrors the role of women in the broader Omani society. The country is recognized as one of the big supporters of gender equality in the region.
Women currently comprise of more than 30 percent of Oman Air's workforce. The airline pursues a proactive policy of recognizing talented and qualified women, and providing the necessary support for them to excel within their chosen careers. Women are well-represented in a range of roles, including engineering, airport management, airport services, marketing, customer services, cabin crew, flight operations, sales and communications.
hief Executive Officer of Oman Air, Paul Gregorowitsch, said: "Oman Air is recognized as one of the leading companies in the Sultanate offering women a safe and supportive employment environment. Women comprise a vital and increasing proportion of our workforce. They are represented at virtually every level of the company. And they have made an important contribution to the ongoing success of Oman Air."
"It is therefore with pride and pleasure that we support The Omani Women's Day. We also reaffirm our commitment to the employment and career development of women in the workplace."
Oman Air's positive approach to employing and supporting women in the workplace is part of a broader human resources strategy. This recognizes the skills, abilities and potential of all colleagues, regardless of their backgrounds.
With women undertaking a wide range of prominent roles within Oman Air, individual experiences vary widely. However, the constructive and supportive environment offered by the airline is appreciated throughout the company.
http://www.saudigazette.com.sa/index.cfm?method=home.regcon&contentid=20141113224245
-----------
Recommendations on tackling sex abuse at religious, community groups must be implemented
13 Nov, 2014
Middle-aged men wept with joy. Women silenced by unspeakable crimes since they were girls raised three cheers for the Victorian Parliament a year ago, when I told survivors of child sexual abuse that bipartisan support had been secured to implement all recommendations from the landmark report, Betrayal of Trust.
Findings of the parliamentary inquiry revealed a cover-up that killed in religious and other non-government organisations in Victoria. Heinous crimes were exposed, blighted lives acknowledged and remedies agreed across the political divide.
Victims abused physically, emotionally and sexually as innocent children felt vindicated after summoning the fortitude as adults to testify. Survivors waved red balloons and hugged each other during the "Rally of Hope" on the steps of Parliament, in recognition that after so much suffering at the hands of institutions, a measure of trust had finally been restored.
Goodwill expired with Victoria's 57th Parliament. Survivors have contacted me dismayed that key recommendations were not implemented despite incontrovertible evidence that the sexual and physical abuse of children has been endemic for generations in many Victorian public and private institutions.
The dark heart of sexual crimes against children has always been individuals and organisations getting away with the use and abuse of power. A recommendation not implemented required non-government organisations to become incorporated and adequately insured where the Victorian Government funds them or provides tax exemptions or other entitlements. This reform would improve scrutiny, accountability and compliance because it paves the way for organisations to be sued for offences.
Men claiming to represent God committed crimes against children, once hanging offences in Victoria, the parliamentary inquiry revealed. Whether criminal child abuse was concealed because of noble cause corruption, a misplaced sense of loyalty to a higher duty, religious organisations rationalised the most egregious conduct. The Anglican and Catholic churches and the Salvation Army regularly took steps to conceal wrongdoing through wilful blindness and codes of silence, according to their concessions and a substantial body of credible evidence.
Jewish and Islamic representative bodies testified that their communities also suffered the scourge of child abuse but experienced difficulties even mentioning that it may have occurred. A similar situation can be expected in other religious, social, sporting and cultural groups where offenders have easy access to children and where, for a range of reasons, abuse has been kept hidden, the inquiry disclosed.
Betrayal of Trust validated the rights of individuals. The failure to introduce an important principle ignores lessons from other jurisdictions. Only organisations that appeared before Victoria's parliamentary inquiry benefit from delays in implementation, anticipating that community outrage and the media spotlight will shift to fresh concerns, leaving them relatively unscathed.
Coinciding with the anniversary of the Betrayal of Trust report is the replacement of Cardinal George Pell as Catholic Archbishop of Sydney. His successor, Anthony Fisher, has told the ABC the Catholic church will not regain public trust until it provides genuine justice for sexual abuse perpetrated by clergy.
"People are going to want to see more than just bishops feeling sad about it," Archbishop Fisher said. "They are going to want to be convinced that we really are acting out of justice and compassion for the victims. We accept that this is a spiritual, moral problem in our church and not just some bad guys in the old days."
He declared there needs to be fair compensation and measures put in place so it never happens again.
Child sexual abuse is too important for politics. It is about crime not faith, as I have long argued. Church and state must implement recommendations in the public interest no matter who is in power because if accountability simply involves acceptance of temporary outbursts of anger and nothing more, it is not meaningful, least of all to victims. Worse, it does not provide any greater protection in the future for our children.
Frank McGuire was deputy chair of the Victorian parliamentary inquiry into the handling of child abuse by religious and other non-government organisations that delivered the bipartisan report Betrayal of Trust. He is the Labor MP for Broadmeadows.
http://www.smh.com.au/comment/recommendations-on-tackling-sex-abuse-at-religious-community-groups-must-be-implemented-20141113-11lkcm.html#ixzz3J0f8cyV3
-------------
URL: https://newageislam.com/islam-women-feminism/number-women-shisha-smokers-saudi/d/99993