New Age Islam News Bureau
8 May 2018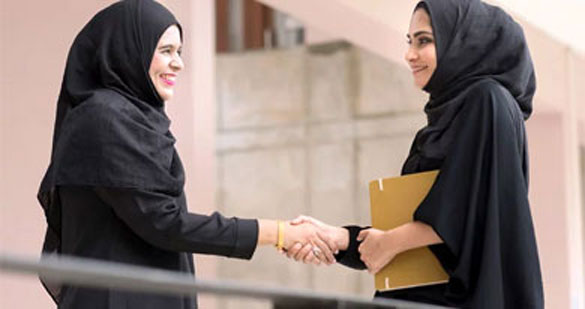 Saudi Arabia's Justice Ministry encourages women to pursue law as a career. (Shutterstock)
-----
• Tunisian Capital Gets First Woman Mayor
• Saudi Women Seeking Driver Jobs to Face Tough Restrictions
• Afghan Girl Coders Design Games to Fight Opium and Inequality
• Statistics Reveal Declining Unemployment Rate among Saudi Women
• Saudi Couple Meet Indonesian Maid They Forgave For Murder of Their Child
• Egypt: 'Divorce Radio' Is Giving Women Guidance and Support in the Face of Divorce
Compiled by New Age Islam News Bureau
URL: https://www.newageislam.com/islam-women-feminism/number-female-lawyers-rise-saudi/d/115179
--------
Number of Female Lawyers on the Rise in Saudi Arabia
MOHAMMED AL-SULAMI
May 08, 2018
The Saudi Ministry of Justice on Monday issued figures showing a steady increase in the number of female lawyers in the Kingdom.
"In 2013, there were only 10 licensed female lawyers in Saudi Arabia," said the ministry. "As of today, 221 women are officially registered with the ministry and are representing clients in the nation's courts."
The ministry encouraged Saudi women across the Kingdom to pursue law as a career. According to the ministry, the number of legal practice licenses granted last year represents a 34 percent increase compared with the 2016 figures. The ministry expects this upward trend to continue.
"We have issued 1,988 licenses for legal practice since the beginning of 2015," said the ministry.
"Around 45 percent of these were issued in 2016 alone — that is 775 licenses, 692 for male lawyers and 83 for female lawyers. This ongoing trend is a welcome boon to our justice system, particularly as it relates to the ministry's efficiency drive, in line with the National Transformation Program (NTP) 2020 and Vision 2030."
As Saudi Arabia seeks to diversify its economy away from oil, through the NTP and Vision 2030, the government has looked to its legal apparatus, calling on the Ministry of Justice to optimize its processes and soften bureaucracy in favor of individuals and businesses.
Many of the ministry's reforms have included the establishment of specialized courts that require legal practitioners with niche skillsets. The ministry believes these needs have driven the demand for, and subsequent surge in the number of lawyers in the Kingdom.
On completion of their law degree and subsequent professional training for three years, Saudis are immediately eligible to obtain a practice license from the Ministry of Justice. The licensee then has the authority to represent clients in Saudi courts and provide legal services.
To support the increased demand for lawyers that can operate in specialized courts, the ministry launched the Law Training Center. Many of the center's trainees have founded specialized law practice offices across the Kingdom, a trend that the ministry believes has made it easier for individuals and organizations that need legal assistance.
One area in which demand for legal assistance has been growing is commercial disputes.
http://www.arabnews.com/node/1298446/saudi-arabia
--------
Tunisian Capital Gets First Woman Mayor
07 May 2018
In a first, a woman became mayor of the Tunisian capital.
Suad Ibrahim of the Ennahda Movement party bagged 33.8 percent votes in Sunday's local elections.
Her party won the local elections with 27.5 percent of the total votes, according to the state-run broadcaster.
The voting process ended at 6.00 p.m. (1700GMT) with a low turnout of 33.7 percent, the High Election Commission said.
According to unofficial results, Nidaa Tounes, the second largest party with 55 deputies in the parliament, ranked second in the elections with 22.5 percent of the votes.
Owing to security concerns, 179 polling stations remained closed.
The official results are expected to be announced by May 9.
The local elections are seen as the next step in the democratic transition of the country, following the popular uprising that ousted longtime autocrat Zine El Abidine Ben Ali in January 2011.
http://www.worldbulletin.net/africa/201815/tunisian-capital-gets-first-woman-mayor
--------
Saudi Women Seeking Driver Jobs to Face Tough Restrictions
07 May 2018
Saudi women looking to work as chauffeurs when the kingdom lifts its female driving ban next month will face tough restrictions, according to reports.
The country's Public Transport Ministry has issued new bylaws governing family transportation services offered by female drivers, Arabic newspaper Al-Madina reported on Sunday.
Among the rules are that female drivers cannot serve male-only groups of passengers and even if a woman is present they cannot accept the trip should a male or child be sat in the front seat.
They will also be unable to work as a driver in cities other than where their licence was issued.
Women drivers will face a fine of SAR5,000 ($1,333) for providing transport to a group that does not include an adult female passenger and SAR500 ($133) for driving in a city other than where their licence is issued.
The fine for a male passenger or child being in the front seat is SAR2,000 ($533).
Vehicles can only be used for family transport if they have at least seven seats, air conditioning, meet colour and appearance requirements and are not more than five years old.
They must also have a GPS tracker, ID screen and electronic payment machine.
The kingdom's female driving ban is set to be lifted on June 24.
Ride hailing services Careem and Uber have announced plans to hire tens of thousands of female drivers but will be unable to do so unless regulation is in place.
The kingdom previously banned taxi and ride companies from employing non-Saudis and the same rules will apply for women.
The fine for a non-Saudi woman acting as a driver is SAR5,000 under the new bylaws.
Allowing women to drive is expected to lead to a sharp fall in demand for foreign drivers, who would traditionally be hired by families to transport women and children.
http://gulfbusiness.com/saudi-women-seeking-driver-jobs-face-tough-restrictions/
--------
Afghan Girl Coders Design Games to Fight Opium and Inequality
MAY 8, 2018
HERAT, Afghanistan (Reuters) - Think Super Mario Bros, but with an Afghan twist. This is how Afghanistan's first generation of female coders explain their abilities as game-makers after uploading more than 20 games on digital app stores this year.
More than 20 young women in the western city of Herat have established themselves as computer experts, building apps and websites as well as tracking down bugs in computer code.
Like the team of Afghan schoolgirls who rose to fame last year when they competed in a robotics competition in the United States, the coders show what reserves of talent there are to be tapped when Afghan girls are given a chance.
"Coders can work from home and it is in this process women are building a new career path for themselves and for the next generation," said Hasib Rasa, project manager of Code to Inspire, which teaches female students coding in Herat.
One of the games designed by the all-female team has caught the eye of developers and gamers as it illustrates the scourge of opium cultivation and the challenges the Afghan security forces face as they try to stamp it out.
The 2D game "Fight Against Opium" is an animated interpretation of the missions that Afghan soldiers undertake to destroy opium fields, fight drug lords and help farmers switch to growing saffron.
Afghanistan is the world's largest source of opium but it also grows saffron - the world's most expensive spice - which has long been pushed as an alternative to wean farmers off a crop used to make heroin.
Despite a ban, opium production hit a record in 2017, up 87 percent over 2016, according to a U.N. study.
Khatira Mohammadi, a student who helped develop the anti-opium game, said she wanted to show the complexities of the drug problem in the simplest way.
"We have illustrated our country's main problem through a game," said Mohammadi.
At the institute, more than 90 girls and young women, wearing headscarves and long black coats, are trained in coding and software development, a profession seen by some in conservative Afghanistan as unsuitable for women.
In Afghan society, it is unusual for women to work outside the home. Those who do, are mostly teachers, nurses, doctors, midwives and house helpers.
After the ouster of the Taliban in 2001, women regained freedom to work in offices with male colleagues - but many consider working as a software developer a step too far.
Hasib Rasa said girls are encouraged to design original player characters, goals, and obstacles that reflect Afghanistan's ethos.
The course is exclusively aimed at females, aged 15-25, who are unable to pursue a four-year degree due to lack of funds or hail from families where they are prevented from enrolling in co-education schools.
"In Afghanistan the ability to work remotely is a key tool in the push for equality," said Rasa.
https://in.reuters.com/article/us-afghanistan-game-women/afghan-girl-coders-design-games-to-fight-opium-and-inequality-idINKBN1I901Z
--------
Statistics Reveal Declining Unemployment Rate among Saudi Women
7 May 2018
Unemployment rate among Saudi citizens has steadied at approximately 12.8 percent in the fourth quarter of 2017, positively indicating that the market is providing job opportunities to local men and women.
Al Arabiya.net spoke to the head of the General Authority for Statistics, Dr. Fahd al-Tkhaifi, who noted an increase in women participation in the Saudi economy, stressing how significant this is to the Kingdom's Vision 2030.
Statistics based on governmental records indicate an increase in the participation of women in the Saudi economy, which has reached 19.4 percent compared to 17.8 percent during the fourth quarter of 2017 compared to the third.
It also showed an increase in Saudi men's participation in the economy, reaching 63.4 percent compared to 62.6 percent during the same period. Al-Tkhaifi also noted a decrease in unemployment rates among Saudi women, which went down to 31 percent from 32.7 percent in the third quarter.
He also added that there is a decrease in the total number of Saudis searching for jobs is approximately at 1,086,561 according to the government records. An 11.8 percent decrease was noted in the fourth quarter compared to the third quarter. The statistics also indicate that there's an increase among the Saudi employees and a decrease among foreign employees.
Unemployment rate compared internationally
He pointed out that Saudi Arabia has the highest population growth rate among the G20 nations, with a 2.5 percent growth rate. High population growth rates in countries with economies that depend on a single source is among the challenges that facing attempts to reduce unemployment.
This is why Vision 2030 aims to increase economic resources to face the challenge of high population growth rate, he explained.
In this regard, when comparing Saudi Arabia's unemployment rate with other countries in the G20, the rate in the kingdom is average, as it is among the 10 countries where unemployment rates are approximately between 4 percent and 7 percent.
350,000 job seekers annually
When reading the unemployment rate, focusing on age groups and population composition in Saudi Arabia is necessary, al-Tkhaifi said. Ages between 15 to 34 years make up 33.9 percent of the population. While considering the total employment by sex, nationality and age groups, statistics show that those employed below the age of 30 are 48 percent.
The statistics also show that students receiving higher education in public and private universities, colleges and institutes amount to approximately 1,600,000. Thus, graduates with high degrees exceed 350,000 each year.
This means that we have 350,000 job seekers every year, which indicates that there is a challenge in the labor market based on our demographic composition.
https://english.alarabiya.net/en/features/2018/05/07/Statistics-show-lower-unemployment-rate-among-Saudi-women.html
--------
Saudi Couple Meet Indonesian Maid They Forgave For Murder of Their Child
May 08, 2018
JAKARTA: A Saudi couple from Tabuk have met the Indonesian domestic helper they pardoned after she was sentenced to death for murdering their 11-month-old child in 2009.
Ghalib Nasir Al-Hamri Al-Balawi and his wife arrived in Indonesia on May 3 for a week-long stay, which included a visit to Cirebon in West Java to meet Masamah bint Raswa Sanusi and her family.
"I didn't seek for anything else by giving her pardon but God's mercy," Al-Balawi said through a translator during a press conference at the Saudi Arabian Embassy in Jakarta on Monday.
He said that he was very impressed with the hospitatlity showed by Indonesia during their first visit to the country.
Arief Hidayat, an official from the Foreign Ministry's Directorate for Protection of Indonesian Citizens Abroad, said that the couple's visit was facilitated by the Indonesian Consulate General in Jeddah in appreciation of the couple's compassion and willingness to forgive Masamah.
"We took them to Cirebon by train and they were greeted by the acting Cirebon district head upon arrival," Hidayat said, adding that they also took the couple to the safari park in Cisarua in the mountainous Puncak area, a popular destination for tourists from Middle Eastern countries.
Masamah's lengthy trial began in 2009 after local authorities accused her of murdering Al-Balawi's child after they found her fingerprints on the baby's face.
Masamah has always maintained her innocence and said that she only rubbed the baby's face after she found it unconscious. She was sentenced to five years in prison in 2014 but the district attorney appealed and she was sentenced to death in 2016.
During her appeal trial in March 2017, Al-Balawi pardoned her and decided not to demand blood money, but Masamah still had to serve the remaining two and a half years of her prison sentence.
She was released from prison in January and stayed at the consulate general's shelter until she was cleared to leave and return to Indonesia in March.
http://www.arabnews.com/node/1298476/saudi-arabia
--------
Egypt: 'Divorce Radio' Is Giving Women Guidance and Support in the Face of Divorce
7 MAY 2018
By Kylie Kiunguyu
For the women of Egypt, the social stigma associated with divorce is immense. That is why Mahasen Saber created "Divorce Radio" to share her experience, offer advice on legal divorce procedures and spread awareness of the rights of divorced Egyptian women and the state services that are available to them.
In 2010, after spending more than three years in the Egyptian court system trying to divorce her husband, Mahasen Saber started "Divorce Radio," an Internet-based station that seeks to reverse popular conceptions of divorced women and create a supportive community.
Egypt's divorce rate is at an all-time high, having risen from 180 000 cases in 2014 to 200 000 in 2015, making it one of the world's most divorced nations. According to official figures, a couple in Egypt gets divorced every six minutes.
"Here in Egyptian society, the woman is looked upon as if she is the one who made a big mistake getting a divorce from her husband. She is always at fault," Saber said in an interview with The Christian Science Monitor.
The online radio station is an extension of her popular blog, which has made her something of an icon in Egyptian media. "I want Arab society to respect women who are divorced," she continued.
The programmes on the station, which is hosted at a local Internet café in the northern governorate of Sharqiya, provides psychological assistance to women who face difficulties adjusting to their new social status. Some of the programmes on air include "You Misunderstand Us", "Your Son: How You Raise Him", in which a doctor discusses child-rearing for divorced parents, and "Before You Say, 'I Want a Divorce'", a show that makes women aware of the steps involved in obtaining a separation.
"My mother used to say, 'You cannot get divorced. You have a child.' But in the end you have to decide what's right. It's your life. If you let anyone control it, you will live like a marionette," Saber said.
The basic assumption on which Egyptian law operates is that of all lawful acts, divorce is the one most disliked in the eyes of Allah. Fortunately, family law, which is based on Islamic principles, was altered to enable women to divorce without their husband's agreement by going to a judge in a practice known as "khula".
However, "khula" requires women to give up their financial rights and return dowry they received if they did not want to endure drawn-out litigation. Despite this, men are adverse to the practice. As Mehab Abolkonfan, the chairwoman of the Egyptian Center for Women's Rights, explained to The Christian Science Monitor, "It's an issue of masculinity. In Eastern society, men should be [in demand], not rejected ... [In khula, a woman] doesn't have to say 'he beats me' or any other bad thing. Instead, she is simply saying, 'I reject this man and I will forgo any kind of financial commitment to leave this man.'"
Despite the stigma still attached to being a divorcée, Egyptian women increasingly initiate legal proceedings. Sociologist Madiha Safty, from the American University in Cairo, suggested to the BBC that there were many factors involved in women seeking divorce.
"With more rights being given to women, such as the right to education, to employment - the idea of financial independence is very important here - she can easily have her divorce and be able to live on her own. That's in addition to changing family laws giving women more rights," she said. "Society is very much concerned," she adds, "because [the perception is that] it has led to the breakdown of the family."
Once a social taboo, the topic of divorce is now openly discussed. Aside from the Internet radio station, there are clubs and special magazines for divorcées.
http://allafrica.com/stories/201805080176.html
--------
URL: https://www.newageislam.com/islam-women-feminism/number-female-lawyers-rise-saudi/d/115179
New Age Islam, Islam Online, Islamic Website, African Muslim News, Arab World News, South Asia News, Indian Muslim News, World Muslim News, Women in Islam, Islamic Feminism, Arab Women, Women In Arab, Islamophobia in America, Muslim Women in West, Islam Women and Feminism