New Age Islam News Bureau
10 Feb 2017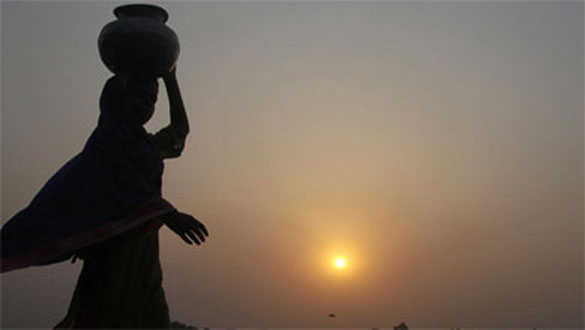 Pakistani Woman Dies in Fake Exorcism , Representative photo, FILE PHOTO © Mohsin Raza / Reuters
----
• Writer Defames Emirati TV Women on Social Media
• Threats Stalk Gang-Raped Muslim Women after India's Religious Riots
• Results to Be Declared Null And Void in the Absence Of 10% Votes of Women: Pak Minister
• Pakistani Woman Dies in Fake Exorcism after Being Brutally Tortured By 'Healers'
• Muzaffarnagar Gang-Rape: Amnesty Report Details Struggles of 7 Muslim Women Who Pressed Charges
Compiled by New Age Islam News Bureau
URL: https://newageislam.com/islam-women-feminism/now-die-cast,-disallow-hijab,/d/110033
--------
Now The Die Is Cast, Disallow Hijab, Risk Jail, MURIC Warns
FEBRUARY 9, 2017
Following the rejection of stay of execution on the use of Hijab with school uniform in Public schools in Lagos state by the Court a few days ago, the Muslim Rights Concern (MURIC) has said any school authority who disallows female Muslim students or pupils from using Hijab risks being jailed for contempt of court. The Director of the group, Professor Ishaq Akintola who described the rejection as "bold, convincing and reassuring, in a statement to Vanguard said the judgment has cemented people's faith in the judiciary as the last hope of the common man. Asiyat Abdul Kareem (through her father), Moriam Oyeniyi and the Muslim Students Society of Nigeria had won appeal of case CA/L/135/15 against the Lagos State Government on 21st July, 2016 when all the five judges of the Lagos Appeal Court approved the use of hijab in Lagos public schools. The state government immediately approached the Supreme Court to appeal the case and also sought a stay of the execution at the Appeal Court. MURIC however appealed to the state government to allow sleeping dogs to lie. "There is a limit even for official ego. There must come a time when government scoops to allow the general will to prevail. But the law is on the side of the general will this time. "A government installed via democratic process cannot afford to disrespect a court judgment. This latest decision is legally binding and Lagos has no choice. Afterall, it is the center of excellence. According to Akintola: "The honourable path is for the center of excellence to walk its talk. The state government must instruct the Ministry of Education to tell school principals to allow female Muslim children to use hijab in public schools. "Without being immodest, we assure all and sundry that we know our rights. Any school authority who disallows female Muslim students or pupils from using hijab risks being jailed for contempt of court. We have been patient enough. Our children have listened to us. They eschewed violence. They obeyed the rules of decorum. Now the die is cast. "Muslims have been accused severally of resorting to spontaneous violence even though they have always been provoked. But the case is different this time around. Lagos Muslims went to court instead of going violent and the courts have decided. Lagos government must allow the law to take its due course. "Nigerians and indeed the rest of the world must see this as a test case for democracy and the rule of law in Lagos State. We want to know how democratic are our democrats? To be or not to be? That is the question. Whether Lagos will respect the courts and allow the students to use hijab as ordered by the court or whether the grandstanding, the stigmatization, the oppression and persecution will continue is left to be seen. The world is watching, Akintola stated. Read more at: http://www.vanguardngr.com/2017/02/now-die-cast-disallow-hijab-risk-jail-muric-warns/
http://www.vanguardngr.com/2017/02/now-die-cast-disallow-hijab-risk-jail-muric-warns/
--------
Writer Defames Emirati TV Women on Social Media
10-Feb-17
The court adjourned the proceedings to prepare a defence for the next hearing on February 22.
An Abu Dhabi court of misdemeanours has heard a case of a writer who was accused of defamation for using social media to speak against Emirati women who work in the media.
The court adjourned the proceedings to prepare a defence for the next hearing on February 22.
The case is about a group of Emirati women working for local TV channels who lodged a complaint against the writer after he published words of insult, taunt, ridicule, slander and contempt against these women on social media.
The accused testified he writes articles in a local newspaper, where he discusses social issues of interest to the community.
http://www.khaleejtimes.com/news/crime/writer-defames-emirati-tv-women-on-social-media
--------
Threats Stalk Gang-Raped Muslim Women after India's Religious Riots
Feb 9, 2017
By Nita Bhalla
NEW DELHI (Thomson Reuters Foundation) - Three years after religious riots in India, Muslim women who reported being gang raped during the violence are still waiting for their cases to be investigated while facing death threats and harassment for speaking out, Amnesty International said.
More than 60 people were killed and over 50,000 forced to flee from their villages when clashes between majority Hindus and minority Muslims erupted in the state of Uttar Pradesh in September 2013.
Seven Muslim women came forward to report complaints of rape during the riots in Muzaffarnagar and Shamli districts, but to date there has not been a single conviction, the Indian branch of the rights group said on Thursday.
Over the last three years, two of the women changed their statements following threats. One victim died during child birth in 2016. One case resulted in an acquittal, one trial is currently underway and in two cases, trials have not begun.
"The Uttar Pradesh government has failed to expeditiously investigate and prosecute the cases and deliver justice," said Amnesty International India (AII) in a report.
"Their failures continue to keep the survivors in a state of fear and insecurity, skeptical that they will ever get justice."
Government and police officials from Uttar Pradesh were not immediately available to comment on the reports findings.
THREATS
The violence was triggered on August 27, 2013 when a Muslim youth was stabbed to death by two Hindu youths after being accused of sexually harassing their sister. A Muslim mob then stoned the two Hindus to death, government officials say.
Neighbours - Hindu and Muslim - turned on one another with machetes and set alight homes and places of worship.
"All three of them threatened me, saying that if I did not do what they asked, they would kill my son. They took turns to rape me," said one of the victims, named as Ghazala in report, who was raped in a sugarcane field in Shamli on Sept. 8, 2013.
Violence between Muslims and Hindus has been a defining feature of Indian politics since the separation of Pakistan in 1947, when hundreds of thousands of people were killed and millions displaced.
AII's research - based on police and court documents and interviews with victims, police and government officials - found that the police refused initially to register the complaints and then failed to investigate allegations.
The slow pace of the justice has meant victims and their families have been threatened and intimidated by the accused, AII said.
Due to India's under-resourced, archaic judicial system long delays in trials are common, but lawyers say delays in this case are due to discrimination against Muslim women who are accusing men from the dominant Hindu Jat majority.
"This is not because the system is inefficient. And it is not because the police and courts do not know how to work," said human rights lawyer Vrinda Grover at the launch of the report.
"This is a matter of institutional bias within the police."
The report comes at a sensitive time as Uttar Pradesh, India's most populous region, begins state elections on Feb. 11.
Religion and caste violence play a central role in politics in Uttar Pradesh and fanning communal tension often brings political gains to parties that claim to protect different religious and caste groups, analysts say.
(Reporting by Nita Bhalla @nitabhalla, Editing by Katie Nguyen. Please credit the Thomson Reuters Foundation, the charitable arm of Thomson Reuters, that covers humanitarian news, women's rights, trafficking, property rights, climate change and resilience. Visit news.trust.org)
http://www.reuters.com/article/us-india-women-rape-idUSKBN15O2F8
--------
Results to Be Declared Null And Void in the Absence Of 10% Votes of Women: Pak Minister
10-Feb-17
ISLAMABAD: Minister of State for Information and Broadcasting Marriyum Aurangzeb has said that results of elections in any constituency will be declared null and void if less than 10 % votes of women are cast in any constituency. .
She said that concerted and integrated efforts are being made at the federal and provincial levels to provide equal opportunities to the women voters. She was addressing a ceremony in connection with protection of women in Islamabad today. The Minister said the parliamentary committee which is framing the electoral reforms these days has agreed to ensure greater participation of women in the electoral process. A quota is being allocated to enable women to contest elections on direct seats. She said our society is changing and becoming more receptive to the rights of women. Marriyum Aurangzeb said education are the key for the empowerment of women. She said the government has launched education reform programs in the federal capital and currently in the process of reviewing the curriculum. She said efforts are being made to create greater awareness about women related legislation amongst the masses.
http://dailytimes.com.pk/pakistan/10-Feb-17/results-to-be-declared-null-and-void-in-the-absence-of-10-votes-of-women-minister
--------
Pakistani Woman Dies In Fake Exorcism After Being Brutally Tortured By 'Healers'
9 Feb, 2017
A woman in Pakistan has died during a fake exorcism, after her 'healers' tied her upside down to a tree, beat her with sticks, and fanned her with smoke and heat.
The incident began after Soraiya Begum, a resident of Dera Ghazi Khan, in Punjab province, began talking to herself.
Her unusual behavior led her husband to believe she had been possessed by 'djinns,' evil spirits described in Muslim mythology.
In an effort to fix the situation, the man contacted people who claimed to be 'pirs,' a word used to describe Muslim saints or holy men. The men said the woman was in need of an exorcism.
But instead of healing the man's wife, the so-called pirs began a ritual which ultimately led to her death.
That ritual involved tying the woman to a tree and beating her with sticks before hanging her upside down and fanning her with smoke and heat, Geo TV reported.
On seeing the brutality, Begum's husband tried to step in and stop the exorcism, although the pirs paid no attention to his pleas.
Begum was pronounced dead upon arrival at a nearby hospital. Her husband has filed a complaint with police, who say they are conducting raids in a search for the men.
Dr. Mohammad Sultan, head of the department of psychiatry at Khyber Medical College Peshawar, told Geo TV that the woman was likely suffering from schizophrenia.
"It is sad that ignorance still prevails in our society about treatable medical conditions where people live normal lives if given the proper medical attention they require," he said.
Sultan went on to add that he "cannot understand" why people go to so-called faith healers rather than taking advantage of qualified psychiatrists who offer free treatment in the area.
The doctor said that people claiming to be pirs "take advantage of the lack of literacy and prey on the ignorant."
It's not the first time that Pakistan's self-proclaimed faith healers have made headlines in the country. Last year a teenage girl died after being tortured and raped during a fake exorcism. The teen was brought to a so-called pir by her mother, who wanted her "psychosis" to be cured so she could receive more marriage proposals, the Deccan Chronicle reported.
A mother and daughter were also killed by a fake pir in 2015, after they were taken to the alleged faith healer by a family member who wanted to rid their bodies of ghosts, Pakistan media outlet The News reported at the time. The false pir allegedly locked them in a room after burning a fire, causing them to suffocate. The women were actually suffering from gastroenteritis, according to autopsy reports.
https://www.rt.com/news/376864-woman-killed-pakistan-exorcism/
--------
Muzaffarnagar Gang-Rape: Amnesty Report Details Struggles of 7 Muslim Women Who Pressed Charges
10 Feb 2017
On September 8, 2013, a day after a massive gathering in a village outside Muzaffarnagar city in which Hindu leaders from the dominant Jat community addressed a crowd of over 1,00,000 people to save their Hindu daughters and 'bahus' from love jihad, 42-year-old Fatima was sexually violated by four men. The men, who belonged to the Jat community and were known to her, assaulted her in her own house in Fugana.
Yet, when she went to the local police station on September 20 to file an FIR, the police refused to do so. It was on October 9, 2013, when she went to file an FIR for the second time, after she was displaced from her own home, that the police eventually registered an FIR. In August 2014, after the police had filed charges against the accused men, two of the accused told other villagers to pass on a message to her family that they would be killed if she did not withdraw her accusation.
She filed a complaint in August 2014, alleging that the accused lured her with money -- if she complied, they would pay her Rs 15 lakh, and if she does not, she and her family will be killed.
Fatima is one of the seven courageous women who came forward to lodge a complaint in the aftermath of the violence, during which several women were allegedly violated. Intermittent delays and intimidation has marred the investigation.
Fatima's account forms the leitmotif of the aftermath of the violence that left over 60 people dead, over 200 injured and several women sexually violated. In the three years since the violence erupted, there has not been a single conviction. A report, "Losing Faith: The Muzaffarnagar Gang-rape Survivors' Struggle for Justice", released by Amnesty India in Delhi on Thursday, details the cases of seven Muslim women who came forward to press charges.
"Despite changes to India's laws in 2013 requiring trials in rape cases to be completed without unnecessary delay, trials have proceeded extremely slowly. The state government and successive central governments have also failed to adequately protect the survivors from threats and harassment — which in some cases led to them retracting their statements — and to provide adequate reparation," read a statement from Amnesty International India.
Even FIRs in the cases were filed as late as February 2014 with the intervention of the Supreme Court after advocate Vrinda Grover submitted a writ petition in the matter. In one case, chargesheet has not been filed yet, and in another, the survivor recanted her statement after continued harassment, stated the report. In two of the cases, charges are not yet framed, while in one, the accused were acquitted. Trial is yet to begin in a case, while in another, a petition seeking the transfer of the case out of Muzaffarnagar was filed in April 2016.
In March 2014, the Supreme Court directed the Uttar Pradesh government to give each of the survivors Rs 5, 00,000 as compensation, in addition to other benefits, within four weeks. Six of the seven survivors received the compensation on May 20, 2014, eight weeks after the Supreme Court ruling, after repeated requests.
Makepeace Sitlhou, part of the Amnesty International India's team sent to report on the investigation, said that there has been a "deliberate delay". "In one case, the investigating officer took a complainant and paraded her in a marketplace of shops owned by Jat men as part of investigation," she said. After a complaint with the National Commission of Minorities, the officer was removed.
She added that there has been little assistance of the survivors, with many of them even having to cook for the constables that guard them. After their displacement, a lot of the women have been pushed to ghettoised colonies in the area, she said.
Activist Rehana Adeeb said that rights workers work under severe pressure to get the women to speak. "There's pressure from the authorities, from the accused, and even from the Muslim communities," she said.
Advocate Vrinda Grover, who has been spearheading the legal fight to deliver justice to the victims, recounted several accounts of mischief on part of the accused and their counsels to delay the investigation. In one case, one of the survivors told the court that she does not remember the accused. "This is after she had named the accused in the FIR; she bucked under the continued delay and the absences of any support," said Grover.
Grover said that the Muzaffarnagar cases were the first in which section 376 (2) (g) of the Criminal Law (Amendment) Act, 2013 were applied. Under the amended act, rape committed during communal or sectarian violence will invite a punishment of not lesser than ten years of rigorous imprisonment. The charges were not applied in the original FIRs, leaving a window for the argument around consent, she said.
Arrangement for in-camera recording of rape testimonies was missing from the proceedings, added Grover. "This is also the first instance in my career where I had to request for police protection for my own self," she said.
As part of its recommendations, Amnesty International India has demanded a vigorous pursuance of the cases to bring justice to the women, an investigation into the threats or harassment of survivors, provision for effective legal assistance and rehabilitation. They have also recommended for a robust law to respond to communal violence, an adequately resourced victim and witness protection programme and comprehensive police reforms.
A second report on the rehabilitation of the survivors will be released in the coming weeks, said Amnesty.
http://www.dnaindia.com/india/report-muzaffarnagar-gang-rape-amnesty-report-details-struggles-of-7-muslim-women-who-pressed-charges-2318498
--------
URL: https://newageislam.com/islam-women-feminism/now-die-cast,-disallow-hijab,/d/110033
New Age Islam, Islam Online, Islamic Website, African Muslim News, Arab World News, South Asia News, Indian Muslim News, World Muslim News, Womens in Islam, Islamic Feminism, Arab Women, Womens In Arab, Islamphobia in America, Muslim Women in West, Islam Women and Feminism, Moderate Islam, Moderate Muslims, Progressive Islam, Progressive Muslims, Liberal Islam