New Age Islam News Bureau
3 Oct 2017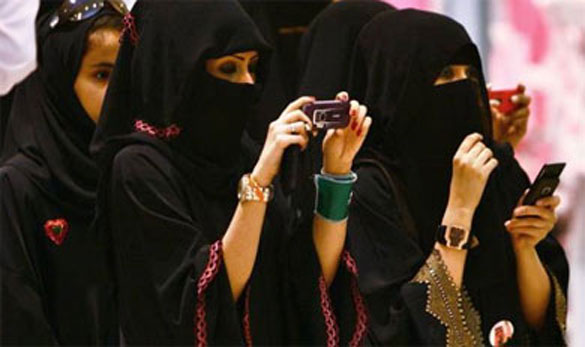 The decision was announced after several parents complained about their daughters being searched and told to hand over their mobile phones and about the delays for courses caused by the "unnecessary procedures", according to Saudi media.
-----
• East London: Girl Had 'Warm Relationship' With Muslim Foster Carers, Court Told
• Muslim Woman Saves Indian Driver's Life in UAE
• How Dubai Police Take Care of Women Inmates and Their Kids
• Bangladesh: Khilafat Wants Women's Quota in Parliament Removed
• First Saudi Spokeswoman: Status of Saudi Women Will Continue To Evolve
• Arab Women Investors Union Honours Al-Sisi for His Efforts in Supporting Women
• Many Saudi Women with Driving Licenses Raring To Hit the Road
Compiled by New Age Islam News Bureau
URL: https://www.newageislam.com/islam-women-feminism/now-saudi-female-students-allowed/d/112753
--------
Now, Saudi female students allowed to carry mobiles on campus
October 3, 2017
Manama: Female students in Saudi Arabia have been allowed to enter university and colleges campuses with their mobiles in a landmark decision by the education minister.
Ahmad Al Eisa also told the heads of universities and colleges not to prevent the students from using them inside the facilities.
The decision was announced after several parents complained about their daughters being searched and told to hand over their mobile phones — and about the delays for courses caused by the "unnecessary procedures," Saudi media reported.
Responsibility
The ministry said that the students at the university level have reached a high level of awareness and consciousness that allows them to rise up to their responsibilities and lead their lives normally, Al Hayat daily reported.
Some of the students have family conditions that require them to remain connected most of the time, the ministry added.
However, all students will remain under the rules and regulations governing the proper behaviour on campus.
King Saud University in the capital Riyadh on Sunday cancelled the need for the approval of the parent if a female student wanted or needed to leave before 11 am.
Prior to the cancellation of the rule, a student had to stay on campus even if her courses were over before 11 am unless she presented the ID of her parent and his approval.
Family driver
Students who were chauffeured by the family's driver needed to obtain a special card from the university after presenting copies of the driver's residency permit, her parent's approval endorsed by his employer, and the course timetable.
The relaxation of the rules was largely hailed on social media by female users and their supporters who welcomed the end to "unjust measures that were not fair to women."
Saudi Arabia is going through high-profile reforms to give women more rights, including the right to drive cars that will be implemented in June after all necessary arrangements are taken.
http://gulfnews.com/news/gulf/saudi-arabia/now-saudi-female-students-allowed-to-carry-mobiles-on-campus-1.2099683
--------
East London: Girl Had 'Warm Relationship' With Muslim Foster Carers, Court Told
2 October 2017
A girl placed with Muslim foster carers in a case that ignited a media storm had a "warm relationship" with the family and wants to see them again, an internal council investigation has found.
In August, claims that the five-year-old, who was described as a "white Christian", had been left distressed after being placed in a Muslim household became the focus of a political and media furore.
The row surrounding child AB, as she is known in court documents, was prompted by a front-page article in the Times headlined "Christian child forced into Muslim foster care".
The girl was then moved into her maternal grandmother's care, who it later emerged was herself a non-practising Muslim and intended to take the girl back to their country of origin if given custody of the child.
A hearing at East London family court on Monday heard that a subsequent inquiry by Tower Hamlets council into allegations aired in the Times against the foster carers found they had provided "warm and appropriate" care to the girl. The girl's mother, who is fighting for custody of the child, disputes the findings.
After interviewing the maternal grandmother, a social worker and the child, the inquiry discovered that the girl missed one of the foster carers.
The judge, Khatun Sapnara, reading extracts from the Tower Hamlets report, said the findings were a "very interesting and robust" defence against the allegations raised in the Times. "The maternal grandmother is dismissive of the concerns and upset by them," the judge said.
The child's maternal grandmother "in fact has a warm relationship with one of the foster carers – as does the child", she said.
The judge added that child AB "misses the foster carer and another child in the same placement".
"The local authority has satisfied itself that the foster carers have not behaved in any way that was inconsistent with its provision of warm and appropriate care for this child and this view was shared by the girl's court-appointed guardian."
The report addresses all allegations, makes for "very interesting reading" and provides an "alternative narrative" to that portrayed in the Times, the judge added.
The judge has given the authorities until Friday to draw up a redacted version of the report so it can be published. Lawyers for the mother said they objected to its publication and would have to take instruction from their client to appeal against the judge's decision to publish the report, or apply for a stay of publication.
The hearing on Monday also heard that the child was of dual nationality. She was christened but was not taken to church by her mother or anyone else, the court heard. Her maternal grandparents are Muslim and while they do not attend mosque, they do pray at home, the court was told.
The girl's mother has a criminal conviction and is appealing against it.
The Times initially reported that, according to confidential local authority reports, a social services supervisor had described the child crying, asking not to be returned to one foster carer because "they don't speak English".
The report, seized on by far-right activists, included a pixelated photograph of the girl in the company of a woman – alleged to be her foster carer – wearing a black Niqab or burka.
The Daily Mail followed by putting the story on its front page under the headline "MPs' anger as Christian girl forced into Muslim foster care". It used a stock picture of a Muslim family to illustrate the story in print and online, but altered the image to cover the woman's face with a veil.
The former Mail Online columnist and far-right commentator Katie Hopkins tweeted an image of the front page, asking: "Which individual at Tower Hamlets was responsible for the abuse of this little girl?"
A document released by the judge with details of an earlier hearing revealed that the child's mother had applied for a Scram bracelet – a tag to monitor levels of alcohol consumption – and her solicitors requested permission to supply results for cocaine testing. The child's biological father could not be located, the document said.
A final hearing on the child's future will be held in December.
https://www.theguardian.com/society/2017/oct/02/girl-had-warm-relationship-with-muslim-foster-carers-court-told
--------
Muslim woman saves Indian driver's life in UAE
October 2, 2017
A quick-thinking Muslim woman saved the life of an Indian truck driver in the UAE when she saw him in flames following a horrific road accident, media reports said. Jawaher Saif Al Kumaiti, 22, was driving home after visiting a friend in a hospital when she saw two trucks burst into flames in Ras al-Khaimah, a city in the UAE – and heard the victim shouting for someone to save him, Gulf News reported.
She bravely saved the Indian driver from a fire by putting out the flames with an abaya cloak – a robe-like dress worn by some Muslim women. Al Kumaiti said that she was at first taken aback when she saw the two trucks on fire following the accident. She also saw a man on fire screaming in pain and fear shouting for help, the report said. The police has named the victim as Harkirit Singh.
Al Kumaiti persuaded her friend who was a passenger to take off her abaya cloak then leaped out of the car and used it to put out the flames, it said. "He was lying down. He was on fire… I took out my friend's abaya, asked her to stay inside and left the car. I went to cover the guy because there were no clothes on him. He looked at me and said, 'I'm dying. I'm afraid to die'," she said, adding that she tried to talk to him and calm him down telling him that he would survive as the rescue teams will arrive soon."
"I just thought about saving the man's life," said Al Kumaiti, who works at Adnoc Oasis in Sharjah. "The police patrols, ambulance and paramedics shortly arrived. They swung into action, provided first aid to the driver, and rushed him to the hospital," it said. "All thanks and praise to Almighty Allah who gave me the power and courage to act and intervene into the situation at the right time and rescue the man's life."
Both the drivers suffered "40 to 50 per cent burns." Both were first taken to a hospital and then to the Saqr Hospital, said Major Tariq Mohamed Al Sharhan, head of the ambulance and rescue section at the Ras Al Khaimah police. Al Sharhan said they want to honour the bravery of the "abaya woman", the report said.
The Indian Embassy in Abu Dhabi will also honour Al Kumaiti, Navdeep Singh Suri, the Indian Ambassador to the UAE, was quoted as saying by the report. Shockingly, she said there were other people at the scene in before she was but they did not help and simply stared at the man as flames burnt his body.
http://indianexpress.com/article/world/muslim-woman-saves-indian-drivers-life-in-uae-4870942/
--------
How Dubai Police take care of women inmates and their kids
Amira Agarib
October 2, 2017
The Dubai Police are doing their the maximum to provide children and mothers with the best care available as per international standards
The aim of punitive and correctional establishments is not just to punish inmates, but also to rehabilitate them, a top police official has said.
Brigadier General Ail Al Shamali, director of general department of correctional institution at the Dubai Police, said that as many as 35 initiatives have been carried out for the welfare of the women prisoners and dozens of children who are living with them.
Al Shamali said that authorities give special care to women inmates lodged in Dubai Women's Prison and their children. There are 400 women inmates and 40 children, including a new born and the oldest of them is eight years old.
He added that Commander-in-chief of the Dubai Police announced the introduction of qualified nannies to take care of the children living in the jails during his last visit to the women's prison. The children would stay with their mothers from 8am to 4pm and after that they would go to their wards. The children cannot be kept outside of the prison as some of the mothers delivered their children while serving their jail terms and also they do not have relatives here.
The Dubai Police are doing their the maximum to provide children and mothers with the best care available as per international standards, he added.
Kids learn through play here
The nursery for the inmates' children at the women's prison in Dubai is built on an area of 658 square metres and includes eight rooms, each with a capacity of seven beds. Next to each bed, a baby cradle has been placed. Indoor games are provided for children as well as they are encouraged to exercise daily. A small clinic, a dining hall and hall for activities and events, an educational room and area for reception and surveillance are also part of the nursery.
"All these measures help children integrate into other kindergartens when they come out of the prison," he said. The nursery has been designed to provide the children with an ideal and healthy environment. Equipped with cribs, breastfeeding chairs, colourful curtains and blankets, a play area, and many toys, the room appears to be like any other crèche.
He explained that the new children will have the opportunity to be close to their mothers round the clock in a private dormitory or will have set time for breastfeeding. The nursery also provides private play areas as well as a small medical centre to take care of children.
"Children also learn through playing. So we have tried to provide the best suited environment for their physical growth, in addition to keeping an eye on their psychological health and upbringing without prejudices of the prison," he added. He also said that concerned departments continuously review the needs of children and their mothers so that they live happily.
Financial aid
Brig. Gen. Al Shamali said that a financial aid touching Dh5million had been spent on 2,821 inmates, which included payment of school fee, providing the children with school bags and Eid cloths, rent and monthly salaries to families of inmates, have been spent on the prisoners irrespective of their nationalities in this year alone.
He added that majority of inmates at the Dubai Central Jail are Asians, and cheque-related cases and illegal stay topped the crime lists while women inmates were mostly involved in adultery and other indecent acts.
Al Shamali said that the human care section of the Dubai Correctional Institution has also assured release of several inmates in 2017 by paying around Dh700,000 in blood money. He said that the inmates are pardoned thrice every year during Eid Al Adha, Eid Al Fitr and UAE National Day.
https://www.khaleejtimes.com/nation/dubai/how-dubai-police-take-care-of-women-inmates-and-their-kids
--------
Bangladesh: Khilafat Wants Women's Quota in Parliament Removed
October 02, 2017
Bangladesh Khilafat Andolan demanded the Election Commission (EC) remove the women's quota in the parliament. In addition, they also asked for the removal of the provision that requires all political parties to have 33% female representation.
The Islamic party made the demands when they met the EC for a dialogue Monday afternoon. In total, Khilafat presented 38 proposals. The meeting was presided over by Chief Election Commissioner KM Nurul Huda and attended by a 15-member delegation of Khilafat Andolan led by Maulana Shah Ataullah.
The Islamic party's other demands included holding the election under a caretaker government, deploying the army with magisterial powers during elections, the Ministry of Public Administration and Ministry of Home Affairs handed over to the Election Commission, decommissioning the Electronic Voting Machines, holding the elections with no active parliament, scrapping provisions for being elected without any competition, facilitate voting for expatriates, ease regulations for party registration, and stop imposing terms and conditions which may conflict with the Quran or Sunnah.
Khilafat Andolan was the 20h political party to exchange dialogues with the EC regarding the next election. Earlier in the morning, Bangladesh Muslim league met with the EC.
http://www.dhakatribune.com/bangladesh/politics/2017/10/02/khilafat-removal-women-parliament/
--------
First Saudi spokeswoman: Status of Saudi women will continue to evolve
3 October 2017
Saudi Arabia's decree on granting driving licenses for women has received much praise in the kingdom, as it not only grants women more freedom of mobility, but is also expected to have a positive impact on a social and economic level.
In her first exclusive interview, newly appointed spokesperson for the Saudi embassy in Washington, Fatimah Baeshen, spoke about the royal decree with Al Arabiya English, stating that the status of Saudi women has been evolving over the years and shall continue to do so.
"The leadership will respond with appropriate policies to reflect changes that are happening organically," she said.
The decree has ordered the setting up of a ministerial body to give advice on the implementation within 30 days and to ensure the order is carried out by June next year.
"The royal decree will implement the provisions of traffic regulations, including the issuance of driving licenses for men and women alike," the Saudi Press Agency said.
Plaudits from home and abroad
The move has also received commendation internationally. UN Secretary General Antonio Guterres welcomed the Saudi decision, calling it a positive move and US President Donald Trump said it was a "positive step" towards promoting women's rights.
Baeshen, the first woman appointed as government spokesperson, said that the reaction in the United States was "overwhelmingly supportive, indicating a positive trajectory for the general course of Saudi women's rights."
However, the lifting of the ban is not only a social victory for women's rights in Saudi Arabia but is expected to have a positive impact on the country's economy. The decree is another step toward achieving Vision 2030, which aims to reduce the country's dependence on oil and encourage its people to join the workforce.
The ban had long been a financial and logistical hurdle for women supporting the country's economy. Given issues with public transport, many were forced to employ chauffeurs to go to work or get around.
Decree to create more jobs
According to latest statistics, there are nearly 800,000 men — mostly from South Asia — who work solely as drivers to Saudi women.
According to Baeshen, allowing women to drive will increase the enrollment of women in the labor market. She stated that one of the obstacles for women entering the work force in the past has been mobility and the cost of transportation.
"This policy will directly address this issue and support achieving the Vision's aim," she said.
According to the World Bank, Saudi women constituted 15.2 percent of the total Saudi labor force in 2016.
"This [royal decree] may open the gates for women drivers in ride-sharing services, which will create jobs that are more flexible," Baeshen said.
Relevant institutions have about 10 months to build their capacities to address the demand with respect to increasing driving schools and the police force. This will be facilitated through the Ministry of Labor and Social Development and the Ministry of Interior.
https://english.alarabiya.net/en/features/2017/10/03/First-Saudi-spokeswoman-Status-of-Saudi-women-will-continue-to-evolve-.html
--------
Arab Women Investors Union honours Al-Sisi for his efforts in supporting women
October 3, 2017
Minister of Investment and International Cooperation, Sahar Nasr, opened on Monday the activities of the conference, "Towards Sustainable Development".The event is organized by the League of Arab States in partnership with the Arab Women Investors Union and the National Council for Women, at the headquarters of the League of Arab States.
The union honoured President Abdel Fattah Al-Sisi for his efforts in supporting and empowering women. Minister Nasr received the honorary on his behalf.
Nasr said that Egypt has achieved a lot in the economic reform programs, including social safety nets that have greatly alleviated the pressure on the most needy groups. She added that the program of social housing and the delivery of gas to the homes and the development of slums programs eased the sufferings of these groups.
Nasr pointed out that the reform measures implemented by the government have started to reap some benefits as real economic growth has achieved a 4.2% growth in the fiscal year 2017/2017.
The Arab Women Investors Union announced its intention to pump EGP 1.7bn in new joint investments in Egypt. Nasr invited the Union to pump more investments and to participate in the conference "Investing for Sustainable Development – Africa 2017."This conference will be held under the auspices of the President during the period from 7 to 9 December 2017. The conference is organized by the Ministry of Investment and International Cooperation and the COMESA Regional Investment Agency in Sharm El Sheikh.
https://dailynewsegypt.com/2017/10/02/arab-women-investors-union-honours-al-sisi-efforts-supporting-women/
--------
Many Saudi women with driving licenses raring to hit the road
By Mohammed Al-Abdullah
October 3, 2017
DAMMAM — Several Saudi women abroad have obtained driving licenses and are ready to drive inside the Kingdom when the royal decree enabling women to drive becomes effective in June next year.
They feel that obtaining a driving license from outside the Kingdom is an easy thing to do but the fees differ from one country to another.
They said the procedures are almost similar in all countries consisting of vision test and theoretical and practical driving tests.
The women said they obtained licenses to drive their own cars in the countries where they lived and to be ready when their own country allows them to drive.
Zakiyah Al-Asaad, who lives in the United States, said she had obtained her driving license in 2012 and has since then being driving without any hassles.
She said she was determined to go out alone so she learnt driving through joining a special driving school and by asking people who were experienced drivers.
"I was only asked for my identity papers and had a vision test. They also examined me on theoretical and practical driving," she said.
Al-Asaad said though she knew that women were not allowed to drive in the Kingdom, she was bent on obtaining a license from America so that she might drive in the US and other countries.
Hala Al-Marhoun, another Saudi woman, said she obtained her driving license from Dubai, about 18 month ago.
She said as she is living in Dubai, she had to drive her own car to go to shopping malls and do her own errands as well as driving her children to their schools and back.
Marhoun said she paid 6,000 dirhams to a private school to learn driving. "This included theoretical lectures and practical training which continued for more than 20 hours," she said.
Nada Al-Marhoun, a director of a Saudi-UAE employment company, said she obtained her driving license in 2011 from Dubai.
She said she paid 5,000 dirham to the driving school where she spent more than 10 hours on practical driving.
She said the requirements of a driving license in Dubai include presenting the original passport, residency permit, a pass certificate from the diving school and a certificate from the hospital that her vision was okay.
Nour Al-Habib, a scholarship student in the US, said she obtained her driving license in 2012 and that it was her father who taught her driving in three days only.
"Studying abroad requires driving your own car so as to get to the university on time and to go to other neighboring countries if you so wish," she said.
Buthaina Al-Youssif, a family medical doctor, said she obtained her driving license in 2017 from Bahrain.
She said the fees for requesting a driving license were SR345 in addition to SR200 as examination charges and SR50 for each hour of training.
"I was determined to obtain a driving license so as to drive in emergency cases or when I travel to other countries," she said.
Zainab Ismail, a medical doctor, said she obtained her driving license in 2006 from Pakistan where the procedures of issuing the license were extremely strict.
http://saudigazette.com.sa/article/518500/SAUDI-ARABIA/Saudi-women
--------
URL: https://www.newageislam.com/islam-women-feminism/now-saudi-female-students-allowed/d/112753
New Age Islam, Islam Online, Islamic Website, African Muslim News, Arab World News, South Asia News, Indian Muslim News, World Muslim News, Women in Islam, Islamic Feminism, Arab Women, Women In Arab, Islamophobia in America, Muslim Women in West, Islam Women and Feminism