New Age Islam News Bureau
6 Aug 2020
• 'I Am in My Home with My Kids': Asia Bibi Speaks Out About Her New Life in Canada
• Prosecutor Denies Ban on Women's Cycling in Iranian City
• Lebanese Singer Nancy Ajram To Perform Concert on Tiktok
• Woman Killed In Name Of ''Honour'' By Sister In Pakistan
• Sudanese Women Welcome Freedom to Travel Abroad with Children
• Muslim Women Sing Ram Dhun in Varanasi
• Turkey Considering Quitting Treaty on Violence Against Women
• Morocco Puts 4 Women on Trial for Witchcraft
• Bahraini Artist Mayasa Al-Sowaidi: 'I Am Not A Commodity'
• Nigeria: 'Women Gain Economic Benefits from Greater Trade'
Compiled by New Age Islam News Bureau
URL: https://www.newageislam.com/islam-women-feminism/noted-delhi-based-author-activist/d/122561
--------
Noted Delhi-Based Author, Activist, Filmmaker Sadia Dehlvi Dies At 63
August 6, 2020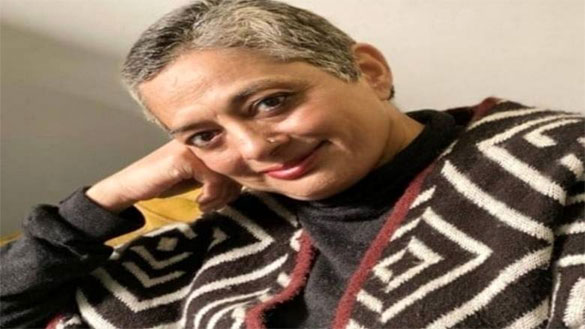 Sadia Dehlvi (Image: Twitter)
----
Noted Delhi-based writer and activist Sadia Dehlvi has passed away after a prolonged battle with cancer. She was 63.
Sadia was admitted to a city hospital recently where she was undergoing treatment. She died at her home on Wednesday.
"Sad to hear about the tragic demise of Sadia Dehlvi, a well known cultural figure of Delhi, a dear friend and a wonderful human being. Rest in Peace," tweeted eminent historian S. Irfan Habib.
Sadia, who hailed from the royal 'Shama' family, edited Bano, an Urdu women's journal. Her grandfather, Hafiz Yusuf Dehlvi, founded in 1938 Shama, an iconic Urdu film and literary monthly.
A well-known food connoisseur, she wrote a book on Delhi's culinary history in 2017, titled Jasmine & Jinns: Memories and Recipes of My Delhi.
A woman of many talents, Sadia also produced and scripted documentaries and television programmes, including "Amma and Family" (1995), starring Zohra Sehgal, a veteran stage actor.
She was a close friend and confidante of the late author Khushwant Singh. Singh dedicated his book Not a Nice Man to Know to her.
He wrote, "To Sadia Dehlvi, who gave me more affection and notoriety than I deserve."
Singh's book Men and Women in my Life has Sadia's photo on its cover and the book has a chapter dedicated to her.
Sadia produced the television show "Not a Nice man to Know" with Singh interviewing women from various fields.
She is survived by her son Arman Ali Dehlvi.
https://www.khaleejtimes.com/citytimes/bollywood/sushant-singh-rajput-case-dino-morea-denies-hosting-actor-at-house-party-on-june-13
--------
'I Am in My Home with My Kids': Asia Bibi Speaks Out About Her New Life in Canada
August 6, 2020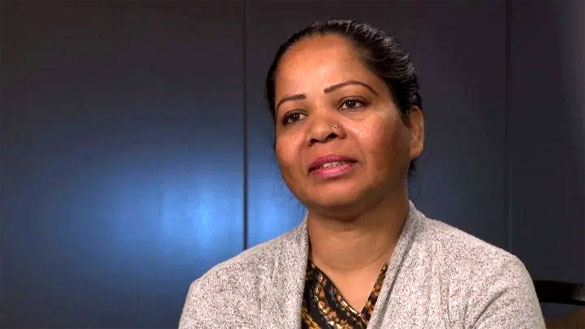 Asia Bibi, a Pakistani Christian woman acquitted of blasphemy describes her new life in Canada. Global News
------
After nearly 10 years in a Pakistani prison, Asia Bibi says she's enjoying a quiet life with her family in Canada.
The Christian farm worker brought international attention to Pakistan's controversial blasphemy laws after she was convicted of insulting the prophet Mohammed and sentenced to death in 2009.
Pakistan's supreme court overturned her conviction in 2018 and in early 2019, Bibi was granted asylum with her family in Canada.
"I am feeling really good here because I am in my home and with my kids," Bibi said in Urdu during her first interview with Canadian media since moving. Global News has agreed to keep her location secret as she believes there are still many people who wish to see her dead.
"When people are watching or listening to media, then you become vulnerable. You need to secure yourself and need safety."
Bibi's two youngest daughters, Esham and Esha Masih were just eight and nine years old when their mother was arrested in June of 2009.
"I will never forget the time when my daughters came from school, hugging me while a cried. A crowd was taking me away from them. That time, I will never forget.
Bibi's arrest followed an argument with some of her Muslim co-workers. She was eventually convicted of blasphemy after the women alleged Bibi made derogatory comments about Islam which, under Pakistan's blasphemy laws, carry a punishment of death.
In November 2010, Asia Bibi became the first Pakistani woman to receive this fate.
Amnesty International has called for the laws to be repealed. In a 2016 report, the international human rights organization said, "the accused are often presumed to be guilty, on the basis of little or no evidence."
There are those within Pakistan's government who have pushed to change the laws. In 2011, Salman Taseer, the governor of Pakistan's Punjab province was murdered after seeking a presidential pardon for Bibi.
Two months later, Shabaz Bhatti, a Christian cabinet minister who had been advocating for changes to the laws, was shot and killed.
Saif ul Malook became Bibi's lawyer in 2014. He says anyone who challenges the country's blasphemy laws does so at great, personal risk.
"Since 2011 I am under armed police escort, along with my family. Armed police officials, they stay 24 hours with me wherever I go. "
ul Malook took Bibi's case to Pakistan's Supreme court which in late 2018, in a historic ruling, overturned Bibi's conviction. The moment of joy, however, was fleeting. Outside, protestors demanded Bibi and the judges be killed.
"The motorways, all (the) highways of the country were closed by these Mullahs and religious people. The country was (at a) standstill." Ul Malook said.
The lawyer was forced to flee the country and it became clear Bibi would no longer be safe in Pakistan. Quiet negotiations began and in early 2019, the world learned Canada would become Asia Bibi's new home.
Bibi is now living a quiet life with her family. She says her days are filled with, "cooking, cleaning and gardening." As she makes up for lost time with the daughters she was forced to spend so many years away from.
No longer a government-sponsored refugee, she admits it has been difficult to make ends meet. She cannot speak English or French and still fears an international assassin could find her.
There are other lives at risk, too. Shaghufta Kausar and Shafqat Emmanuel have also been convicted under Pakistan's blasphemy laws and have been on death row since 2013.
"After Asia Bibi's freedom, our hope was quite boosted up," said Kausar's brother, Joseph, who has asked that his last name not be published.
The couple is accused of sending blasphemous text messages insulting the Prophet Muhammad to a local imam from a phone registered to Kausar's name. Joseph says the years in prison have been difficult for his sister's mental health.
"(She is) very stressed, crying, begging for help, begging, 'Please, for God sake, do something! I can't take it anymore, I can't take it anymore, I can't take it anymore.' This was her call." he said.
With the help of Asia Bibi's former lawyer, the couple is appealing their conviction.
Back in Canada, Bibi says she is grateful for her second chance at freedom and hopes to one day become an advocate for religious freedom.
"To help the Christian community living in underdeveloped countries because (in) countries like Pakistan, Christians have lots of issues and difficulties. I wish to work for those Christians for their safety and security."
https://globalnews.ca/news/7251880/asia-bibi-canada-interview/
--------
Prosecutor Denies Ban On Women's Cycling In Iranian City
August 05, 2020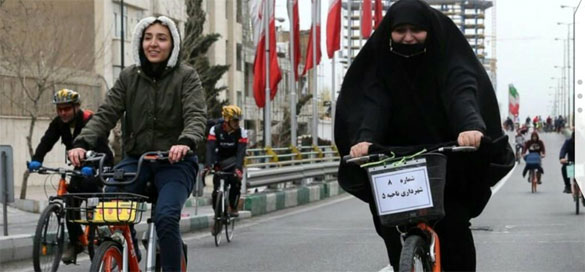 In many cities, including Tehran, an increasing number of women have been riding bikes in recent years.
------
The prosecutor in the northeastern Iranian province of Khorasan Razavi has denied that women in the provincial capital, Mashhad, have been banned from cycling.
Prosecutor Mohammad Hossein Doroody was quoted on August 5 by the semiofficial ISNA news agency as saying that the judiciary had not issued any ban in this regard.
His comments came a day after Mehdi Roozbehaneh, the head of the province's cycling board, said a ban on women's cycling in public places in Khorasan Razavi had come into effect following a decision by the province's Islamic morality authority, the Headquarters for Promoting Virtue.
Mashhad is home to the shrine of the eighth Imam of the Shi'a.
The city's Friday Prayer leader, Ayatollah Ahmad Alamolhoda, is known for his hard-line views, including his opposition to concerts and more freedoms for women. He has spoken against women's cycling in the past.
However, Roozbehaneh said the cycling board was working to remove the ban for women who observe the compulsory hijab rule that requires them to cover their hair and body in public.
Many women oppose the compulsory hijab rule and an increasing number of them have in recent years flouted the rule by wearing small scarves and short and tight coats.
"We are trying to ensure that women who observe their hijab and adhere to the norms given the religious nature of Mashhad will not face any problem regarding cycling," Roozbehaneh was quoted as saying by Iranian media.
Roozbehaneh blamed the ban on women who had not fully respected the hijab rule while cycling.
"These restrictions were caused by people who, without properly respecting the hijab and while wearing garish clothing, had been cycling and attracting a lot of attention," he said.
The ban comes days after reports in the Iranian media that some members of the cycling board of the city of Sabzevar, also located in Khorasan Razavi Province, resigned in protest at a decision by the city's own Islamic morality authority to ban women from riding bikes.
In 2016, Supreme Leader Ayatollah Ali Khamenei said in a religious pronouncement -- a fatwa -- that women cycling in public was "haram," or forbidden, but the fatwa was not strictly enforced.
In many cities, including Tehran, an increasing number of women have been riding bikes in recent years despite opposition by hard-liners.
In 2019, a judiciary spokesman said women's cycling was not banned provided religious rules were respected.
Since the 1979 revolution and the creation of an Islamic republic, Iran's clerical establishment has enforced Islamic laws that deny women equal rights in areas such as divorce and inheritance while also setting guidelines for their appearance and behavior in public.
https://www.rferl.org/a/ban-on-women-cycling-takes-effect-in-iranian-holy-city-of-mashhad/30767772.html
--------
Lebanese singer Nancy Ajram to perform concert on TikTok
August 04, 2020
DUBAI: Lebanese superstar Nancy Ajram announced on Monday that she will be hosting a live virtual concert on the viral social media app TikTok.
The "magical show", which is set to take place on Aug. 6 at 9 p.m. (Saudi time), is to celebrate the star joining the application.
Last week, the "Ma Tegi Hena" singer teased a short creative video on Instagram with her daughters, Mila and Ella, who were seen nagging their mother, in the video shot at home, to create a TikTok account.
This is not the star's first online concert. In May, during Eid Al-Fitr holiday, the music sensation streamed a widely-viewed virtual show on YouTube, shot on a building rooftop in Beirut.
Ajram recently released a new documentary entitled "The Full Story," on Arabic streaming service Shahid VIP, that revisits the burglary that took place at the singer's Beirut residence earlier in the year.
Back in January, Ajram's husband, celebrity dentist Fadi El-Hachem, reportedly shot and killed an armed assailant who broke into the superstar's property in the early hours of the morning while their three young children were sleeping.
The documentary features real-life footage from the night of the home invasion.
https://www.arabnews.com/node/1714576/lifestyle
--------
Woman Killed In Name Of ''Honour'' By Sister In Pakistan
By M Zulqernain
August 6, 2020
Lahore, Aug 5 (PTI) A 20-year-old woman was shot dead in the name of "honour" allegedly by her elder sister for wanting to marry a man of her choice against the wishes of her family in Pakistan''s Punjab province, police said.
The incident took place in Khushal Singh village, 50 kms from Lahore on Tuesday when Tahira Bibi left her house to go to court to register marriage with the man from her locality.
"Her elder sister Aasia Bibi followed her and opened fire on her near the court. Tahira suffered bullet injuries and was shifted to hospital where she succumbed to her injuries," police said.
Aasia managed to flee and a case has been registered against her on the complaint of her father, they said.
Police said that it was a rare incident of honour killing in which a woman is involved in shooting down her sibling.
According to the Human Rights Commission of Pakistan (HRCP), every week in Pakistan, wives are strangled, daughters shot or sisters slaughtered for a perceived slight to family "honour".
"Sometimes a single person is responsible, more often male family members are involved. The vast majority of the killers usually go unpunished," it says.
The HRCP says over 1,000 women lost their lives to honour killing last year.
Pakistan''s parliament unanimously passed legislation against killings linked to the concept of "honour" following the murder of social media sensation Qandeel Baloch in 2016.
Baloch was killed by her brother in the name of "honour." It sparked international outrage.
The bill has authorised life imprisonment for convicted murderers. Previously, killers could win or buy freedom if the victim''s relatives forgave them. PTI MZ RS RS
https://www.outlookindia.com/newsscroll/woman-killed-in-name-of-honour-by-sister-in-pakistan/1909751
--------
Sudanese Women Welcome Freedom to Travel Abroad with Children
By Naba Mohiedeen
July 14, 2020
KHARTOUM - Sudan's transitional government amended a law last week to allow women to travel abroad with their children without the father's permission — a move welcomed by women's rights groups.
Thirty-year-old divorced mother Manya Hamid recalls how her ex-husband continued to torment her using Sudan's laws even after their marriage ended.
In 2015, she wanted to take her one-year-old daughter to meet her grandfather, who was living in the United States, and dying of cancer. But under Sudan's Muslim Personal Law Act of 1991, only the father could decide if his child was allowed to travel abroad, even if he was a former husband.
Hamid's former husband would not allow it and, fearing that he might disappear with the child. She stayed in Sudan.
Her father died in 2017.
But last week, Sudan's transitional government amended several laws on personal freedom, allowing women to travel abroad with their children without the father's permission.
Hamid says when she heard the new amendments regarding the personal law act, she cried a lot, remembering all of her divorce. She congratulates all Sudanese mothers who suffered and couldn't travel freely.
Under the 1991 law, women in Sudan also required the consent of their husband or a male guardian to travel outside the country.
Rights groups welcomed the changes and noted the conflict with Sudan's constitution, which guarantees freedom of religion and says women should be treated equally under the law.
Women's rights activist Shahinaz Jamal says the amendment was long overdue.
She says the legal change is a step forward and a result of great efforts and struggles by all Sudanese women. They need more achievements to be fulfilled, says Jamal, but also welcome this step and see it as a big victory.
Legal expert Mohamed Makki says the amendments are a welcome change after decades of abuse under the laws during the rule of ousted former president Omar al-Bashir.
He says amending the personal law act is definitely a victory for the majority of Sudanese people who suffered legally under the former regime. But he notes lawyers like himself hope to see civilian authorities like the legislative council making the legal changes, as they represent the Sudanese people.
Sudan's justice minister announced the legal changes Saturday.
They included criminalizing female genital mutilation, decriminalizing drinking alcohol for non-Muslims, and removing the death penalty for Muslims who convert.
https://www.voanews.com/africa/sudanese-women-welcome-freedom-travel-abroad-children
--------
Muslim Women Sing Ram Dhun In Varanasi
Aug 6, 2020
VARANASI: People in PM Narendra Modi's parliamentary constituency Varanasi organised various religious events to celebrate the occasion of the bhoomi pujan ceremony for the Ram mandir in Ayodhya, in which the PM participated, on Wednesday.
Many people lit earthen lamps and distributed sweets while a group of Muslim women performed aartis, chanted the Ram Dhun, sang in his praise and lit earthen diyas. The group of Muslim women, who have been performing "Shri Ram aarti" on auspicious occasions for the past 14 years, organised a special fest at Subhash Bhavan in Lamahi village on Wednesday to celebrate the occasion. The entire building was decorated with Hanuman dhwaja, earthen lamps and images of the deities. They also placed soil from Ram Janmabhoomi for darshan and puja.
"We have changed our religion and are Muslims today, but not our ancestors. Shri Ram is our ancestor, and construction of a Ram mandir will strengthen the country's unity," said Nazneen, a member of the group.
https://timesofindia.indiatimes.com/india/muslim-women-sing-ram-dhun-in-varanasi/articleshow/77383696.cms
--------
Turkey Considering Quitting Treaty on Violence Against Women
August 06, 2020
ISTANBUL: Turkish President Recep Tayyip Erdogan's ruling AK Party is considering whether to pull Turkey out of an international accord designed to protect women, party officials said, alarming campaigners who see the pact as key to combating rising domestic violence.
The officials said the AKP is set to decide by next week whether to withdraw from the deal, just weeks after the vicious murder of a woman by an ex-boyfriend reignited a row over how to curb violence against women.
Despite signing the Council of Europe accord in 2011, pledging to prevent, prosecute and eliminate domestic violence and promote equality, Turkey saw 474 femicides last year, double the number seen in 2011, according to a group which monitors murders of women.
Many conservatives in Turkey say the pact, ironically forged in Istanbul, encourages violence by undermining family structures. Their opponents argue that the deal, and legislation approved in its wake, need to be implemented more stringently. The row reaches not just within Erdogan's AKP but even his own family, with two of his children involved in groups on either side of the debate about the Istanbul Convention.
The AKP will decide in the next week whether to initiate legal steps to pull out of the accord, a senior party official told Reuters.
"There is a small majority (in the party) who argue it is right to withdraw," said the official, who argued however that abandoning the agreement when violence against women was on the rise would send the wrong signals.
Another AKP official argued on the contrary that the way to reduce the violence was to withdraw, adding that a decision would be reached next week. The argument crystallized last month around the brutal killing of Pinar Gultekin, 27, a student in the southwestern province of Mugla, who was strangled, burned and dumped in a barrel — the latest in a growing number of women killed by men in Turkey.
Opponents of the accord say it is part of the problem because it undermines traditional values which protect society.
"It is our religion which determines our fundamental values, our view of the family," said the Turkish Youth Foundation, whose advisory board includes the president's son Bilal Erdogan. It called for Turkey to withdraw from the accord.
"This would really break Turkey away from the civilized world and the consequences may be very severe," Gamze Tascier, a lawmaker from the main opposition Republican People's Party, told Reuters.
The Women and Democracy Association (KADEM), of which Erdogan's daughter Sumeyye is deputy chairwoman, rejects that argument. "We can no longer talk about 'family'... in a relationship where one side is oppressed and subject to violence," KADEM said.
Many conservatives are also hostile to the principle of gender equality in the Istanbul Convention and see it as promoting homosexuality, given its principle of non-discrimination on grounds of sexual orientation.
Critics of the bid to withdraw from the pact say it would put Turkey further out of step with the values of the EU, which it has sought to join for decades.
"This would really break Turkey away from the civilized world and the consequences may be very severe," Gamze Tascier, a lawmaker from the main opposition Republican People's Party, told Reuters.
Turkey would not be the first country to move toward ditching the accord. Poland's highest court is to scrutinize the pact after a Cabinet member said Warsaw should quit the treaty which the nationalist government considers too liberal.
Turkish women's groups were set to protest on Wednesday to demand better implementation of the accord, taking to the streets after an online campaign in the wake of Gultekin's killing where they shared black-and-white selfies on Instagram.
Turkey does not keep official statistics on femicide. World Health Organization data has shown 38 percent of women in Turkey are subject to violence from a partner in their lifetime, compared to about 25 percent in Europe.
The government has taken measures such as tagging individuals known to resort to violence and creating a smartphone app for women to alert police, which has been downloaded hundreds of thousands of times.
https://www.arabnews.com/node/1715356/middle-east
--------
Morocco Puts 4 Women on Trial for Witchcraft
August 5, 2020
A self-styled fortune teller and three of her clients are on trial after one of them sought out her services in order to prevent her husband from having a second wife, they are also accused of desecrating a grave, reported World Morocco News yesterday.
The four women are standing trial at the Court of First Instance of Sale, next to the Moroccan capital, Rabat, after three of the women travelled from Fez to Sale to seek the consultation from a shawafa or fortune teller in Arabic.
The shawafa, who operated out of a hair salon, is alleged to have led the three women to a cemetery between Rabat and Sale where they intended to bury objects including locks of hair and undergarments. However, their suspicious activity was spotted by a cemetery guard who informed the police leading to their arrest. The clients were taken into police custody while the shawafa was detained at a prison for "recidivism of witchcraft activities and grave desecration".
The practise of witchcraft is taken seriously in Morocco where it also deemed anti-Islamic, however despite this, the practise is prevalent in the country and many people resort to it hoping to resolve a variety of issues ranging from love to infertility and other health issues. There are YouTube tutorials on the matter, magic spells and recipes are also widespread on Whatsapp according to Yabiladi.
According to the World Morocco News report, shawafa are known to use talisman, herbs and supernatural practices to ward off djinns (spirits) and claim to predict the future.
Last year US-Moroccan rapper, French Montana said in an interview that he was afflicted by Moroccan witchcraft that led to his hospitalisation. "I think I ate something bad. I think someone was trying to … you know," he trailed off. "They don't got no guns over there, they fight with spirits and s**t like that [sic]."
The popularity of witchcraft has also led other countries in the Arab world stereotyping Moroccan women as engaging in black magic, although its practise is used across the region too. Back in 2010 it was reported that a Kuwaiti TV channel had to apologise to Moroccans after it aired an animated comedy series depicting Moroccan women as witches trying to ensnare rich Kuwaiti husbands by using spells, while Saudi Arabia banned Moroccan women "of a certain age" from performing umrah (the lesser pilgrimage) over fears their visas could be used for other purposes.
A year later, Saudi's quasi-legislative body, the Shura Council granted permission for Moroccan women to work as maids in Saudi households, although this caused a backlash as hundreds of Saudi women complained that the move was tantamount to allowing black magic in their homes with their husbands at risk of being seduced and unable to ward off spells. Witchcraft and sorcery are crimes punishable by death in Saudi Arabia.
https://www.middleeastmonitor.com/20200805-morocco-puts-4-women-on-trial-for-witchcraft/
--------
Bahraini Artist Mayasa Al-Sowaidi: 'I Am Not A Commodity'
August 06, 2020
LONDON: Barcodes. Those little black lines are everywhere, enabling machines to read data and identify products. But they tell us nothing about the unique characteristics of those products.
So when Bahraini artist Mayasa Al-Sowaidi was preparing to contribute to "I AM" — an exhibition organized by the peace-building NGO Caravan, which "focused on the crucial role that Middle Eastern women play in shaping a harmonious world" — she decided that, instead of the figurative painting of a woman she initially planned to create, she would use the barcode as a symbol of the depersonalization of women and the danger of labeling women in ways that erase their individuality. Her statement: "I am not a commodity to be consumed."
Al-Sowaidi has continued to develop her barcode theme through a range of media including video as she addresses issues related to dehumanization. She told Arab News how inspired she had been by "The 25th Hour," a 1949 novel by Romanian author Constantin Virgil Gheorghiu that depicts the plight of a young Romanian farmhand, Johann Moritz, under German, Soviet and American occupation of Central Europe.
"Moved from prison to prison, he ends up losing his identity. He is known not by his name but merely by a number," she explained.
She believes that pigeon-holing people based on their appearance is a common but very damaging trait.
"I wear a hijab and I often feel that people judge me by the way I dress," Al-Sowaidi said. "People also make assumptions based on where people come from or how they talk. Everyone has their own identity and you need to take time to get to know them. We have to learn acceptance and respect for the difference of others."
Al-Sowaidi is a professor at the University of Bahrain, where she teaches Management and Organizational Behavior in the business school. Prior to joining the university she worked for the Central Bank of Bahrain. As a student she majored in mathematics and computer science. Her family did not approve of her interest in art, fearing it would be a distraction from her studies and career.
"This attitude, in fact, made me work harder to try and find myself as an artist," she said.
She recalled how nervous she felt when she first showed her work in an exhibition organized by the university.
"I didn't have the courage to stand beside my artwork. I just observed from a distance and I noticed that people were taking a real interest," she said. "I thought to myself, 'My paintings have more courage than me.'"
Al-Sowaidi said she is currently focusing on collage, as illustrated by "The Identity," a piece she contributed to Caravan's virtual exhibition "To Heal the World," which runs until August 18.
"I like to explore using new materials. I have a container full of all kinds of papers including news clippings and train, or flight, tickets I have collected on my travels. Incorporating these into my artwork is my way of making it representative of the global situation. I just pick out a piece randomly. Working with collage is like solving a puzzle — it's not something you plan," she said.
Her love of art has opened many doors outside of her academic specialization. For instance, she is involved in delivering the newly introduced Art & Heritage program at the university.
"Art has given me opportunities to meet many different kinds of interesting people. I love artists — their way of thinking. I think the main element that you need to succeed is passion. Art is my way of expressing my feelings and thoughts and learning more about myself. It is like a need," she said. "I have met artists from all over the world. I realize we are all trying to understand ourselves and our communities."
https://www.arabnews.com/node/1715441/lifestyle
--------
Nigeria: 'Women Gain Economic Benefits From Greater Trade'
6 AUGUST 2020
Trade increases women's wages and helps close the wage gap between men and women while creating better jobs for women, a new World Bank Group report has stated.
It stated that countries that are open to international trade tend to grow faster, innovate, improve productivity, and provide higher income and more opportunities to their people. Countries that are more open to trade, as measured by the trade-to-GDP ratio, have higher levels of gender equality.
The report, produced in collaboration with the World Trade Organisation, marked the first major effort to quantify how women are affected by trade using a new gender-disaggregated dataset.
The dataset, developed by the World Bank Group, allows researchers to understand how women are employed, in which industries they work, how much they earn, and whether or not they are involved in global trade. This analysis helps governments see how trade policies can affect women and men differently.
"Over the past 30 years, trade has been the engine of poverty reduction. This report shows that, provided the right policies are in place, it can also provide an engine to reduce the gender gap," World Bank Managing Director, Mari Pangestu said.
"Trade can expand women's role in the economy and decrease disparities with men by giving women more and better employment opportunities. Seizing these opportunities will be even more important in a post-COVID-19 world."
The report titled, 'Women and Trade: The Role of Trade in Promoting Women's Equality,' offers several key findings.
It showed that firms that are part of global value chains (GVCs) employ a greater percentage of women (33 percent) relative to non-GVC firms (24 percent).
"When countries open themselves to trade, women's share of wages in the manufacturing sector increase by 5.8 percentage points on average. When women are employed in sectors with high exports, they are more likely to be formally employed. Formal employment means better job benefits, training, and job security,"nit stated.
The report also highlighted the importance of addressing discrimination against women in trade policy. Although no country overtly imposes tariffs according to gender, implicit biases can amount to "pink tariffs" that put women at an economic disadvantage.
Furthermore, it showed that products specifically consumed by women face a higher tariff burden than men's products.
In the textile sector, for instance, tariffs on women's apparel are $2.77 billion higher than on men's clothing, a consumption gap that grew about 11 percent in real terms between 2006 and 2016.
"Disparities like this can hurt women consumers all over the world. Targeted policies can help women maximise the benefits of trade. These include removing trade barriers that impede women's access to international markets and improving women's access to education, financial services, and digital technologies. "Governments can design trade facilitation measures that remove gender-specific barriers to trade. These measures could address burdensome customs requirements, limited access to trade finance, and exposure to extortion or physical harassment at borders," it added.
https://allafrica.com/stories/202008060283.html
--------
URL: https://www.newageislam.com/islam-women-feminism/noted-delhi-based-author-activist/d/122561
New Age Islam, Islam Online, Islamic Website, African Muslim News, Arab World News, South Asia News, Indian Muslim News, World Muslim News, Women in Islam, Islamic Feminism, Arab Women, Women In Arab, Islamophobia in America, Muslim Women in West, Islam Women and Feminism