New Age Islam News Bureau
21 June 2022
• When Indian Actors, Dharmendra, Hema Malini, Converted To Islam for Their Nikah
• Bankrupt Sri Lanka Allows Younger Women to Work Abroad
• Nelly Attar, a Lebanese Mountaineer Embarks On Journey to Become First Arab Woman to Climb K2
• Kuwaiti Maha Al-Barjas as First Arab Woman Vice-President of International Federation of Red Cross and Crescent Societies
• Hijab: 5 Muslim Girls Seek Transfer Certificates from University College in Karnataka
• Indian Actress Mandana Karimi Reacts to Criticism of Her Twerking in Burqa: 'This Is a Crazy World, I Am Done'
• Leila Heydari Becomes First Iranian Woman to Win A Medal In Asian Cycling
• Women In Charge Of Protecting Historical Sites In Istanbul
• Women Perform 66% of Work, Produce 50% of Food in Africa: Minister of Social Solidarity
Compiled by New Age Islam News Bureau
URL: https://newageislam.com/islam-women-feminism/hijab-students-jamshedpur-protest/d/127286
--------
Not Allowed To Take Exam In Hijab, Students In Jamshedpur Protest, College Teachers Asked Them To Remove The Hijab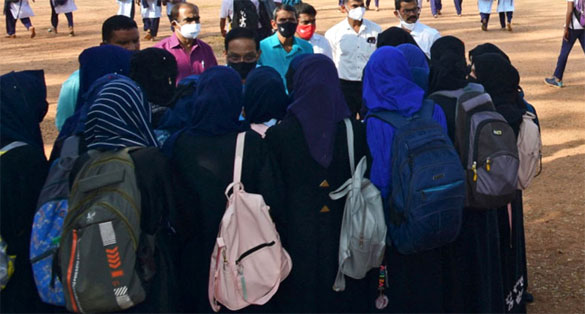 Not allowed to take exam in hijab, students in Jamshedpur protest
-----
20th June 2022
Jamshedpur: Controversy erupted at Women's College in Jamshedpur after some girl students wearing hijab were not allowed to take the exam. There was a ruckus for almost an hour when the college teachers asked them to remove the hijab. The All India Minority Social Welfare Front (AIMSWF) has lodged a protest regarding this issue.
A delegation of the AIMSWF submitted a memorandum to the Deputy Commissioner of Jamshedpur on Monday, demanding action on the issue. The Front's president Babar Khan said that the Deputy Commissioner has assured him that the matter will be looked into.
The incident took place on June 18. An examination centre has been set up in the Women's College for the class 12 examination conducted by the Jharkhand Academic Council. Some Muslim students of Jamshedpur's Karim City College had come here wearing a hijab to take the exam.
The teachers posted at the centre asked them to remove the hijab. The girl students said they were prevented from taking the exam for almost half an hour. They were warned by the college administration to come to the examination centre from the next day after taking off the hijab. "This is against the rules of the exam," the college authorities told them.
A student named Farheen Yasmeen, adamant on appearing for the examination wearing a hijab, complained to the minority organisation.
On Monday also, though there was a possibility of the controversy erupting again, but due to Bharat Bandh the examination was postponed.
Babar Khan said that an attempt is being made to create a Karnataka like controversy in Jharkhand. "Hijab is a right of Muslim women and trying to stop it is illegal. Our organisation has demanded immediate action from the district administration on this. In the absence of any action, the path of agitation will be adopted," he added.
Source: Siasat Daily
https://www.siasat.com/not-allowed-to-take-exam-in-hijab-students-in-jamshedpur-protest-2353292/
--------
When Indian Actors, Dharmendra, Hema Malini, Converted To Islam for Their Nikah
Bollywood's 'He-Man' Dharmendra and 'Dream Girl' Hema Malini'
-----
Bushra Khan
20th June 2022
Mumbai: Bollywood's 'He-Man' Dharmendra and 'Dream Girl' Hema Malini's beautiful relationship is known to all, however not everyone is aware of how they reached there.
Love blossomed between Dharmendra and Hema Malini during the shoot of 'Tum Haseen Main Jawan' and they gradually turned into a real couple, while playing a reel couple.
However, standing between their love was Dharmendra's first marriage with Prakash Kaur and the Hindu Marriage Act which did not allow a Hindu man to have two wives. Reportedly, Dharmendra did not wanted to divorce his first wife but also couldn't stay away from Hema. On the other hand, Hema Malini was also turning down marriage proposals from the likes of Sanjeev Kapoor and Jitendra to stay with Dharmendra.
Well, keeping the Muslim Personal Law in view, which allows a Muslim man up to four wives, the yesteryear actors came up with a solution. In 1979, they converted to Islam and Dharmendra changed his name to Dilawar Khan Kewal Krishn while Hema changed hers to Aisha Bi R Chakravarty.
Finally, in 1980 the couple tied the knot as Dilawar and Aisha. Three years later the couple started their family with Esha Deol and subsequently Ahana Deol.
Dharmendra and Hema Malini never discussed their conversion in the media, and the secret was officially disclosed when he contested the Lok Sabha elections from Bikaner on behalf of the Bharatiya Janta Party (BJP).
He had filled out the nomination papers as Deol Dharmendra Kewal Krishn and wrote the name of his first wife in the spouse column.
This was brought up by the opposition, following which Dharmendra denied the rumors of his conversion to Islam. However, a Delhi magazine, Outlook published a photocopy of his Nikahnama (marriage document) with Hema Malini.
Source: Siasat Daily
https://www.siasat.com/when-dharmendra-hema-malini-converted-to-islam-for-their-nikah-2352893/
--------
Bankrupt Sri Lanka Allows Younger Women to Work Abroad
June 21, 2022
COLOMBO: Crisis-hit Sri Lanka on Tuesday reduced to 21 the minimum age at which women can go abroad for work and earn much-needed dollars for the bankrupt economy.
"The cabinet of ministers approved the decision to lower the minimum age to 21 years for all countries given the need to increase foreign employment opportunities," spokesman Bandula Gunawardana told reporters.
Remittances from Sri Lankans working abroad have long been a key source of foreign exchange for the country, bringing in around $7 billion per year.
This number dived during the coronavirus pandemic to $5.4 billion in 2021 and was forecast to drop under $3.5 billion this year because of the economic crisis.
More than 1.6 million people from the nation of 22 million work abroad, mainly in the Middle East.
The South Asian country's foreign currency reserves are so low that the government has restricted imports even of essentials including food, fuel and medicine.
Source: Arab News
https://www.arabnews.com/node/2107626/world
--------
Nelly Attar, a Lebanese Mountaineer Embarks On Journey to Become First Arab Woman To Climb K2
SAIMA SHABBIR
June 20, 2022
ISLAMABAD: Nelly Attar, a Lebanese mountaineer born and raised in Saudi Arabia, on Monday began a 50-day journey to become the first Arab women to reach K2, the world's second highest mountain, saying she wanted to use her climbs as a vehicle to inspire women across the Middle East.
In 2017 Attar left her career as a mental health professional to focus on sports and expeditions. She is the founder of Move Studio, Saudi Arabia's first dance studio. In 2020, the Muslim Women Network named her "One of the Top Influential Women in Sports," while Sports 360 in 2019 called her the "Female Fitness Influencer of the Year Across the GCC."
Attar successfully climbed Mount Everest in 2019 and had scaled 15 other peaks around the world before setting her sights on K2.
At 8,611 meters (28,251 foot), K2, known as the Savage Mountain, is widely considered the most dangerous climb in the world due to its difficult terrain and treacherous weather. Fewer than 20 women globally have summited K2 and for about every five people who have reached the top of the mountain, one has died in the attempt.
In 2014, three Nepali women led the first all-female team to climb what most mountaineers consider a much tougher challenge than Everest.
"I am embarking on the most challenging journey to climb K-2 on June 20," Attar told Arab News in an interview in Islamabad last week. "I feel like there's so much unknown, there's so much to this journey that we will be embarking on, so I'm very excited."
Attar said that she had been thinking about climbing K2 for the past three years but her father's death last year had sparked the urge to put her dream into action on the first anniversary of his death.
"It was a very difficult time for me and I was just thinking how can I find the purpose of this year that would give a bit of drive and excitement, so I started work on the idea of K2," she said.
After all, the love for hiking and climbing, too, was a gift from her father who she used to accompany on treks from an early age.
"This was something I feel like was part of my childhood and my first climb was with my father when I was 17, when he took me to Mount Kenya," Attar said. "I liked the sport of mountaineering because you take so many risks and with those risks, you feel so alive and everything in life is amplified."
The climber trained for K2 in Nepal at Ama Dablam, a 6,000 meter peak that many mountaineers say resembles K2.
"I went to Ama Dablam in early December last year and after coming back was ready for mission K2," Attar said, adding that she felt ready for the mountain's tough weather, altitude and terrain.
"I am not afraid, no matter what happens . . . I have big faith that Allah is always with us and never leaves us and has the best plans for us," the climber said, urging other Arab and Pakistani women to pursue their dreams.
"They can do it, regardless of the challenges that they're faced with, regardless of the limitations, they can do it," she said. "Nothing, and no one should stop you. If you have a vision, if you have a dream, go and achieve that dream . . . Don't use your circumstances as an excuse, use them as your reason to go forward."
Attar is now focused on using her experience and knowledge to help shape the emerging sports landscape in Saudi Arabia.
Beyond Move Studio, she has worked on numerous public sector initiatives to get people active across the Kingdom, including partnering with Saudi Tourism initiatives and collaborating with global brands such as Nike, Adidas, Reebok, Nestle and Apple to carry out community initiatives and activities across the GCC region.
"It is amazing to see that there are so many opportunities for women," Attar said, describing the sports landscape in the Kingdom. "They are not only encouraged now to take part in sports and businesses (in Saudi Arabia) but they are heavily supported."
Source: Arab News
https://www.arabnews.com/node/2107196/world
--------
Kuwaiti Maha Al-Barjas as First Arab Woman Vice-President of International Federation of Red Cross and Crescent Societies
6/20/2022
(MENAFN- Kuwait News Agency (KUNA)) GENEVA, June 19 (KUNA) -- Secretary-General of Kuwait Red Crescent Society (KRCS) Maha Al-Barjas became on Sunday the first Arab woman to gain position of vice-president of International Federation of Red Cross and Crescent Societies (IFRC) for the region of Asia and Pacific Ocean.
This came as part of series of constitutional meetings held by Red Cross and Crescent international movement.
Al-Barjas stated to Kuwait News Agency (KUNA) that this reinforced the principles of women empowerment in positions of leadership, which goes in accordance with Kuwait's objectives of diversifying decision makers.
She commented that it also bolsters efforts of KRCS in coordinating with national red cross and crescent societies, facilitates the exchange of expertise, and helps alleviate the burdens of those in need.
Al-Barjas underscored importance of such meetings, stressing that KRCS' participation highlights Kuwait's humanitarian efforts.
On his part, head of KRCS board of directors Dr. Hilal Al-Sayer underlined to KUNA the importance of the humanitarian partnership between the society and the international movement to help those affected by crises.
Al-Sayer elucidated the importance of developing humanitarian works, saying that the meetings will issue a number of recommendations to better serve those in need.
He also indicated that KRCS delegation met with humanitarian work leaders to further boost bilateral relations.
Heading the delegation is Dr. Hilal Al-Sayer, and participating are Secretary-General Maha Al-Barjas, Dr. Musaed Al-Enezi, the chair's counselor and Niven Yusri, head of projects and international relations department. (end)
Source: Menafn
https://menafn.com/1104400030/IFRC-Appoints-Kuwaiti-Maha-Al-Barjas-As-First-Arab-Woman-Vice-President
--------
Hijab: 5 Muslim Girls Seek Transfer Certificates from University College in Karnataka
JUNE 20, 2022
Five Muslim girl students of the university college at Hampankatta in the city have requested the college administration to issue transfer certificates to enable them to join other colleges. The college had prohibited wearing of hijab in classrooms which had triggered protest from Muslim students. Recently, Mangalore University vice chancellor P S Yadapadithaya had announced that the varsity will make special arrangements for Muslim girls to join other colleges, if they are not willing to go by the High Court direction asking students to stick to the dress code prescribed by respective institutions.
College Principal Anasuya Rai said the five students had approached her with the request for TC so that they could join other colleges which permitted hijab. As the letters were found incomplete, the students were asked to produce a fresh letter with corrections. The students have not yet come back with the new letters, Rai said. All undergraduate classes have been shifted to online as evaluation work is going on in the campus. Except for a few students, all the 44 Muslim girls studying for UG courses are attending classes, the principal said.
Source: News18
https://www.news18.com/news/india/hijab-5-muslim-girls-seek-transfer-certificates-from-university-college-in-karnataka-5407765.html
--------
Indian Actress Mandana Karimi Reacts to Criticism of Her Twerking in Burqa: 'This Is a Crazy World, I Am Done'
Jun 21, 2022
Mandana Karimi has responded to social media users who criticised her recent Instagram post. The Lock Upp contestant had shared a video in which she was seen wearing in a Burqa on a set, while twerking. Her video was criticised for for allegedly being disrespectful. (Also read: Mandana Karimi reacts after Ali Mercchant calls her gold-digger)
Responding to the hate messages who received on social media, Mandana on Monday posted a picture of herself on Instagram Stories and wrote, "And of course, reading comments on my burka reel. Damn people are crazy, this is a crazy world. I am done, I wanna be a (unicorn emoji)." Mandana wore a short black dress in the image.
Mandana had shared a behind-the-scenes video from the set of one of her new projects. She wrote, "I wish shooting with hijab was as easy as this BTS. ..NO HATES just bunch of people making a film. " In the video that has now been deleted, she could be seen inside a store in Istanbul, Turkey, twerking to The Beatnuts' Shakaboom.
Many reacted to the post; while her fans appreciated the dance, some internet users were not impressed. One of them commented, "You should be ashamed of yourself... being a Muslim you are making fun of hijab shame on you I think you know that how disrespectful act you did."
"Shame! Do not disrespect hijab like this. At least, think once before doing such actions," another one wrote. One also commented, "If your not a true Muslim then stop making fun of hijab… your insulting other religion sentiments by wearing hijab and giving us a nasty dance."
Mandana was recently seen on Kangana Ranaut's reality show Lock Upp, where she appeared as a wild card entry. She was soon voted out of the show. On the show, she had fights with Ali Mercchant, Zeeshan Khan and Azma Fallah.
Source: Hindustan Times
https://www.hindustantimes.com/entertainment/tv/mandana-karimi-reacts-to-criticism-of-her-twerking-in-Burqa-this-is-a-crazy-world-i-am-done-101655787147842.html
--------
Leila Heydari becomes first Iranian woman to win a medal in Asian cycling
June 20, 2022
She won a bronze medal in the Junior Women 500m Time Trial with a time of 38.033s.
Gold medal went to South Korean rider Chaeyeon Kim who clocked 35.740s and Sadnya Kokate from India seized the silver with 37.823s.
The 2022 Asian Track Cycling Championships are being held at the Indira Gandhi Indoor Stadium, New Delhi and will run till June 22.
Source: Tehran Times
https://www.tehrantimes.com/news/473844/Leila-Heydari-becomes-first-Iranian-woman-to-win-a-medal-in-Asian
--------
Women in charge of protecting historical sites in Istanbul
June 21 2022
Women take more responsibility in restoration of Istanbul's landmarks, with the number of the female archaeologists, engineers and city planners reaching half of the total number of experts of the metropolis' restoration team, the daily Milliyet has reported.
"Women in charge of protecting historical sites in Istanbul," the daily headlined on June 20.
Publishing a feature story on women restoration experts, the daily highlighted, "These women work to transmit the city history to the next generations."
"Historical places have always been in my field of interest, and I am such a lucky person that I am working at those places," Songül Çelik, a field coordinator of the metropolitan municipality's team, told the daily.
In her words, having a touch on Istanbul's venues, such as Anadolu Hisarı (Anatolian Castle), Rumeli Hisarı (Rumelia Castle), Kadıköy and Taksim, is a "very beautiful feeling."
Serap Şahin is a restoration expert on the team, who said "maintenance on a historical site is like childcare."
"We work closely with historical sites, so they are like our children. When I see a damaged site, I become saddened," she added.
Çelik made the same comparison, saying, "When a restoration work is finished, the site then becomes your child."
When asked if she is happy to be in the team, Şahin highlighted that she is more than happy.
"I am proud to be in this dedicated team. The women in the team spend most of their times working their guts out for historical buildings," she expressed.
Büşra Öztürk is a five-month pregnant architect on the team.
"Being pregnant does not mean stepping aside," she said and added: "Besides, we get a chance to contribute to social life with our differences."
Merve Gedik, the head of the project department of the metropolitan municipality's cultural property directorate, remarked about the need for the women experts working in the cultural and heritage sites: "Because working on such sites needs sensitiveness and care."
Saying that many female specialists are working on sites like the Basilica Cistern, the city walls in the golden Horn, she underlined that the renovation works in the Rumelia Castle were conducted by three women architects.
Source: Hurriyet Daily News
https://www.hurriyetdailynews.com/women-in-charge-of-protecting-historical-sites-in-istanbul-174719
--------
Women perform 66% of work, produce 50% of food in Africa: Minister of Social Solidarity
20 Jun 2022
Women in Africa perform 66 percent of work on the continent and produce 50 percent of its food, yet they earn only 10 percent of the income and own 1 percent of the property. Whether the issue is improving education in the developing world, fighting global climate change, or addressing nearly any other challenge, empowering women is a critical part of the equation, El-Qabbaj said in remarks to the 7th session of the 2022 Builders of Egypt Forum.
Increasing the role of women in Africa is key to achieving sustainable development, reducing poverty and realising food security, she added.
The forum is attended and sponsored by Prime Minister Mostafa Madbouly under the title 'Chances for Development and Finance in Africa and Arab Countries in Light of Global Changes.'
The event is attended by the housing minister and senior officials as well as the head of the African Federation of Construction Contractors and Arab and African delegates representing large construction companies, real estate investors, energy, financial and banking institutions and investment funds.
The Egyptian government recently announced a package of financial and social protection measures to mitigate the negative impacts of the global economic crisis, the minister said.
El-Qabbaj said that these measures include encouraging the private sector to pump more investments in the country; offering tax incentives for startups; reclaiming 4 million feddans of farmland to secure the food needs of the growing population; and promoting green investments and the transition to a green economy.
The forum, which is the largest of its kind in Egypt's construction sector, saw the participation of Egyptian, Arab, and African ministers in the sectors of housing, investment, and services. A number of foreign ambassadors and heads of relevant federations and business organisations were among the attendees.
This is in addition to more than 500 executives representing contracting, real estate and energy companies as well as financial and banking institutions and investment funds.
Source: Ahram
https://english.ahram.org.eg/NewsContent/1/2/468294/Egypt/Society/Women-perform--of-work,-produce--of-food-in-Africa.aspx
--------
URL: https://newageislam.com/islam-women-feminism/hijab-students-jamshedpur-protest/d/127286
New Age Islam Islam Online, Islamic Website, African Muslim News, Arab World News, South Asia News, Indian Muslim News, World Muslim News, Women in Islam, Islamic Feminism, Arab Women, Women In Arab, Islamophobia in America, Muslim Women in West, Islam Women and Feminism