New Age Islam News Bureau
24 March 2018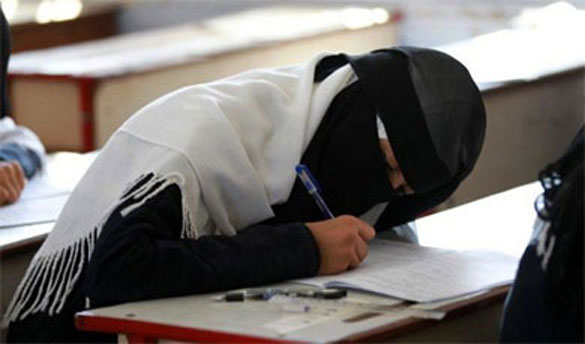 The Norwegian government has proposed a ban on full-face veils in schools, universities and kindergartens. (AFP)
------
• Sharia Crackdowns In Aceh Costing Indonesian Transgender Women Their Livelihoods
• First Certified Saudi Female Boxer Reaches New Heights, Breaks Guinness Records
• French Woman, Member of ISIS Group, Arrested In North of Afghanistan
• Dapchi Girls' Release Could Stir Up Religious Tensions in Nigeria
• Muscat Film Festival Focuses On Women and Children
• Afghan Women Work to Increase Military Presence
• Iran: Women Protest Government Officials in Sarpol-e Zahab
Compiled by New Age Islam News Bureau
URL: https://www.newageislam.com/islam-women-feminism/norway-proposes-bill-ban-full/d/114706
--------
Norway proposes bill to ban full-face veils in education
March 23, 2018
The Norwegian government proposed on Friday a nationwide ban on the wearing of full-face veils, such as the burqa and the niqab, in universities, schools, and kindergartens.
France, the Netherlands, Belgium, Bulgaria and the German state of Bavaria have all imposed restrictions on wearing full-face veils in public places.
If passes by parliament, Norway could become the first Nordic country to introduce such ban in the education sector, Finance Minister Siv Jensen said in a statement. Denmark plans to fine people who cover their face in public.
Jensen, who is also the leader of the anti-immigrant right-wing Progress Party, said the ban would send a strong signal that Norway is "an open society where we are going to see the face of each other".
The government amended an initial proposal, first presented in June, to allow the wearing of full-face veils during breaks and staff meetings in schools and universities, but it would have to apply throughout working hours at kindergartens.
"A ban on face-covering garments will ensure open communication with children, students and newly arrived immigrants in educational situations," Jan Tore Sanner, minister of knowledge and integration said in the statement. Sanner belongs to the center-right Conservatives.
Full and partial face veils such as burqas and niqabs divide opinion across Europe, setting advocates of religious freedom against secularists and those who argue that such garments are culturally alien or a symbol of the oppression of women.
The niqab covers everything but the eyes, while the burqa also covers the eyes with a transparent veil.
Under the Norwegian proposal, employees who broke the rule several times would risk losing their jobs, and students would face expulsion, the government said. The ban would not apply to headgear like the hijab or hats.
Local bans on wearing burqa and niqab have been already introduced in some upper secondary schools in Norway.
Norway's minority government, a coalition of the Conservatives, the Progress Party and the centrist Liberals, said in June it was confident it would find enough support for the move in parliament. If it does, the ban would start in August.
Separately, Oslo police said in a report that the capital had seen the highest reported number of hate crimes last year, with 198 incidents considered, against 175 in 2016.
"The biggest increase we see among are women insulted in the category of religion, and more specifically Islam," said the police in a statement.
https://nation.com.pk/23-Mar-2018/norway-proposes-bill-to-ban-full-face-veils-in-education
--------
Sharia crackdowns in Aceh costing Indonesian transgender women their livelihoods
March 24, 2018
Transgender women in Indonesia's conservative Aceh province are losing their jobs and incomes in the wake of police raids that saw several beauty salons shut down.
Several salons in northern Aceh remain closed more than a month after the raids, and some trans women who worked there have fled to Jakarta in fear.
Other salons are still open but have virtually lost all their customers.
In Jakarta too, transgender women last week were reportedly rounded up and sent to rehabilitation centres to correct their "social dysfunctional traits".
Transgender people are known as "waria" in the Indonesian language, from the words wanita and pria — meaning man and woman.
One such waria, Adel, said she was beaten by police during the recent raids in Aceh, and feared for her safety if she returned to the salon she runs at Lhokseumawe.
"I don't think I can work in a salon just yet, because I'm still too scared," she said.
Aceh is the only Indonesian province where Sharia law is in place.
'We just want to live peacefully'
At least five salons were raided in Lhokseumawe and Lhoksukon, and 12 waria were ordered to strip off their dresses and makeup and behave like men.
As the raids took place, a large crowd watched on.
Police later cut off the waria's hair and ordered them to speak with a male voice.
Two salons at Lhoksukon remain open but the waria have been given strict orders to work as men.
But because Sharia law bans men from touching women who are not related, they have all but lost their customers.
"We haven't had any customers since the raids," Bella said.
"I am the only one supporting my family, but until now we have had no customers. I can no longer help my parents in the village.
"We don't know what the future will bring. We just want to live peacefully in Aceh."
The policeman who led the raids brought four of the waria to his office when the ABC visited Aceh earlier this month. But they were too intimidated to speak freely.
Police superintendent Untung Sangaji Suryanata said hardline Muslim groups were threatening to harm the waria, so he acted.
"It was better that I took action, so they didn't have to."
'It is a great sin': Community sentiment hardening
Conservative Muslim leaders say transgender behaviour is an offence punishable by God.
"It is forbidden in religion for a man to become a woman," said Zulfadli, head of Islamic organisation Al Aziziah.
"Just like me, if I become a woman, it is a great sin. Same with a woman who becomes a man."
There are an estimated 100 waria or trans women in northern Aceh regency alone. The vast majority work in beauty salons because they among the few places they can make a living.
Until recently they have been tolerated and largely left alone.
But community sentiment is hardening towards transgenders, gays and other minority groups.
The Indonesian Parliament is currently drafting laws that would ban sex between gay or even unmarried couples.
It is an issue certain to divide the country in the lead-up to next year's presidential election.
One of the warias' strongest supporters is the daughter of former moderate Muslim President Abdurrahman Wahid.
Inayah Wahid says her father — who died in 2009 — would be horrified at the direction Indonesia was heading.
"I always felt that there is going to be a war, a real war happening, there's going to be a lot of repression," Ms Wahid said.
"People always say, 'If only he was here, if only he was here, things would have been different'.
"I'm sure he would be on the front line to defend them. I could picture him going to Aceh himself to defend them, to defend Adel and all her friends."
Adel is still lying low in Jakarta, unsure if or when she can return to Aceh or ever reopen her salon.
"I can't go home yet, I'm too scared."
http://www.abc.net.au/news/2018-03-24/sharia-crackdowns-in-aceh-costing-transgender-women-livelihoods/9564554
--------
First certified Saudi female boxer reaches new heights, breaks Guinness records
23 March 2018
Rasha al-Khamis, a 28-year-old Saudi woman, has reached new heights with the significant amount of achievements under her belt including becoming the kingdom's first certified female boxer and climbing two of the seven summits.
What do those two things have in common? The excitement of the challenge. Although al-Khamis hails from a family known for being into culture and the arts being the granddaughter of the late writer Abdullah bin Khamis, her passion for sports, geography and nature took her in this direction.
Khamis told Al Arabiya that she wore her first boxing gloves in 2011 when she was studying at the University of Southern California and that's when her love for the sport began.
"I joined a boxing club and was training two to three times a week for two years straight," she said. "I loved the game and I benefited so much from it as it has developed my character and skills like speed and efficiency."
"Boxing is an amazing sport, and one of the most beautiful sports I've played. It instills self-confidence and removes any negative energy while energizing your mind as boxers need to have quick reflexes. It's also not an expensive sport, but it needs great willpower to be mastered."
The journey to getting certified
Khamis received her Master's degree in international and public policy management from California where her thesis focused on female sports facilities in Saudi Arabia.
She pointed out that upon her return from the states to Saudi Arabia, she was at an event that was attended by the president of the Saudi Boxing Federation. She introduced herself and proposed ways to shine light on female boxing.
The federation president replied that they needed female coaches and athletes. Khamis said, "I then joined the Saudi Boxing Federation and camped there for four months to build on my skills and previous experiences. I learned the origins of the sport according to the Cuban school and successfully passed my training. I was awarded with my official boxing trainer certificate soon after."
She added that she is now spending three weeks training women at the king Saud University. "The training and the excitement of the girls is really exciting. Imagine the number of girls who joined my class are about 160, which is a great amount."
Khamis said that she holds her classes in the morning following the routine she had in California to show the girls the positive impact of starting their day with playing sports.
"My dream is for a Saudi woman to win a gold medal at the Olympics," Khamis said.
Early interest in sports
Khamis grew up with sports as a focus in her household. Since she was six-years-old, her father bought a basketball hoop and some gymnastics items in their backyard.
"After my brother and I would finish our homework, we would go outside in the afternoon to play basketball for about an hour and a half, and then another 30 minutes playing gymnastics for five days a week," she said.
Khamis said her dad encouraged them and taught them the rules of each game. She added that he never differentiated between her and her brother because of her being a girl.
Khamis continued playing basketball in school until she was 14-years-old, and got into other sports as well like football and gymnastics.
She was also a track star at her school winning first place for five years in a row.
Guinness World Record
Making breakthroughs in women's boxing in the kingdom isn't the only challenge that Khamis overcame. In 2017, she packed her bags and joined 11 other Saudi women to climb the Atlas Mountains in Morocco. Which they did in a span of four days.
In June of the same year, Khamis earned the Guinness World Record for playing a football match on the highest point to date, which was on Mount Kilimanjaro which is 5,714 meters high.
Khamis broke the record along with 30 other women from various countries for a charitable cause under the name of "Equal Playing Field".
https://english.alarabiya.net/en/sports/2018/03/23/Saudi-female-boxer-reaches-new-heights-breaks-Guinness-World-Records-along-the-way.html
--------
French woman, member of ISIS group, arrested in North of Afghanistan
Mar 24 2018
A French woman operating in the ranks of the Islamic State of Iraq and Syria (ISIS) terrorist group has been arrested during an operation in northern Jawzjan province of Afghanistan.
The Afghan Intelligence, National Directorate of Security (NDS), says at least five ISIS suspects including a French woman have been arrested during a Special Forces operation in the North.
The local security officials in Jawzjan confirmed the report and say the woman has been arrested from the vicinity of Darzab district.
The district police chief Faqir Mohammad Jawzjani said the French woman was arrested during a joint operation of the Afghan Special Forces and the foreign forces based in Afghanistan.
He said at least four militants including foreign insurgents were also killed during the same operation.
The anti-government armed militant and terrorist groups including ISIS insurgents have not commented regarding the report so far.
This comes as counter-terrorism operations are underway against the loyalists of the terror group in northern Jawzjan province as the group attempts to expand its foot hold in Jawzjan and other key northern provinces.
The 209th Shaheen Corps of the Afghan Military in the North said last week at least 35 ISIS militants have been killed and 13 others have been wounded during the airstrikes.
The source further added that the airstrikes were carried out in the vicinities of Qosh Tapa and Darzab districts.
https://www.khaama.com/french-woman-member-of-isis-group-arrested-in-north-of-afghanistan-04704/
--------
Dapchi Girls' Release Could Stir Up Religious Tensions in Nigeria
March 24, 2018
DAKAR, SENEGAL —
Across Nigeria, people are praying for the return of Leah Sharibu. The 15-year-old was one of more than 100 schoolgirls who were abducted by a faction of the jihadist sect Boko Haram last month in the northeastern town of Dapchi.
On Wednesday, the militants released nearly all of the girls, except for five who died on the way to Dapchi — and Leah.
She was the sole Christian among the group, and her family believes that was the reason she was held back.
"They told her to convert to Muslim and she told them that she would not convert to Muslim," Nathan Sharibu, Leah's father, told VOA. "I don't want my daughter to be converted to any religion than Christianity."
The residents of Dapchi, whom are predominantly Muslim, have been visiting the Sharibu house and voicing support for the Sharibu family. Local Christians are doing the same. People in both groups are demanding the Nigerian government to do something to secure her release.
But some of those demands have taken an angry, political tone. The Christian Lawyers Fellowship of Nigeria accused the federal government of allowing Leah to remain in captivity "on account of her religious faith."
Heightened tensions
Those types of comments have sparked concern that this week's events could heighten tensions in a country that has seen periodic, deadly bouts of sectarian violence between Christians and Muslims or various ethnic groups.
"Sadly, this particular incident has basically twisted the knife of division in Nigeria a little more," said Emmanuel Ogebe, a U.S.-based Nigerian lawyer and rights activist. "The terrorists just really ruined things by keeping Leah back. That wasn't necessary."
Boko Haram is divided into several factions, but two have emerged as the most prominent. The original group, led by Abubakar Shekau, is still believed to be the larger one. In 2015, Shekau pledged allegiance to the Islamic State militant organization. However, IS recognized Abu Musab al-Barnawi, the alleged son of Boko Haram founder Mohamed Yusuf, as the new leader of Boko Haram.
Al-Barnawi broke away from Shekau and his group is believed to be the relatively less violent one.
Moses Ochonu, a history professor at Vanderbilt University in Tennessee, has conducted extensive research on the Boko Haram insurgency. He says both factions want to trigger a war between Muslims and Christians, do away with the Nigerian government and set up an Islamic caliphate. Where they diverge, he says, is in tactics.
"(Al-)Barnawi has always been focused on winning the hearts and minds of people in the northeast," Ochonu said. "The major issue of disagreement between the two camps has been that al-Barnawi accuses Shekau of alienating people in the northeast of Nigeria, alienating them with his indiscriminate killings and violence."
Ochonu and others believe that al-Barnawi is conducting a public relations campaign to win support and distinguish his group from Shekau's. His group is believed to avoid using Muslim girls to carry out suicide attacks, while Shekau's sect has become notorious for doing so.
During the abduction of the Dapchi schoolgirls, reportedly carried out by al-Barnawi's faction, no Dapchi residents were killed. Witnesses said the insurgents also told the schoolgirls they would not execute them.
The return of nearly all of the Dapchi girls was met with jubilation among the townspeople. VOA confirmed the source of a video published by the Premium Times newspaper, which showed young men in Dapchi clapping and smiling on the street in front of Boko Haram insurgents who are riding in their vehicles while waving their flag. The Dapchi residents are seen thanking the militants for returning their daughters as well as praying for them in the Hausa language.
Growing support for faction
The video has gone viral in Nigeria. Some worry it shows growing support for al-Barnawi's faction. VOA spoke with the reporter who obtained the video.
"People are misinterpreting the video," Mohammed Lere said. "They were celebrating the return of their children. That is it. Everybody who has his loved ones taken away will definitely celebrate his return. … They are saying thank you for our daughters, now go."
Some analysts doubt that the local communities can distinguish between the Boko Haram factions and feel that al-Barnawi's PR campaign may not be effective at the grassroots.
"Boko Haram is Boko Haram," said Kyari Mohammed, a professor at a university in northeastern Nigeria's Adamawa State. "Yes, it's not unusual for one faction to present themselves as the more humane face of Boko Haram, but the main crux of the matter is that they are all terrorists and none of them can be said to be friendly to any community."
However, he admits that he is concerned that the religious divide in Nigeria could get deeper.
The parents of the girls kidnapped in April 2014 from a school in the remote town of Chibok are still waiting for their daughters. The whereabouts of more than 100 of them are still unknown.
"I presume that the reason why the president didn't [undertake] serious action concerning our daughters is because most of them are Christians," says Enoch Mark, whose daughter is among the missing Chibok Girls. He is a Christian pastor.
In a statement, Nigerian President Muhammadu Buhari has vowed to rescue Leah Sharibu and said he is fully aware of his duty to protect all Nigerians irrespective of their religious affiliation.
https://www.voanews.com/a/dapchi-girls-release-religious-tension-nigeria/4313342.html
--------
Muscat film festival focuses on women and children
March 24, 2018
The 10th Muscat International Film Festival (Miff) will celebrate a decade of Omani cinema with 115 movies, three premieres and two special nights with contemporary social themes echoing women power and children's rights.
Organised by the Oman Film Society (OFS) and presented by the Ministry of Tourism in association with Oman Airports, Miff will see luminaries of international cinema descend on the Omani capital for the event, which runs from March 26 to 31.
Speaking about the two special nights in the festival, Mohammad Al Kindi, president of OFS and Miff, said: "The nation turns the spotlight on women this month, with a two-day special on March 28-29 to mark the empowerment of women along with children's rights. Films such as Queen of Katwe, Dear Maya and Pihu will be premiered at Miff."
Award-winning Hollywood director Mira Nair will be the guest of honour at the Wow Women event and will speak at the occasion on March 28. Her film Queen of Katwe depicts 10-year-old Ugandan girl Phiona's struggle with poverty, violence and racism, and her eventual discovery of a love for chess. The movie will be screened on the same day at Vox Cinemas.
The women-centric day will also witness the screening of Girl Rising, a documentary about education for girls. This film follows nine girls from Haiti, Nepal, Ethiopia, India, Egypt, Peru, Cambodia, Sierra Leone, and Afghanistan on their journeys.
Another film, Dear Maya, starring Indian actress Manisha Koirala, is based on the life of a reclusive woman and will be premiered at Vox Cinemas on March 29. Koirala and the film's director Sunaina Bhatnagar will also be present at the international premiere.
The Hindi movie Pihu, about a two-year-old girl, will be screened at Vox Cinemas on March 30. "Every child deserves a parent but not every parent deserves a child. The child is the sufferer of the carelessness, negligence and ego of the adults," said Vinod Kapri, Indian journalist and director of the film, to Indian media.
Internationally renowned children right's activist Craig Kielburger will be the guest of honour for a special day for children — Live Like A Child — which will be held at Paca auditorium in Seeb. The screening of It Takes A Child, a documentary, will throw light on taking global action against poverty and child labour. Zainab Hates Snow, from Tunisia by Tunisian director Kaouther Ben Hania, will also be shown as part of the special day.
The opening and closing nights of the festival, March 26 and 31, will feature global artists such as Swedish-Lebanese singer Maher Zain, Grammy award-winning Japanese flautist Kitaro, world-whistling champion Dutchman Geert Chatrou, Danish-Palestinian percussionist Simona Abdallah, Russian Jaw harpist Olga Uutai, India's only woman saxophonist S Lavanya, Oman's well-known Munshid singers Watasimu, popular singer Haitham Mohammad Rafi and Oud artist Ziyad Harbi and band.
Omani and international films will be screened under the Panorama Section, dedicated to short films, for the public on March 27. Among them will be the short film classic, A Trip to the Moon (Le Voyage dans la Lune), a 1902 French silent film directed by Georges Melies.
Escape to Victory, the 1981 British-American film about allied prisoners of war, which stars several top global footballers of the time including Pele, will be shown at the screenings on March 29.
On the confluence of filmmakers, Al Kindi, said: "Filmmakers from across the globe irrespective of cultural disputes, impact of wars and political confinements are participating to mark a new era of filmmaking in Oman."
Italian action hero Franco Nero, Egyptian Hollywood actor Amr Waked, Syrian actor and filmmaker Gassan Masoud, veteran Egyptian director Ali Badrakhan and a bevy of stars and filmmakers will attend Miff.
A special section called Retrospection will feature tribute screenings of films by Salim Bahwan, the famed Omani actor and filmmaker who passed away in 2017.
On the concluding night of the event, a ceremony will recognise contributions made to the global film industry by honouring several personalities of world cinema, including Dr Abdul Haq Al Muntarsh, Manisha Koirala, Gassan Massoud, Ali Badrakhan, Dawood Hussain, Franco Nero, Mira Nair, Dariush Mehrjui, Fakhriya Bint Khamis Al Ajmi, Amr Waked, Zahra Arafat, Bossi Shalaby and Ateeqa Atrash.
http://gulfnews.com/leisure/movies/features/muscat-film-festival-focuses-on-women-and-children-1.2193556
--------
Afghan Women Work to Increase Military Presence
March 23, 2018
She was active in the Afghan army for more than three decades; a commando and a paratrooper with nearly 600 parachute jumps, earning awards, certificates, and medals. She has trained hundreds of Ministry of Defense personnel.
But she never made general. It took the U.S.-led military coalition's defeat of the Taliban 2001 to make that possible. Why? Because Khatol Mohammadzai is a woman -- the first woman in Afghanistan to attain the rank of general. For years, the Afghan National Army has been considered solely a man's domain.
"When I move around in the city with my uniform, people show great affection. Many young people in the city tell me that they want to become a commando like me. I have motivated many young people to join the army. People from the provinces say they love me and my profession," said General Khatol.
In Afghanistan, joining the military is not an easy choice for women as they face opposition from families and male colleagues. They lack promotions, assignment opportunities, training, and security.
But the 103 female cadets at the Marshal Fahim Military Academy in Kabul are working to change social taboos.
"My goal from the beginning is to promote myself to the level of General Khatol or even higher than her, and I move ahead in order to ensure security in my country," said Gulalay, an army cadet.
Women and men train separately at the base, but Afghan officers say their programs are similar. Both receive physical education, firearms, tactics and medical care training.
Cadet Sima Amiri says that she is one of the few women who had her father's support to join the army.
"My message to the families is to encourage their daughters and help them in their decision to join the National Army," said Amiri.
General Khatol urges her countrymen to expand opportunities for women.
"It was my education and hard work that enabled me to raise the Afghan flag in the world. I request my heroic brothers and sons to strive for the education of their daughters," said General Khatol.
The Ministry of Defense says 1,700 women serve in the Afghan National Army, about 1 percent of the total.
https://www.voanews.com/a/afghan-women-work-to-increase-military-presence-/4313039.html
--------
Iran: Women protest government officials in Sarpol-e Zahab
22 March 2018
Women and men residing in Sarpol-e Zahab, the center of earthquake in western Iran, protested a visit by Rouhani's deputy heading the Planning and Budget Organization to this city.
They called the government "liar" and made Nobakht and his accompanying delegation including the governor of Kermanshah, leave the scene.
The suffering people of Sarpol-e Zahab have been living in tents, four months after the earthquake. Their living conditions are unsanitary and very difficult as they are living among the rubbles, garbage and sewage. The freezing cold weather in Kermanshah Province led to the deaths of a number people in this area, including a number of children and infants.
http://www.women.ncr-iran.org/iran-women-news/4898-iran-women-protest-government-officials-in-sarpol-e-zahab
--------
URL: https://www.newageislam.com/islam-women-feminism/norway-proposes-bill-ban-full/d/114706
New Age Islam, Islam Online, Islamic Website, African Muslim News, Arab World News, South Asia News, Indian Muslim News, World Muslim News, Women in Islam, Islamic Feminism, Arab Women, Women In Arab, Islamophobia in America, Muslim Women in West, Islam Women and Feminism