New Age Islam News Bureau
1 Dec 2013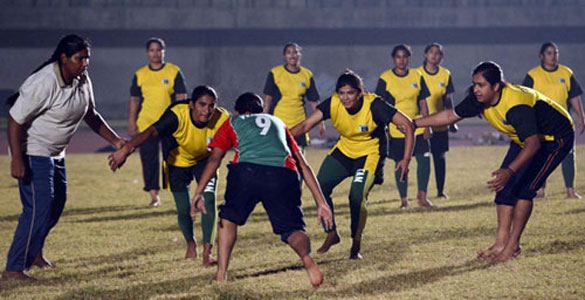 Members of the Pakistan women's Kabaddi team take part in a practice match. —Photo by AFP
-------------
• Women in UAE Have To Empower Themselves, Senior Government Official Says
• Jeddah Ladies Club Brings Women Together For Just Cause
• Helsinki Islamic Scholars Say Forced Marriage Claims 'Exaggerated'
• Saudi Women Drivers: Leading Female Campaigner Stopped By the Police
• Saudi Woman Starts Project to Aid Children with ADHD
• Pakistani Women Break New Ground at Kabaddi World Cup in India
• BCCI Praises the Role, Contributions of Bahraini Women in Economic Development
• Teach Children about Mental Illnesses to Keep Them Alive, Say Experts
Compiled by New Age Islam News Bureau
URL: https://newageislam.com/islam-women-feminism/norway-capital-sees-rising-number/d/34674
------------
Norway Capital Sees Rising Number of Women in Niqabs
1st December 2013
Muslim women clad in a niqab are becoming an increasingly common sight in the streets of Oslo, reports say.
The trend of wearing the religious garment, a black veil that covers a woman head to toe, has apparently developed rapidly over the past two years.
"Yes, the niqab is popular," Kari Vogt, a historian on religion and Islam, confirmed to Aftenposten, Thursday.
"A new generation of Muslims is entering Norwegian society at full speed, and some of them choose a more Salafist Islam, a strict and literal interpretation of Islamic injunctions and prohibitions," she added.
The Salafi Movement (also known as Salafi methodology/Salafist movement) is a sect among the Sunni Muslims often associated with a stricter and more literal line of the religion.
It is often associated with the Wahhabi Movement, an even more conservative and fundamentalist branch of Sunni Islam.
According to Aftenposten, a vast majority of the dozen fabric shops in Oslo's Grønland have experienced an increased turnover in niqab sales.
Journalists have been in contact with several women who use or sell niqabs in recent weeks, but they say none have come forward.
At the same time, Muslims and experts who did respond to enquiries believe that the niqab trend is due an identity quest, a need for attention, youthful idealism, or reaction to the injustice in the world and Western politics' presence in the Muslim world.
Two of Norway's leading experts on Islam have denied that the Qur'an imposes the use of a niqab in any way.
Historian Kari Vogt and Anne Sofie Roald – a professor in religious studies in Malmö University and affiliate at the Chr. Michelsen Institute (CMI) in Bergen – explained it was mainly to do with its interpretation.
"There is nothing concrete in the Qur'an or Hadith which requires the use of the niqab," said Ms. Roald.
"However, Salafists that base themselves on the Wahhabi Movement believe there's a verse in the Qur'an stating that women should stay at home not only applies to the Prophet's wives, but all Muslim women," she explained.
"In addition, it is stated in the Qur'an that men had to talk to the Prophet's wives behind a curtain. From this, Salafists believe that women have to cover themselves completely when they go out."
Professor Roald also believes that the lack of Arabic knowledge of many converts and second generation Muslims might explains the increase of the use in the niqab.
These women tend to seek out translations and websites which contain more literal interpretations of the Qur'an, according to her.
Aftenposten also writes that important translations often contain Wahabi Movement interpretations of the veil/shawl in brackets. These are apparently financed by Saudis.
"Salafists are very active online, in Arabic, English, and Norwegian," said the professor.
"Many Somali scholars have had their Islamic education in Saudi-Arabia, therefore they teach this to their Somali countrymen in the diaspora," she added.
Discussions about wearing the Niqab in Norway have surfaced from time-to-time, both at academic and political level, amongst others.
Earlier this year, Vestfold County officials were considering imposing a ban during Adult Education classes. Some one year earlier, a University of Tromsø professor did this for during his lectures.
Current government coalition Party Progress (FrP) has also suggested vetoing wearing it in the past.
Then Party spokesman on immigration policy Per-Willy Amundsen, now their energy issues spokesman, claimed garments that envelop the entire body have no connection to freedom of religious expression.
"There are limits. It's got nothing to do with religion, and certainly isn't voluntary. At least, I can't understand why anybody would willingly choose to wear a tent," he told VG, suggesting penalizing women who wore a niqab in public.
http://theforeigner.no/pages/news/norway-capital-sees-rising-number-of-women-in-niqabs/
----------
Women in UAE have to empower themselves, senior government official says
1 December 2013
DUBAI // Women have to show more confidence to shed conservative opinions about the gender's ability to lead, a senior government official has said.
"Women are an important part of the society," said Tariq Hilal Lootah, undersecretary of the Ministry of State for Federal National Council Affairs. "Women themselves have to empower women. They have to vote for women."
He was speaking on Thursday on the sidelines of the National Culture Forum, which discussed the rights and duties of women during the union march of the UAE.
The event was part of the ministry's efforts to increase political awareness among women and was organised by the Islamic Affairs and Charitable Activities Department in Dubai and the Mohammed bin Rashid School of Government in Dubai to coincide with the 42nd National Day.
The forum had one female speaker among four in total.
Referring to the 2011 FNC elections, Mr Lootah said: "Fifty per cent of the voters in the electoral college are women but only one woman candidate was elected. If women supported women, they would have got more seats."
Of the 85 female candidates, only Sheikha Eisa Ghanem, from Umm Al Quwain, won one of the 20 elected seats. Six other women were appointed by the Rulers.
This total of seven was lower than in the 2006 elections, when one candidate won and eight others were appointed.
Mr Lootah said women voters should be more trusting of female candidates.
"They [women] get influenced by men. Some feel men can represent women better. Some believe the role of women is in the house as a mother, sister or daughter," he said.
These conservative views would change over time, he said, especially as women in the UAE enjoyed the same rights as their male counterparts.
"Women, in fact, have more rights. There is definitely no discrimination ... it needs time to change," Mr Lootah said.
Dr Saeed Al Ghafli, assistant undersecretary for FNC Affairs, said Emirati women had a promising future in politics in the country.
"It is for the people if they want to elect more women, but women will have to organise themselves better," he said.
"They have to increase their public participation, increase voluntary work and have to be more visible in society. But the future is bright for them in political participation."
To boost women's roles in different sectors, the Mohammed bin Rashid School of Government is launching a research project to look at women's roles at home and in workplaces.
"We are looking at various angles, including maternity leave, attitudes towards education, work and families," said Ghalia Gargani, acting director of the gender and public policy programme at the school.
"We want to see how women reconcile work and home. Women are outnumbering men in education, they are getting higher grades, but why are they not staying in the workplace?
"Many start and then drop out. Women in the UAE are encouraged to have more children but what are the systems in place to help them return to work?"
Mrs Gargani said the study, which is to be launched within the next two months, will take at least three years to complete.
It will look broadly at how career progression and family formation intersect in the lives of young men and women in the GCC, examine issues of work-life balance and women's return to work, particularly in the UAE.
It will also explore family-friendly measures that the Government can adopt to address the demographic imbalance more effectively and look into policies related to maternity and paternity-leave laws, childcare services, delayed marriage and changing attitudes about family sizes.
pkannan@thenational.ae
http://www.thenational.ae/uae/government/women-in-uae-have-to-empower-themselves-senior-government-official-says#ixzz2mH6TKCYv
------------
Jeddah Ladies Club Brings Women Together For Just Cause
1 December 2013
The Jeddah Ladies Club (JLC) celebrated its third anniversary by bringing together women from different backgrounds.
The event entailed discussions on cultural and educational topics, such as breast cancer and the importance of an early diagnosis. There were also games and a quiz. Humera Chowdhry, the JLC founder and social activist, handed out prizes to the winners. She launched the JLC as a Facebook group three years ago.
Many club members attended including Varni Ganesh, wife of Pranav Ganesh, consul of India in Jeddah, and Syeda Tanveer Fatima, wife of Mir Gazanfar Ali Zaki, general secretary of the Indian Youth Welfare Association (IYWA).
In her speech, Ganesh said women should interact and share information and experiences. She said women form the backbone of every family. They are the builders of future leaders by providing education, guidance and moral instruction. They can only fulfill this role if they understand the real issues and problems in the world, said Ganesh.
She said women must mix with people, to discuss solutions to various problems. She said many expatriate women in Saudi Arabia stay at home and do not participate in social gatherings.
Other club members who participated in the celebration included Bintul Hasan, senior teacher at the Pakistan International School - Jeddah, local singer Noor Almas and Sameera Mohsin. Almas amazed everyone with her melodious voice and delivered an emotional Ghazal (romantic song).
"Since its foundation, the JLC has been a unifying force, bringing together local women from around the city with a considerable diversity in ages, interests and experiences. It encourages women to expand their horizons by meeting new friends, stimulating new interests, gaining more knowledge and through united efforts, creating awareness of today's ever-changing world," said Chowdhry.
"I'm sure that this event will inspire women in other communities throughout the city to join our group and experience what it has to offer," said Chowdhry. "The JLC is dedicated to community improvement through volunteer service and to provide opportunities that strengthen the role of women. We have done much for many over the years and will continue making our mark out there," she said.
http://www.arabnews.com/news/485316
------------
Helsinki Islamic Scholars Say Forced Marriage Claims 'Exaggerated'
1 December 2013
Last week, Yle reported claims that some immigrant families in Western Finland were sending their underage daughters abroad for forced marriages. Islamic scholars say such cases are not about religion and girls should have more information about their rights.
Attendees at the weekend Islam Expo in Helsinki were clear about Islam forbidding forced marriages. None were aware of a single case in Finland. Many suspected reports to be merely rumours.
Faduma Mohammud of Helsinki speculated girls may have been sent abroad after straying from religious strictures and misbehaving:
According to Islamic scholars - not even bad behaviour would justify a forced marriage.
Imam Annas Hajjar says forced marriages are not a part of Islam at all - when marrying both parties have to answer "yes".
In contrast, Islam permits arranged marriages. Visiting experts explained that even in these marriages both men and women have the right to choose.
"By forcing a daughter to marry a father commits a sin," said Abdul-Latif Al Mahmood, Chairman of the Islamic Society of Bahrain. "A daughter should have the right to see the man before marriage. She has the right to say yes or no."
According to experts, forced marriage may be a feature of some cultures or a matter of ignorance.
http://yle.fi/uutiset/watch_islamic_scholars_say_forced_marriage_claims_exaggerated/6953103
------------
Saudi Women Drivers: Leading Female Campaigner Stopped By the Police
1 December 2013
A leading Saudi campaigner for giving women the right to drive has been stopped by police as she was driving through the capital, Riyadh.
Photos of Aziza al Yousef were posted on Friday morning as she was seen at the wheel.
Her fellow activist, Eman al Nafjan, took the pictures.
On her Twitter page, Ms Nafjan provided a running account of their drive, saying they bought a bunch of bananas without anyone batting an eyelid.
She posted a photo of them filling up at a petrol station and expressed her satisfaction that this all seemed to be treated as an everyday occurrence.
But then they were spotted and reported to the police, who stopped them. Aziza al Yousef messaged the BBC to say that they had been taken to a police station.
Both were asked to sign a pledge that they would not drive again. Ms Nafjan refused to.
On Twitter, while still with the police, she said that if she was asked to call her male guardian, she would simply say that she was her own guardian. But her guardian -- known as a mahram -- was called against her wishes.
Fresh hope
The two women were then released. Ms Nafjan described her companion as the bravest and most courageous of drivers. It was only two days ago that Aziza al Yousef -- with another activist, Hala al-Dosari -- had a meeting with the Interior Minister, Prince Mohammed bin Nayef.
The prince has long been one of the most powerful men in the country and is seen as a possible future king -- representing a younger generation than the current leaders. Activists said the meeting was positive and the minister sympathetic.
No-one expected this to herald any big change in the immediate future. Reform is a gradual process in Saudi Arabia and there remain powerful factions opposed to lifting the driving ban on women.
But the meeting came after activists relaunched a campaign several months ago with the aim of making the idea of women driving in Saudi Arabia a normal part of life.
They originally set 26 October as a day for women -- with the support of Saudi men -- to take to the wheel. Dozens did, but the authorities made clear they would not accept a mass flouting of the ban.
Since then, activists have recast the campaign around the non-existent day of November 31 -- a sign that it would continue indefinitely. Several women have been driving and posting videos of themselves since.
The meeting with Prince Mohammed bin Nayef had been seen as possibly offering fresh hope that the authorities might be taking a softer stance.
The brief detention of Aziza al Yousef and Eman al Nafjan is an abrupt reminder that nothing can be taken for granted in Saudi Arabia -- and that a shift one way often only signals a shift in the exact opposite direction a few days later.
http://www.bbc.co.uk/news/world-middle-east-25159880
------------
Saudi woman starts project to aid children with ADHD
1 December 2013
DAMMAM — A Saudi woman has launched a project to assist children suffering from simple cases of Attention Deficit Hyperactivity Disorder (ADHD), Al-Hayat daily reported.
Melhah Al-Qahtani said such children are not accepted at schools and their conditions do not call for admitting them into centers where children with other more serious disabilities are taught.
The project is called "My childhood rights" and it begins with a survey of such children who do not know their rights. The project seeks to educate the children on their rights and how to claim these rights in a proper way.
"A number of families cannot find private or government schools that accept their children. The project seeks to pay attention to children who are finding difficulties in schools and to find the appropriate solutions for them," she said.
"Special programs are designed for such children, employing a specialist alongside the teacher to facilitate any difficulties and help children to mix and mingle with their companions. In addition, the project seeks to improve articulation skills of such children by developing their language abilities," she added.
The project is funded by Prince Sultan Fund for Women's Development (PSFW).
The fund's deputy secretary-general, Hana'a Al-Zuhair, said the project was in response to the development needs of society. She said children should be educated on their rights, which is currently lacking in society.
"The project is to assist families who have children with simple cases of ADHD who need a suitable environment to educate them. Children who do not mix with others risk being isolated and this can cause further problems down the road," she said.
Many citizens have complained to the Ministry of Education in the Eastern Province that their children are not accepted in government schools. Private schools are often reluctant to accept children with learning disabilities due to fears that they might annoy other students.
http://www.saudigazette.com.sa/index.cfm?method=home.regcon&contentid=20131201188243
------------
Pakistani women break new ground at Kabaddi World Cup in India
1 December 2013
LAHORE: Sixteen young Pakistani women will make history this weekend as they compete in the 2013 Kabaddi World Cup — the first time the country has ever fielded an international women's team in the sport.
The traditional tag-wrestling sport involves players trying to tag an opponent before making it back to their half of the field.
Kabaddi is hugely popular in the Punjab provinces of India and Pakistan, where it originates, and is played in countries around the world with South Asian populations.
It has traditionally been seen as a macho sport but now Pakistan is sending a women's team to the November 30-December 14, 2013 World Cup in India.
For 24-year-old Sayeda Fareeda Khanum, who comes from a conservative, religious family where she fought for years to be allowed to compete in sports, it is a dream come true.
"I have been sports crazy since childhood and was selected for national events in various sports many times, but I was never allowed by my family to attend a training camp outside college or university," she said.
"But when I got selected for the Kabaddi team, I told my mother that I would play this sport at any cost and left home to join the camp in Lahore."
Khanum, the team's best defender, spoke to AFP between sessions in a tough fitness workout at Lahore's Punjab stadium. "Getting the national colours was my childhood dream. I am going to India to fight a do-or-die battle for my nation and prove that Pakistani girls can do everything women do in other countries," she said.
India and Pakistan, neighbours and ferocious sporting rivals, have met in two of the three men's World Cup finals held so far, with India prevailing both times.
The women are determined to succeed where their male counterparts have failed.
"We decided to participate in this team for the sake of Pakistan, and for the sake of true patriotism. And we have tried our level best, and by the will of God we will succeed," Vice-captain Sumera Zahoor, who comes from a martial arts background, said.
Having decided to build the women's team, the authorities wrote to top sports organisations and educational institutions, collecting a group of girls coming from diverse sporting backgrounds.
Half already represent various other sports like athletics, weightlifting and racket games, while a few new players with the right attitude and ambitions have also earned a place in the team.
Training for the women in green, yellow and blue tracksuits begins with prayers and a recitation from the Quran.
After chants of "Long live Pakistan" and "God is great", they begin physical training before moving on to wrestling techniques.
It has not been an easy task for the support staff to get the team together and direct their potential.
"All the girls come from different games, some are from athletics, some are weightlifters," Aisha Qazi, the team's coach, said.
"These are individual players' games but Kabaddi is a team event, so there is a huge difference and it has taken me some time to teach them."
Qazi, herself a first-class cricketer and international baseball player, said they were thrilled to be the first women's team to represent Pakistan in international Kabaddi.
Head coach Ghulam Abbas Butt said he was confident the women's team would live up to their promise.
"I hope the boys' team will win the World Cup this time and the girls would also not disappoint in their first appearance," he said.
"I have done this training with my heart, and they followed it the same way. These were new girls and they have done whatever I asked them to do. That's why I know that they will play well," he said.
The Pakistan women face England, Mexico and Denmark in their pool matches while arch rivals India play the United States, Kenya and New Zealand.
http://www.dawn.com/news/1059600/pakistani-women-break-new-ground-at-kabaddi-world-cup-in-india
------------
BCCI Praises the Role, Contributions of Bahraini Women in Economic Development
1 December 2013
Manama: Ddec. 1 – (BNA)-- The Bahrain Chamber of Commerce and Industry (BCCI) Chairman, Dr. Esam Abdullah Fakhro, expressed pride and appreciation of the Chamber and the private sector towards Bahraini women and their contributions in economic development march and their role in all production and employment sectors.
Dr. Fakhro praised Bahraini women's translation of their pivotal partnership alongside with Bahraini men, stressing that the advancement of Bahraini women is one of the fruitions of the prosperous reign of His Majesty King Hamad bin Isa Al Khalifa and His Majesty's Honourable Government led by His Royal Highness Prince Khalifa bin Salman Al Khalifa the Prime Minister and supported by His Royal Highness Prince Salman bin Hamad Al Khalifa, Crown Prince, Deputy Supreme Commander and First Deputy Prime Minister.
Dr. Fakhro added that as part of His Majesty the King's support to Bahraini women, His Majesty had ordered the creation of the Supreme Council for Women (SCW) led by the SCW's President, Her Royal Highness Princess Sabeeka bint Ibrahim Al Khalifa, Wife of His Majesty the King. Dr. Fakhro also praised the role of the SCW in all political, economic and social spheres. He said that the best honouring of women is to empower them politically, economically and socially and granting them all their rights as per Islamic Sharia and the Kingdom of Bahrain's Constitution which considered women an effective and integrative element alongside with men in building the nation and its prosperity. (IY)
http://www.bna.bh/portal/en/news/590802
------------
Teach children about mental illnesses to keep them alive, say experts
1 December 2013
KARACHI: Masooma wakes up at night when she remembers her 14-year-old son, Faris, who hanged himself to death a few months back. The mother still considers his death a mystery.
"I never noticed he was unhappy as he was such a friendly and lovely boy," she said, while talking to The Express Tribune.
A psychiatrist who specialises in teenage psychiatry, Dr Murad Moosa Khan, who is also a professor of psychiatry at the Aga Khan University, explained how parents can be mistaken that suicides happen out of the blue. "Any event that becomes a reason for a child to commit suicide is actually a trigger," he said. "This means the child was probably suffering from some mental health problem, such as clinical depression, which was not recognised by the family."
Faris was among the fifth teenager who committed suicide in June this year in the city alone. In the same month, 16-year-old girl Sheema in Aram Bagh and 18-year-old Arifa hanged themselves to death and the families couldn't figure out why they took these extreme steps. According to Dr Khan, nearly 25 per cent of all suicides in the country are committed by teenagers.
On June 22, 18-year-old girl Maria shot herself in the head at her house in Surjani Town. Her 26-year-old brother, Farhan, said that he knew she was an aggressive girl. "We often thought it's not good for her but we never knew she would take such a drastic step."
Another psychiatrist, Dr Uzma Ambareen, agreed that impulsive suicides, those in which emotions run high, are also very common. Although teenage years are an exciting age but there is a lot of possibility that teenagers can take an extreme step over a little issue, she added.
"Faris was a normal boy but was never interested in studies and never went to school," his mother tried to explain. "He never talked about death." Masooma couldn't help but think that the amount of violence he saw on television probably affected his mind. "He was lying in his room and his younger brother was watching TV. The lights went off and, in 15 minutes, he had committed suicide by hanging himself from a ceiling fan." Masooma was at work in the factory when this happened.
Unfortunately, Faris' parents never realised that he was suffering from mild mental retardation when they found out he was not interested in school, assessed Dr Khan. He may have looked happy but, in fact, he may not have been, he added. Similarly, Maria was aggressive as her brother said but she was also over-sensitive and always over-reacted, the psychiatrist pointed out. These may be clues that her mental state had become imbalanced, he said.
What makes these young people take their lives when they have a long life ahead? Suicide is an extreme step and a majority of children who commit suicide are actually suffering from some mental health problem, stressed Dr Khan, adding that the most common problem is clinical depression, which needs to be diagnosed and treated. If mental disorders are treated on time it could prevent suicide, he believed.
Depression is the most common psychiatric disorder leading to suicide but issues taking place in the background on the mind of a child are also important and a detailed evaluation should be done, he added. There are effective treatments that may involve counselling or some combination of counselling and medicines. He clarified that medicines for depression are neither addictive nor – in the majority of cases – do they need to be taken indefinitely.
Don't say no?
Sixteen-year-old Majid shot himself at his house in Khadim Goth near Sohrab Goth on November 16 only because his father, who is a prayer leader at a mosque, told him he cannot attend the Ashura procession.
Discussing this particular case, Dr Ambareen said that deprivation, poverty and excessive restrictions on a child's movements can also be a risk factor for compromised mental health. It can lead a teenager towards self-harm and suicide. Unfortunately, clinical depression remains mostly undetected in children, she added.
Suicides are purely a psychological issue among youngsters in particular, according to Dr Ambareen, but Dr Khan disagreed. "Economic factors also lead to psychological problems," he said. "Poverty, violence and unemployment increase stress level and, if not addressed, can lead to clinical depression."
Dr Ambareen suggested giving teenage children a sense of security and awareness about mental illnesses to overcome this issue. Government and private school teachers should be educated about mental health issues and this subject should be de-stigmatised, she suggested.
According to media reports collected by the Human Rights Commission of Pakistan, out of 1,976 people who ended their lives in 2012, as many as 188 were minors. Out of the 873 people who made suicide attempts but survived, 76 were younger than 18 years. In many of these cases, the reason why the children attempted suicide was abject poverty. * Names have been changed to protect privacy
http://tribune.com.pk/story/639044/dealing-with-unhappiness-teach-children-about-mental-illnesses-to-keep-them-alive-say-experts/
------------
URL: https://newageislam.com/islam-women-feminism/norway-capital-sees-rising-number/d/34674