New Age Islam News Bureau
2 Feb 2017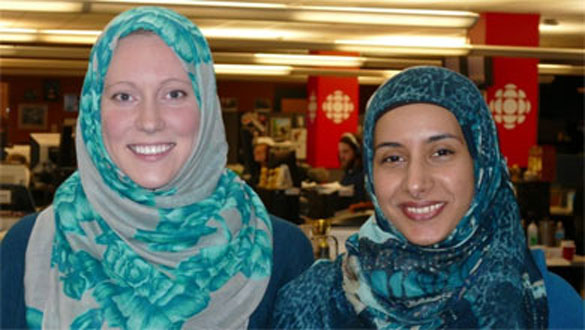 Molly Dunbar (left) isn't Muslim but donned a green and grey floral hijab Wednesday with the blessing of the CBC's Nadia Kidwai, who is Muslim, in support of Muslim women on World Hijab Day. (Jaison Empson/CBC)
----
• Theresa May Backs Muslim Women's Right to Wear a Hijab
• 11 Women, Including 3 Sisters Join Pakistan's Bomb Disposal Unit
• Sindh Govt Funded Rs 159.93m for Marriages of 15,993 Helpless Girls
• Jamaat-e-Islami, Pakistan, Takes 21 Women on Shoora Board
• Women Al Qaeda Fighters Surprised US Forces
• Nigerian Muslim Women Seek Pro-Hijab Legislation
• Melissa Mark-Viverito Declares Muslim Women Are 'At the Forefront of the Resistance'
Compiled by New Age Islam News Bureau
URL: https://newageislam.com/islam-women-feminism/non-muslims-show-solidarity-with/d/109930
--------
Non-Muslims show solidarity with Muslim women on World Hijab Day
Feb 01, 2017
In the wake of a U.S. travel ban on certain Muslim-majority countries and the deadly shootings at a Quebec mosque this week, non-Muslims across the world donned the hijab Wednesday in solidarity with Muslim women.
People outside the faith were invited to wear the hijab Wednesday for World Hijab Day.
The event comes on the heels of a deadly shooting at a Quebec City mosque that killed six and wounded several other Muslims. The attack added to tensions after U.S. President Donald Trump implemented an executive order Friday that restricts entry into America for people with passports from Iran, Iraq, Libya, Somalia, Sudan, Syria and Yemen for 90 days.
The CBC's Nadia Kidwai, who is Muslim, said supporting the rights of Muslim women is especially important right now.
"When you wear the hijab you're clearly, visibly a Muslim, and therefore in cases of hate crimes … often Muslim women who wear the hijab are most vulnerable to attack," said Kidwai.
Muslims commonly refer to the headscarf as the hijab. The Arabic word for headscarf used in Islam's holy scripture, the Qur'an, actually is khimar.
'Talk to us'
The University of Manitoba Muslim Students' Association set up a table at University Centre on Wednesday in support of Wold Hijab Day. Muslim women volunteered to help students try on hijabs and show them the different ways to wear them.
The group brought in dozens of donated scarves to let people have a chance to try them on and take them home if they wanted to.
Zaenab Saeed with the MSA said the event has run for at least four years at the campus, but this year there seemed to be more interest.
"Because of the media and what has been going on in the US people are wanting to learn and know more about Islam," she said.
The purpose of the event isn't to be political, but open the door for conversations, she said.
"The idea is to spread awareness about us Muslim women. Don't judge us by our scarves or what we are wearing. Come speak to us, talk to us," said Saeed.
Maryam Razzaq, also with the MSA, was helping interested students try on the scarves as she explained why she chooses to wear one, and that it is a symbol of her faith.
"Sometimes people have a misconception that we are perhaps forced to wear it and it's not a choice, so we are just trying to change that kind of mindset that people may have," said Razzaq.
'Beyond just being Muslim'
There are several ways to wrap a hijab, with different cultures or personal preferences influencing individual style choices.
From hijabs to burkas: A guide to Muslim headdress
"The way you wear it can often express part of who you are beyond just being Muslim," said Kidwai.
Last year, before Kidwai joined the CBC, she was invited to speak about the religious and cultural significance of the hijab to employees at the West-Central Women's Resource Centre in Winnipeg. Men and women at the centre, including Molly Dunbar, wore the hijab for a short time that day.
This year, Dunbar, who isn't Muslim, decided to take a more personal approach and wear the hijab the entire day.
Dunbar hoped to meet with others around town Wednesday to help spark discussions with other non-Muslims about tolerance and the meaning of the hijab.
The word hijab literally translates to "modesty," a concept that applies to both men and women in Islam and extends beyond just physical clothing, Kidwai said, "and should be practised in the way men and women interact with respect."
"There is a difference in opinion on whether wearing the hijab is obligatory in the Muslim faith," Kidwai said. "For those who do believe that the hijab is an obligation, women are required to cover everything apart from their face, feet and hands. Men are also required to cover from at least their naval to knee."
Complaints of cultural appropriation
Kidwai said she appreciates the gesture from people like Dunbar, but not all Muslims are behind the movement.
"Some Muslim women don't appreciate it. They find it offensive," Kidwai said, adding some have lodged complaints of cultural appropriation. "Personally I find it so moving when friends reach out to me and they say, 'We want to do something. Is this OK?'"
Dunbar had her own reservations heading into World Hijab Day, but with Kidwai's blessing on her side, she felt encouraged to move forward with the experience.
"[I'm] always trying to recognize my privilege, being white, just always being so afraid that I am going to somehow offend someone," Dunbar said. "You want to do your work right and you want to learn about things, but in a way that's respectful."
Kidwai said ultimately it's up to people in the Muslim community to decide whether the act of wearing the hijab is appropriate for someone outside of the faith.
"There's an onus on us [Muslims] to be welcoming and opening," Kidwai said.
http://www.cbc.ca/news/canada/manitoba/world-hijab-day-1.3961289
--------
Theresa May backs Muslim women's right to wear a hijab
February 02, 2017
Theresa May has backed the right of Muslim women to wear a headscarf or hijab "without fear".
The Prime Minister said she believed that "what a woman wears is a woman's choice".
A number of countries have imposed bans on parts of Muslim religious dress. France bans the Hijab in public buildings such as schools and universities as part of a prohibition on "religious symbols".
Others, including Belgium, the Netherlands, and parts of Switzerland have passed bans of varying severity on wearing face veils such as the burqa or niquab.
In Britain, Ukip leader Paul Nuttal has called for the Muslim face veil to be banned.
SNP MP Tasmina Ahmed-Sheikh asked Ms May about the subject during Prime Minister's Questions in the House of Commons on Wednesday.
"Today is world hijab day and I wondered if the Prime Minister would join me in recognising the right of Muslim women to wear hijab if they wish without fear – indeed the right of all women everywhere to wear what they want when they want," she said.
The Prime Minister replied that she agreed with Ms Ahmed-Sheikh on the issue.
"On the issue that she raises about the wearing of the hijab, I'm absolutely in line with her: I believe that what a woman wears is a woman's choice," she told the House of Commons."
In 2013 David Cameron said he would "back up" schools and courts which asked women to remove veils.
http://www.independent.co.uk/news/uk/politics/theresa-may-muslim-hijab-ban-pmqs-a7557126.html#gallery
--------
11 women, including 3 sisters join Pakistan's bomb disposal unit
February 2, 2017
The Khyber-Pakhtunkhwa police department has more than 600 women
Eleven women, including three sisters, were among 24 police commandos who joined bomb disposal unit after completing training in Pakistan's restive Khyber-Pakhtunkhwa province that frequently witnesses terror attacks.
Twenty-four commandos from the elite force, including 11 female commandos, underwent training at Nowshera's Police School of Explosive Handling, News International reported.
School Director Niaz Muhammad Yousafzai said 1,607 cops, including 12 females, had been trained at the school so far.
The women commandos underwent training weeks after Rafia Qaseem Baig, 29, became the first Pakistani female to join the bomb disposal unit after completing her 15-day training along with 31 other male members in December last year.
Three sisters - Parveen Gul, Rukhsana and Samina - were among 11 women who completed their training on Tuesday. The other female officers who completed the training were from Nowshera, Abbottabad, Hangu, Charsadda, Mardan, Buner and Bannu.
Chief Instructor Shafiq Khattak said that lady commandos were enrolled for the course on the directives of the Inspector General of Police Nasir Khan Durrani.
Talking to the paper after passing out, the three sisters said they were provided training in light and heavy weaponry besides bomb disposal training. The three ladies are from a very poor family of the Karak district.
They said their father, Nooran Shah, had been physically challenged by birth.
"My father equipped all of us with proper education and reared us well despite his poor financial condition," said Pari Gul, who is the eldest among the three sisters who have joined the force.
"I got attracted to the police force when I would see cops in mobile vans in my village. I did not know that one day I will become part of the police force," she further added.
She said her younger sister, Samina, was lucky to make it to the force in the first attempt while she and her another sister Rukhsana were selected later at Hangu.
More than 600 women are serving in the Khyber-Pakhtunkhwa police department in different capacities from junior clerk to deputy superintendent.
http://www.khaleejtimes.com/11-woman-including-3-sisters-join-pakistans-bomb-disposal-unit
--------
Sindh govt funded Rs 159.93m for marriages of 15,993 helpless girls
02-Feb-17
KARACHI: Sindh Government has disbursed an amount of Rs 159.930 million for funding marriages of 15,993 helpless and deserving girls in the province.
"About 15,993 helpless and deserving girls were disbursed about Rs159.930 million for marriages and also given Rs 10,000 per head to each bride from the Zakat Fund during 2008 to 2013," said Pakistan Peoples Party (PPP) Parliamentary Leader in Sindh Assembly, Nisar Ahmed Khuhro here on Wednesday.
He was replying to written and supplementary questions on the Department of Zakat and Usher during Question Hour inthe Sindh assembly session.
All Union Councils in Sindh province posses a detail list of needy and deserving people for Zakat and through that process the provincial government was providing financial help.
During 2015-16, about 81,795 deserving and needy people were given Rs 2,000 per head disbursed on the eve of Eid-ul-Fitr as Guzara Allowance.
During 2010 to 2013, Rs 500 per head was disbursed to elderly and needy people on the eve on Eid, later the amount was increased to Rs 2,000 per head.
In Sindh, 85,000 people were issued Benazir Support Card and they received money directly from ATM machines and not from any person or office, Nisar Khuhro added.
While replying to a query of Pakistan Muslim League (Functional) Dr Mohammad Rafiq Ahmed Banbhan regarding disbursement of Zakat in the province, Nisar Khuhro said over 45,000 widows were provided funding from the Zakat Fund. Muttahida Qaumi Movement (MQM) senior lawmaker Syed Sardar Ahmed informed the house that in the past a retired judge was supervising Zakat funds for deserving people.
PPP parliamentary minister replied to the Zakat Department complaint that complete authority was not given to him (Retire Judge).
Sindh government is working to make the Zakat Department autonomous and that Zakat should only be disbursed to deserving people. An amount of Rs 4.419 million has been disbursed to deserving people this year (2016).
http://dailytimes.com.pk/pakistan/02-Feb-17/sindh-govt-funded-rs-15993m-for-marriages-of-15993-helpless-girls
--------
Jamaat-e-Islami, Pakistan, Takes 21 Women on Shoora Board
February 02, 2017
LAHORE - The Jamaat-e-Islami has announced the names of its 21 women members who have been elected to the JI central Shoora for a three year term.
Around 4,500 women members of the JI have elected their representatives to the JI central advisory body through secret ballot for the 2017-20) term.
The JI women wing has been striving to approach the womenfolk all over the country and educate them about the JI's mission and its ideological and political policies.
Those elected are: Balochistan: Yasmeen Achakzai, Khyber PK Malakand division: Zahida Ikram, Sind, Karachi West: Farhana Aurangzeb, Karachi South Bin Qasim: Humaira Khalid, Karachi East Bin Qasim: Rabia Alam, Javedan Faheem and Azra Jameel, Karachi central: Safoora Naeem, Samina Mursalaeen, Samina Qamar and Sabooh Talat, Hyderabad: Shagufta Ibrahim, Islamabad: Nuzhat Bhatti, Rawalpindi: Zainab Asif, Gujranwala: Naheed Qamar, Sargodha: Rubina Amjad, Lahore: Zubaida Jabeen and Rabia Tariq. Multan: Rafia Fatimah, Bahawalpur: Mayyam Jameela, and DG Khan: Sughra Hakam.
http://nation.com.pk/lahore/02-Feb-2017/ji-takes-21-women-on-shoora-board
--------
Women al Qaeda fighters surprised US forces
February 02, 2017
WASHINGTON: New details have emerged surrounding Sunday's deadly joint US-United Arab Emirates counterterrorism raid on an al Qaeda compound in Yemen, shedding light on why the mission happened when it did -- and what went wrong.
The military said the operation was geared toward collecting as much intelligence on the terror group as possible in order to facilitate future raids and strikes against al Qaeda down the road and prevent terror attacks.
The raid was greenlit by President Donald Trump shortly after taking the oath of office, but multiple officials told CNN the mission had been planned months in advance and had been briefed to then-President Barack Obama.
Both defense and Obama administration officials said the operation was never vetoed by Obama and that "operational reasons" were why it was pushed back after January 20 and why Obama left the task of authorizing the raid to his successor.
SEALs detected during mission
One such operational reason: The need for a moonless night to help provide the cover of darkness for the Navy SEALs undertaking the raid on the al Qaeda headquarters located in the al Bayda Governorate in Yemen.
According to one diplomatic source, after being briefed on the operation, Trump approved the mission "fairly quickly."
The raid involved elite US Navy SEALs and special forces from the UAE, with armed drones flying overhead in support, according to officials from several countries.
But as the combined force approached the al Qaeda compound, it was detected and an intense firefight broke out that saw Chief Petty Officer William "Ryan" Owens receiving a fatal wound and three additional SEALs being wounded.
During the gun battle, which featured small arms fire, hand grenades and close air support strikes from US aircraft, al Qaeda fighters -- including some female combatants -- took up firing positions on the roof of a nearby building and the US troops came under fire, calling in an airstrike against the building, which likely led to civilian casualties, a US official told CNN.
The civilian casualties were "caught up in aerial gunfire that was called in to assist US forces in contact against a determined enemy that included armed women firing from prepared fighting positions, and US special operations members receiving fire from all sides," US Central Command, which oversees military forces in the region, said in a statement Wednesday.
"The raid resulted in the seizure of materials and information that is yielding valuable intelligence to help partner nations deter and prevent future terror attacks in Yemen and across the world," the statement continued.
The Pentagon said 14 al Qaeda fighters were killed in the battle. Central Command said an internal review team "concluded regrettably that civilian non-combatants were likely killed in the midst of a firefight" during the raid, adding that "casualties may include children."
The statement said than an assessment was ongoing to determine the exact number of civilian casualties.
Yemeni officials said 13 civilians were killed in the raid, including 8-year-old Nawar Anwar Al-Awalki, the daughter of Anwar Al-Awalki, the US-born cleric and al Qaeda in the Arabian Peninsula leader. Anwar Al-Awalki, who directed attacks against the US, was killed in a drone strike in 2011.
"Al Qaeda in the Arabian Peninsula has a horrifying history of hiding women and children within militant operating areas and terrorist camps, and continuously shows a callous disregard for innocent lives," US Col. John J. Thomas, a spokesman for Central Command, said in the statement. "That's what makes cases like these so especially tragic."
The challenges of military operations in Yemen were on display in 2014, when US commandos attempted to rescue western hostages, including American journalist Luke Sommers, held by the terror group. That operation was similarly detected by al Qaeda fighters and the hostages were fatally shot during the raid.
In the latest operation, US Marines aboard the USS Makin Island in the Gulf of Aden were standing by to assist and multiple MV-22 Osprey aircraft were sent to rendezvous with the Navy SEALs and help evacuate the wounded.
But one of the Osprey's suffered a technical malfunction at the landing zone and was forced to make a "hard-landing," which resulted in three US service members being injured, none of them seriously. The aircraft was deemed unrecoverable and the military conducted an airstrike to destroy the Osprey in order to prevent its technology from falling into enemy hands.
Secretary of Defense James Mattis was attending the Alfalfa Dinner, an elite social gathering in Washington, at the time of the raid and was informed that the US had suffered casualties during the operation. Mattis left the event to help address the situation.
US defense officials told CNN that reams of intelligence were recovered during the operation, including computer hard drives.
While the assessment of that information is still ongoing, officials believe it is highly possible that information contained within could help prevent future terror attacks by al Qaeda in the Arabian Peninsula, which is thought to be the most capable of al Qaeda's franchises and was behind the 2015 terrorist attack on the Charlie Hebdo offices in Paris.
'A success by all accounts'
Trump was quick to label the raid a success, issuing a statement Sunday saying it acquired "important intelligence that will assist the US in preventing terrorism against its citizens and people around the world," while expressing condolences for the life lost and wishing the wounded a speedy recovery.
Trump called Owens' family Tuesday to express his condolences personally and went to Dover Air Force base Wednesday to be with the fallen soldier's family when his body was returned to the US.
Military analysts who spoke with CNN noted that the complexity of this type of mission, saying that at least from a tactical standpoint, the intelligence gathering mission could be deemed a success.
"In a very difficult, very austere environment, our special forces were able to do something that was very very significant," retired Col. Cedric Leighton told CNN.
Speaking to the US casualties suffered, retired Maj. Gen. James "Spider" Marks said, "Those kinds of things will happen in operations like this."
"There is clearly a risk assessment. You mitigate the risk as best you can -- there will often be casualties. It's just the nature of this business," Marks added.
"The mission was a success by all accounts," retired Lt. Gen. Mark Hertling told CNN Wednesday.
But the raid was also met with criticism by outside groups, with the Brussels-based International Crisis Group issuing a statement Wednesday calling the operation "a good example of what not to do."
"The use of US troops and the high number of civilian casualties are deeply inflammatory and breed anti-American resentment across the Yemeni political spectrum that works to the advantage of" al Qaeday in the Arabian Peninsula, the statement added.
Raids becoming more common
Military raids aimed at gathering intelligence on terror groups to facilitate future raids and strikes in the future have become increasingly common in recent years and have featured in the fight against ISIS in Iraq and Syria.
"These types of missions occur many times a year. Their purpose is to generate understanding of their networks and disrupt them," a US defense official familiar with these types of raids told CNN.
The raids were considered critical to defeating al Qaeda in Iraq, the predecessor of ISIS, during former Gen. Stanley McChrystal's leadership of Joint Special Operations Command.
Trump's national security adviser, retired Army Lt. Gen. Michael Flynn, served under McChrystal at the time and lauded the raids in his recent book, "Field of Fight."
He wrote the raids would gather intelligence that would allow military intelligence officers to analyze the information and better understand those terror groups.
"Everyone could then pursue new linkages in the terror network, leading to new captures, new discoveries of documents, computes, and the like ... if the answers pointed to new action, that would be relayed back to tacticians and fighters," he said.
http://nation.com.pk/international/02-Feb-2017/women-al-qaeda-fighters-surprised-us-forces
--------
Nigerian Muslim women seek pro-hijab legislation
01.02.201
By Rafiu Ajakaye
LAGOS, Nigeria
Nigerian Muslim women have called on authorities to pass legislation prescribing sanctions against government agencies or private firms which discriminate against the use of the Muslim headscarf, hijab.
In separate news briefings commemorating the Feb. 1 World Hijab Day across the country, coalitions of Muslim women decried rising cases of women being shut out of workplaces or female pupils being sent out of class because they wear the hijab, and said authorities must reverse the trend they insist violates the Nigerian law.
Nimatullah Abdulqadir, president of the Al-Mu'minaat, or the believing Muslim women, told a news briefing in the commercial capital Lagos late Tuesday that some government officials "are perpetrating an act of oppression and injustice against Muslim women.
"We also call on both national and state parliaments to enact appropriate legislations that will guarantee the right of Muslim women to dress according to their religious belief.
"The challenges faced by Muslim women in Nigeria as a result of their desire to wear hijab continue to leave bitter taste in our mouth, especially when juxtaposed with the unlimited freedom enjoyed by other women who choose to dress in any manner of their liking including sometimes in semi-clad attires," she added.
Mutiat Orolu-Balogun, coordinator of Hijab Rights Advocacy Initiative, said hijab was an added religious duty for Muslim women and asking them to remove it amounted to discrimination and oppression.
"One thing we all seem to agree on is that violence against women is wrong in all its forms, whether it is physical, emotional or psychological," Orolu-Balogun told another news briefing in Lagos on Wednesday.
"Asking a Muslim woman to remove her hijab is a form of violence against women. It should have no place in a progressive society like ours as more people, including women, are getting more educated and moving into the work force," she said.
Coalition of Nigerian Muslim Women, another pro-hijab movement, also condemned the attack on hijab and said the government had to prevent continuous discrimination against any woman who chooses to wear the Muslim headscarf.
Hijab has become a serious issue in Nigeria following attempts by some schools and government agencies to ban or restrict its use.
The Muslims have won two cases which are now before the appellate court. Last year, Lagos' ban of the hijab was declared unlawful by an appeals court. The case is now with the Supreme Court.
World Hijab Day, an initiative of a U.S.-based Pakistani woman Nazma Khan, was first commemorated in 2013.
http://aa.com.tr/en/africa/nigerian-muslim-women-seek-pro-hijab-legislation/739611
--------
Melissa Mark-Viverito Declares Muslim Women Are 'At the Forefront of the Resistance'
By Madina Toure
02/01/17
At the annual World Hijab Day celebration, City Council Speaker Melissa Mark-Viverito declared that Muslim women are "at the forefront of the resistance" against President Donald Trump's Muslim travel ban and intolerance of others—and expressed her solidarity with the Muslim community.
Last week, Trump signed an executive order temporarily barring entry to the country for people coming from seven Muslim-majority countries—Syria, Sudan, Somalia, Iraq, Iran, Libya and Yemen. Several federal jurists, including Eastern District of New York Judge Ann Donnelly, have issued restraining orders preventing Trump's Customs and Border Enforcement from applying the fiat to individuals cleared to enter the country during the Obama administration.
Mark-Viverito blamed Trump's actions, which also suspended the country's refugee resettlement program for 120 days, on irrational Islamophobia.
"People fear what they do not know, but here is what I know and what I see: I see Muslim women in leadership, I see Muslim women building community, I see Muslim women at the forefront of the resistance," Mark-Viverito said in front of the City Hall steps. "And I'm here to say I will fight alongside you in every day."
She added that the Muslim community is diverse, remarking that Muslims are African, African-American, Arab, South Asian, Asian and Latina, among other ethnicities.
And she noted that while the Muslim community has long dealt with intolerance, the Trump administration has created an "incredible, tense climate" filled with division, separation, scapegoating and fear. She said it is a sign that all communities have to come together in solidarity.
"We've been out in the streets almost every day in response to these executive orders that just keep raining down on us and wreaking havoc," Mark-Viverito said. "There is chaos all around us and what it is doing again is just eliciting fear and division, and many of our communities are targeted. So I'm standing here as a Latina in solidarity with my Muslim brothers and sisters."
Over the weekend, thousands of New Yorkers—including elected officials and immigration attorneys—protested outside John F. Kennedy Airport's Terminal 4.
NYPD Officer Aml Elsokary, a Muslim whom a Brooklyn man menaced with anti-Muslim slurs last year, said she was proud to call herself one of 900 Muslim officers who serve the NYPD "and put our lives on [the] line." She also commended the mayor for supporting cops who wear hijabs.
"I'm also proud to be part of a police force that accepts and embraces diversity," Elsokary said. "They allowed my hijab and they supported me through the times where other people looked down on me wearing a hijab."
World Hijab Day is a day of solidarity with Muslim women worldwide and in recognition of million of Muslims who choose to wear the traditional head covering. The celebration, which began in February 2013, centers on combatting bigotry, discrimination and stereotyping against Muslim women. Southeast Queens and South Asian activist Mazeda Uddin is one of the organizers of the New York City event.
Afaf Nasher, executive director of the New York chapter of the Council on American-Islamic Relations, said that they are "pulling and pushing every single day" to ensure that all Americans are treated equally and enjoy the rights guaranteed by the United States Constitution, the Civil Rights Act and "every single law that every American is entitled to."
"Today, what we are here for is to promote and celebrate World Hijab Day, which is a day really to protect a women's ability to express herself religiously without concerns or fear of intimidation, discrimination or hatred," Nasher said.
Manhattan Borough President Gale Brewer, for her part, took a jab at Trump and praised the contributions of Muslim women to the city.
"We are 8.5 million people, we speak 150 languages," Brewer said. "Immigrants bring $100 billion to the economy of the city of New York and they own 83,000 businesses. Now president, get lost…Women who wear hijabs are the backbone of our community."
Representatives from the city also came out to show their support for Muslim women. Carolyn Malalis, commissioner of the New York City Commission on Human Rights, said that it is illegal to discriminate against individuals because of their religion and that the city embraces diversity and inclusion.
"The Commission on Human Rights will use every tool at its disposal to make sure that we maintain, we keep that diversity, that celebration that is New York City," Malalis said.
http://observer.com/2017/02/melissa-mark-viverito-declares-muslim-women-are-at-the-forefront-of-the-resistance/
--------
URL: https://newageislam.com/islam-women-feminism/non-muslims-show-solidarity-with/d/109930
New Age Islam, Islam Online, Islamic Website, African Muslim News, Arab World News, South Asia News, Indian Muslim News, World Muslim News, Womens in Islam, Islamic Feminism, Arab Women, Womens In Arab, Islamphobia in America, Muslim Women in West, Islam Women and Feminism, Moderate Islam, Moderate Muslims, Progressive Islam, Progressive Muslims, Liberal Islam