New Age Islam News Bureau
22 Jul 2013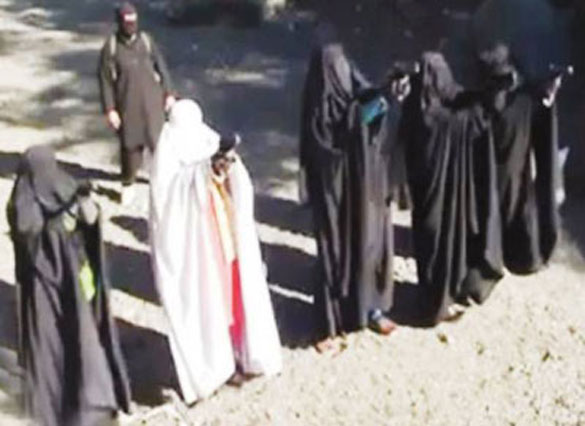 Photo: Women star in Taliban recruitment video
------------
• Turkistan Islamic Party Trains Women for Jihad
• Women Star in Taliban Recruitment Video
• Fatwa Prohibits 4 Muslim Finalists from Taking Part in Beauty Pageant
• Malala Is Tougher Than Anyone In The Apprentice
• Mira Nair Boycotts Israel Film Festival In Palestine's Support
• "Women Only" Islamic Fashion Show To Be Held In Male'
• Woman Jailed In Dubai after Reporting Rape Hopes To Warn Others
• Don't Undermine Role of Muslim Women in Society: Turkish Deputy Minister
• 11 Years Old Yemeni Girl Flees Home to Avoid Marriage: "I'd Rather Kill Myself"
• Channel to Bring the Best Out Of Saudi Women
• Rights Group Blasts Kuwait over Jailing of Female Activist
• Dr Aafia Siddiqui can be repatriated, says official
• Iranian Women's Rights Activist Defiant Even in Death
Compiled by New Age Islam News Bureau
URL: https://www.newageislam.com/islam,-women-and-feminism/new-age-islam-news-bureau/non-muslim-hijab-draws-racist-attacks/d/12700
---------

Non-Muslim Hijab Draws Racist Attacks
July 22, 2013
Taking the decision to wear Hijab after developing a sun allergy, Dennis Queen could not imagine the amount of racist attacks Muslim women face in their daily life.
"People immediately assume I'm Muslim. I don't mind that but I find the racist comments just disgusting," Queen told The Express newspaper.
"I've been called a race traitor and it's really opened my eyes to the kind of daily racism Muslims have to put up with."
The 40-year-old mum-of-four who has developed a condition known as Polymorphic Light Eruption (PMLE), which means just a few minutes in the sun causes her skin to break out in an itchy red rash.
"When I first got PMLE I tried applying sun creams and wearing sun hats but nothing seemed to work," Queen said.
"The rash was unbearable and it got to the point that I was avoiding going out."
After looking for clothes to cover her whole body, Dennis realized traditional Islamic dress were the ideal solution.
Deciding to wear the traditional Muslim dress, Queens was able to live a normal life again.
"The Burqa is the only thing that provides any real protection from the sun and I actually really enjoy wearing it now," she said.
"All my Muslim friends have been so supportive of me wearing this, so it really upsets me.
"I was genuinely shocked by the fear and hatred that people seem to have," she added.
After donning Hijab, she realized the amount of racist attacks Muslim women face in their daily lives.
"The only people that seem to have a real problem with me wearing a burka are racists – and I don't care about offending racists," Queen said.
"I've had some racist comments a few times but to be honest I don't really care what a racist thinks of me."
Librating
For Queen, Hijab made her a more "understanding person", adding to her self-confidence.
"I was self-conscious to begin with, but I had a lot of encouragement from friends, and I actually find it quite liberating," she said.
"I'm really happy with the decision I made.
"Wearing a Burqa means I can get one with my daily life and I don't have to worry about my skin.
"I don't feel any less attractive or any less feminine because I'm wearing a Burqa.
"I feel confident and it's made me a more understanding person."
The British mum hopes her story would inspire others to take a similar decision and cover up.
"I can only hope that people might read this and take the same decision that I have. You don't need to spend lots of money on special clothing or the latest medicines.
"You just need to take practical steps to cover yourself up."
Britain is home to a Muslim community of nearly 2.5 million.
Islam sees Hijab as an obligatory code of dress, not a religious symbol displaying one's affiliations.
http://muslimvillage.com/2013/07/20/41760/non-muslim-hijab-draws-racist-attacks/
---------

Turkistan Islamic Party Trains Women for Jihad
By BILL ROGGIOJuly July 22, 2013
The al Qaeda-linked Turkistan Islamic Party is actively training female recruits to wage jihad in South and Central Asia.
A short, one-minute-long video by the Turkistan Islamic Party shows five Burqa-clad women training with pistols, assault and sniper rifles, machine guns, and grenade launchers. A male trainer is seen directing the women. The Turkistan Islamic Party's distinctive light blue flag is seen flying in the background.
The video was first obtained by The Sunday Times and was shared with The Long War Journal. It was produced by Islam Awazi, the Turkistan Islamic Party's official media outlet.
Although the location of the training camp was not disclosed, the video was likely filmed in Pakistan's Taliban-controlled tribal agency of North Waziristan. The Turkistan Islamic Party is known to host training camps in the tribal agency, particularly in the Mir Ali area.
In the past, the Turkistan Islamic Party has also released videos of children training to wage jihad.
The video of the female recruits highlights an increasing trend by jihadists in the Afghan-Pakistan region to use females to conduct attacks. The Long War Journal has recorded six female suicide attacks in Pakistan and three more in Afghanistan since 2010. The last such attack took place on April 21 at the entrance to a hospital in Khar in Pakistan's tribal agency of Bajaur.
These female suicide attacks have been executed by the Afghan Taliban, the Movement of the Taliban in Pakistan, the Islamic Movement of Uzbekistan, and the Hizb-i-Islami Gulbuddin. Prior to 2010, no female suicide attacks were reported in the region.
Qari Zia Rahman, a Taliban commander who also is a member of al Qaeda, is known to run suicide training camps for females in the Afghan-Pakistan region. The US military has been hunting Qari Zia in northeastern Afghanistan since at least 2010, but he has dodged the raids.
http://www.longwarjournal.org/archives/2013/07/turkistan_islamic_pa_4.php#ixzz2Znbl4D4Y
---------

Women Star in Taliban Recruitment Video
July 22, 2013
LONDON - A video showing women in Burqas at a weapons training camp in Pakistan's lawless tribal region has prompted fears that militant groups are recruiting women to frontline terrorist roles.
The minute-long footage, passed to The Sunday Times, shows five women being trained to use AK-47 assault weapons and fire rocket-propelled grenades.
The remote setting suggests the film was shot in the Waziristan region bordering Afghanistan that has become a safe haven for the Taliban, Al-Qaeda and other militant groups.
A pale blue flag with a white crescent indicates the women belong to the Turkistan Islamic party, a terrorist group thought to have links to the Taliban.
The Burqa-clad women seemed to be in the early stage of their training, said security officials.
In April, the same group released a similar video of boys, some as young as six, being trained to fire handguns.
The Site Intelligence Group - Search for International Terrorist Entities - has received similar video. "The overarching message in the video was 'here are women fighting, where are you men?'" Adam Raisman, a Site analyst told the Sunday Times.
"It was a way to emasculate those Muslim men who do not participate in jihad," he added.
The portrayal of women in an active combat role could mark a shift in Jihadist propaganda, says Bill Roggio, a terrorism expert at the Foundation for the Defence of Democracies, a US think tank.
In Quetta, a female suicide bomber detonated a device last month on a bus, killing 14 female students.
The sectarian extremist group, Lashkar-e-Jhangvi (LeJ), which has known links with Al-Qaeda, claimed credit for the attack.
"We know they run suicide training camps for women and children," said Roggio. "There have been six or seven suicide attacks in the Afghan-Pakistan region since 2010. Prior to that there were none."
The Tehrik-e-Taliban, LeJ and the Islamic Movement of Uzbekistan have used female bombers on six other occasions since December 2010 to hit targets in Pakistan.
They have established training camps in Waziristan that are used to indoctrinate and train female bombers.
Qari Ziaur Rahman, the Taliban and Al-Qaeda leader who operates from Pakistan's tribal agencies of Mohmand and Bajaur and in the Afghan provinces, is known to run most of the training camps for suicide bombers.
http://www.nation.com.pk/pakistan-news-newspaper-daily-english-online/national/22-Jul-2013/women-star-in-taliban-recruitment-video
---------
Fatwa prohibits 4 Muslim finalists from taking part in beauty pageant
The Star/Asia News Network
Jul 22, 2013
MALAYSIA - Four Muslim finalists have been dropped from the Miss Malaysia World 2013 pageant due to a fatwa banning them from joining such events.
Organiser Datuk Anna Lim said the decision was made following a statement by Federal Territories mufti Datuk Wan Zahidi Wan Teh who had opposed the four finalists' participation.
"The competition will go on as usual and we are very excited about presenting the best beauty pageant for our non-Muslim finalists," she told Mingguan Malaysia.
The four dropped are Kathrina Ridzuan, 23, Miera Sheikh, 19, Wafa Johanna De Korte, 19, and Sara Amelia Muhamad Bernard, 20.
Wan Zahidi had said Muslim women could not participate in or organise any beauty pageants as it had been declared haram and a sin.
He said the fatwa had been issued on Feb 8, 1996, under the Adminis-tration of Islamic Laws (FT) Act 1993.
Wafa Johanna, expressed disappointment with the organiser's decision.
According to the former Asia New Face Model Search 2012 champion, they were only asked to wear sports or suitable attire for Muslim girls during the competition held in Bali, Indonesia, instead of swim suits or bikinis.
http://www.asiaone.com/News/AsiaOne%2BNews/Malaysia/Story/A1Story20130722-439028.html
---------
Malala Is Tougher Than Anyone In The Apprentice
July 22, 2013
JENNY MCCARTNEY
Malala Yousafzai, a 16-year-old educational campaigner from the Swat Valley in Pakistan, gave a speech to the UN last week. She was astonishingly assured, but I suppose when you have been shot in the head by the Taliban while on your school bus and survived, as Malala did, there's not going to be much that worries you about a bunch of nodding dignitaries sitting behind desks.
As Malala spoke in praise of equality of opportunity, her voice carried the spine-tingling undercurrent of fierce purpose, although her words were gentle. This small girl, swathed in pale pink, made a powerful impression simply by her presence. Her speech before the world's media was the sweetest revenge upon her attackers.
The Taliban felt the sting, and responded in a manner which betrayed the blinkered confusion of its thinking. Adnan Rasheed, a prominent Pakistani Taliban commander, wrote Malala an open letter saying that when she was attacked "it was shocking for me, I wished it would never happened", but that the Taliban believed she was "running a smearing campaign" against them and her writings were "provocative". He refused to go into "this argument" of whether Malala "deserved to be killed or not" (as though it was a topic that one could legitimately debate – should one murder a 15-year-old schoolgirl for openly disagreeing with you, or not?). Then he advised that she return home, join an all-female madrasa, and immerse herself in study of "the book of Allah". Aside from the brief rider of personal regret, the letter was, in effect, an extended exercise in blaming the victim, and then fantasising about how best to keep her quiet within the confines of the Taliban's chosen ideology.
We haven't heard the last of Malala. Nor have we heard the final word from her opponents, whether they be the Taliban or a proportion of middle-class Pakistanis who argue that she is being manipulated by the West. She will need continued courage, but, from what I have seen of her, she is too clever to let herself be used by anybody; growing up in a country mined with extremist politics has a way of rapidly sharpening the political survival instinct.
Shortly after watching Malala's speech, however, I was immersed in a startlingly different vision of femininity, courtesy of The Apprentice final. I hadn't been watching the series, and was only dimly aware of a few voices expressing surprise that the new look for aspiring businesswomen had a hefty dollop of lap-dancer chic. So the run-off between Luisa Zissman, 25, and Leah Totton, 24, came as something of a shock. Both of them, although naturally very attractive, looked as if they spent an enormous chunk of their net earnings on every costly extra the beauty parlour had to offer. Luisa, who had a pair of implants said she hated feminists, was promoting a wholesale cupcake business. Leah, who had trained as an A&E doctor, was backing a chain of cosmetic-surgery clinics offering Botox and fillers. –Telegraph
http://www.nation.com.pk/pakistan-news-newspaper-daily-english-online/international/22-Jul-2013/malala-is-tougher-than-anyone-in-the-apprentice
---------
Mira Nair boycotts Israel Film Festival in Palestine's support
July 22, 2013
Internationally-acclaimed film-maker Mira Nair declined an invitation to take her latest film, The Reluctant Fundamentalist, to the Israel Film Festival. She cited the Palestinian call for cultural boycott for her refusal.
In a series of tweets, Nair made the following statement:
"I was just invited to Israel as a guest of honour at the Haifa International Film Festival with The Reluctant Fundamentalist. I will not be going to Israel at this time. I will go to Israel when the walls come down. I will go to Israel when occupation is gone. I will go to Israel when the state does not privilege one religion over another. I will go to Israel when apartheid is over. I will go to Israel, soon. I stand with the [Palestinian campaign] for the Academic and Cultural Boycott of Israel
[PACBI] and the larger Boycott, Divestment, Sanctions [BDS] Movement."
Nair, who is the internationally-acclaimed director of Salaam Bombay! and Monsoon Wedding was called for her 9/11-based thriller The Reluctant Fundamentalist (TRF), based on Pakistani novelist Mohsin Hamid's novel of the same name. The movie was released in Pakistan with Urdu subtitles, titled Changez. She has also been awarded the German Film Award for Peace, The Bridge 2013, for TRF.
The film tells the story of two conflicting ideologies – the "fundamentalism" of the capitalists and that of the terrorists – through a young Pakistani man chasing his American Dream.
Nair will be working along Nobel literature laureate Mario Vargas Llosa and British musician Peter Gabriel in a new film by Mexican director and screenwriter Guillermo Arriaga.
http://tribune.com.pk/story/579618/mira-nair-boycotts-israel-film-festival-in-palestines-support/
---------
"Women only" Islamic fashion show to be held in Male'
By Leah Malone | July 22nd, 2013
A local clothing retailer which had organised a fashion show featuring clothing for women "within the bounds of Islam" is now promoting the event as an "Abaya Show", following complaints that the original concept was too western.
The event is being organised by local clothing retailer Miskul Khair and will display only hijab (head scarf) and abaya (robe-like, loose fitting dress) clothes to demonstrate the 'Islamic look' of how Muslim women should dress.
"The aim is not to have a western style fashion show, but rather to give women the news, the message, that this is the perfect way of dressing [in Islam]," Miskul Khair Sales Manager Moosa Nafih told Minivan News.
"This event is not related to a western [fashion] show, it will feature almost all the abayas sold in the shop," said Nafih.
He explained that following complaints the event was too westernised, the "concept has been a little changed, but the show will be conducted as planned" and will be promoted as an "Abaya Show" instead.
"There will be very strict monitoring, security will be very high. Men, photography or videography of the event will not be permitted," Nafih emphasised.
The event will be only for ladies as Islam does not support the mixing of opposite sexes, explained Nafih.
"This fashion show will be very different from other fashion shows held in Maldives. Clothes on display will fit Islamic parameters," a Miskul Khair spokesperson told local media.
"We believe that through such an event in sha Allah, it may encourage sisters who do not wear hijab/buruga to love to wear hijabs/buruga. We believe that this is a new approach to Dawah. May Allah Reward us all and look into our intentions," read a statement on the Miskul Khair Facebook page.
Former Gender Minister and current Chairperson for the Hope for Women NGO Aneesa Ahmed believes the event is being held as a way to "draw people in".
"As things are, there are many with strong conservative views. There is so much advocacy on conservatism, people are falling under that influence," Aneesa told Minivan News today.
"[Currently,] there is a lot of confusion among people," she noted. "It could upset them if a woman does not dress with adequate modesty."
Aneesa explained that individuals hold different beliefs on what constitutes appropriate women's attire.
While she believes dressing like a Muslim – for men and women – requires modesty, Islam does not necessarily require a woman's body to be fully covered, she said.
"Islam is not only how a person dresses, it is about faith and upholding the five pillars of Islam," Aneesa said
She noted that there are some women who are fully covered but wear tight fitting clothes, which is less modest than wearing loose fitting clothing with some skin showing.
"[Additionally,] we don't know if a fully covered woman is doing her prayers, as that is between her and Allah," Aneesa continued.
"However, the perception remains that if you are dressed in a certain way then society considers you a good Muslim," she noted.
Aneesa believes that overall "It is in the best interest of the society to dress modestly."
"What we call modest dress is the same style, an [unofficial] dress code, that tourists must adopt when they come to Male' or go to an inhabited island," she added.
The female only fashion show will take place at an Arabic medium, higher education institution, Kulliyah College in Male' on July 28 at 9:30pm.
Tickets are available at Miskul Khair shops for MVR 25 (US$1.61), MVR 45 (US$2.91) and MVR 56 (US$3.62).
http://minivannews.com/society/women-only-islamic-fashion-show-to-be-held-in-male-61342
-------
Woman jailed in Dubai after reporting rape hopes to warn others
July 21, 2013
A Norwegian interior designer jailed in Dubai for illicit sex after she reported being raped says she has no regrets about coming forward if her warning will protect others from a similar fate. A court on July 17 sentenced Marte Deborah Dalelv to 16 months in prison for having sex outside
marriage, drinking and making false statements. She says a male colleague pulled her into his hotel room and raped her after she asked him to help her find her own room when they had had a few drinks.
The 24-year-old has been released on condition she remain at a Norwegian Christian centre in Dubai pending the outcome of an appeal. Asked if she regretted reporting the assault, Dalelv said no: "The truth is the only thing that will help me get through this."
The news has dominated the front pages in Norway and raised questions about the judicial system in the Gulf state, which lures large numbers of expatriates and tourists with a Western lifestyle but has little-publicised conservative laws on its books covering sex and alcohol.
Norway has complained. Foreign Minister Espen Barth Eide told reporters: "We believe this is a completely unacceptable verdict, which is contrary to human rights and the basic sense of justice."
In the United Arab Emirates, as in some other countries using Islamic law, a rape conviction can require either a confession or the testimony of four adult male witnesses.
According to the UK-based Emirates Centre for Human Rights, Dalelv's is only the latest in a string of cases in which women who have reported being raped have ended up with jail sentences.
Among recent cases, a Briton who alleged she had been raped by three men was fined for drinking alcohol. An Emirati woman was sentenced to a year in prison after claiming to have been gang-raped. An Australian woman was sent to prison for 11 months after reporting a gang-rape to police, the Centre said.
Dubai promotes itself as a resort destination and a base for international business. Its hotels have licensed nightclubs, bars and restaurants that serve alcohol openly.
But rarely-enforced laws actually define it as illegal for residents to drink without a special license that few obtain.
Possessing alcohol outside a licensed bar or being drunk in public are offences, even if the alcohol was bought legally.
Such laws can be used to prosecute visitors who are involved in accidents or report crimes.
In an interview with Reuters, Dalelv said that by coming forward she hoped to alert other people not to expect Western standards of judicial protection.
"Dubai seems like a Western city, but what a lot of tourists don't know for example that it's not legal for them to drink alcohol," she said.
Dalelv said she did not realise she would be treated as a criminal rather than as a victim, until after she reported the assault and found herself being interrogated at a police station. An officer asked if she was making the rape report because she had not enjoyed sex.
"That is when I knew: I don't think they are going to believe me at all," she said.
She was held in prison for four days until contact was made with the Norwegian consulate and bail arranged. She still expected to be exonerated when her legal team presented its case. Her conviction came as a shock.
"I am very surprised because we had a DNA report, we had a medical report ... and still [the authorities] didn't believe me."
http://www.hindustantimes.com/world-news/restofasia/Woman-jailed-in-Dubai-after-reporting-rape-hopes-to-warn-others/Article1-1096216.aspx
-------
Don't undermine role of Muslim women in society: Turkish Deputy Minister
New Straits Times
21 July 2013
KUALA LUMPUR: As women make up almost half of the Muslim population, their role in society should not be undermined, said Turkey's Deputy Minister of Family and Social Policies, Assoc Prof Dr Askin Asan.
She said Muslim women, especially the younger generation, should be given equal opportunities in all aspects of their lives. "We should eliminate barriers and pave the way for equal participation and representation of young Muslim women in the social, political and economic sectors."
Asan said this in her talk on 'The Role of Young Muslim Women in Policy Development and Decision Making' at the 3rd International Model of the Organisation of Islamic Cooperation (IMOIC) Summit recently.
She stressed that Muslim women should emerge as active participants in the political, economic, social, cultural and spiritual spheres, and they should be treated as "equal human beings".
However, she noted that sometimes, women themselves were responsible for creating barriers.
"We hold ourselves back because of our lack of confidence; we don't raise our hands and we pull back instead of moving forward," she told the youth leaders who came from over 40 OIC countries to participate in the summit.
Asan pointed out that during the early Islamic period, women were powerful and participated actively in religious, political, social, educational and intellectual programmes.
"In the past, women were determined to preserve traditions and disseminate knowledge. They were ready to challenge the authorities if they went against the Quran or the prophetic legacy."
She said that in Turkey, legal arrangements pertaining to women's rights, including the elimination of violence against women, had been put in place.
"According to the amendments, women and men have equal rights. However, women still need to work very hard since there are very few women in influential and senior positions."
Asan said that Nordic countries had recorded the highest percentage of women's involvement in the national parliaments which stood at 42 per cent, while Asia recorded 18.5 per cent and Arab states, at 13.8 per cent. Nordic countries comprise Denmark, Finland, Iceland, Norway and Sweden.
Prof Datuk Seri Dr Zaleha Kamaruddin, rector of the International Islamic University Malaysia (IIUM), said women should go for higher studies and men should learn to accept women as their equal partners.
"If you are currently in Malaysia and aspire to become an OIC leader, you will reach your goal. I hope that in the next thirty years, you will become the president of your respective countries," she said.
The global summit was organised by the Islamic Conference Youth Forum for Dialogue and Cooperation (ICYF-DC), an international institution affiliated to the OIC, and IIUM. -- BERNAMA
http://www.nst.com.my/latest/don-t-undermine-role-of-muslim-women-in-society-turkish-deputy-minister-1.323567#ixzz2Zndj2YWZ
---------
11 Years Old Yemeni Girl Flees Home to Avoid Marriage: "I'd Rather Kill Myself"
7/21/2013
John Aravosis
It's a disturbing video. 11 year old Nada Al-Ahdal from Yemen talks about how she had to run away from home in order to avoid being married off by her parents.
"They told me that I am engaged, and that my fiancé had already paid them money and brought the engagement ring. They said that I couldn't leave, and even threatened to kill me if I went back to my uncle."
It's shocking how many times this little girl talks about killing herself. No one that young should have thoughts like that.
"I'm not an item for sale, I'm a human being and I would rather die than get married at this age."
"Go ahead and marry me off. I'll kill myself, just like that."
"I decided that I have two choices; to leave or to die. So I chose the first."
http://www.globalreport.org/tv?video=260121
---------
Channel to bring the best out of Saudi women
22 July 2013
Come Thursday, Saudi Arabia will be boasting of having an exclusive satellite channel for women which will not only serve as a platform for Saudi women to showcase their talent and capabilities but also help clear misconceptions about Arab women abroad.
Abdullah Al-Nazawi, the board chairman, launched the channel on Saturday in the presence of Information Minister Abdul Aziz Khoja and Riyaz bin Kamal, president of the General Authority to regulate the audio-visual media.
The channel belongs to Ideas Arabia Limited owned by businessman Sheikh Yusuf bin Awad Al-Ahmadi.
Al-Nazawi said this female-dominated TV satellite channel will project the positive aspects of women's lives in the Kingdom and will also help in changing the stereotype attributed to Arab and Muslim women.
"The objective of the channel is to highlight the skills, traditions, culture, education, Islamic thought and problems facing Arab women in general and Saudi women in particular. The channel will fully conform to Islamic law and will help raise awareness levels among women," he said.
Al-Nazawi said it would also feature programs which would explore women's aspirational needs. The content of the programs will cover a wide range of topics including legitimate software, intellectual, scientific, cultural, political, social, psychological, economic, technical, administrative, educational, medical and other areas related to women's lives.
"We are fully confident that this TV channel will help our women in polishing their lives and understanding modern terms. Women are part of our society and lives and we can't ignore them and their needs."
The channel will also project a positive image of the country. The channel will hire experts and professionals to ensure that the best is brought out of Saudi women.
http://www.arabnews.com/news/458792
---------
Rights Group Blasts Kuwait Over Jailing of Female Activist
July 22, 2013
Kuwait City. Human Rights Watch on Sunday blasted Kuwait over a 20-month jail sentence served on a female online activist for "offending the emir" and urged the Gulf state to end such prosecutions.
The appeals court on Wednesday upheld the sentence on Sara al-Darees for making remarks on Twitter deemed insulting to the emir.
The sentence "further erodes the right to free speech in Kuwait," the New York-based rights group said in a statement.
"The Kuwait authorities over the past year have prosecuted dozens of people for peaceful political statements," said Joe Stork, acting Middle East director at HRW. "The government should tolerate this kind of criticism, not persecute people who dare express it."
At least three youth activists are serving jail terms on similar charges and many others are still on trial, including former opposition lawmakers.
"The government should drop charges against those accused or convicted of crimes solely for exercising their right to freedom of expression, and it should amend Kuwait's criminal code to remove the crime of 'offending the emir'," Stork said.
"Kuwait used to have a better reputation than most other Gulf states in respecting the right to free speech," he added. "But with each case like this, the authorities are lowering themselves to the standards of the rest of the region."
According to the verdict, Darees now has to go to jail unless the Supreme Court agrees to grant her bail until it has reviewed her challenge to the ruling.
Darees, a teacher, is the second Kuwaiti woman to be jailed on charges of insulting Emir Sheikh Sabah al-Ahmad al-Sabah on Twitter.
Last month, the lower court sentenced online activist Huda al-Ajmi to 11 years in jail for posting remarks on Twitter deemed insulting to the emir and calling for the overthrow of the regime.
http://www.thejakartaglobe.com/international/rights-group-blasts-kuwait-over-jailing-of-female-activist/
---------
Dr Aafia Siddiqui can be repatriated, says official
July 22, 2013
Aafia Siddiqui is seen in a February 3, 2010 courtroom sketch in New York City, New York, United States, in this still image taken from video footage on January 18, 2013. PHOTO: REUTERS
ISLAMABAD: The task force on the repatriation of Dr Aafia Siddiqui, a Pakistani national convicted and jailed in the United States on terrorism charges, has recommended that she be brought back to Pakistan through conventions on the transfer of sentenced persons.
For making her repatriation possible, Pakistani authorities would have to sign either of the two treaties allowing such an exchange, the task force formed by interior minister has recommended to the government. The treaties are Council of Europe Convention on the Transfer of Sentenced Persons and Inter-American Convention on Serving Criminal Sentences Abroad.
"The government has agreed to sign both treaties for which the prime minister's approval is awaited," said an interior ministry official. The ministry official said the Foreign Office would initiate the process of signing the treaties with the US after approval from the prime minister. "It would not take too long once the government decides".
http://tribune.com.pk/story/580129/task-force-proposals-dr-aafia-siddiqui-can-be-repatriated-says-official/
---------
Iranian Women's Rights Activist Defiant Even in Death
July 22, 2013
By: Roja Heydarpour for Al-Monitor Posted on July 21.
Women pallbearers carried Dr. Shahla Farjad, a human and women's rights activist who was imprisoned under the regimes of both the Shah and the Islamic Republic, to her final resting place in Tehran on July 9, 2013, a final act of defiance in a country where men traditionally perform death rites.
From Tehran to Toronto, Kabul to Berlin, Afghan refugees, widows, orphans, grieving mothers of political prisoners, scholars and intellectuals came out of the woodwork to tell previously untold stories about Farjad, a tiny, self-effacing woman.
"Even when she cried, people couldn't tell she was crying," said Nasrin, who worked side-by-side with Farjad for over 15 years. "She would wipe her tears from under her glasses." In fact, she would probably have been slightly embarrassed by the global showing of praise.
Farjad, who was 65 when she passed away from cancer, was a medical doctor who was creative with the notion of "making rounds." She would visit Afghan refugees and disempowered women for whom she provided education, books, basic supplies, money and hope on a daily basis. From the posh parts of Tehran in the north, to the poorer sections in the south, not to mention remote villages across the country, Farjad spent her life creating schools and community centers for the disavowed and underprivileged.
Most recently, she worked closely with a group in the south of Tehran for the wives of addicts and widows, which did not just include providing basic education and aid, but also revealing to them a world outside of what they knew.
"A trip to a park in the north of the city was like a trip to Europe for them," said Nasrin. "When she was too sick to go, she would ask me to go."
Farjad was among the first to go to Bam, a city in the south of Iran that was reduced to rubble by an earthquake in 2003. Since then, she created an agricultural trade school for girls who already had little and were left with nothing after the quake. Some of these girls would go on to university in Tehran, where they became another stop on Farjad's rounds.
Her work with Afghan refugees in Iran made a particularly deep impact. Afghanistan is still the world's top producer of refugees, according to UNHCR, with nearly 2.6 million across the globe. Iran hosts 95% of these displaced peoples, but does not always provide them with basic services, thus creating a permanent underclass.
Farjad, who worked with UNHCR, went about establishing schools for the kids of refugees, who would otherwise not have been allowed into the education system in Tehran.
She built makeshift classrooms in any space. In 2002, I taught English to Afghan refugees for Farjad, who was a relative. She eased me into classes with lessons for women working on a children's literature encyclopedia in a wealthy neighborhood. From there, I went to the sparse living room of Afghan women who had to abruptly stop medical school training once a week. Eventually, the most challenging class was in a dusty clay structure on the outskirts of western Tehran, where scores of families with little to no resources lived.
In addition to English classes, Farjad empowered mostly women and children who took advantage of her services with computer courses and training in sewing and handicrafts that they could later sell. Anyone who knew Farjad well owned a pair of knit booties made by Afghan refugees.
It was no wonder that after her death, Farjad's loved ones discovered letters from women who considered her mother. Farjad was a petite woman, who never adorned herself with jewels or makeup, never married and never gave birth to a child of her own, but the word "mother" continued to be used to describe her — from the girls she worked with to her colleagues. Nasrin, who is only three years older than Farjad considered her a daughter, even if Farjad also mothered her.
Mothers for Peace, an organization for the mothers of political prisoners, was another organization she was closely affiliated with. Farjad's own stints behind bars, three years under the Shah and three years under the Islamic Republic, gave her an intimate knowledge of the pain that these mothers experienced.
Nahid Nazemi, Farjad's cellmate under the Shah and a relative, remembers wearing oversized prison-issued plastic slippers and uniforms in Cell 23, which was adjacent to the bathroom. They were initially given a sentence of 18 months for "kharabkaree," but were left there for nearly three years, always under the threat of being "sent to the desert to rot."
Farjad's own brother, Mehrdad Farjad, was executed during the execution binge of the late 1980s. Her other brother, Farhad, is in exile in Germany for his political activities.
Farjad was a different soul though. She was more a humanitarian than a political activist. At the memoriam in Berlin, her brother made this distinction. He said that there are two sets of activists, the ones who choose the path of political theory, and the ones who choose the humanitarian one. While Farjad was both, she clearly chose humanitarian work as the stronger vessel.
Before she passed, despite being sick and feeble, she visited the mass grave for political prisoners where her brother lays and said she was on her way to join them.
Farjad's modesty was partially strategic as well. After being monitored by government for decades, she knew it was best to keep a low profile. Most recently, after the 2009 protests, authorities re-opened her case, sending Farjad into hiding for about a year, until the movement died down. "She always wanted to be quiet so that she could go about her business without problems," said Nasrin, through her tears. "I don't think I even realized what an enlightened person she was."
As burn victims who survived abusive husbands to political prisoners like Nasrin Soutoudeh continue to remember Farjad, former activists and revolutionaries have taken the time to reflect on their own lives since starting a revolution. Many have fled the country and re-settled in the United States or Europe. Some are doctors, some small-business owners, some blue-collar workers. Her passing and the work she did has reminded them of a time when they worked as agents for change.
"We were all politically active, but only she was a human rights activist," said one relative. "Which one of us would jump up and go to Bam? She transcended herself and her existence. We thought we were activists. We were not."
Nasrin, who has been at Shahla's side during all of the work, plans to continue to make the rounds. The night before she died, Farjad asked her why she was at her bedside and not working. While Nasrin did not dare say she wasn't out because she was with her, she later answered the question.
"I didn't want to accept that I had to go by myself."
Roja Heydarpour is culture editor at-large for Al-Monitor. She has written and edited for The Daily Beast, The New York Times and The Times-Tribune. On Twitter: @rojarojaroja
http://www.al-monitor.com/pulse/originals/2013/07/shahla-farjad-a-leading-iranian-womens-rights-activist-dies.html#ixzz2ZoR5vmMb
---------
URL: https://www.newageislam.com/islam,-women-and-feminism/new-age-islam-news-bureau/non-muslim-hijab-draws-racist-attacks/d/12700