New Age Islam News Bureau
30 May 2019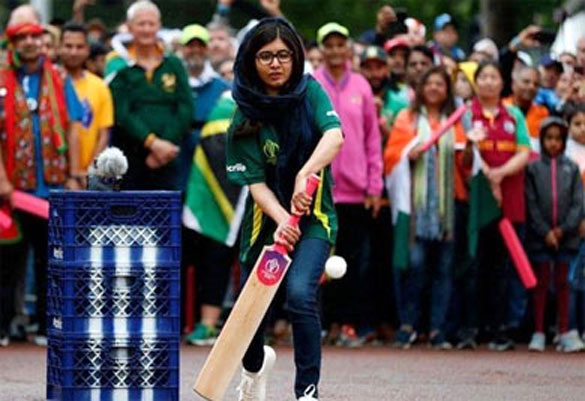 Many Indian fans believe Malala Yousafzai is portraying a negative image of Pakistan at CWC19 opening ceremony_Twitter
------
• With Freedom Fields, Director Naziha Arebi Depicts the Courage of a Female Soccer Squad in Tripoli
• Leicester Islamic Faith School Told To Stop Separating Girls and Boys
• Swedish Municipality That Banned Jihadis Outlaws Islamic Headscarves for Girls
• Hypocrisy Unveiled When Western Women Embrace Tools Of Oppression
• Sexual Abuse Claims Could Further Sideline Afghan Women, Say Activists
• UN Women Praises Egyptian Government's Decision To Implement UNSCR 1325
Compiled by New Age Islam News Bureau
URL: https://www.newageislam.com/islam-women-feminism/nobel-winner-malala-represents-pakistan/d/118750
--------
Nobel Winner Malala Represents Pakistan at Cricket World Cup Opening Ceremony
30.05.2019
Each participating nation had one icon and a former cricketer representing the country at the sporting event's opening. India was represented by Bollywood actor Farhan Akhtar and former cricketer Anil Kumble.
New Delhi (Sputnik): Nobel laureate Malala Yousafzai who had come to represent Pakistan stole the show at the Cricket World Cup 2019 opening ceremony on 29 May at The Mall in front of Buckingham Palace. She was present along with another Pakistani cricketing great, former team captain Azghar Ali.
World Cup 2019 opening party begins at The Mall—in front of Buckingham Palace in central #London!#WorldCup2019 #CWC19 pic.twitter.com/rla5ILO5Hy
Malala was treated to a huge contingent of Pakistani cricket fans who had gathered at the venue.
The champion for women's rights even played cricket at the opening ceremony in the 60-second Challenge matches between teams from the participant nations.
The Nobel laureate paid tribute to the Pakistani women's cricket team during the opening ceremony.
The 2014 Nobel Peace Prize winner, social activist Malala Yousafzai has been championing the cause of education among girls. She is also a strong advocate for women's sports, especially Pakistan's women's cricket team. The Women Cricket World 2014 was named after Malala in tribute to her activism.
Malala was seen posing with Indian representative actor Farhan Akhtar at the function.
The Cricket World Cup is organised every four years by the International Cricket Council (ICC). The 2019 event is 12th edition of the Cricket World Cup, and will take place from 30 May to 14 July 2019 in England and Wales.
https://sputniknews.com/asia/201905301075464723-malala-cricket-world-cup-pakistan/
--------
With Freedom Fields, Director Naziha Arebi Depicts the Courage of a Female Soccer Squad in Tripoli
By Tom Westcott
30 May 2019
Libyans love football - but the idea of their own women playing the game, especially in an international arena, is far more complex.
The country's only female team was formed before the uprising of 2011 but had never played a full-length competitive match. The initial euphoria following the overthrow of Muammar Gaddafi seemed to be the perfect opportunity for the women to be accepted as national representatives abroad.
But the dream of playing an international game was thwarted at every turn, as the Libyan-British documentary Freedom Fields shows.
The feature shows how the team are obstructed by the Libyan Football Federation. By timing. By growing conservative feelings. By football pitches turning them away after receiving threats. By constantly changing legislation, preventing women from travelling abroad without a male guardian. By airport and border closures. By war.
Libya collapses into chaos, yet the the women press forward with hope and determination, despite the endless, often seemingly insurmountable obstacles, holding fast to their shared ambition to play the game.
Freedom Fields is edgy, carrying the audience into a increasingly complex space, yet one that is constantly illuminated by the smiles and wit of the women. And, despite thoe darker moments, it remains a story of human endeavour, infused with hope and lined with dark Libyan humour.
Naziha Arebi, the film's Libyan-British director, says: "It's not actually about the football. The moments when they are on the pitch is when their freedom manifests. When you live in an environment that is claustrophobic, small moments of freedom mean so much more."
The resulting documentary, which opens in the UK on 31 May, is as much about growing up, hope and trying to live normal lives during Libya's tumultuous descent into chaos, as it is about football.
The goal is to represent Libya
Arebi was inspired to make the film after returning to Libya in 2011. She had only visited the country once before, with her father in 2010, but had long been fascinated by her North African roots.
She recalls: "I heard about this women's football team, who no one had ever seen play a match and, partly because I used to play football myself when younger, I thought: 'They sound cool, I'd like to hang out with them.'"
"It was hard", she says, "to find them, but eventually I did and they were brilliant. They were so diverse, from different backgrounds, different places in Libya and were just very different people."
The film's three main characters reflect Libya's ethnic diversity: there is Fadwa, a pro-revolution, English-speaking oil engineer from Tripoli; Halima, a medical student with family roots in Libya's south; and Nahma, an internally displaced person (IDP) living in a makeshift camp on the outskirts of the capital after her community - widely viewed as pro-Gaddafi - were uprooted from their hometown of Tawergha.
Despite assorted political views and the growing inequality many Libyans felt after 2011, the team is united by a passion for football and a shared goal: to represent their country on the pitch.
But after a year of filming, it became apparent that the story Arebi originally wanted to tell – the positive post-2011 journey of the Libyan women's football team towards their first international match - wasn't going to happen.
"When the girls were stopped from attending a trip in 2013, people working with me thought that was the end of the film," says Arebi, "that I should stop and, actually, I had enough footage for a film. But that wasn't the story I wanted to tell."
Instead, she continued filming, even after Tripoli's 2014 civil war left the international airport destroyed, the democratically-elected government chased out of the capital and Western embassies and NGOs relocated to Tunisia.
"In 2014, when everyone was leaving, it was especially important that I didn't leave, precisely because everyone else was. I'm not brave, it's these women who are brave.
"And making a film like this, you can't just drop in and out of people's lives, you need the patience to allow things to unfold with time, because only with time can you get a true understanding of people and place."
A story unfolds
Arebi's decision to persist turned what should have been a two-year project into a seven-year journey, five years of which were spent filming.
For several periods of time, the disheartened team stopped training altogether. That was when, Arebi says, she committed to telling a more complex story.
"I had to adapt and trust that their stories were interesting and rich enough even without the football. There were periods when nothing was happening except them living in a place that was spiralling into chaos but, in that time, they grow up, and some of the most engaging character-revealing scenes happen."
Freedom Fields also abounds with subtle reflections on Libyan society. The women follow international matches - often shown in the street in football-mad Libya - from their cars, their ears pressed to the stereo, or at home.
"The football pitch and the car became our space for freedom as we, as women, increasingly lost the public sphere," Arebi explains. "It would be easy with a film like this to slot it into a cliche of Islamic extremism where everyone was against them, but there were also so many people supporting them. It's actually a cultural issue, not a religious one, and also a 'fear of the unknown' and, for me, it was very important to explore those nuances.
"Women in Libya have so many obstacles, but there are other, more general issues that everyone faces, such as being unable to get a visa just because you're Libyan, not having freedom of movement because of war and security, or not having cash, water or electricity."
Discussing gender issues, Arebi says: "I wanted to show the larger complexities - that there are also good men and bad women - because binary narratives from the MENA region are polarising and destructive and I don't want to be part of that system."
Throughout Freedom Fields, Arebi shows how the female footballers handle their own issues. Away from the drudgery of daily life in the IDP camp, Nahma wistfully longs to see Tawergha while pursuing her dream to be a Libyan sportswoman. Aside from football, she is also training to be an Olympic runner – but although she qualified for the Rio Olympics in 2016, she was unable to attend.
Between studying to be a doctor, working in a pharmacy and training, often alone, Halima dreams about marriage - but, as Fadwa wryly notes, none of the former players who married come back to the pitch, a contention that is challenged later in the film.
The women also shift their focus from their own goals to Hera, an NGO they establish for young people, using sport, team spirit and fun to help change Libyan society.
The complexities of filming in Libya
Libya has gained a reputation for being increasingly obstructive towards journalists and particularly hostile to cameras since 2014. It was a problem to which Freedom Fields was not immune.
"Directly after the revolution, there was no problem filming. Everyone wanted to tell their stories and be filmed. It was a naive and beautiful time," says Arebi. "But gradually, as the situation became more complex and people's fear increased, that changed."
This is reflected in the documentary which occasionally it becomes audio-only, as the camera is hastily pushed out of sight at checkpoints or casually carried at thigh-level.
Some of the scenes were filmed during clashes: as the story progresses, so the distant sound of gunfire becomes an increasingly familiar backdrop, as Arebi evocatively depicts the confusion of living with unexpected intra-militia fighting.
"War is something you feel as much as experience," she says. "When you're in the situation, you feel the tension in the streets, you hear fighting in the background. I wanted to show this, show the normality of war, not the sensationalism. In real life, people often don't know what's happening and, if the girls don't, I thought, why should the viewer?"
Being dual nationality gave Arebi advantages: despite carrying a camera, she was viewed as "bint biladi" or "daughter of the country", and many Libyans worked on different parts of the film.
But she admits that, if she was only Libyan, then she probably couldn't have made the documentary, not least because her dual nationality meant she - crucially - knew how to navigate the minefield of applying for funding grants.
The film is co-produced by SDI Productions, the feature production arm of the Scottish Documentary Institute, and HuNa Productions, a Libyan-based female-led collective co-founded by Arebi and Huda Abuzeid in 2012.
"I could access things pure Libyan filmmakers could not," Arebi says. "But the industry has to change because the power structure in which you can make, fund and distribute a film is so Western-centric, which makes it a kind of neo-colonialism."
Despite Arebi being half-Libyan, Freedom Fields is still one of the very few features shot by any Libyan. The two best-known films made under Gaddafi - The Message (about the birth of Islam) and Lion Of The Desert (an epic about Omar Mukhtar, who led a 1920s revolt against colonising Italians) - were shot by Syrian filmmaker Moustapha Akkad.
The reaction of young fans
Freedom Fields has not yet been shown in Libya. There are no functioning cinemas in the country and a civil war currently rages on the capital's outskirts - but some private community and NGO screenings are planned.
The documentary debuted at Toronto International Film Festival last year before travelling to festivals in London, Stockholm and Minneapolis among others.
Arebi has found the response among the Libyan diaspora to be generally positive and often heartwarming. She recalls how one female student made a 16-hour round bus trip across Germany just to watch the film; and a group of Libyan girls who travelled hours, not once but twice, for a screening in Canada.
"There are no Libyan films," says Arebi, "so Libyans haven't seen themselves portrayed, or heard the Libyan dialect spoken on the big screen and that has been inspiring even for people who aren't into football."
Arebi says Freedom Fields has also been inspiring for young Libyan film-makers, some of who she is now in regular contact with.
"There's no shortage of stories in Libya, or people to tell them, but it's just hard. But, you'll see, there will be more films coming out of Libya in the next few years."
https://www.middleeasteye.net/discover/womens-football-soccer-libya-freedom-fields
--------
Leicester Islamic Faith School Told To Stop Separating Girls and Boys
29 May 2019
A school has been ordered by the government to stop segregating male and female pupils.
The Imam Muhammad Adam Institute in Leicester was rated "inadequate" by Ofsted inspectors who observed the practice during a visit in March.
The independent school, which has 346 pupils, was warned it was in breach of the Equality Act of 2010 by teaching girls and boys at separate sites.
Inspectors also criticised pupil safety at the Islamic faith school.
Ofsted's report said the school must end its "unlawfully discriminatory practice of strict segregation by sex".
It said: "Pupils in Years 5 and 6 and in the secondary provision are segregated by sex for both their lessons and their social time. They are taught at separate sites and do not have the opportunity to mix.
"The policy causes detriment to pupils in that they are unable to mix or to learn together when at the school. This limits pupils' social development and prevents them from preparing effectively for life in British society."
Inspectors also found a science room at the secondary girls' school site was unsafe and a fire exit had not been properly checked.
The school was ordered to end its "strict segregation" policy immediately and "rapidly" improve pupil safety.
The report comes after an Islamic faith school in Birmingham was found guilty of sex discrimination in 2017.
A bid by the Association of Muslim Schools to appeal against the ruling was rejected by the Supreme Court.
The BBC has invited the Imam Muhammad Adam Institute to respond to Ofsted's criticisms.
https://www.bbc.com/news/uk-england-leicestershire-48446674
--------
Swedish Municipality That Banned Jihadis Outlaws Islamic Headscarves for Girls
30.05.2019
As municipality chairman Christian Sonesson says, Staffanstorp is "one of the few municipalities openly critical of the state migration policy" and has chosen to go "its own way".
Staffanstorp Municipality in southern Sweden has decided to introduce "zero tolerance" for Islamic head garments for young children, Swedish Radio reported.
The ban, which is part of Staffanstorp's new integration plan, has been adopted in a revised form. Compared with the draft, the word "veil" has been replaced with a word that can be translated as "headscarf" or "headdress", and the ban applies to kids until the sixth grade.
Christian Sonesson, the chairman of the municipal council, has argued that putting a religious veil on a child was part of the so-called "honour culture".
"Girls and boys, men and women have the same rights, obligations and opportunities and must participate in education and working life on equal terms. These are important Swedish values that should be covered by everyone who lives here", Sonesson wrote on Facebook.
Therefore, he noted, the municipality doesn't condone separate bathing times for men and women or gender-separate teaching and doesn't accept veils on children in preschool and compulsory school.
Christian Sonesson has also presented a number of integration proposals. Among other things, the municipality only intends to provide new arrivals with housing for as long as they receive the so-called "establishment allowance", that is for a period of two years.
Sonesson also wants to introduce an "obligation to integrate", which means that the new arrival has a responsibility to adapt to the prevailing laws, rules, norms, and values. Among other things, it implies learning Swedish, "making themselves employable", acquiring a residence of their own and "understanding and respecting Swedish society and Swedish values". If the newcomer fails to live up to the requirements, the municipality will impose sanctions, for instance by shortening the contract period for the residence that the person has been assigned.
The "headdress ban" has polarised the Swedish public. On social media, some ventured that the municipality has "lost it completely" and called on boys to come to school wearing a headdress in protest.
Others, by contrast, were very supportive and called Staffanstorp "the country's best".
The Social Democrat opposition in Staffanstorp called this an artificially inflated "non-problem" and pledged to appeal.
As Sweden's Muslim community becomes more prominent, the acceptance of various Islamic headdresses has become an increasingly hot topic for debate, with calls for bans being heard every now and then. At present, however, no nationwide restrictions are in place. Last year, the Green Party's Leila Ali Elmi became Sweden's first hijab-wearing member of parliament.
Earlier this year, Staffanstorp, which is jointly governed by the centre-right Moderates and the right-wing Swedish Democrats, became Sweden's first municipality to completely reject helping Daesh* terrorists "re-integrate" into society using public funds. No resources should be wasted on helping the terrorists, the municipality said blankly, provoking a storm of criticism.
In 2016, when the Swedish government decided that all municipalities would be forced to receive and arrange housing for new arrivals, Staffanstorp chose not to buy new housing or build temporary modular housing, and instead solved the problem allowing new arrivals to live in caravans.
https://sputniknews.com/europe/201905301075464127-sweden-islam-headscarves/
--------
Hypocrisy Unveiled When Western Women Embrace Tools Of Oppression
30 May 2019
The hijab, and other Muslim veils, such as the niqab, burqa and chador, is imbued with deep symbolism and represents modesty culture, which requires women to cover up, marking those who don't.
At its core, modesty culture is deeply anti-women.
There's good reason why the majority of Muslim women in the West choose not to wear the hijab and why women's rights campaigners living under Islam fight, at great personal risk, against its imposition.
Women are not risking their life and liberty to protest against a piece of cloth, it represents much more and we betray these brave women when we embrace the hijab as a symbol of diversity and harmony. That's the last thing it is.
Women in countries such as Iran, Saudi Arabia and Qatar are required to cover up by law or social convention and there are grim repercussions for those who fail to comply.
In 2019 there are still thousands of women in the Muslim world arrested, beaten and imprisoned for protesting against compulsory veiling.
Earlier this year we learned Iranian human rights lawyer Nasrin Sotoudeh was sentenced to 38 years' prison and 148 lashes for defending Iranian women who have been arrested and charged for removing their hijabs.
The Washington Post editorial board wrote of her plight: "The prosecution of Ms Sotoudeh is outrageous. Her crime? She defended women being prosecuted for peacefully protesting Iran's compulsory hijab law by removing the head covering in public."
Sadly, Sotoudeh's case is not unique.
Women living under modesty culture requirements risk arrest by authorities and far worse from vigilantes if they do not abide by strict codes imposed on them.
Veiling was invented by men and imposed upon women to control, separate and subjugate.
To this day it's forced upon millions of oppressed women. It was forced on me as a child and I can only shake my head when I see empowered women in the West fetishise these tools of oppression.
Many in the Muslim community applauded non-Muslim NZ women donning veils but there was also been stiff opposition from some women who wear the hijab and see the campaign as "tokenistic" and a form of "cultural appropriation".
Women's rights campaigner Darya Safai was disappointed by the use of a "symbol of discrimination" that many women see as authoritarian and repressive. "This is the WRONG way to show solidarity!" she tweeted.
Founder of Free Hearts Free Minds Yasmine Mohammed, who was disowned and threatened by her family when she decided to stop wearing the veil in Canada, said NZ women who embraced the hijab should feel ashamed. "We all deserve freedom ... not just you," she wrote. "STOP supporting our subjugation."
Anti-hijab activist Maryam Shariatmadari, who in the past has been imprisoned by the Iranian regime, also hit out at privileged Western women who are wilfully blind to the symbolism of the hijab.
"The West unintentionally help fundamentalists to suppress women like me when they glorify the hijab and make it the symbol of harmony," she posted along with a picture of Jacinda Ardern in a hijab and one of herself in Iran being assaulted for not wearing the veil.
Meanwhile, ABC feminists uncritically praised the celebration of the hijab with no consideration of the deeper implications. As usual, they were too preoccupied with moral posturing to worry about what message was being sent to those living under genuine patriarchal oppression.
I find it utterly bizarre to see supposed feminists adopting a tool of oppression rejected by the majority of Muslim women in the West and fought against by women's rights campaigners in the Muslim world.
It was pleasure to have the man labelled the most prominent intellectual in France, philosopher Bernard-Henri Lèvy, on Outsiders on Sky News Australia last Sunday. He spoke about the rise of antisemitism in France, socialism and his opposition to full face veils:
https://www.heraldsun.com.au/blogs/rita-panahi/hypocrisy-unveiled-when-western-women-embrace-tools-of-oppression/news-story/392fa39f0465bb94fc972271ba088d03
--------
Sexual Abuse Claims Could Further Sideline Afghan Women, Say Activists
29.05.2019
A former Afghan government official has leveled allegations of sexual abuse in the presidential palace, claiming some members of President Ashraf Ghani's administration were trading government positions for sexual favors. Last week's allegations have sparked an outcry among female government officials and rights' activists in Kabul.
The story took Afghanistan's social media scene by storm after clips of General Habibullah Ahmadzai's interview with a private television station in Afghanistan was widely shared on different platforms. Ahmadzai — former security adviser to President Ghani, who resigned from his post to run an unsuccessful campaign for a parliamentary seat — claimed that certain officials in Ghani's presidential palace were asking women for sexual favors in return for government posts.
Without providing any evidence, he claimed that some "people were working systematically to promote adultery in the palace." Mariam Wardak, another former government official, backed Ahmadzai claims in her own interview with an Indian television station. Later, she backed out of her position, saying she only wanted to discuss the existence of corruption in Afghanistan.
Ghani's government quickly responded by ordering an investigation into the claims by Ahmadzai.
"The attorney general has set up a commission to look into the allegations," Afghan attorney general's spokesman Jamshid Rasuli told DW.
"In order for the commission to complete its investigations, we have asked Mr. Ahmadzai to submit documents that support his claims by the end of this Thursday," he added.
'Painting all women with the same brush'
It is not the first time allegations of sexual abuse have surfaced in Afghanistan. Last year, the head of the country's football federation and five other officials were suspended by FIFA after some players of the women's football team accused them of sexual and physical abuse.
The players said that the allegations had made life more difficult for them, as their families were asking them to stop playing football. Recent allegations, female government officials say, have had a similar effect on them.
"Some people even shared my pictures on social media, asking their friends' opinions on what sexual favors I might have offered to get my job," Zarifa Ghafori, one of the only two female mayors in Afghanistan, told DW.
"I was hurt by the comments and the discussions that emerged as a result," she said, insisting that it was already extremely difficult for women to hold public offices in Afghanistan's traditionally male-dominated society.
"Painting all women with the same brush and leveling vague allegations on media without going to court will make life more difficult for women who choose to work for the government," she added.
Most Afghan men in this traditionally conservative society still hold the view that women need to stay at home, and frown upon those who go to work. Though Afghan women today enjoy far greater freedom than they did under the Taliban regime from 1996 to 2001, when females were barred from going to school and working outside the house, they continue to suffer from widespread gender discrimination and an unequal access to education, health care and economic resources.
Blaming the victims
Many users posted pictures of female government officials with demeaning texts shortly after the clip from Ahmadzai's interview was shared on social media platforms.
"Everyone is talking about how some women may have traded sexual favors to occupy government positions instead of condemning potential perpetrators," Kabul-based women's rights activist Mahboba Rasuli told DW.
In case these allegations are proven to be true, investigators should share their findings in a way that does not put other female government officials under social pressure, she insisted.
Furthermore, the ongoing discussion could harm women's positions in the upcoming peace talks with the Taliban, she argued. "The allegations are coming out at a very critical time," Rasuli said in reference to the ongoing peace talks in Doha between Taliban and US government representatives. Activists are demanding talks on women's representation with the Taliban.
"What message does it send to Taliban if people keep making such accusations on media instead of going to courts and through the system," Rasuli asked, adding, "Taliban could simply oppose the idea of women's representation by questioning their integrity."
https://www.dw.com/en/sexual-abuse-claims-could-further-sideline-afghan-women-say-activists/a-48967025
--------
UN Women Praises Egyptian Government's Decision To Implement UNSCR 1325
May 29, 2019
The United Nations Entity for Gender Equality and the Empowerment of Women (UN Women Egypt) praised the decision of the Egyptian government to develop the country's first national action plan on the implementation of the United Nations Security Council Resolution (UNSCR) 1325 on Women, Peace and Security and subsequent resolutions.
UN Women Egypt said in a statement that the decision reaffirms the commitment of the government of Egypt to implementing the constitutional provisions that pertain to women's leadership and decision-making through the implementation of the first-ever National Strategy for the Empowerment of Egyptian Women 2030, endorsed by President Abdel Fattah al-Sisi.
"Among the main goals of the strategy is to encourage all forms of women's political participation and leadership while capacitating them to succeed in their missions through the engagement of all relevant actors, including the civil society," the statement said.
The UNSCR 1325 resolution reaffirms the important role of women in the prevention and resolution of conflicts, peace negotiations, peace-building, peacekeeping, humanitarian response and post-conflict reconstruction and stresses the importance of their equal participation and full involvement in all efforts for the maintenance and promotion of peace and security.
According to UN Women, the resolution also calls on all parties to take special measures to protect women and girls from gender-based violence, particularly rape and other forms of sexual abuse, in situations of armed conflict. The resolution provides a number of important operational mandates with implications for member states and the entities of the United Nations system.
"Engaging women at all levels of decision-making is the cornerstone based upon which Egypt's Vision for the Empowerment of Women 2030 was founded. Egypt's forthcoming National Action Plan on Women, Peace and Security 1325 will be developed on this premise: the participation of women in prevention and protection," said President of the National Council for Women (NCW) Maya Morsy.
https://egyptindependent.com/un-women-praises-egyptian-governments-decision-to-implement-unscr-1325/
--------
URL: https://www.newageislam.com/islam-women-feminism/nobel-winner-malala-represents-pakistan/d/118750
New Age Islam, Islam Online, Islamic Website, African Muslim News, Arab World News, South Asia News, Indian Muslim News, World Muslim News, Women in Islam, Islamic Feminism, Arab Women, Women In Arab, Islamophobia in America, Muslim Women in West, Islam Women and Feminism