New Age Islam News Bureau
29 Apr 2013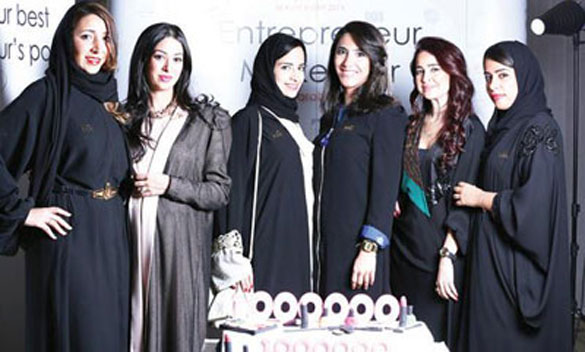 Photo: These Stylish Saudi Women Entrepreneurs Mean Business (AN photo)
----------
• Art auction in Bali to support centre to aid sex assault survivors
• Non-Muslim Women Face Hardship to Enter Job Market in Karachi
• Nawaz Sharif's Daughter Tests Poll Waters
• These Stylish Saudi Women Entrepreneurs Mean Business
• Low Salaries Keep Saudis Away From Nursing Jobs
• BIP, Saudi Arabia to Investigate Sexual Abuse of Girl by Father
• Mauritanians Protest Violence against Women
• Egypt Women's Groups Rally against Info Minister Accused of Harassment
• Princess Hessa to Honour Long-Serving Ministry of Health Women Staff
• 'Release Of Dr Aafia No Priority for Rulers'
• Saudi film, 'Wadjda,' gives hope for women's rights
Compiled by New Age Islam News Bureau
URL: https://newageislam.com/islam,-women-and-feminism/new-age-islam-news-bureau/no-jeans,-t-shirts-for-amu-girls,-v-c-tells-his--daughters-/d/11343
-------------
No Jeans, T-Shirts for AMU Girls, V-C Tells His 'Daughters'
Apr 29, 2013
Deepak Gidwani
Citing varsity tradition, administrator suggests boys should wear Sherwani and girls Shalwar suit or Burqa.
Girl students at Aligarh Muslim University (AMU) would not be able to wear jeans and T-shirts anymore while the boys would have to don a Sherwani if they want to meet the vice-chancellor. This is part of the latest sartorial code ordered by vice-chancellor Lt Gen Zameeruddin Shah, a retired officer of the Indian Army.
In a circular put up on the notice board, the V-C has asked the students to dress decently in keeping with the glorious traditions of the university. Shah has presented himself as a responsible "guardian" and addressed the girl students as his daughters. "I appeal to my daughters that they should dress according to the glorious traditions of the university," he states.
That means that jeans, T-shirts and other casual wears are out and the girl students are expected to be dressed in Shalwar-suits or a 'Burqa' which are common on the campus.
The V-C has not specified what the girls should wear, but has made his diktat quite clear.
He has called upon the boys also to uphold the dignity and prestige of the historical university. In fact, he has clearly said that he would meet only those students who wear a Sherwani. Wearing Sherwani is already a tradition at the university.
In the circular, Shah also states that students who do not have a Sherwani could borrow it from their friends or classmates. He has made it clear that wearing Sherwani would be obligatory at university programmes.
That is not all. The V-C has also asked boarders not to keep motorcycles. He has backed up his order with the reasoning that boys who can keep bikes can surely afford staying on rent outside the campus. The V-C's move is also reported to be aimed at curbing the activities of a "bikers' gang" which has been active in the university.
Besides, the V-C reasons that walking would benefit the students' health and would also reduce discrimination between rich and middle class students. Shah is also contemplating writing to the students' parents asking them not to buy bikes for their children.
http://www.dnaindia.com/india/1828235/report-no-jeans-t-shirts-for-amu-girls-v-c-tells-his-daughters
-------------
Art auction in Bali to support centre to aid sex assault survivors
BY AGNES WINARTI
2013-04-29
The Bali Women Crisis Center (BWCC) has joined hands with Balinese artists to seek funding from an art exhibition and auction titled "Women In Action" at the Museum Pendet in Ubud, Gianyar.
The exhibition, which will run until May 5, features around 50 paintings produced by 20 children from the Sanggar Anak Tangguh organization, 13 women painters represented by the Seniwati Gallery as well as the photographs of
I Nyoman Wija.
"Part of the auction's proceeds will be donated to the BWCC to fund our operations," event organizer and BWCC office manager Luh Putu Kusuma Ririen said on the sidelines of the auction on Sunday.
Since it was established on Sept. 3, the center has received 30 reports of violence against women and children throughout Bali. Most of the complaints involved allegations of domestic abuse or statutory rape.
The BWCC was established by women's and children's rights activists and the survivors of domestic violence to advocate for domestic violence survivors and to provide them counselling.
Ririen said that she, as a victim of domestic violence herself, knew that many Balinese women were clueless about their rights after they were abused at home.
"I was fortunate, because I have many women's activist friends, so it was not hard for me to seek support when I was fighting for custody of my child after my divorce," Riren said.
"However, I found that many other women were facing a similar situation [and] were not aware of their legal rights — even where and how to report their cases. We are aiming to provide holistic support — more than just administrative matters — and to facilitate so that they have closer access to the authorities that handle such cases, including the police and LBH Apik [the Women's Legal Aid Foundation]" Ririen added.
The founders of BWCC comprise Ni Nengah Budawati, an advisor to the center and the director of LBH Apik Bali; Ni Nengah Marjani; and Ni Ketut Madani Tirtasari, who is also the director of the BWCC.
"Beside providing counselling to the women and children, we are also initiating counselling for husbands who are domestic violence perpetrators, so that they too can heal themselves and stop their abuse, once and for all," Ketut said.
Ketut said that existing women's and child's rights organizations had difficulties in providing victims with material and psychological support.
The BWCC, she said, would actively reach out to victims who have received less support. "Instead of waiting for the victims to come to make a report, we will proactively go out and offer our assistance."
Among the recent cases handled by the BWCC was the incident of the 14-year-old girl who married the 39-year-old father of her unborn child in Jehem village in Bangli regency, Ketut said.
Besides counselling, the BWCC contributed material assistance to the girl who is currently recuperating from a miscarriage.
http://www.thejakartapost.com/bali-daily/2013-04-29/art-auction-support-center-aid-sex-assault-survivors.html
----------
Non-Muslim Women Face Hardship to Enter Job Market in Karachi
By Amar Guriro
Apr 29, 2013
KARACHI: Due to rising religious extremism in Pakistani society, generally, the religious minority and particularly the Hindu women are facing difficulties to enter the job market, even when looking for an odd job, revealed a detailed study conducted by Human Rights Commission of Pakistan (HRCP)-Sindh chapter's intern and young researcher Seema Rana.
"Non- Muslim women of Pakistan often face more disadvantages compared to men of the same class. Social and religious factors have further restricted them from entering the job market, even though with increased economic pressures we see more women from all classes entering the workforce," said Rana.
In her report, she conducted a detailed survey and composed a list of the problems that non-Muslim women from Lyari town are facing to get jobs in the market.
When asked about their occupations, there were quite a diverse range of replies. 32 percent of women were working as maids at houses and were responsible for cleaning and sweeping houses. 53 percent of the respondents were employees in factories and carried out the tasks of packing and cleaning. Nine percent of them were employed as teachers while only three percent worked in beauty parlours as beauticians.
The study found that those working in the factory received Rs250 per day while the earnings of those in other occupations ranged anywhere between Rs6,000 and Rs10,000. At least 41 percent of these women work 8 to 10 hours a day, 19 percent work 10 to 12 hours while the rest work less than 8 hours in a day.
However, despite the time and effort that these women put in, 79 percent of them said their earnings contribute only 10 to 25 percent of the total household expenses.
The study further assessed that the employer or supervisor behave in a strange way and often they face discriminatory behaviour due to their 'Non-Muslim' status.
During the study, when asked about employer and supervisor attitude, 54 percent of them said it was moderate and 37 percent said it was good whereas eight percent complained of bad attitude. They were also asked whether it is difficult for them to get leave from work during their religious festivals, to which 59 percent of the women said yes.
When asked about their working conditions, and whether their physical occupation caused them any illness or damage, 85 percent of these women replied with an affirmative. Of these 85 percent, 50 percent of the women suffered from back aches and complained that their hands and feet hurt after work, while 20 percent also complained of breathing issues due to unfriendly factory environments.
The next aspect of the questionnaire focused on the general behaviour of the employees working with these women and their attitude towards their religious differences. Hence, they were asked regarding the attitude of their fellow workers.
They were asked if people working with them preferred eating with them, and 51 percent replied in affirmative, while the rest said that they always ate separately. They were also asked whether their staff mates or co-workers degraded their religion, to which 64 percent of the respondents agreed, stating that their religion is always looked down upon, whereas 36 percent did not feel that way.
When inquired about whether they were ever told or persuaded by their workmates or owners to convert, 67 percent of the women agreed that they had experienced this.
The other half of the questionnaire focused on any discrimination or hostilities or problems they encountered being non-Muslim workers.
They were therefore asked, if they had ever been victims of any kind of violence, to which 42 percent responded in an affirmative. Those who were victimised were further asked to share any special incident where they encountered particular problems. However, 61 percent of those who stated they were victimised refused to disclose any information, while others shared their views and related that they often have to bear with offensive comments and misbehaviour. Muslims often joke about their religious practices and it really hurt them, but they bear with it.
In this regard, Bima, a 35-year-old factory worker shared that her co-workers make fun of the fact that they burn their dead. Furthermore, several of the women narrated that they are often threatened with dismissal from work, since Muslim women are given preference, therefore speaking up and sharing views was impossible.
Shanti Bai, a 40-year-old woman working in a factory shared that once she called her co-worker 'brother', "He was really offended and insulted me for associating him as my brother."
The women-workers were also asked whether they ever received any special treatment because of their minority status, to which 69 percent of them responded in a negative. Whereas some of the women acknowledged that they met some co-workers who appreciated their good manners and overlooked their differences and respected them. They also said that if their supervisor or employer treated them unfairly, their co-workers often sympathised with them and even defended them.
The last part of the questionnaire highlighted the difficulties they faced in their work experience as a woman.
Thus they were asked whether they were ever bullied in their work place for being women. Out of all the women who filled the questionnaires, 59 percent replied in an affirmative, out of which 91 percent said they were abused verbally and only eight percent admitted to physical abuse.
The above data suggests that the attitudes of people towards non-Muslim female employees are improving and they are being accepted more in the society, however their status as firstly belonging to a minority group and secondly as women is still a struggle.
http://www.dailytimes.com.pk/default.asp?page=2013\04\29\story_29-4-2013_pg12_1
-------------
Nawaz Sharif's Daughter Tests Poll Waters
By Qaswar Abbas in Islamabad
Apr 29, 2013
IN A highly- anticipated move, Maryam Nawaz, the daughter of Nawaz Sharif, chairman of the Pakistan Muslim League ( Nawaz) has stepped into politics.
The 39- year- old, who is pursuing PhD in political science from University of Cambridge while living in Lahore, will be supporting her father in the upcoming general elections to be held on May 11, 2013.
It will be the first time in 66 years since independence that one democratically elected civilian government in Pakistan will serve its full term and be replaced by another.
Setting aside death threats that have been hurled at a number of Pakistani politicians including her father, Maryam last week addressed a big election rally in Garrison city of Rawalpindi.
The mother of three is the only woman who has shown courage to step out and lead election campaigns despite the fact that militants have been targeting election rallies across the country regardless of who is leading the campaign.
On Thursday afternoon, a day after militants attacked an election rally in Mardan, a major city of Pakistan's Khyber Pakhtoon Khaw, Maryam openly campaigned in the provincial capital of Punjab — power centre of her father's political party PML- N — Lahore without any security cover.
The PML- N has been openly endorsing Maryam as the new face of the party.
According to analysts, Maryam's appearance among masses while addressing political rallies despite the threats given to politicians, is earning her father's party immense support from women especially in urban areas where women voters play a decisive role when it comes to winning or losing elections.
Maryam insists that it is her father's party which has most youngsters on its side, and said Imran Khan's PTI would have to wait until May 11 to find out how false their beliefs about the youth support for PTI was.
It must be noted that the ex prime minister's daughter has a personal interest in politics. It was she who encouraged her husband Capt.( Retired) Mohammad Safdar to be a part of politics and get him elected as an MNA from NA- 52 (Chaklala Scheme- III area in garrison city of Rawalpindi) in the bye- elections of 2008 after the seat was vacated by former opposition leader National Assembly, Chaudhry Nisar Ali Khan.
Usually, women of Pakistan's prominent leaders do not enter politics ( former Prime Minister Benazir Bhutto was an exception.
However, Maryam has broken all norms.
Mail Today
-------------
These stylish Saudi women entrepreneurs mean business
28 April 2013
Jeddawi fashionistas and beauty gurus recently attended a women-only event, in which three Saudi female entrepreneurs got a complete makeover that aims to make them look their best when doing the job. The occasion was to celebrate the Women Appreciation Month (WAM), which was initiated in 2011 by leading Saudi fashion brand Femi9.
The event was organized by JeddahBeauty.com, which was also celebrating its one million views on its website.
Saudi women entrepreneurs were asked to apply through the WAM website during March 1-15 to an awards contest called the "Growing Initiative Awards." The awards is an activation fully dedicated to support women in the start-up phase of entrepreneurship. This concept revolves around taking proactive action toward ambitious women who are trying to effectively contribute to society.
The judging panel for the Growing Initiative Awards comprised Dr. Arwa Al-Aama, vice mayor of Jeddah Municipality; Eyad Mashat, CEO of Femi9; and Abdulla Al-Ghaddooni, member of Glowork. The three winning newly started initiatives will now receive funds, business consultation and professional makeover along with other key support.
The criteria for the applicants was to come up with a new and creative project, based and running in Saudi Arabia, lead and initiated by a woman and the business should be either static or at a growing phase. "The three women who won the prize went through a process of a makeover where they competed against each other with a businesswoman look. The point of this event was to help those women to look their best when doing the job," said Youssra Elawi, head of marketing at Femi9. "We want to give them the chance to feel good inside out with a look that fits a woman with a busy schedule. The judges were fashion and beauty experts," she added.
Each of the three entrepreneurs had the chance to pamper herself in the Jeddah-based Eve Salon. They were treated to a package that included a massage, hair color/cut and styling, facial and nails. To get the final look Femi9 provided them with stylish clothing, while some Jeddah-based designers sent over abayas to complete the look for each applicant.
The final round of the competition was held at a venue in Tujar Jeddah. The event was private, with only 30 women in attendance. All these women displayed a strong passion for fashion. They also enjoyed a photo booth by celebrated photographer Reem Bajabaa and a makeup booth where famous makeup artist Inas Hammoud offered makeup tips to the attendees. A lucky draw was held in which a few happy women took home beauty- and fashion-related gifts.
The Saudi businesswomen were judged by TV presenter Dina Ali Reda, fashion guru Marriam Mosalli, beauty expert and editor in chief of Jeddah Beauty Blog Nilo Haq, fashion designer Yossra Ifaoui, fashion photographer Reem Bajabaa and makeup expert Inas Hammoud. The winner of the best makeover category was Nahed Al-Hubail, who is the owner of Sky Touch, a creative gift-wrapping business.
Beauty expert Haq of the Jeddah Beauty Blog said this was a great opportunity for businesswomen to learn how to look beautiful, stylish yet professional throughout a typical busy day. "The winner deserved the title as she was genuine and showed great enthusiasm," she said.
"Her look was actually something you would wear to work and to a meeting and it suits an entrepreneur," Haq added.
http://www.arabnews.com/news/449664
-------------
Low Salaries Keep Saudis Away From Nursing Jobs
29 April 2013
Bothayna Murshid, consultant at the National Commission for Academic Accreditation and Assessment (NCAAA), has said that Saudi Arabia is in need of more than 142,000 nurses and that the main reason accounting for the high rate of resignation in the field is due to the low salaries offered by institutions.
At the Third International Conference on Quality Assurance in post secondary education being held in Dammam on Sunday, Murshid gave a lecture about Bridging Programs in nursing. She said, "I don't think we have a Bridging Program plan. However, lack of coordination and cooperation between parties will not encourage the success and completion of this program."
She asked authorities and parties to establish a common national plan to research Bridging Programs and help to accredit nurses who have diplomas.
Full report at:
http://www.arabnews.com/news/449778
-------------
BIP, Saudi Arabia to Investigate Sexual Abuse of Girl by Father
April 29, 2013
Ashwag Al-Tuwairqi
MAKKAH — The General Court in Makkah has referred a custody case involving a 15-year-old girl to the Bureau of Investigation and Prosecution (BIP) after the girl's mother submitted evidence proving the father attempted to sexually abuse his daughter.
Social activist Ammunah Tawakkal, who is also entrusted with following the case on behalf of the mother, said her client has submitted an official appeal to the Human Rights Commission and to the court.
She said the mother divorced 16 years ago and her ex-husband took custody of their daughter after the mother remarried.
Full report at:
http://www.saudigazette.com.sa/index.cfm?method=home.regcon&contentid=20130429163526
-------------
Mauritanians Protest Violence against Women
By Bakari Guèye
28/04/13
Mauritania on April 21st named Irabiha Mint Abdel Weddoud as the first female head of the National Human Rights Commission (CNDH).
The move was due in part to the outcry from civil society organisations regarding increased violence against women.
Little more than a fortnight before the new CHDH chief's appointment, thousands of people marched in Nouakchott to demand justice for 20-year-old Penda Sogué.
The young woman had been raped and mutilated before she was murdered.
Women at the April 3rd protest were heard chanting, "Kill the rapists!" Soghé's mother later delivered a letter to interior ministry officials on behalf of the demonstrators.
The brutal killing of the young woman on March 28th stirred outrage from Mauritanian citizens.
Full report at:http://magharebia.com/en_GB/articles/awi/features/2013/04/28/feature-01
-------------
Egypt women's groups rally against Info Minister accused of harassment
29 Apr 2013
Activists and journalists protest at the Egyptian state TV building against Information Minister Salah Abdel-Maksoud who they accuse of making sexist comments to female journalists
Several women's rights groups and political parties took part in a Sunday protest against recent remarks by Information Minister Salah Abdel-Maksoud, accusing him of harassing female journalists.
Full report at:
http://english.ahram.org.eg/NewsContentMulti/70328/Multimedia.aspx
-------------
Princess Hessa To Honour Long-Serving Ministry Of Health Women Staff
Saeed Al-Khotani
Apr 29, 2013
RIYADH — Under the support of Princess Hessa Al-Shaalan, wife of the Custodian of the Two Holy Mosques King Abdullah, female employees who have served the Ministry of Health for 20 years or more will be honoured at a function here on Monday.
"We highly praise this very kind gesture from the princess in honouring our female workers who have given us two decades' worth of service," Dr. Muneera Al-Osaimi, assistant deputy minister for support medical health services, said on Sunday.
Full report at:
http://www.saudigazette.com.sa/index.cfm?method=home.regcon&contentid=20130429163516
-------------
'Release of Dr Aafia no priority for rulers'
Apr 29, 2013
KARACHI: The whole Pakistani nation is awaiting the release and repatriation of Pakistani national Dr Aafia Siddiqui, but sadly our rulers have some other priorities, regretted Asmat Siddiqui, mother of Dr Aafia.
In a statement on Sunday, she said the continued incarceration of Aafia, who is considered a global icon of women's rights, was a big question mark on the world consciousness. She said the peace loving people of the whole world should raise strong voice for Aafia and help in securing her early release and repatriation.
Full report at:
http://www.dailytimes.com.pk/default.asp?page=2013\04\29\story_29-4-2013_pg7_11
---------
Saudi film, 'Wadjda,' gives hope for women's rights
04/28/13
I'll be watching for the film "Wadjda," which made its U.S. debut Sunday at New York's Tribeca Film Festival, when it reaches U.S. release later this year.
The film tells the story of a 10-year-old Saudi girl who wants a bicycle and can't quite understand why boys can have and ride them, but girls cannot. Wadjda, the title character, enters a Koran-memorization contest hoping to use the prize money to buy a bicycle to race against a neighbor boy. "Wadjda" addresses such issues as child marriage, polygamy and bullying, but it's symbolic of much more than that.
Full report at:
http://www.thereporteronline.com/article/20130428/OPINION03/130429509/saudi-film--wadjda--gives-hope-for-women-s-rights#full_story
-------------
URL: https://newageislam.com/islam,-women-and-feminism/new-age-islam-news-bureau/no-jeans,-t-shirts-for-amu-girls,-v-c-tells-his--daughters-/d/11343