New Age Islam News Bureau
10 Sept 2016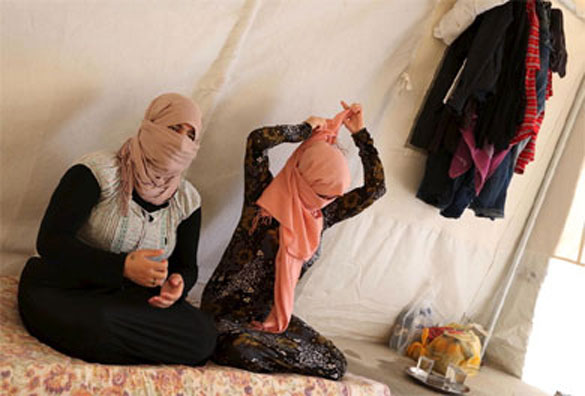 These Yazidi sisters managed to escape captivity by Islamic State. Thousands more were not so lucky. Reuters
------
• Women Are Being Traded As Slaves On WhatsApp – Here's How the UN Can Act
• 2 Muslim Women, Babies Attacked In Alleged Hate Crime in New York
• Women in Terror Cell Were 'Guided' by ISIS, Paris Prosecutor Says
• Violent Extremist Groups Take Special Aim at Women, UN Official Says
Compiled by New Age Islam News Bureau
URL: https://www.newageislam.com/islam,-women-and-feminism/new-age-islam-news-bureau/no-instant-triple-talaq,-let-women-have-right-to-divorce--all-india-shia-personal-law-board/d/108529
----
No Instant Triple Talaq, Let Women Have Right To Divorce: All India Shia Personal Law Board September 10, 2016
Opposing the rigid approach of the All India Muslim Personal Law Board (AIMPLB) to Islamic marriage laws, the All India Shia Personal Law Board (AISPLB) has suggested the adoption of a "modern Nikahnama", seeking changes in the terms and conditions of marriage under Islamic law.
AISPLB spokesperson Maulana Yasoob Abbas, who submitted a draft of the Nikahnama (pre-nuptial agreement) to eminent Shia cleric Maulana Kalbe Sadiq, vice-president of AIMPLB, said he has suggested invalidating the instantaneous triple Talaq, and provide women with the right to divorce.
He said he had also written to AIMPLB member Zafaryab Jilani a few days back, suggesting the changes. Abbas said the stand taken by the AIMPLB in the Supreme Court has "defamed the religion of Islam".
On September 2, the AIMPLB had told the Supreme Court, which is hearing a PIL by a Muslim woman against the practice of triple talaq, that the scrapping of instantaneous talaq will increase the possibility of husbands killing their estranged wives. It also defended the practice of polygamy.
Abbas said the AISPLB will also put their views before the SC in the coming days. He said they have tried to address the issues related to dowry and inadequate mehr given to brides at the time of marriage.
He said the triple talaq is not valid, and the divorce must take place in front of witnesses. In his draft nikahnama, he has also made a provision for providing maintenance to a divorced wife if she has no other means to sustain herself.
It also says that a woman will be able to divorce her husband if he disappears for two years and does not provide her with essentials. As per its draft, the woman will also have the power to divorce her husband if he physically assaults her, causing danger to her life or limbs.
The draft also says that the concerned parties can go to court the arbitration under Islamic law fails in cases of divorce. Abbas said Maulana Sadiq discussed the changes in nikahnama with him for about an hour and assured that he will put it for discussion before the executive of AIMPLB in its next meeting.
http://indianexpress.com/article/india/india-news-india/triple-talaq-islamic-law-muslim-marriage-shia-board-modern-nikahnama-3023308/
--
Women Are Being Traded As Slaves On WhatsApp – Here's How the UN Can Act
September 8, 2016
The members of the United Nations Security Council hear terrible stories from conflict zones with alarming frequency. So it takes a truly horrific tale to bring them to tears.
Yet as officials in the Council listened in December to Nadia Murad Basee Taha bravely recount her torturous ordeal as an Islamic State sex slave, some wept openly. When she fell silent, she received a rare ovation.
Murad is returning next week to the UN to be inducted as a Goodwill Ambassador for the Dignity of Survivors of Human Trafficking. Since her last visit, the Security Council has requested a report from the Secretary-General on human trafficking in conflict, and what can be done about it.
The council should act soon – because the problem appears to be rapidly getting worse.
Is slavery making a comeback?
International law is clear that slavery is never allowed, anywhere, any time. Yet the best estimates suggest that 45.8 million people alive today are enslaved.
Armed groups have long forced vulnerable people into sexual exploitation, military service, and forced labor including construction, cleaning work, digging trenches, mining and agriculture. Some people displaced by conflict in South-East Asia may even end up catching and processing the fish that ends up in our supermarkets.
But today, organizations such as Islamic State and Boko Haram are openly encouraging and organizing slavery on a scale not seen since World War II.
More than 5,000 Yazidi women, children and men are thought to be enslaved by Islamic State right now. The organization has set up slave registries and markets, openly advocates for the revival of slavery through official mouthpieces, and has even issued "how-to" manuals on slavery. Increasingly, the group relies on forced child recruits as suicide bombers.
Slavery in a social media age
This is not just Iraq and Syria's problem. Like conflict, the problem of slavery has become international. A recent UN Commission of Inquiry found that men from Algeria, Australia, Belgium, Egypt, Iraq, Kazakhstan, Libya, Morocco, Saudi Arabia, Sudan, Syria, Tunisia, Turkey and Uzbekistan have participated in Islamic State's enslavement and human trafficking crimes. Other armed groups, such as Boko Haram, are following suit.
This is partly because of social media. In the past year, the UN reports, fighters have used the encrypted communications app Telegram to set up online slave auctions, circulating photos of captured Yazidi women, including their age, marital status, current location and price.
Recently, a member of Islamic State attempted to sell two enslaved women on Facebook. Displaced female Syrian refugees in Lebanon have been traded on WhatsApp, and Islamic State relies increasingly on secure apps such as Surespot and Threema for its communications.
How the UN can help
Faced with this, what can the Security Council possibly do?
The answer is quite a lot, according to a new report published by United Nations University (which I co-wrote). Published with support from the UK Mission to the United Nations and others, and drawing on input from more than 100 experts from across sectors and around the world, the report argues that the Security Council has significant untapped leverage on this issue.
For a start, the Security Council could clearly denounce involvement with this crime against humanity, and encourage states to punish any of their nationals who are involved. The council could also consider a special international tribunal to address Islamic State's war crimes and crimes against humanity, including enslavement.
There is a lot the council could do to monitor and disrupt human trafficking connected to armed conflicts. This would involve mechanisms to monitor specific groups' involvement in trafficking, as well as online and real-word hotspots. Members of the council should figure out why existing sanctions that already apply to involvement in human trafficking – including those for Islamic State, Boko Haram and in Libya, the Democratic Republic of Congo and Somalia – are not being used effectively to address it.
The council could also help protect those displaced by conflict – at present at a high of more than 65 million people. These people are especially vulnerable to human trafficking. UN agencies and states can do more to identify, assist and protect civilians in trafficking hot spots, through rapid reaction capabilities, reporting task forces and information campaigns.
Enlisting the private sector
The Council can also encourage the private sector to help. The Security Council could work with the financial, technology and recruitment sectors to develop guidance to prevent their value-chains being tainted by human trafficking in conflict. The council has taken similar steps to prevent industry from profiting from conflict minerals. Why not do the same in relation to human trafficking in conflict?
The technology sector has another key role to play. Social media providers may be able to use location data and content to identify people vulnerable to trafficking, and warn them of particular risks. The London Metropolitan Police has released online videos of Syrian migrant women warning foreigners about the realities of life under Islamic State, to counter fraudulent recruitment and trafficking. Social media providers can ensure these messages get to the right audience.
Nadia Murad Basee Taha's testimony last December was powerful and moving. Her appointment as a goodwill ambassador signals the UN's ongoing commitment to support victims.
Now it is up to the Security Council to take action, with partners in the private sector and beyond, to ensure that more people do not suffer her terrible fate. Without such steps, all the council's applause will ring hollow.
http://theconversation.com/women-are-being-traded-as-slaves-on-whatsapp-heres-how-the-un-can-act-64840?utm_medium=email&utm_campaign=The%20Weekend%20Conversation%20-%205573&utm_content=The%20Weekend%20Conversation%20-%205573+CID_d6f9985b603f5c384ac2a09b7ce0ac59&utm_source=campaign_monitor&utm_term=Women%20are%20being%20traded%20as%20slaves%20on%20WhatsApp%20%20heres%20how%20the%20UN%20can%20act
--
2 Muslim women, babies attacked in alleged hate crime in New York
September 10, 2016
New York (CNN)A woman yelling anti-Muslim sentiment allegedly attacked two Muslim women as they pushed their children in strollers in New York, authorities said.
Emirjeta Xhelili, 32, allegedly tried to rip the hijab from the women's heads during the attack in Brooklyn on Thursday.
She struck the women in the face and body, and repeatedly shouted, "this is the United States of America, you're not supposed to be different from us," court documents allege.
Xhelili allegedly told the women, "get the (expletive) out of America (expletive), you don't belong here."
She also attacked their children, pushing one stroller to the ground and rattling the other while two infants sat inside, according to court documents. The 11-month-old and the 15-month-old, along with their mothers, were not seriously injured.
Suspect arrested
Shortly after the incident, New York Police Department officers arrested Xhelili in Brooklyn.
During an arraignment Friday, the Brooklyn District Attorney's office described the incident as a hate crime, charging her with offenses including assault, reckless endangerment of a child and harassment, according to court documents.
The New York Legal Aid Society attorney who represented Xhelili in court could not be reached for comment.
Call for justice
The Council on American Islamic Relations of New York called for justice.
"We urge the Brooklyn District Attorney's Office to prosecute this horrific attack vigorously, sending the message that hate attacks targeting any minority group will not be tolerated," said Afaf Nasher, executive director of CAIR-NY.
"We urge mosques and Islamic institutions to increase security measures, particularly this weekend as the nation marks the solemn occasion of the 15th anniversary of the 9/11 terror attacks, which some may use as an excuse to attack American-Muslims."
The alleged attack comes in the wake of recent murder charges against the alleged killer of a Queens imam and his associate in August.
"CAIR has noted a spike in anti-Muslim discrimination and hate crimes in recent months, which the civil rights groups attributes at least in part to Islamophobic rhetoric used by various public figures," CAIR-NY said in a statement.
Xhelili is scheduled to appear again in court Wednesday. Bail is set at $50,000 bond or $25,000 cash.
http://edition.cnn.com/2016/09/10/us/brooklyn-muslim-women-attacked/
--
Women in Terror Cell Were 'Guided' by ISIS, Paris Prosecutor Says
SEPT. 9, 2016
PARIS — A "terrorist cell" made up mainly of radicalized young Frenchwomen has been dismantled by security forces, the Paris prosecutor said on Friday, after a car filled with gas canisters was found last week in the heart of Paris.
The prosecutor, François Molins, whose office handles domestic terrorism investigations, said that the women had been "guided remotely" from Syria by the Islamic State group, and that they had links to assailants in previous terrorist attacks in France.
One of the women had even been engaged to be married to two assailants, the killer of two police officers in June and the killer of a priest in July, he said.
Mr. Molins said the use of a terrorist cell made up almost entirely of young women represented a chilling turn in the Islamic State's tactics.
"If at first it appeared that women were confined to family and domestic chores by the Daesh terrorist organization, it must be noted that this view is now completely outdated," Mr. Molins, using an Arabic acronym for the Islamic State, said at a news conference on Friday in Paris.
Though the car with the gas canisters had not been rigged to explode, Mr. Molins said, there were signs that it was meant to catch fire. The police found a blanket with traces of fuel and a cigarette butt in the car, a Peugeot 607 sedan, he said.
"This commando's goal was clearly to carry out an attack," Mr. Molins said, adding that French intelligence had gathered information pointing to an imminent attack on Thursday.
Seven people were in custody on Friday in connection with the case; five of them were women, including three who were arrested on Thursday in Boussy-Saint-Antoine, a small town about 20 miles southeast of Paris. Mr. Molins described the women as "totally receptive" to Islamic State propaganda and he suggested that they may have met one another online.
He identified one of the women as Ines M., the 19-year-old daughter of the owner of the Peugeot, which was found near Notre Dame Cathedral. Mr. Molins said that when she was arrested, Ines M. had the keys to the car in her bag, as well as a written pledge of allegiance to the Islamic State and its leader, Abu Bakr al-Baghdadi.
In the pledge, Ines M. wrote that she was "answering the call of al-Adnani," referring to Abu Muhammad al-Adnani, a senior Islamic State figure who had called on Muslims in the West to carry out attacks. Mr. Adnani was reported killed in Syria last month.
Mr. Molins said the Peugeot contained fingerprints and DNA linked to Ornella G., 29, who was arrested with her boyfriend earlier in the week. Another couple arrested earlier in the week have been released, Agence France-Presse reported.
A figure who appears to be central to the case, Sarah H., 23, was arrested in Boussy-Saint-Antoine with Ines M. and a third woman, Amel S., 39, a resident of the town.
Mr. Molins said that Sarah H. was known by intelligence services to be "particularly linked to the jihadi movement." He said she had formerly been "betrothed" to Larossi Abballa, the killer of the two police officers in Magnanville in June, and to Adel Kermiche, one of the men who killed a priest in Normandy in July.
Mr. Molins did not specify how long Sarah H. had been linked to either man, and did not say whether she had even met them in person. Each was shot dead by the police during the attacks.
Mr. Molins did say that Sarah H. had been about to enter into a religious marriage with a third man, Mohamed Lamine Aberouz, 22. Mr. Aberouz's brother was close to Mr. Abballa and was detained after the killings in Magnanville.
Mr. Molins said the police located the three women using mobile phone records and other data. When an unmarked police car arrived on Thursday at the apartment building where Amel S. lived, he said, officers saw Sarah H., Ines M. and Amel S. coming out. He added that Sarah H. was fully veiled but that Ines M. wore a baseball cap.
By his account, Sarah H., after pausing in the parking lot, ran toward the police car and lunged through the open window with an eight-inch kitchen knife, wounding one officer in the shoulder. As the three women tried to flee, Ines M. also lunged at an officer with a knife, he said, and the officer shot her in the leg.
After the three were arrested, a search of Amel S.'s apartment found seven empty glass bottles with what appeared to be "homemade paper fuses," the prosecutor said. Amel S.'s 15-year-old daughter, who he said was "likely to be involved in the terrorist project," was arrested on Friday morning, north of Paris.
President François Hollande praised the work of the French intelligence and security forces on Friday, but warned that there were sure to be other groups still plotting attacks.
Before the discovery of the Peugeot early on Sunday, Mr. Molins was already expressing concerns about the growing number of women involved in terrorism. He noted in an interview with Le Monde last week that the authorities had already lodged preliminary terrorism-related charges against 59 women in France, and that the hundreds of Frenchwomen who have gone to Syria may return one day with plans to conduct terrorism.
"These past months, we have seen an acceleration in the number of cases involving young, minor girls, with profiles that are very worrisome, and personalities that are very harsh," Mr. Molins said. "Sometimes they are behind terrorist plots that, on an intellectual level, are starting to be very developed."
http://www.nytimes.com/2016/09/10/world/europe/france-paris-isis-terrorism-women.html
--
Violent Extremist Groups Take Special Aim at Women, UN Official Says
September 09, 2016
SALVADOR, BRAZIL —Armed extremist and fundamentalist groups worldwide are increasingly eroding women's rights and undermining gains made in gender equality in recent years, the head of U.N. Women said Friday.
Militant groups from Boko Haram in Nigeria to the Islamic State in Iraq and Syria target women in their attacks on human rights, Phumzile Mlambo-Ngcuka, the head of the United Nations' women's advocacy agency, told the Thomson Reuters Foundation in an interview.
"Fundamentalists have an issue with women. They are most cruel against women," she said. "Fundamentalism is a major burden for women, and it takes away the security of women more than anything else."
Speaking at a meeting of the Association for Women's Rights in Development (AWID), she said extremists have intensified their attacks on groups around the world that campaign for gender equality and defend human rights.
"The space for democratic movements and democratic values in general is shrinking and, within that, space for gender equality is also shrinking," Mlambo-Ngcuka said.
She cited the example of the Yazidi people of northern Iraq, where women and girls have been brutalized at the hands of the Islamic State. The jihadist group has targeted women with particular cruelty including rape and sex slavery, she said.
She also cited the case of women and girls at the hands of Boko Haram, which has waged an insurgency to carve out an Islamic state in northeast Nigeria that has killed some 15,000 people and displaced more than two million others.
In the group's most high-profile attack of April 2014, Boko Haram kidnapped 276 girls from a secondary school in Chibok in northeast Borno state.
About 50 girls escaped in the initial melee, but more than 200 were taken captive.
Rights groups say armed religious extremist groups worldwide pose a huge threat to women by promoting child marriage, keeping girls out of school and practicing female genital mutilation, practices that humanitarians and others have been battling in recent years.
"The violence against women is one of the biggest challenges that women face everywhere in the world. The type of violence may differ, but the impact on women is the same," Mlambo-Ngcuka said.
http://www.voanews.com/a/violent-extremist-groups-target-women-un-official-says/3501319.html
--
URL: https://www.newageislam.com/islam,-women-and-feminism/new-age-islam-news-bureau/no-instant-triple-talaq,-let-women-have-right-to-divorce--all-india-shia-personal-law-board/d/108529
New Age Islam, Islam Online, Islamic Website, African Muslim News, Arab World News, South Asia News, Indian Muslim News, World Muslim News, Women in Islam, Islamic Feminism, Arab Women, Women In Arab, Islamophobia in America, Muslim Women in West, Islam Women and Feminism