New Age Islam News Bureau
8 Aug 2019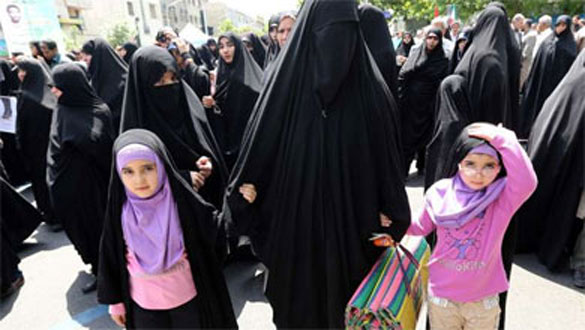 © Provided by Independent Digital News & Media Limited
Over a dozen women's rights activists living in Iran have sent an open letter to Iran's Supreme Leader Ayatollah Ali Khamenei calling for him to resign from his position after his 20-year tenure.
-----
• Saudi Women Courageously Accept Challenges of Technology Industry
• Iranian Women's Rights Activists Arrested After Calling for End to 'Gender Apartheid' In Open Letter
• France Takes In More Yazidi Women and Children from Iraq
• New Law against Triple Talaq Faces Ground Test with Muslim Women Demanding Mechanism for Speedy Trial
• SANDF Hijab Case: Interim Relief for Muslim Major Fatima Isaacs to Be Announced Soon
• Sisters in Islam questions why no public discussion over proposed unilateral conversion Bill
• UN Claims on Palestinian Women Invert the Truth
Compiled by New Age Islam News Bureau
URL: https://www.newageislam.com/islam-women-feminism/no-going-back-taliban-repression/d/119423
--------
No Going Back To Taliban Repression, Afghan Businesswomen Say
August 08, 2019
KABUL: Businesswomen in Afghanistan are adamant that there will be no going back to the days of repression under the Taliban, and the progress women have made over the past 18 years will not be reversed.
Entrepreneur Narges Aziz Shahi, 29, prepares coffee for herself at her cafe in Kabul, Afghanistan August 6, 2019. REUTERS/Omar Sobhani
Talks between the hardline Islamists and the United States to end the war make it likely that any pact would allow the Taliban to return to some role in government.
But the women who have blazed a trial in business since the Taliban were ousted in 2001 say they have come too far to be robbed of their achievements.
"I don't think Afghan women will ever go back," Kamila Seddiqi, 41, said an entrepreneur involved in businesses that include Afghanistan's first taxi app, Kaweyan Cabs.
Seddiqi, who was 18 when the Taliban seized Kabul in 1996, knows all too well how ambition can be smothered.
"It was a time when we all thought of studying and learning, and education was the most important thing for us, but our lives changed," she said.
The Taliban banned women from education and work and only let them leave their homes in the company of a male relative. Overnight, women disappeared behind the all-enveloping burqa, their activities restricted to their homes.
Seddiqi and her sisters started a small tailoring business that thrived. After the Taliban were ousted, she worked with international organizations before launching her own businesses.
The international aid effort that arrived with foreign forces put girls' education and the empowering of women at its core but there are fears a final withdrawal of U.S. troops, the winding down of international engagement and the re-emergence of the Taliban in politics will see the progress snuffed out.
But women's strides in business will not be reversed, Seddiqi said. "These are not women who will go back."
'UNACCEPTABLE'
The Taliban have recently been projecting themselves as more moderate, saying Islam gives women rights in areas such as business and ownership, inheritance, education, work, the choice of a husband, security and well-being.
At the same time, they have warned against the mingling of men and women and have denounced those they saw as encouraging women to defy Afghan customs.
Entrepreneur Narges Aziz Shahi, 29, said there was a chance the Taliban would not restrict women in business, but she would fight it if they tried.
One of her projects is the iCafe opened in 2017, one of an handful of Kabul businesses offering a taste of cafe culture where young men and women can gather to chat and study.
"If the Taliban come with their old ideas, clearly permission wouldn't be given for women to work and that would be unacceptable," she said.
"I won't let my cafe be blocked and my achievements over two years ignored. I'd fight that."
Shahi added, "We want peace, provided women's rights are preserved."
Manizha Wafiq, vice president of Women's Chamber of Commerce and Industry, said the business group has 12,000 members, who are involved in areas from media and information technology to private schools, clinics and handicrafts.
They had made investments of more than $70 million and their exports earned up to $800 million a year, she said.
Wafiq said she had been raising the issue of women's rights at every opportunity as the prospect of political change looms, and she was hopeful.
"We're optimistic that the issues of women's rights and the economic system as a whole will be preserved by the Taliban," she said.
"Women always struggle and try to find a way forward."
https://www.pakistantoday.com.pk/2019/08/07/no-going-back-to-taliban-repression-afghan-businesswomen-say/
--------
Saudi Women Courageously Accept Challenges of Technology Industry
August 7, 2019
By Samar Yahya
RIYADH — Mariam Al-Jishi, a computer engineer who has been in the technology field workforce for almost 9 years said: "I have seen tremendous shift in the recruitment of female executives in the technology industry. When I first started as a computer-engineering graduate, females were rarely considered for technical roles. They were instead offered administrative roles, and then moved to sales profile. In the present scenario, females are leading technical teams, which I am extremely proud of. Today, women are shining in sales profile as well."
Al-Jishi explained that Saudi women in engineering fields are not only competing locally but also on international levels, with many females working abroad. Women's contribution in the Saudi technology community is also helping the country achieve Vision 2030 objectives. Women are working in departments across the organizational structure and are excelling in the roles from sales to relationship management to technical sales and project management.
She advised Saudi women to always trust and believe in themselves and never let anyone question their capabilities.
As a sales strategy and planning country lead, Filwah Al-Henaki talked about the challenges she might face in the technology field and said: "Five years ago, as a fresh graduate, it was difficult to gain the trust of the management and build good professional relationships with my co-workers. However, I was successful and recognized by the country management for best support function of the year 2018 for my outstanding accomplishment and innovation capacity. Meeting the expectations of the senior management, accepting challenges, being consistent and understanding the company's mission and goals were few things that helped me gain trust of the larger team."
Al-Henaki advice to the other aspiring Saudi women is: "You can be a part of it. We see our country, as an active member of the G20, a group that comprises the world's strongest economies. With tremendous ambition, we look forward to the Kingdom becoming a pioneering model in all aspects, relying on the roles played by our young male and female citizens, as we strive to achieve the goals of Vision 2030".
Nada Saeed had an opportunity to train high school students, which was a delightful experience. "Sensing the ambition and curiosity of the new generation to explore the business world was very satisfying. I felt proud to share my knowledge with the students and motivate them to perform well in their professional lives. Based on my experience, I was thrilled to guide and share insights on the requirements from an individual in the technology industry".
Saeed was awarded the "Employee of the Year". She said that Saudi women are an important part of the sustainable development of the Kingdom, and their empowerment is vital in Saudi Arabia's National Transformation Plan. "It is the golden time for all of us as Saudi women to succeed. Taking responsibility of what we do, sharing our skills and knowledge, being ambitious, welcoming challenges and, most importantly, respecting others while having a positive attitude will always give us the chance to achieve our goals".
Talking about empowering Saudi women, Yasmeen Mariki, an HR consultant and one of the few Saudi women taking over this role, said: "HPE believes, advocates and encourages women empowerment. That is evident in my recent promotion to the HR Business Partner for Central, Eastern Europe, Middle East & Africa (CEEMA) region; Global Field Delivery (GFD) in addition to my current role as HR Manager for Saudi Arabia".
Mariki explained the development in HR and women employment during her long experience that in the last 22 years of her career, she had various opportunities to develop professionally and as an individual in the HR field; courses, seminars, workshops and certifications, most of those opportunities were through HPE.
"Additionally, the world is witnessing the changes by the government of Saudi Arabia to empower women through Vision 2030. This initiative has helped women undertake leadership roles in both public and private sector jobs. HPE also had a woman president & CEO and still has women at EVP and SVP level, so I consider HPE as one of the pioneering and leading companies in women empowerment."
http://saudigazette.com.sa/article/574169/SAUDI-ARABIA/Saudi-women-courageously-acceptchallenges-of-technology-industry
--------
Iranian Women's Rights Activists Arrested After Calling for End to 'Gender Apartheid' In Open Letter
Maya Oppenheim
August 08, 2019
Over a dozen women's rights activists living in Iran have sent an open letter to Iran's Supreme Leader Ayatollah Ali Khamenei calling for him to resign from his position after his 20-year tenure.
Two of the 14 signatories have been arrested by Iranian authorities and the remainder are vulnerable to potential political persecution or arrest.
The letter, which is dated 5 August, argued a "gender apartheid" and a "patriarchal approach" has suppressed the Iranian political climate for four decades.
They argued that women in the Middle Eastern country have faced an unfair disadvantage since the Iranian Revolution of 1979, according to Radio Farda.
"We, 14 civil rights and women's rights activists, are determined to continue our combat until victory through civil and non-violent measures," the campaigners wrote. "Like other pioneers, we go ahead by chanting 'no to the Islamic Republic'."
They argued the country needs a political overhaul – saying 40 years of "this theocracy" has eliminated the rights of half of the population – and called for others to get involved in peaceful, non-violent demonstrations to build a new constitution which demolishes "this anti-women system".
The activists wrote: "In a world that women in most countries move side by side with men in science, economy, culture, arts, and politics, under the Islamic Republic women still fight for their basic human rights".
Giti Pourfazel, a lawyer who is one of the signatories, told Radio Farda that while 14 women have signed the letter, the 20 million other Iranian women could count themselves as the 15th signatory.
The Iranian authorities have not yet responded directly to the letter.
Women's rights are stringently restricted in Iran. Iranian women have been barred from watching stadium football matches for most of the 40 years since the Islamic Revolution. The clerical regime has been reported to have hired security forces since August last year to deal with women who attempt to sneak into the stadium with men's make-up.
Wearing the Islamic headscarf is compulsory in public for all women in the country – with those who do not wear a hijab, or are seen to be wearing a "bad hijab" by allowing some of their hair to show, facing punishments ranging from fines to imprisonment.
Amnesty International says women and girls are regularly stopped in the street by morality police and vigilantes. The human rights organisation estimates at least 39 women were arrested last year in connection with anti-hijab protests.
Last year, an Iranian woman was sentenced to two years in prison and 18 years of probation for removing her headscarf in a protest.
Shaparak Shajarizadeh said she had been sentenced for "opposing the compulsory hijab" and "waving a white flag of peace in the street".
There has been mounting resistance to the enforced hijab over recent years in Iran – with some women shaving their hair and dressing as men.
Some 60 per cent of Iranian women have experienced domestic violence at least once in their life, according to official data.
Last year, Iranian state TV was forced to apologise for a segment which featured a relationship expert telling domestic violence victims to kiss their husband's feet.
"Even if your husband is a drug addict, if he beats you, just do it and you will see a miracle in your life," the expert was said to have told viewers.
The woman, whose advice was roundly mocked on social media, told spouses to "slowly give him a foot massage" and then "kiss his feet".
She said this would relieve a husband's stress and help prevent strokes and heart attacks.
https://www.independent.co.uk/news/world/middle-east/iran-womens-rights-letter-ayatollah-ali-khamenei-a9045256.html
--------
France Takes In More Yazidi Women and Children from Iraq
AUGUST 8, 2019
PARIS — France is taking in a new group of Yazidi women and children and helping them settle in the country.
France's interior and foreign ministries said 31 families arrived Thursday in the southern city of Toulouse from Irbil, Iraq. Previous groups of 16 and 28 families arrived in December and May.
The Yazidis are a religious minority with unique beliefs that distinguish them from Muslim and Christian worshippers in the region.
IS militants, who seized control of north Iraq in 2014, said the Yazidis were "apostates" and killed hundreds of men while enslaving thousands of women and children. The U.N. called the attacks genocide.
http://www.startribune.com/france-takes-in-more-yazidi-women-and-children-from-iraq/527302541/
--------
New Law against Triple Talaq Faces Ground Test with Muslim Women Demanding Mechanism for Speedy Trial
Aug 7, 2019
NEW DELHI: In September last year, Salma's husband pronounced instant triple talaq (Talaq-e-Biddat) snapping all ties with her by simply writing three words on a small piece of paper. A resident of Balotra in Barmer, Rajasthan, the woman filed a case against him under the provisions of the triple talaq ordinance promulgated in the same month.
The case has been on and now that the Muslim Women (Protection of Rights on Marriage) Act 2019 has come into force, a tearful Salma is hoping for speedy justice as there is no uncertainty over the issue anymore. Her husband was arrested as per the ordinance after she filed an FIR but he is now out on bail. She, on the other hand, is surviving with the support of her brother and is currently living with him and his family.
Salma, who is a mother of three children – two sons and one daughter, is fighting the case against all odds. Married for around 23 years, Salma says she is yet to get any maintenance support, custody or meeting rights with her children who are living with their father. Salma is in her forties.
Her case is one of the 25 complaints that have been received by voluntary organisation Bharatiya Muslim Mahila Andolan since the government first brought an ordinance to implement the Supreme Court judgement of 2017 that declared instant talaq as invalid. BMMA also led the fight as one of the petitioners along with women survivors in the Supreme Court in the triple talaq case.
Zakia Soman from BMMA said that based on the reports coming from the ground they are yet to see a case where a husband has been sentenced for any period of imprisonment for illegal talaq. Soman said that to implement the law which is a powerful tool for the victims of this practice there has to be a greater focus on justice delivery to women.
To give voice to the concerns of women who are survivors of instant talaq but whose cases pre-date the September ordinance which was re-promulgated in January this year and is now replaced by the new law, Soman said that BMMA was planning to reach out to Central government. The women's organisation is planing to approach law minister Ravi Shankar Prasad and the ministries of minority affairs and women and child development to seek some sort of a mechanism wherein these women get support and can be linked to some practical livelihood options.
Soman pointed out that it must be recognised that it has been a very difficult journey for those women who came out against the community's will to approach the courts. "There are so many of them still suffering in silence and only when those who have shown courage to come out get justice and support to find their feet, will other women in their position come forward," Soman added.
Under the new law notified on July 31, the pronouncement of instant triple talaq by a Muslim husband either spoken or written or in electronic form or in any other manner whatsoever shall be void and illegal.
The offence is punishable with imprisonment for a term which may extend to three years. The husband can be released on bail only if the magistrate, on an application filed by the accused and after hearing the wife is satisfied that there are reasonable grounds for granting bail to such person. The law also lays down clauses on maintenance for wife and custody of children.
https://timesofindia.indiatimes.com/india/new-law-against-triple-talaq-faces-ground-test-with-muslim-women-demanding-mechanism-for-speedy-trial/articleshow/70573722.cms
--------
SANDF Hijab Case: Interim Relief for Muslim Major Fatima Isaacs to Be Announced Soon
2019-08-07
Details of interim relief for Muslim South African Defence Force (SANDF) major Fatima Isaacs who is embroiled in a military court battle over her refusal to remove her headscarf (hijab), will be made public soon, according to SANDF spokesperson Brigadier General Mafi Mgobozi.
The interim relief is something the SANDF and Military Command Council (MCC) agreed to implement while they revisit the dress code policy.
However, the Muslim Judicial Council first has to be consulted before the details can be made public.
Mgobozi also revealed that Isaacs was still in the SANDF's service but would not be drawn into whether there was a breakdown in relations between her and the SANDF.
"Whatever is decided on will have no bearing on the current court proceedings as courts have their own procedures which they follow," Mgobozi said.
"Let us not pre-empt the outcomes of the court case. Let us wait for the outcome, and we will take it from there," he said.
In the military court proceedings in Cape Town, Isaacs is accused of "wilful defiance and disobeying a lawful command".
Isaacs appeared in court at the Castle of Good Hope on Wednesday and informed the senior military judge that she had changed her legal representation and would need more time to consult.
Her legal adviser, Nazeema Mohamed, said they would explore various legal options to take the case further, including the Equality Court and Constitutional Court.
The matter returns to the military court on November 6 and has been set down for two days.
https://www.news24.com/SouthAfrica/News/sandf-hijab-case-interim-relief-for-muslim-major-to-be-announced-soon-20190807
--------
Sisters in Islam questions why no public discussion over proposed unilateral conversion Bill
08 August 2019
By Ida Nadirah Ibrahim
KUALA LUMPUR, Aug 8 — Muslim women's rights group Sisters in Islam today said it is disappointed that public engagements were not held by the Selangor over the proposed Bill in the state that would pave the way for unilateral conversion of minors.
In a statement today, the group had called for all parties to be transparent on the motives behind the discussions held on the proposed Bill.
"We demand to know who proposed this Bill as well as the reason behind it, given that a landmark ruling has already been made at the Federal Court in January last year.
"It is important that the intentions of the Bill are made clear to the public in order to prevent the manipulation of our country's plural legal system and exploitation of Islam for political purposes," the statement read.
The group also said a Malaysia that is keen to uphold democracy, transparency and integrity should not have secret meetings and closed-door discussions.
"We are concerned and disappointed that public engagements are not being held as this decision will not only have devastating effects on the family institution, but also negatively affect the lives of thousands of children in Selangor," it said in the statement.
Tensions have built up within Selangor Pakatan Harapan as it was said there is a split among the ruling coalition's state lawmakers over a proposed amendment which would allow the unilateral conversion of minors to Islam.
It is understood that the Selangor as Mentri Besar Amirudin Shari had planned to push through an amendment to a state enactment, which currently says that individuals below 18 must obtain the consent of both "mother and father" before converting to Islam. The planned amendment will see a change of this wording to "mother or father"; meaning that one parent will get to decide on the conversion of a minor.
State leaders were scheduled to meet the Selangor mentri besar at his official residence today.
In January last year, the Federal Court delivered a landmark ruling overturning the unilateral conversion of Hindu mother M. Indira Gandhi's three children into Islam, which ended her nine-year ordeal.
https://www.malaymail.com/news/malaysia/2019/08/08/sisters-in-islam-questions-why-no-public-discussion-over-proposed-unilatera/1778864
--------
UN claims on Palestinian women invert the truth
August 8, 2019
The UN has produced another one of the anti-Israel absurdities for which it has become infamous. On July 23, the UN's 54-nation Economic and Social Council voted 40-2, with 9 abstentions, to single out Israel as the only state in the world branded as a violator of women's rights. Among those who voted in favour were such paragons of women's rights as Saudi Arabia, Iran, Pakistan, and Yemen (Australia is not a member).
Most of the long resolution said nothing about women but simply parroted generic UN anti-Israel rhetoric, accusing the Jewish state of numerous crimes, but the key clause condemned Israel and the "occupation" as "a major obstacle for Palestinian women and girls with regard to the fulfilment of their rights, and their advancement, self-reliance and integration in the development of their society."
Of course, the resolution did not mention how Palestinian women's rights are impacted by their own governing authorities—the Palestinian Authority and Hamas. These surely have the primary responsibility for progressing the "advancement, self-reliance and integration" of the Palestinian women of the West Bank and Gaza respectively.
Yet with regard to the situation of the Palestinian women who are citizens of Israel, recent years have seen achievements which make a mockery of the UN's claims. A decade ago only 22% of Israeli Arab women were working outside their homes. Today, that number is more than 40% (admittedly, this is still way below the workforce participation rate of Jewish Israeli women, who have one of the highest participation rates in the OECD).
The jump in employment rates among Israeli Arab women is in part the result of deliberate Israeli Government policy. The Israeli Government has set a target of 54% employment for Arab women by 2030. To help achieve that goal, they have been improving public transport to Arab villages so women can reach jobs, building industrial zones in large Arab towns like Nazareth that can offer employment closer to Arab villages and have set up 22 employment centres specifically for Arab women to help match them with available jobs.
Admittedly, serious problems remain. Nasreen Hadad Haj Yahya, director of the Arab-Jewish Relations Program at the Israel Democracy Institute, noted to the Jerusalem Post that one key barrier to further increasing the employment rate among Israeli Arab women is lack of adequate education. She pointed out that there is still a funding gap between the Arab and Jewish school systems in Israel and that, among young Arab women ages 18-22, almost half are neither working nor studying.
However, a 2018 study found that Israeli Arab women are today succeeding on the bagrut high school matriculation exam in proportions approaching those of non-ultra-Orthodox Jewish women. Moreover, Arab Israeli women are choosing science and engineering majors in high school subjects at higher rates than their Jewish countrywomen.
Furthermore, Haj Yahya also noted to the Jerusalem Post that Arab citizens today make up about 17% of university students in Israel, which is close to their 20% proportion of the population – a significant improvement compared to the situation a decade ago. Of those Arab students, 70% are women – who will of course largely want to enter the workforce and expect their daughters to work in the future.
The achievements of individual Israeli Arab women also help underline how Israeli government policies are actually doing a great deal for the "advancement, self-reliance and integration" of Israeli Arab women, as well as creating some great role models for Israeli Arab girls.
Examples include Dr. Shaden Salameh, just appointed the first Arab female physician to head up a hospital emergency room in Israel at Hadassah Hospital Mount Scopus, and Prof. Mona Khoury-Kassabri, who became the first Israeli Arab woman to serve as a dean of an Israeli University when she was appointed dean of the Hebrew University's School of Social Work last year (she is due to visit Australia in October).
Meanwhile, Superintendent Luba Samri has served as one of the top spokespersons for the Israeli police, while Lucy Aharish has long been a major figure in Israeli TV current affairs, and another Lucy prominent in television broadcasting, Lucy Ayoub, was co-host of the Eurovision song contest in Tel Aviv earlier this year.
By comparison, the Palestinian Authority continues to hold up terrorists as the key role models for young women, with numerous institutions, sporting events, camps and schools named after Dalal Mughrabi – leader of a terrorist cell which murdered 37 civilians in 1978. Other female terrorists publicly honoured by the PA include hijacker Laila Khaled and suicide bomber Wafa Idris and Ayyat Al-Akhras.
Meanwhile, in Gaza, Hamas' idea of encouraging the"advancement, self-reliance and integration" of Palestinian women appears to be to force them to wear hijabs (headscarves) and to use the security forces to police their interactions with members of the opposite sex.
The truth is, if the UN was interested in facts and fairness, instead of singling out Israel for condemnation, it would make more sense to single out Israel for praise over its positive efforts to progress the "advancement, self-reliance and integration" of its female Palestinian citizens.
https://aijac.org.au/op-ed/un-claims-on-palestinian-women-invert-the-truth/
--------
URL: https://www.newageislam.com/islam-women-feminism/no-going-back-taliban-repression/d/119423
New Age Islam, Islam Online, Islamic Website, African Muslim News, Arab World News, South Asia News, Indian Muslim News, World Muslim News, Women in Islam, Islamic Feminism, Arab Women, Women In Arab, Islamophobia in America, Muslim Women in West, Islam Women and Feminism