New Age Islam News Bureau
9 Jul 2014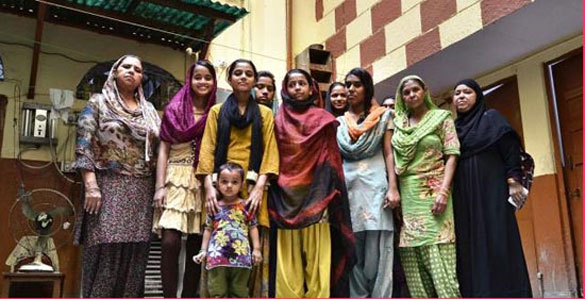 Inmates of Bachchiyon Ka Ghar in Old Delhi. Photo: Shiv Kumar Pushpakar.
--------
• Bradford Muslim Girls' School Is Criticised For All-Female Staff by Ofsted
• London Woman Accused of Attempting To Smuggle Cash to Syria Fighters
• Bachchiyon Ka Ghar: Vagabonds Make Life Difficult For Orphanage Inmates
• Women Train with AK-47s to Defend the Streets Of Baghdad
• Ruling on Sharia Courts Bolsters Rights Of India's Muslim Women, Campaigners Say
• Malaysian-Based Internet Scams Target Lonely American Women
• Syrian Refugee Women Face Harassment, Poverty
Compiled by New Age Islam News Bureau
URL: https://newageislam.com/islam-women-feminism/no-go-areas-leicester-muslim/d/98000
-------------
No-go areas in Leicester for Muslim women wearing Niqab
09 July, 2014
Muslim women who wear a full veil say there are no-go areas in Leicester which they feel frightened to visit – even in a car.
They claim they are subjected to abuse every day and that it is getting increasingly difficult to avoid such incidents in the city centre.
The revelations are contained in a new book by two criminology lecturers at the University of Leicester.
More than 100 Leicester-based Muslim women were interviewed over a 12-month period for the book, called Islamophobia, Victimisation and the Veil.
One woman who took part in the study told the Mercury: "People feel free to have a pop at us every day.
"They swear, stare, spit and tell us to go home. They call us terrorists."
The woman, who did not want to be named, said: "There are areas in Leicester we don't go to, even in a car.
"It is also becoming more difficult to wear the niqab in the city centre. I don't go in any more unless I really have to."
A niqab is a veil which covers part or most of the wearer's face, leaving the eyes visible.
The woman added: "I am as British as anyone. We follow the football and the tennis at home. My boys try to make a joke of it calling me 'Ninja mum'.
"We had thought that if we ignore it, it would go away. It hasn't."
The book was written by Dr Irene Zempi and Neil Chakraborti.
Dr Zempi wore a niqab for a month to understand what her interviewees experienced.
"Attitudes to me changed over night," she said. "People were abusive and threatening, and where previously shop assistants were friendly, they simply ignored me.
"I did not want to go out and I became depressed."
She added: "The level of abuse that participants faced depended upon whether they were in their local community or whether they were leaving their 'comfort zone'.
"Some participants referred to 'no-go zones' for Muslims in Leicester such as the traditionally white areas of Braunstone, Beaumont Leys, Saffron Lane, New Parks, Hamilton and even Leicester city centre."
Many of the women interviewed said they had moved to the city in the belief that Leicester would provide a better life for them and their families.
However, one woman said she had tea thrown at her and another said she was elbowed in the stomach when pregnant.
A 36-year-old quoted in the book said: "It is worse elsewhere, but there are racist people even in Leicester.
"We moved to Leicester because it's a safer community here. It's better for our children as well. Leicester is more tolerant, but there is still Islamophobia."
Another woman, who moved to Leicester from Holland, says in the book: "We are a bit more sheltered here, but no matter how diverse a place is, it's always going to happen."
Another added: "I don't understand why everyone says Leicester is safe. It's much easier to do niqab in Birmingham."
Shaista Gohir, chair of the Muslim Women's Network UK, who studied at De Montfort University, said: "I would urge women to report all incidents of abuse. I am sure that there is underreporting of such issues.
"When I was a student in Leicester 25 years ago we were told to avoid those areas which have been mentioned if we had a brown skin. The veil and the head scarf were very rare then.
"It appears that attitudes in those areas have not changed."
A police spokeswoman said there had been 11 instances of religiously-based abuse aimed at women in the past year. There had also been one incident of a man removing a woman's veil.
She said: "Police safer neighbourhood teams are continuing to work hard at making all places of Leicester, Leicestershire and Rutland a safe place to work and live.
"We would always encourage anyone who feels that they may have been a victim of a crime to contact police so the matter can be fully investigated.
"We would urge all victims of hate crime to report it to us by calling 101."
http://www.leicestermercury.co.uk/areas-Leicester-Muslim-women-wearing-niqab/story-21342283-detail/story.html#ixzz36ugpyxnx
-------------
Bradford Muslim Girls' School Is Criticised For All-Female Staff by Ofsted
09 July, 2014
A Muslim girls' state school which recruits only female staff has been criticised by Ofsted inspectors for a lack of male influence on pupils.
Feversham College in Bradford has been told to introduce male role models to its 'all-female environment'.
The 664-pupil school was visited by inspectors last month as Ofsted's 'Trojan Horse' probe into attempts to impose a strict religious agenda on schools was extended beyond Birmingham.
The watchdog found that music was not taught as a separate subject to 11 to 14-year-olds and some teachers were given performance targets to develop the school's 'Islamic ethos'.
Inspectors also reported that the school operated an 'all-female learning environment' which extended to male governors 'not interact[ing] with students'.
Ofsted urged the school to 'increase opportunities for the broadest range of positive role models, including men and male governors, to be part of students' learning'.
The college was also told to 'continue to review the breadth and balance of the curriculum', although it currently met legal requirements.
The school's recruitment policies are already being investigated by the Department for Education amid concerns they may be unlawful.
DfE officials intervened earlier this year after the school ran job adverts specifying women teaching staff.
Now the department's Education Funding Agency (EFA) says it is 'working with' the college to ensure recruitment procedures are 'fully compliant' with equality law.
Feversham – motto 'In the name of Allah the Beneficent the Merciful' – aims to educate girls aged 11 to 18 'in the context of the Islamic Sunni faith as a way of life'.
The designated faith school was judged 'outstanding' at its last full Ofsted inspection and is regularly among the highest-performing state comprehensives in the country.
Ofsted placed five schools in Birmingham special measures earlier this month after investigating allegations of a concerted attempt to introduce a strict Islamic agenda in state schools.
It uncovered an 'organised campaign' to impose a 'narrow faith-based ideology' on schools which was resulting in pupils being poorly prepared for life in modern Britain.
The watchdog made a snap inspection at Feversham last month because the 'chief inspector was concerned about the effectiveness of safeguarding and leadership and management at the academy'.
In their report, inspectors praised many aspects of the school – which became an academy with extra freedoms in 2011 - and noted that students were 'prepared for life in modern Britain'.
The school is 'aware of the risk of extremism and radicalisation' and implements the Government's 'Prevent' strategy aimed at combating it, the report said.
'An annual "health check" by the local counter-terrorism unit ensures the academy is following best practice,' it added.
The report said music was not taught as a separate subject to younger pupils but noted that pupils were exposed to music in classes such as drama and allowed to stage performances.
It added: 'Some teachers' targets are linked to the development of the academy' s Islamic ethos but these are in the minority'.
The report said governors 'express a range of different views on the rationale for the retention of an all-female learning environment'.
It added: 'Male governors are not role models within the academy because they do not interact with students in this all-female environment.'
Ofsted warned that if the school's recruitment policy is found not to comply with Government requirements, future Ofsted ratings for the head and governors could be affected.
The school's two 'priorities for further improvement' were to increase pupils' exposure to male role models and ensure the curriculum 'continues to extend students' range of experience'.
Defending its job adverts specifying women staff, the school's head, Clare Skelding, said earlier this year the policy had been accepted by the Government when the school – previously a private school - entered the state education system.
'Feversham College was established in 1984 for 11 to 18-year-old Muslim girls, in response to parental demand for single-sex education based on religious beliefs' she said.
'When applying for voluntary-aided status in 2001, it was made very clear to the DfE (DfEE as was) and the City of Bradford Metropolitan District Council (LEA) that the school's intention was to continue to operate with female-only staff, based upon two legal opinions obtained at the time by the school.
'This position was accepted by the DfEE and LEA at the time. The school has recently taken further legal advice from a leading QC, who has confirmed that the school's policy of a female-only teaching environment is not unlawful and complies with the terms of the Equality Act 2010.'
But Pavan Dhaliwal, of the British Humanist Association, claimed the school's actions were 'plainly unlawful'.
The outcome of the Department for Education investigation could have implications for other Muslim faith schools employing single-sex staff.
A DfE spokesman said: 'All schools must comply with equality law.
'The Education Funding Agency is working with Feversham College to make sure their recruitment processes are fully compliant.'
http://www.dailymail.co.uk/news/article-2685412/Muslim-school-criticised-female-staff-Ofsted-orders-college-introduce-male-role-models-inspection.html#ixzz36uhKXQcF
-------------
London Woman Accused of Attempting To Smuggle Cash to Syria Fighters
09 July, 2014
Two women have gone on trial accused of arranging to smuggle cash to fighters in Syria after one was allegedly found with 20,000 euros in her underwear.
Nawal Msaad, 27, from north London and Amal El-Wahabi, 27, from north-west London are appearing at the Old Bailey.
Ms Msaad was stopped at Heathrow Airport boarding a flight to Istanbul on 16 January. She was recruited by Ms El-Wahabi, whose husband is fighting in Syria, it is claimed.
Both women deny all charges.
Prosecutor Mark Dennis QC said that when Ms Msaad was arrested she was asked if she understood what was happening and replied: "I do, but I'm in shock."
'Buying gold'
The court heard that when she was searched at the airport she pulled a roll of cash - made up of 500-euro banknotes - from her underwear, which Mr Dennis said had been concealed in her body inside a condom.
There were also four 200-euro notes and two 100-euro notes found inside the stash.
Ms Msaad told police she had been planning to buy gold for her mother, the jury heard.
But Mr Dennis insisted the money "had been raised in this country and had been destined to support the jihadist cause" - which Ms El-Wahabi's husband Aine Davis was "now pursuing with like-minded supporters".
The prosecution alleged that the smuggling attempt had been instigated by Mr Davis, who, it was claimed, is fighting with jihadists in Syria.
The court heard that Mr Davis adopted the name "Hamza" and had spent time living in Saudi Arabia and Yemen.
Mr Dennis said Mr Davis had left the UK on a flight to Amsterdam in July 2013, and messages to his wife indicated that he had decided to stay "in Muslim lands".
The jury was told that on the same day that Ms Msaad was arrested, police also went to Ms El-Wahabi's home where they seized mobile phones.
Ms El-Wahabi denied to police any knowledge of her husband's alleged jihadist behaviour, but material recovered from the phones was at odds with this claim, the court heard.
Kalashnikov
Mr Davis had sent her photos and videos which contained jihadist propaganda, Mr Dennis said.
He said one video sent in September 2013, showed a "boy martyr" aged between 10 and 13 holding a Kalashnikov rifle.
The court heard that Ms El-Wahabi, who was living on benefits, had been reluctant to follow her husband, and leave behind her friends and family.
But by December last year she was warming to the idea of joining him, jurors were told.
The case continues.
http://www.bbc.co.uk/news/uk-28206160
-------------
Bachchiyon Ka Ghar: Vagabonds Make Life Difficult For Orphanage Inmates
RANA SIDDIQUI ZAMAN
09 July, 2014
Four rooms, 52 to 90 girls, one kitchen, three washrooms, five toilets, no medical facility, no conveyance, no play area but a lot of love. This is what defines Bachchiyon Ka Ghar – an orphanage for Muslim girls at Matiya Mahal in Old Delhi.
The oldest in the Capital, built in 1891 by freedom fighter and pioneer of Unani medicine Hakim Ajmal Khan, the orphanage's approach is through a congested and filthy dark lanes and by-lanes. It is a home to girls aged between seven and 18, and two wardens – Iftekhar Begum, who has been working here for 21 years, and Shahida Sultana, who joined recently.
Bachchiyon Ka Ghar is housed in a three-storey building. It is neat but cries for lack of space.
In one hall among six very small rooms – one of which is used by two wardens and one as a store plus changing room – some 13 to 16 girls sleep on the floor, whatever be the season. The hall serves every purpose for them: it is their drawing room, a dining room, bedroom, reading room and entertainment room. There is a television, carrom board and ludo for entertainment and indoor games.
Girls can't play outside. All they do in the name of outdoor game is skipping at the home courtyard. Other rooms, the children say, are rat-infested, who often bite them when they sleep on the floor. Sometimes the rats also bit their shoes and clothes – due to which many girls are sent back from their schools. Lack of sufficient number of refrigerators and heaters in winters further make their lives difficult.
The salaries of the staff vary from Rs.1, 100 to 14,000. The girls get Rs.5 to Rs.10 – depending on their seniority – per month as pocket money.
All this is still fine, the inmates say, but the most difficult part is the atmosphere right outside the orphanage. The exit to the street meets Karim Hotel, Jama Masjid and hundreds of shops.
"The narrow street we pass by is always full of vagabonds. They chase us till our schools and back. They hit us with their elbows. One elderly person hurls unspeakably filthy invectives in our ears every day. Recently, a boy took off my dupatta, and I came back crying to the home," cried 16-year-old Sania Afzal.
Fouzia Karimuddin, who is of the same age, added: "The other day four of us were coming back home when a boy held my hand."
Afshan, a younger one, too complained: "Now we feel scared of even going to the school. If we resist, they make false complaints against us."
Agreed warden Shahida: "Till the time girls come back from school, we feel restless and scared of untoward incident."
Despite everything, love binds them all. "These children live like sisters. They go to school in the morning. They study in corporation and government schools within the Old Delhi area. Girls in primary schools come back by 12-30 and the senior ones by 2-30 p.m. "Four girls take turns to cook dinner every day. They are also taught knitting and tailoring for self sustenance in future. They also read the Quran," said Begum.
Though a cook prepares food in the first half, and a peon stays with them till the late evening, the home doesn't have medical facility, ambulance or any vehicle for use in case of emergency. "The office has not kept a male security or attendant for us either. In case of medical emergency, we wardens and the freelance Quran teacher have to take the girls to nearby hospital by any public conveyance which is usually not available during late nights," said Begum.
"We don't have lack of ration, clothes and bedding as we get it from the office and there are also a lot of donations, especially during the holy month of Ramzan. The main problem is space and the filthy atmosphere outside," noted Shahida.
Tejpal Bharti, the vice-president of the home, too moaned: "We applied for a piece of land for the orphanage 14 years ago and did regular follow ups. But it is stuck between Delhi Government and Delhi Development Authority."
http://www.thehindu.com/news/cities/Delhi/vagabonds-make-life-difficult-for-orphanage-inmates/article6184658.ece
-------------
Women train with AK-47s to defend the streets of Baghdad
09 July, 2014
BAGHDAD, Iraq (CNN) — With one hand, Zahra Hassan clutches a purse that matches her red blouse and skirt trimmed in blue.
In the other, she holds an AK-47.
Peering through her blue veiled hijab, the traditional Muslim head cover, the petite 25-year-old watches as the man in a military uniform with no insignia shows her how to switch off the rifle's safety, take aim and fire.
Then it's her turn. In red ballerina flats, she positions herself, levels the AK-47 toward a thick patch of date palms and pulls the trigger. Bang! The feel of the weapon discharging a round startles her a bit.
"Then you turn the safety on and lower the weapon," the man tells her. She follows his instruction.
This is day one of a five-day course being offered by the Badr Brigade, a powerful Shiite militia with an estimated 10,000 members, to the wives, mothers, sisters and daughters of the group.
Hassan is not training to go to the front line to fight the Islamic State in Iraq and Syria and its allied Sunni militants, but rather to defend her home if the terror group makes its way into Baghdad and ignites sectarian fighting in the streets.
With most of the men in her family leaving home to volunteer to fight ISIS and its allies, Hassan says she has no choice now but to learn how to fight.
"I must do this," she says.
More than 450 women have been through the training since the group started it this year, a step that was taken after ISIS began its battle for the flashpoint city of Falluja in Anbar province — a battle that was a bellwether of things to come in Iraq.
And thousands more are waiting, says Maj. Kareem Abdullah of the Badr Brigade, sitting in his office in a fortified compound in Yarmouk, a mixed Shiite-Sunni neighborhood in Baghdad.
The number of women volunteers swelled in June after ISIS seized Iraq's second-largest city, Mosul, and then began a march on the Iraqi capital, vowing to hit the city of more than 7 million people and overthrow the Shiite-dominated government.
"We are training these ladies to make them ready if (ISIS) makes it into their neighborhood," Abdullah said.
"They will be the ones who have to defend their home."
Memories of past violence
Hassan remembers the sectarian fighting — Shiite vs. Sunni, sometimes neighbor vs. neighbor — at the height of the Iraq War that nearly tore the country apart.
Her older brother, 36-year-old Ali Hassan, was among the thousands who reportedly disappeared during the fighting.
The last time she ever saw him was the morning of May 28, 2007, when he left their home in Mahmoudiya, a Sunni-dominated city of about 500,000 people dubbed the "Gateway to Baghdad" because of its proximity to the Iraqi capital.
She doesn't know what happened to him. But she and her family believe he was a victim of the sectarian fighting.
"Maybe somebody kidnapped him?" she says, looking down at the gun in her hand. "Maybe he was killed in an explosion?"
Ask any of the women, who range between the ages of 14 and 60, at the Badr Brigade training center if their family has a "martyr" — somebody who has been killed in the fighting — and nearly three-quarters of the hands go up.
Ask if any of them know of anybody who's one, and everybody's hands go up.
Jaffar Hassan is the man in the military uniform instructing the women. He is not related to Zahra Hassan, but she could be his daughter.
By the time the week is done, he says, the women will be proficient enough to protect themselves and, if necessary, kill.
Teen learning to protect her family
Fourteen-year-old Ageel Fadhil sits against the trunk of a towering date palm, listening to Hassan. An AK-47 lays across her lap.
Her tender age is evident by the white hijab she wears. The other women, all older, wear hijabs in dark colors. Her mother, Shama, already knows how to use the weapon. She is an Iraqi police officer, one of the thousands of women who were trained in such roles when the U.S. military was standing up Iraq's military.
She also was among the first to complete the Badr Brigade training, and today she is helping to instruct the women at the training center to handle the weapons.
Ageel must learn how to protect the family, specifically her 7-year-old brother Ali, she says. "When her father and I are at work, what is she going to do if someone comes in the house to kill them?"
With school out for the summer, most of Ageel's friends, she says, are watching television and reading magazines. She asked them to volunteer with her, but only a few did, she said.
When its Ageel's turn to fire, she moves to the front of the group.
"So I take aim like this, and I get ready to fire," Hassan says, lifting the AK-47 and leveling it toward the trees. "Then I fire."
He hands it to Ageel, who follows his instruction. She squeezes the trigger. Bang!
Nice shot, he tells her.
Her mother, wearing a green camouflage headscarf that matches her uniform, smiles at her and gently pats her on her back.
It's not what a mother wishes for her daughter, Shama Fadhil said. "But in Iraq, this is the reality."
By the end of the lesson, Ageel appears more at ease with the AK-47, cradling the weapon in her arm — just like she has seen soldiers on the streets do.
But could she kill somebody? Could she point the gun at somebody and pull the trigger?
She thinks about the questions for a moment and then looks to her mother before she answers.
"If God wills it, yes," she says. By Chelsea J. Carter
http://fox2now.com/2014/07/08/taking-aim-at-isis-women-train-with-ak-47s-to-defend-the-streets-of-baghdad/
http://edition.cnn.com/2014/07/08/world/meast/iraq-women-train-to-fight/
-------------
Ruling on Sharia courts bolsters rights of India's Muslim women, campaigners say
09 July, 2014
NEW DELHI: (Thomson Reuters Foundation) - A ruling by Supreme Court stating that fatwas issued by Sharia courts are illegal will help protect the rights of Muslim women who are often forced to abide by inhumane diktats, women's rights activists said.
The court on Monday rejected a petition which sought to ban Sharia courts, but said that their rulings over Muslims had no legality and could not be enforced against an individual's will.
There are almost 140 million Muslims in India, many of whom follow their own laws relating to issues such as marriage and divorce and use Sharia courts to help settle disputes.
But women's rights groups say while Sharia courts are important for Muslims as they can provide speedy justice, their rulings are often unfair and violate the rights of women.
"We whole-heartedly welcome today's judgment … against fatwas that trample upon rights of individuals and stating that diktats which are in violation of rights of any individual are to be considered illegal and invalid," said Zakia Soman, co-founder of the Bharatiya Muslim Mahila Andolan (Indian Muslim Women's Movement).
"This far-sighted judgment will go a long way in enabling the poor and women among the Muslim community to get speedy justice and at the same time their fundamental rights will not be subject to arbitrary interpretations and violation."
The Supreme Court ruling resulted from a case involving a woman who was told by a Sharia court to leave her husband and children and live with her father-in-law who had raped her.
Many people from poor backgrounds cannot access civil courts and seek resolution through Sharia courts, said Soman.
She called for a new, well defined Muslim Personal Law to make 18 years the minimum age of marriage for girls and to criminalise polygamy for Muslims. Under the current law, Muslim girls can marry when they reach puberty.
"We believe that a codified Muslim Personal Law based on the Koranic principles of justice and equality can go a long way in furthering the cause of justice. There is need for the institutions such as Sharia courts to be made accountable," said Soman.
http://in.reuters.com/article/2014/07/08/india-muslims-sharia-sc-idINKBN0FD1FV20140708
-------------
Malaysian-based Internet scams target lonely American women
09 July, 2014
KUALA LUMPUR, July 9 — Hundreds of American women are being ensnared by Internet scammers based in Malaysia, with some losing over a quarter of a million dollars, as the country becomes an epicentre for online crime perpetrated by Africans, US officials say.
The mostly Nigerian conmen, who enter Malaysia on student visas, take advantage of the country's good Internet infrastructure to prey on lonely, middle-aged women, wooing them on dating websites before swindling their savings, they said.
The scams are more sophisticated than most Nigeria-based operations - which most Internet users have experienced at some time either via email or advertising - helped by Malaysia's advanced banking system, which allows perpetrators to quickly set up accounts and receive international transfers.
US officials say Malaysian police lack the resources and expertise to tackle the problem and have yet to launch a single prosecution of a case involving a US victim.
Malaysian police were reported by local media last December as saying that the number of Internet scam cases more than doubled in 2013 with total losses of more than US$11 million (RM34.8 million). A total of 476 Africans had been apprehended for suspected involvement, the report said.
The Malaysian police and the Nigerian embassy in Kuala Lumpur did not respond to Reuters' request for comment. A spokesman for Nigeria's Economic and Financial Crimes Commission said he was not aware of scammers operating in Malaysia, but added they were known to have international networks.
Tim Scherer, consul general at the US embassy in Kuala Lumpur, told Reuters that complaints about such scams now made up more than 80 per cent of inquiries to duty officers at the mission, with a dozen new cases reported every week.
Citizens of Australia, Canada and Europe had also been targeted, he said.
"These are not rich widows who are being preyed on, these are middle-class Americans who don't have this kind of money to spare," he said. "It can really transform their lives in a very terrible way."
The US embassy estimates that US victims are losing several million dollars a year, with two women in the past 12 months losing more than US$250,000 each. There are more than 600 cases a year, and the amount lost by each victim averages in the tens of thousands of dollars, it said.
The actual figure of total losses is probably far higher, Scherer said, because many victims are too embarrassed to come forward or do not know who to contact. He said the scammers were highly sophisticated, often grooming victims for months and using convincing techniques such as forging letters purportedly from the US ambassador in Malaysia.
Fake romance
Large teams of scammers typically trawl dating or Christian websites and contact middle-aged women, the US officials said. They pretend to be a Western man who then gets into legal or business difficulties in Muslim-majority Malaysia.
One US victim told Reuters she transferred a total of US$260,000 to Malaysia, where the man who claimed to love her said he was being prevented from returning to the United States by Malaysian bureaucracy — which required hefty payments to negotiate.
The 59-year-old widow from Phoenix, Arizona, who declined to be identified, said she had gone heavily into debt to make the payments to "Charles", and even flew to Malaysia in March to meet him. He never showed up, but a European woman claiming to be his lawyer managed to bilk another US$25,000 out of the woman before she returned to Arizona.
Another victim, a women in her late 50s in the eastern United States, said she sent her life savings of US$300,000 over two months to a Malaysia-based "American" man she met on dating site Match.com, three years after her husband died.
"I felt like I was in love with this man and we'd be moving forward with a life together real soon," she told Reuters.
Match.com did not respond to a Reuters request for comment. Along with other major US-based dating sites, it features prominent warnings about scammers, specifically telling users to be wary of people who say they are Americans based abroad.
Student scam
The conmen have exploited Malaysia's drive to become a global education hub, securing student visas to attend college, the US officials said.
Malaysia has pursued a policy of attracting international students for more than a decade, allowing dozens of foreign colleges to set up Malaysian campuses.
Scherer said it was likely that many of the Nigerians in Malaysia were not genuine students. As of March, there were 9,146 Nigerians on student visas in Malaysia, the education ministry said, out of 123,000 overseas students in total.
"Once in the country as students, there's very little effort to verify their studies," Scherer said.
An official with Malaysia's education ministry said that last year it tightened its vetting and tracking of overseas students.
"We are aware of problems with some international students, especially Nigerians," the official said.
http://www.themalaymailonline.com/malaysia/article/malaysian-based-internet-scams-target-lonely-american-women#sthash.YKl0nJIO.dpuf
-------------
Syrian refugee women face harassment, poverty
Associated Press
Jul. 09, 2014
HALBA, Lebanon Before she began working as a hairdresser, poverty forced Syrian Umm Mahmoud to seek donations for food and rent money to survive as a refugee in Lebanon.
Often men suggested she have sex with them to show her gratitude, the 32-year-old said.
Her experiences echo among Syrian refugee women. Across the region, they lead about a quarter of all Syrian refugee families, which number some 145,000, the United Nations estimated in a report issued Tuesday.
"If you want to eat in Lebanon, you must eat your dignity," said Umm Mahmoud. Her husband was disabled in fighting in Syria, leaving her to care for their five children alone. "To stay honorable, it means to go hungry sometimes. She who doesn't have a husband or protector — they are always the most vulnerable," she said.
Syrians made refugees by the war in their country, now in its fourth year, number nearly three million across neighboring Lebanon, Turkey and Jordan. Most live in poverty as they hustle for food, jobs, accommodation and health care.
Women-headed households face additional burdens: they are often poorer, and many must push their children to work instead of attending school. Their husbands were either killed, captured, badly wounded or divorced.
The U.N. says they struggle particularly to pay rent and keep food on the table.
Women also say they are sexually harassed by landlords, employers and local charity workers. In the region's conservative societies, they say, women who don't have a male protector are viewed as easy prey and sexually promiscuous.
"The women who are widowed, or whose husbands are missing, or disabled, they face (sexual) extortion and pressure," said Saadia Ghneim, the head of a community center in the northern Lebanese town of Halba. The center offers courses like hairdressing, sewing, computer and language training, helping Syrian and Lebanese women in an impoverished district find jobs.
Umm Mahmoud's life turned around after a hairdressing course that allowed her work in a salon. She stopped asking local charities and Muslim sheiks for help, and only receives food aid from the U.N.
Umm Mahmoud, from the Syrian city of Homs, said that before she found work, she survived by pretending not to hear the offers of sex suggested to her as she knocked at the doors of charities.
"They would ask, why are you coming in the day? Why not come at night?"
For women who lived in poverty in Syria, becoming refugees has worsened their situation. Such is the lot of Yasmine Shreiteh, 27, who shelters with her father and four sisters in a garage they rent for $100 a month.
Her father fell from a balcony in Syria, breaking his back. One of her sisters was born disabled, and their mother abandoned them, she said.
"I am learning how to sew so I can support my family," said Shreiteh, as she stitched a pair of trousers in the sewing course at the community center in Halba. "And also to support myself for the future and to have a profession, so I won't need to rely on anybody later," she said.
In other women-led households, children are pushed into work.
Zeinab Abu Salah, 16, came from an education-focused family. But her father was wounded in the war, and the family fled to Lebanon. The teenager said she watched her mother struggle as a hairdresser, trying to feed and educate her and her four brothers.
"One person can't take care of everything," said Abu Salah. "When I saw she needed help, I had to help."
The teen said she was in eighth grade, having lost years of school to war. She was also taking a hairdressing course and working alongside her mother, helping pay for her siblings' educations.
The U.N. has repeatedly pleaded for more money to help Syrian refugees, having only funded one-third of their budget for the task. They also ask governments to help protect Syrian women, and call on wealthier countries to resettle women-led households as a priority.
"Syrian refugee women are the glue holding together a broken society. Their strength is extraordinary, but they are struggling alone," said Angelina Jolie, the U.N's refugee agency special envoy, in a statement following the report.
For Umm Mahmoud, a conservative Muslim, she said her experiences of being vulnerable made her realize how far Syria's communal fabric had unraveled. One experience, meeting a Syrian widow with children who worked as a prostitute in northern Lebanon, changed her.
"I used to see these women and fault them. Now I think of (the widow's) children and the situation in Syria, and how nobody cares about her, and I can't blame her anymore. I see now that God's forgiveness is mighty."
http://www.charlotteobserver.com/2014/07/09/5032392/syrian-refugee-women-face-harassment.html#.U7xgB5RdU4U#storylink=cpy
-------------
URL: https://newageislam.com/islam-women-feminism/no-go-areas-leicester-muslim/d/98000