New Age Islam News Bureau
18 Dec 2016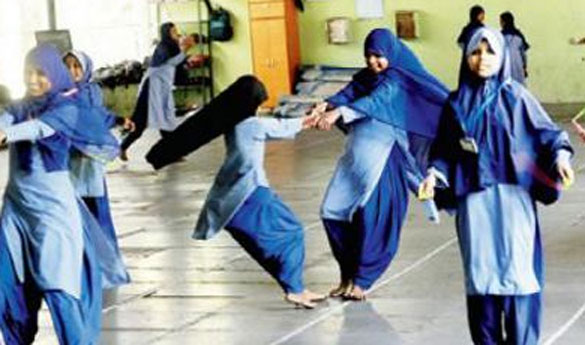 Photo: No entry for mobiles, TV and men in this Mumbra madrassa for girls
---------
• British Muslim Girls Are Taking up Fencing and its Badass
• Indonesia's New Worry: Women Turning Suicide Bombers
• Half of Sindh's Women Desire No Excess Births, Says Report
• Gunmen Kill Five Female Airport Workers in Afghanistan
• Voices from the Diversity of Muslim Women in Canada
• Only Few Yazidi Women Kidnapped By IS Freed - Iraqi MP
Compiled by New Age Islam News Bureau
URL: https://newageislam.com/islam,-women-and-feminism/new-age-islam-news-bureau/no-entry-for-mobiles,-tv-and-men-in-this-mumbra-madrasa-for-girls/d/109412
-----
No Entry For Mobiles, TV And Men In This Mumbra Madrasa For Girls
Nergish Sunavala | Updated: Dec 18, 2016
Mehtab Zubair Khan has been a student at Al-Jamiah Al-Islamiya madrassa in Mumbra for five years. Her family lives in Mahad in the Konkan region. When they visit their daughter, it's an elaborate process. First they must take permission from a maulana outside the gate, who passes on the application to a gate watchman, who hands it to a lady security guard, who in turn gives it to a teacher, who announces her name on a microphone. Mehtab then enters a tiny cabin and speaks to her parents through a glass window.
This is all to ensure that no male member of Mehtab's family enters the girls' block of the madrassa - boys study in a separate wing - and Mehtab doesn't have to step outside exposing herself to strange men. For the 18-year-old, who studied till the fourth grade in a co-ed school, these rules have slowly started making sense. "I feel very free here because there are no boys," she says. "No one can see our bodies."
There are approximately 35,000 madrasas in India of which roughly eight to ten percent - a little over 300 - are girls' institutions, writes Mareike Jule Winkelmann in her 2005 dissertation 'From Behind the Curtain: A Study of a Girls' Madrasa in India'. She pegs the post-Partition mushrooming of girls' institutions to the 1975 Islamization of Education conference held in Jeddah, Saudi Arabia, and estimates that Jamiatus Salehat in Malegaon, founded in the 1950s, is the oldest.
Al-Jamiah Al-Islamiya, where Mehtab is one of 800 female students, competes with three to four other girls' madrassas in Mumbra alone. Started 25 years ago by chairman Abdul Hakim A Salam Al-Madani, the Urdu-medium madrassa has both boarders and day scholars from largely poor families - kids who can't afford the Rs 1,500 per month hostel fee are taken for free.
The madrassa teaches a mix of 17 secular and Islamic subjects like mathematics, science, 'mantiq' or logic and in-depth analyses of the Koran and Hadith (traditions of the Prophet). In extra-curricular activities, the boys learn computers, while the girls learn to paint and stitch ruffled frocks and artificial flowers. When we visited, a math class on coefficient forms was on while the English teacher was quizzing students on figures of speech.
After completing the 10th and 12th grades, students attain 'Aalmiyat' and 'Fazilat' degrees respectively. The madrassa will soon introduce the SSC curriculum but for now, students train for board exams externally. Some have already passed with flying colours after leaving here, says principal Khan Sajida Faisal. The chairman can recall one former student, who has done her MBBS and another, who has finished her MA.
"We teach the students worldly subjects so they can pursue all opportunities but without abandoning their religion," says Al-Madani. "While remaining in hijab, a girl can pursue any profession." By design, however, most end up as preachers.
The madrassa adheres to Ahle Hadees, an orthodox brand of Islam. School concerts steer clear of dancing and singing. And the girls spend all their time indoors - praying, eating and playing badminton in an enclosed gym.
To ensure that students are fluent in five languages - Hindi, English, Marathi, Urdu and Arabic - public speaking is encouraged. The hope is these girls will leave school articulate and confident enough to preach this 'pure' faith within their communities. Every two to three weeks, each student must deliver a speech on religious subjects. The school magazine is packed with essays on religion in all five languages. In her article 'Fasting and Piety', Zainab Khursheed Ahmad writes, "When the belly is pampered, the fleshy desires are stimulated, which in turn may lead to sin and arrogance."
Unlike the boys, girl boarders can only leave the premises under supervision and even female teachers are expected to venture out in groups. Day-scholars must lift and drop their veils in quick succession so the female security guard can ascertain their identities before letting them leave. And classes are designed with corridors on both sides so male teachers and their veiled students never have to cross paths. Soon, male teachers will be able to conduct their classes via a microphone from a secluded location.
For Arifa Salim Chaudhary, a bright 18-year-old, it was a huge change from her former co-ed English-medium school in Goa. "My old friends were Hindu," she recalls. "There were about 50 students and only four to five Muslims in the whole school." She misses her friends and the laidback environment of her Goa school but is grateful for the rigorous religious training imparted by the madrassa.
Despite their secluded existence -TV and mobile phones are banned on the premises even for teachers - some news from the outside does percolate thanks to the day-scholars. The morning after demonetisation was announced, Sheikh Nazia Firdaus Mohammed Amil-Ul-Haq, who lives in the hostel, said: "I've heard that Rs 500 and Rs 1,000 notes have been banned. It's causing chaos."
timesofindia.indiatimes.com/city/mumbai/no-entry-for-mobiles-tv-and-men-in-this-mumbra-madrassa-for-girls/articleshow/56043364.cms
-----
British Muslim Girls Are Taking up Fencing and It's Badass
Dec. 18, 2016
At a community centre in Birmingham flanked with world flags, with punchbags hanging from the ceiling and boxing gloves lining the walls, a group of year 7 pupils stand in front of masks and foils. It's their first class of fencing and the girls are looking forward to a bout of sparring.
Taking off her mask after a bout, Ramla Omar, 12, from Ark Boulton Academy, says: "The best thing was getting a hit on your opponent and then dodging. I've only seen it when I was little, and really wanted to have a go."
The "Muslim Girls Fence" project in the Midlands was set up to challenge misconceptions of young Muslim women by Maslaha, a charity that finds creative ways to tackle longstanding social inequalities in Muslim communities. Maslaha says the project's aim is important particularly "in light of complex discrimination experienced by this group on the basis of both faith and gender".
Throughout the chilly winter's day, 60 girls aged 11 and 12 turn up at the Firs and Bromford Wellbeing Centre where they learn to fence and attend a workshop about women in sport to discuss identity and belonging. They meet Georgina Usher, the British fencing champion, who is also chief executive of British Fencing, the sport's national organisation.
"This is a special project to me, and there is something powerful about picking up a sword, and one of the objectives is to show fencing in a different light," Usher tells BuzzFeed News.
She says fencing, a non-contact sport typically viewed as a pastime of white men, was attractive to her when she was young because of the technical skill required. Because athletes put on gear and are covered up, fencing is a sport that can be more inclusive for participants who prefer this – including the Muslim students at the workshop, many of whom wear hijab.
The coach gets the girls to run in circles and dart around cones in the gym, warming up. Afterwards, they stand in a line, pick up their foils, and don their masks and jackets to begin learning basic techniques.
There is intense concentration as they work out their footwork and stances, but within an hour they are practising hitting and dodging each other.
"It's fantastic, and for me the first American Muslim woman fencer who took a bronze in Rio is a role model," Usher says, referring to Ibtihaj Muhammad, who made headlines as the first American athlete to wear the hijab during the Olympics. "Step by step we will change the world. The project is small, we're small. But what we've set out to do is make a difference and change perceptions."
Pupils mentor each other as part of the project, so four year 8 girls from Frederick Bremer School in east London who have previously taken lessons have travelled to Birmingham to show the new fencers their skills.
Earlier in the year the older teenagers were part of a photographic series and film documenting their experiences that showcased at the Southbank Centre in March 2016 as part of the Woman of the World Festival. When the year 8 pupils walk into the sports hall, they are surprised to see huge photos of themselves in action hanging on the walls.
"It's definitely something I want to carry on," says Seher Chohan, 13. "It makes you more confident and unique and is something that brings you together."
Her classmate Sarah Said, 14, has always been into sports and plays basketball. "I didn't even know what to expect. I was picked to take part but was sceptical," she says.
"It was funny because in the film Parent Trap there's a scene where the girls are fencing and do this stance and that's what I copied. Everyone did the stance and then we were told that was the wrong way – then we were taught the right way."
She adds: "What we were doing was getting rid of Muslim stereotypes just by playing sport."
Serhildan Gocmen, 13, after a lively battle with a peer, puts down her foil and says: "If I had more opportunities like this I would definitely continue."
She adds: "I watched some Olympics and I felt really proud of myself and was telling my sister their moves.
"Most people don't know about it and so I was interested. Girls don't get this sort of opportunity and people are biased, saying Muslim girls can't do this – it's mostly white British men doing it – but now it's getting heard around the world so that lots of people can pick it up."
When the initiative first began in east London, 25 students learned how to use their foils for two-hour lessons over the course of 16 weeks. It will now be rolled out across the Midlands in the new year.
"It is not an easy time to be a Muslim girl in the UK," says Latifa Akay, project manager at Maslaha. "Persistent negative stereotyping, combined with counter-extremism policies that are operating to stigmatise young Muslims, means that more than ever Muslim girls and women find themselves spoken for as opposed to spoken to."
She adds: "This project aims to reinstate Muslim girls as their own storytellers, and to open up a space for Muslim girls to articulate and express their identity on their own terms."
buzzfeed.com/aishagani/british-muslim-girls-are-badass-fencing?utm_term=.ts42zMVEm#.tmXPydDAG
-----
Indonesia's new worry: Women turning suicide bombers
DEC 18, 2016
Their emergence marks a shift in strategy by militants and raises the stakes in the country's war on terror
Francis Chan Indonesia Bureau Chief In Jakarta
Dian Yulia Novi was not known to be religious growing up in Cirebon, West Java. She started wearing the hijab only a few years ago, after she left her home town to work in Taiwan and Singapore as a maid.
Last Tuesday, the 27-year-old appeared on live television in a black burqa, revealing only her eyes, as she recounted how she came to be part of a terrorist cell, which put her on a suicide-bombing mission.
When asked if she feared God's wrath for being part of an attack that could kill on a massive scale, she said no because she was doing it "for the sake of Allah".
The emergence of women who are willing to give up their lives to carry out suicide bombings has raised the stakes in the country's war on terror, as counter-terrorism efforts will now have to consider female combatants as well.
Dian and Arida Putri Maharani, 25, were arrested last weekend after police foiled a plot to bomb the Istana Merdeka presidential palace in Jakarta last Sunday.
It also marks a shift in strategy by Indonesian militants, who are now recruiting women to mount attacks instead of men, said national police chief Tito Karnavian.
He confirmed the suspects had planned to use a "rice-cooker" bomb, and this was to be detonated by a woman, referring to Dian.
National police spokesman Inspector-General Boy Rafli Amar said women blend in more easily and appear less suspicious.
"That is why terror groups are using them," he added yesterday.
Dian's alleged recruiter Tutin Sugiarti, a 37-year-old housewife from Tasikmalaya, West Java, and a fourth woman terror suspect, Ika Puspitasari, were picked up on Thursday, as the dragnet against the new terrorist cell based in Solo, Central Java, continues to widen.
The cell was set up by an Indonesian militant named Bahrun Naim, who is in the Middle East fighting alongside the Islamic State in Iraq and Syria (ISIS) militant group.
So far, at least 10 members of the group, mostly men, have been nabbed by police commandos from the counter-terrorism unit Detachment 88 (Densus 88), across Java over the last one week.
General Tito recalled the assassination of former Indian prime minister Rajiv Gandhi in 1991, as one of the more high-profile hits carried out by a woman suicide bomber, while such attacks are increasingly prevalent in Afghanistan, Iraq and Syria.
But Dian and Arida - who are both married to Muhammad Nur Solikin, the 26-year-old leader of the Solo cell - are the first Indonesian women known to be tasked with suicide bombings. There have been no reports of other women in South-east Asia doing the same.
Indonesian Defence University researcher Idelia Fitriana said Indonesian women historically become involved in terrorism through marriage, or family connections, and usually take on passive roles.
"Men are usually the jihadists because they are told if they martyr themselves, they will be in paradise with 72 beautiful virgins as their wives," she added. "That's the reward they believe they will receive if they commit a suicide bombing."
But Ms Idelia said Dian was probably influenced by her husband to become a suicide bomber.
Religious Affairs Minister Lukman Hakim said such marriages have no place in Islam, adding that a marriage is a holy institution that promotes peace, hope and love.
Investigations to establish the specific roles the four women played in the cell are ongoing. Dian is the only one who confessed to being a suicide bomber, adding that she was self-radicalised.
She said in the TV interview that it started when she looked up jihadists on social media and read about them online in 2014 - the year she was working in Singapore.
ISIS is known to have used social media to proselytise its cause and encourage sympathisers, including women to join it, said experts.
National Counter-terrorism Agency, or BNPT, recently set up a unit to counter radicalisation campaigns online but it is mainly targeted at children and young people in Indonesia, rather than women.
Jakarta-based Institute for Policy Analysis of Conflict director Sidney Jones said online chatter indicates that some women admire other women who are more active in terrorist movements overseas.
"They think it is more prestigious, more honourable, more satisfying if they become a mujahidah," Ms Jones told The Jakarta Post, using the term for female militants.
Dr Fitri Bintang Timur, who recently completed a study on women in peacekeeping operations at Britain's Cranfield University, noted that some women decided to bear arms because they too could be disgruntled with the government. But she felt Dian may have been brainwashed.
"I think she believes that what she is doing is good even though it will harm others," added Dr Fitri.
straitstimes.com/asia/indonesias-new-worry-women-turning-suicide-bombers
-----
Half Of Sindh's Women Desire No Excess Births, Says Report
December 18th, 2016
KARACHI: More than half of the women in Sindh desire no excess births despite certain social pressures on them to give 26 per cent more births than the desired level, a report authored by the population welfare and health ministries showed on Saturday.
It said women in Sindh had 26pc more births than the desired level three years ago while this figure had increased further in the last three years.
Recent surveys conducted by government agencies show the emergence of three key characteristics clearly identifying the concentration of unintended pregnancies, which were 35pc in the rural areas. The lack of education and poverty cause 33pc of such pregnancies.
The report, part of Sindh's family planning plan for 2020, said fertility in rural Sindh was 35pc higher than the desired level. Social pressures and poor accessibility of services lead women in rural Sindh to face the brunt of demand for large families and to experience single or multiple factors of high-risk pregnancies, threatening their health and life.
"Evidence reveals that the proportion of women desiring no more births has risen from 36pc in 1993 to 51pc to date; indicating a growing desire among women to curtail their pregnancies. The inconsistency between women's fertility goals and not availing contraceptive services at the same time, results in unwanted pregnancies or women who seek recourse to induced abortion.
In addition to investing in the availability of services, it said, it was equally important that services were confidential, located at an easily accessible location, offer respectful care to women and are delivered as per their choice at an affordable cost.
In Pakistan, abortion is legally allowed only to save the life of a woman, but due to difficulty in interpreting the law, it has been complicated to obtain legal abortion services. An earlier official report in 2007 revealed that around 10pc of women reported experiencing a miscarriage or an abortion during the five years before the survey. As per more recent estimates, the proportion of unintended pregnancies rose from 38pc in 2002 to 46pc in 2012. The rate of unintended pregnancies increased from 71 to 93 per 1,000 women aged 15 to 49 years. In 2012, there were around nine million pregnancies in Pakistan, of which 4.2 million were unintended. Of those unintended pregnancies, 54pc resulted in induced abortions and 34pc in unplanned abortions.
As per provincial estimates, Sindh and Balochistan have the highest rates of induced abortions (62pc and 63pc, respectively). There were about 2.25m abortions in Pakistan in 2012. Thus, the national abortion rate was 50 per 1,000 women aged 15 to 49. This is much higher than the rate estimated for 2002 which was 26.5 per 1,000. The abortion rate for Sindh is 57 per 1,000 women aged 15 to 49 which is higher than the national estimate. In 2012, an estimated 623,000 women in Pakistan were treated for complications of induced abortion. About 63pc of treated women obtained post-abortion care in private facilities. In Sindh, 58pc sought care from private facilities, a slightly lower than the national average. When observed in relation to high unmet need, this phenomenon of seeking care from private facilities, demonstrates a need for immediate policy and implementation initiatives, particularly in the provision for easily accessible services to avert recourse to abortion and post-abortion care.
The report said more poor women reported experiencing side effects of family planning [FP] methods than wealthier women. Twice as many poor women experience side effects of modern methods (28.3pc) relative to wealthier women (14pc). The findings reflect poor quality of services (weak counselling about side effects and choice of method) at facilities serving poor women. Moreover, unmet need is highest among the poorest of the poor (24.5pc); and lowest among the wealthy (15.3pc). It shows poor women get low-quality commodities or obtain services from poorly-skilled providers due to lack of affordability and proper care. The service delivery mechanisms are less inclusive and less supportive in rural or underserved areas.
The report said the total demand for FP in Sindh was high (met need 29.5pc; unmet need 20.8pc). The FP services by public and private sectors have not kept pace with the rising demand. A large proportion of health sector facilities provide FP services but at a slower pace.
The report quoted a recent survey that women in Sindh, on average, had one birth in excess of their desired fertility, with a total fertility rate of 3.9 compared to a desired total fertility rate of 3.0. The alarming proportion of women not desiring additional pregnancies (51pc) and experiencing unwanted pregnancies are a reflection of this critical situation.
In Sindh, early marriages among girls is a persistent practice, even though the average age at marriage has reached 20, and the legal age for marriage increased to 18.
Many districts that have low female literacy also have high proportion of women giving birth between the ages of 13 and 18. This high-risk pregnancy behaviour (around 8pc from 2001 to 2013) puts the health status of women at a serious risk.
dawn.com/news/1302902/half-of-sindhs-women-desire-no-excess-births-says-report
-----
Gunmen Kill Five Female Airport Workers In Afghanistan
December 18th, 2016
KANDAHAR: Gunmen on motorcycles shot dead five female airport workers and their driver in southern Afghanistan on Saturday, underlining the dangers facing employed women in the conservative, conflict-torn country.
The women, employees of a private company that provides luggage and body search services for female passengers, were in a van driving to the airport in Kandahar when three gunmen opened fire at them.
"All the women and their driver aboard the van were killed. The attackers fled the area and we have launched an investigation," said provincial spokesman Samim Kheplwak.
The women had been concerned about their security after receiving death threats from people who disapproved of their career, Kandahar airport director Ahmadullah Faizi said.
Taliban militants who implemented a harsh version of Sharia law during their 1996-2001 rule, not allowing women to work outside their homes, said they were not behind the killings.
But employed women have long faced a high risk of attacks from insurgent groups and conservative Islamists.
Afghan President Ashraf Ghani said the killing of innocent civilians and women showed the "weakness of the enemies of Afghanistan".
The United Nations also condemned the killings and called for a "prompt, effective, impartial and transparent investigation" into the incident.
Afghan women have made giant strides since the Taliban regime was ousted in 2001, but they are still absent from public life and continue to suffer high levels of violence, oppression and abuse.
The Afghan attorney general's office recorded more than 3,700 cases of violence against women in the first eight months of 2016, with 5,000 cases recorded in the whole of the previous year.
In October last year, unidentified gunmen on a motorcycle shot dead a woman working as a rights defender with the UN in Kandahar.
And in 2013, a top female police officer was shot dead in neighbouring Helmand province as she was travelling to work. Negar, who had been in the police for five years, worked as a sub-inspector in the elite criminal investigation department in Lashkar Gah city.
dawn.com/news/1303037/gunmen-kill-five-female-airport-workers-in-afghanistan
-----
Voices from the Diversity of Muslim Women in Canada
Sun., Dec. 18, 2016
If there's one thing Canadian Muslim women have in common, it's — well, not really anything, other than being Canadian Muslim women. There's a vast diversity, as evident in The Muslimah Who Fell to Earth: Personal Stories by Canadian Muslim Women.
This anthology, edited by Saima S. Hussain of Mississauga, includes 21 first-person accounts of experiences as a Muslimah, or Muslim woman. The contributors are variously brown, white and black, born in the Middle East, Indonesia, England, Brazil, East Africa and Canada, wives and singles, mothers and childless, straight and gay, devout and indifferent and conflicted.
One of the most delightful chapters is "Muslim Me" by the jeans-and-buzz-cut-wearing Maria Cruz, who is blind and uses a wheelchair. "Sometimes I'm glad people don't know I'm Muslim," she writes. "I cuss way too much."
Equally enlightening is "No Suitable Boy," in which Ashi Munir's parents parade one potential suitor after another for her approval, each woefully unsuitable. Now in her 30s, she's still single.
"Standing My Ground" is by Muslim convert and feminist Kirstin Sabrina Dane of Toronto, who went from trying to be "the perfect Muslimah" to challenging the mosque's practice of segregating male and female worshippers.
In "For Better or For Worse," York University student Ghazia Sirtaj tells a wrenching tale of violent abuse from her ex-husband.
Several women write about the strength they draw from their faith, despite sectarian divisions. Kenyan-born Azmina Kassam, a Shia Ismaili who doesn't cover her head, tells of her discomfort working with fully veiled Afghan women.
Near the book's end we finally hear from Zunera Ishaq, the woman who successfully challenged Canada's niqab ban while taking the citizenship oath. When Ishaq started wearing the face covering in Grade 11 in Pakistan, her large family, appalled, tried to talk her out of it. "As a niqab-wearing woman, I have found more acceptance in Canada than in my country of origin," she writes. A telling observation indeed.
There are half a million Muslim women in Canada today, a number expected to double by 2030. The candid and authentic voices in The Muslimah Who Fell to Earth add much to what is becoming an increasingly important conversation.
Journalist Marcia Kaye (marciakaye.com) is a frequent co
thestar.com/entertainment/books/2016/12/18/voices-from-the-diversity-of-muslim-women-in-canada.html
-----
Only few Yazidi women kidnapped by IS freed - Iraqi MP
18/12/2016
IRBIL, Dec 18 (KUNA) -- Still there are about 3,640 Yazidis, mainly women and children, held by the so-called Islamic State (IS) after the militant group abducted thousands of them earlier, said Iraqi MP Vian Dakhil.
Only 20 to 30 of the women and children captured by the IS have been freed since the launch of the military campaign to liberate the Nineveh Governorate from IS two months ago, Dakhil said in an exclusive statement to KUNA Sunday.
The women who survived IS captivity, totaling about 2,700 so far, are in dire need for psychological and spiritual rehabilitation programs, hopefully to reemerge them in the society and normal life, she said.
Dakhil expressed hope that the ongoing liberation campaign would lead to freeing all those snatched by the group.
She urged the State of Kuwait, and all other friends, to offer further support to help those in custody be released.
As the military operation, took off, there were hopes to free as many as possible of the abducted women, but it seems IS has moved them to other places, may be in Syria, Dakhil said.
The Yazidi MP of Kurdistan Alliance received the Bruno Kreisky Award for Human Rights for 2015 in Vienna.
Kuwait has recently started a project to support education of the displaced Iraqis in Irbil providing 20,000 schools bags, and huge amounts of stationery.
His Highness the Amir Sheikh Sabah Al-Ahmad Al-Jaber Al-Sabah has received Yazidi Nadia Murad who survived IS two-year captivity, showing Kuwait's solidarity with Iraqis, especially Yazidis, in their dilemma. (end) sbr.msa
kuna.net.kw/ArticleDetails.aspx?id=2582053&Language=en
URL: https://newageislam.com/islam,-women-and-feminism/new-age-islam-news-bureau/no-entry-for-mobiles,-tv-and-men-in-this-mumbra-madrasa-for-girls/d/109412
New Age Islam, Islam Online, Islamic Website, African Muslim News, Arab World News, South Asia News, Indian Muslim News, World Muslim News, Womens in Islam, Islamic Feminism, Arab Women, Womens In Arab, Islamphobia in America, Muslim Women in West, Islam Women and Feminism