New Age Islam News Bureau
26 Jan 2019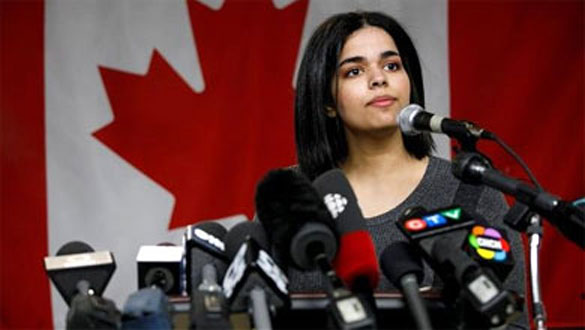 The file photo shows Rahaf Mohammed al-Qunun, 18, addressing the media during a press conference in Toronto, Canada, at the offices of COSTI, a refugee resettling agency, on January 15, 2019. (Photo by AFP)
-------
• Saudi Teen Rahaf Al-Qunun Demands Social Disobedience In Kingdom
• Saudi Arab Announces Women-Friendly Work Rules
• Indian Govt Bars Pakistani Woman from Returning Home After Divorce
• Aasia Bibi's Daughters Emigrate to Canada: Reports
• Mariah Carey to perform in Saudi Arabia on January 31
• Equality Over Faith: India Bats For Women's Rights On Sabarimala, Triple Talaq In Mood Of The Nation Poll
• Saudi Filmmaker Haifaa Al-Mansour Discusses Portrayal Of Women At Davos
• Dubai Women's Empowerment Platform Nominated For Award
• Shortage Of Men Sees More Syrian Women Enter Workforce
• Safiah Saleh: Kidnapped Woman Brought Home To Britain 34 Years After Being Taken To War-Torn Yemen
Compiled by New Age Islam News Bureau
URL: https://www.newageislam.com/islam-women-feminism/no-basis-banning-female-circumcision/d/117564
--------
No Basis for Banning Female Circumcision: WAFIQ
January 26, 2019
The International Women's Alliance for Family Institution and Quality Education (WAFIQ) wishes to clarify several facts concerning female circumcision (FC), which was recently discussed in the launching of the United Nations Convention on the Elimination of All Forms of Discrimination against Women (Cedaw) shadow report by a group of women's NGOs.
But first, it is refreshing to note that the panellists had used the term FC instead of female genitalia mutilation (FGM) – which the Cedaw committee once mistakenly believed was practised in Malaysia.
It must be stressed that there is a huge difference between FGM and FC under the Shafii school of Islamic jurisprudence.
Religious basis
Contrary to the statement by Sisters in Islam executive director Rozana Isa that FC is nothing more than a cultural tradition, FC has a religious basis. The Fatwa Committee of the National Council of Islamic Religious Affairs in 2009 stated that FC is mandatory.
We would like to take this opportunity to state that there are two views among Muslim scholars regarding FC. One view is that it is compulsory like male circumcision, and another view is that it is sunnah – an act of worship that is encouraged in Islam, but not obligatory.
In Malaysia, FC has been religiously followed according to the Shafii school of law. Federal Territory Mufti Zulkifli Mohamad al-Bakri (photo) said that "circumcision is mandatory for men and women", and the idea that female circumcision is "unlawful in Islam" is arguable.
Most states follow the Shafii school of law on female circumcision. The Perlis Fatwa Committee, in 2017, following the second view, decreed that circumcision is obligatory for men and sunnah for women.
Both views are based on narratives from the Hadith. One narrative was when Caliph Uthman ibn Affan had invited an old woman who was a slave with other young women from Rome to accept Islam. When the old woman and a young girl accepted Islam, Uthman had ordered for them to be "circumcised" and "purified".
This narrative was graded "daif" or weak.
Another narrative was of a woman who performed circumcision in Madinah. It was said that Prophet Muhammad had told her: "Do not cut severely as that is better for a woman and more desirable for a husband."
This narrative was graded "sahih" or sound by al-Albani, and the Hadith has been reported in Sunan Abi Dawud, Book 42, Hadith 5251.
Two other narratives are almost similar – it was narrated that Muhammad had said: "Do not cut off too much as it is a source of enjoyment for the woman and more likeable to her husband," and "When you circumcise, you must not cut off too much as it is a source of loveliness of the face and more enjoyable for the husband."
It can be seen from the narratives that Muhammad did not forbid female circumcision, but encouraged it as commendable acts in religion.
According to the Hanafi school of law, female circumcision is permissible, but not sunnah. The Maliki school of law considers it a "preferred act" (mandub). The Shafii school of law says circumcision is an obligation for both men and women. This is the official ruling.
The Quran, however, does not condemn female circumcision as long as it does not compromise the health of the female.
According to contemporary Muslim scholar Yusuf al-Qaradawi (photo): "It must be ascertained that there is no mutilation by those who handle the affairs of their daughters in the manner that comes from the Hadith.
"It cannot be labelled as a form of crime as committed in the 21st century, except in cases that violate the agreed rules in syariah, excessive cutting, and controlled by ignorant people from the midwives and beyond... and it should not use the medicines that might barren the child."
Medical complications
We also welcome the views of the panellists that FC as practised in Malaysia is no longer seen as a harmful practice. This is in agreement with the data from the Health Ministry, which reported in 2015 that as many as 83 to 85 percent of Muslim babies attending the government clinic had reportedly been circumcised, while 15 to 17 percent of Muslim babies did not undergo circumcision.
All Muslim babies who had been circumcised did not report any complications. Anecdotal report should not be the basis of banning of FC in Malaysia.
As to the question of should there be scientifically proven medical benefits to validate religious practices, it must be emphasised that the rulings of Islam – the obligation to perform prayer, fasting and circumcisions and others – were ordained to Muslims 1,400 years ago as part of our faith.
We had never known the medical benefits of many of these practices before modern science comes yet they were religiously observed by the faithful. Thus, medical benefits are not the prerequisite to maintaining a religious practice.
Rather, it is the presence of medical harms, that show how Islamic rulings may be relaxed based on maqasid syariah (the purpose of syariah). A severely diabetic patient, for example, does not have to fast, if by doing so, he may succumb to hypoglycaemia.
Harmful ideology?
We also respectfully disagree with claims that FC perpetuates a "harmful ideology" that women were not equal to men. There is simply no evidence to back this up.
A 2012 study conducted by Dr Maznah Dahlui of Universiti Malaya's Department of Social and Preventive Medicine, found that 93 percent of Muslim women surveyed had been circumcised.
The fact that this practice is normally done in private by the family when a child is of a very young age that she is unlikely to remember it, and the fact that FC is hardly a subject one discusses openly, there is simply no correlation that the practice confers a harmful ideology.
This is, of course, in contrast to some cultural practices which have been banned in African countries, as much older girls are subject to surgery that technically suture their labia minora or labia majora as a form of FGM.
The claim that FC is a harmful ideology needs to be substantiated with how women in Malaysia have progressed all these years we were practising FC. In 2015, in The Millennium Development Goal Index (MDG) praised Malaysia for our achievement of women surpassing men in both enrolment and completion of primary and secondary education (more than 95 percent). Almost 70 percent of those enrolling in universities are women.
In the 69th session of Cedaw in 2018, Naéla Gabr from Egypt and Ismat Jahan from Bangladesh stated that Malaysia should ban FC following in their countries' footsteps. Local women's NGOs have urged Malaysia to follow suit.
We need to ask ourselves, what is considered as tangible measures for success in women? Thus, we compared the Global Gender Gap Report for 2017. The Global Gender Gap report benchmarks 144 countries on their progress towards gender parity across four thematic dimensions: economic participation and opportunity, educational attainment, health and survival, and political empowerment.
In women's health and survival, Malaysia ranked 53, with Egypt at 99 and Bangladesh at 125. For educational attainment, we were at 77, Egypt at 104, and Bangladesh at 111. For economic participation, we are at 87, Bangladesh 129 and Egypt at 135. Bangladesh scored higher than us in one thematic, political empowerment, because it has a woman as a prime minister.
So does the banning of FC play any role in women's progress?
Having said that, we truly believe that there is plenty of room for Muslim women to succeed, but we call for a more objective analysis of an issue backed up by reliable and validated data, rather than assumptions based on intuition which will not help with effective policymaking.
https://www.malaysiakini.com/news/461775
--------
Saudi Teen Rahaf Al-Qunun Demands Social Disobedience In Kingdom
Jan 25, 2019
Saudi teenager Rahaf Mohammed al-Qunun, who was granted asylum in Canada earlier this month, has called for social disobedience in the oil-rich conservative kingdom in the wake of a widening crackdown against Muslim preachers and intellectuals as well as flagrant violation of human rights there.
Qunun took to Twitter on Friday to demand such an action, Arabic-language New al-Khalij news website reported.
"When injustice becomes a law, resistance becomes a duty," she wrote.
The 18-year-old fled to Thailand while visiting Kuwait with her family in early January.
Her case grabbed international attention on social media after she barricaded herself in a Bangkok airport hotel room to resist being sent home to her family.
Qunun told Canada's CBC News network and the Toronto Star daily newspaper on January 14 that she was beaten up for not praying and locked in the house for six months for cutting her hair short.
"I was exposed to physical violence, persecution, oppression, threats to be killed," she said.
"I felt that I could not achieve my dreams that I wanted as long as I was still living in Saudi Arabia.
"It's daily oppression. We are treated as an object, like a slave. We could not make decisions about what we want," the Saudi teenager pointed out.
Qunun landed in Canada on January 12, and was welcomed by the North American country's Foreign Minister Chrystia Freeland at Toronto's airport. "This is a very brave new Canadian," Freeland told reporters.
Canadian Prime Minister Justin Trudeau said on Friday that Canada had accepted a request from the United Nations High Commissioner for Refugees (UNHCR) to take in the Saudi teenager.
Saudi Arabia severed its diplomatic relations with Canada last year, and barred the Canadian ambassador to Riyadh after Ottawa criticized Saudi authorities for detaining female activists and the kingdom's human rights record.
https://www.presstv.com/Detail/2019/01/25/586758/Saudi-teen-Rahaf-Qunun
--------
Saudi Arab Announces Women-Friendly Work Rules
January 25, 2019
According to Gulf News, the proposed decision includes avoiding any measures that would curb the freedom of women that is in violation of the labour system and wage parity.
Female workers must be provided a suitable place to perform prayers and take rest.
The new initiative also proposes that all workplaces with women must include private toilets and separate work areas or counters.
The initiative also specifies working hours for women – ending latest by 11pm.
Those in industrial areas will only work till 6pm.
The ministry added that all work standards are detailed in a decree accessible here.
https://www.aaj.tv/2019/01/saudi-arab-announces-women-friendly-work-rules/
--------
Indian Govt Bars Pakistani Woman from Returning Home After Divorce
January 26, 2019
LAHORE: A Pakistani woman currently residing in India but hoping to return to her home is not being granted clearance by authorities in India.
The woman, identified as Kubra Gillani, originally hails from Muzzaffarabad district. She had married Muhammad Altaf who was from Indian Occupied Kashmir (IOK) in 2010 but after divorcing him in November last year, she wishes to return back home.
While the Pakistani High Commission in India had issued her a new passport, she has been barred from travelling by authorities in India.
She explained that she has been visiting the office of the interior ministry for months now but she has not yet been granted permission to leave.
She appealed to authorities in Pakistan to negotiate with the Indian government and secure her return to Pakistan.
https://www.pakistantoday.com.pk/2019/01/25/indian-govt-bars-pakistani-woman-from-returning-home-after-divorce/
--------
Aasia Bibi's Daughters Emigrate to Canada: Reports
January 26, 2019
ISLAMABAD: Aasia Bibi's daughters have emigrated to Canada and are residing in the capital Ottawa, media reports stated on Friday.
Bibi's daughters were living with their stepmother during her detention. As per further media reports, the family's longstanding guardian and his family were also granted asylum by the Canadian government.
On October 31, 2018, the apex court had acquitted Aasia Bibi, who was facing a death sentence for blasphemy and ordered to release her from prison immediately, dismissing the Lahore High Court (LHC) judgement.
Following the acquittal verdict, protests had erupted in several cities.
Enraged masses had blocked several routes across the country for two days, while at some places they had also set fire to vehicles. The demonstrations saw the closure of schools, colleges and universities, as well as cancellation of examinations.
The government and the protesters from different religious groups, led by Tehreek-e-Labbaik Pakistan (TLP) chief Khadim Rizvi, reached an agreement two days later on November 2.
The law enforcement agencies had rounded up around 1,800 individuals by Monday night. The Ministry of Interior had said that the arrested suspects had been booked under the Anti-Terrorism Act (ATA).
Although the government decided to take action against miscreants involved in vandalism, torture and arson during the demonstrations across the country, it later showed leniency by dropping the cases against the TLP workers.
Separately, the Supreme Court (SC) fixed a review petition against its verdict acquitting Aasia Bibi in the country's most high-profile blasphemy case last year.
The case will be heard by a three-member bench headed by Chief Justice of Pakistan (CJP) Asif Saeed Khosa and comprising Justice Qazi Faez Isa and Justice Mazhar Alam Miankhel on January 29.
The review petition has been filed by Qari Muhammad Salaam.
https://www.pakistantoday.com.pk/2019/01/25/aasia-bibis-daughters-migrate-to-canada-reports/
--------
Mariah Carey to perform in Saudi Arabia on January 31
January 25, 2019
JEDDAH: Mariah Carey is to perform in Saudi Arabia for the first time next week.
The American singer will play a show as part of the first international golf tournament to be played in the Kingdom.
The concert will take place on Thursday, Jan 31, at King Abdullah Economic City.
Other performers during the course of the tournament include Dutch DJ Tiesto, Yemeni-Emirati singer Balqees Fathi and Jamaican rapper Sean Paul.
Part of the European Tour, the inaugural Saudi International, powered by SBIA, takes place between Jan 31 and Feb 3 at the Royal Greens G&CC.
Carey is the latest major international artist to perform in the Kingdom.
A string of live entertainment performances have been held in Saudi Arabia over the last couple of years, following a lull in the Kingdom hosting such events.
In October 2016, the New York-based theatrical group iLuminate took to the stage in Riyadh in a rare public performance of music and dance.
In January 2017, prominent Saudi star Mohammed Abdu performed live in Jeddah — along with Saudi artist Rabeh Sager and the Iraqi-Saudi singer Majid Al-Muhandis — in what was the city's first open music concert in seven years.
And last month, A-list stars including Enrique Iglesias, the Black Eyed Peas and David Guetta took to the stage during a three-day music event held during the inaugural Saudia Ad Diriyah E-Prix in Riyadh.
Concert tickets for Mariah Carey and the other performers are on sale at Virgin Megastores or through the website TicketingBoxOffice.com.
http://www.arabnews.com/node/1441826/art-culture
--------
Equality Over Faith: India Bats For Women's Rights On Sabarimala, Triple Talaq In Mood Of The Nation Poll
January 26, 2019
A Supreme Court order allowing women, irrespective of age, to enter and pray at the Sabarimala temple in Kerala contravening the established temple traditions has triggered a contentious debate on two equally strong constitutional principles -- Article 14 guaranteeing equality and Article 25 guaranteeing freedom or religion.
Freedom of religion means the right to practice one's own religion, not the freedom to undermine the fundamental rights of others. Nor does freedom of religion warrant contravening the writ of the Supreme Court which grants explicitly to women the right to worship at Sabarimala. Blinkered and diehard conservatism has failed to perceive the role of inspiring figures, particularly in south India, who challenged the bounds of orthodoxy, broke the rules of caste and gender, and triggered popular movements of reform and renaissance over centuries.
The latest MOTN reveals 59 per cent is of the opinion that women of all ages should be allowed in religious shrines where they were traditionally barred entry from. Those in favour are 60 per cent among Hindus, 46 per cent among Muslims and 60 per cent among others. But political parties indulge in duplicity and take a regressive stand, staggering backwards, in playing to the gallery keeping elections in mind rather than pursue a forward-looking societal outlook.
It is this which has made the Modi government re-promulgate the ordinance, on January 12, banning the practice of instant triple talaq as the relevant bill could not get parliamentary approval. Under the Muslim Women (Protection of Rights on Marriage) Ordinance, 2019, divorcing through instant triple talaq (talaq-e-biddar) will be illegal, void and would attract a jail term of three years for the husband. A bill to convert the earlier ordinance, issued in September 2018, was cleared by the Lok Sabha in December and was pending in the Rajya Sabha. Seeking to allay fears that the proposed law could be misused, the government has included certain safeguards, such as adding a provision of bail for the accused before trial.
https://www.indiatoday.in/magazine/web-exclusive/story/20190204-motn-sabarimala-triple-talaq-1439541-2019-01-25
--------
Saudi Filmmaker Haifaa Al-Mansour Discusses Portrayal Of Women At Davos
24 January 2019
Saudi Arabian filmmaker, Haifaa al-Mansour, said her aim is to portray Arab women as strong and "sassy."
Speaking during a panel at the World Economic Forum in Davos on Wednesday, al-Mansour said: "Whether it's coming from the region, or internationally, I really enjoy portraying strong female protagonists, women who don't see themselves as victims," al-Mansour said.
"In all the scripts I get, Muslim and Arab women are all victims and sad, and things are happening to them — and it's like no, we're very sassy. We're very strong. Don't take us for granted."
She added that it was a stereotype to portray Arab women as weak, and although she did not deny the hardships that some Arab women face, she said, "that is a huge misconception, we are way more than who they think we are as women."
Al-Mansour was honored with the World Economic Forum's Crystal Award, which celebrates the achievements of leading artists and cultural figures whose leadership inspires inclusive and sustainable change.
Saudi Arabia has witnessed waves of reforms as part of the Saudi Vision 2030, which intends to diversify the Saudi economy and liberalize Saudi society. These new changes introduced the opening of cinema theatres in the Kingdom, whereas in the past movie theatres did not exist.
Al-Mansour lauded the reforms and the focus on arts and entertainment in the Kingdom, "Saudi Arabia is building its arts and culture industry, and that's where we should put our energy."
https://english.alarabiya.net/en/life-style/art-and-culture/2019/01/24/Saudi-filmmaker-Haifaa-al-Mansour-Arab-women-are-strong-not-victims.html
--------
Dubai Women's Empowerment Platform Nominated For Award
January 25, 2019
Dubai: Ananke, a Dubai-based digital platform empowering women through awareness, advocacy and education, has been nominated for the World Summit on the Information Society (WSIS) awards, to be held in Geneva, Switzerland, in April.
WSIS is an initiative to ensure the good of the internet, while Ananke strives to enable women's empowerment through equal participation in the digital revolution.
"We are extremely grateful to have been recognised for the work we do empowering women globally," said Ananke editor-at-large Melanie Bublyk.
"Most important to my work is the ability to give all women a voice and utilising digital technology to promote sustainable development, peace and fostering good working relations transnationally."
Voting continues until February 10 and is open to the public.
https://gulfnews.com/uae/dubai-womens-empowerment-platform-nominated-for-award-1.61664862
--------
Shortage Of Men Sees More Syrian Women Enter Workforce
January 26, 2019
In an almost pitch-dark basement bakery near Damascus, Hiyam Hashash washed plastic tubs while male colleagues fried dough balls in boiling syrup.
This is the first time that the 40-year-old has worked outside the home, something she had never previously imagined she would have to do. But her life changed when her husband and eldest son were killed fighting for the rebel side in Syria's civil war. "Everything was fine, but after I lost my son I couldn't find anyone to help me and I had to start work," said Ms Hashash, who wore a black headscarf.
Alone and with three children to support, she is one of many Syrian women living through a profound shift in gender roles in an often conservative country whose social fabric has been shredded by violence.
With Bashar al-Assad's regime claiming victory after an eight-year civil war, there is still sporadic violence but fighting has ebbed.
The government's military campaign and sweeping conscription efforts have created a demographic crisis. Of the nearly 500,000 people killed during the war, some 80 per cent were men, according to the Syrian Centre for Policy Research (SCPR), which found male life expectancy fell from 70 years in 2010 to 48 by 2015. Men aged 15-24 have experienced the sharpest decline in life expectancy.
Millions more young men have sought refuge in neighbouring countries and Europe, fearing conscription or retribution if they return. This has had huge social and economic implications. Women are now the primary breadwinner and carer in about one-third of Syrian households, according to the UN women's agency.
"Really, where are all the men? If you wanted to get hitched you could marry ten women," said Wael, 42, as he tried vainly to sell puffy wedding dresses in Damascus. Some women are even having weddings without grooms, said Muhideen Mubaideh, 48, who runs a wedding shop in the same Damascus market. "The groom is in another country so the bride has a small party, she wears a wedding dress . . . It signifies a new beginning for her," he said. The groom watches the ceremony via video-link.
More fundamentally, the absence of men has changed the labour force. Before the war, just one-fifth of women worked, World Economic Forum figures suggest.
With men in short supply, many employers now have no option but to hire women. "Surely there is a gender imbalance in the Syrian labour market," said Rima Kadiry, minister for labour and social affairs. "The percentage of women is higher than the percentage of men." One think-tank report suggested that the rate of female entrepreneurship has risen from 4 per cent in 2009 to 22 per cent in 2017.
At the age of 51, Mariam Toufic Ghannoum, who moved to Damascus with her family in 2012 to escape fighting in Ain Tarma, is pursuing her first career — as a decorator. She wanted to make more money after her husband retired because of health problems and they found his pension could not cover their bills.
"I wanted to learn how to paint houses because when I left my home in Ain Tarma I had only recently had it decorated, and the smell of paint was still there," she said, sitting in their cramped two-room rental apartment on the outskirts of Damascus. Despite her efforts, Ms Toufic Ghannoum said they have not been able to afford meat since fleeing in 2012.
Womens' access to paid employment depends on where in Syria they are, according to research by humanitarian organisations including CARE International, and attitudes vary across the country. Even in Damascus, women still battle entrenched sexism. "I hate working with women," said one factory manager, who asked not to be named because his relatives are sanctioned for ties to the regime. "She gets pregnant, and I'm sorry to say, she has every month five days crying."
These attitudes have not deterred Sara Kataf, 32, a software programmer who wants to start "an app revolution in Syria". After convincing her father to back her financially she started her company Appfirm in July, and has already launched an app helping Damascenes find late-night pharmacies.
Although women are often under pressure to take jobs considered feminine such as sewing or hairdressing, Ms Kataf said she usually faces surprise rather than discrimination. "When a girl who studied something that only men study and opened a company that usually men do, that's the shocking point," she said.
https://www.ft.com/content/14b8708c-1eeb-11e9-b2f7-97e4dbd3580d
--------
Safiah Saleh: Kidnapped Woman Brought Home To Britain 34 Years After Being Taken To War-Torn Yemen
January 26, 2019
A British woman who was kidnapped more than 30 years ago and taken to war-torn Yemen has returned to the UK.
Safiah Saleh was only 18 months old when her father abducted her and her two older sisters, who were aged four and five, and took them to the Middle East.
Her mother, Jackie Saleh, from Cardiff, raised more than £7,000 as part of a campaign to bring her youngest daughter back to the UK and in December helped her flee from the Yemen town of Hodeidah.
The town is being bombed by Saudi Arabian warplanes as they fight the Houthi rebels who have taken over much of the country.
A spokeswoman for the Foreign Office said: "Our staff issued Emergency Travel Documents to a British woman and her children and we are pleased that they are now reunited with their family in the UK."
The family arrived in Cardiff on Wednesday after Safia Saleh, now 35 and married with four children, fled to Egypt in December.
Ms Saleh said on Thursday she had been trying to leave Yemen since 2006. She said they "had no money, no house and no school for the children" in Yemen.
Her mother Jackie thanked supporters and Welsh Assembly member Neil McEvoy for their help in bringing her daughter home.
She said: "I want to thank everybody for all your support and everyone who donated to the crowd funder. This day would have never happened otherwise. I want to thank Neil McEvoy for all his support and in organising the crowd funder.
"I am very overwhelmed and so, so happy to be reunited with my daughter Safia after 34 years. I have also gained four grandchildren and a son in law.
"I never gave up fighting for my children. The 34-year journey has been a roller-coaster. Everything has been so intense and I ask that our family be left now to start our new lives. Thank you all from the bottom of my heart."
"I have been trying to leave the Yemen since 2006. The Embassy in Yemen was no help at all. They just took the fees and did not help. I still have the receipts for the payments.
"I am very happy that I arrived to be with my mother and my sister. It was so difficult in the Yemen. We had no money, no house and no school for the children. There was no security."
Neil McEvoy AM said: "I hope they can all now live in peace and dignity and that they have a happy home full of love. They deserve that.
"For my part, I'll continue to help them in any way I can as they move on to the next chapter in their amazing story."
https://www.independent.co.uk/news/uk/home-news/safiah-saleh-kidnapped-abducted-father-yemen-uk-cardiff-wales-a8744616.html
--------
URL: https://www.newageislam.com/islam-women-feminism/no-basis-banning-female-circumcision/d/117564
New Age Islam, Islam Online, Islamic Website, African Muslim News, Arab World News, South Asia News, Indian Muslim News, World Muslim News, Women in Islam, Islamic Feminism, Arab Women, Women In Arab, Islamophobia in America, Muslim Women in West, Islam Women and Feminism