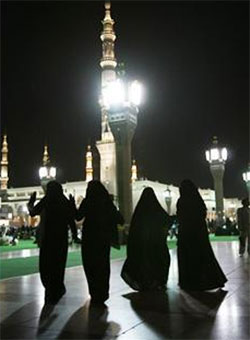 Muslim women arrive at the Prophet's Mosque in the holy city of Madinah in Saudi Arabia. (AFP)
Why Are Young Iranians Losing Interest In Marriage?
Muslims Ask Moscow Authorities for Separate Beaches for Men and Women
Scientist, Ameenah Gurib-Fakim Sworn In As Mauritius' First Woman President
Burma Brings In 'Repressive' Law Forcing Some Women to Wait Three Years between Pregnancies in a Bid to Reduce the Birth Rate among Muslims
Family Court Stops a Muslim US-Returned Man from Marrying Second Time In Mumbai
Turkish Court Stirs Marriage Debate
Wary Saudi Wives Block Husbands' Solo Travels
Police Rebuked For Returning 'IS Risk' Girl's Passport
Compiled by New Age Islam News Bureau
URL: http://www.newageislam.com/islam,-women-and-feminism/new-age-islam-news-bureau/no-ban-on-women-at-taraweeh-prayers-in-the-eastern-province/d/103369
---------
No Ban on Women at Taraweeh Prayers in the Eastern Province
Jun 6, 2015
JEDDAH: The Ministry of Islamic Affairs, Endowments, Call and Guidance has denied reports that women would not be allowed to attend Taraweeh, night prayers, this Ramadan at mosques in the Eastern Province.
This comes in the wake of a suicide bomber dressed in a woman's black Abaya blowing himself up at the Al-Anoud Mosque in Dammam last week.
"There is no truth to the rumours that women would not be allowed to attend Taraweeh prayers during the holy month of Ramadan in the Eastern Province or elsewhere," an official said. These rumours were intended to create divisions in the country; he was quoted by a local publication as saying.
The official, who requested anonymity, said the ministry did not send a circular to imams about the issue. "However, some security precautions will be taken at mosques during the blessed month and for Friday congregational prayers in the wake of the tragic events at some mosques in the Eastern Province," he said.
He said there were 150 mosques that hold Friday prayers in Dammam, Dhahran, Alkhobar, Qatif and other governorates. The Interior Ministry was coordinating the security measures, he said.
He did not disclose the precautionary mechanisms being implemented but urged worshippers not to be intimidated by the rumours being spread by "deviants."
A source at the Interior Ministry said in a statement that there would be many police officers deployed at mosques, especially after the dawn prayers on Fridays.
He said the measures are being implemented with the Islamic Affairs Ministry, which would include undercover police officers in all Eastern Province cities.
Arab News reported on Friday that security has been tightened around more than 94,300 mosques across the country, following the two terrorist attacks on mosques in Qatif and Dammam.
Report denied
Meanwhile, spokesman for the Interior Ministry Maj. Gen. Mansour Al-Turki has denied that a person detained at a checkpoint recently was wanted in connection with the terrorist attacks in Qatif and Dammam mosques. Al-Turki stressed in a statement that the arrested man's name was not on the list of 16 wanted terrorists who were involved in the attacks on Al-Qadeeh and Al-Anoud mosques.
The spokesman also denied reports that security forces have foiled an attempt to smuggle two bags of explosives into Al-Jawhara Stadium hours before the final of the King's Cup soccer match between Al-Hilal and Al-Nasr teams were to be played there.
Al-Turki said the car that was stopped at a checkpoint was occupied by two Pakistani workers, and the bags in the vehicle contained bottles of perfumes. One of the men was arrested because he was in violation of residency and labor laws.
http://www.arabnews.com/saudi-arabia/news/757641
----------
Why Are Young Iranians Losing Interest In Marriage?
Jun 6, 2015
Despite Iranian leaders' desire to increase the marriage rate and population, the latest statistics published by the National Organization for Civil Registration and the Ministry of Youth and Sports indicate that men and women have less interest in getting married while the divorce rate has risen.
Ali Akbar Mahzoon, chairman of the Information and Statistics Department of the National Organization for Civil Registration, said in an interview May 6 with Mehr News Agency that Iran has more than 11 million unmarried youths in marriage age range. In Iran, the customary marriage age range is 20-34 for men and 15-29 for women. According to the information provided by Mahzoon, 46% of men and 48% of women in those age ranges remain unmarried.
Mahzoon said the marriage rate has declined in the last 3½ years — down 1.9% in 2012, 5.1% in 2013, 6.7% in 2014 and 7.2% in the first months of 2015.
A University of Tehran sociology professor, who spoke on condition of anonymity, told Al-Monitor that the youths' reduced interest in marriage stems in part from the "living condition of Iranian youths born in the 1980s and 1990s. Economic and cultural middle classes of society have experienced astronomical growth in technology and freedom in social relationships. Therefore, the youth have more opportunities to engage in romantic and sexual relationships while they are single. They are not willing to lose these opportunities by committing themselves to marriage."
From 2005 to 2014, the percentage of unmarried men older than 35 increased from 6.7% to 10.2%. In the same period, the percentage of unmarried women over 30 rose from 6.3% to 13.8%.
The professor is not surprised by the decreased marriage rate from 2011 to 2014. "After commencement of international sanctions against Iran, which coincided with severe mismanagement in [Mahmoud] Ahmadinejad's administration, the country's economy deteriorated, the inflation rate exceeded 30% and the unemployment rate increased drastically. Youths from middle classes could not get married in this situation. A government can think about the youth's mental issues only when real barriers such as economic decline and unemployment are overcome. Otherwise, any attempt is like trying to carry water in a sieve."
Mahmoud Golzari, the head of the Deputy for Youth Affairs of the Ministry of Youth and Sports, said on May 5, "We should improve society's attitude toward marriage. We should perform this task using all our cultural tools such as films, books, press, media and even music. Unfortunately, we do not have proper books and cultural products in this field."
The sociology professor told Al-Monitor, "Mr. Golzari has oversimplified the problem. Does he really think that writing books will solve the marriage problem while economic problems are still in place?"
While the number of marriages ranged between 870,000 and 890,000 from 2007 to 2011, it decreased to 820,000 in 2012 and 770,000 in 2013.
Manouchehr, a 28-year-old civil engineer who lives in the Poonak neighborhood of western Tehran, told Al-Monitor that unstable employment and high rents prevent him from getting married. "Currently, I live with my parents," he said. "I do not pay rent. I can go on a date with my girlfriend in a cafe or at a party. Why should I make myself miserable by getting married? I do not want to torture myself nor the poor girl. People get married to become stable and find peace, not to suffer from low income."
A plummeting marriage rate concerns the supreme leader, Ayatollah Ali Khamenei, who advocates population growth policies.
On July 24, 2012, Ayatollah Khamenei said in a meeting with state officials that authorities should have dropped population control policies after 1992. In those days, he showed concern that continuing population control policies would result in "growth in elderly population and eventually population decline." He asked authorities to encourage families to have more than two children so that the country's population reaches 150 million to 200 million.
In May 2014, he formally notified the Hassan Rouhani administration on the country's population policies, which urged "removing marriage barriers, decreasing marriage age."
Meanwhile, the divorce rate has also increased.
Statistics published by the National Organization for Civil Registration shows that the divorce rate has continually increased from 2006 to 2013. The number of divorces was 94,039 in 2006, which showed a 65% increase in 2013 by reaching 155,369.
"Divorce rate and willingness to remain unmarried may increase as a result of the same mental and economic factors," the sociology professor said. "Technological growth has increased opportunities for married people to engage in sexual relationships outside their marriage, which is a reason for divorce. In addition, severe economic hardships make married people exhausted. These two factors played a significant role in the increasing divorce rate in recent years."
Although the Rouhani administration has published statistics on marriage and divorce rates, it has not presented its economic and cultural policies to affect those issues. It seems the Rouhani administration has concluded that there is not much to do regarding economic and cultural issues such as marriage and divorce, until a stable economy is established.
http://www.al-monitor.com/pulse/originals/2015/06/iran-birth-rate-marriage-decline-divorce.html#ixzz3cG4dH2of
----------
Muslims ask Moscow authorities for separate beaches for men and women
Jun 6, 2015
The suggestion of the Muslim community to organize separate beaches for men and women has been supported by representatives of the Russian Orthodox Church, Jewish and Buddhist religions.
The request to the Moscow City Hall has been prepared and filed by Albir Krganov who is a deputy chairman of the Spiritual Directorate of Muslims of Russia and also a member of the Public Chamber's Commission for Harmonization of Relations between Ethnic and Religious Groups.
The activist claimed that "hundreds of thousands" of religious residents of Moscow were deprived of ability to visit city beaches that are currently shared by men and women. "As not everyone can afford a trip abroad, and we consider it necessary to open additional recreation zones for the residents of the capital city who cannot stay on common beaches for religious or moral reasons," Krganov wrote in his letter.
The activist added that countries like Israel, Turkey, and Germany have separate beaches for men and women and that the effect from this is positive. In the Russian Federation such beaches exist in the city of Kazan, the capital of predominantly Muslim republic of Tatarstan.
The letter was signed by the head of the Russian Orthodox Church's department for relations with the society, Vsevolod Chaplin, President of the Association of Russian Jewish Communities Aleksey Boroda and representative of the Traditional Buddhist Community of Russia Andrey Balzhirov, Izvestia reported.
A member of the Public Chamber's commission for family women and children, Sultan Khamzayev, said in comments with Izvestia daily that the initiative was necessary as it was in the interest of not only religion but also secular morals.
Vice President of the Russian Union of Tourist Industry, Yuri Barzykin also threw support behind the plan, saying that separate beaches could help members of all confessions find a comfortable place for themselves.
However, State Duma deputy Valery Rashkin (Communist Party) urged caution in putting the separate beaches project into reality. "I am convinced that the society must not adjust itself in accordance with some religious or moral values of its separate members. There are dedicated places – like churches and mosques where people can unite in accordance with their ideas about the world and the rules of life. We should limit ourselves to these sites," Rashkin told Izvestia.
There is no precise data on the number of religious people in Moscow but last year the City Hall estimated that there were about 2 million migrant workers in the city – the overwhelming majority of which come from traditionally Muslim ex-Soviet Republics in Central Asia.
Last July a spokesman for Russia's Council of Muftis urged Moscow authorities to build more mosques in the city, saying this would prevent the overcrowding of city streets on major holidays. This was not the first suggestion of this kind, but so far all such suggestions have been rejected.
In 2013, Moscow Mayor Sergey Sobyanin told reporters that the majority of mosque-goers were not permanent residents of the city and that migrants should go home once their working contracts expire. He added that the three existing mosques could very well serve the needs of the permanent residents of Moscow who adhere to Islam.
http://rt.com/politics/265216-russia-beaches-moscow-muslims/
----------
Scientist, Ameenah Gurib-Fakim Sworn In As Mauritius' First Woman President
Jun 6, 2015
PORT LOUIS: Prominent scientist Ameenah Gurib-Fakim was sworn as president of Mauritius on Friday, becoming the first women to hold the ceremonial position in the Indian Ocean island nation.
"My ambition is to bring the Mauritian nation together around the national flag," Gurib-Fakim after her inauguration, held at the presidency outside the capital Port Louis.
She said she was dedicating her appointment to her parents, "who had the vision to educate their daughter at a time when it was boys who were given the priority," and added she was "proud and filled with humility."
Gurib-Fakim, 56, is the first female president of the island, which gained independence from Britain in 1968 and replaced Britain's Queen Elizabeth II as its head of state in 1992.
http://www.arabnews.com/world/news/757416
----------
Burma Brings In 'Repressive' Law Forcing Some Women to Wait Three Years between Pregnancies in a Bid to Reduce the Birth Rate among Muslims
Jun 6, 2015
Women in Burma could be forced to wait up to three years between pregnancies, thanks to a controversial new law.
Human rights groups claim the law is targeted at Muslim women in the Buddhist-majority nation, in the latest act in a long history of religious persecution.
Thousands of Rohingya Muslims have fled the nation, where the government refuses to accept them as citizens and has rendered them stateless.
The law, brought in last month by the government and backed by ultra-nationalist Buddhist groups, allows officials to restrict the birthing rights of women.
But it risks causing an even greater rift between faiths in the country that has already been wracked by religious violence.
Religious riots in the country exploded in June 2012 between Rohingya Muslims and Buddhists, causing the deaths of hundreds of people and the displacement of tens of thousands.
Although the wording of the law does not specifically target Rohingya Muslim women, human rights groups insist that the law is intended to further restrict the rights of the already persecuted religious group.
Mark Farmaner, Director of Burma Campaign UK, said that the new birth restriction laws were a recommendation in a Burmese government report into the anti-Rohingya violence in 2012.
He told the MailOnline: 'The Burmese government passing laws on when Rohingya people can have babies is just the latest in a series of repressive laws designed to drive all Rohingya out of Burma.
'There are laws on everything from needing government permission to get married to having their right to vote taken away.
'Kids don't even have the right to travel to a neighbouring village to play football.
'Laws like this are one of the reasons why we are seeing thousands of Rohingya fleeing Burma by boat.'
Officially, some four per cent of Burma's 51.5 million-strong population are Muslim, but the actual number is thought to be higher.
The law is the first in a series of race and religion bills that are seen to encourage religious and political violence in the country.
David Mathieson, of Human Rights Watch, told the MailOnline: 'I think the race and religion protection laws' are the result of rising ultra-nationalism and extremism, and have a disturbingly anti-Muslim current.
'The laws really are predicated on further marginalising the Muslim minority, and there are well-grounded fears that they will be misused by the government.
'The increasing exodus from Arakan State has to do more with systematic repression of the Rohingya minority over decades, a protracted and violent statelessness that only tightens its grip, leaving the Rohingya with few options but to flee.
'But these laws, population control particularly, will further marginalise the Rohingya, adding an extra dimension to their repression that will likely continue to force people to flee.'
Under the new law, local authorities will be given the power to carry out surveys to determine if their region is 'unbalanced'.
Factors will include large number of migrants, a high birth rate or a fast population growth rate.
It is not clear what the punishment will be for breaking the law.
The law has been compared to China's one-child policy, introduced in 1978 as a device to control China's swelling population.
The policy restricted any couple from having more than one child, but led to a dramatic increase in femicide.
But while China's birthing policy was brought in as a necessary measure to prevent the population explosion that was bringing the country to its knees, rights groups claim that Burma's is nothing more than a new means of persecution.
Mr Farmaner continued: 'The laws don't specifically name the Rohingya or anyone else, the Burmese government is much smarter than that. They frame things in non-specific language all the time in order to try to avoid pressure and criticism.
'They frame birth spacing as being a positive thing to help alleviate poverty, use soft terms like family planning, and stress how it is all voluntary.
'This law is all about stopping Rohingya people having children and stepping up repression so that they flee Burma.'
The worst violence has been seen in the Rakhine state, where conditions have been described as 'apartheid-like'.
Images of boats crammed with desperate migrants have drawn international attention to the migrant crisis, which has seen 4,600 people flee to neighbouring countries.
But Burma has so far refused to accept that it has a migrant problem.
It has flatly denied that the boats full of Rohingya Muslims are fleeing persecution, and instead claims that they are leaving the country to seek employment elsewhere.
The U.N. says that about half of the migrants who have come ashore in Southeast Asia in recent weeks are Rohingya Muslims fleeing persecution in Burma, and the rest are Bangladeshis escaping poverty.
But Foreign Minister Wunna Maung Lwin told diplomats on Thursday that 'it is not true' that migrants flee Burma because of persecution.
U.S. President Barack Obama said on Monday that Myanmar needed to end discrimination against the Rohingya people if it wanted to succeed in its transition to a democracy in time for the country's general elections in November.
http://www.dailymail.co.uk/news/article-3112161/Burma-brings-laws-forcing-women-wait-three-years-pregnancies-bid-reduce-birth-rate-Muslims.html
----------
Family Court Stops a Muslim US-Returned Man From Marrying Second Time In Mumbai
Rosy Sequeira,TNN | Jun 6, 2015
MUMBAI: The family court, in an unprecedented order, has restrained a Muslim US-returned paediatrician from marrying for the second time till he settles the rights and dues of his wife.
"The law and the religion both do not permit a Muslim man to perform another marriage as of a right by defeating and delaying the rights of his first wife," said Judge Swati Chauhan in her May 13 order. Worli resident Dr Akbar Khan (name changed) is directed "not to perform another marriage" till the January 30, 2015 order to grant his estranged wife Sakina (name changed) alternate accommodation is complied with. And, until her prayer for maintenance is not "heard, decided and fully complied with".
Sakina (34) had moved the court after finding that Akbar (45) had posted an ad on an online matrimonial website that he is "desirous of marrying an unmarried young girl in the age group of 18-25 years". She apprehended that Akbar's remarriage would "frustrate and defeat her lawful rights".
The couple married on May 27, 2001 and the next month moved to the US where four sons, between 12 and 4 years, were born. Frictions arose between them even before the family shifted back to Mumbai in September 2011 and into a leased flat in Versova.
Sakina had initially approached the family court in Bandra for custody of her three older children saying Akbar without her consent had snatched them from her. She claimed that the landlord had asked her to vacate the flat in July 2014. She pointed out that the Akbar had not complied with the court's earlier order to allow her access to her 3 sons and alternate accommodation. She urged that Akbar be directed not to marry another woman till her rights are adjudicated upon.
Akbar's advocate argued that his client had divorced Sakina, who had accepted the talaq as she had not challenged it. He said the parties are governed under the Muslim Personal Law and therefore a husband cannot be restricted from exercising his right to perform four marriages.
Sakina's advocate Neelofar Akhtar countered that a husband can be restricted under the law and religion if he is defeating the rights of his first wife. She argued that the widely accepted perception of four marriages is nothing but an "end product of misrepresentation of the holy Quran". Akhtar cited the surah nisa ayat 3 and 129 saying Muslim men are permitted to enter into four marriages but it is after compliance of certain stipulations which serve as injunction.
Judge Chauhan said that from a careful reading of its English version, it is understood that Muslim men are preached that they can marry for the second time only if they are able to be equitable to both the women. "In the same breath the surah nisa further states that practically this is not possible and therefore second marriage should not be contracted because it will cause injustice," she added.
Chauhan said various authors and authoritative writings have discouraged polygamy and stringent conditions were imposed on men even during the lifetime of Prophet Mohammad. The judge said Akbar's "conduct is absolutely against the injunction of the Holy Quran", as he has "shown least care towards the issue of food, clothing, maintenance and accommodation of the petitioner".
Chauhan also took note of the Supreme Court's February 2015 judgment in Khursheed Ahmad Khan versus State of UP case, which Akhtar again relied upon, which held that a practice cannot acquire religious sanction just because it is permitted and even the practice of having more wives than one can be regulated or prohibited in the interest of public order, morality and health.
The judge noted that despite the order for providing suitable accommodation for Sakina and her 4-year-old son, Akbar has kept her away from the matrimonial home and her 3 sons strategically. He has also not provided her with any maintenance and "very conveniently" remained absent for the hearings. "In such a situation, if the respondent performs another marriage, the rights of the petitioner would definitely be defeated," the judge said, concluding that "it is a fit case" to pass the direction.
http://timesofindia.indiatimes.com/nri/other-news/Family-court-stops-Muslim-man-from-marrying-second-time/articleshow/47561393.cms
----------
Turkish court stirs marriage debate
Jun 6, 2015
Turkey's Constitutional Court announced May 29 that civil marriage is no longer a legal requirement for religiously married citizens, a decision that will have serious social implications. Many critics, especially women, fret that the ruling will pave the way for more violations of women's and children's rights.
The court based its decision on a case from 2014, when a criminal court in the Turkish province of Erzurum appealed a case to the Constitutional Court involving a religiously married couple without a civil marriage and the imam who carried out the ceremony.
Prior to this latest decision, Paragraph 5 of Article 230 of the Turkish Criminal Code dictated a sentence of two to six months in prison for individuals who lived together after a religious wedding without a civil marriage. In the same article, Paragraph 6 also gave two to six months' imprisonment to an individual (typically an imam) who carried out a religious wedding ceremony without verifying a civil marriage with official documents.
But while last week's decision annuls the above paragraphs by a majority 12-4 vote, the Constitutional Court had unanimously ruled the opposite in a 1999 case appealed by the Bursa Criminal Court. At the time, the court confirmed that according to the Turkish Criminal Code, religiously married couples that lived together were committing a crime, but individuals who lived together without any religious ceremony were not. The court then explained its decision on the basis of upholding the Turkish Civil Code and on the state's responsibility to protect women and children, as described in Article 41 of the Turkish Constitution.
Now the 1999 decision has been reversed. From a liberal point of view, the court's ruling may be interpreted as a positive one in terms of enhancing people's freedom to choose the way they want to live. It recalls another decision from January 2014, when a court set a truly progressive precedent: Any married woman may continue to use her maiden surname by appealing to a court.
However, worries about the consequences of the court's latest decision spurred a chain of strong reactions from human rights activists from academia, nongovernmental organizations and female political leaders from both the ruling party and the opposition. Notably, Deputy Parliament Speaker Aysenur Bahcekapili of the ruling Justice and Development Party (AKP) stated her concerns for increased risks of polygamy and inheritance or alimony problems for children. Main opposition Republican People's Party deputy Candan Yuceer reminded listeners that in Turkey, at least one in three women were married while underage and pointed out that the court's decision legalized child marriage in a way, leaving women and children with no rights in the event of divorce or a spouse's death. Nationalist People's Party deputy Ruhsar Demirel conveyed similar concerns. The Federation of Turkish Women's Associations announced that it would take the case to the European Court of Human Rights, the rulings of which are binding for Turkey. The federation pointed out an ECHR ruling on a case from 2010, when a woman named Serife Yigit received no inheritance rights to her deceased husband's pension and insurance because they had only been religiously married. The number of similar cases will only increase, the federation warned.
Yet not everyone opposes the court's decision. Mustafa Sentop, deputy chairman of the AKP, stated his approval: "There is no punishment for those who are not married and living together, and there is punishment for those who have a religious marriage. Such logic is unacceptable. This decision is for one's own conscience. The topic of child brides and second wives are separate issues." On a similar note, Naci Bostanci, the head of the AKP's parliamentary bloc, stated that no law should contradict social realities. He sees no danger of women losing their rights because of this decision.
In fact, Bostanci seems to ignore certain social realities, with catastrophic consequences. Turkey is infamous for its high rate of child brides and the court's decision increases the likelihood of women and girls finding themselves in such situations with no hope for redress. Marrying underage girls may become even more internalized within certain communities, especially in Turkey's rural areas. Unfortunately, this latest decision now puts any achievements in the arena of child brides at very high risk.
Family and Social Policies Minister Aysenur Islam is very familiar with these problems. She stated that that her ministry cannot see as favorable any decision that could lead to more child marriages or removes legal regulations. Islam also announced new measures by her ministry to further prevent and discourage such practices.
Not surprisingly, the extreme polarization of Turkey inevitably made this decision yet another point of conflict between the more religious and secular layers of Turkish society. Former Constitutional Court General Secretary Bulent Serim stated that after Turkey's constitutional referendum in 2010, the court's decisions have shown the court's definition of secularism has became equal to the AKP's definition of secularism, which he sees as a threat to the republic's values.
To shed some light, it is worthwhile to look back at the trajectory of state decisions on the matter of marriage throughout Turkey's history. Renowned Turkish journalist Taha Akyol clarified for Al-Monitor that during Ottoman times, matters of marriage and birth were registered in the "Turkish Judge Records." Sultan Suleiman the Magnificent, also known as the Lawgiver, made a state document a precondition for marriage. It was not a legal or religious condition, but a necessary document for resolving legal disputes. In 1881, Sultan Abdulhamid II took an important step by declaring that after a religious wedding is performed, official registration had to follow within 15 days for both Muslims and non-Muslims.
The first true reform in the family law domain was made in 1917 with the Family Law Edict. Among many other provisions, it stipulated that men who were not yet 18 and women who were not yet 17 had to get special permission from a court to marry. No such protective measure for minors had existed before. Another very important step for protecting women was a limitation on polygamy and a provision according to which a woman could request monogamy as a condition for marriage. In cases of extreme incompatibility, the new law also recognized a woman's right to demand a divorce. But this law ended up being abandoned after many disputes. Minorities that wanted to protect their communal autonomy requested that the British occupation forces halt its enforcement. In 1926, Turkey abolished Ottoman laws that incorporated Sharia and started enforcing the Swiss civil code.
Simply put, while the Constitutional Court's latest judgment is legally valid, in a sense it reverses the state's control over the institution of marriage, altering not just a republican but also a late Ottoman tradition. And while it may sound liberal on paper, it may not be liberating in practice. It is perhaps telling that the court's verdict was brought about by a group of decision-makers that did not include a single woman, whereas millions of Turkish women need the state's protection against the patriarchal customs in their society.
http://www.al-monitor.com/pulse/originals/2015/06/turkey-top-court-stirs-debate-on-religious-marriage.html#ixzz3cG4y7cLY
----------
Wary Saudi Wives Block Husbands' Solo Travels
Jun 6, 2015
ABHA: Many Saudi women are now refusing to let their husbands travel abroad alone because of what they see as enticements that might lead them astray.
Tourism expert Khaled Dughaim said women are knowledgeable about overseas travel. "Many of them fear the attractions and openness their husbands might encounter in some countries," he said.
Certified family counsellor Jamila Al-Harbi said that more women are refusing to let their husbands travel alone. However, she said that women must understand if their husbands have to travel abroad for work, and should allow them to do so.
"When a woman accompanies her husband, then their children are often left alone." However, wives must draw the line if the trip is solely for tourism purposes. Then they have the right to join or limit these trips, she said.
Teacher Amira Abdel Ilah said that she refuses to allow her husband to travel alone. "It is something that every woman should refuse. We women have our reasons. There are some countries that we don't want our husbands to even get close to," she told Arab News.
She said that she once threatened to leave her husband because he wanted to travel abroad alone. "He had started packing so I left to stay at the home of my parents and refused to talk to him. I told him that I wanted a divorce if he left, so he decided not to do so." She said married men must remember that they should not leave their families.
Social worker Hind Al-Anzi said that husbands must devote time to their families, especially during holidays. Men are making a big mistake if they travel alone or with their friends, especially if they have teenage children. "They will be suspicious and want to know whether their father is leaving them," she said.
She said some men want to continue travelling the way they did as bachelors, which threatens to break up their families. "I believe that husbands must not travel abroad without their wives and children because this means they either do not love them or are looking for other things that are not available when they are with their families," she said.
Noura Sulaiman, a housewife and mother of four, said that she has a good relationship with her husband, but has experienced strain in her marriage because he used to travel abroad with his friends. "Now I insist on joining him without directly saying so." She said that she tries to sabotage any plans he has of travelling alone.
http://www.arabnews.com/saudi-arabia/news/757666
-----------
Police rebuked for returning 'IS risk' girl's passport
Jun 6, 2015
Police who returned a passport to a Bristol teenager thought to be at risk of travelling to an Islamic State-held area have been rebuked by a judge.
The passport was seized in April, when the girl was stopped at Bristol Airport with a one-way ticket to Turkey.
But officers returned it a few days ago, believing they were not allowed to keep it for longer than two weeks.
High Court judge Mr Justice Hayden said police could have addressed the issue by taking civil court action.
At a hearing in the Family Division of the High Court in London, Mr Justice Hayden made the girl a ward of court - a move that prevents her from travelling abroad without a judge's permission.
He also ruled the passport must again be taken from her and directed that the girl - who is of Somali origin - was not identified.
'Wrong view'
The hearing comes after social services staff involved with the girl's family raised concerns.
The judge stressed that counter-terrorism officers working with radicalised Muslim teenagers faced an "immense challenge".
But he said he wanted to ensure that units across the UK understood the options available.
"The police, quite wrongly in my view, took the view that they were constrained to return the passport. They were not," he said.
"An immediate telephone application (to the High Court) could have been made."
The officers involved are members of the South West Counter Terrorism Intelligence Unit.
The girl is one of a number of teenagers thought to be at risk of travelling to areas controlled by Islamic State who have been grounded by judges in recent months.
Teenagers who have been made wards of court include four girls from London who attend the same school, Bethnal Green Academy in east London, as three girls already thought to have fled.
http://www.bbc.com/news/uk-england-bristol-33029665
----------
URL: http://www.newageislam.com/islam,-women-and-feminism/new-age-islam-news-bureau/no-ban-on-women-at-taraweeh-prayers-in-the-eastern-province/d/103369