New Age Islam News Bureau
21 May 2012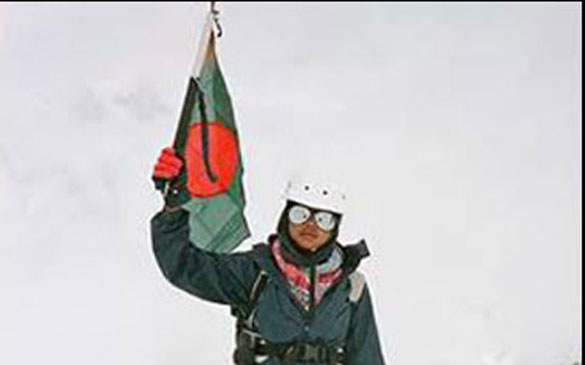 • Bangladesh Jihadists to use young girls for terrorist attacks against India
• Indian State U P may give inheritance rights to Muslim women
• Pakistan: 'Culprits of girl's rape, murder be brought to justice'
• Hijab Ban Lifted for Women in Sport – Hats off to Prince Ali of Jordan
• Woman burnt alive in Quetta by husband
• Finding love can be hard for Pakistani Female singles in the UAE
• Afghan women see improved life chances
• University of Karachi first female student to complete Commerce PhD
• The Battle Raging Within Saudi Arabia over Women's Rights
• Real reform for women a must in Muslim world: Mona Eltahawy
• Woman gets 20 years in Jail for firing warning shot on her Husband
• New dress code for females opens weightlifting up across Muslim world
Complied by New Age Islam News Bureau
Photo: Nishat Majumder first Bangladeshi woman to climb Everest
URL: https://www.newageislam.com/islam,-women-and-feminism/new-age-islam-news-bureau/nishat-majumder,-31,-becomes-first-bangladeshi-woman-to-climb-everest/d/7381
---------
Nishat Majumder, 31, becomes first Bangladeshi woman to climb Everest
May 19, 2012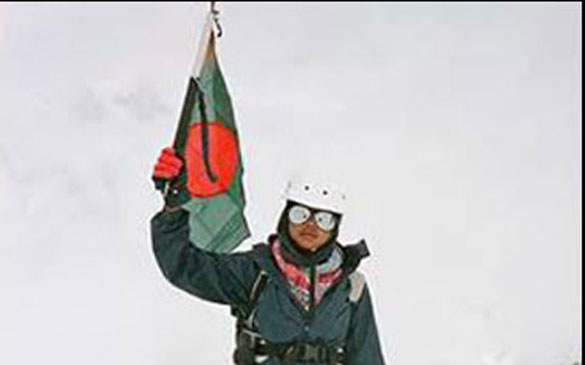 DHAKA: A 31-year-old Bangladeshi accountant Saturday became the first woman from her country to climb Mount Everest, the world's highest mountain.
Nishat Majumder, who began her adventure April 9, hoisted the Bangladeshi flag atop the 8,848-metre-high peak, an official of the Bangla Mountaineering and Trekking Club told the Daily Star.
The club organised the trip and a non-governmental organisation Plan Bangladesh co-sponsored it under a campaign titled "Because I Am a Girl".
Another Bangladeshi mountaineer, M.A. Mohit, accompanied Nishat on the trip.
Mohit became the first Bangladeshi to scale Everest twice. The first Bangladeshi to conquer Everest May 23, 2010, was Musa Ibrahim.
Another Bangladeshi girl, Wasfia Nazreen, has also reached the base camp to scale the mountain.
Prime Minister Sheikh Hasina congratulated Nishat Saturday for conquering the peak.
Tamae Watanabe, a 73-year-old Japanese woman Saturday broke her own record to again become the oldest woman to scale Mount Everest. She had climbed Everest in 2002 at the age of 63 to become the oldest woman then to scale the peak.
http://timesofindia.indiatimes.com/world/south-asia/First-Bangladeshi-woman-to-climb-Everest/articleshow/13300953.cms
---------
Bangladesh Jihadists to use young girls for terrorist attacks against India
May 19th 2012
A government intelligence report has revealed that Bangladesh-based terror group Harkat-ul-Jihad-al-Islami plans to recruit young Indian girls to carry out terrorist activities. They plan to use girls to "elude security problems" and move within the country with valid voter IDs.
Harkat-ul-Jihad-al-Islami (HuJI), the Bangladesh-based terrorist outfit, is now planning to use young girls from various districts in the state for arms training in Bangladesh, to carry out terrorist activities in India.
According to a recent state government Intelligence report (dated: April 13, 2012), accessed by The Statesman, HuJI is "planning to bring young girls, aged15 to 25, from minority dominated districts like Jalpaiguri, Cooch Behar, Darjeeling and Uttar Dinajpur for arms training in Bangladesh to carry out subversive activities" in India.
Suspected terrorists from Bangladesh are using the safe route of Kolkata to enter India.
The report suspects that this time the HuJI activists will use Indian Enclave to transport young girls for the arms training. "Deuti, Dahala, Khagrabari, Kazal Dighi in the Indian Enclave may be used for the training", the report stated. The report lays emphasis that members of HuJI are also organizing meeting in the districts to allure young girls for the purpose. The terror outfit has also sent its members in the districts to carry out the plan.
"The outfit this time is using girls to elude security problems so that they can easily move in the country with valid voter ID", said a senior officer of the city police. The report came to the city police in the wake of the arrest of dreaded HuJI activist, Mufti Ibrahim alias Jalauddin, wanted for at least two failed attempts on the life of Bangladesh Prime Minister, Sheikh Hasina and several other terror attacks in the country. He was nabbed by Criminal Investigation Department officers from a hideout in Baguiati on 12 April.
A senior city police officer said that suspected terrorists from Bangladesh are using the "safe route" of Kolkata to enter India, paying a nominal fee to touts who safely transport them to their destinations.
According to the report, the state Intelligence Branch has urged the city police to "keep sharp vigil" and to activate all its intelligence wings across the state.
The BSF has also been asked to take necessary steps to prevent human trafficking using border areas.
http://india.nydailynews.com/newsarticle/4fb67b472be423f46b000000/bangladesh-terror-group-to-train-indian-girls-for-terror-acts
---------
Indian State U P may give inheritance rights to Muslim women
May 21, 2012
LUCKNOW: Muslim women may finally get their due share in family inheritance. The long standing demand of the All India Muslim Personal Law Board for a suitable amendment in the UP Zamindari Abolition and Land Reform Act 1950 to bring it at par with the Shariat is likely to get an official nod soon. After AIMPLB reasserted its stance last month, the state government is considering the option to push through the politically correct agenda in the assembly session which begins on May 28.
In a formal request forwarded to chief minister Akhilesh Yadav on April 2, Board general secretary Maulana Syed Nizamuddin demanded the right of inheritance to Muslim women, including widows, divorcees and married daughters. The Board drew attention to the fact that in UP this privilege vests only with the unmarried daughters while the rest of the categories have been arbitrarily left out. The chief minister responded favourably. On April 19, he wrote back to the AIMPLB president Maulana Rabe Hasan Nadvi and signaled his assent to the need for a speedy amendment in the law. The issue, said senior AIMPLB member Zafaryab Jilani, figured prominently in the Board's annual meeting at Mumbai from April 20-22. States like Madhya Pradesh, Rajasthan and Bihar do not follow such discriminatory practice, there is no logic why should UP women be deprived of their share, he said.
Jilani recalled the half-hearted measures of former chief minister Mayawati in this regard. Maya government, he said, brought an amendment in the sections 171(2) and 174 of the Act in September 2005. But, the right to inherit the agricultural asset was granted only to the unmarried daughters. This, Jilani said, was not what was intended under the personal law which acknowledges property rights of married unmarried, widowed or divorced women. This restrictive approach, he said, had drawn ire of the Board in its annual meeting at Bhatkal and the members called for rescheduling the list of beneficiaries to match the Shariat.
Meanwhile, sources claimed that the government is no mood to delay the issue. With eys on the parliamentary elections, the "goodwill gesture" could yield to major political advantage to the Samajwadi Party. "Hopes are already up," said Maulana Khalid Rasheed Firangimahali, Imam of Aishbagh Idgah, "after the positive communication of the chief minister." The amendment, he said, would surely lead to a revolutionary change in the economic status of women and raise their status in society in general.
http://timesofindia.indiatimes.com/india/Uttar-Pradesh-may-give-inheritance-rights-to-Muslim-women/articleshow/13327283.cms
---------
Pakistan: 'Culprits of girl's rape, murder be brought to justice'
May 21, 2012
KARACHI: Provincial minister Syed Faisal Sabzwari and MPA Muzammil Qureshi in their joint statement issued here on Sunday, strongly condemned the abduction, rape and brutal murder of six-year-old Fatima in Gulshan-e-Iqbal Town.
They termed the persons involved in the heinous and shameless act as enemies of the humanity. The leaders said that the elements involved in making minor girls a victim of their lust were an ugly blot on the face of society, besides extending their heartfelt sympathies to the grief-stricken family.
Sabzwari and Qureshi demanded Sindh governor and chief minister to take serious notice of the brutal killing of innocent Fatima after being subjected to sexual assault.
They said that the culprits involved in this horrific crime must be brought to justice.
http://www.dailytimes.com.pk/default.asp?page=2012\05\21\story_21-5-2012_pg12_6
---------
Hijab Ban Lifted for Women in Sport – Hats off to Prince Ali of Jordan
Laurie Balbo
May 20th, 2012
Prince Ali of Jordan believes that Muslim women shouldn't be disqualified from world-class sports because they wear the hijab, the traditional Islamic head covering. This youngest vice-president of the world football's governing body Federation Internationale de Football Association (FIFA) is a vocal supporter in the campaign against the hijab ban. In 2007, FIFA, banned players from wearing hijab, citing safety concerns.
"This is not an issue of religious symbolism. It's simply a case of cultural modesty. And I'm tackling this because it is a big issue for many, many women all across the world. It's not an issue which will go away," said the prince in a statement to Yahoo Sports recently. The Prince's pitch to grant everyone equal rights to play soccer has United Nations backing. Sports are good for heart health and we'd be thrilled to see more religious Muslim keeping fit through Sport. The ban is an obstacle to Muslim women athletes.
Full report at:
http://www.greenprophet.com/2012/05/hijab-women-sport-jordan/
---------
Woman burnt alive in Quetta by husband
May 21, 2012
QUETTA: A woman was burnt alive allegedly by her husband over a domestic dispute on Sunday.
According to a local police officer, a 29-year-old woman, Saba, was sprinkled with kerosene oil and set ablaze on the roof of her residence in Mecchangi Road area. She was taken to the Bolan Medical Teaching Hospital, where she was pronounced dead after a few hours. "She received 100 percent burn injuries," doctors said.
The victim's father lodged an FIR against four people – her husband, Atif Zubair, father-in-law, Asif Zubair, and her mother-in-law and sister-in-law.
---------
Finding love can be hard for Pakistani Female singles in the UAE
Nadeem Hanif
May 16, 2012
For the fashion designer Homa Qamar, a hectic work life and few opportunities to socialise with fellow Pakistanis make it difficult to meet Mr Right.
The unmarried 29-year-old, who was born and raised in Dubai, believes many men also feel intimidated by her success.
"I think when you are successful, it does become very difficult to meet the right person," she says. "There is a pressure from my family to get married and I always felt 30 would be the best time but it's so difficult to meet the right people."
Although there is a large Pakistani population in the UAE, it is not a particularly unified community, she says.
"In the UAE everyone tends to focus on themselves and their careers so that makes [meeting other Pakistanis] difficult."
Qamar, who has three adult sisters and a brother, none of whom is married, said she would prefer to have an arranged marriage.
Full report at:
http://www.thenational.ae/lifestyle/well-being/finding-love-can-be-hard-for-pakistani-singles-in-the-uae
---------
Afghan women see improved life chances
20 May 2012
Woman and girls enjoy better access to education and healthcare than during Taliban era.
Since the US-led invasion in 2001, the country and its people have gone through many changes
Afghan women had few rights under the Taliban's rule, but the situation for them and girls is much better now.
Afghanistan is no longer considered the worst place to be a mother, with death rates among children under five reduced from one in five in 2006 to one in 10 today.
That is partly because women have better access to healthcare and there are more female healthcare workers.
The government also says education is one of its biggest achievements.
Al Jazeera's Jennifer Glasse reports from Kabul.
http://www.aljazeera.com/video/asia/2012/05/201252081817988109.html
---------
University of Karachi first female student to complete Commerce PhD
May 21, 2012
KARACHI: Board of Advanced Studies and Research, University of Karachi (KU) recently approved a PhD degree in commerce to be conferred upon Prof Dr Dilshad Zafar. Prof Zafar holds the privilege of being the first lady doctor from the KU in the field of commerce. Dr Zafar completed her thesis under the supervision of Prof Dr Abuzar Wajidi, Dean Faculty of Management and Administrative Sciences. She has served the Department of Commerce as Chairperson for almost ten years and has introduced many new programmes in the morning as well as evening sessions.
http://www.dailytimes.com.pk/default.asp?page=2012\05\21\story_21-5-2012_pg12_11
---------
The Battle Raging Within Saudi Arabia Over Women's Rights
MAY 19 2012
ISOBEL COLEMAN
Isobel Coleman is the Senior Fellow and Director of the Civil Society, Markets, and Democracy Initiative and Director of the Women and Foreign Policy Program at Council on Foreign Relations. She blogs at "Democracy in Development."
Conservative forces and modernizers are struggling over the role of women in Saudi society.
While I was visiting Saudi Arabia last week, King Abdullah fired one of the most popular Islamic leaders in the Kingdom from his government position. Sheikh Abdel Mohsen Obeikan was an advisor to the royal court until last week when, in a single line, the king ordered that the sheikh resign from his post. The reaction was swift. In newspapers, on Facebook, and on Twitter, Obeikan's supporters and detractors speculated, gloated over, and lamented the sheikh's inglorious fall. While it is still not clear what happened, it is safe to say that this is yet another episode in Saudi Arabia's internal struggle to define the role of women in society.
Full report at:
http://www.theatlantic.com/international/archive/2012/05/the-battle-raging-within-saudi-arabia-over-womens-rights/257379/
---------
Real reform for women a must in Muslim world: Mona Eltahawy
IDA LICHTER
May 21, 2012
IN the latest edition of Foreign Policy magazine, Muslim reformer Mona Eltahawy called for a genuine revolution in the Middle East. Unlike the Arab Spring, this one would release women from oppression. "First we stop pretending," she said. "Call out the hate for what it is."
Is misogyny prevalent and gaining traction in the Muslim world and why did most women vote for Islamists in Middle East elections?
http://www.theaustralian.com.au/news/world/real-reform-for-women-a-must-in-muslim-world/story-e6frg6ux-1226361561456
---------
Woman gets 20 years in Jail for firing warning shot on her Husband
MITCH STACY
20 May 2012
TAMPA, Fla. - Marissa Alexander had never been arrested before she fired a bullet at a wall one day in 2010 to scare off her husband when she felt he was threatening her. Nobody got hurt, but this month a northeast Florida judge was bound by state law to sentence her to 20 years in prison.
Alexander, a 31-year-old mother of a toddler and 11-year-old twins, knew it was coming. She had claimed self-defense, tried to invoke Florida's "stand your ground" law and rejected plea deals that could have gotten her a much shorter sentence. A jury found her guilty as charged: aggravated assault with a deadly weapon. Because she fired a gun while committing a felony, Florida's mandatory-minimum gun law dictated the 20-year sentence.
Her case in Jacksonville has drawn a fresh round of criticism aimed at mandatory-minimum sentencing laws. The local NAACP chapter and the district's African-American congresswoman say blacks more often are incarcerated for long periods because of overzealous prosecutors and judges bound by the wrong-headed statute. Alexander is black.
Full report at:
http://www.philly.com/philly/wires/ap/news/nation_world/20120519_ap_womangets20yearsforfiringwarningshot.html?c=r#ixzz1vU8ZDEhK
---------
New dress code for females opens weightlifting up across Muslim world
Paul Radley
May 21, 2012
DUBAI // The Emirates Weightlifting Federation believe the UAE is leading the way for females across the Islamic world, after becoming the first team to compete at an international competition while wearing hijabs.
The national women's team earned a place at the London Olympics when they participated at the Asian Championships in South Korea last month.
All six members of the team competed wearing lightweight headscarves, as well as body-length unitards.
Until recently, the rules governing the sport stipulated uniforms had to be collarless and could not cover elbows or knees, essentially because judges need to see that a competitor's elbows and knees are locked during a lift.
However, those dress regulations were modified by the International Weightlifting Federation, after being challenged last year by a Muslim American who wanted to wear Islamic dress while competing in US national competitions.
Officials at the governing body for the sport in this country, who were vocal advocates for the change, insist the amended dress code will open the sport to a whole new audience.
Full report at:
http://www.thenational.ae/sport/uae-sport/new-dress-code-for-females-opens-weightlifting-up-across-muslim-world
---------
URL: https://www.newageislam.com/islam,-women-and-feminism/new-age-islam-news-bureau/nishat-majumder,-31,-becomes-first-bangladeshi-woman-to-climb-everest/d/7381