New Age Islam News Bureau
30 May 2022
• Mona Tajarbi, Ras Al Khaimah's First Emirati Woman Vlogger and Influencer in UAE
• Tanzila Khan, Pakistani Entrepreneur, Wins First-Ever Amal Clooney Women's Empowerment Award
• Nigerian, Gloria Shoda, Elected Into International Council of Women Board
• Domestic Violence And Work Status: Which Nigerian Women Are Most At Risk
Compiled by New Age Islam News Bureau
URL: https://newageislam.com/islam-women-feminism/nikhat-zareen-turkey-kerala-pugilists/d/127131
--------
Nikhat Zareen's Victory in Turkey Inspires Kerala Pugilists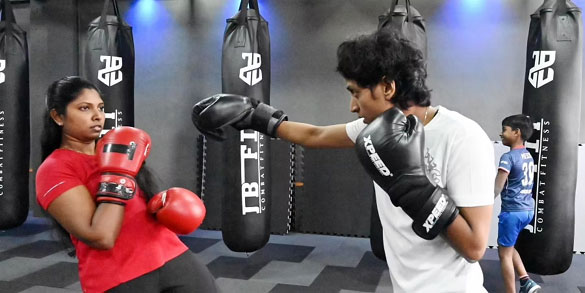 A training session in Thiruvananthapuram. (Photo |Vincent Pulickal)
-----
27th May 2022
By Arya UR
THIRUVANANTHAPURAM: Anet V Rajan of Amboori, 21, clenches her fists in excitement as she gushes about Nikhat Zareen winning the gold at the Women's World Boxing Championships in Turkey recently. "Nikhat beat the odds to make it big. Watching the world celebrate her gives boxers like me a motivational kick," she says. The final-year history student at Government College, Attingal, was the gold medallist in the inter-college state women's boxing championship and senior state women's boxing championship held in 2020. For budding talents like her, Nikhat has emerged as the MC Mary Kom.
Anaswara PM, 23, who won the gold medal in the 81-kilo women's boxing championship at the Kerala Games 2022 held in Thiruvananthapuram, is equally exhilarated about the global arrival of Nikhat. "We were roommates during a Sports Authority of India national camp in Haryana. Boxers like Nikhat inspired me to believe in myself and punch ahead in life," says the Kozhikode native.
Ananswara recalls she started off as a hammer thrower in her early teens. Later, Dronacharya award-winning coach D Chandralal, who currently trains at G V Raja Sports School, encouraged her to take up boxing. "I joined the Sports Authority of India centre in Thiruvananthapuram in 2015, when I was about 15 years old," she says.
Anaswara believes Kerala can produce many champs with the stronger promotion of boxing. "We also need more films about boxing. Also, parents need to be educated about the sport," she adds. Indraja K A, 23, of Idukki was yet another discovery by Chandralal, who guided her from athletics to boxing. The 2020 Khelo India Inter-University Championship gold medalist says "I started boxing in 2015. Under the guidance of coach Chandralal, I won my first bronze medal at the senior national women's championship in 2017. I got the privilege to be part of national boxing camps and meet icons such as Mary Kom, Pooja Rani, Saritha Devi and Lovlina Borgohain, with whom I had several sparring sessions. It was a great learning experience."
Boxing, Indraja adds, helped her become "independent, self-confident and bold". "Today, I travel alone without any fear," she smiles.
Legendary Lekha
Former world boxing champion KC Lekha believes the boxing scene is changing across India. She reminds us not to forget the youngsters Manisha Moun and Parveen Hooda, who won bronze medals at the recent world championship.
"It is not easy to become a boxer and emerge victorious. Injuries are the main villain for every boxer, especially women. But we should not fall back and give up. Everyone should ad-mire Nikhat's journey to glory, overcoming her injuries," says Lekha, who overcame serious hand injuries to achieve laurels for the nation.
The 2006 world champ says she is happy to see more girls entering the boxing ring. It is vital to support budding talents, she adds.
"I hail from a poor family in Kannur and was away from my home since the age of 15, sheerly due to the passion for boxing," Lekha recalls. "I weighed 90 kilos and went on a strict diet to lose weight to take part in 72-75-kg categories. I was enthusiastic to take part in big tournaments, just to experience the real boxing ring, as we did not have proper facilities."
Her formula for success — stamina, power, self-motivation and determination.
Boxers lack state support
Currently, two prominent boxing training centres in Thiruvananthapuram are GV Raja Sports School, Mailom, and Sreepadam Stadium, Attingal. There is a slow rise in the number of girls in boxing says Kerala Sports Council coach R K Manoj Kumar, one of the trainers of India's senior women teams. The veteran also coaches over 20 students at Sreepadam Stadium centre. He believes support for boxing — from the government as well as the media — is lacking in the state.
"In other states, especially Haryana, the respective governments provide scholarships and handsome rewards to budding talents. Not the though," he says. "Boxing achievers here are not even rewarded with a job under the sports quota. Take the case of former champion Lekha. She had to wait several years to get the honour she deserved, while other champions such as Mary Kom were celebrated by their respective states."
Manoj, who was part of one of the teams that coached Nikhat, says timely job placements for the boxing champions in the state would boost their performance and also motivate the next generation.
Coach Chandralal, who trained Lekha, says lack of "continuity in training" is one reason Kerala has not been able to produce talents like Nikhat. "If one looks at international boxing achievements of the state, there has not been much success since the early 2000s," says Chandralal, who trains 35 students at G V Raja Sports School.
RIGHT HOOK
The Sports Kerala Foundation is set to launch 'PUNCH' — a grassroots-level boxing training programme for girls. Sources in the directorate of sports and youth affairs say the project is likely to start in the 2022-23 academic year. In the first phase, girls above the age of eight would be selected for training from schools in Kollam, Ernakulam, Kozhikode, Kannur and Kottayam. "Boxing talents will be identified through an intensive programme. Developing boxing skills in the children and providing them with an opportunity to play at a higher level will be prioritised, along with imparting self-defence skills," says a source. "Currently, processes are on to select the coaches." As per the plan, training centres would be set up at one school each in the five districts covered in the first phase. Each centre would train about 25 girls in the initial stage, the source says.
Source: New Indian Express
https://www.newindianexpress.com/sport/other/2022/may/27/packing-a-punch-nikhat-zareen39s-victory-in-turkey-inspires-kerala-pugilists-2458725.html
--------
Mona Tajarbi, Ras Al Khaimah's First Emirati Woman Vlogger and Influencer in UAE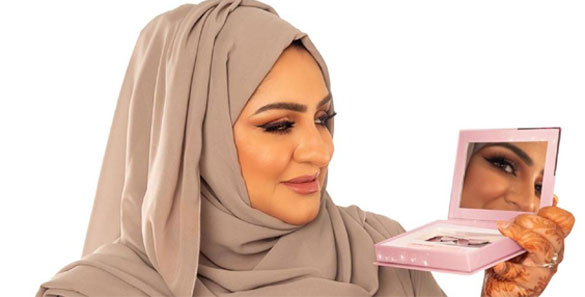 Mona Tajarbi
----
May 28, 2022
Sajila Saseendran
Ras Al Khaimah: Six years ago, Mona Sulaiman was busy inspecting warehouses in Ras Al Khaimah (RAK) for health and safety violations. Her life changed when she started her vlog Tajarbi (Experiments) and became Ras Al Khaimah's first Emirati woman vlogger in 2016.
Fast forward to 2022. Mona Sulaiman is now known as Mona Tajarbi — a social media influencer and entrepreneur, apart from being a mother of two who still continues to work at the Health, Safety and Environment (HSE) Department of a government entity. She wears many hats such as the Ambassador of Hope at the Sheikh Saud bin Saqr Al Qasimi Foundation for Policy Research, Ambassador of Awareness at Smart Cells and Ambassador of Emirates Club — Ras Al Khaimah, to name a few.
Recalling her journey to fame and success, the 33-year-old told Gulf News that once she was just one of the millions of young women who merely used to follow popular social media stars. "But later on, I started to realise that whoever we had as vloggers were concentrating on and collaborating with big brands. I wanted something for my community and my society in Ras Al Khaimah that would show things in a very simple, organic way."
Vlogging about normal life
There were no female vloggers in Ras Al Khaimah at that time, said Tajarbi. "I wanted to take the initiative to be the first female vlogger of RAK. I named my social media platform Tajarbi and vlogged about normal life, did normal restaurant reviews, makeup tutorials etc and started getting followers."
Breaking the glass ceiling
Initially, people only knew her by her voice as Tajarbi did not show her face in her videos for almost a year. She had to convince her family and take their approval before she could show her face as it was against the customs of an unmarried woman. "Nobody in my family had a social media background. So it was something that distinguished me from my sisters. After getting my family's support, the challenge was to get acceptance in society. Yes, it was difficult to break the glass ceiling because it takes time to let people understand that this [vlogging] is a normal thing. I am like you, but the difference is that I'm showing some of your problems, things that you like, through my platform," she said.
Growing popularity
When she got married in 2018, her husband Abdulla became her big pillar of support. Over time, Tajarbi became popular and her popularity grew along with the number of her followers. Today, she has more than 641,000 followers on Instagram alone. She collaborates with brands across the UAE and elsewhere.
Tajarbi was a trailblazer and her vlog gave courage to many other women to follow in her footsteps. "May women are vlogging now. So, the biggest challenge now is the competition. But people still love to follow me because they see that I was the first one and yes — I like doing a good job for them."
Entering into entrepreneurship
It was in 2020 that Tajarbi entered into the world of entrepreneurship. She was pregnant with her second baby when the COVID-19 pandemic hit the world and forced people to stay at home. "That is when I felt that I did many things for people, but I didn't do anything for myself."
Being a beauty vlogger, she didn't want to start makeup brands as there were many already. Instead, she chose to make eyelashes first and named them 'Blink.' "I felt like everything in life changes in a blink for the better. That's what happened with me since I started my vlogging journey. So I chose this name. Also, just wearing the lashes with no makeup can bring a lot of changes to your face."
An expanding range
'Blink' started as an idea in 2020 and was officially launched in March 2021. "I do believe that the women don't need heavy makeup. They just need a little bit of change to look beautiful. I started with only four types of lashes and now, after completing a year, the range has expanded to lashes/half lash/face mask/eye mask/ lip mask/eyeliner/serum and there are new products in the pipeline. I have launched the 'Blink' kiosk at Beauty Couture in Manar Mall, Ras Al Khaimah, and another kiosk at Floranca Beauty Centre at Kalba, Sharjah."
Changing society
"Our leaders are giving us the opportunity to come out and speak up. Whether you are a minister, or an employee or a mother, women are accorded high regard in the UAE. We have so many initiatives for women. Women are making their mark in all fields, especially in the fields of social media, politics and space. And I think I have also been playing a role in changing the mindset of the society in Ras Al Khaimah — especially by telling people to come out and start their own business, even if there are some negative people around."
Tajarbi said she had started working since she was 19. "At first, I started working in my own university as the secretary of the dean, when I finished my bachelor's degree in English language and translation from Ittihad University. Then I did my MBA from Madonna University in Livonia, Michigan, in the United States, and Inshallah, maybe next year I will be applying for a doctorate programme."
Life as a mother
Tajarbi has been working with the RAK government for almost 12 years. "I have worked for many departments and currently I am an HSE administration officer."
With a licence from the media council, Tajarbi said her income from her social media platforms has helped her launch her business.
Balancing her life as a mother of Ghala, three, and Haya, two, while being a busy social media influencer and entrepreneur with a full-time government job is no mean task. "I am managing everything with the support of my husband and my family. Yes, I do have my ups and downs and sometimes I feel that I need to quit. I need to just focus on one thing, but come on, we are women and we cannot concentrate on only one thing! We have to multitask," she said, laughing and adding that she strongly believed that "whenever Allah gives you something, He also gives you the strength to manage it".
Source: Gulf News
https://gulfnews.com/uae-success-stories/video-how-mona-tajarbi-became-ras-al-khaimahs-first-emirati-woman-vlogger-and-influencer-in-uae-1.87983825
--------
Tanzila Khan, Pakistani Entrepreneur, Wins First-Ever Amal Clooney Women's Empowerment Award
May 27, 2022
Pakistanis around the world beamed with pride as local disability rights activist and entrepreneur, Tanzila Khan, won the first-ever Amal Clooney Women's Empowerment Award at the Prince's Trust Awards 2022. The Princes Trust is a charity organisation founded by Charles, the Prince of Wales and the objective of the Awards is to provide financial assistance and enable the youth to further their entrepreneurial efforts.
Born in Sialkot, Tanzila was unable to walk and confined to a wheelchair, leaving her to face several struggles in the coming years of her life. However, in an effort to define and take control of the narrative, Tanzila has worked effortlessly to broaden the world of opportunities for young girls and differently-abled people around Pakistan. Tanzila's long list of achievements began at the age of 16 when she wrote her first book, A Story of Mexico.
As per her website, the author's flair for writing led her to publish and sell her books so that she could invest in her community projects regarding women empowerment and differently-abled people. Her effort towards inclusivity manifested in the form of her entrepreneurial endeavour, GirlyThingsPk. A mobile application that caters to breaking down barriers faced by differently-abled menstruators allows them to order their hygiene kits online due to the lack of equitable services offered in shops. The activist also made headlines in 2021 with her visit to Egypt alongside Zargoona Wadood and Afshan Afridi, a solo trip by three women in wheelchairs to show a new face of disability.
Tanzila's efforts have not gone unnoticed by the international community and her empowerment projects have made waves, providing support and creating inclusive environments for those who are differently-abled and young girls, winning her this year's Amal Clooney Women's Empowerment Award.
Source: Tribune Pakistan
https://tribune.com.pk/story/2358577/pakistani-entrepreneur-wins-first-ever-amal-clooney-womens-empowerment-award
--------
Nigerian, Gloria Shoda, Elected Into International Council of Women Board
May 27, 2022
A Nigerian, Gloria Shoda, has been elected to the board of the International Council of Women (ICW).
She is the first black African to be so elected.
The election took place on May 17 at the Mecure Point Hotel, Avignon Centre, France, during the annual general meeting (AGM) of the ICW.
In her new capacity, Mrs Shoda will be in charge of African Women Councils affiliated with the ICW
Before her appointment, Mrs Shoda was the president of the National Council for Women Societies, NCWS, in Nigeria, having served between 2016 and March 2022.
Profile
Born in Kawo, Kaduna State, Mrs Shoda attended St. Peter's Demonstration School and St. Faith's College for her primary and secondary education respectively in Kawo.
She attended Ogun State College of Education (now Tai Solarin University of Education) and obtained her National Certificate of Education (NCE). She enrolled for her Bachelor of Education Degree (B.Ed.) at the University of Benin (Uniben) in 1989 and graduated with Second Class Upper.
She later proceeded to the University of Ibadan where she obtained a Master's degree in Education, M.Ed (PhD Grade) in Community Development in 2005.
She also attended the senior executive course 36 at the prestigious National Institute of Policy and Strategic Studies, NIPSS, Kuru-Jos, in 2014 and bagged the title Member of the National Institute, mni.
She also did a doctorate programme in Peace and Conflict Management at the Theological Seminary College, Ibadan, between 2012 and 2014.
Mrs Shoda is the first female chairman of the governing council of Moshood Abiola Polytechnic, Abeokuta.
She also served as president, Remo Chamber of Commerce, Mines and Agriculture and Ogun State Chamber of Commerce, Mines and Agriculture, 2000-2004 and 2004-2008 respectively.
About ARCW
When the ICW created the African Regional Council of Women (ARCW) in 2018 in Jakarta, Indonesia, Mrs Shoda was selected to administer the new body alongside others from South Africa and Morocco. This was confirmed on May 17, 2022.
The ARCW seeks to, among others, improve the welfare, progress and standard of living of women, girls and the vulnerable as well as increase women's participation in political life in Africa through access to decision making.
The headquarters of ARCW is in Abuja, Nigeria with Mrs Shoda as its maiden President.
Photo caption: Gloria Laraba Shoda (right) with Martine Marandel, the newly elected President, ICW.
Source: Premium Times Nigeria
https://www.premiumtimesng.com/news/more-news/532839-nigerian-elected-into-international-council-of-women-board.html
--------
Domestic violence and work status: which Nigerian women are most at risk
May 27, 2022
Nkechi Srodah Owoo
One in four women in Nigeria has experienced abuse from her intimate partner in her life. Globally, the figure is one in three women.
Research has shown that factors like a woman's age, education, rural/urban residence and income influence her experience of intimate partner violence. Characteristics such as her partner's alcohol consumption, employment and history of abuse also affect her experience.
The link between women's economic resource ownership and intimate partner violence is a crucial one to investigate. One school of thought suggests that access to economic resources can protect women. As women earn more income or own more resources, they can contribute more towards the household, giving them higher bargaining power and a lower likelihood of domestic violence.
Another view is that as a woman becomes more economically independent, male partners may respond with violence to enforce their power and compensate for the threat to their traditional status as breadwinners within the household.
My study added another dimension to the debate: the role of women's occupational prestige in their experience of intimate partner violence in Nigeria. I used relative occupational status as an indicator of bargaining power.
Nigeria is a patriarchal setting where men have higher social standing than women. I wanted to investigate whether role reversals between men and women were associated with domestic violence.
The associations between different forms of violence, occupational status and imbalances between spouses turned out to be quite complex.
I found that women in prestigious occupations have lower odds of experiencing spousal abuse than women in low-ranked occupations. On the other hand, women in more prestigious occupations than their partners have greater odds of experiencing violence. Women have greater odds of abuse if their male partners are in prestigious occupations.
In Nigeria, women's labour market participation is rising. This gives them more status. Any move towards status equality appears to be a risk factor for women's experience of abuse. Nigeria needs more legislation that criminalises domestic violence.
Comparing occupations and violence
I used the 2013 Nigeria Demographic and Health Survey to analyse the relationship between occupation and women's experience of intimate partner violence. The survey is a nationally representative sample of 38,948 women and 17,359 men aged 15–49. It covers rural and urban households all over Nigeria. The record includes information on women's experience of violence by their male partners in the previous 12 months.
A quarter of women in the survey reported having experienced violence of any kind. Two percent had experienced all forms of violence: emotional, sexual, and physical.
To rank occupational prestige, I used an existing system which considers qualifications, manual versus non-manual skills and self-employment versus employment by others. The ranking system was revised slightly to take the Nigerian context into account. Professional, technical, managerial, and clerical occupations were ranked highest. Agricultural workers ranked lowest.
When I explored the associations between occupation and violence, I found that women who did not work were the least likely to experience abuse. Women working in agriculture were most likely to experience all forms of violence. Professional women were the next most likely to experience emotional abuse.
Aside from the women's own occupations, I looked at those of their husbands, and at the differences between them.
Men in more prestigious occupations appear to be more violent to their wives compared to men in less prestigious occupations.
Women in occupations of similar rank to their partners were twice as likely to experience physical and emotional violence, compared to women ranked lower than their partners. Women in more prestigious jobs than their husbands were seven times more likely to experience physical and emotional violence, compared to women ranked lower than their husbands.
In a patriarchal society like Nigeria with ingrained gender roles, obvious status inconsistencies may create some embarrassment for husbands. Situations where the wife is a medical practitioner and the husband is not working, for example, or where the wife is an accountant and the husband is a trader, could be perceived as a threat.
Supportive interventions and laws
In Nigeria, women's labour market participation is rising. It is not just the presence of status inconsistency that provokes violent tendencies of male partners. Any move towards status equality – being on the same level as male partners, or outranking them – appears to be a risk factor for abuse.
Interventions to protect vulnerable women – such as counselling – should meet specific needs and provide appropriate support.
One formal approach to altering behaviour is to enact appropriate legislation that penalises violence. For example, currently, only half of the 36 states in Nigeria have adopted (in various forms) the Violence Against Persons (Prohibition) Act, which aims to curb domestic violence.
Certain laws, grounded in cultural norms, continue to allow for wives to be beaten for the purpose of "correction", as long as no long-lasting physical damage is done.
I would suggest that Nigerian society needs to reassess its ideas about gender and improve its legislation.
Source: The Conversation
https://theconversation.com/domestic-violence-and-work-status-which-nigerian-women-are-most-at-risk-182916
--------
URL: https://newageislam.com/islam-women-feminism/nikhat-zareen-turkey-kerala-pugilists/d/127131
New Age Islam Islam Online, Islamic Website, African Muslim News, Arab World News, South Asia News, Indian Muslim News, World Muslim News, Women in Islam, Islamic Feminism, Arab Women, Women In Arab, Islamophobia in America, Muslim Women in West, Islam Women and Feminism