New Age Islam News Bureau
25 Feb 2017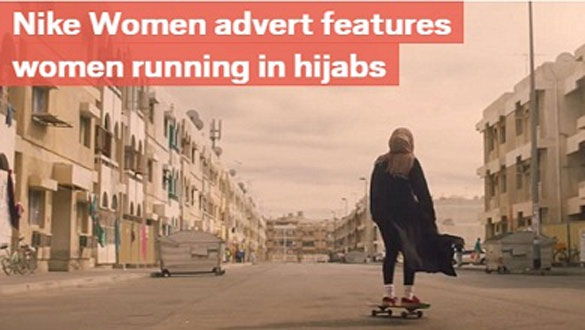 Photo: Nike has made hijabi women the stars of its latest advertising campaign.
--------
• Will Iraq Ban Unveiled Women From Holy Cities?
• Women Freed from Islamic State Burn Face Veils, Smoke Cigarettes
• Ban on Multiple Wives: Do Not Violate the Quran – Islamic Cleric, Daurawa Warns Sanusi
• Women Aim To Build Harmony in Anti-Muslim Myanmar
• A Muslim Woman Tried to Work in Trump's White House, Lasts Only 8 Days
• South Asian women who live in UAE more at risk for diabetes, study finds
• 'I Am Not Latifa': Meet the First Female Saudi Superhero
Compiled by New Age Islam News Bureau
URL: https://newageislam.com/islam-women-feminism/nike-made-hijabi-women-stars/d/110209
---------
Nike Has Made Hijabi Women the Stars of Its Latest Advertising Campaign
25 Feb 2017
The sportswear giant released an advert last week featuring women who team traditional clothing with trainers while they run, skateboard and ride horses, sending a powerful message that women should be free to defy societal norms.
The ad from Nike Middle East opens with a women stepping outside wearing a hijab along with Nike's activewear.
She looks nervous at first, but begins to pick up her pace despite getting glares from passers-by. It then cuts to another woman wearing her hijab while skateboarding down the street, while a female voice narrates in Arabic: "What will they say about you? Maybe they'll say you exceeded all expectations."
The advert has caused controversy all over the world since its release last week. Staying fit can be hard for a woman in the Middle East. In Saudi Arabia, physical education is prohibited in all-girls public schools and women's gyms remain illegal in the kingdom, according to Reuters.
Nike's advert, which has received more than 1,300,000 views on Youtube since it was uploaded last week, also features professional parkour runner Amal Mourad jumping across rooftops in the rundown suburbs of Dubai.
She told Reuters that breaking in to the extreme sport wasn't easy, and her father was even reluctant to let her train in a mixed-gender gym.
'Convincing my father was the toughest part,' she said. 'If you want something bad enough you stick to it, and you can get it done.'
metro.co.uk/2017/02/25/nike-made-muslim-women-the-stars-of-its-empowering-new-advert-6471868/#ixzz4ZhIH4IU9
--------
Will Iraq ban unveiled women from holy cities?
February 24, 2017
Ibtisam al-Hilali, a member of parliament for the Karbala governorate and member of the State of Law Coalition, led by Nouri al-Maliki, stated Feb. 12 that the governorate's provincial council intends to pass a bill banning unveiled women from entering the holy city of Karbala.
Summary? Print The provincial council of Karbala is to vote to forbid the entry of unveiled women into the holy city, sparking resentment among the city's residents.
While banners on the streets of Iraq's religious cities such as Karbala, Najaf and Khadimiya calling on women to wear the headscarf are a normal sight, this is the first time official figures and parliamentarians try to introduce a bill in this regard.
Karbala is home to the shrines of the third Shiite Imam Hussein bin Ali and his half brother Abbas. The citizens of Karbala are mostly Shiites, and each year the city hosts millions of pilgrims who visit the shrines of the two imams.
A parliamentary source who spoke on condition of anonymity told Al-Monitor, "Many blocs affiliated with Islamic parties are now trying to collect signatures to pass a bill that would ban unveiled women from religious areas. However, this was immediately rejected by parliamentarians, but the blocs are still trying to pursue their efforts to this effect."
These endeavors might not be welcomed by the Iraqi community, which is governed according to the Iraqi Constitution instead of Sharia. Yet, it appears that some Islamic groups and parties are trying to impose Sharia on the different aspects of civil life. This might suggest the possibility of an imminent conflict between Islamic extremists and civilians seeking to live in a nonreligious state.
Sarwa Abdel Wahed, a parliamentarian for the Movement for Change, told Alqurtas News that some parties are seeking to impose political agendas and settle scores by trying to pass a law banning unveiled women from entering religious cities.
Calls to pass such a bill came one day after the statement of Nassif al-Khutabi, the head of the local government in Karbala governorate, pledging to take "severe measurements to impose a law on the hijab" in Karbala.
The recent uproar is a reaction to the visit of Maysoun al-Damlouji, a parliamentarian for the National Coalition, to Karbala on Feb. 5 without wearing the veil.
Damlouji responded to Khutabi's statement, saying, "The provincial council of Karbala should have paid more attention to the cleanliness in the streets of the city instead of starting talks about the veil or the etiquette of my visit to Karbala."
Currently, no rule in Karbala obliges women to wear the hijab once they enter the city. This is why some believe the local government is trying to restrict freedoms in the community for electoral purposes.
There are also fears that Iraq will be turned into a "hard-line religious state." These concerns are based on a series of attempts to do just that, such as the law banning the manufacture and sale of alcohol passed by the parliament last October. Others also believe that post-Islamic State Iraq will be a country controlled by extremist Shiite parties.
The news about Karbala's provincial council to pass a law on imposing the veil caused a split among the community inside the governorate. While politicians and members of the local government supported such a law, activists condoned it. Some of them appeared on TV to voice their opinion, considering such a law to be the extension of extremist ideologies in Karbala.
In this context, Samira al-Mousawi, a member of parliament for the State of Law Coalition, told Al-Monitor, "The issue of unveiled women in religious cities is brought up from time to time in the governorate. It is a controversial issue in terms of different opinions. I believe there should be a law banning unveiled women or imposing the veil before entering the city."
The National Coalition, on the other hand, defended Damlouji, whose visit raised much controversy, and described the position of the head of Karbala's local government to be "politically bankrupt," seeking to make political gains away from professional ethics, according to Khadhim al-Shammari, the head of the coalition.
During her visit to Karbala, Damlouji did not visit the religious shrines. However, the position of the local government appears to be premeditated, in light of talks about setting forth other legislation, namely announcing the World Day of Chastity to promote the Islamic veil. Many parties are pushing in this direction.
In addition, Shiite clerics in Najaf have been campaigning to spread awareness about the need to wear the veil according to Sharia teachings. As part of the campaigns, veiling guidelines were distributed among girls in intermediate and secondary schools. A contest on the subject was organized with many prizes up for grabs, including a trip to the city of Qom in Iran.
Should the call to prevent unveiled women from entering the city of Karbala turn into an applicable law, members of parliament will have the right to interrogate the head of the provincial council and the governor of Karbala to identify the reasons behind this law, which could lead to its abolition, on the ground that not all Islamic teaching ought to be imposed on all community components.
In a country with multiple religions, sects and ethnicities, no specific religious doctrine or practice should be imposed across the social fabric, even if this was limited to certain areas only.
al-monitor.com/pulse/originals/2017/02/iraq-shiite-holy-cities-karbala-hijab-women.html#ixzz4ZgFkGaQC
--------
Women Freed from Islamic State Burn Face Veils, Smoke Cigarettes
24 Feb 20171
Women in Syria liberated from Islamic State (ISIS/ISIL) control celebrate their newfound freedom by setting their face veils ablaze and smoking cigarettes, reveals video footage published by the Iraqi Kurdish news outlet Rudaw.
The video shows a group of gleeful women celebrating their freedom by stamping on their face veils before setting them on fire and smoking cigarettes.
"These people were under the control of [ISIS] who forced women to wear religious clothing, men were banned from smoking, children were not supposed to be playing and dancing in the street," Julie Lenarz, director of Human Security Centre (HSC), told the Independent, referring to the Syrian women.
"These are women who would have worn a headscarf or Muslim clothing but not a full face veil, so they see it as a real liberation," she added.
The U.S.-backed Syrian Democratic Forces (SDF) reportedly liberated the women from an area around eastern Syria's Deir Ezzor province.
SDF refers to an Arab-Kurdish alliance predominantly made up of fighters from the Kurdish People's Protection Units (YPG), the armed wing of the Democratic Union Party (PYD) that controls large swathes of northern Syria.
YPG troops are reportedly leading an operation in Deir Ezzor province as part of the U.S.-backed effort to recapture Raqqa, ISIS's de-facto capital in Syria.
Footage of the liberated women comes as Turkish forces discovered a prison in the Syrian town of Al-Bab where ISIS held and tortured many women.
"Female prisoners were kept in cells just three feet wide, which were so cramped they could barely stretch out their arms," reports the Daily Mail, citing video footage from inside the prison released by the Turkish military.
"The women had been captured and kept as sex slaves, housed like animals in the tiny windowless cells behind huge steel doors," adds the news outlet. "The women endured inhumane conditions, as the militants forced them to live in darkness and regularly subjected to torture, rape, and beatings."
Turkish forces and their allies are fighting to push ISIS out of al-Bab, considered the last remaining ISIS stronghold in the northern Syrian province of Aleppo.
breitbart.com/national-security/2017/02/24/syria-women-freed-islamic-state-celebrate-burning-face-veils-smoking-cigarettes/
--------
Ban on Multiple Wives: Do Not Violate the Quran – Islamic Cleric, Daurawa Warns Sanusi
February 25, 2017
An Islamic cleric and Kano State Commander-General of the Hibah Board, Sheikh Aminu Ibrahim Daurawa, has reacted to the plan by the Emir of Kano, Muhammadu Sanusi, to propose a law that restricts poor men in the emirate from marrying many wives.
Recall that Sanusi had divulged his plans, saying he would ensure that the law would be passed by the Kano State Government as a way of immortalizing Ambasador Isa Wali, a former Nigerian High Commissioner to Ghana, who was one of the first northern elements to advocate gender equality.
But the cleric, in his reaction, said the Emir's plan will violate the Quran.
Speaking with BBC Hausa, Daurawa said the criteria for marrying another wife as contained in the Quran should be strictly followed.
Daurawa advised the monarch to focus on enlightening the people on the intricacies of polygamy.
He said, "Allah's position on marriage is sacrosanct as stated in the Holy Quran and any infringement is nullity.
"What needs to be done is not enactment of a law that would bar the poor from marrying more than one wife but rather enlightenment on the intricacies of polygamy.
"There about 13 criteria to be followed before one qualifies to marry a second wife and this include been just and caring to the wife as been enshrined in the Holy Quran should be strictly followed,"
dailypost.ng/2017/02/25/ban-multiple-wives-not-violate-quran-islamic-cleric-daurawa-warns-sanusi/
--------
Women Aim To Build Harmony In Anti-Muslim Myanmar
Myanmar February 24, 2017
Tin Tin Aye, a Muslim housewife, grew up in a mixed neighbourhood of Buddhists, Christians and Hindus in Myanmar and she often visited churches and Hindu temples with her childhood friends.
Near her parents' home, a mosque, Buddhist pagoda, Catholic church and Hindu temple are situated side by side in downtown Mandalay, the second largest city in Myanmar.
"I forget about religion when interacting with Buddhists, Christians and Hindus and I see them as my friends," Tin Tin Aye, who works as a tourist guide, told ucanews.com.
ucanews.com/news/women-aim-to-build-harmony-in-anti-muslim-myanmar/78473
--------
A Muslim Woman Tried to Work in Trump's White House, Lasts Only 8 Days
FEBRUARY 25, 2017
(PETE SOUZA/WHITE HOUSE)
This is what it looks like when a patriot faces a bunch of monsters.
Rumana Ahmed is a Muslim. She wears a hijab. And she has been working at the White House since 2011. Under President Obama, she was promoted to work at the National Security Council from the Office of Public Engagement. Since then, she has served as an adviser to President Obama, particularly in how he addressed and considered American Muslims. When Donald Trump won, most people in her shoes would have walked away instantly and found a new job. After all, Trump had traversed the country for two years spouting racist, xenophobic, sexist drivel, with a particular focus on anti-Muslim rhetoric.
But that's not what Rumana Ahmed did. She decided to stay on despite her disagreements, because protecting what America stands for is even more important when what it stands for is threatened. Then, eight days after the inauguration, she had to quit. Ahmed wrote an eye-opening piece about her experience for The Atlantic, which shows just how quickly the White House's culture changed on January 23, 2017.
The weeks leading up to the inauguration prepared me and my colleagues for what we thought would come, but not for what actually came. On Monday, January 23, I walked into the Eisenhower Executive Office Building, with the new staffers there. Rather than the excitement I encountered when I first came to the White House under Obama, the new staff looked at me with a cold surprise. The diverse White House I had worked in became a monochromatic and male bastion.
But it wasn't just the whiteness that was surprising. It was the dysfunction. It was as if the entire national-security apparatus had been set on fire.
Decision-making authority was now centralized to a few in the West Wing. Frustration and mistrust developed as some staff felt out of the loop on issues within their purview. There was no structure or clear guidance. Hallways were eerily quiet as key positions and offices responsible for national security or engagement with Americans were left unfilled.
But perhaps the most painful and infuriating part of Ahmed's account is when she finally—after eight days! That's how fucked up this administration is!—decided to quit after Donald Trump's Oh, are those Muslim countries? I didn't even realize! Muslim ban was signed.
The evening before I left, bidding farewell to some of my colleagues, many of whom have also since left, I notified Trump's senior NSC communications adviser, Michael Anton, of my departure, since we shared an office. His initial surprise, asking whether I was leaving government entirely, was followed by silence—almost in caution, not asking why. I told him anyway.
I told him I had to leave because it was an insult walking into this country's most historic building every day under an administration that is working against and vilifying everything I stand for as an American and as a Muslim. I told him that the administration was attacking the basic tenets of democracy. I told him that I hoped that they and those in Congress were prepared to take responsibility for all the consequences that would attend their decisions.
He looked at me and said nothing.
It was only later that I learned he authored an essay under a pseudonym, extolling the virtues of authoritarianism and attacking diversity as a "weakness," and Islam as "incompatible with the modern West."
You should read her entire piece, as it is a reminder in these dark times of what patriotism actually looks like. Because, as we continue to learn, especially in Trump's America, it's not minorities in America who are the threat.
gq.com/story/rumana-ahmed-trump-white-house-atlantic
---------
South Asian women who live in UAE more at risk for diabetes, study finds
February 24, 2017
ABU DHABI // Expatriate women from India, Pakistan and Bangladesh who are susceptible to diabetes are almost three times at higher risk of developing the disease after moving to UAE than in their home countries, a new study has found.
A total of 599 expat women from South Asia, the Philippines and the Middle East living in Al Ain took part in the Prevalence of Diabetes among Migrant Women and Duration of Residence in the UAE study, carried out by UAE University.
Researchers found women from the sub-continent at higher risk of developing the disease compared to female expats from Arab countries and the Philippines.
Results showed 16.7 per cent of South Asian women who had lived in the UAE for ten years had type 2 diabetes, compared with 6 per cent outside of the country. Of Arab women who took part, 12.2 per cent had the condition compared with 4-8 per cent in their home countries.
"The majority of South Asians in the UAE migrate from rural areas in low-income developing countries and on moving to the UAE and living here for a number of years will most likely experience a change in the nutritional and physical activity environment. They walk around all the time in their countries but when they come here they have access to transportation," said Professor Syed Mahboob Shah, lead investigator of the study and associate professor at the College of Medicine and Health Sciences at UAEU.
In contrast, diabetes was lower in Filipino women who had lived in the UAE, just 1.7 per cent, than women living in the Philippines, 6 per cent.
Study results showed age plays a key factor in rates of diabetes among South Asian women, with those over the age of 40 three-and-a-half times more at risk of developing diabetes compared to younger compatriots.
A lack of regular physical exercise and an easily accessible and affordable high calorie diet compared to their home countries are thought to be at least partially to blame.
A similar study on diabetes in male expats is in progress.
In countries where physical activity is decreasing, people's weight increases, which could lead to more cases of diabetes, said Dr Mahmoud Ben Baraka, consultant endocrinologist at HealthPlus Diabetes and Endocrinology Centre in Abu Dhabi.
"The prevalence of diabetes in India, Pakistan, Bangladesh is around 9 per cent. If you are in a rural area, your physical activity is usually more and your access to a calorie-dense diet will be less. Thus, the chance of getting diabetes will also be less,"said Dr Ben Baraka, adding that number is reduced to 3 per cent in rural areas.
However, environmental issues may not be entirely to blame as South Asians may also be genetically susceptible to diabetes, according to Dr Dinesh Dhanwal, consultant endocrinologist at NMC Specialty Hospital in Abu Dhabi.
The theory of foetal origin of adult diseases claims unfavourable conditions before birth and childhood predispose a person to increased risk of disease in adulthood.
"India was not so advanced 20-30 years ago, and if the birth weight was lower at that time, then this could be a possible link," said Dr Dhanwal. "With that genetic background and sedentary life and food availability, these genes become more active."
He advised South Asians over the age of 30 to be screened for diabetes and suggests lifestyle changes for patients who have pre-diabetes, including eating fewer carbohydrates, more proteins and fruits and vegetables while also exercising and walking after a meal.
There were 35 million people suffering from diabetes in the Middle East and North Africa in 2015, according the IDF. That number is expected to rise to 72 million by 2040.
thenational.ae/uae/south-asian-women-who-live-in-uae-more-at-risk-for-diabetes-study-finds
---------
'I am not Latifa': Meet the first female Saudi superhero
25 February 2017
Her name is Latifa (meaning "kind" in Arabic), yet she is ruthless and vindictive, living in a revolting future world.
Latifa, Saudi Arabia's first female comic superhero, and her dystopian universe are the brainchild of Fahad Al-Saud, CEO and creative director of award-winning gaming and transmedia incubator Na3am (New Arab Media).
"Latifa was born, and it just kind of developed from there. I'm seeing her come to life now. I feel like my child has just graduated from high school," Al-Saud, who co-writes the comic book with Stan Berkowitz, told Arab News.
"She accepted herself as a warrior and she's committed, so I wanted her to talk to people who feel there's a war beside them and are scared to come out."
Latifa was introduced to audiences at the recent Saudi Comic Con in Jeddah, at which the turnout exceeded expectations.
"The fusion of Marvel and Na3am next to each other (means) you've got the outside example and the local example, so it's a historic moment not just for Saudi and for Comic Con being here, but also for Saudi to receive and welcome its first superhero," Rozan Ahmed, the editor of Latifa, told Arab News.
Al-Saud said the world of comics accompanied him from his childhood to his adulthood, and he decided to turn his passion into a profession. His favorite superheroes are the X Men, Psylocke and Storm.
The Stanford University graduate majored in mechanical engineering and studied management science, humanities and art history, which set a strong foundation for him. He said it taught him problem-solving skills and made him view the world differently.
"I grew up reading comic books. I learned English from reading comic books," he said. "In every single comic book or video game with a female character, she has been my favorite. I think that whole experience just turned my hobby into my profession."
Latifa, with her talking sword, is the first comic from the Saudi Girls Revolution (SGR) universe.
She is illiterate, always questioning her surroundings, and is on a mission to help those who are struggling around her. The concept of justice is strongly highlighted in her story.
Al-Saud said it was important for him to make stories about women that are not centered on a man, but he also wanted to keep a balance.
The sword Al-Faisal is robotic with male energy, and is a metaphor for her father, whom she lost as a child.
"The narrative is essentially about one big prison break. Latifa isn't in the prison. There are other characters outside the prison who will get to know the people breaking out of the prison," Berkowitz told Arab News.
"There seems to be an effort in the camp to change women. The women are only brought there if they're rebellious. They're delinquent, trouble-makers, free-thinkers and the plan is to make them docile citizens," said Berkowitz, who also wrote for the "Justice League," "Batman Beyond" and "Superman."
For Al-Saud, the prison in the story can be seen from the readers' perspective as limitations in the community or environment, limitations we impose on ourselves, or our fears. "This is a piece of art, and I'd love for people to interpret it in their way," he said.
Al-Saud's use of the word "revolutions" was his way of reclaiming this "buzzword" and giving it a different meaning.
He said the word has been charged with so much negativity, and he wanted to go back to what it actually meant.
It can be "changing something, evolving it into something better and challenging the status quo, but of course not for the sake of pushing back, for the sake of moving forward," he said.
"The concept of revolution here is: Each girl in her own personal growth is going through a revolution. It's a spiritual one, an identity one, a political one, a societal one, depending on that girl's story."
He added: "The revolution I wanted to start is having us reclaim our own identity, giving an opportunity for Arab women, and Saudi women specifically, who globally have been put into a box of oppression and regression.
"I wanted to change the narrative and rhetoric around women in comics, but also have the ones who are pioneers of change, stories of Saudi women who globally, for the last decade or so, have been seen as oppressed. I wanted to challenge that, so that's what this revolution is about."
Latifa's world is 100 years in the post-apocalyptic future. About five years ago, when the project started, Al-Saud wondered what the world would look like in the future.
"The best way to see something is to imagine it in the future, to push us to an environment that's completely different but also still similar," he said.
"The work I'm doing with SGR is a way to creatively solve problems that I feel exist in our world today."
The project is the result of a collaborative team effort. "The first thing I did was to collaborate with Stan," Al-Saud said.
"There are people who are more skilled than me. It's important for this project to reach the quality I intend, to release the ego and bring in experts and collaborate with them throughout the process, which is working out so far."
The intention is to create something Saudis, Saudi females and global audiences are proud of. "I'm hoping to present audiences with so many options rather than just Latifa (in the future)," he added.
Saudi Comic Con also saw the newly launched Bedouin Blade game mobile phone app. "It's Latifa's first video game, and we're also looking at a feature film," said Ahmed.
zawya.com/mena/en/story/I_am_not_Latifa_Meet_the_first_female_Saudi_superhero-ZAWYA20170225064228/
URL: https://newageislam.com/islam-women-feminism/nike-made-hijabi-women-stars/d/110209
New Age Islam, Islam Online, Islamic Website, African Muslim News, Arab World News, South Asia News, Indian Muslim News, World Muslim News, Womens in Islam, Islamic Feminism, Arab Women, Womens In Arab, Islamphobia in America, Muslim Women in West, Islam Women and Feminism