New Age Islam News Bureau
31 March 2017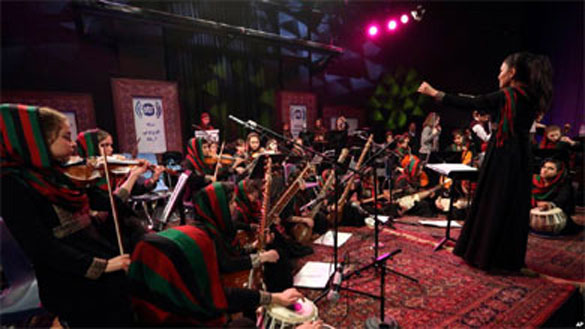 In this Feb. 15, 2017, photo, orchestra leader Zarifa Adiba, 18, conducts during a concert in Kabul. Afghanistan's first all-female symphony is trying to change attitudes in a deeply conservative country where many see music as immoral, especially for women.
---------
• First Afghan Women's Orchestra Tries To Change Attitudes
• Triple Talaq an 'Important Issue' Involving Sentiments, Says SC, Refers Plea to Constitutional Bench
• Muslim Women Unite Against Triple Talaq; Now, Nida Khan from Bareilly Writes To UP CM to End Her Suffering
• This Artist Has Been Turning Barbies into Muslim Women Icons
Compiled by New Age Islam News Bureau
URL: https://www.newageislam.com/islam-women-feminism/nikah-be-solemnised-muslim-women/d/110604
--------
Nikah Will Be Solemnised By Muslim Women in Mumbai
Mar 31, 2017
Mumbai: Breaking down the stereotype in patriarchal society, Bharatiya Muslim Mahila Andolan (BMMA) started a women's class at Bandra (East) in which women are being taught about the Qazi's course and fundamental right of women under the light of Muslim personal law and constitution of India. Noorjehan Agah, co-founder of BMMA, blamed the male Qazis and said that they are not fulfilling their duty properly so we had to take this step.
After completion of this course women would be able to solemnise Nikah and perform all duties of Qazis. If there are any objections in male dominated area women would be able to discuss with a woman Qazi without any hesitation.
"Male Qazis only come at the time of divorce, Halala but they never ask about the age of women at the time of marriage, they have to ensure about the Maher most of women do not know about their Maher prize unless they get divorce," Agah said.
"We learned about the rights bestowed on women by Quran, Hadith and the Indian Constitution. We will not only solemnise Nikah but also work for the rights of women. We have already completed three modules out of four and we are encouraged by the local community to continue our work," Agah added.
Meanwhile, there is a reaction from the Muslim community to the news of a woman Qazi.
A city based Qazi, Mufti Mahboob Akhtar said, "I appreciate they are teaching women about their right but, their interpretation of Islamic law is wrong. How can women come out and solemnise the Nikah before the male dominated ceremony? In Islam, women cannot be allowed in a male dominated ceremony,"
With this huge step, solemnising Nikah will no longer be a male bastion in the city.
http://www.freepressjournal.in/mumbai/nikah-will-be-solemnised-by-muslim-women-in-mumbai/1043796
--------
First Afghan women's orchestra tries to change attitudes
Kabul, Mar 30, 2017
Afghanistan's first and only all-female symphony is trying to change attitudes in a deeply conservative country where many see music as immoral, especially for women.
The symphony's two conductors show how difficult that can be, but also how satisfying success is.
One of them, Negin Khpolwak, was supported by her father when she joined the Afghanistan National Institute of Music and then became part of its girls' orchestra, called Zohra. But the rest of her family was deeply against it. Her uncles cut off ties with her father.
my grand-mother disowned my father."
Khwolpak had learned about the music institute at the orphanage in Kabul where she spent most of her life.
Her father sent her to the orphanage because he was afraid for her safety in their home province of Kunar in eastern Afghanistan, an area where Taliban militants are active.
The institute is one of the only schools in Afghanistan where girls and boys share classrooms, and it draws its students from the ranks of orphanages and street children, giving them a chance at a new life. Khpolwak studied piano and drums before becoming the orchestra's conductor.
More than 30 girls aged 12 to 20 play in Zohra, which is named after a goddess of music in Persian literature.
In January, the orchestra, which performs traditional Afghan and Western Classical music, had its first international tour, appearing at the World Economic Forum in Davos and four other cities in Switzerland and Germany.
"The formation of the orchestra is aimed at sending a positive message to the community, to send a positive message to the girls, to encourage families and girls to join the music scene of the country," said Ahmad Naser Sarmast, the institute's founder and director.
Sarmast has experienced firsthand the militants' hatred of music. In 2014, a Taliban suicide bomber blew himself up at a concert Sarmast was attending. He was wounded and a German man in the audience died.
The Zohra orchestra was created in 2014 when one of the institute's students, a girl named Meena, asked Sarmast if there could be a group where girls could play together. Sarmast leaped at the idea.
Since then, Meena has disappeared. Last year, the 7th grader told the school she had to attend her sister's wedding in her family's village in eastern Nangarhar province.
She never returned, a sign of how tenuous people's situation is in a country where war rages, communications are poor and poverty is rife. Sarmast said the school has not been in contact with her, but he's hopeful she'll return to the school and Zohra.
http://www.deccanherald.com/content/603764/first-afghan-womens-orchestra-tries.html
--------
Triple Talaq an 'Important Issue' Involving Sentiments, Says SC, Refers Plea To Constitutional Bench
March 30, 2017
The Supreme Court on Thursday referred the plea challenging Muslim's practice of 'tripla talq', nikah halala and polygamy to constitutional bench, saying these are 'important issues' and involve sentiments. A bench of judges comprising Chief Justice J S Khehar and Justice D Y Chandrachud observed that issues required a detailed hearing and referred it to a five-judge constitution bench. "If we will not decide it now, it will not happen for years and decades," the bench said, adding it was open to hearing the matter on even Saturday and Sunday during the summer vacation which would commence from May 11.
The All India Muslim Personal Law Board (AIMPLB), however, has objected to court's adjudication of these matters, maintaining these practices stemmed from the Holy Quran and were not justiciable. The Board had also said that the validity of Mohammedan Law, founded essentially on the Holy Quran and sources based on it, cannot be tested on the particular provisions of the Constitution.
Several Muslim women in the past have challenged the practice of triple talaq in which the husband, quite often, pronounces talaq thrice in one go, sometimes even by phone or text message. on the other hand the practice of Nikah Halala is intended to curb incidence of divorce under which a man cannot remarry his former wife without her having to go through the process of marrying someone else, consummating it, getting divorced, observing the separation period called 'Iddat' and then coming back to him again.
The Centre had last opposed in the apex court the practice of triple talaq, 'nikah halala' and polygamy among Muslims. In its affidavit, the Ministry of Law and Justice, had referred to constitutional principles like religious practices, international covenants, gender equality, secularism and marital law prevalent in various Islamic countries to assert that the practice of triple talaq and polygamy needed to be adjudicated upon afresh by the apex court. The court had taken suo motu cognizance of the question whether Muslim women faced gender discrimination in the event of divorce or due to other marriages of their husband.
Victim of triple talaq, writes to PM Modi to ban the practice
Meanwhile, a pregnant woman on Wednesday wrote to Prime Minister Narendra Modi urging him to ban the controversial practice, after she was was abandoned by her husband. She has also sent a copy of the letter to Uttar Pradesh Chief Minister Yogi Adityanath. A mother of two-daughters Shafugta, when got pregnant for the third time, her in-laws asked her to abort it fearing it might be a girl as well.
Refusing to do the same, the woman underwent torture and physical abuse. In the rage of anger, her husband Shamshad verbally gave her Triple Talaq and stranded her. "Refusing to go for abortion, they beat me mercilessly. My husband then verbally gave me Triple Talaq and threw me out of the house."
The helpless Shagufta has now written to the Prime Minister urging him to ban the practise, also reminding him that she exercised her power to vote in his favour.
For all the latest India News, download Indian Express App now
http://indianexpress.com/article/india/triple-talaq-an-important-issue-involving-sentiments-says-sc-refers-plea-to-constitutional-bench/
--------
Muslim women unite against triple talaq; now, Nida Khan from Bareilly writes to UP CM to end her suffering
March 30, 2017
New Delhi: While the larger Constitution Bench of the Supreme Court is due to adjudicate upon the legal aspects of triple talaq and polygamy, a large number of Muslim women have raised their voice against what they call 'cruel' Islamic traditions in order to end their suffering.
Now, Nida Khan - a woman from Bareilly - has written to Uttar Pradesh Chief Minister Yogi Adityanath urging him to abolish the Islamic practice to dissolve the marriage.
Khan, a victim of triple talaq, has taken to the social media appealing Yogi Adityanath for the abolition of what she calls 'anti-women Islamic tradition'.
Earlier, raising her voice against triple talaq, a pregnant woman Shagufta Shah had written a letter to Prime Minister Narendra Modi urging him to abolish the 'evil Islamic tradition' at the earliest.
Shah decided to write to the Prime Minister about her ordeal after she was 'disowned' by her husband when she refused to abort her third child.
In her letter, Shah spoke eloquently about the pain she was subjected to when she became pregnant for the third time and how her husband Shamshad Sayeed wanted her to terminate the pregnancy, fearing that the third born may also be a girl.
She has also sent a copy of the letter to the UP CM.
The apex court today referred various petitions against triple talaq to the larger Constitution Bench, which will start hearing from May 11.
Meanwhile, the All India Muslim Personal Law Board (AIMPLB) has opposed the PILs filed against the controversial triple talaq in the apex court, stating that petition against the Muslim Law Board is 'not maintainable'.
The Muslim body has claimed that any order against triple talaq would be an infringement on their right to follow and profess any religion.
Many Muslim-majority counties such as Pakistan and Indonesia have removed this practise, but India, with world's third-largest Muslim population continues to allow it.
http://zeenews.india.com/india/muslim-women-unite-against-triple-talaq-now-nida-khan-from-bareilly-writes-to-up-cm-to-end-their-sufferings-1991303.html
--------
This Artist Has Been Turning Barbies Into Muslim Women Icons
31/03/2017
A Muslim lifestyle blogger has been restyling Barbies as powerful Muslim women icons, packing a whole lot of spunk into a tiny figurine.
Haneefah Adam is a 26-year-old medical scientist and artist based in Ilorin, Nigeria. She's the woman behind the popular @hijarbie Instagram account, where she posts images of Barbies that young Muslim girls who wear the hijab can identify with.
In addition to showcasing modest fashion, Adam has been turning photos of popular Muslim fashion icons into Barbies.
Modest fashion has taken off on Instagram, with many Muslim women posting style tips on how to wear and find fashionable headscarves and dresses that meet religious requirements. Some of these Instagram stars have amassed a substantial audience on the platform, scoring business deals with fashion brands and becoming savvy businesswomen in their own right.
Adam has given a few Muslim fashion bloggers the "Hijarbie" treatment ― stars like the Indonesian fashion designer Dian Pelangi, the American Muslim fashion blogger Leena Asad, and the Qatar-based YouTuber and blogger Eslimah.
Adam said she looked for women who are positive examples for young Muslim girls, and who have had an impact on the world around them. Her goal was to honor the accomplishments of these women.
"We need positive role models we can look up to and hopefully emulate to true success," Adam told The Huffington Post in an email.
Around the time of the 2016 Olympics, Adam started turning her attention to hijab-wearing ladies outside of the fashion sphere. She was especially inspired by the sprinter Kariman Abuljadayel, the first Saudi Arabian woman to compete in the Olympic 100-meter race, and fencer Ibtihaj Muhammad, the first American to compete at the Olympics while wearing the headscarf.
Since then, Adam has also styled dolls after Ilhan Omar, America's first Somali-American Muslim woman legislator, and Samah Safi Bayazid, an American Muslim filmmaker and producer.
"These women are among beautiful Muslim women that celebrate their unique identity with pride while still succeeding in their different fields," Adam wrote.
Adam said creating these dolls requires a lot of DIY know-how. She finds her own fabric and sews all the outfits herself. She pays attention to detail ― the flowers on Eslimah's skirt, for example, were hand-painted to look like the ones in the original photograph. Muhammad's helmet was made out of polymer clay, covered in fabric, then decorated by hand.
She said she plans to include other inspiring women Muslims on her page in the future.
"Because my faith is an integral part of my lifestyle, it has to reflect in most things I do, which in turn is manifesting in Hijarbie," Adam wrote.
http://www.huffingtonpost.in/entry/muslim-woman-icon-barbies_us_58dc0acde4b08194e3b6d3a9
--------
URL: https://www.newageislam.com/islam-women-feminism/nikah-be-solemnised-muslim-women/d/110604
New Age Islam, Islam Online, Islamic Website, African Muslim News, Arab World News, South Asia News, Indian Muslim News, World Muslim News, Women in Islam, Islamic Feminism, Arab Women, Women In Arab, Islamophobia in America, Muslim Women in West, Islam Women and Feminism