New Age Islam News Bureau
18 Nov 2013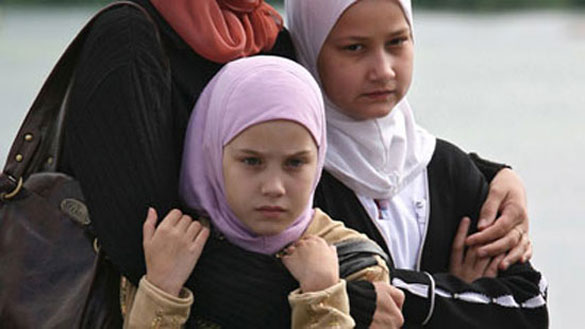 RIA Novosti/Maksim Bogodvid, Children's Hijab Show in a Southern Russian City
-------------
• Egypt's Women Refuse To Be Intimidated
• Sudan Worst in Africa with Legal Marriage at Age 10
• Boko Haram, Taking To Hills, Seize Slave "Brides"
• Child Sex Abuse Steps Out Of the Shadows in Pakistan
• Ethiopia and Angola Double Number of Girls in School in 10 Years
• Children's Hijab Show in a Southern Russian City Canceled, Cossacks Blamed
• Tanzania: Women Advised to Seek Knowledge in Business
• Pakistan Women Writers' Body Formed
Compiled by New Age Islam News Bureau
URL: https://www.newageislam.com/islam,-women-and-feminism/new-age-islam-news-bureau/nigerian-women-group--indecent-dressing-promotes-sexual-harassment/d/34467
--------------
Nigerian Women Group: Indecent Dressing Promotes Sexual Harassment
November 18, 2013
Lagos — A group of concerned women on Sunday urged mothers to promote descent dressing from home in the girl child to curb incessant sexual harassment and rape in the society.
The women, who are the Old Girls Association of the Federal Government Girls College, Kazaure , Lagos chapter, spoke in separate interviews in Lagos.
The President of the group, Mrs Yomi Newton said that parents were responsible for the indecent dressing among the young girls because they formed their dressing pattern at their tender age.
"Lets blame parents for this development, the mothers and even the fathers buy clothes for them at a tender stage, it is the style and concept a mother grooms in a child that she grows up with," she said.
Newton, who is also a medical practitioner, says, "it is genetic; a girl-child attitude must be drawn from the mother or father's gene".
Also speaking, Mrs Grace Oloye, a pastor said that mothers had failed in laying good example for their girls by setting the pace for indecent dressing, adding that as some mothers themselves do not dress decently.
"The mothers do not dress well, and then what do you expect them to pass on to their girls? Some of them put on seductive outfits that are provocative," she said.
Oloye condemned the idea of "it is the vogue", saying God gave man the wisdom to cover nakedness because he knew man's weakness.
"There is no need to wear outfits that make one uncomfortable in the cover of flaunting God's gift, it is evil," she said.
According to a retired teacher, Mrs Roseline Onyemali, some mothers were responsible for sexual harassment when they abandon their girls with grown-up boys or house helps.
"When mothers leave their young girls at the mercy of house helps and grown up boys, it leads to issues of incest, rape and secret sexual dealings," she said.
Mrs Mujibat Bashua, a Lagos State civil servant, advised that chastity should be the guiding principle and not crazy ideas of fashion.
"We do not need to imitate any fashion that is foreign to our society, let us monitor what our children wear from home and in higher institutions," she said.
Also, Mrs Jumoke Araba noted that the religions and schools should create the corrective awareness to change the system.
"When we fear God, we eschew evil, modesty should be our guide," she said.
Mrs Lizzy Omojuwa-Oboh said: "the way you dress to functions speaks more about your personality which will determine the way you are addressed or treated."
She advised mothers in particular to take special interest in the upbringing of the girl child, adding, "when you train a girl child, you train a nation."
She said that a society with sexually harassed girls would not allow for moral development.
http://allafrica.com/stories/201311180894.html?viewall=1
------------
Egypt's women refuse to be intimidated
18 November 2013
Egyptian women were at the heart of the revolution that toppled president Hosni Mubarak. Their contribution ranged from work in the labour movement to a female journalist breaking taboos by suing the government for harassment. They walked shoulder to shoulder with men as the Egyptian population demanded the fall of the regime, as did the people of Tunisia, Libya and Yemen. Yet nearly three years later, a poll from the Thomson Reuters Foundation has declared Egypt the worst country for women in the Arab world. So, did the Arab spring lead to a regression of women's rights in the region – and particularly in Egypt, as the report suggests?
Egyptian women have certainly been politically marginalised in this post-revolutionary period. The male-dominated military in charge of the transitional phase eradicated the quota for women's representation in parliament, which reduced female members from 64 to nine, and it did not include any women in the constitutional review committee. The police also targeted female political demonstrators, going as far as stripping them naked in the street and urging molestation by thugs. They introduced virginity tests for women arrested during political demonstrations. The message was clear: women should go home and leave politics to the men.
Women's rights had been used as a velvet glove during Mubarak's regime (as with other administrations of the time, such as Ben Ali in Tunisia and Gaddafi in Libya), which passed laws to protect women while suppressing all other political rights. The elected president, the Muslim Brotherhood's Mohammed Morsi, rescinded some of these rights: restrictions on polygamy were lifted; a reduction of the marriage age was proposed; women's right to seek divorce was limited. This reflected the Brotherhood's patriarchal attitude to gender roles and family structures, and had little to do with the reality of the Egyptian economy, where women make up a large proportion of the labour force and are found in all sectors of public life.
So first the military and then the Muslim Brotherhood undermined women post-revolution. This triggered a wave of anger. Many of the issues the Reuters poll refers to, such as female genital mutilation and sexual harassment, are not new. But Egyptian women – as with women in other Arab countries after the Arab spring – are more determined than ever to confront these challenges. If they stayed silent about sexual harassment in the past, today they are writing testimonials on Facebook or creating public campaigns to confront it.
Furthermore, women today are no longer willing to see themselves as simply women's rights activists; they are going beyond gender or class to demand citizenship rights. This is part of a progressive discussion that was triggered in post-revolutionary Egypt and is strengthened by young people, who make up about 60% of the Arab population. The impact of impassioned, youthful voices has been seen in Saudi Arabia, too – which is ranked third worst among Arab nations. (The comparison between Egypt and Saudi Arabia is unfair, however, as the two cultures are very different, making it difficult to evaluate both countries on similar standards.)
The Arab spring turned women's issues into a battle in the war of ideology between Islamists and so-called modernists. Both see women through a traditional lens and have deprived them of full participation in the political process. But women are not silent in this historical moment. They are speaking up, organising, and amassing support, not only for their rights but also for all who believe in freedom, democracy, and stability of the region at large. It is vital we hear their voices because they represent the most solid hope for the region. It is too early to be fatalistic about what is happening now. I know I still hold out hope.
http://www.theguardian.com/commentisfree/2013/nov/15/egypt-women-refuse-intimidated
--------------
Sudan worst in Africa with legal marriage at age 10
18 November 2013
NAIROBI (Thomson Reuters Foundation) - Sudan should raise the legal age of marriage from 10 years – the lowest in Africa – to 18, to comply with international child rights standards, according to a report released on Monday, which cited an overall improvement across the continent in child protection.
If a girl is married before the age of 18, her body may not be fully developed and her education will probably be cut short. She is more likely to die as a result of pregnancy and childbirth, be beaten, raped or infected with HIV by her husband, abused by her in-laws and remain poor.
Her children are more likely to die before the age of one, or grow up malnourished, poor and uneducated.
In Sudan, where the Personal Status of Muslims Act of 1991 allows children - boys or girls - as young as 10 to marry, 38 percent of young women were married before the age of 18, according to a 2010 government survey. Blue Nile state had the highest rate of child marriage, with 62 percent of girls marrying before they turned 18 and 19 percent marrying before 15.
Although the minimum age of sexual consent for a child is 18, an exemption in Sudan's penal code protects the spouse from being charged for sex within marriage to a child under 18.
GREATER CHILD PROTECTION
The African Report on Child Wellbeing 2013, produced by the Ethiopia-based African Child Policy Forum research institute, found an improvement across the continent in the number of countries acting to end child marriage.
Currently, 18 is the minimum age of marriage for both boys and girls in 33 countries - compared with only 30 countries having 18 as a minimum age of marriage for girls five years ago. Four other countries - Algeria, Lesotho, Libya, and Rwanda - have a minimum above 18 for both sexes.
In the remainder of African countries, the minimum age is either discriminatory against girls or below 18.
Girls are allowed to marry at age 15 in the Democratic Republic of Congo, Gabon, Seychelles, Cameroon, Niger, Swaziland, Tanzania and Malawi. For Senegal, Guinea-Bissau and Zambia, it is 16, while Chad and Burkina Faso allow girls to marry at 17.
Like Sudan, Malawi is singled out as problematic for the discrepancy between the minimum ages for sex and marriage.
While Malawi law prohibits sex with a girl or boy younger than 16, the constitution allows a child aged 15 to marry. However, unlike in Sudan, there is no exemption in Malawi law to protect someone from having sex with his or her 15-year-old spouse.
"It is important that the minimum age of marriage is higher than the minimum age of sexual consent as consummation is a prerequisite for a valid marriage," the report said.
Earlier this month, Malawi's President Joyce Banda issued a directive ordering parliament to raise the age of marriage to 18 or 21.
The report found legal protection in general for children is improving: A total of 35 countries have enacted consolidated laws on children, up from 22 in 2007. These laws address issues like child trafficking, the right to education and the minimum age of marriage.
http://www.trust.org/item/20131118080551-ikgwx/
--------------
Boko Haram, taking to hills, seize slave "brides"
18 November 2013
ABUJA, (Reuters) - In the gloom of a hilltop cave in Nigeria where she was held captive, Hajja had a knife pressed to her throat by a man who gave her a choice - convert to Islam or die.
Two gunmen from Boko Haram had seized the Christian teenager in July as she picked corn near her village in the Gwoza hills, a remote part of northeastern Nigeria where a six-month-old government offensive is struggling to contain an insurgency by the al Qaeda-linked Islamist group.
In a new development, Boko Haram is abducting Christian women whom it converts to Islam on pain of death and then forces into "marriage" with fighters - a tactic that recalls Joseph Kony's Lord's Resistance Army in the jungles of Uganda.
The three months Hajja spent as the slave of a 14-strong guerrilla unit, cooking and cleaning for them before she escaped, give a rare glimpse into how the Islamists have changed tack in the face of Nigerian military pressure.
"I can't sleep when I think of being there," the 19-year-old told Reuters, recounting forced mountain marches, rebel intelligence gathering - and watching her captors slit the throats of prisoners Hajja had helped lure into a trap.
Nigerian security officials say the Islamists have pulled back after army assaults since May on their bases on the semi-desert plain and are now sheltering in the Mandara mountains, along the Cameroon border around the city of Gwoza. From the hills they have been launching increasingly deadly attacks.
The rugged mountain terrain - as fellow al Qaeda allies found in Afghanistan - has proven an advantageous base for a movement that once styled itself the "Nigerian Taliban" and sees all non-Muslims as infidels who must convert or be killed.
The United States designated Boko Haram a terrorist group on Wednesday. Western governments are increasingly concerned about the wider threat posed by the group, which wants to create an Islamic state in a religiously mixed country of 170 million and which has ties with al Qaeda's north African wing.
Hajja's account of how Boko Haram has adapted and survived in recent months underlines the difficulties governments in the region face. The spread of the threat was underscored by the kidnap on Thursday of a French priest in Cameroon, an attack France believes may have involved Boko Haram.
The following day, Nigerian troops raided a base for the group in the Gwoza hills. The army said it killed 29 Boko Haram fighters and was "closing in" on the rebels.
FORCED TO CONVERT
The group, whose name broadly translates as "Western education is sinful", has killed thousands during a four-year insurgency against the Nigerian state, targeting the police and armed forces as well as politicians and then turning on Christians in the predominantly Muslim north of the country.
The military offensive launched in mid-May, and the fact that large numbers of civilian vigilantes have supported it, has triggered a fierce backlash against local people by Boko Haram. The militants have killed hundreds in the past few weeks, including in massacres of school children.
The Islamists dragged Hajja along rocky mountain paths and slept in caves in the hills, a landscape unfamiliar to most Nigerian soldiers, recruited from the plains.
She ceremonially converted to Islam, cooked for the men, carried ammunition during an attack on a police outpost and was about to be married to one of the insurgents before she managed to engineer a dramatic escape. She says she was not raped.
"If I cried, they beat me. If I spoke, they beat me. They told me I must become a Muslim but I refused again and again," Hajja told Reuters in an interview. Her family name is withheld to protect relatives still living in the Gwoza area.
"They were about to slaughter me and one of them begged me not to resist and just before I had my throat slit I relented. They put a veil on me and made me read from the Koran," she said in the Nigerian capital, Abuja, where she is now living.
At least a dozen teenagers like her remain in captivity, Michael Yohanna, a councillor in Gwoza's local government told Reuters. Some have married commanders, recalling Kony's LRA, which abducted thousands of "wives" in a 20-year war in Uganda before a truce in 1986. Kony remains a fugitive.
A man called Ibrahim Tada Nglayike led the group Hajja was with. On one mission, Hajja was sent to stand in a field near a village to attract the attention of civilians working with the army. When five men approached her, they were ambushed.
"They took them back to a cave and tied them up. They cut their throats, one at a time," Hajja said. "I thought my heart would burst out of my chest, because I was the bait."
Among those who did the killing was the Muslim wife of the leader Nglayike, the only other woman in the band of fighters.
Reuters verified Hajja's account of having been abducted with independent figures in the region. Boko Haram shuns the media and none of its members could be contacted for comment.
Hajja says the long-bearded insurgents lived a basic lifestyle, eating corn, millet and occasionally meat from animals they stole and which she slaughtered.
The group, armed with AK-47 rifles and pistols stolen from police they killed, moved every day around the hills to avoid being tracked by the army and slept in the caves to shelter from the cold and for protection against air assaults.
"They didn't use phones but they had a radio," Hajja said.
"They would listen to BBC Hausa or Voice of America and jump and shout if they heard about Boko Haram attacks."
"TOOTHPASTE EFFECT"
Forced out of cities and semi-desert bases since Jonathan declared a state of emergency in May, the militants have mostly retreated to hills and forests on the Cameroon border.
"It's the toothpaste effect: squeeze one end and it comes out the other. They have proven resilient and are adapting faster than the military," a Nigerian security source said.
Army commanders denied Boko Haram had any control over the Gwoza mountains: "We are curtailing their activities and I can assure you that ... the insurgency will soon be a thing of the past," Lieutenant Colonel Adamu Garba Laka said.
But a Nigerian general asked Cameroon this month for help in fighting Boko Haram, and the backlash against civilians has made the conflict deadlier than ever.
According to one security source, in the five months after Jonathan declared a state of emergency in the northeast there were 1,708 deaths in 83 violent clashes, compared with 667 deaths from 117 incidents in the previous five months.
Pushing the conflict into poor rural regions, like Gwoza, where Hajja was seized, runs the risk of radicalising more disenchanted youths and drawing more people into the violence.
"Gwoza has disintegrated. We have no schools, no hospitals, no government offices functioning," said councillor Yohanna.
"I worry that youths will take the law into their own hands. It will become a war between Christians and Muslims."
Insurgents moved freely through the hills and even into the town of Gwoza, Hajja said. Fighters made trips to collect cash, ammunition and weapons from the Sambisa Game Reserve, a forested region where Boko Haram has established camps.
Informants, mostly farmers, would warn them of approaching army patrols, Hajja said, adding that the rebels also appeared to have sympathetic contacts among the troops - something Nigerian military commanders deny.
"They know the area very well and many people help them because they are afraid or support their cause," Hajja said.
On once occasion, Boko Haram commanders were able travel from Maiduguri, the state capital on the plain north of Gwoza, to meet the guerrilla group in the hills.
Hajja said her unit carried out dozens of attacks, killing police and anyone suspected of aiding authorities.
The longer the insurgency goes on, President Goodluck Jonathan, a southern Christian, will come under increasing criticism from his northern opponents as elections in early 2015 draw closer.
He risks growing resentment from a northern population who believe he is out of touch with their troubles.
It is also becoming a drain on Africa's second largest economy - Nigeria allocates a fifth of its budget for security.
Hajja eventually escaped by feigning severe stomach pains. Thinking her too ill to flee, the insurgents sent her to hospital escorted only by an older woman. Once she was among other people, Hajja threatened to denounce the group to police, prompting the woman to abandon her and flee.
"I finally tore off the veil and I cried," Hajja said.
"So many times I thought I'd die." ($1 = 159 naira) (Additional reporting by Isaac Abrak in Abuja and Ibrahim Mshelizza and Lanre Ola in Maiduguri; Editing by Tim Cocks and Alastair Macdonald)
http://www.trust.org/item/20131117092554-68m4x/?source=hptop
--------------
Child Sex Abuse Steps Out Of the Shadows in Pakistan
18 November 2013
Out of the shadows and into the public eye; activists say the number of reported sex-abuse cases involving children rose by more than 20 percent in Pakistan last year, but that doesn't necessarily mean the problem is increasing.
Rather, the 3,861 cases of child sex abuse recorded in 2012 can be seen as a sign of greater public awareness and willingness to report such cases.
Sahil, a nongovernmental organization that fights child exploitation in Pakistan, has issued yearly reports on child sex abuse since the organization was founded in 1996.
Executive Director Maniza Bano tells RFE/RL's Radio Mashaal that the latest statistics are part of a growing trend. "We will just say that the reporting [of sex-abuse cases] has increased," she says. "This has been a voiceless or silent issue but now the people have the courage to report it."
With nearly 10 children subjected to sexual abuse in Pakistan every day, activists are calling on the government to do much more to deal with the issue. But awareness campaigns, media attention, and court actions are showing that the topic is no longer taboo.
In one highly publicized case, the reported rape of a 4-year-old boy in September prompted the highest court in Pakistan's Punjab Province to order a police investigation.
The court action came after the boy's father went public with allegations that his son was raped by the principal and janitor at a private school in Lahore. The father told local media that his son was found unconscious in a locked room after the alleged rape.
On November 8, Lahore High Court Chief Justice Umar Ata Bandial ordered a lower court to see to it that police investigate the claims and submit a full report.
Changing Attitudes
Noting that courts have handed down sentences of life in prison or even death in child sex-abuse cases, Sahil's Bano sees some positive developments in how child sexual-abuse cases are tried. "The courts and judges are mostly aware [of such cases] and they strictly look into them. They try to allow very little chance of the acquittal of the culprit," she notes. "This is definitely a positive change and the cases are also decided sooner."
Such developments help show people that, if they seek help, they will be heard.
Samar Minallah, a prominent human rights activist and documentary filmmaker, explains how greater exposure of the issue has changed public attitudes. "The biggest reason is that, when we see discussions on TV and everywhere else, [child sex abuse] is considered a very great cruelty and a very bad act," she says.
"People have become more aware and now they know that it is not just a private issue -- it is a crime, and we can ask others for help."
According to Sahil's 2012 report, girls were listed as victims in 71 percent of the incidents of child sex abuse recorded in 2012, while 29 percent involved boys. Nearly 52 percent of the reported crimes took place in rural areas, compared to 48 percent in urban areas. The majority -- about 68 percent -- took place in the eastern Punjab Province, Pakistan's second-largest and most populous province.
Rights groups have called on the authorities to do more to crack down on sex crimes in general. Law enforcement agencies have been accused by rights group of failing to provide protection and support for victims' families.
And the Islamic Ideology Council, the state body that determines whether legislation is in compliance with Shari'a law, has come under criticism for maintaining a legal provision that victims must present four witnesses for a rape case to be heard in court.
Hanif Panizai, regional director of the Balochistan Province branch of Pakistan's Society for the Protection of the Rights of the Child (SPARC), says legal obstacles are not high enough to deter potential sex offenders. "Women and children are a vulnerable group, and they can be easily targeted. It is their [law enforcement] duty to protect them," he says.
"We appeal to the government to establish a legal framework, as there is no comprehensive law at the moment that makes culprits accountable."
http://www.rferl.org/content/pakistan-child-sex-abuse/25170821.html
--------------
Ethiopia and Angola double number of girls in school in 10 years
18 November 2013
NAIROBI (Thomson Reuters Foundation) - The number of girls enrolling in primary school has soared across Africa in the last decade, according to a report released on Monday, which also found a significant drop in the number of child deaths over the past five years.
With primary education now free in all but five African countries, there has been a boom in the number of children attending school, with Ethiopia and Angola showing the most dramatic improvements.
In Ethiopia, girls' enrolment rose to 83 percent from 41 percent between 2000 and 2011, while Angola saw an increase to 78 percent from 35 percent, according to the African Report on Child Wellbeing produced by the African Child Policy Forum, a research institute based in Ethiopia.
The report looked at how child-friendly African governments were by measuring their performance in providing basic services for children, adopting laws and policies to protect children, and promoting child participation in decisions that affect them.
African governments are increasingly child-friendly," former Mozambican president Joaqim Chissano said in the report. "Achievements on the education front – and particularly the dramatic increase in access to primary education, especially for girls – are commendable."
However, girls continue to fare poorly at secondary school. In Angola, only 12 percent of girls attend secondary school, slightly below 15 percent of boys.
"Low levels of access to secondary education mean they will also not enter tertiary education, which effectively excludes them from the most gainful employment opportunities, thereby perpetuating systemic gender imbalance," the report said.
Across Africa, 26 percent of girls and 30 percent of boys attend secondary school while 78 percent of girls and 83 percent of boys attend primary school.
South Africa is the best performing, with near universal access to secondary education for girls at 97 percent, and only a slightly lower level for boys at 93 percent, according to figures from the U.N. children's agency UNICEF.
REDUCING CHILD DEATHS
The report found the greatest gains in Africa over the past five years were in reducing child deaths.
"The greatest good news of all has been the decline in under-five mortality rate, at a pace not observed or recorded by any other continent or country in the world," the report said. "This may well be the fastest decline in child mortality the world has seen for at least three decades."
Between 2008 and 2011, Rwanda reduced child mortality by more than 52 percent, and Liberia by more than 47 percent. Niger, Ethiopia, Guinea and Madagascar also recorded significant gains.
In Seychelles, Mauritius and Tunisia, child mortality rates are low as those of industrialised countries.
The major causes of child mortality in Africa can be prevented by simple measures such as women giving birth with skilled attendants, use of mosquito nets and access to antibiotics.
Child mortality is generally highest in countries with the lowest coverage of water and sanitation, such as Chad and the Democratic Republic of Congo.
Overall, the report found that political commitment, rather than the wealth of a country, was the key factor in improving the lives of its children.
"It is a matter of political commitment, manifested primarily in a government's willingness to put children at the top of the policy agenda and prioritise budgets accordingly," it said.
African governments spend on average about 11 percent of their budget on health, below the 15 percent they committed to in the 2001 Abuja Declaration. Education receives an average of 4.6 percent of Gross Domestic Product, half of the nine percent to which they committed in Dakar.
Mauritius, South Africa, Tunisia, Egypt, Cape Verde, Rwanda, Lesotho, Algeria, Swaziland and Morocco emerged as the 10 most child-friendly countries in Africa.
The 10 least child-friendly governments were Chad, Eritrea, São Tomé and Príncipe, Zimbabwe, Comoros, Central African Republic, Cameroon, Democratic Republic of Congo, Côte d'Ivoire and Mauritania.
http://www.trust.org/item/20131117183905-ueksn
--------------
Children's Hijab Show in a Southern Russian City Canceled, Cossacks Blamed
18 November 2013
A Fashion Week event in the southern Russian city of Rostov was canceled, allegedly after local Cossack leaders criticized the planned show of Hijabs for small girls.
Local news websites report that the organizers of the Fashion Week event complained about the threats from Cossacks. According to them, one of the letters suggested that the fashion show with Hijab-clad small girls would look more appropriate in some other region of the Russian Federation, for example, the predominantly-Muslim Chechnya.
Cossacks also questioned plans to use ethnic Russian models for the Hijab show, but the organizers of the event claimed that this was a strict requirement of fashion designers.
However, the head of the international relations department of the Rostov Cossack Host, Timur Okkert, told reporters that in letters to showmen his comrades had noted that the ethnic situation in the region was complicated enough and such shows could only provoke conflicts.
In addition, Okkert said that his host had contacted numerous officials who were mentioned in press releases as Fashion Week guests and it turned out that they were completely unaware of their planned participation.
"This suggests that the show hosts either could not organize it properly, or have not even tried," the Cossack activist noted.
Rostov-on-Don is the largest city of the Southern Federal District with population over 1 million. It is close to, but not bordering, the republics of the North Caucasus. The population in the city and in the Rostov Region is multi-ethnic and multi-confessional and the local authorities spare a great deal of effort to prevent conflicts.
In July this year Russia's Supreme Court banned the use of hijab and other Muslim headwear in schools, following a complaint from the South Russia's Stavropol Region. Several months earlier, the regional administration ordered all schoolchildren to appear in classes only in regular secular clothes.
Local Muslims turned to the courts claiming that the regulation was infringing their freedom of faith as certain denominations of Islam requires that all women wear special headscarves called hijabs, covering their hair and necks.
The regional court ruled not to fulfill the claim as, according to the judges, school regulations concerning dress did not prevent Muslims from believing in God and were therefore not infringing anyone's rights. The Supreme Court also took the side of the Stavropol administration and rejected the appeal.
http://rt.com/politics/russian-cossacks-hijab-children-713/
--------------
Tanzania: Women Advised to Seek Knowledge in Business
BY LUDOVICK KAZOKA, 17 NOVEMBER 2013
WOMEN have been challenged to cultivate a habit of searching for information and grab available opportunities by engaging in income generating activities.
Addressing the Tanzania Women Dialogue function in Dar es Salaam, the Vice-President's wife, Mama Aisha Bilal, said development is like a journey that starts with an idea, "You should search for information so as to grab opportunities and natural resources available in our country," said Mama Bilal, who was the guest of honour at the annual event organised by the Women Footprints Initiative (WOFI).
She noted that the African woman apart from being breadwinners had many responsibilities, including looking for children and it is high time women started their income generating activities.
Mama Bilal hailed the WOFI for organising the forum as it is an ideal platform for women to exchange experiences with successful women as well as learn entrepreneurship skills.
In her opening remarks, WOFI Chairperson, Ms Vida Nasari-Mndolwa, said the forum brought together women, who through the entrance fees they paid contributed to pay school fees for 13 girls who are under her organisation.
"The idea was to conduct a fundraising to raise money to pay for the girls' school fees, but we changed it into a forum where participants will be able to contribute through entrance fees," she said.
Under the theme 'Economic Repositioning of Women in a Successful Tanzania' the forum was attended by prominent and public figures including the Prime Minister's wife Mama Tunu Pinda.
Inspirational speakers included Mr Azim Jamal from Canada, Mr James Mwang'amba from Mwang'amba Communications, Imelda Mwamanga Bang magazine and more.
http://allafrica.com/stories/201311170289.html
--------------
Pakistan women writers' body formed
18 November 2013
A women's wing was recently formed at the Pakistan Writers Club-Riyadh (PWC-LC) in Riyadh on Friday.
The objective of the new wing, which will function under the aegis of the PWC, is to attract women writers in the community to develop their talent as well as involve them in community work.
A seven-member action committee has been formed to make organizational arrangements for PWC-LC. Wardah Qureshi, Erum Qalbani, Ambreen Faiz Ahmad, Qundeel Aymen, Farah Ehsan, Shaheen Javed, and Asma Tariq are currently in the interim committee.
Wardah Qureshi will be the convener of PWC-LC and Erum Qalbani the deputy convener.
Wardah Qureshi is a well-known physician working at King Faisal Specialist Hospital in Riyadh. She is a writer and a social worker. She is also popular in the social and literary circles in the capital.
Erum Qalbani is also a physician attached to Prince Sultan bin Abdulaziz Humanitarian City in Riyadh. She is a writer and social worker. The interim committee has been tasked with drafting a constitution for the new body and will be in force until the new office-bearers are elected to the women's body.
Faiz Al-Najdi, PWC's president, said that such an endeavor had been a long felt dream of Pakistani women in the Kingdom. "We are very happy that a separate body has been set up for women to promote their talent," he said.
http://www.arabnews.com/news/479246
--------------
URL: https://www.newageislam.com/islam,-women-and-feminism/new-age-islam-news-bureau/nigerian-women-group--indecent-dressing-promotes-sexual-harassment/d/34467