New Age Islam News Bureau
19 October 2020
• Ohud Abdullah Almalki, Saudi Woman Draws World's Largest Coffee Painting Using Expired Granules
• In A Post-Taliban City of Qandahar, Afghanistan Muslim Women Are Sneaking Into a New Gym to Secretly Work Out
• Joumana al-Rashed, First Saudi Arabian Woman Named New CEO of Saudi Research and Marketing Group
• UK Slavery, Trafficking Order Imposed On Woman Who Recruited Malaysian Workers
• Top 10 Moments for Saudi Arabian Women since Vision 2030
• How Saudi Nonprofit Alnahda Blazed a Trail in Women's Empowerment
• Waiter jailed for secretly filming women in Dubai
• Order of Royal Commendations Conferred On Five Omani Women For Their Contribution To Nation
Compiled by New Age Islam News Bureau
URL: https://www.newageislam.com/islam-women-feminism/nigerian-women-forefront-protests-police/d/123194
--------
Nigerian Women at the Forefront of Protests over Police Brutality Sweeping Lagos and Other Cities across Nigeria
By Mariam Adetona
17 Oct 2020
Protesters say they will stay on the streets until their demands are met [Courtesy EbryhheemXpress/Al Jazeera]
-----
Thousands of people have been taking to the streets of Lagos over the past week to protest against police brutality – and Irianele Virtuous has always been there, always working behind the scenes.
Her mission? To support her fellow demonstrators.
"My focus is making sure people in these large gatherings don't get dehydrated," said the 22-year-old. "I'm always ensuring that water is on the ground, that glucose is available, as well as food [and …] masks so that people will wear them to shield against coronavirus."
Virtuous is just one of the many women at the heart of the peaceful protests sweeping Lagos and other cities across Nigeria, helping to organise and fundraise the demonstrations as well as strategising on how to use the movement's momentum to achieve substantial changes in the country.
And while some women – like Virtuous – prefer being away from the limelight, others have no problem assuming a more visible role.
"I've been talking with the [journalists] at protest grounds, speaking with government officials," said Baliqees Salaudeen, a prominent female activist in Ilorin, Kwara state. "I have been putting in my resources and I have used my influence to encourage people to really get involved.
"I am really proud of this movement and I believe we're making progress."
Mobilised through online platforms such as Twitter and Facebook, the youth-led protests that began on October 8 initially targeted the federal Special Anti-Robbery Squad (SARS), a notorious police unit long accused of harassment, torture, extortion and extrajudicial killings.
After days of #EndSARS demonstrations across Nigeria and the diaspora, authorities on Sunday announced the dissolution of SARS and later ordered all personnel to report to the police headquarters in the capital, Abuja, for debriefing and psychological and medical examination. Meanwhile, the forming of a new Special Weapons and Tactics (SWAT) team was announced to replace SARS.
However, the announcements did not satisfy protesters, who viewed them as just another renaming exercise and pledged to stay on the streets until their demands are met.
These include the immediate release of all arrested protesters, justice for all deceased victims of brutality and appropriate compensation for their families, an independent body to oversee the investigation and persecution of all reports of police misconduct, psychological evaluation and retraining of all disbanded SARS officers before they can be redeployed, and an increase in police salary so they are adequately compensated for protecting the lives and property of the citizens.
"They did this rebranding in 2018, changing from SARS to F-SARS yet nothing about the officers changed. They have continued harassing us," Seun Gbadamosi, a 23-year old protester in Ibadan, said.
"Last week, they harassed me and my friends, called us [bad names] and said they wanted to feast on us.
"This is why we protest; this is why we march. We want total disbandment; we need actionable changes. We have given them our five demands, once it's done, we'll get off the streets. Until then, I'll keep bringing people out here to protest."
Meanwhile, the Feminist Coalition – a newly formed women-led NGO campaigning for gender equality in Nigeria that has also been at the forefront of the protests – said it had crowdfunded more than 37 million naira ($97,000) to support the movement with first aid supplies, masks, food, water, hospital bills for injured protesters, and more.
Members of the group have also been involved in the release of detained protesters and the provision of legal counsel to those still under arrest.
"We asked for five things, they've barely done one. The protests are far from done, I am going to be at this for as long as I can," Virtuous said.
"We are not backing down for anything until our five demands are met, every single one of them. Once these are met, we'll relax, then we'll reassemble again to face other sectors."
https://www.aljazeera.com/news/2020/10/17/nigeria-women-protesting-against-police-brutality
--------
Ohud Abdullah Almalki, Saudi Woman Draws World's Largest Coffee Painting Using Expired Granules
October 18, 2020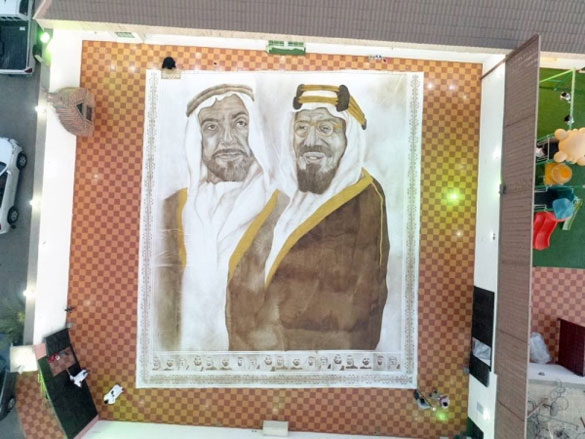 Ohud Abdullah Almalki, known as 'The Artist of the Nation', draws the largest coffee painting in the world using expired granules, illustrating seven renowned figures of Saudi Arabia and the neighboring United Arab Emirates.
-----
JEDDAH — Ohud Abdullah Almalki, known as 'The Artist of the Nation', marked an incredible milestone by becoming the first Saudi woman to achieve a Guinness World Records title singlehandedly, the global authority on record-breaking achievements said.
The Al Naseem neighbourhood product in Jeddah draws the largest coffee painting in the world using expired granules, illustrating seven renowned figures of Saudi Arabia and the neighboring United Arab Emirates.
Two giant pictures of the founding fathers of the two nations, the late King Abdulaziz Bin Abdul Rahman, and the late Sheikh Zayed Bin Sultan Al Nahyan.
On the painting as well, pictures of KSA and UAE rulers including the Custodian of the Two Holy Mosques King Salman, Sheikh Khalifa Bin Zayed Al Nahyan, Sheikh Mohammed Bin Rashid Al Maktoum, Sheikh Mohammed Bin Zayed Al Nahyan, and Crown Prince Muhammad Bin Salman are painted.
Bearing in mind the waste, Almalki used approximately 4.5 kg of expired coffee powder only. She painted all the figures in hues of brown mixing the coffee powder with water. The edges are done with the "Saud" style that is a traditional Bedouin decoration style.
"It took me 45 days of continuous work to complete, under the watchful eyes of two witnesses, video recording and drone footage," Almalki said. "My aim is to remind the world of the centuries-old entente between the two nations."
This painting is called Naseej 1, and it is spread over 220.968 square meters, 15.84 meters long, and 13.95 meters wide. It is made out of 7 connected cotton cloths; each measuring 15.84 meters long x 2 meters wide.
"Normally, only one kind of coffee is used in such paintings, but I have used 4 different shades of brown coffee. I used several rollers and paintbrushes of different sizes to finish this project.
A drone footage of the painting was shown in "Mokhatat Ar-Riyad" neighborhood in Jeddah with the artist behind the painting with her father.
Women of Saudi Arabia took part in previous Guinness World Records attempts, but this is the first time a Saudi woman achieves a GWR world record on her own.
In 2015, the largest human awareness ribbon consisted of 8,264 participants and was achieved by the women of Saudi Arabia at an event organized by 10KSA in Riyadh.
As a student in 5th year of College of Law at King Abdulaziz University, in Jeddah, Almalki has already taken social media by storm, featuring weekly on popular TV channels across the MENA region.
"This tremendous feat would have been impossible without the support of the people around me. I wish this will contribute to empowering the women in Saudi Arabia and beyond," she said.
https://saudigazette.com.sa/article/599270/SAUDI-ARABIA/Saudi-woman-draws-worlds-largest-coffee-painting-using-expired-granules
--------
In A Post-Taliban City of Qandahar, Afghanistan Muslim Women Are Sneaking Into a New Gym to Secretly Work Out
October 18, 2020
Muslim women face varying amounts of oppression from men depending on where they live. In some regions like Lebanon, Turkey, Morocco, Israel and the UAE, women are relatively as free as the men to drive, work — and yeah work out. While some women may dream of going to a post-workout Starbucks in Lululemon hot pink workout pants – in Afghanistan women are fighting for the right to work out at all.
In a post-Taliban city of Qandahar, Afghanistan Muslim women are sneaking into a new gym to secretly work out. Though I am not sure how secret that may be now that the story was covered in the New York Times.
Some women say they faced depression and health problems and felt joining the gym – founded by a women's rights activist Maryam Durani (who survived two suicide bombings and death threats) was the only thing they could do for their well being.
Even Muslim women walking around outside in certain villages in the Bedouin society in Israel is not considered acceptable. So given the restrictions there aren't a lot of creative ways for every Muslim woman to exercise. I have noticed a growing number of Muslim women walking in conservative workout gear in Jaffa, something I hadn't seen let's say 5 years ago. So times are changing, even in Afghanistan. And while women in America fought to wear pants in the 1930s, Afghani women are fighting for the treadmill.
The gym was started last year in a basement, guarded by security, and away from prying eyes.
"Kandahar is a very difficult environment for women. We have to be careful and discreet. The club is as much for women's mental health as their physical health. Almost every woman who comes here is depressed," she told the New York Times. Before Covid hit she had about 60 women as members of the gym. Today there are about 30.
One gym member who refused to give her name said, "My father and brothers said they would kill me if I went to a health club." Instead she puts on a white robe and says she is going to the madrasa, a place for studying the Quran.
While there is a health club for women in the city of Kabul, some areas like Kandahar are extremely conservative.
In my city the Muslim women enjoy a day at the gym every other day of the week at the Jewish Arab Community Center, which is sensitive to Muslim modesty needs. That's women on one day, and men on the other. There is a beach in North Tel Aviv which operates for the same reasons one day men, one day women, but for Orthodox Jewish families who practice similar modesty laws by choice.
I support any society that wants to be modest, but not the ones enforcing the rules that clearly dehumanise others.
In Bedouin towns in Israel such as Rahat women are not allowed to have free movement including going to work, and walking around the village, so it really depends more on village and town customs, and how men from the families enforce their religious observance, more than a country-wide oppression.
Over in Afghanistan social media posts are calling the gym 'a house for whores, so women can make themselves look better for men'. Women who visit the new gym have been threatened outside and hit with stones and death threats should they return –– a barbaric response to a basic human need to feel fit.
We need a little more Rumi
Even though the Taliban have left the city the women face the same control by men exerted over them as though the terror group never left, they say.
Afghanistan wasn't always so repressive towards women. Neither was Iran. Repressive and oppressive regimes have turned both countries into backwater states, with barely a hint of their former selves.
My husband's great-grandfather was born in Balkh, previously Persia and now Afghanistan, the same town where Rumi, a Muslim Sufi came from. I consider Rumi to be one of the world's biggest spiritual guides, teaching humility, love for nature, love for god. Years ago his town and region was a mystical and cultural magnet from which the West met the East in much more than trade of goods, but where spiritual ideas looking for the truth and god collided.
Sadly the god of the bullies has taken over and we need to help the women in these impoverished places rise up – one sit up at a time. And remember even progressive-looking women can be married to despots. Read our story about Bashar al Asad's London-born wife Asma al Asad. And the fiasco with Vogue.
https://www.greenprophet.com/2020/10/hijab-bombshell-workout-gear-afghanistan/
--------
Joumana al-Rashed, First Saudi Arabian Woman Named New CEO of Saudi Research and Marketing Group
Joanne Serrieh
16 October 2020
The Saudi Research and Marketing Group (SRMG) has appointed Joumana al-Rashed as the new chief executive officer (CEO), the company announced in a statement.
Al-Rashed is the first Saudi Arabian woman to hold the position.
For all the latest headlines follow our Google News channel online or via the app.
The new CEO was previously a media adviser and communications director. Al-Rashed received her masters degree in international journalism from City University in London in 2013.
Al-Rashed will now lead SRMG, one of the region's top media entities, directing the Kingdom in another step toward achieving Vision 2030.
Saudi Vision 2030, a reform plan spearheaded by Crown Prince Mohammed bin Salman, aims to diversify the country's economy and includes increasing women's labor force participation.
The Kingdom aims to provide jobs for around one million Saudi Arabian women as part of the reform plan, Mishaal al-Balawi, an official at the Permanent Mission of Saudi Arabia to the United Nations in Geneva, announced in July.
"The Saudi Vision 2030 and the National Transformation Program 2020 have put women empowerment among their most important priorities," al-Balawi said.
Al-Rashed joins other Saudi Arabian women appointed to other top positions in various fields.
In July, Dr. Lilac al-Safadi was appointed as the first female president of a co-educational university in Saudi Arabia. In the same month, Saudi Arabia also announced the appointment of 13 women to the country's Human Rights Council (HRC), with women now accounting for half of the board members.
In August, the General Presidency for the Affairs of the Two Holy Mosques appointed 10 women to senior leadership positions within its ranks.
Earlier this year the World Bank released a report that found Saudi Arabia's economy made the biggest progress globally toward gender equality since 2017.
The World Bank's "Women, Business and the Law 2020" study, which tracks how laws affect women in 190 economies, scored Saudi Arabia's economy 70.6 points out of 100, a dramatic increase from its previous score of 31.8 points.
Saudi Arabia was the country to make "the biggest improvement globally" since 2017 according to the World Bank press release, including advances in women's mobility, sexual harassment, retirement age and economic activity.
The study found the Kingdom enacted reforms in six out of eight indicators associated with women's economic empowerment, from June 2017 to September 2019.
"Saudi Arabia basically has become one of the leaders in the Arab world in terms of women empowerment," World Bank's Regional Director for the GCC Issam Abu Sulaiman said, according to the Saudi Press Agency.
https://english.alarabiya.net/en/News/gulf/2020/10/16/Meet-Saudi-Arabia-s-Joumana-al-Rashed-newly-appointed-SRMG-CEO
--------
UK slavery, trafficking order imposed on woman who recruited Malaysian workers
October 19, 2020
PETALING JAYA: A woman investigated for exploiting people from Malaysia has been slapped with a Slavery and Trafficking Risk Order (STRO) in Nottinghamshire, England.
The Nottingham Post quoted police as saying the woman, whom it identified as Suhaida Mahiyudin, 37, used Facebook to recruit workers from Malaysia, exposing them to exploitation.
It said the order – the first in Nottingham and one of only 14 granted in England and Wales in the last year – will last for 10 years.
The report said the order against Suhaida, from the settlement of Toton in Nottinghamshire, was made by the Nottingham Magistrates' Court on Oct 12.
It said Suhaida was previously investigated for recruiting workers from Malaysia as nannies with a view to exploiting them.
Suhaida, it said, is bound by six conditions which, if breached, will result in a criminal prosecution.
The order prohibits her from facilitating international travel or accommodation for any person other than herself or members of her immediate family, unless she has written permission from Nottinghamshire police.
She also cannot reside at the same address as any other person other than her immediate family without seven days' prior notification of the force's chief constable.
Another condition states that she cannot be in possession or control of any official documentation belonging to a third party, including passports and bank cards.
The report quoted Det Insp Paul Lefford, from Nottinghamshire police's dedicated Modern Slavery team, as saying the order came after eight months of police investigation.
"The court found that Suhaida had acted in a way that there is a risk of committing a slavery or trafficking offence and this order is necessary to protect the public," he said.
https://www.freemalaysiatoday.com/category/nation/2020/10/19/uk-slavery-trafficking-order-imposed-on-woman-who-recruited-malaysian-workers/
--------
Top 10 moments for Saudi Arabian women since Vision 2030
Reem Krimly & Omar Elkatouri
18 October 2020
The empowerment of Saudi Arabian women is at the heart of the Kingdom's Vision 2030 reform program, with far-reaching social and economic goals including increasing women's economic participation rate from 17 percent to 25 percent this year.
Since the launch of Vision 2030 in April 2016, Saudi Arabian women have already benefited from a range of reforms, gaining the right to drive among other advances.
Here are the top 10 most important.
1) The right to drive
Saudi Arabian women were officially allowed to drive at the stroke of midnight on June 24, 2018 as a royal decree granting them the right to drivers' licenses came into effect.
"I felt very independent, it was empowering – I felt free." This is how 30 year-old Riyadh resident Maha Althuwaini described her first time taking the driver's seat in the Kingdom.
The impact of the policy can be seen in the drop in non-Saudi household drivers, previously one of the main ways women travelled, from 1.4 to 1.3 million at the end of 2018, according to the Saudi Ministry of Labor and Social Development.
For all the latest headlines follow our Google News channel online or via the app.
2) Access to sports
In the same year, Saudi Arabia allowed families into sports stadiums for the first time, in a landmark move that opened up the previously male-only venues to women and children.
The move is in line with Vision 2030's development of the sports and entertainment sectors for both men and women. Female participation in sports in Saudi Arabia has risen by 149 percent since 2015, according to Sports Minister Abdulaziz bin Turki al-Faisal.
3) First female ambassador
The Kingdom gained its first female ambassador in February 2019, when a royal decree appointed Princess Reema bint Bandar bin Sultan al-Saud as the Saudi Arabian ambassador to the United States with a ministerial ranking.
In July 2020, Princess Reema was elected as a member of the International Olympic Committee (IOC) after her inclusion was approved during the sporting body's 136th session.
The Kingdom has since appointed six women as cultural attaches, expanding women's role in the diplomatic corps.
4) Freedom to travel
Saudi Arabia published new laws on August 2, 2019, allowing women above the age of 21 to apply for passports and travel freely without a male guardian's consent, which had been required previously.
Other changes issued in the decrees allowed women to register a marriage, divorce, or child's birth and to issue official family documents. It also stipulates that either the father or the mother can be a child's legal guardian.
5) Right to live alone in landmark case
In July 2020, a Saudi Arabian court ruled in favor of a woman who was on trial for living and traveling on her own to the Kingdom's capital, Riyadh, without her father's permission.
"A historic ruling was issued today, affirming that independence of a sane, adult woman in a separate house is not a crime worthy of punishment," Abdulrahman al-Lahim, a lawyer in the case, said. "I am very happy with this this ruling that ends tragic stories for women."
6) Rise in female employment
Vision 2030 aims to create 1 million jobs for women. In 2020, the Saudi female labor force participation increased from 25.9 percent in the first quarter to 31.4 percent in the second quarter.
Over the last four years, the rate of female unemployment in the Kingdom decreased by 13.9 percent.
Women cannot be discriminated against on the basis of their gender when it comes to private sector salaries, announced Saudi Arabia's Ministry of Human Resources and Social Development on September 14, 2020.
"It is forbidden for an employer in the private sector to discriminate between workers on the basis of gender, age, or disability with regard to working conditions while hiring them," according to the ministry.
7) Right to serve in the military
In February 2018, Saudi Arabia gave women the opportunity to work in security services for the interior ministry, departments of criminal investigations, security patrol and pilgrimage security.
In October 2019, the Kingdom opened the armed forces to women, saying they would be able to serve in the ranks of private first class, corporal or sergeant.
8) Riyadh named Capital for Arab Women 2020'
Saudi Arabia's capital Riyadh was declared the "Capital for Arab Women" in 2020.
The award came from the Arab Women's Committee, during its 39th session held in the capital, which met under the slogan "Women are a homeland and an ambition."
"In line with the words of [Saudi Arabian] Crown Prince Mohammed bin Salman and as many minister[s] have confirmed… we believe that the issues [concerning] women [concern] everyone," Saudi Arabian Secretary-General of the Family Affairs Council Dr. Hala al-Tuwaijri said.
9) Women join Human Rights Council
Saudi Arabia appointed 13 women to the Kingdom's Human Rights Council (HRC) on July 2, 2020. The 13 women now make up half of the board's members.
The decision to appoint the women to the council's board is a continuation of the leadership's efforts to empower women to occupy leadership positions in various fields," HRC President Awwad Alawwad said.
10) Female CEO of SRMG
The Saudi Research and Marketing Group (SRMG) has appointed Joumana al-Rashed as the new chief executive officer (CEO), the company announced in a statement in October 2020.
Al-Rashed is the first Saudi Arabian woman to hold the position.
Invest in women
"So far Saudi Arabia has come a long way in supporting women. I think it's important now to invest in institutions that are working on gender empowerment and institutions that promote economic, political and civil rights for women," Dr. Najah Al-Otaibi, a Saudi policy analyst based in London, United Kingdom, told Al Arabiya English.
Al-Otaibi also suggested that the Kingdom creates a Supreme Council for Women in Saudi Arabia, to empower them and "merge their needs in the development programs already taking place under the Vision 2030 program."
She added that the Kingdom could benefit from "increasing women's representation in state bureaucracy, especially in its upper echelons," as Saudi Arabia currently has no female ministers.
"This can be achieved by imposing a gender quota system," she said.
https://english.alarabiya.net/en/features/2020/10/18/Top-10-moments-for-Saudi-Arabian-women-since-Vision-2030
--------
How Saudi nonprofit Alnahda blazed a trail in women's empowerment
LOJIEN BEN GAASEM
October 18, 2020
RIYADH: It has been 58 years since Alnahda Philanthropic Society for Women was established in Saudi Arabia to encourage female participation in society and help create a world of justice and equal opportunities.
And now, in recognition of its celebrated work, the organization has won King Salman's endorsement to helm the Women 20 (W20) — the official G20 engagement group on women — in the run-up to the leaders' summit in November.
Alnahda, which means "the awakening," was founded in 1962 to help empower Saudi women economically and socially through targeted development projects. In June 2019, it was officially accredited by the UN Economic and Social Council (ECOSOC).
Its mission is to ensure a community environment that is conducive to women's participation, preserves their dignity, and helps build their capacity to reach positions of leadership.
At the helm of the W20 Riyadh edition, Alnahda will help facilitate discussions among a network of delegates representing non-governmental women's organizations, female entrepreneurs, and think tanks from across the G20 member states.
The aim is to ensure gender considerations are placed firmly on the agenda and are included in the G20 Leaders' Declaration as policies and commitments that foster gender equality and women's economic empowerment.
The W20 is only the latest achievement in the foundation's long history. Muneera Al-Touq, who sits on the Alnahda board, told Arab News the foundation was one of the oldest charitable organizations in the Kingdom, founded by Princess Sara Al-Faisal and a number of other women with the encouragement of Queen Effat, the pioneer of Saudi women's education.
Al-Touq, an expert in community services, statistics, and epidemiology, joined Alnahda in 2010 to examine the foundation's training programs, judge their efficiency, and consider how they could be improved. She was elected to the board in 2014.
"I saw the people who ran it, the people who founded it. It was always something that was different and pioneering. They were always ahead of their time. They think of everything before it happens. And the quality of their programs, the quality of work, is truly of a high standard."
Recounting the formative period of the organization, she said: "Alnahda's founders started with general charity work in their community, but there was a big focus on working in the field of women's illiteracy and fulfilling beneficiaries' basic needs in terms of food, shelter, and clothing.
"This was in the early 1960s and, as Alnahda grew, its knowledge of these needs became clearer, helping to navigate through them. As the Kingdom developed, so did women's needs."
Alnahda's programs continue to evolve and develop, as do the needs of the woman they target, said Al-Touq.
"We will always support and help women to become active members of our society. We will always try to ensure that the social environment and local community help women to build their capabilities and reach leadership positions.
"How we do that has a lot to do with what's happening around us. And we've seen so many positive changes and advances for women in the Kingdom that have accelerated our work very quickly, and we will continue to keep up with that and develop programs to support them and head into the future where I think there are no limits," she added.
As the CEO of Alnahda since 2013, Rasha Al-Turki oversees the foundation's strategy, direction, and financial health.
She told Arab News: "I first joined Alnahda as chief project officer in 2010. I joined because Alnahda is the leading organization in the field of women's socio-economic development, a cause I have been dedicated to for most of my life. My personal educational and professional goals have always revolved around women's empowerment."
Al-Turki said Alnahda provided space to be creative, to try new things, and to come up with new solutions without the heavy burden of bureaucracy.
"I think for people who are dedicated to a cause, it's important to be in such an environment that fosters new ways of thinking and encourages employees to be nimble and to react to changing realities or become proactive with solving issues," she added.
Alnahda's work covers the main areas of grassroots assistance, research, and advocacy.
In its grassroots assistance, the foundation works directly with its thousands of beneficiaries, offering programs on career and capacity development. The bulk of its beneficiaries are covered by its financial and social support program, with assistance given to almost 400 families each year — around 2,500 individuals.
"We look at how we can help develop the family in a holistic approach. So, we always look into all development needs of the entire family unit when we are creating their development plan collaboratively with the beneficiaries," Al-Turki said.
"Our financial support is used as a tool to lighten their financial burdens thereby allowing them the mental and emotional space to set and execute a development plan for themselves and their household with the assistance of their social worker.
"The fulfilment of this plan is essential to ensuring that they and their family are able to break the cycle of inherited poverty and graduate out of financial assistance — both ours and social security."
In terms of research, Alnahda looks for new ways to improve the efficiency of its programs and the design of policies that target women, involving policymakers, social scientists, and other stakeholders.
In its advocacy, meanwhile, the foundation raises awareness among local and international policymakers to help promote women's socio-economic inclusion.
None of this would be possible without Alnahda donors, who fall into three main categories. Al-Turki said. "We have individuals, who are the biggest source of our revenue. We also receive grants from companies, usually from their CSR (corporate social responsibility) departments.
"Then we have some companies that will ask us to do a particular project for which we get compensated. We sometimes receive funding from the government for particular projects."
The coronavirus disease (COVID-19) pandemic has placed new pressures on households. Early on, Alnahda was able to give immediate financial assistance to beneficiaries who had lost their jobs, help them pay rent, and prepare their homes for the lockdown.
"Before last summer, we collected and distributed more than 500 computers for 350 families," added Al-Turki.
However, when virtual teaching resumed after the summer break, Alnahda realized one computer per family was not enough. That is why it launched Thaber — which means "persistent" — to help provide more devices and internet subscriptions, allowing students to flourish in the new virtual learning environment.
But empowerment is about more than just surviving tough economic times. During Saudi Arabia's 2015 municipal council elections, which allowed women to participate as voters and candidates for the first time, Alnahda launched an influence-awareness campaign. Al-Touq said one of the foundation's beneficiaries went on to win a seat in the election and became a community champion.
"Her story shows what Alnahda means. Our vision is to help these women become effective partners in the development of our society. So, when she goes from needing the help of Alnahda to becoming a representative for her community, it's inspirational and it motivates us to keep working," she added.
"It's not a matter of helping someone reach a goal, it's a matter of helping someone blossom into the best version of themselves. It is a matter of positively changing the individuals, their households, and their communities. And I think that's where Alnahda stands out."
A goal Al-Turki would like to see the foundation work toward was greater inclusivity. "I'd really like to be more inclusive of men within our organization, because I believe that only when women and men work together are they able to come up with better solutions and achieve a more sustainable impact.
"We've already started being more inclusive in our programming, especially when it comes to the beneficiaries. We believe that we rise and fall together," she said.
https://www.arabnews.com/node/1750761/saudi-arabia
--------
Waiter jailed for secretly filming women in Dubai
October 19, 2020
Ali Al Shouk
Dubai: The Dubai Court of First Instance on Monday sentenced a waiter to three months in prison for using his phone to record his countrywomen while they having a shower inside a sharing accommodation. The defendant will be deported after serving his jail term.
According to official records, the 27-year-old Filipino defendant used to put his mobile phone in the shower and other places of the apartment at Al Muraqabbat area, to record female tenants without their knowledge.
Case details
In August, a Filipina who was staying in the apartment for three years, testified that it was around 5am, when she stepped out of the shower and went to her room to wear her work uniform, she noticed the defendant's phone placed on the floor. "The apartment is divided into seven rooms and has five sharing bathrooms and a kitchen. I saw the phone on the ground and the camera was recording. The defendant came and tried to take the phone but I saw clips for my roommates naked in the shower," said the Filipina in official records. She said that she saw a clip for her stepping outside the shower and wearing her clothes.
The defendant came and took the phone from her hands to delete the clip but she pulled the phone back and alerted Dubai Police. "He deleted the clip but the phone still had other videos for women while having a shower. He placed the phone in the ceiling and pointed the camera to the shower. There were many clips on his phone for different women," the victim added.
During interrogation, the defendant confessed to recording the women in the shower using his mobile phone. Dubai Public Prosecution charged the defendant with sexually abusing women and using his mobile phone to breach the privacy of the victims.
https://gulfnews.com/uae/crime/waiter-jailed-for-secretly-filming-women-in-dubai-1.74670028
--------
Order of Royal Commendations conferred on five Omani women for their contribution to nation
October 18, 2020
Raajeshwari Ashok
Muscat: As Oman celebrated Omani Women's Day yesterday, there was another reason that made the celebrations even more meaningful. His Majesty Sultan Haitham bin Tarik conferred the Order of Royal Commendations on five Omani women for their contribution to the nation. Another fifty Omani women from various other fields, and who had played a notable role country's welfare and progress were also honoured during this occasion.
The Honourable Lady, Wife of His Majesty Sultan Haitham, presented the medals at Al Barakah Palace yesterday. The five women who were conferred the Order of the Royal Commendations were, Dr. Fatma bint Muhammad al Ajmiya, Undersecretary for Administrative, Financial and Planning Affairs in the Ministry of Health, who was conferred the Order of Royal Commendation, Second Class, Aisha bint Omar al Habshiyah, Farida bint Musa al Balushi, Zahra bint al Awfiya and Eng Yusra bint Khalaf al Subhiya who were conferred the Order of Royal Commendation, Third Class.
The Council of Ministers issued a statement on the occasion of Omani Women's Day, congratulating the women and appreciating the efforts of Omani women in the building of the nation, reports a leading Arabic media.
The Council of Ministers message hailed the role of women who have participated in constructive roles in the national work. "Omani women have consolidated their achievements in various sectors in the government and private sectors. They have excelled in their role in representing Oman in regional and international forums. This is a token in support of their efforts, side-by-side with men, in the comprehensive development the country is witnessing,' said the message.
https://gulfnews.com/world/gulf/oman/order-of-royal-commendations-conferred-on-five-omani-women-for-their-contribution-to-nation-1.74652333
--------
URL: https://www.newageislam.com/islam-women-feminism/nigerian-women-forefront-protests-police/d/123194
New Age Islam, Islam Online, Islamic Website, African Muslim News, Arab World News, South Asia News, Indian Muslim News, World Muslim News, Women in Islam, Islamic Feminism, Arab Women, Women In Arab, Islamophobia in America, Muslim Women in West, Islam Women and Feminism