New Age Islam News Bureau
19 Sept 2013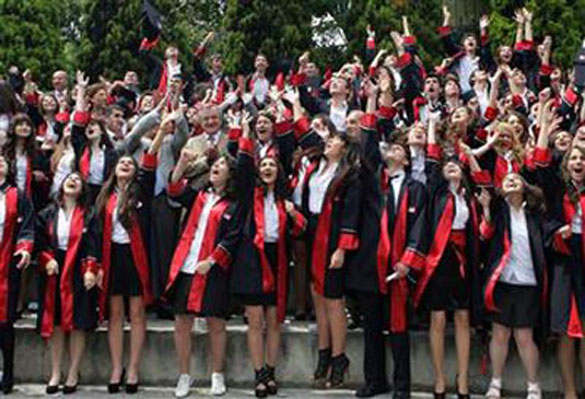 High School in Antalya banned skirts for its female students File photo/ DHA
-----------
• Bangladesh Teenager 'Mentally Ill' After Forced Marriage
• High School Bans Skirt for Female Students in Turkey's Antalya
• Expecting Mothers to Benefit From Welfare Project in Kashmir
• Student of Almaty Mosque Denied Persecution of Imams for Sexual Harassment
• AIUB VC to get 100 Most Influential Filipina Women in the World award
• Religious Group Conducts Qur'an Lessons to Women by Telephone
• Family of East Java Woman Say Nurse Performed Fatal Surgery
• Embassies in Indonesia Warn of Miss World Attack Threat
• Hong Kong Couple Jailed For Abuse of Indonesian Maid
• Battling the Elements, NTT Villagers Make Strides in Child Health
Compiled by New Age Islam News Bureau
URL: https://www.newageislam.com/islam,-women-and-feminism/new-age-islam-news-bureau/nigerian-wins-muslim-beauty-pageant-rival-to-miss-world/d/13577
-----------
Nigerian Wins Muslim Beauty Pageant Rival to Miss World
September 19, 2013
A Nigerian woman tearfully prayed and recited Koranic verses as she won a beauty pageant exclusively for Muslim women in the Indonesian capital Wednesday, a riposte to the Miss World contest that has sparked hardline anger.
The 20 finalists, who were all required to wear headscarves, put on a glittering show for the final of Muslimah World, strolling up and down a catwalk in elaborately embroidered dresses and stilettos.
But the contestants from six countries were covered from head to foot, and as well as beauty they were judged on how well they recited Koranic verses and their views on Islam in the modern world.
After a show in front of an audience of mainly religious scholars and devout Muslims, a panel of judges picked Obabiyi Aishah Ajibola from Nigeria as the winner.
While the event in a Jakarta shopping mall paled in comparison to Miss World on the resort island of Bali, in which scores of contestants are competing, Ajibola was nevertheless overwhelmed.
Upon hearing her name, the 21-year-old knelt down and prayed, then wept as she recited a Koranic verse.
She said it was "thanks to almighty Allah" that she had won the contest. She received Rp 25 million ($2,200) and trips to Mecca and India as prizes.
Ajibola told AFP before the final that the event "was not really about competition".
"We're just trying to show the world that Islam is beautiful," she said.
Organizers said the pageant challenged the idea of beauty put forward by the British-run Miss World pageant, and also showed that opposition to the event could be expressed non-violently.
Eka Shanti, who founded the pageant three years ago after losing her job as a TV news anchor for refusing to remove her headscarf, bills the contest as "Islam's answer to Miss World".
"This year we deliberately held our event just before the Miss World final to show that there are alternative role models for Muslim women," she told AFP.
"But it's about more than Miss World. Muslim women are increasingly working in the entertainment industry in a sexually explicit way, and they become role models, which is a concern."
Hosted by Dewi Sandra, an Indonesian actress and pop star who recently hung up her racy dresses for a headscarf, the pageant featured both Muslim and pop music performances, including one about modesty, a trait the judges sought in the winner.
The pageant, which also featured bright Indonesian Islamic designer wear, is a starkly different way of protesting Miss World than the approach taken by Islamic radicals.
Snowballing protest movement
Thousands have taken to the streets in Indonesia in recent weeks to protest Miss World, denouncing the contest as "pornography" and burning effigies of the organizers.
Despite a pledge by Miss World organizers to drop the famous bikini round, radical anger was not appeased and the protest movement snowballed.
The government eventually bowed to pressure and ordered the whole pageant be moved to the Hindu-majority island of Bali, where it opened on September 8.
Later rounds and the September 28 final were to be held in and around Jakarta, where there is considerable hardline influence.
But there are still fears that extremists may target the event — the US, British and Australian embassies in Jakarta have warned their nationals in recent days of the potential for radical attacks.
More than 500 contestants competed in online rounds to get to the Muslimah World final in Indonesia, one of which involved the contenders comparing stories of how they came to wear the headscarf.
The contest was first held in 2011 under a different name and was only open to Indonesians, Shanti said, but after the media began comparing it to Miss World, it was re-branded as a Muslim alternative to the world-famous pageant.
Because of its popularity, organizers accepted foreign contestants this year for the first time, with Iran, Malaysia, Bangladesh, Brunei, Nigeria and Indonesia represented.
http://www.thejakartaglobe.com/news/nigerian-wins-muslim-beauty-pageant-rival-to-miss-world/
------------
Bangladesh Teenager 'Mentally Ill' After Forced Marriage
September 19, 2013
A 16-year-old girl has fallen mentally ill after being tortured by a local goon for refusing to settle down with him following a forced marriage.
Masuma Akter cannot even speak properly and bears marks of serious injuries on her head and different parts of body. Currently she is going under treatment at the Dhaka Medical College Hospital (DMCH), where her two legs remain tied to the bed as she often loses control of her body.
Masuma was a candidate for the HSC (Higher Secondary Certificate) exam from Loahir Madrasa of Muksudpur upazila of Gopalganj district.
On June 24, Sajib Matubbor, 25, abducted her as she was walking to the madrasa from her home and he later forced her into marriage through intimidation, alleged Masuma's family members. After a week, Sajib's father made them get a divorce and sent Masuma back to her home, calling her a "bad girl," they said.
One month later, Sajib went to Masuma's house and told her to come back to him. When she refused, he beat her up badly. Learning of the incident, Masuma's family sent her away from Gopalganj to stay with her uncle in Madaripur. Sajib found her there alone and after she again refused to accompany him, he hit her with bricks on the head, leaving her seriously injured.
Alerted by her cries for help, locals detained Sajib and handed him over to Madaripur police.
Later, on September 1, Masuma's father filed a case of "attempt to murder" with Madaripur Sadar police station and admitted Masuma to Faridpur sadar hospital. As her condition deteriorated, the doctors of Faridpur Hospital suggested her transfer to DMCH, where she was admitted on September 7 and remains under medication.
While asked about the progress of the case, Sanjay Kumar, sub-inspector of Madaripur Sadar police station, told the Dhaka Tribune that Sajib was sent to jail and they would submit the charge sheet of the case shortly after completing some relevant investigation.
Akmal Uddin, the father of the victim, however, claimed they were passing the days in fear as they suspected Sajib might come out of jail anytime.
Monriuzzaman, officer-in-charge of Madaripur Sadar Police Station said he had learnt about the case and the investigation officer would take necessary actions.
DMCH doctors have suggested Masuma's family members take her back home so that she can recover from the trauma sooner.
http://www.dhakatribune.com/crime/2013/sep/19/teenager-%E2%80%98mentally-ill%E2%80%99-after-forced-marriage-and-beatings-local-goon
------------
High school bans skirt for female students in Turkey's Antalya
September 19, 2013
A high school in the southern province of Antalya has banned skirts for its female students, leaving long pants as the only option for girls to wear to school.
The Gazi Anatolian High School in Antalya forbade its female students from wearing skirts as part of the school uniform, according to daily Cumhuriyet.
Hayri Bas, the school's principle, said that this year's uniform was decided to be composed of gray pants and a white t-shirt for both male and female students, a decision that was also approved by the Parent-Teacher Association.
"This decision has been met according to the new statute. It has been adopted that our children wear uniforms. So we have decided that both male and female students wear pants. In this way our children will be more at ease," said Bas.
He added that female students would find pants more comfortable. "What's more, the students of our school are older. We think that by wearing pants they will not encounter problems while using the stairs," Bas said.
This decision will be implemented for new students at the school, while older female students will be allowed to wear skirts.
One parent of a female student who has just started at the school, said her daughter was just a naïve girl and she could not understand such a decision.
"I do not understand the logic of forbidding a female student from wearing a skirt," the parent said.
http://www.hurriyetdailynews.com/high-school-bans-skirt-for-female-students-in-turkeys-antalya.aspx?pageID=238&nID=54685&NewsCatID=341
-----------
Expecting Mothers to Benefit From Welfare Project in Kashmir
September 19, 2013
In a bid to provide first aid treatment to people at their doorsteps, the state government plans to open 600 new health sub-centres in remote and bordering areas of Jammu and Kashmir. It is also launching a new programme for the medical care of pregnant women, officials say.
Under the programme, every pregnant woman will receive free medical treatment, proper diet, health supplements and transportation between home and hospital, from early pregnancy to the birth of her baby.
The proposals were approved by the Union Health Ministry last month, Minister of State for Health Shabir Ahmed Khan told Khabar South Asia.
"From late September, the department introduced welfare scheme for the benefit of pregnant women. Jammu and Kashmir is the first state in India to benefit from the ambitious scheme," he said.
Construction on new health centres began in mid-October. Where convenient, the health centres will be housed in existing buildings, he added.
Healthier mothers, healthier babies
Too often, Kashmiri women and their babies face health challenges due to malnourishment, according to health experts, who welcomed the new initiative.
"Due to lesser intake of proteins, calcium and vitamins, poor women grow weak during pregnancy, leading to birth of abnormal or weak babies," Ghulam Nabi Lone, a doctor and block medical officer at Kupwara sub-district hospital, told Khabar.
Under the new programme, "such women will receive proper diet like pulses, mutton soup and other essential health supplements throughout their pregnancy periods," he added.
"It is a great move and would benefit especially the poor women who become victims of malnourishment and poor treatment, and give birth to babies with deformities," northern Kashmir Supervisor of Social Welfare department Shaheena Akther told Khabar.
Relief for people in border areas
Newly married housewife Nasreen Akther, 28, from north Kashmir's Handwara town, said, "The government has indeed come to the rescue of many — especially [for] women from impoverished families.
"Health supplements and good medical care is imperative for the health of both mother and newborn baby," she said. "I am looking forward to availing the facility in the future."
Those living in remote and bordering areas of Kashmir will benefit most from the long-awaited services.
"In absence of a health centre, ailing people in our village travel to Kralpora health centre for first aid treatment. Now we will be able to avail the facility at our doorsteps," Ghulam Nabi Khan, a 42-year-old rural development department employee from Chowikbal, told Khabar.
A resident of Tangdhar said he hoped at least six health sub-centres would be set up in the Karnah Tehsil (division) of Kupwara, a mountainous area near the Line of Control (LoC).
"Doctors at the lone community health centre in Tanghdar are struggling to cater to the medical needs of around three lakh (300,000) people living in Karnah," said Nawaz Ahmad Qureshi, a trader.
Job avenues in medicine
The new project also brings new employment opportunities. Under the National Rural Health Mission (NRHM) programme, the Kashmir health department will recruit 2,400 employees including two pharmacists, two multipurpose health workers and one nursing orderly in each centre.
"I am the only B Pharmacy graduate in my village so my appointment as Pharmacist is almost a done deal," said Wadipora village resident Riyaz Ahmad, 24.
His optimism appears to stem from the fact that under NRHM recruitment norms, local educated youth are preferred in cases where the posts are filled in same village.
http://khabarsouthasia.com/en_GB/articles/apwi/articles/features/2013/09/19/feature-02
-----------
Student of Almaty Mosque Denied Persecution of Imams for Sexual Harassment
September 19, 2013
The Kazakhstan police has refused to initiate a criminal case against religious leaders of the central mosque of Almaty because it found no evidences or witnesses confirming the statements of the former student of the mosque who accused the imams of sexual harassment, Tengrinews.kz reports citing the press service of the Interior Department of Almaty.
The police checked into the mosque's activities after Zhanar Boranbayeva filed a complaint that the mosque taught perverted Islam. She said that young students were forced to become wives of the mosque's imams who later divorced with them.
The police investigation confirmed that Boranbaeyva did take a six-month course in the mosque. Whereas the mosque's leaders denied she ever took any of the courses and she came only for Friday prayers.
Her classmates said that the girl was quiet and mostly kept to herself. Speaking about Talgat Sapanov, who was the main figure in Boranbayeva's complaint, they said that they did not notice any obscenity or indecency in his behaviour.
The teacher said that he had been working in the mosque since 2007, teaching students the Arabic alphabet, Tajwid (sophisticated and artistic form of recitation of the Quran), the Quran, Fiqh (the four major sources of Muslim jurisprudence from which law is derived), Aquida (additional creedal formulations) and syrah (Arabic term used for the various traditional Muslim biographies of Muhammad). He said he was also responsible for enrolment and registration of the students' applications. He pointed out that Boranbayeva missed most of her classes and had average academic performance. According to Sapanov, he wasn't involved in any personal relationships with her or any other students.
"Boranbayeva have given us no hard evidence. Imams of the central mosque deny everything she says, so do the students," the police concluded.
Zhanar Boranbayeva disagreed with the conclusion of the law enforcement authorities, but said she was not going to pursue the subject any further. The former student of the mosque said she had done all she could to stop the wrongdoing when she gave the issue some publicity by talking to the media.
A special commission formed by the Spiritual Administration of the Muslims of Central Asia and Kazakhstan in relation to the accusations also checked the mosque and its personnel, but discovered no violations or wrongdoing.
The mosque's activities are currently being investigated by the Religion Affairs Department of Almaty city.
Talgat Sapanov, who was accused by Boranbayeva of sexual harassment and obscene behavior towards his students, is planing to file a lawsuit against her for groundless accusations.
http://en.tengrinews.kz/religion/Former-student-of-Almaty-mosque-denied-persecution-of-imams-22615/
-----------
AIUB VC to get 100 Most Influential Filipina Women in the World award
September 19, 2013
American International University-Bangladesh (AIUB) Vice Chancellor Carmen Z Lamagna has been selected as one of the 100 most influential Filipina women in the world.
The award is bestowed to Filipinas who demonstrate exemplary leadership, inspiration and achievement. Her selection was made among Filipina women in 15 countries of the world, according to an AIUB press release on Wednesday.
The 100 Most Influential Filipina Women in the World awards will be presented during a gala dinner and grand ceremony at the Mark Hopkins Intercontinental Hotel in San Francisco, California, USA on October 24-26, 2013. During the awarding ceremonies, the awardees will share their inspiring success story to the Filipinos, Americans and other nationalities who are invited to the occasion.
http://www.dhakatribune.com/education/2013/sep/18/aiub-vc-get-100-most-influential-filipina-women-world-award
--------
Religious Group Conducts Qur'an Lessons to Women by Telephone
JEDDAH: FOUZIA KHAN
19 September 2013
A local religious organization here provides women Qur'anic lessons over the telephone.
The Qur'an Memorization Society started the service because women in local neighbourhoods have transport problems, said Huda Sayed Bateef from the women's section of the organization.
"We have different programs for women and children to learn the Qur'an but a year ago we started a program for those women who can't come to classes. We have four telephone lines for women to call and talk to teachers. They have to give their names and say what they want to learn. The teacher will give them a certain time to call. In this way they can stay at home and still learn," Bateef said.
"We started this service because travelling is difficult for women. Many times drivers are not available or there are other problems. Now they can fulfill their desire to learn. We even have an Internet service where people can learn the Qur'an," she said.
Bateef was speaking Tuesday at the 34th annual graduation ceremony of the society held at a local hotel, where over 1,000 Qur'an students graduated.
The program honoured students, including children, who memorized the Qur'an and learned it with proper grammar and pronunciation. Bateef said 185 students memorized the entire holy book.
The organization has classes at 45 mosques and 120 learning centers in Jeddah. This year 120,000 women students enrolled in the classes.
Wafa Abdullah Akbar, director of Baraim Al-Zikar School for children, said she was proud the society offered such a "great service" to the community.
"Today's program is our annual function to honor the student graduates who memorized and learnt to read the Qur'an, to encourage them in their studies," she said.
She said the organization welcomes everyone to start learning regardless of age or language. The organization has two schools in Urdu and other languages so students do not have to know Arabic.
"We have an open-door policy for anyone who wants to learn the Qur'an, memorize it, study explanations, grammar and proper pronunciation. At the moment thousands of students are studying with us," she said.
The women's graduation ceremony was organized under the patronage of Dr. Fatima Nasseef, the director of the organization's women's section.
http://www.arabnews.com/news/465140
-----------
Family of East Java Woman Say Nurse Performed Fatal Surgery
September 19, 2013
The family of a 42-year-old woman who died on Tuesday night after a protracted but unspecified illness reported an East Java nurse to police on Wednesday for allegedly performing surgery without a medical license.
"The victim died last night and has been buried today," Jumrah, a relative of Suadah, said in Pamekasan on Wednesday.
Suadah's cause of death has yet to be released and the illness to which she eventually succumbed has not been confirmed either, but the family maintains that she sought medical attention at a clinic in Pakong village, Pamekasan, after a sustained bout of headaches.
The clinic was run out of a house by a nurse, who suggested surgery on a lump on the Suadah's back. The family say they had wanted to take Suadah to a hospital to have the operation but the nurse at the clinic said they were qualified to perform surgery.
Jumrah said Suadah's vision and hearing deteriorated after the nurse performed the operation on her back, before the victim's mobility worsened to the point where she became paralyzed.
"We checked her condition at Dr. Soetomo Hospital in Surabaya," Jumrah told the state-run Antara News Agency. "They said she had suffered nerve damage because of the surgery performed by [the nurse]."
The nurse accused of malpractice also worked in the emergency room at Pamekasan Hospital.
Data on medical malpractice in Indonesia is hard to come by, but a high doctor-to-patient ratio and creaking infrastructure insure such events are not uncommon.
The problem is exacerbated by a solidarity among many doctors, and a weak regulatory environment that gives insufficient legal protection to a medical professional who would otherwise be prepared to testify against a colleague.
The issue of medical malpractice received more attention in the Indonesian media following Ucu Agustin's documentary Conspiracy of Silence, the title of which was taken from a statement by the head of the Indonesian Doctors Association that said doctors were not coming forward.
Ucu's 2010 film told the stories of people who had been victims of malpractice, including an infant who was left blind and a professor paralyzed after botched surgeries.
The nurse has not been named a suspect and police said they were questioning witnesses.
http://www.thejakartaglobe.com/news/family-of-east-java-woman-say-nurse-performed-fatal-surgery/
-----------
Embassies in Indonesia Warn of Miss World Attack Threat
By Agence France-Presse
September 19, 2013
Embassies in Indonesia are warning their nationals that extremists may attack the Miss World beauty pageant on the resort island of Bali after a series of hard-line Muslim protests.
The United States, British and Australian embassies have in recent days all issued warnings.
"The embassy has received information that extremist groups may be planning to disrupt the Miss World pageant being held in Bali from September 8 to 28, potentially through violent means," said the US embassy in Jakarta in a statement.
The British embassy said that "local Islamist vigilante groups have threatened to hold large-scale demonstrations to disrupt the Miss World pageant."
It added that "extremist groups may also be planning to attack the event."
Bali has been attacked by Islamic militants before, most notably in 2002 when bombings on the resort island killed 202 people, many of them foreigners.
However, Indonesia, which has the world's biggest Muslim population, has waged a crackdown on militant groups over the past decade and has succeeded in dismantling key networks.
In recent weeks thousands of radicals have taken to the streets protesting against the decision to hold Miss World in Indonesia, denouncing it as "smut" and "pornography."
The growing protest movement prompted the government to order the entire event be moved to Hindu-majority Bali, where extremist influence is minimal.
Originally only the early rounds were due to take place on the island, with later rounds and the September 28 final to be held in and around the capital Jakarta.
While the vast majority of Indonesians practice a moderate form of Islam, a vocal hard-line fringe has become increasingly influential in recent years.
Agence France-Presse
http://www.thejakartaglobe.com/news/embassies-in-indonesia-warn-of-miss-world-attack-threat/
-----------
Hong Kong Couple Jailed For Abuse of Indonesian Maid
September 19, 2013
HONG KONG: A Hong Kong couple were jailed Wednesday for a shocking string of attacks on their Indonesian domestic helper, including burning her with an iron and beating her with a bike chain.
Tai Chi-wai, 42, and his 41-year-old wife Catherine Au subjected their former maid Kartika Puspitasari to a two-year campaign of violence and humiliation, the court heard, which also saw her assaulted with clothes hangers and a paper cutter.
Protesters outside the court held a placard dubbing the couple "Mr and Mrs. Evil" and called the city to "End the social exclusion of foreign domestic workers in Hong Kong!"
Hong Kong is home to nearly 300,000 maids from mainly Southeast Asian countries, predominantly from Indonesia and the Philippines.
Judge So Wai-tak, who described the attacks on Puspitasari as "repeated and continual," sentenced Tai, a salesman by profession, to three years and three months in prison for one count each of assault causing actual bodily harm and wounding.
Au, a hospital assistant, was given five-and-a-half years for two charges of assault causing actual bodily harm and four counts of wounding, three of them with intent.
In a courtroom which was packed with rights activists, Indonesian migrant workers groups, reporters, and representatives from the city's Indonesian consulate the judge described the couple — who remained impassive during sentencing — of "breaching integrity" and for committing a "serious offense."
However, he found them not guilty of the charge of false imprisonment over the allegation that the couple left the maid without food or water after tying her to a chair and forcing her to wear a diaper while they went on five-day vacation.
Both the accused were jailed immediately after the verdict.
"Employers and employees in Hong Kong should resolve differences through patience and tolerance," So said, adding that the couple's actions may damage the city's image as a safe place to work.
During the two year period when she was employed, Puspitasari said that she received no salary, was banned from talking to anyone and could not leave the couples' residence.
Puspitasari, who worked in Singapore for seven years before coming to Hong Kong, sought refuge at the Indonesian consulate in Hong Kong after fleeing her employers.
The defence had previously accused her of lying, citing a history of disputes over the her wages.
A union representing domestic workers held a protest in March to call for an end to a policy which requires foreign maids to live with their employers, saying the rule exposes them to assault and sexual harassment.
http://www.arabnews.com/news/465056
-----------
Battling the Elements, NTT Villagers Make Strides in Child Health
September 19, 2013
South Oenenu. It's nine in the morning, and a group of women carrying babies and toddlers have gathered on the porch of a rundown house owned by the chief of South Oenenu village in North Timor Tengah district, East Nusa Tenggara province.
All eyes are trained on Esni Ewalde, a young woman teaching the mothers about nutrition and how to prepare simple, healthy meals for their children.
"Can I ask a question? Every time I feed my daughter with formula milk, she gets diarrhea, so should I not give her milk?" asks Maria Mano, one of the mothers.
Maria later says she realizes that it's not the milk, but the other food she has been feeding her four-year-old daughter that is the problem.
"I used to feed her rice porridge without any side dishes. I didn't give her any eggs or vegetables, but then I found out that my daughter was undernourished," she says.
The women follow Eni's class with enthusiasm as they tend to their children needs. They learn how to wash their hands and their children's hands properly, and how to provide nutritious meals for their toddlers with food that is easily available in the area.
Esni, one of the five officials at the local integrated health post for women and children's health, known as posyandu , patiently answers every question from the mothers. She also shows them how to prepare a nutritious rice porridge with vegetables, eggs or tempeh.
"Life is hard here in our village," Agustinus Sasi, the chief of the village, tells the Jakarta Globe. "We don't have a supply of clean water and most of our people live in poverty."
There are 228 families in South Oenenu, located just six kilometers from Kefamenanu, the capital of North Timor Tengah districts, one of the newly established districts in the province.
Most of the villagers are subsistence farmers, restricted by the dry weather and rocky soil to growing corn, cassavas, yams and bananas.
"We can only work on our land during the rainy season [which lasts for three months out of the year], while for the rest of the year we have to find something else to do to survive, such as harvesting tamarind and selling it in the market," Agustinus says.
The nearest health facility, a community health center or puskesmas , is located four kilometers away and can only be reached by foot.
"Sometimes when someone is really sick, we have to carry them and walk all the way to the Puskesmas," Agustinus says.
Like many other remote villages throughout East Nusa Tenggara, South Oenenu is also grappling with an acute shortage of clean water. Although geographically close to the district capital, the villagers still have to walk up to 1.5 kilometers to fetch drinking water.
"It's only enough for cooking and drinking, definitely not enough for washing or bathing," Agustinus says. "What's even worse is that the spring is also used by our cattle, which leaves the water polluted. That's why there are so many cases of diarrhea and skin disease."
Numerous requests have been made to the district authorities to provide clean water to the village, but the village chief says his efforts have gone unanswered.
"We don't have a grand dream. All we ask for is a dependable water supply. It will change our lives," he says.
Low awareness
"The climate and soil condition of course play a part in causing the health problems here in North Timor Tengah, but the main problem is low awareness when it comes to health and nutrition," says Joseph Budianto, the area development program manager for East Nusa Tenggara at Wahana Visi Indonesia, the local branch of World Vision International, a Christian development organization.
Wahana Visi Indonesia has been working closely with locals to tackle poverty, health and economic issues.
"What's really sad is sometimes the locals manage to grow vegetables but then they sell the vegetables to the market and use the money to buy instant noodles or sodium-loaded snacks," Joseph says.
A nationwide health survey carried out by the Health Ministry in 2010 found that 29.4 percent of children aged under five in East Nusa Tenggara were undernourished and 58.4 percent suffered from stunting due to poor nutrition experienced by mothers during pregnancy. The figures were the worst in Indonesia.
A separate study conducted by WVI in 2009 found that 44.2 percent of children in North Timor Tengah were undernourished and 57 percent were stunted.
Dogels Maradesa, the maternal child health and nutrition coordinator at WVI's North Timor Tengah office, says access to proper nutrition has always been a serious problem in the region.
"Much of the land is dry, while the soil is rocky and contains limestone," he says.
With their land yielding poor harvests, villagers have turn to slash-and-burn forest clearing to open up new land, in the process damaging the ground's ability to retain water and thus aggravating the chronic water crisis in the region.
"There have been a lot of initiatives here, but what we need is an integrated approach, because nongovernmental organizations and the government have been working separately on programs that often overlap one another," Dogels says.
In South Oenenu, the lack of knowledge about nutrition has led to mothers often feeding their babies and toddlers only rice porridge and salt.
"Many mothers in South Oeneno don't realize that their children are undernourished because they don't appear to be sick," says Fridliukonas, the WVI facilitator in South Oenenu. "But actually more than 30 percent of children under five years old in this village are undernourished."
Changing bad habits in the village was a tall order, he says, because the villagers preferred to spend money buying processed foods and snacks rather than nutritious food for their children.
"Mothers are busy helping their husbands working in the fields, no they have time to tend their children's needs. It took us a very long time to achieve a positive change," he said.
Assisted by WVI, posyandu volunteers dedicate their time to teach the mothers how to prepare healthy meals by themselves, using nutritious food they can grow in their own backyards.
"Of course the environment is tough, but it's not impossible to grown some vegetables and get some sources of protein," Fridliukonas says. "The more pressing problem is their lack of knowledge about nutrition and how to prepare the food."
Maria Imelda Noe, the village midwife, says she treats children on a daily basis suffering from upper respiratory tract infections and skin rashes, caused mostly by poor hygiene and a lack of water.
"There are also a lot cases of diarrhea and stunted development because of the bad diet," she says. "The kids aren't being fed properly.
Posyandu heroes
Given the lack of health facilities in the area, the mothers have turned to posyandu to monitor their children's development.
Esni, who volunteers at the South Oenenu posyandu, says she dedicates her time and effort to teach the villagers about health issues because she is deeply concerned about the children's health.
"I noticed there were so many underweight children in my village. I felt I had to do something to help out," she says.
Assisted by WVI, Esni underwent training to be a posyandu volunteer.
She was taught basic information about nutrition and health so she could teach the villagers how to make the most of their dry and barren environment to provide decent food for the family.
In neighboring Oenino village, a few kilometers away, villagers have begun integrating the lessons gleaned from their own posyandu with gardening activities, in a scheme called "Kebun Gizi" or "Nutrition Garden." As part of the program, they are finding ways to make the ground more fertile so they can grow vegetable such as spinach, string beans and carrots.
"Our ultimate goal is to bring women back home so they don't have to walk so far, leaving their children at home, to work on their land," Sri Wulandari, the maternal child health and nutrition specialist for the East Nusa Tenggara administration, tells the Globe. "Before we started the garden, mothers had to leave their children for a long time and they didn't have the opportunity to pay attention to their health."
Amanda Tnomel, one of the volunteers at the Oenino posyandu, says that even though the village has better access to clean water than South Oenenu, there are still many undernourished children.
Spurred by what they learned at the posyandu, the Oenino women began growing vegetables in their own backyard.
"We began harvesting spinach and string beans a while go," Amanda says. "The children like their porridge better now that we put some vegetables in it."
Water woes
Most of the health and nutrition problems in North Timor Tengah are associated with the lack of clean water.
In Oenino, lives changed for the better when the government, under its National Program for Community Empowerment (PNPM Mandiri), provided water containers, and WVI set up a pipe bringing water from Mount Mantis.
"We always had skin diseases and diarrhea problems before, but now our life is so much better with the clean water," says Daniel Afu, the Oenino village chief.
With 90 percent of the villagers reliant on farming for their livelihood, having access to a reliable source of water changed everything. All of a sudden they were able to grow and harvest more corn, cassavas and bananas. They even managed to grow leafy vegetables.
Minarto, the Health Ministry's director of health and nutrition, says overcoming nutrition problems in regions like East Nusa Tenggara calls for a special approach.
"We have prepared a very specific intervention to tackle the nutrition problems in East Nusa Tenggara. The strategy is very different from efforts to tackle nutrition problems elsewhere, because the problem is very complex," he says.
Minarto says that the province, along with 10 others where the prevalence of malnutrition and stunting remain high, will be a model for implement the government's long-term initiative on the issue, which includes public empowerment, framing reformation and funding disbursement to create more capable health volunteers who can provide proper counseling for mothers.
"However, we also provide a direct intervention for a province like East Nusa Tenggara," Minarto says. "We give the children medicines, vitamins and additional food, especially for those who are already undernourished."
East and West Nusa Tengara have the highest rates of malnutrition nationwide. Undernourishment is also still a very common problem in Gorontalo, West Kalimantan, East Java and West Java.
Minarto says the government also plans to revitalize all posyandu by providing incentives for the volunteers and giving funding to support posyandu activities.
According to the Health Ministry's 2010 Basic Health Survey, 17.9 percent of children under five are underweight nationwide, marking a decrease from 31 percent in 1989.
Fifteen percent is the widely recognized indication of a nutrition emergency.
A UN report released last week noted that while the government had made great strides toward ending malnutrition among children under five, the pace of progress was slowing and there was a danger that Indonesia could miss the target of slashing the rate by two-thirds by 2015, set out under the Millennium Development Goals.
http://www.thejakartaglobe.com/news/battling-the-elements-ntt-villagers-make-strides-in-child-health-2/
-----------
URL: https://www.newageislam.com/islam,-women-and-feminism/new-age-islam-news-bureau/nigerian-wins-muslim-beauty-pageant-rival-to-miss-world/d/13577