New Age Islam News Bureau
17 March 2016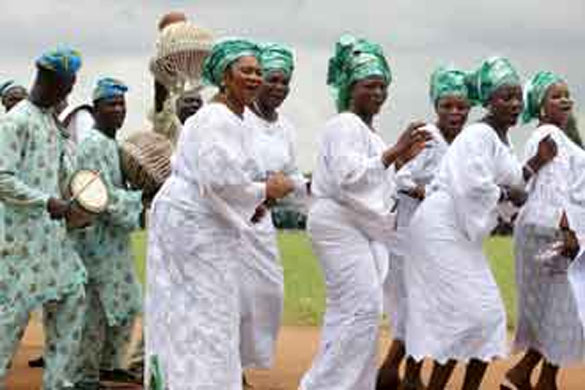 Photo: Women dressed in traditional attire sing as they participate in a parade to commemorate Nigeria's 55th Independence Day in Lagos Reuters
---------
• Pakistan Religious Parties Denounce 'Un-Islamic' Women Protection Law
• Muslim Woman Drops Lawsuit against Detroit Suburb over Scarf
• Here's Why I'm Terrified of Donald Trump
• UNHCR Special Envoy Angelina Jolie Calls Syrian Crisis 'Tragic and Shameful'
• LSE Investigates Its Islamic Society as Men and Women Are Segregated At Annual Ball
• UK Arrested Record Number of Child Terror Suspects In 2015
• How Western Brands Get Fashion For Muslim Women All Wrong
Compiled by New Age Islam News Bureau
URL: https://newageislam.com/islam-women-feminism/nigerian-senate-votes-down-gender/d/106681
---------
Nigerian Senate votes down gender equality bill due to 'religious beliefs'
The bill was designed to stop the 'inhuman, humiliating or degrading treatment' of women
March 17,2016
Nigeria has rejected a gender and equality opportunities bill because it is an attack on its relegious beliefs.
The bill looked to protect Nigerian women from the violence and provide them with the same marital rights as their male counterparts including the rights of widows to inherit their husband's property.
The bill was introduced by Senator Abiodun Olujimi but did not pass a second reading as opponents rejected it as an attack on religious beliefs and the Nigerian constitution, reports Quartz.
Overtly incorporating parts of the UN Convention on the Elimination of All Forms of Discrimination Against Women, the bill declared that women "shall not be subjected to inhuman, humiliating or degrading treatment" and "shall have the right to an equitable share in the inheritance of the property of her husband."
It detailed how women should have the right to fully participate in political activities including the right to vote and be eligible for all publicly elected offices without any restrictions. One Senate opponent quoted the Bible in a speech declaring his aversion.
A Muslim senator told the BBC that in Islam, women get a half of men's share in inheritance and it is unacceptable to change this.
The countries with anti-women laws
Other Muslim senators declared their opposition due to the fact the bill contravenes Sharia law which the Nigerian constitution recognises.
Nigeria-rape-victims-unicef.jpg
Had it been enacted, the bill would have introduced 18 as the minimum legal age to get married
The rejection of the bill by a Senate with only 7 of the 109 members being women has been criticised widely across Nigeria.
Only last year, a Twitter hashtag #BeingFemaleInNigeria which highlighted gender inequality gained wide support among young Nigerians keen on changing the status quo.
A key tenet of this bill was to introduce 18 as the minimum legal age for marriage as according to 43 per cent of Nigerian girls are married before they reach 18.
independent.co.uk/news/world/africa/nigerian-senate-votes-down-gender-equality-bill-due-to-religious-beliefs-a6936021.html
-----------
Pakistan Religious Parties Denounce 'Un-Islamic' Women Protection Law
Posted on March 16, 2016 by Aruba Adil in National, Punjab
LAHORE: An all-parties conference convened by Pakistan's oldest Islamic political party and attended by powerful religious groups asked the government on Tuesday to retract an "un-Islamic" law that gives unprecedented protection to female victims of violence.
The Women´s Protection Act, passed by Pakistan´s largest province of Punjab last month, gives legal protection to women from domestic, psychological and sexual violence.
It also calls for the creation of a toll-free abuse reporting hot line, women´s shelters and district-level panels to investigate reports of abuse and mandates the use of GPS bracelets to keep track of offenders.
Domestic abuse, economic discrimination and acid attacks made Pakistan the world´s third most dangerous country in the world for women, a 2011 Thomson Reuters Foundation expert poll showed.
But since the law´s passage, many conservative clerics and religious leaders have denounced it as being in conflict with holy Quran and the constitution.
On Tuesday, representatives of more than 35 religious parties and groups came together for a conference called by the Jamaat-e-Islami party and condemned the women´s protection law as un-Islamic.
"The controversial law to protect women was promulgated to accomplish the West´s agenda to destroy the family system in Pakistan," read the joint declaration issued at the end of the concrescence.
"This act … is redundant and would add to the miseries of women."
The passage of the new law was welcomed by rights groups but spirits have since dampened as conservative voices have increasingly called for its retraction.
On Monday, Fazlur Rehman, the chief of one of Pakistan´s largest religious parties, the Jamiat-i-Ulema Islam, said Prime Minister Nawaz Sharif had promised him at a meeting that he would address the reservations of religious parties.
"Prime Minister Nawaz Sharif heard our reservations against the Punjab Protection of Women Against Violence Act 2016. He promised to amend the law so that it doesn´t contravene the teachings of the holy Koran," Maulana Fazl told journalists at his residence.
Earlier this month, the Council of Islamic Ideology, a powerful Pakistani religious body that advises the government on the compatibility of laws with Islam, declared the Women´s Protection Act un-Islamic.
A prominent lawyer has also filed a petition in the top sharia court asking it to strike down the law.
aaj.tv/2016/03/religious-parties-denounce-un-islamic-women-protection-law/
-----------
Muslim Woman Drops Lawsuit Against Detroit Suburb Over Scarf
Mar 16, 2016
A Detroit suburb says a Muslim woman who accused police of forcing her to remove a headscarf has dropped her lawsuit.
The city of Dearborn released a statement Wednesday saying an attorney for Maha Aldhalimi dropped the lawsuit when confronted with video evidence. The city didn't detail the video but said Aldhalimi's allegations were "recklessly made."
But her attorney, Shereff Akeel, insists he's satisfied because Dearborn now allows women to wear a head covering during a booking photo.
Aldhalimi alleged she was humiliated and her rights were violated when she was ordered to remove the headscarf, known as hijab, for a photo at the police department in 2014.
A message seeking comment the police chief wasn't immediately returned. Dearborn has one of the largest populations of Arab-Americans in the country.
abcnews.go.com/US/wireStory/muslim-woman-drops-lawsuit-detroit-suburb-scarf-37691074
-----------
Here's why I'm terrified of Donald Trump
We asked some of the people Trump has singled out for ugly treatment – Muslims, women, African Americans, Mexican Americans – what they're afraid of
Mar 16, 2016
I'm a Muslim American
Linda Sarsour.
Donald Trump is a demagogue who has created an environment of acceptable bigotry against American Muslims with absolutely no accountability from his party or the mainstream media.
His false claims, like the ludicrous idea that thousands of Muslims in New Jersey celebrated 9/11, are extremely dangerous. History has taught us that there are extreme consequences if we don't address the threat he poses immediately and unite against hate. His outlandish, illegal and immoral proposed policies – like banning Muslims from entering the US and building a wall to keep then out – inspires vigilantism among his supporters aimed at communities of color, including Muslims.
This is particularly concerning in a moment when we are seeing a spike in hate crimes against American Muslims and those perceived to be Muslim, vandalism against mosques and assaults on women who wear the hijab.
You know what scares me more than Donald Trump, though? It's the silent majority. He has empowered people to openly express hateful and bigoted behavior that in some cases has turned violent – and that's the most dangerous thing of all.
Linda Sarsour
I'm a woman
Jessica Valenti
All of the Republican candidates running for president would be terrible for women's rights, but Donald Trump seems to take particular joy in disparaging women - or as he likes to call us: slobs, fat, pigs or dogs.
Since Trump has no political experience to speak of, we can't look at past policies on women, we only have his words to guide us. And those words paint a disturbing picture of deep hatred for women.
Trump has called a woman "disgusting" for breastfeeding, said he would like to date his daughter if they weren't related, disparaged an opponent by calling him a "pussy", noted in New York magazine that you should treat women "like shit", and suggested that a female debate moderator who was tough on him must have been menstruating. He would later call his same woman a "bimbo". This is also a man who has sexually harassed a woman on air, blamed rape in the military on the fact that men and women serve together, is anti-choice, has been accused of sexual assault by two women, and was the longtime owner of the Miss Universe and Miss USA pageants – some of the most retrograde sexist contests imaginable.
We don't need Trump to have a political background to give us clues about how dangerous he'd be for women – he's already told us, again and again.
Jessica Valenti
I'm an African American
Syreeta McFadden
Donald Trump is a mouthpiece for the unsavory, racist, xenophobic notions of the mob that supports him. He retweets white supremacists. He's loathe to disavow the KKK. Reports and of these rallies shows that he gives permission to them to express their racial animus. And it's terrifying.
Cable news media's attempts to be fair and balanced normalizes his extreme nativist views, and people act them out. Last week, a white man in Milwaukee shot three of his neighbors after learning at least one of them was from Puerto Rico. An Illinois cop allegedly participated in a stabbing of a young Arab American teen in California. It doesn't matter at this point if Trump wins or loses, the damage is done.
The portion of white Americans who support Trump are emboldened. The climate this creates for white American extremism and violence is the threat. Trump's candidacy and his supporters are manifestations of white supremacy fighting back against a coming sea change in the demographics of this nation. I don't know what I fear more at this point: the potential of a Trump presidency, or the fevered violence of the mob following his lead.
Syreeta McFadden
I'm a journalist
Byline picture of Trevor Timm
One can only imagine what press freedom will look like under President Trump. In just the past two weeks, Trump has referred to the press corps covering him as "lying, thieving reporters", a Trump official threatened to have a columnist arrested if he left the "press pen" in which their campaign regularly corrals reporters, and a photographer got choke-slammed at one of his rallies.
Trump's disdain for the first amendment is nothing new – in various ways, he has shown contempt for virtually every major clause, whether it's freedom of the press, assembly and religion. But every day he seems to find new ways to shock and disturb: on Monday he said every person who protests against him should be arrested, because an "arrest mark" would "ruin the rest of their lives".
GOP pulls supreme court emergency brake
Maybe our only hope if he becomes president is that his understanding of first amendment law is startlingly dumb. He complained his free speech rights were being violated by citizens exercising their own rights, and once even declared that Univision, a private company, was violating the first amendment for cancelling his Miss Universe broadcast.
He's threatened to sue various newspapers over a story he didn't like so many times, it's hard to count. Because media organizations don't normally comply with his censorious demands, he's also claimed he's going to "open up" libel laws in this country when he's president.
Unbeknownst to Trump, there is no federal libel law from him to repeal, unless you count the first amendment itself. But if his recent actions are any indication, he's won't let the pesky Bill of Rights get in his way.
Trevor Timm
I'm a Mexican American
John Paul Brammer
We Mexican Americans have been the unwilling victims of Donald Trump's campaign since day one. People felt more comfortable laughing him off back then. But for us, he has never been a joke.
His strategy hasn't changed: tap into pre-existing racism, amp it up with rhetoric, with promises of mass deportations and a huge wall, and then redirect that energy to his campaign. It is working remarkably well.
Fewer people are amused now than they were when Trump first entered the race. But my thoughts are the same. I think of my undocumented friends. I imagine life without them. I worry for them. I think of my brown-skinned family, of my mother and of my abuelos, and I imagine what might happen to them if Donald Trump wins.
America already has plenty of mass removals under its belt. America today commits violent raids against Central American refugees. America has passed "show me your papers" laws before. What would prevent President Trump from carrying out the policies he's promised?
Tensions continue to rise. What happened in Chicago shows we are reaching a tipping point. I suspect more unrest in the weeks to come. But for us Mexican Americans, for us Latinos, this tension has been a constant. We are angry. We are afraid.
theguardian.com/commentisfree/2016/mar/16/why-im-terrified-donald-trump-muslim-african-americans-women-journalists
-----------
UNHCR special envoy Angelina Jolie calls Syrian crisis 'tragic and shameful'
March 17th, 2016
Special Envoy of the United Nations High Commissioner for Refugees (UNHCR) Angelina Jolie Pitt during a visit to a Syrian refugee camp in Lebanon on Tuesday, the fifth anniversary of the Syrian crisis, called the situation "tragic and shameful", and lamented that a solution still seemed to be a distant possibility, said a UNHCR statement.
There are 4.8 million Syrian refugees in the region, and 6.5m displaced inside Syria, she said, adding: "I have seen on this visit just how desperate the struggle to survive is now for these families after five years in exile. Any savings they had have been exhausted. Many who started out living in apartments now cluster in abandoned shopping centres or informal settlements, sinking deeper and deeper into debt."
"We are at an exceptionally difficult moment internationally, when the consequences of the refugee crisis seem to be outstripping our will and capacity and even our courage to respond to it," she said.
Jolie Pitt emphasised the need for diplomacy and diplomatic solutions instead of aid relief. "We cannot improve this reality by partial responses, or by responding to some crises and not others, or by helping some refugees and not others, or by excluding Afghan refugees, among others, or by making a distinction among refugees on the grounds of religion."
Addressing world leaders, the actress said leadership is about doing more than "simply protecting your borders or putting forward more aid".
"My plea today is that we need governments around the world to show leadership, to analyse the situation, to understand exactly what their countries can do, how many refugees they can assist and how."
dawn.com/news/1246269/unhcr-special-envoy-angelina-jolie-calls-syrian-crisis-tragic-and-shameful
--------
LSE investigates its Islamic Society as men and women are segregated at annual ball
LUKE HANRAHAN ITV NEWS LONDON REPORTER
16 March 2016
The Islamic society of the London School of Economics has been criticised by a leading Muslim women's group after hosting an event which segregated men from women.
Divided by a 7ft high screen, attendees were given separate phone numbers to dial to buy male or female tickets.
The annual event was held on Sunday evening at the Grand Connaught Rooms, near the university in Holborn.
Iapproached the Islamic Society for comment, they referred me to the General Secretary of the LSE who attended the dinner herself.
A viewpoint backed up by Perdita Blinkhorn, who runs LGBT+ Alliance at the LSE:
The women asked for it to be segregated so that they can feel comfortable, not all of them want to have their hair tied up and hidden - they don't want to be exposed to the men. That's a choice they have made.
– PERDITA BLINKHORN, LGBT+ ALLIANCE AT LSE
But did this event break the law? Currently, gender segregation is 'not permissible' in the UK under equality law. Unless it's in a building permanently or temporarily used for religious practices.
The LSE says it follows the EHRC guidance on this matter, and regards gender segregation at events on campus or organised by LSE or the LSE community as contrary to the law, except for certain exceptions such as occasions of religious worship or where segregation is entirely voluntary. The School says it's now investigating.
Some organisations are now asking serious questions of the Islamic Society. Should segregated events have a part to play in UK Universities?
Haydar Zaki from the Quilliam Foundation told me segregation alienates Muslims too.
Many of those attending the event said they felt intimidated by the segregation that took place and it should have respected the plethora of different views in Islamic faith. Many of those viewpoints agree that the Islamic faith has no contradiction with absolute women's equality.
– HAYDAR ZAKI, QUILLIAM FOUNDATION
It's absurd, because these men and women would be seeing each other coming in and out of the building, yet they're artificially segregated and the next day they're going to be interacting with each other during the day. It's just ridiculous.
– SHAISTA GOHIR - MUSLIM WOMEN'S NETWORK UK
itv.com/news/london/2016-03-16/lse-investigates-its-islamic-society-as-men-and-women-are-segregated-at-annual-ball/
-----------
UK arrested record number of child terror suspects in 2015
17.03.2016
Britain has arrested a record number of teenagers on suspicion of terrorism offenses, according to new government figures.
The U.K. Home Office announced sixteen people under the age of 18 had been arrested in 2015, an increase of 60% on the previous year and the highest since records began in 2001.
There was also an increase in the number of women arrested, although the overall number of terror arrests across the country fell slightly to 280.
The Home Office bulletin, which is updated once every three months, said the overall fall in arrests was driven by a drop in the numbers held on suspicion of domestic terrorism offenses.
The statistics appeared to harmonize with U.K. authorities' fears that Muslims and young people are being drawn into extremist activities.
In January, Prime Minister David Cameron announced his government would fund free English language lessons for vulnerable Muslim women in a bid a curb extremism.
"But if you're not able to speak English, not able to integrate, you may find therefore you have challenges understanding what your identity is and therefore you could be more susceptible to the extremist message that comes from Daesh," he said at the time.
aa.com.tr/en/world/uk-arrested-record-number-of-child-terror-suspects-in-2015/539014
--------
How Western Brands Get Fashion for Muslim Women All Wrong
Mar 17 2016
The fashion world cheered when Western brands like Dolce & Gabbana and Uniqlo launched hijab collections to cater for Muslim audiences. So why do an increasing number of hijabi fashionistas and designers feel more alienated than ever?
Hulya Aslan, 29, always had a thing for fashion and nice clothes since her childhood. Her love of fashion wasn't affected by her decision to wear a hijab during her school years in the slightest. When she was working towards her qualifications to become a fashion editor at the Istanbul Academy of Fashion, she was the only hijabi student.
As she was transitioning into adulthood, the hijabi fashion industry was still in its infancy. The collections were basic and frumpy in 1990s and 2000s, at least until conservative fashion started to take off in Turkey in 2010. She found that it was much harder to dress stylishly as a hijabi woman than her non-hijabi peers.
"It was a nightmare to shop for clothes during those days," she said. "Before the boom in the conservative clothing industry, if a woman wanted to look stylish and put together, she basically had to go to a seamstress and get customized clothes."
But when Turkey eased the headscarf ban that was traditionally imposed in public institutions in 2010, things started to change. As hijabi women became more active in all aspects of social life, there was a greater demand for Islamic fashion items. There was even a new hijabi fashion magazine, Ala. When Aslan took the position of an editor at this magazine, she didn't predict the hijabi fashion renaissance to progress this quick.
"It was as if [hijabi women] were hungry for nice clothes for decades," she said. "We were aware of the demand and the market gap. Many people emerged as fashion designers and established their own businesses." Aslan now also runs her own fashion consultancy, working with the emerging Islamic fashion brands.
Millions of Muslim women around the world now have more choices than ever about what to wear. Being able to wear the desired clothing items, whilst managing to look stylish and elegant has made thousands of Muslim women like Aslan feel more empowered, confident, and socially included. For many, the Islamic fashion revolution was a rite of passage, which increased the visibility of Muslim women.
Cevahir Shopping and Entertainment Centre is one of the biggest shopping malls in Istabul. Photo by Didem Tali
"Muslims in Turkey and around the world are getting wealthier," said Cem Ozturk, founder of Touche, an Istanbul-based Islamic fashion brand. He began his career as a designer working on customized orders but had such a massive demand from his customers that he eventually decided to establish his own brand.
"When people enjoy a higher purchasing power, dressing nicer is one of the first things they do. It almost comes as an instinct. Because clothes are such important symbols," he added.
It's not just independent Muslim fashion designers who are aware of the opportunities that the global Muslim demographic pose. In 2015, Fortune described Muslim women as the "next big untapped fashion market." There's money to be made from the youthful (and growing) global Muslim population, which has a higher purchasing power than ever. According to the State of the Global Islamic Economy report of 2014–2015, Muslims have spent $266 billion on clothing in 2013. The figure is expected to reach $484 billion by 2019.
In other words, the Muslim gold rush is here. Unsurprisingly, global brands don't want to miss it. More and more Western fashion companies that traditionally appeal to a secular, Western, and non-Muslim clientele are beginning to embrace Muslim women in their collections. It seems that every week, a new Western brand launches a new collection at this demographic. H&M, UNIQLO, DKNY, Mango have all launched special collections aimed at Muslim women.
Most recently, luxury brand Dolce & Gabbana began to sell hijabs and abayas. The collection features D&G's luxurious touch in the form lace, satin, and floral prints. Its campaign features a fair-skinned and green-eyed white model posing with her mouth ajar. There is no evidence to suggest that she is Muslim. Although the line received positive feedback from the pressand hundreds of social media users, it left many Muslim women feeling excluded and alienated.
A hijab-wearing woman applies lipstick in the reflection of her smartphone. Photo by Didem Tali
"I've worn a hijab for most of my life. But I don't know anyone who would wear anything like that," said Zehra Birisik, a speech therapist and self-confessed Muslim fashionista. She noted that some garments in the D&G line are half-transparent and some of the skirts end around the knees—a no-no for any woman who wants to dress in accordance with Islamic law.
While the essence of the Islamic fashion is arguably about recognizing Muslim women's needs, many Western lines fluff the delivery. What these collections aim to do isn't to celebrate Muslim women, but to make money off them. Some argue that these brands not only do this in a way that ignores the needs of Muslim fashion, but are downright culturally insensitive to boot.
"Hijab is worn to achieve modesty. To me, it's a visual reminder that I see every day that I have to remain modest. How can people achieve modesty when they're wearing a headscarf worth thousands? It's also wastefulness, which has no place in Islam," Birisik explained.
She believes that the collections create the illusion that Muslim women are represented and have a lot of choice in fashion, when the items in these collections actually mock their beliefs. "It's difficult enough to shop as a hijabi woman. But when the market is full of 'Islamic clothes' that misunderstand and misrepresent us, it's frustrating."
Hulya Aslan and Zehra Birisik. Photos by Didem Tali
Gonul Taban, a hijabi writer, described the D&G collection as "a half-baked effort to sink its teeth into the burgeoning Islamic fashion market" that is "far from revolutionary" on Daily Sabah. "[The D&G collection] is nothing but mediocre," she wrote, "and cannot compare to what the traditional fashion houses currently have on offer."
Moreover, these collections epitomize almost every aspect of textbook cultural appropriation: They reinforce the idea that even Muslim fashion belongs to the Westerners. No proper appreciation is given to the culture of origin, although in the end the act of cultural appropriation receives the appreciation.
As Hulya Aslan, who has consulted for several Islamic fashion brands in Turkey, puts it: "There are currently designers that create world-class collections, but it's the Western brands that take the credit."
In the international apparel market, some Western brands already enjoy extremely advantaged positions with large marketing budgets. Business reports and market researchers continue to urge companies to explore the Muslim apparel industry, which is still dominated by local companies that might be easier competition. It's entirely possible that in 2019 the lion's share of $484 billion predicted spending of Muslims goes to these companies. In the meantime, independent Muslim fashion houses, which have played an important role in the global acceptance of Islamic fashion, might not be able to cope with the competition and fade away.
For thousands of women like Aslan and Birisik, the emergence of Islamic fashion—and having more fashion options—was a major triumph for acceptance. But now that they are now recognized as a profitable demographic, that victory has been trivialized. Instead, Muslim women are bombarded with the same messages as anybody else: It's okay to be you—as long as you're white, rich, and glamorous and can spend a lot of money.
broadly.vice.com/en_us/article/how-western-brands-get-fashion-for-muslim-women-all-wrong
URL: https://newageislam.com/islam-women-feminism/nigerian-senate-votes-down-gender/d/106681
New Age Islam, Islam Online, Islamic Website, African Muslim News, Arab World News, South Asia News, Indian Muslim News, World Muslim News, Womens in Islam, Islamic Feminism, Arab Women, Womens In Arab, Islamphobia in America, Muslim Women in West, Islam Women and Feminism