New Age Islam News Bureau
16 Feb 2019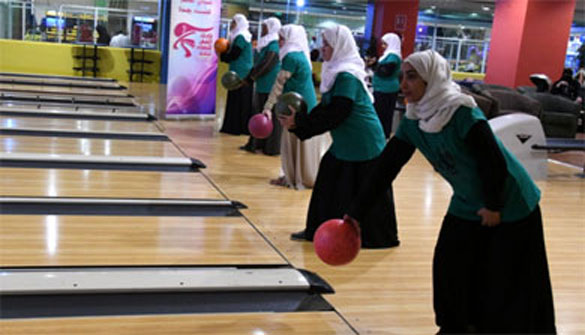 The Saudi Arabian women's bowling team will compete in the 9th Arab Men and Women Bowling Championship, which will be held in Egypt on Thursday until February 23.
-----
• Family of British Girl Who Joined ISIS Call for 'Compassion'
• Will The US Betray Afghan Women In Talks With Taliban?
• Sexual Violence Rampant in South Sudan's Unity Area: UN
• Saudi Women Bowling Team To Make First International Appearance in Egypt
• Unemployment of Female Graduates in Iran Three Times Higher Than Men
Compiled by New Age Islam News Bureau
URL: https://www.newageislam.com/islam-women-feminism/nigerian-schools-throes-hijab-crisis/d/117767
--------
Nigerian Schools in the Throes of Hijab Crisis
14 FEBRUARY 2019
By Iyabo Lawal
In Osun, there were melees. In Lagos, there were legal fireworks. Recently, in Ibadan, everybody was ready for a showdown - all in the name of religion and the theatre of the crisis are schools as wearing of head covering, otherwise known as hijab, by Muslim students became more than an issue of piety. Head, Education Desk, Iyabo Lawal, examines how religion is turning the heat on Nigeria's secular, even missionary schools.
Considered as some of the most religious people on earth, Nigerians' religious fervour borders on the legendary and incendiary. In the northern part of the country religious extremism brought down walls of schools, maimed schoolchildren and threw teachers out of job. In the country's south, religion is dictating a discordant tune in erstwhile peaceful schools.
It is no wonder when some female students of the University of Ibadan (UI) International School (ISI) in cahoots with their parents and guardians decided they wanted to be wearing head covering - hijab - that identifies them as true Muslims to school.
It all began, according to a report, when some parents and guardian began to distribute hijabs to their wards, leading the principal, Phebean Olowe, to shut down the school, as she was worried the development could lead to a breach of peace. According to her, the hijab negates the section of the school's constitution that guides dress code.
Three days before that curious incident, Olowe had received a letter from some parents under the aegis of International School Muslim Parents' Forum informing her of the resolution to allow Muslim pupils wear hijabs. The letter stated that the head covering is a fundamental part of the practice of Islam and that it was permitted by the Nigerian constitution.
The forum, therefore, reasoned that the school's constitution is subject to that of the nation's constitution.
The following day, aggrieved parents were summoned for a closed-door meeting with the board of governors headed by Prof. Abideen Aderinto, the vice chancellor (Academics) - the institution was established in 1963 and is a privately-owned property of the University of Ibadan. All decisions concerning its operations are governed by the board. At the meeting, they were advised against enforcing their resolution until the conclusion of the dialogue - but that gentleman's agreement did not work.
Aderinto had pointed out that "the dress code as contained in the school rules and regulations be maintained while the school management has been empowered to enforce appropriately."
The board appealed to parents to abide by the extant rules of the school to enable it fulfills its mandate of providing sound education to its pupils.
The Secretary-General, Muslim Community of Oyo State, Sheik Ismail Busari, would not take any of that as he called on various arms of the government in Oyo State and at the federal level to intervene in the matter "to avoid escalation of the issue".
He warned: "Muslims will not allow anyone to tamper with their right unchallenged. They are calling for anarchy. We want those in the government to intervene before our God-given right is trampled upon. They should desist from calling us names. They are calling us terrorists. If Muslims can wear hijab in USA, Britain and other countries - we are Nigerians - our children should be allowed to wear hijab."
On the other hand, the alumni association argued that rather than invoking the national constitution, all parties should respect the rules and guidelines of the institution.
President of the association, Tive Ekpere, said, "The International School Ibadan is a private school and is governed by its own policies, laws and regulations. The uniform is unique and is the fabric that has bound ISI culture and tradition till today.
"Beyond this, the association wishes to advice that all overt religious activities on the school campus be discouraged henceforth. While we believe that every student should be free to practice whatever religion he or she wishes, we are also persuaded that the exercise of such rights must be carried out within the bounds of civility."
Dialogue did not resolve the crisis and the warring parties went to court.
Last December, an Ibadan High Court granted an application for extension of time filed by ISI in a suit filed against it over ban on wearing of Hijab by female Muslim students. The suit was instituted by some Muslim parents on behalf of their daughters after an initial protest that led to the brief shutdown of the school.
In the originating summons, the aggrieved parents contended that the action of the school violated their rights to freedom of thought, religion and education as contained in Section 38 (1) (a) and 42(1) (a) of Nigeria's Constitution. Their counsel had urged the court to declare the school's continuous prevention of female Muslim students from wearing hijab as "wrongful and unconstitutional".
Away from Ibadan, similar debacle was brewing in the centre of excellence, Lagos State, as barely 48 hours after the approval to wear hijab in Lagos schools by the state government, the low level of compliance elicited concerns from Muslim groups and parents.
Lagos State government had late last year issued a circular approving the use of hijab by female Muslim pupils in all public schools.
The circular with reference no: ED/DISTVI/CCST/HI/14/I/63 and signed by the Tutor-General, O.A. Olukoya, stated: "Since the case of the use of hijab in Lagos is still pending in the Supreme Court of Nigeria, the status quo should be maintained to avoid contempt of court. That is, students should be allowed to wear hijabs on school uniforms but it must be short, smart, neat and in the same colour of the uniform (skirt).
"Furthermore, schools' managements are advised to downplay comments and disciplinary actions on the use of smart hijabs until the final determination of the case by the supreme court. No student should be discriminated against in any form on the basis of religion. All principals and teachers must be sensitised to comply accordingly. You are enjoined to adhere strictly to these recommendations."
It appeared some teachers did not heed that message - at least, going by what a Muslim group, the Hijab Rights Advocacy claimed. According to the Islamic group, two teachers of Army Cantonment Girls Secondary School in Ojo, Lagos, "molested, harassed and intimidated" one 13-year-old Khadeejah Adewunmi Ajayi, and prevented her from preparing for some class tests and assignments merely because she had her hijab on her school uniform after school hours.
"Khadeejah, a JSS 2 student was allegedly accosted by the teachers outside the school compound after school hours and while on her way home. She was ordered to remove her hijab and upon fervent pleas that she would not remove it, the teachers forcefully snatched her hijab and her school bag away from her, handed them over to a military security officer at a nearby security post.
"The poor girl wept for her bag as she had tests and assignments to write and submit the next day. This is yet another manifestation of the intolerance of some teachers in Lagos who are supposed to stand in loco parentis to children under their watch, but have thrown caution to the wind in exhibiting their bigotry against Islam and are bent on disrupting the relative peace and the goodwill of the government in Lagos by continuously carrying out their plot that the Muslim girl child does not receive education in government schools funded by taxpayers in the state."
Against this background, the Director of Muslim Rights Concern (MURIC), Prof. Ishaq Akintola, urged all Islamic organisations in the state to immediately set up monitoring units for the successful implementation of the government's directive on hijab.
He said: "Muslim parents should be mobilised to visit schools for the purpose of ensuring compliance. We warn that nobody should take the law into his or her hands. Defaulting principals and recalcitrant teachers should be reported to the nearest office of Islamic organizations."
In Osun State, the hijab crisis was a case of the curious and the furious.
Sometime in 2016, the Baptist Girls High School in Osogbo played host to an army of security operatives as the Christian Association of Nigeria (CAN) in the state began a joint prayer session to resist the court judgment approving the wearing of hijab in 'christian' schools.
Same scenario played out at the Baptist High School, Iwo, where some CAN representatives almost clashed with law enforcers as they ensured that robe-wearing pupils were not turned away from the school.
CAN and its sympathisers were kicking against female Muslim pupils wearing hijab to schools deemed secular, especially those established by Christendom's missionaries. Unfortunately for them, a recent court judgment approved the use of hijab in the state. The crisis came to a head as pupils, who professed to be christians, in protest, began to dress to school in cassocks, choir garments among others.
CAN's vice chairman, Moses Ogundeji, said about the court judgment: "We are appealing it. But Christian pupils will continue to wear church garments to their various schools, not minding the state governor's warning to expel them."
Then, the law graduate, Firdaus Amasa, who was barred from graduating by the Nigerian Law School simply because she wore hijab to the graduation ceremonies, lit up the nation in legal fireworks. She was denied entrance to the International Conference Centre, Abuja on December 12, 2017, where the call to bar programme was to take place.
The University of Ilorin law graduate objected when ordered to remove her hijab. She claimed that such an order was an infringement on her human right.
The episode stirred intense controversies in Nigeria. Dr. Joe Abah, a former Director-General of the Bureau of Public Service Reforms in Nigeria and ex-President of the Nigerian Bar Association, Mahmoud Abubakar, argued that Amasa should have been called to the Bar regardless of her hijab.
"I think Amasa Firdaus should have been called to the bar with her hijab. We are experts in focusing on the wrong things. The problems of the legal profession are declining quality, slave wages for new entrants and corruption at the bench. Not hijabs worn discretely under a wig," Abah stated.
Abubakar also lent credence to Abah's argument by posting the photo of his hijab-wearing daughter, who was called to the bar in the United Kingdom
He wrote in the post: "My daughter, Zubaida Mahmoud, at the ceremony admitting her to the New York Bar earlier this year... the controversy here on hijab is needless."
The hijab-wearing Amasa was finally called to the bar seven months after the brouhaha and litigation.
Some have claimed that the ongoing discrimination against hijab-wearing Muslims students is deliberate.
"From Lagos State schools to the University of Ibadan International School, Ibadan, to Ladoke Akintola University of Technology Staff School, Oyo State, to schools of Nursing in the Southwest, the sad story is the same. We have thus concluded that there is a grand plan playing out; a plan to either stop Muslim girls from being educated or change their religion, a colonial missionary policy in post-Independent Nigeria," National President of Al-Mu'minaat Organisation, Nimatullah Abdul-Quadri, had claimed.
https://allafrica.com/stories/201902140165.html
--------
Family of British Girl Who Joined ISIS Call for 'Compassion'
Shafi Musaddique
February 15, 2019
The family of a teenage girl who left Britain to join ISIS in Syria in 2015 say they are "heartbroken" and have appealed for Britain to show "compassion and understanding".
Mohammed Rehman, brother-in-law of Shamima Begum who fled the UK to go to Syria aged 15, said the family had mixed emotions on the sudden reappearance of Ms Begum.
"We are happy that she's alive, but sad that things have come to this. She's lost two children and put us all through a lot of heartache", he told the Daily Telegraph.
Mr Rehman said the family thought she was dead at one stage.
"I can understand why people in this country are angry and don't want her back," he said.
"What she's done doesn't portray Islam in a good light. But she was only 15 when she went to Syria."
Shamima Begum is one of three British schoolgirls who fled for Syria to join and marry ISIS fighters.
Now aged 19 and heavily pregnant, Ms Begum told The Times newspaper in an interview that she felt no remorse about her actions.
"I don't regret coming here," she said in an interview that has sparked debate on whether Britain should allow Ms Begum to return to the UK to deliver her unborn child and face trial, or potentially be left in the Syrian refugee camp where she is currently staying.
It is believed that Ms Begum spoke to her mother on the phone for the first time since leaving, following the publication of the interview on Thursday.
Abase Hasan, the father of another schoolgirl who fled the UK to join ISIS, said Britain's government must not punish the 19-year-old on account of her age.
"They were just teenagers when they left. They should be allowed to learn from their mistakes".
After arriving in Raqqa, Ms Begum married a 27-year-old Dutch man who had converted to Islam. The couple escaped from Bagouz – the last remaining enclave of extremists in eastern Syria – two weeks ago.
While her husband surrendered to a group of Syrian fighters as they left, she is now in a camp in northern Syria
UK officials were non-committal over the potential repatriation of Ms Begum. Ben Wallace, the security minister, said she had the right to return to her country but insisted any members of ISIS would be interviewed and potentially prosecuted.
With consular assistance available to British citizens in Syria, Ms Begum would have to somehow make her way to Turkey or Iraq, added Mr Wallace.
"I'm not putting at risk British people's lives to go and look for terrorists or former terrorists in a failed state," he told the BBC. The security minister said her lack of repentance was concerning.
Reports in Britain suggest US officials are fed up of Britain's 'soft' stance against terrorists and readying Guantanamo Bay as a potential location to house British ISIS fighters.
https://www.thenational.ae/world/europe/family-of-british-girl-who-joined-isis-call-for-compassion-1.826198
--------
Will The US Betray Afghan Women In Talks With Taliban?
By Trudy Rubin
February 16, 2019
As a Trump envoy talks with the Taliban about a possible peace deal for Afghanistan, educated Afghan women fear they will be sold out.
These women recall the era of Taliban rule when they were confined to their homes, while denied education, health care, and the right to work. Although Taliban negotiators claim their views have changed, they vehemently reject the 2004 Afghan constitution that enshrines women's rights (at least in principle).
Fawzia Koofi, a courageous female member of parliament, fears women's rights may get short shrift in the current talks. President Donald Trump has made no secret of his eagerness to quit Afghanistan and wants to pull half the 14,000 U.S. troops there out this year, undercutting U.S. leverage at the table.
"It is very worrisome that we may go back to where we were under the Taliban," Koofi told me by WhatsApp from Kabul. "They (the Taliban negotiators) pretend to be very nice," she warns, "but it is just for the show of getting Americans to leave.
"We were the victims of war, and now we don't want to be the victims of peace."
The U.S. envoy, Zalmay Khalilzad —an Afghan American and former U.S. ambassador to Kabul —hopes to clinch a deal by July. But, although they are meeting with Khalilzad, the Taliban still refuse to negotiate with the elected Afghan government. Nor have they agreed to a cease-fire; their fighters in rural areas still destroy girls' schools.
This behavior reminds me of what I saw in Kabul, during a 1999 visit in the days of Taliban rule.
I met widows who could not get medical treatment (at the one hospital open to females) because they were forbidden to exit their homes, even shrouded in burkas, unless accompanied by a male relative —and they had none. I shadowed 10-year-old girls who attended secret schools because female education was forbidden.
While girls' education is still lagging, at least 1 in 3 young girls go to school, according to UNICEF —compared to none under the Taliban. Many more girls would go in rural areas were it not for continued fighting.
"There is a major generational change," says Koofi. "Elders from Badakshan ask to build girls' schools. An educated girl becomes an asset, respected in the community, a teacher, or a health worker, and she brings money to the family."
There are few women better qualified than Koofi to warn about the still limited but real progress women have made over the 19 years since the end of Taliban rule —and the risks these talks pose. The 19th of her father's 23 children, in the remote Afghan province of Badakhshan, she was put outside to die because she was female. She survived, and was taken to Kabul by her strong-willed, illiterate mother after her father was murdered in the Afghan civil war. She managed to get an education, only to see her liberal-minded husband jailed by the Taliban shortly after their marriage.
When I visited her in her home in Kabul in 2011, she had been elected to parliament from Badakhshan (27 percent of all seats in the national legislature are reserved for women). Even then she was fighting for female representation in peace talks. Her 12- and 13-year-old daughters told me they dreamed of becoming, respectively, a political leader and a space engineer.
One daughter is now studying at Montclair State University in New Jersey, the other at the American University of Afghanistan, Kabul.
Last week, Koofi traveled to Moscow with a group of senior Afghan politicians (none from the government) for informal talks with some Taliban leaders. She told them: "If a girl was born 19 years back (after the defeat of the Taliban) she grew up with a new world, and you cannot put her back. You say women have 'Islamic rights,' but you have a different interpretation of what this means."
Indeed, the Taliban back in 1999 said women had a right to "Islamic education" but insisted the time wasn't ripe for that to happen. If the current Taliban have changed their views, says Koofi, they need to prove it by opening girls' schools in areas they control. Beyond "rights in Islam," she asks, "what about women's human rights according to international conventions? They must accept this, they can't insist on religious education only."
Most importantly, she asks that Khalilzad "make clear the women's issue is not negotiable." The basic provisions on women rights in the Afghan Constitution should be a red line in any talks.
She adds: "It is very premature to remove American troops" while talks are ongoing. "If the United States withdraws completely and if there is no (peace) agreement with all Afghan forces, it will be a surrender to the Taliban."
All the educated women, brave girl students, nurses, teachers, counselors at women's shelters, and independent female parliamentarians whose achievements U.S. presidents have touted will once more fear for their lives. That will be an ugly stain on any president who lets it happen on his watch.
http://www.newsbug.info/tns/commentary/trudy-rubin-will-the-us-betray-afghan-women-in-talks/article_8cf0dc3d-fdc6-57ca-befe-c917e3c576fa.html
--------
Sexual Violence Rampant in South Sudan's Unity Area: UN
February 15, 2019
JUBA, South Sudan: Brutal sexual violence committed with "pervasive impunity" and a level of "premeditation" persists in South Sudan's northern region, the United Nations said on Friday.
At least 134 women and girls were raped, including some as young as eight, between September and December last year, according to a report issued by the UN Human Rights Office and the UN Mission in South Sudan. An additional 41 females suffered different forms of sexual and physical violence, said the report.
Even though South Sudan signed a fragile peace deal on September 12 to end the country's five-year civil war, which killed almost 400,000 people, the UN warns that endemic conflict-related sexual violence continues in northern Unity state. The UN investigation comes soon after outrage that followed a report by the medical charity Doctors Without Border which said that that 125 women and girls had been raped, whipped and clubbed in a 10-day period in the Unity region at the end of November.
Almost 90 percent of the women and girls were raped by more than one perpetrator and often over several hours, said the UN report. Pregnant women and nursing mothers were also among the victims, including one mother who was nine months pregnant.
"The volatility of the situation in South Sudan combined with the lack of accountability for violations and abuses committed throughout Unity, likely leads armed actors to believe that they can get away with rape and other horrific forms of sexual violence," said Michelle Bachelet, the UN high commissioner for human rights.
Most of the attacks were carried out by youth militia groups loyal to First Vice President Taban Deng Gai as well as South Sudan's government army, said the report.
Internal documents seen by the Associated Press detailing the locations, scale and dates of the attacks, showed that the areas where they occurred are under control of forces allied to the First Vice President, according to a South Sudan security expert who spoke on condition of anonymity because wasn't authorized to speak to the press.
The government is conducting its own investigation into the charges, however after a preliminary inquiry it denied that the accounts were real.
"Nothing of this kind occurred in Bentiu," said Rabi Emanuel, the government representative at a meeting in Juba in January chaired by the Cease-fire and Transitional Security Arrangements Monitoring Mechanism, the group charged with overseeing the implementation of the peace deal.
The upsurge in sexual violence is partially attributed to large numbers of fighters on "standby," awaiting implementation of security arrangements under the new peace agreement, said the report.
By May, both government and opposition forces are expected to have been housed in barracks, trained and merged into one national army. However, with only three months left in the pre-transitional stage of the deal the security arrangements have not yet been implemented because of a lack of funds.
http://www.arabnews.com/node/1452606/world
--------
Saudi Women Bowling Team To Make First International Appearance in Egypt
February 16, 2019
The Saudi Arabian women's bowling team will compete in the 9th Arab Men and Women Bowling Championship, which will be held in Egypt on Thursday until February 23.
The Saudi women's team involvement in this tournament marks their first participation outside the kingdom, as Saudi women competed in the first women's bowling tournament last year after women were allowed to practice certain types of sports.
President of the Saudi Bowling Federation Badr al-Sheikh said that the bowling team is ready to participate in the Arab championship.
He explained that preparations came through preparatory and training programs for players at the Universal Bowling Center in Riyadh, under the supervision of the coaching teams.
The 9th Arab Men and Women Bowling Championship will be held in the International Bowling Center of the Armed Forces. Seven Arab countries are participating in the tournament: Saudi Arabia, Kuwait, Bahrain, UAE, Iraq, Jordan and Egypt.
https://ww.egyptindependent.com/saudi-women-bowling-team-to-make-first-international-appearance-in-egypt/
--------
Unemployment of Female Graduates in Iran Three Times Higher Than Men
On Feb 15, 2019
The unemployment rate of female graduates is two to three times higher than male graduates in Iran.
At the fifth meeting of the coordination workgroup council of the women heads of households' empowerment, Vice President of Iran for Women and Family Affairs of the clerical regime, Masoumeh Ebtekar pointed out the unemployment rate of female graduates and said, "The overall statistics say that educated females are two to three times higher than unemployed males." (The state-run ISNA news agency – February 12, 2019)
The unemployment rate of women in Iran is considered just another example of violence against women. Some experts refer to this type of violence as "economic violence."
According to the statistics released by the Statistics Center in Iran, the number of unemployed women is higher than men. The average annual unemployment rate in Iran is 1.8%. With an annual growth rate of 3.8%, the population of unemployed women reached 37,000,516 in 2017. That means that Iranian women's unemployment rate reached a peak of 32.3% in 2017.
The state-run ISNA news agency reported on November 30, 2018, that the unemployment rate of women had increased from 17% in 2005 to more than 20% in 2016. The unemployment rate for graduate students in the same period increased from 15.7 percent to 20.4 percent. (The state-run ISNA news agency – November 30, 2018)
In a report on November 21, 2018, the Special Commission for the Protection of National Production and Monitoring of the Implementation of Article 44 of the Constitution announced, "The unemployment rate of educated young people is between 50% and 63%; the unemployment rate for young educated women reaches 78%. These are disturbing figures that indicate a very bad situation in the job market." (The state-run ISNA news agency – November 21, 2018)
Of course, all of the above contradictory statistics should be considered tampered and manipulated and the actual unemployment figures for educated women are much higher. In 2015, the clerical regime announced that the unemployment rate for educated women was 85.9 percent.
https://women.ncr-iran.org/2019/02/15/unemployment-female-graduates-higher-men/
--------
URL: https://www.newageislam.com/islam-women-feminism/nigerian-schools-throes-hijab-crisis/d/117767
New Age Islam, Islam Online, Islamic Website, African Muslim News, Arab World News, South Asia News, Indian Muslim News, World Muslim News, Women in Islam, Islamic Feminism, Arab Women, Women In Arab, Islamophobia in America, Muslim Women in West, Islam Women and Feminism