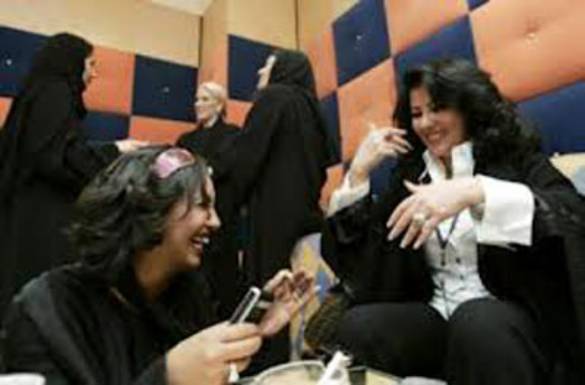 Survey Holds Mirror to Vanity in Saudi Society
Ban Unilateral Talaq, Says Indian Muslim Women's Group
We Are Marketers, Not Prostitutes —Abuja Sex Workers Declare
Malala's Struggle Symbolises Girls' Right to Education: Sherry
Jirga Orders Handover of Two Girls as Wani
International Day of the Girl Child: The Horrifying World of Child Brides
Saudi Court Upholds Death Sentence of a Woman Who Tortured Her 7 Year-Old Stepdaughter to Death
Injured Kainat Vows To Continue Studies
Malala and Sharbat Gula: Pashtun Icons of Hope
PTI Women's Wing prays for Malala
Rise in child marriages worrying
After the Tsunami, a Teacher Opens Her Home to Students
Compiled by New Age Islam News Bureau
Photo: Survey Holds Mirror to Vanity in Saudi Society
URL: http://www.newageislam.com/islam,-women-and-feminism/new-age-islam-news-bureau/nigerian-orphan-girls-forced-into-sex-trade-in-britain/d/8983
------------
Nigerian Orphan Girls Forced Into Sex Trade in Britain
14 Oct 2012
London, Oct 14 (IANS) At least three teenaged Nigerian orphan girls were brought to Britain by a trafficker and forced into prostitution and sold like slaves after being subjected to witchcraft rituals, a court has heard.
The Canterbury Crown Court heard that the trafficker - identified as 42-year-old Ozesua Osolase - promised them a better life, and instead sexually abused them, the Daily Express reported.
One girl said she was put through a bizarre juju magic ceremony in which she was cut with a razor.
Osolase, a former security guard at a store in London, denies six trafficking offences and seven sex offences, including rape.
The court was told that while living with his German wife Gabby in Kent, Osolase went to Nigeria's Lagos city and met a girl, now aged 17.
The daily said she had a tragic family background and was living under a bridge in the city when he found her. She said he offered to take her to Britain to be educated.
She was taken to a house where the accused and other men made her drink a native port wine, which looked like it contained blood.
"I was afraid because the place was a place of juju. One cut my hair, then cut hair from my armpits and took fingernails and toenails and took my blood from my right hand. He told me if I told anyone I would die," the girl told the jury.
After she arrived in Britain, she was told by Osolase that she would not be going to school but instead she was being sent to Italy to work as a prostitute.
She overheard the man on the phone agreeing to sell her for 52,000 pounds.
Anthropologist Hermione Harris, an expert in Nigerian religions, told the court about juju beliefs. "Blood is taken because it is thought to contain the essence of the person's individual power."
Osolase told the court he became involved in making illegal travel arrangements for others after losing his job.
He admitted escorting girls abroad using false passports but claimed he thought they were older and willing.
"They were adult women and they were happy to go. I never forced them to travel," the daily quoted him as saying.
http://www.newstrackindia.com/newsdetails/2012/10/14/220--Nigerian-orphan-girls-forced-into-sex-trade-in-Britain-.html
------------
Survey Holds Mirror to Vanity in Saudi Society
Women's luxury purchases also include cars although they are not allowed to drive
By Jumana Al Tamim
October 14, 2012
Dubai: About one-third of the Saudi women in the Western Region of the kingdom are extremely conscious of their attire and looks besides displaying other traits that reflect a high level of self-indulgence, a recent study shows.
Some of the respondents in the survey said it is only natural that women pay attention to their beauty and looks. Some others even based their explanations in the history of the Western Region, which has traditionally been known for its openness to other cultures throughout history.
"At the end of the day, the women in Makkah are women," said Saudi women's activist Lena Al Maena told Gulf News. "And it is just natural for any women to take care of herself," she said.
"However, honestly, I personally believe that if this study was conducted on what women do care about in other countries, I expect it will be higher [than the percentage in Saudi Arabia ]," she said commenting on the recently published study.
The study, which is a Ph.D. dissertation by Saudi student Amal Sindi, concluded that 36 per cent of women in the Makkah region are "self-indulgent".
Published in several Saudi-owned media outlets recently, the study surveyed 1,541 women in Makkah and Taif and concluded that most of them had a taste for designer clothes, expensive perfumes and luxury watches, besides being "extremely keen" to own the latest models of smartphones.
Nearly 25 per cent of the surveyed women said they regularly visited beauty salons before attending social gatherings.
Several economic factors, including higher disposable incomes for women and their families besides new employment opportunities for women, have encouraged women to increase spending on luxury items, the study found.
Saudi women activists observed that working women and those with higher educational qualifications usually set aside bigger budgets for personal grooming and clothes than those who stay at home.
Lena also pointed to the increasing numbers of women at universities and in private businesses. There numbers of female — as well as male — entrepreneurs has also been growing.
"Makkah's women, and people of Makkah in general, are known of [being good in] trade," Lena said, also taking note of the fact that the city receives millions of pilgrims performing either Umrah or Haj each year.
"If there was another study about the businesswomen in Makkah area, the percentage would be very high," she added.
Also, Makkah is close to the coastal and second largest Saudi city of Jeddah, the main port in the kingdom and the arrival point for all visitors to Makkah. Both Makkah and Taif are nearly 70Km from Jeddah, which is known for being a melting pot. In the past decades, the city has been increasingly exposed to people from different cultural backgrounds.
The survey's findings are particularly striking because Saudi women, who are allowed to own and run businesses in the conservative society, are not allowed to drive cars. No woman has reached the ministerial or ambassadorial levels yet in the kingdom.
Women comprise nearly 44 per cent of Saudi Arabia's 27 million population, according to UN reports.
Efforts have been exerted to provide women with more job opportunities in the kingdom and the female employment rate has jumped from 5 per cent in 1990 to 19 per cent in 2010.
Despite their inability to drive, some press reports noted that Saudi women have shown a noticeable interest in buying cars including luxury models. Car dealers have revealed that women are more likely to make payment in cash but reject some reports which say women buy more cars than men.
"I can say from my own experience that the percentage of women buying cars is not higher than men," said Farida Abdullah, supervisor at the after-sales customer department at Samaco, the dealer for Audi, Volkswagen and Porsche cars in Saudi Arabia.
Women chose their cars with comfort being the top criteria. Also, women chose cars that "suit their social status", Farida told Gulf News. Some women register the vehicles under their names, while others do so under their husbands or sons' names.
Men buying cars however tend to make their payments in instalments.
Some others are given to the belief that if women were allowed to drive in the kingdom, the percentage of women buying cars will "definitely" increase but there is "no way, it will reach the percentage of men buying cars."
http://gulfnews.com/news/gulf/saudi-arabia/survey-holds-mirror-to-vanity-in-saudi-society-1.1089037
------------
Ban Unilateral Talaq, Says Indian Muslim Women's Group
Mohammed Wajihuddin
Oct 14, 2012
MUMBAI: The Bhartiya Muslim Mahila Andolan (BMMA), an advocacy group, is run from a tiny office in a slum at Kherwadi in Bandra East. Yet, its passionate activists have a missionary zeal about bringing relief to Muslim women caught in marital discord. And their latest cause is a campaign against the unilateral and oral talaq.
Using the case of Mumbra's Afshan Bano, who was recently served a unilateral talaq by her Gulf-based husband (a divorce without the arbitration mandated by religious texts), BMMA is reaching out to the Muslim masses through seminars, pamphlets and meetings. Citing the regularity with which unilateral Talaqs are being pronounced, the NGO has declared a virtual war against this mockery. Apart from creating awareness, BMMA activists are also protesting the patriarchal mindset of the All India Muslim Personal Law Board, which has been consistently stonewalling all efforts to declare the unilateral and triple talaq as invalid.
"Unilateral talaq is a gross injustice to a woman, who is not given a chance to present her case. It is ruining the lives of many women and must be banned," says Noorjahan Safia Niaz, BMMA's founder member. Last month, Niaz's organisation held a series of meetings across the country and found that the number of unilateral divorces had gone up shockingly in recent years. In Mumbai alone, BMMA has received 72 complaints this year, most of them about unilateral divorce.
As part of the campaign, BMMA held a meeting at SNDT Women's College in Juhu on September 16. Forty-eight Quazis were invited but only four turned up—an indication , says Niaz, of the clergy's reluctance to discuss this issue .
Understandably so—although it is qazis who could lead the war against the unilateral talaq, most prefer to toe the Muslim Personal Law Board line. Qazi Mehtab, an advocate and Mumbai's Chief Qazi, says that he personally summons the wife of a man wanting a divorce before writing the Talaqnama, but admits that most qazis do not follow the procedure, where arbitrators are supposed to be appointed and efforts of reconciliation made before a Talaqnama is written. He, however, insists that according to the Shariat, a talaq uttered in absence of the affected wife is valid.
"Qazis have set up shop and write talaqnamas for a few hundred rupees apiece. This kind of talaqnama smacks of deep misogyny and needs to be abolished," says Haseena Khan of Awaz-e-Niswan , another feisty Muslim women's group that has been fighting against the oppression conferred on Muslim women by the religious patriarchy. And, of course, confronted as BMMA activists regularly do. Khatoon Sheikh, a BMMA member , gives the example of a man who divorced his wife in Pune on the ludicrous ground that she had accompanied her stepson to visit an ailing relative without informing him. When BMMA activists protested outside the local qazi's house for writing the talaqnama, he referred the case to another qazi in Mumbai. "The qazi in Mumbai too has upheld the talaq. The woman is completely distressed ," says Saeeda Jamadar , BMMA convener in Pune.
Sometimes better sense does prevail. A few months ago, BMMA activists confronted another qazi who had written a unilateral talaqnama and asked him to solemnise a nikah . "He refused, saying that no nikah could take place in the absence of the groom. We asked him that if a nikah was not possible without a groom, how could he sign a talaqnama without informing the bride? He realised his mistake and is now our friend," says Sheikh.
Although Islamic countries like Egypt, Iran, Jordan, Morocco, Yemen and Sudan have banned the unilateral and triple talaq through codified laws, it cannot be abolished in India unless the Muslim Personal Law Board agrees. However, this body is so adamant about not doing so that it did not discuss the codification of Islamic laws at all at its April convention held in Mumbai. "Privately the members tell me that unilateral and triple talaq needs to be banned, but they don't discuss it in meetings," says Neelofar Akhtar , an advocate who is invited to AIPPLB's meetings.
Why does AIMPLB oppose any move to ban unilateral talaq ? "Unilateral, oral and triple talaq may not be in the Quran but there are traditions of the Prophet which approve of such a practice. And Shariat laws comprise both Quranic injunctions and the Prophet's traditions," says AIMPLB's Abdur Rahim Qureishi. But scholar Asghar Ali Engineer dismisses these arguments as based on a "weak" tradition, the authenticity of which is doubtful. "Activists have already prepared a draft of codified Muslim laws which, if implemented , can ban unilateral and triple talaq," he says. "Now we need to create awareness and prepare the Muslim masses to force AIMPLB to declare unilateral talaq invalid."
http://timesofindia.indiatimes.com/city/mumbai/Ban-unilateral-talaq-says-Muslim-womens-group/articleshow/16805111.cms
------------
We Are Marketers, Not Prostitutes —Abuja Sex Workers Declare
14 October 2012
The growing sex business in the Federal Capital Territory (FCT) has been a major concern of the FCT Minister, Senator Bala Muhammed, and many other residents, BANKOLE MAKINDE tracks down some of the Abuja commercial sex workers, who shared their passion and reasons they engaged in the trade with him. However, some of these sex workers declared that they were not prostitutes but "marketers" contributing to the economy of the FCT just like other citizens.
SHOULD one take to the statements coming from Abuja commercial sex workers, then there is nothing to worry about. One might even conclude that nothing is wrong having them around, in view of what they termed; "Our contribution to economy of the nation's Federal Capital City".
Speaking with Sunday Tribune in Abuja, on Thursday, most of the commercial sex workers refused to be seen or addressed as harlots or prostitutes, but as "marketers" who exhibit their "products" to make ends meet.
According to one of their leaders, who identified herself simply as Juliet and who has been in the trade for upwards of 10 years now, "the popular saying is that you use what you have to get what you want, and that is exactly what we are doing.
"We are using our beauty, sexual prowess and intelligence to get what we want from Abuja men; so, we are marketers and not prostitutes. We market what we have profitably."
In Abuja, you don't need to rent any hotel for Abuja sex hawkers, as they are ready to do "the thing" anywhere. You could see humans, males and females, cuddling each other lasciviously at nightfall right inside cabs, street corners or any dark arena close to many night clubs springing up daily in the city.
Prostitution in Abuja is no respecter of age, colour, creed, ethnicity or religion. Many girls, including married women and students, you would never imagine could be seen around pubs, are into it and their causalities are sometimes foreigners working for multinational companies.
The ladies are so enterprising that they are the first set of people going to deposit their hard-earned resources in banks every morning after laying aside some for their daily upkeep and sending some to their parents who are always expectant.
A top civil servant, who spoke with Sunday Tribune on condition of anonymity, blamed the growing permissive promiscuity in FCT on the sex hawkers, claiming that permissive culture had also spread to the civil service in the city.
"They will leave their campuses in Lagos, Kano, Jos and so on for Abuja by the first flight on Wednesdays and travel back by the first flight on Mondays.
"The money they make from prostitution is spent on bribing their lecturers so they could be awarded marks to pass them in their courses, though some spend the money to buy drugs. After graduation and while in the NYSC camp, some men in Abuja would secure accommodation for them outside the camp.
"After completing their NYSC, the men would find jobs for them in the civil service. Since they learnt nothing in school, they would not be able to even draft a memo. That is the problem of the civil service today in Abuja."
Abuja sex hawkers don't believe in sexually transmitted diseases (STDs), they often negotiate with their customers based on whether they (the customers) want to use condom or not. Aside that the customers must be ready to do vigil making love to them otherwise they could lose all their valuables before dawn.
According to a security source, they are not afraid of being used for rituals too, as most of the security personnel in Abuja are on their payroll to monitor their movements every time.
It was also learnt that that does not prevent the security guards, too, from eating from the prostitutes' pie, especially whenever the ladies are raided at night and taken to police stations.
The prostitutes, who used to converge on a building at Zone 4 area in the FCT, are said to have scattered around the town following the demolition of the building by former FCT Minister, Mallam Nasir el-Rufai.
Sunday Tribune also learnt that some of the commercial sex hawkers have also organised themselves into cooperative societies so as to interact regularly.
But, what could be the attraction in prostitution? Hauwa, a student of the University of Jos, who is also a prostitute, said that people were wrong to think that ladies doing prostitution in the city were into the business for making money, noting that the reason why many of them took to it had nothing to do with money.
"Some of us are into it for the fun of it. For me, I like long-time sex which my boyfriends cannot provide; so, if you are lucky to locate one guy that could satisfy you, you don't bother disturbing him to give you money. You only appeal to him not to discuss you in the open so that your boyfriends won't get to know about it. Same reason, I'm sure drove many girls into it," she said.
Shade, another student, said she was into prostitution because she was the breadwinner of her family since she lost her father six years ago, saying her mother was a petty trader.
"I have vowed that all my younger ones must be graduates, so that they won't experience what I am experiencing presently. So, I must work very hard now when I am still capable and able."
Many people, who spoke with Sunday Tribune, disclosed that the ladies were involved in the dangerous trade because of greed, and the desire to belong to the society of "big girls".
However, prostitution in the city seems to have taken another dimension as cults of lesbians and gays in the FCT have emerged.
Many people dressed in sexually attractive attires, Sunday Tribune learnt, could be seen in the public cuddling and kissing one another in various parks and recreation gardens in the city.
Some of them, according to investigation, often park their cars in a particular location and transport themselves in two or three vehicles to their locations to prevent being noticed.
When contacted on how to tackle the social menace, the Director of Social Welfare Services of the Social Development Secretariat of the FCTA, Mrs Folashade Ayileka, said the secretariat was helpless.
"They are Nigerians like us and they have their rights guaranteed in the constitution; so, you cannot force them out of Abuja but continue to sensitise them to the dangers inherent in the business.
"The other time we raided a popular brothel in Wuse area of Abuja, we rounded up many of them and asked them to convince Nigerians on why they should continue with the illicit act; if you heard what most of them said off-camera, you would weep for them, their families and this country.
"Incidentally, when we did their documentation, we found out that over 90 per cent of them were not even from FCT but from Lagos, Benin, Jos, Kano, Port Harcourt and so on.
"When we wanted to register them for skill acquisition programmes, many of them started begging that they would soon start their semester examinations, which confirmed that some of them are university undergraduates looking for money."
On what government is doing to stem the tide and bring the ladies out of prostitution, Mrs Ayileka, said that her organisation was collaborating with FCTA through the Social Development Secretariat to find a lasting solution to the problem.
"We felt that the FCT administration cannot do it alone, especially the Social Development Secretariat. As an NGO, we thought we should come up with a proposal that would help them solve some of these issues.
"So, by our arrangement, we now run the centers for them because they have so many good programmes. What we do basically is to train them in various skills. For example, in Lugbe centre, we have fashion designing, computer appreciation, hairdressing and beauty events and management.
"Then at Bwari rehabilitation centre, we have metal fabrication, computer appreciation, tailoring, dressing and so on. We have recorded a huge level of success in the area of catering for the commercial sex hawkers, and we are very happy for that, even though there are hitches here and there.
"The first set of people that graduated on October 10, 2011 were 34 ladies. This year, we graduated 407 women, among them were 137 repentant sex workers.
"We attend to other categories of women too such as vulnerable women and single mothers that could be attracted to night life. So, rather than allow them to get to that life, we decided to create an intervention method.
"We believe that if we empower the mother, the child would be off the streets. So, we have a site in Jabi where we train mothers, married women and other vulnerable women that are not doing anything.
"For the commercial sex workers, most of them came voluntarily to be trained, especially after the first graduation was shown on NTA and AIT. Most of them became enthusiastic about the programmes when they saw the sincerity in us about their welfare, then they decided to tap into it.
"After graduation, we gave each of the graduates a sum of N100,000. To ensure that the money is used for its purpose, we disbursed it through microfinance banks, which in turn, gave each of them additional N100,000 depending on the judicious use of the earlier N100,000 given to them."
The National Human Rights Commission has, however, frowned at the way and manner sex hawkers and other women are being arrested in Abuja.
In a letter dated October 5, 2012, which was addressed to the Minister of Women Affairs, Hajia Zainab Maria, the human rights body accused the Abuja Environmental Protection Board (AEPB) of making Abuja an extremely dangerous place for women.
The letter, which was signed by the Chairman of the organisation Dr Chidi Odinkalu and the organisation's Chief Executive Officer (CEO), Ayisha Osori, the commission pleaded with the minister to; "repudiate this pattern of official misconduct and bring it to an end promptly."
As it is now, Abuja, the nation's Federal Capital City, still remains a haven for women of easy virtue who throng it in search of greener pastures.
http://tribune.com.ng/sun/life-a-living/8848-we-are-marketers-not-prostitutes-abuja-sex-workers-declare
------------
Malala's struggle symbolises girls' right to education: Sherry
Oct 14, 2012
ISLAMABAD: Pakistan's Ambassador to the United States Sherry Rehman has said Malala Yousufzai's struggle for access to education symbolises resonance of all the girls of the country who are denied the right of education by the Taliban.
She said Malala is a brave girl who is a symbol of hope, resolve and courage for every Pakistani. Talking to CNN, Sherry stated, "This is taken as long and protracted struggle of Pakistan against terrorism and a typical mindset."
Full report at:
http://www.dailytimes.com.pk/default.asp?page=2012\10\14\story_14-10-2012_pg7_13
------------
Jirga orders handover of two girls as Wani
Waseem Shamsi
Oct 14, 2012
SUKKUR: A large number of people held a demonstration outside the press club on Saturday in protest against the decision by a jirga on marriage of two minor girls under the wani custom.
A local wadera (chieftain), Peeral Chachar, presided over the jirga and gave away the girls as wani to settle a matrimonial dispute.
Shah Mohammad Chachar and Ms Hayatan, both residents of Gaji Chachar village of Pano Akil taluka, had married against the will of their parents some months ago.
The marriage caused a dispute among the two families.The family of Hayatan solicited a jirga, which was held in Rehmat Chachar village on Thursday night.
The chieftain declared Shah Mohammad as karo and Hayatan as kari for their free-will marriage.
Full report at:
http://dawn.com/2012/10/14/jirga-orders-handover-of-two-girls-as-wani/
------------
International Day of the Girl Child: The Horrifying World of Child Brides
October 13, 2012
At age 11, Ghulam was married off to 40-year-old Jaiz in a rural Afghan village, making her only one of more than 10 million young girls who are being forced to wed men old enough to be their fathers or grandfather every year.
In an effort to start a global conversation about the devastating effects of early marriages, which are currently practiced in more than 50 developing countries, the United Nations designated October 11 as International Day of the Girl Child this year.
To mark the occasion and draw attention to the problem of child brides, photojournalist Stephanie Sinclair teamed up with National Geographic to create a series of heart-breaking photos depicting girls as young as five years old being married off to middle-aged men in countries like India, Yemen and Ethiopia.
Full report at:
http://www.informationnigeria.org/2012/10/international-day-of-the-girl-child-the-horrifying-world-of-child-brides-photos.html
------------
Saudi Court Upholds Death Sentence of a Woman Who Tortured Her 7 Year-Old Stepdaughter to Death
By Habib Toumi
October 14, 2012
Manama: A Saudi court has upheld the death sentence of a woman who tortured her seven-year-old stepdaughter to death.
The appeals court in Makkah also sentenced the girl's father to 20 years imprisonment for not interfering to protect his daughter, Kalthoum.
The initial verdicts were pronounced three years ago by a lower court in Makkah following the couple's trial.
The case deeply shocked the peaceful communities living in the city.
According to reports, the girl lived with her father after he divorced his Bangladeshi wife. The girl continued to live with him after he married a Burmese woman.
Full report at:
http://gulfnews.com/news/gulf/saudi-arabia/saudi-court-upholds-death-sentence-for-child-murder-1.1088985
------------
Injured Kainat vows to continue studies
October 13, 2012
PESHAWAR: Kainat, the fellow girl student injured alongwith Malala Yousafzai in a militant attack in Swat, has vowed to continue her education and become a doctor to serve the country and nation, Geo News reported.
Talking to 'Geo News', Kainat said perpetrator opened fire after identifying Malala, adding she fell unconscious as she saw Malala in a pool of blood.
Kainat also prayed for speedy recovery of Malala Yousafzai.
Father of Kainat, Riaz said provincial government had contacted him for the medical treatment of his daughter.
http://www.thenews.com.pk/article-71335-Malala:-injured-Kainat-vows-to-continue-education--
------------
Malala and Sharbat Gula: Pashtun Icons of Hope
Posted by Saleem Ali of University of Queensland (Australia)
October 14, 2012
The tragic shooting of Malala Yousafzai has once again brought Pakistan in the news cycle as the country's existential complexity remains elusive. The image of Malala draped in a demure head scarf, expected in Islamic tradition, is reminiscent of another girl from this part of the world who remained nameless for many years but captivated the readers of National Geographic. The image then was of a young Pashtun girl in an Afghan refugee camp in North-western Pakistan, less than 100 miles from Malala's home town.
Full report at:
http://newswatch.nationalgeographic.com/2012/10/14/malala/
------------
PTI Women's Wing prays for Malala
Oct 14, 2012
LAHORE: The Pakistan Tehreek-e-Insaf (PTI) Women's Wing on Saturday arranged special prayers for the recovery of Malala Yousufzai at the party's Lahore secretariat. PTI women leaders said Malala's message is the "message of people, which is a message of love, security and peace. The whole country will stand against anyone who tries to sabotage this message". They said the attack on Malala was an attack on "the whole country and now the time has come that the nation must unite against terrorists". They said that the attack on Malala was result of the war on terror that had been "imposed on Pakistan but our rulers don't understand and still following the directions of their American rulers". They said that PTI Chairman Imran Khan has asked the government several times to withdraw itself from the "so-called war on terror". PTI leader Jahangir Ashraf also held a prayer session in his office. He said the PPP and PML-N were "equally responsible for the present situation because their political moves never confront with US interests".
http://www.dailytimes.com.pk/default.asp?page=2012\10\14\story_14-10-2012_pg13_2
------------
Rise in child marriages worrying
The Star/Asia News Network
Oct 11, 2012
PETALING JAYA - The incidence of child marriages is on the rise, judging by statistics compiled from various sources.
In Kedah alone, statistics from the state Islamic Religious Department show a 35 per cent increase in marriage applications involving under aged individuals between 2008 and 2010.
The department received 75 marriage applications from under aged individuals in 2008, 99 in 2009 and 101 in 2010. Of the total, 90 per cent involved girls under 16.
One of the reasons cited by parents for consenting to their under aged daughters to marry was that the girls were "too wild" and beyond their control.
Full report at:
http://news.asiaone.com/News/AsiaOne%2BNews/Malaysia/Story/A1Story20121011-376836.html
------------
After the Tsunami, a Teacher Opens Her Home to Students
Olga Amato | October 14, 2012
It's been almost eight years since the third largest earthquake ever recorded triggered a tsunami that ripped through Aceh, killing more than 120,000 people. And while some members of her village still struggle with nightmares of that December day, Zainah Rahmiati, who lost her mother in the tsunami, is turning her pain into hope for the young children of her village.
"I wasn't in Jambo Timu when the tsunami happened. I was still studying in Banda Aceh," says the 29-year-old who studied English at the State Institute of Islamic Studies (IAIN) Ar-Raniry. "I didn't even know that the tsunami had reached my village. We couldn't go anywhere for three days. Finally, when I returned to my village, I learned that everything but a musholla [prayer house] and four houses was gone."
Full report at:
http://www.thejakartaglobe.com/lifeandtimes/after-the-tsunami-a-teacher-opens-her-home-to-students/549698
------------
URL: http://www.newageislam.com/islam,-women-and-feminism/new-age-islam-news-bureau/nigerian-orphan-girls-forced-into-sex-trade-in-britain/d/8983