New Age Islam News Bureau
6 Feb 2016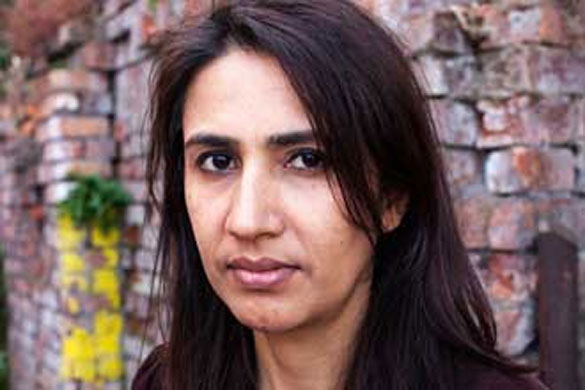 Photo: Shaista Gohir, chair of Muslim Women's Network UK. Photograph: David Sillitoe for the Guardian
------------
• Muslim Women 'Blocked From Seeking Office by Male Labour Councillors' In UK
• Eleven Things Women in Saudi Arabia Cannot Do
• A Self-Defence Class for Muslim Women, By Muslim Women in New York
• Turkish Actress Vuslateri Acquitted Of Insulting President Erdoğan
Compiled by New Age Islam News Bureau
URL:
https://newageislam.com/islam-women-feminism/nigerian-haneefah-adam-creates-hijarbie,/d/106259
---------
Nigerian Haneefah Adam Creates Hijarbie, A Hijab Barbie Taking Over Instagram
Feb 6, 2016
The announcement of making Barbie dolls of all shapes and skin tones came in the wake of the unrealistic body image issue that the earlier models conveyed.
It's Barbie's world, and we're just living in it. Just weeks ago Haneefah introduced 'Hijarbie to the public via an Instagram account dedicated to fashion shots of the modestly dressed doll. She then photographed the dolls and posted it on her Instagram account.
Fashion designer Hannefah, 24, told Style Mic: "It got me thinking about how I'd actually like to see a doll dressed up like I would have – covered up".
'I was mulling about the idea for about three months while I was still studying for my master's degree in the UK. Instead of sporting denim hot trousers and a pink plastic halterneck like the doll we all know and love, Hijarbie models high fashion looks with quality couture tunics and full-length dresses, topped off of course with a glamorous Hijab to hide her hair.
"I want to inspire the Muslim girl". The world of Muslim style online is bustling with young women eager to show off their own outfits and find outfit inspiration, as evidenced by @HijabFashion, which has 1.7 million followers on Instagram.
She makes all of Hijarbie's outfits herself, dabbling in bright red dresses matched with grey headscarves and teaming all-black outfits with a matching headdress.
The reason behind Hijarbie is not merely to demonstrate how attractive and trendy modest style can be, but also to present to girls who may be wearing a hijab themselves that they are equally, or more, handsome and special than Barbie herself. It's my crown and it represents my own personal control over the way I want to be seen. She hopes that her endeavour will encourage girls to appreciate the benefits of a modest lifestyle and upbringing.
nanonews.org/haneefah-adam-creates-hijarbie-a-hijab-barbie-taking-over/
-------
Muslim Women 'Blocked From Seeking Office by Male Labour Councillors' In UK
6 February 2016
A women's rights organisation has written to Jeremy Corbyn calling for an inquiry into allegations female Muslims were discriminated against and blocked from seeking office by male Labour councillors.
Muslim Women's Network UK (MWNUK) urged the Labour leader to investigate "systematic misogyny displayed by significant numbers of Muslim male local councillors".
The organisation claimed that the problem had been an "open secret" within Labour and accused the party of being "complicit at the highest levels".
The letter suggested that Muslim men within Labour had been allowed to operate under the "patriarchal 'biradari' system".
MWNUK's chair, Shaista Gohir, accepted that the issue was not confined to Labour and she has also written to David Cameron urging him to launch an independent inquiry into the barriers to political participation faced by black and ethnic minority women.
But she said "from our experience, Muslim women are most affected by Labour Muslim male councillors due to the latter's number in certain towns and cities".
In her letter to Corbyn, she wrote: "As this is an open secret and has been going on for decades, we can only assume that the Labour party has been complicit at the highest levels.
"How do men who do not want Muslim women to be empowered or have a voice remain in power unless the Labour party allows it?
"It appears that over decades senior Labour politicians have deliberately turned a blind eye to the treatment of Muslim women because votes have been more important to them than women's rights."
She claimed that "able, knowledgeable and independent-minded Muslim women have been undermined, sabotaged and blocked from becoming councillors", with many selection "deals" stitched up behind closed doors.
"We would like the Labour party to hold an independent inquiry into how Muslim women are being marginalised by local Labour politicians," she said.
Muslim women told BBC2's Newsnight of the obstacles they had faced trying to stand for office.
Optician Fozia Parveen claims her efforts to become a Labour councillor in Birmingham in 2007-8 were scuppered by men within the party: "At the time, I was aware of a smear campaign against me, they said that I was having an affair with one of the existing councillors. I was quite taken aback. People were turning up at my family home trying to intimidate my mum."
She claimed Muslim men who were members of the local Labour party were behind the efforts to prevent her from standing.
Shazia Bashir was the first choice for Labour in a seat in Peterborough in 2007 but claimed that she was pressured "because I didn't have my father's consent and support, I had to step down", adding: "I was pressured into stepping down."
A Labour spokesman said: "The Labour party's selection procedures include strong positive action procedures such as all-women shortlists and rules to ensure women are selected in winnable council seats.
"We have the best record of any party in selecting women and BAME candidates, and we will continue to do all that we can to make sure candidates are representative of the communities they seek to represent.
"The Labour party has a fair, democratic and robust procedure for selecting council candidates. Local Labour party members select their local candidates within the party's rules and guidelines. Those wishing to become Labour councillors are interviewed by an independent assessment team and unsuccessful candidates have a right of appeal to the regional party board."
theguardian.com/politics/2016/feb/05/muslim-women-blocked-seeking-office-male-labour-councillors
-------
Eleven things women in Saudi Arabia cannot do
Feb 5, 2016
Women in Saudi Arabia claim to have been temporarily banned from entering a branch of Starbucks in the capital Riyadh.
A sign was placed in the window of the coffee shop saying: "Please no entry for ladies only send your driver to order thank you", after a wall designed to segregate men and women was reportedly removed during renovations.
A customer who tweeted a picture of the sign, which was written in English and Arabic, said the store "refused to serve me just because I'm a woman and asked me to send a man instead".
In a statement, the shop said: "We are working as quickly as possible as we refurbish our Jarir store, so that we may again welcome all customers in accordance with local customs."
Men and women are segregated in the majority of public spaces in Saudi Arabia, with the Muslim kingdom's religious police ensuring the rules are enforced.
"Unlawful mixing between sexes leads to the arrest of the violators and criminal charges," political scientist Elham Manea writes for Deutche Welle.
Saudi Arabia's human rights record, especially with regards to protecting women, has often been called into question.
Although women's rights have been incrementally extended in recent years – they were allowed to vote in municipal elections for the first time last year - their actions are still severely restricted.
In a country where a woman cannot even open a bank account without her husband's permission, here are several other things they are still unable to do:
Women have been elected to municipal councils in Saudi Arabia for the first time, in ballots held on Saturday. At least 18 women from very different parts of the country have been elected, according to Al Jazeera.
The elections were the first time women were allowed to stand for office or vote, after a ban was lifted by King Abdullah shortly before his death last year.
Officials said that about 130,000 women had registered to vote in what was only the third time Saudis of either gender have gone to the polls in the country's history.
The vote is being hailed as a landmark for the ultra-conservative kingdom, which has come under increasing criticism for its human rights record. While welcoming the news, rights groups reiterated their objections to other restrictions imposed on women, including a driving ban.
The vote may not have been perfect, said Hala Aldosari on Al Jazeera, but "in the end, building awareness through engagement, rather than through segregation and isolation, is a far more effective policy".
In a country where a woman cannot even open a bank account without her husband's permission, here are several other things women in the Muslim kingdom are still unable to do:
Go anywhere without a chaperone
Saudi women need to be accompanied by a male guardian known as a 'mahram' whenever they leave the house. The guardian is often a male relative and will accompany women on all of their errands, including shopping trips and visits to the doctor.
Such practices are rooted in "conservative traditions and religious views that hold giving freedom of movement to women would make them vulnerable to sins," according to The Guardian.
In one extreme case, a teenager reported that she had been gang-raped, but because she was not with a mahram when it occurred, she was punished by the court. The victim was given more lashes than one of her alleged rapists received, the Washington Post reports.
The Saudi Arabian government recently announced that it was considering lifting restrictions on women that would allow them to travel without the approval of their relatives, but human rights groups warn the move is likely to be vetoed by senior clerics.
Drive a car
There is no official law that bans women from driving but deeply held religious beliefs prohibit it, with Saudi clerics arguing that female drivers "undermine social values".
In 2011, a group of Saudi women organised the "Women2Drive" campaign that encouraged women to disregard the laws and post images and videos of themselves driving on social media to raise awareness of the issue in an attempt to force change. It was not a major success.
Saudi journalist Talal Alharbi says women should be allowed to drive but only to take their children to school or a family member to hospital. "Women should accept simple things", he writes for Arab News. "This is a wise thing women could do at this stage. Being stubborn won't support their cause."
Wear clothes or make-up that "show off their beauty"
The dress code for women is governed by a strict interpretation of Islamic law and is enforced to varying degrees across the country. The majority of women are forced to wear an abaya – a long black cloak – and a head scarf. The face does not necessarily need to be covered, "much to the chagrin of some hardliners," says The Economist. But this does not stop the religious police from harassing women for exposing too much flesh or wearing too much makeup.
The dress code was extended to all female television presenters earlier this year. The king's advisory body, the Shoura Council, ruled that the women should wear "modest" clothes that do not "show off their beauty", according to Arab News.
Interact with men
Women are required to limit the amount of time spent with men they are not related to. The majority of public buildings including offices, banks and universities have separate entrances for men and women, the Daily Telegraph reports. Public transportation, parks, beaches and amusement parks are also segregated in most parts of the country. Unlawful mixing will lead to criminal charges being brought against both parties, but women typically face harsher punishment.
Go for a swim
Reuters correspondent Arlene Getz describes her experience of trying to use the gym and pool at an upmarket Riyadh hotel: "As a woman, I wasn't even allowed to look at them ('there are men in swimsuits there,' a hotel staffer told me with horror) — let alone use them."
Compete freely in sports
Earlier this year, Saudi Arabia proposed hosting an Olympic Games without women. "Our society can be very conservative," said Prince Fahad bin Jalawi al-Saud, a consultant to the Saudi Olympic Committee. "It has a hard time accepting that women can compete in sports."
When Saudi Arabia sent its female athletes to the London games for the first time, hard-line clerics denounced the women as "prostitutes". While they were allowed to compete, they had to be accompanied by a male guardian and wear a "Sharia-compliant" sports kit that covered their hair.
Try on clothes when shopping
"The mere thought of a disrobed woman behind a dressing-room door is apparently too much for men to handle," says Vanity Fair writer Maureen Dowd in 'A Girl's Guide to Saudi Arabia'.
Other more unusual restrictions include:
However, explains Dowd, everything in Saudi Arabia "operates on a sliding scale, depending on who you are, whom you know, whom you ask, whom you're with, and where you are".
But things are slowly beginning to modernise in a country that has historically had some of the most repressive attitudes towards women. "Women in Saudi Arabia are highly educated and qualified," says Rothna Begum from Human Right Watch. "They don't want to be left in the dark."
theweek.co.uk/60339/eleven-things-women-in-saudi-arabia-cant-do
-------
A Self-Defence Class for Muslim Women, By Muslim Women in New York
February 5, 2016
NEW YORK - Since the fall, in the months that followed the Paris attacks and the shooting in San Bernardino, the backlash against Muslims in America has been a steady hum — online and offline, on the presidential debate stage and in small towns in Iowa.
The vitriol has taken on many forms, but one target is the most common: women and girls who wear the Hijab. In San Diego, a Muslim woman's Hijab was allegedly ripped off before her assailant began yelling racial slurs at her. In the Bronx, a sixth grader was attacked by classmates, who tore at her Hijab during recess. And in Brooklyn, another Muslim woman accused a United States Postal Service worker of spitting on her and yelling derogatory words in her direction.
For the young Muslim women in America, like Amirah Aulaqi and Mariana Aguilera, every day has brought the possibility of an attack, physical or verbal. Aguilera recalled a recent confrontation in one of the most innocuous places: her neighbourhood grocery store.
"I had these two males come up to me and … call me a terrorist in front of my face, out loud in front of people," she said.
Aulaqi says things like this and everyday "small remarks under people's breaths" began to affect their lives.
"We started to feel a little bit paranoid about going into crowded places, the subway platforms and things like that," she told America Tonight. "We just felt like you know, a little bit more paranoid than normally what we would feel. And um, we thought okay ... we can't live like this."
The Council on American-Islamic Relations (CAIR) told America Tonight that in the days immediately following the November 13th assaults in France, there were at least 25 incidents of Islamophobia across the United States. The Huffington Post has reported 28 "anti-Muslim acts" in January of this year alone.
Instead of hiding, Aguilera and Aulaqi are reaching out to other Muslim women. The goal: to protect themselves against what they see as an increased possibility of attack.
They've started a monthly self-defense class in Manhattan's City Wing Tsun studio, where attendees can learn the basics of self-defense. Their art? Wing Tsun, which focuses on survival. Eye gouges, throat jabs and palm strikes to the head — all outlawed in MMA and boxing — are perfectly legal in this arena. The goal is to make it home alive.
The first class, which took place in mid-December, drew 30 women: Old, young, converts and lifelong Muslims alike. One attendee brought her 12-year-old daughter. While the class does not exclude non-Muslims, Aulaqi and Aguilera do want those who come to know that at least one basic Muslim guideline will apply: No men can attend.
The self-defense class began as an attempt to prevent attacks, rather than react to them. But it's also about fighting misperceptions, which both Aulaqi and Aguilera say are built into the prevailing narrative of Muslim women. They're seen as weak, they say; victims.
Aguilera has first-hand experience with these misconceptions. She used to have them herself, until she converted to Islam a decade ago.
"I looked at [Muslim women] as weak," she says, "I looked at them kind of like, you know, people in this country are looking at me right now."
She says the class is a way for her to dispel those ideas and show people that the Muslim woman is strong both in mind and body.
To that end, the class has become a way for Muslim women to bond, all feeling the pressure to abandon parts of their religion in a country where religious civil liberties are guaranteed by the Constitution.
Here, women tell stories and share experiences, puddles of sweat forming on the floor.
"We want to create a pow-wow moment before and after the class where we share each other's stories," Aguilera told us. "It's another way to channel our strength."
Aulaqi and Aguilera understand that it is the hijab – as a symbol of Islam – that brought them here, to this sweaty gym, surrounded by punching bags and imaginary assailants. They don't care. They'd rather take on would-be attackers than take it off.
Aguilera says if there's one thing she wants fellow Muslim women to know, it's this: "You're strong. [Know] how to use [that strength]."
america.aljazeera.com/watch/shows/america-tonight/articles/2016/2/5/a-self-defense-class-for-muslim-women-by-muslim-women.html
----------
Tuekish Actress Vuslateri acquitted of insulting President Erdoğan
February 05, 2016
Gonca Vuslateri, an actress who works in theater and television, has been acquitted by a court after being accused of insulting President Recep Tayyip Erdoğan.
The president's lawyer filed a criminal complaint against Vuslateri in March of last year for one of her tweets that allegedly insulted Erdoğan. Vuslateri's lawyer claimed that his client is a comedian and had merely shared a cartoon that depicted Erdoğan, the Meydan daily reported on Friday.
Although the Ankara Chief Public Prosecutor's Office requested a prison sentence of two years for Vuslateri, the court ruled to acquit her on Thursday. Vuslateri has appeared in various prominent Turkish series such as "Yalan Dünya" and "Eylem."
todayszaman.com/national_actress-vuslateri-acquitted-of-insulting-president-erdogan_411517.html
URL: https://newageislam.com/islam-women-feminism/nigerian-haneefah-adam-creates-hijarbie,/d/106259
New Age Islam, Islam Online, Islamic Website, African Muslim News, Arab World News, South Asia News, Indian Muslim News, World Muslim News, Womens in Islam, Islamic Feminism, Arab Women, Womens In Arab, Islamphobia in America, Muslim Women in West, Islam Women and Feminism